This recipe makes THE BEST sautéed mushrooms! Besides the irresistible garlic butter flavor, there is one key ingredient that takes the flavor over the top! Not only are these sautéed mushrooms quick and easy to make, but they are great both as a side dish and as a meat substitute for a main dish. These Garlic Butter Mushrooms will add a punch of flavor to any meal you make!
Butter Garlic Mushrooms – The EASY Way!
This recipe for sauteed and buttered garlic mushrooms is fantastic as a side dish and can elevate any main entree such as sauteed mushrooms for steak, chicken, pork chops, or burgers. From the secret ingredient to the phenomenal flavors, you'll love so much about this mushroom sauté.
Why I LOVE this Garlic Butter Mushroom Recipe!
The BEST garlic butter herb sauce – The mushrooms create a beautifully caramelized crust on the bottom of the pan and the mushrooms, and once you add in the butter, fresh herbs, and garlic, it picks up all those flavors and creates a glaze that covers them for a tasty mushroom.

Quick and easy – This is an effortless dish to make and the best way to sauté mushrooms. You just need a hot skillet and a few minutes to make them.

Meaty – The mushrooms' moisture is drawn out and concentrated for the best texture that is meaty and full of deep, rich flavor.

Super versatile – Full of rich, earthy, meaty flavor, these caramelized mushrooms serve well as a side dish, on top of steak, burgers, and other meats, or as a meat replacement

Unami from this KEY ingredient – Umami is a unique and amazing flavor of food. In this recipe we enhance the richness while concentrating and caramelizing the mushrooms for an irresistible Umami experience. Short version- feel free to feel fancy with very little effort!
What to Serve with Buttery Garlic Mushrooms
Since this dish has the classic flavors of earthy savory mushrooms, it will pair well with many of your favorite mains as a side dish or even as a meat replacement. There are both classic options and some healthy options to keep it light.
Serve Sautéed Mushrooms with
As a Meat Substitute for Main Dishes
You can choose one or add a few sides to make a wholesome, well rounded dinner.
Recipe Notes
This mushrooms in garlic butter recipe is as simple as promised! Just 10 minutes for a family friendly meal or side dish.
In this section I am going to go through a few tips and tricks I use when making this recipe to get the absolute best and most delicious results.
Make sure to scroll to the bottom for the FULL recipe card.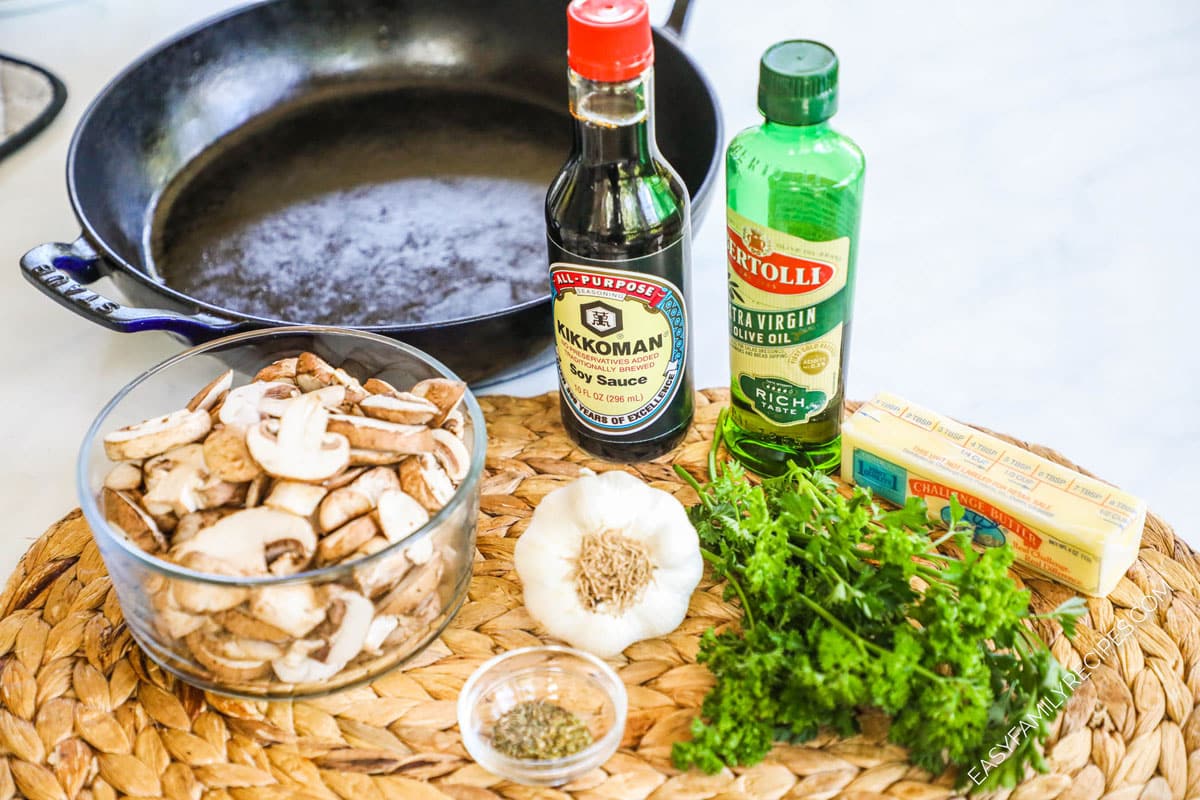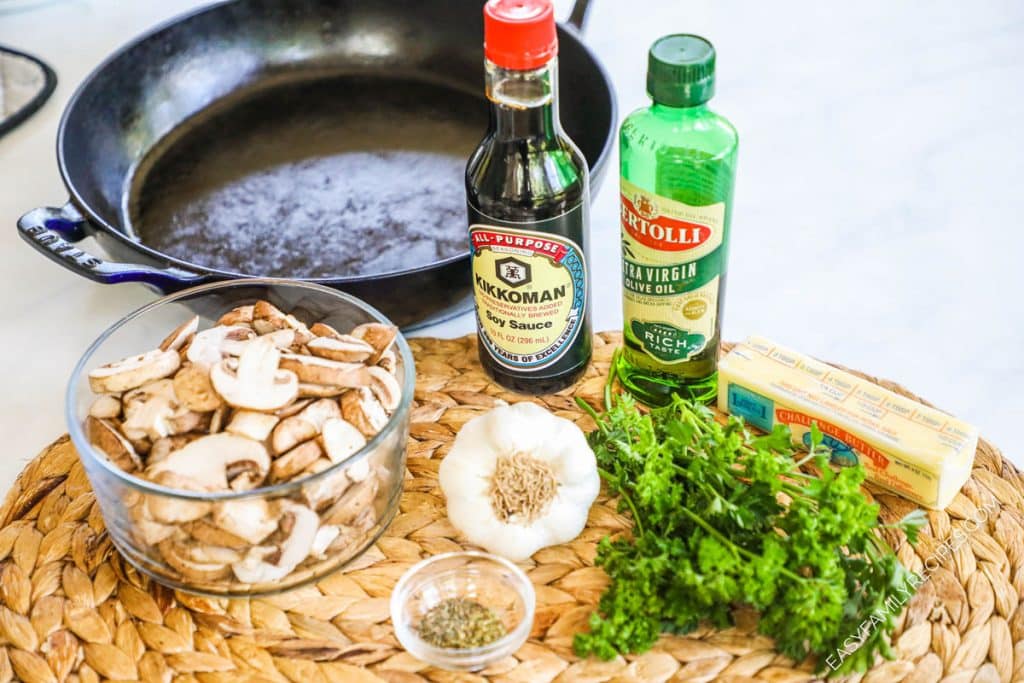 Ingredients + Substitutions
Mushrooms – Choose your favorite sliced mushrooms. I like to use brown, white, or baby bellas but whatever you find will likely work in this recipe.

Olive oil – Use whichever oil you prefer.

Soy sauce – The secret ingredient that heightens this sautéed mushroom with a rich, savory flavor. Worcestershire sauce could also be used for a flavor boost.

Garlic herb butter – A combination of fresh garlic and dried herbs create a glistening savory sauce that glazes the mushrooms. If you prefer to use fresh herbs, use a whole teaspoon of each as they are milder than dried herbs. Once added in, quickly melt the butter and cook the garlic for just about a minute until fragrant. Overcooked garlic is not so tasty and can be quite bitter.
How to Make Garlic Sauteed Mushrooms
Heat the oil in a large skillet over medium-high heat.
Toss the mushrooms with the soy sauce and add to the hot pan in a thin flat layer. Let cook untouched for a few minutes.
Once they have a nice caramelization, stir and cook for a few more minutes or until they are soft and beautiful.
Add the garlic, butter, thyme, and oregano to the mushrooms and stir until the butter melts and the garlic is just fragrant. This creates a buttery glaze over the mushrooms. Garnish with fresh parsley.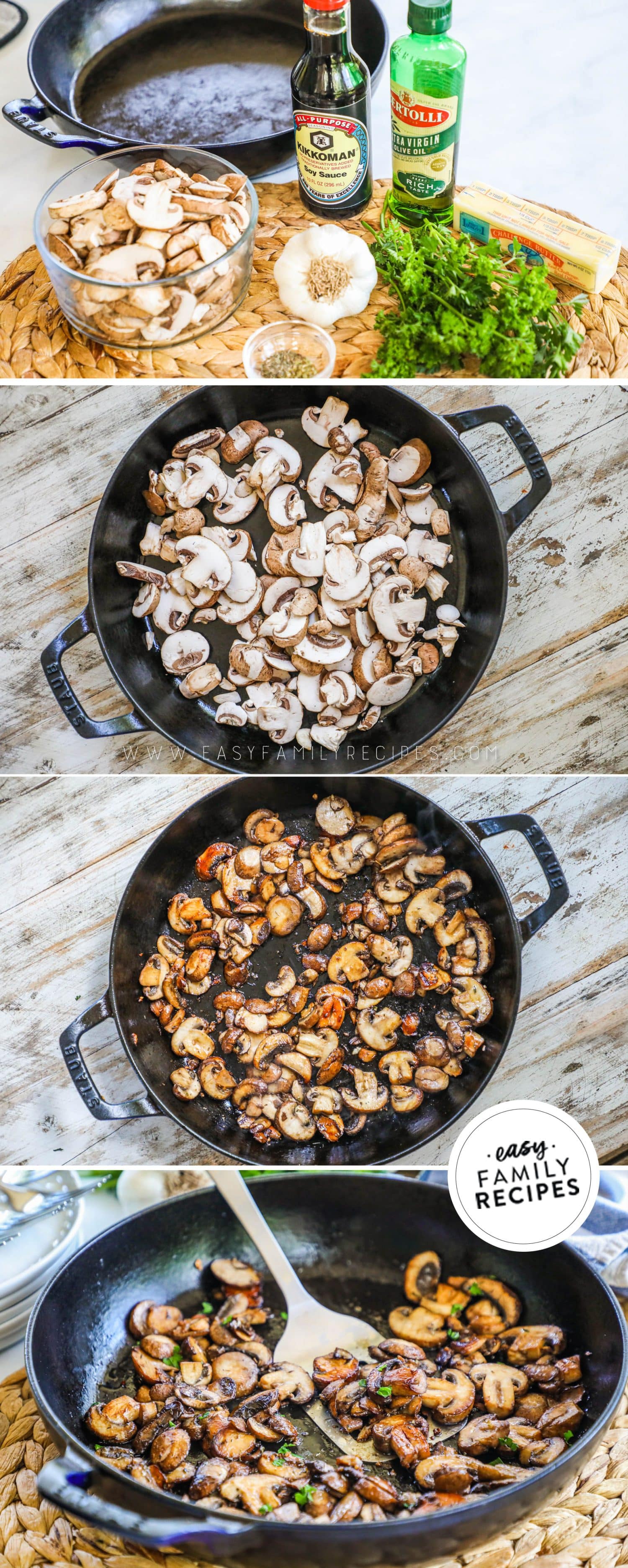 Recipe Tips
How to clean mushrooms – It's tempting to wash them under running water, but doing so may cause them to soak up the liquid and become mushy or rubbery when cooked. Instead, wipe them with a damp paper towel to remove debris.

Purchase presliced mushrooms – Save time and effort by using mushrooms already sliced.

DO NOT STIR THEM! – This is important to get the best caramelization and pull out the moisture for meaty, evenly cooked shrooms. After adding the mushrooms to the hot skillet, leave them untouched for the first 4 minutes.

Use a LARGE skillet – Prevent overcrowding the skillet to ensure that it sautés and does not steam by cooking the mushrooms in a single layer. This gives you that signature caramelized mushroom goodness and makes them extra delicious.

Use medium high heat – To prevent the mushrooms from becoming soggy, cook over higher heat. Cooking mushrooms over low heat will inevitably result in a soft, saturated mushroom.

Make extra for freezing – Sauteed mushrooms freeze great. Cook extra and split them into meal-size portions to add to your steak or burger anytime.
Best Mushrooms for Sautéing
One of the things that makes this the BEST sauteed mushroom recipe is that the flavors work well with all types of mushrooms! You can choose various mushrooms depending on what you are making these for or with. Here's a list of the top 7 mushrooms to saute in this savory butter garlic sauce and ideas on dishes to pair them with.
White button and Brown– The most commonly used and have the mildest flavor. These go-to mushrooms are highly versatile and can be enjoyed raw in salads or cooked as a side dish, in soups, and in other recipes. White and brown mushrooms are also more budget-friendly compared to their exotic counterparts.
Cremini (baby Bella) – Another common variety but has more flavor than the typical white mushroom, but can be used interchangeably. Young portabellas have a firmer texture and are best as a side dish.
Portobello – These are one of the best sauteed mushrooms for steak and to use as a meat replacement. They're hearty and dense and add depth to recipes. You can grill them whole as a burger or steak, slice and sauté, toss in pasta, or stuff them in a taco.
Shiitake – Add these mushrooms to your favorite Asian dishes. They have a woodsy, rich buttery flavor and aroma. They can be served as a side dish or as a meaty substitute.

Oyster mushrooms – So great for meat replacement with their shreddable texture. Use for "pulled pork" or shredded carnitas style and stuffed in a taco shell.

Morels – These are such a delightful and exquisite mushroom variety. Morels are woodsy, earthy, and have mild smokiness. Sautéing them would be best enjoyed as a side or on top of pork and steak.
Recipe Variations
If you love this recipe as much as we do and want some quick ways to change it up for variety, these little tips will do the trick!
Creamy Garlic Butter Mushrooms – Once the butter has melted sprinkle in a tablespoon of flour and cook for 1 minute. Then, stir in a cup of cream or milk and continue stirring until thickened, about 2 minutes.

Sauteed Mushrooms with Worcestershire – Add a depth of flavor by substituting the soy sauce for Worcestershire.

Sauteed Mushrooms and Onions – Cut an onion into thin slices and add to the pan with the mushrooms. Follow the same steps by allowing them to cook for a few minutes before stirring.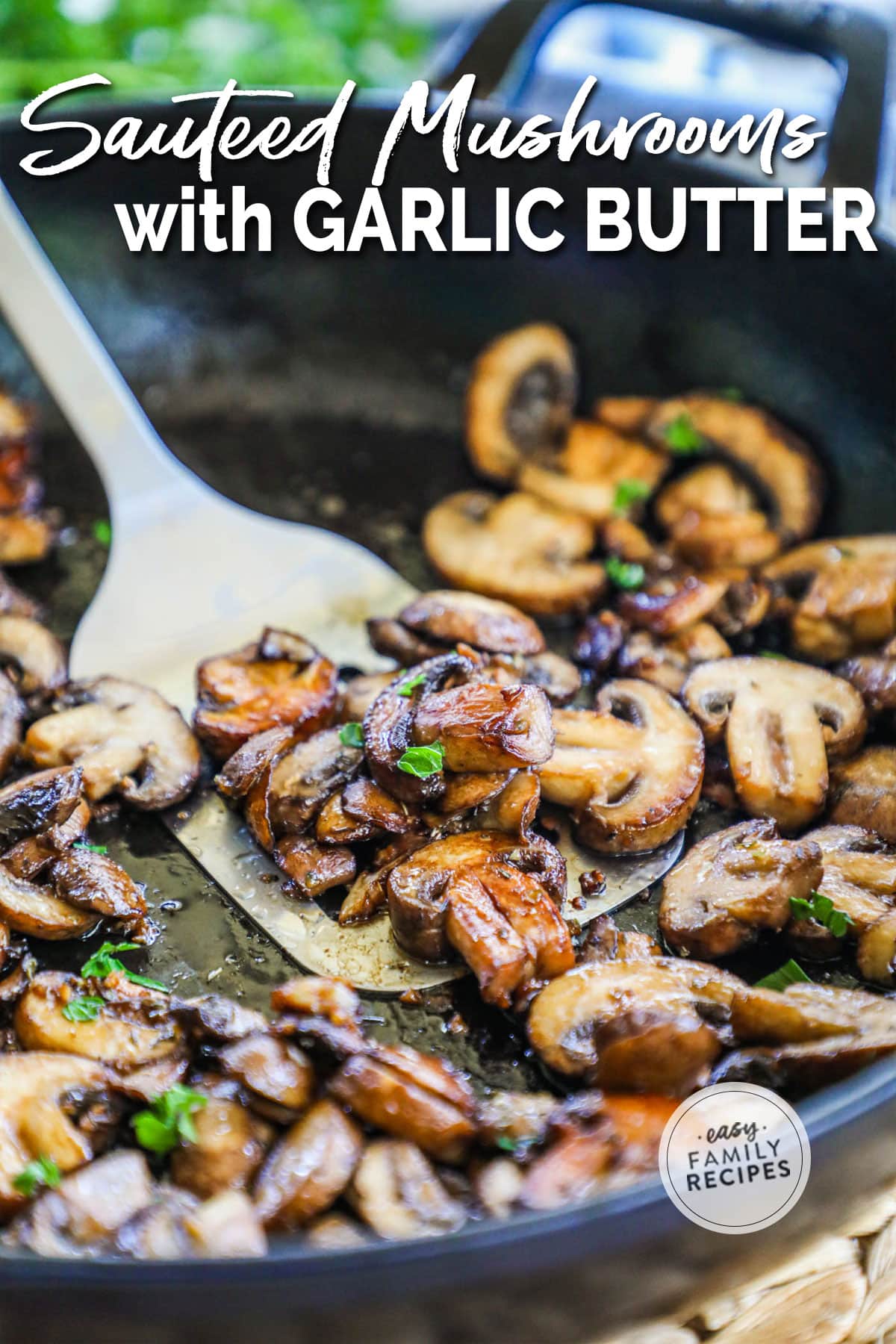 How to Freeze Sautéed Mushrooms
Sautéed Mushrooms can be frozen easily! Follow the steps below and you can store this recipe in the freezer for up to 6 months.
After cooking the mushrooms, spread them out evenly on a parchment-lined cookie sheet.
Place them in the freezer for 25 minutes or until completely frozen.
Remove them and store them in a freezer bag.
Mushrooms with Garlic Butter Leftovers
If you have leftovers after making sauteed garlic butter mushrooms, then it is your lucky day! They save and reheat well, and can make the start of another delicious dish.
To save leftovers, separate into meal sized portions and then place in an airtight container and store:
in the refrigerator for 3-4 days
in the freezer up to 6 months
Leftover Recipes
Here are a few ways to repurpose those leftovers and give them a delicious makeover!
Garlic Mushroom Pasta – Cook pasta and toss them in this mushroom sauté sauce.
Top Round Steak and Mushroom Sandwiches – Nothing better than mushrooms and steak!
Mushroom Swiss Burgers – Grill up some beefy burgers and top with Swiss and garlic mushrooms.
More Sauteed Veggie Recipes
If you enjoyed this recipe, I really hope you will take a moment to grab a few more easy recipes for another busy night!
You can check out all of my side dish recipes here, or see a few of our reader's favorite recipes below.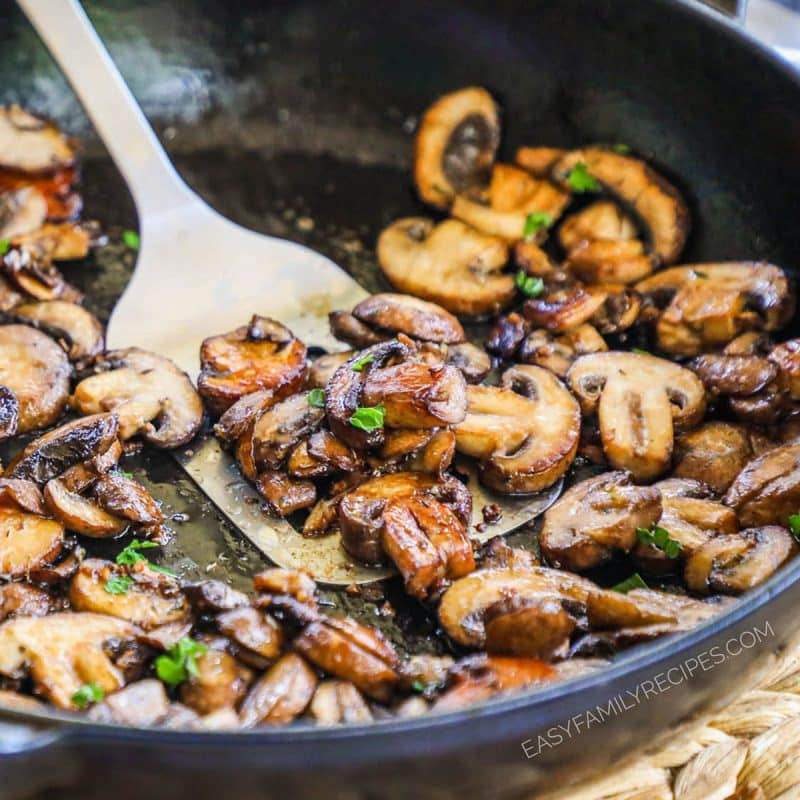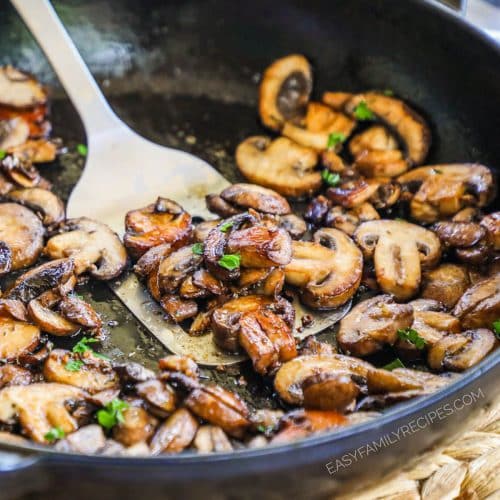 Sautéed Mushrooms with Garlic Butter
THE BEST sautéed mushrooms with an irresistible garlic butter flavor and one key ingredient that takes the flavor over the top! Quick and easy to make and are great as a side dish and as a meat substitute for a main dish.
Ingredients
16

ounces

sliced mushrooms

,

brown or white

1

tablespoon

olive oil

1

tablespoon

soy sauce

1

tablespoon

butter

2

cloves

garlic

1/4

teaspoon

dried thyme

1/4

teaspoon

dried oregano
Instructions
Heat the oil in a large skillet over medium high heat.

Toss the mushrooms with the soy sauce and add to the hot pan in a thin flat layer. Let cook for 4-5 minutes without stirring them. Then stir and cook an additional 4-5 minutes or until they are soft.

Add the garlic, butter, thyme and oregano to the mushrooms and stir until the butter is melted and the seasonings are evenly distributed throughout, about 1 minute.

Remove mushrooms from heat and garnish with fresh parsley if desired.
Nutrition Information
Calories:
86
kcal
(4%)
,
Carbohydrates:
5
g
(2%)
,
Protein:
4
g
(8%)
,
Fat:
7
g
(11%)
,
Saturated Fat:
2
g
(13%)
,
Polyunsaturated Fat:
1
g
,
Monounsaturated Fat:
3
g
,
Trans Fat:
1
g
,
Cholesterol:
8
mg
(3%)
,
Sodium:
280
mg
(12%)
,
Potassium:
379
mg
(11%)
,
Fiber:
1
g
(4%)
,
Sugar:
2
g
(2%)
,
Vitamin A:
92
IU
(2%)
,
Vitamin C:
3
mg
(4%)
,
Calcium:
11
mg
(1%)
,
Iron:
1
mg
(6%)