Perfectly tender pork tenderloin in a rich and flavorful garlic sauce– it's a meal made to IMPRESS! This easy pork recipe makes the perfect dinner when you need something QUICK and DELICIOUS! With a quick sear to lock in the flavor and juices, roasting the pork tenderloin to perfection, and a quick sauce made using the pan drippings, this recipe will have you feeling like a chef… without the hours of work!
Oven Roasted Pork Tenderloin – The EASY Way!
Cooking pork tenderloin in the oven may seem fancy, but it is easy to make just using a few every day ingredients, a pan, and of course, your oven! Bonus- It looks and tastes fancy… but is really so easy. Despite how simple it is, it is still one of my top rated pork tenderloin recipes!
The best pork tenderloin, is tender, juicy, and extra flavorful- and I am going to show you my simple method to make baked pork tenderloin that checks all of these boxes and more!
There is some debate on what's the best way to cook pork tenderloin, but I think this oven baked method can't be beat!
What I LOVE about this recipe:
Flavor! … and lots of it! The tenderloin is seasoned and the flavor of the pork is truly allowed to shine through the sear of the meat and using the juices and drippings to make the garlic sauce.
One pan- The same one pan is used to sear, bake, then make the sauce. This drastically reduces the number of dishes to clean up and the amount of things to juggle in prep.
Customizable- I give suggestions on what we use, but the seasoning can be changed up and the same recipe used to make many different flavor combinations.
Lean – The pork tenderloin is a lean and delicious. Once cooked it can be cut in medallions perfect for serving kids or adults!
Fancy feel- Making this dish makes you feel fancy. Like you did something extra! It is super simple and doable, even for a new home cook. There is nothing better to make you feel like you conquered dinner!
What to Serve with Pork Tenderloin
This recipe carries very classic flavors which makes it perfect to serve with many of your favorite side dishes of all types. From classics to healthy, you can serve almost anything with this garlicky pork tenderloin.
Side Dish Ideas
My favorite way to serve this Garlic Pork Tenderloin is to cut it into medallions, then spoon the sauce right over the top. You can choose one side dish or add a few to make a wholesome, well rounded dinner.
Recipe Notes
This Pork Tenderloin with Garlic Sauce recipe is as simple as promised! Just a few pantry ingredients and a pork loin for a family friendly meal.
In this section I am going to go through a few tips and tricks I use when making this recipe to get the absolute best and most delicious results.
Make sure to scroll to the bottom for the FULL recipe card.
Ingredients + Substitutions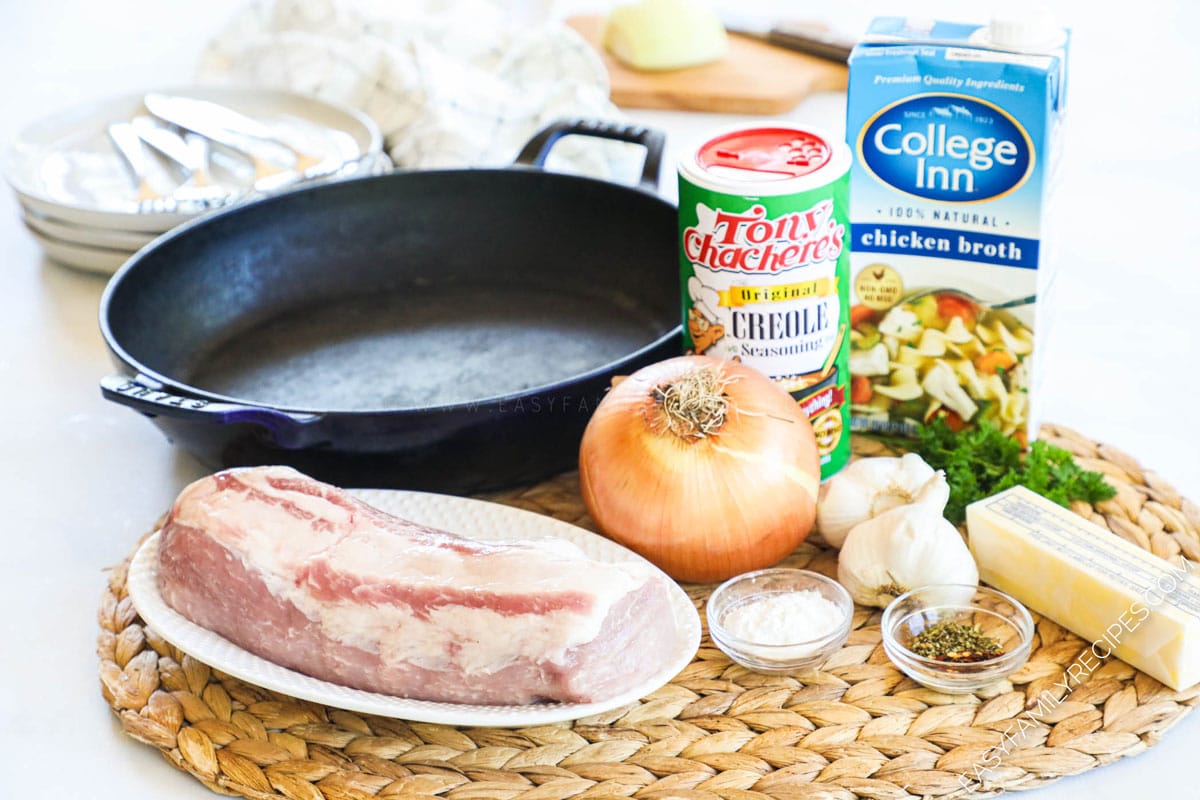 For the pork tenderloin:
Pork tenderloin– This recipe just calls for 1 pork tenderloin. You can generally find this packaged in the pork area or the meat section in any grocery store, or super store. This amount will be perfect to feed about 4 people. If you have a bigger crowd, or would like to have leftovers, you can use 2 pork tenderloins easily in this recipe.

Cajun seasoning– You can use store bought cajun seasoning, or make this easy homemade Cajun seasoning. I love how a sprinkle of cajun seasoning really enhances the natural flavor of the pork. It also works well with the garlic sauce. Cajun seasoning does usually have a kick though, so if you prefer something more mild, check the variations section below for seasoning options.

Vegetable oil– vegetable oil, or any neutral flavored cooking oil will work.
For the sauce:
Onion– I generally use white, yellow, or sweet onion. Try to get the dice on the onion as fine as possible to allow it to more fully incorporate with the sauce
Garlic– Fresh is best, and it does make a difference in flavor in this dish.
Red pepper flakes– These don't add much heat, but they do amp up the flavor profile!
Dried oregano– This gives the best twist of flavor
Chicken broth– This thins the sauce. You can also use white wine, or vegetable broth if preferred.
Cornstarch– acts as the thickening agent in the sauce.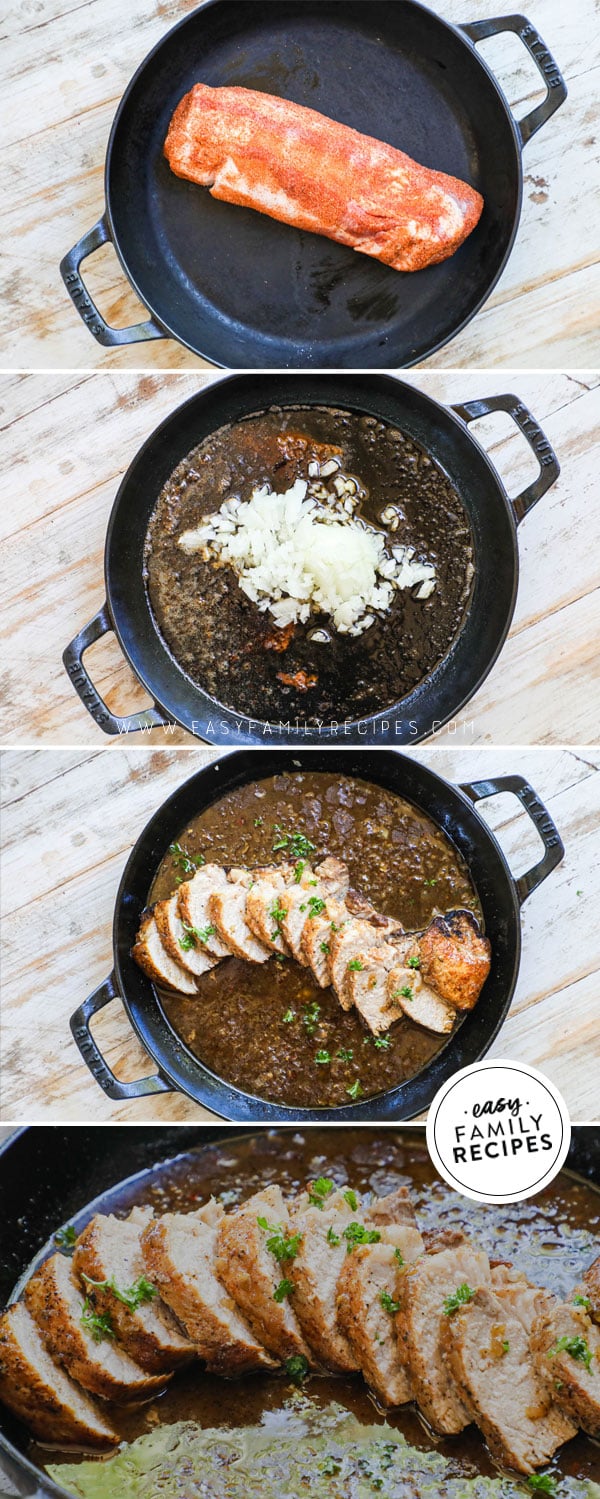 Recipe Tips
Season it up! Use cajun seasoning (or other) on the outside to create a crust of flavor combined with the sear. You can also change up the flavor by using different seasoning options – see the variations section below!
Hot pan – In order to get a good crust, you have to heat both the pan and the oil before adding the pork. That allows you to get the really good, flavorful crust by just cooking it a minute or so on each side. The other important tip, is that once you set it down, don't move or turn it until it is seared. It should easily release from the pan once the crust is formed.
Don't over cook- Once you move the pan from the stovetop to the oven make sure you don't over-cook the pork tenderloin. Over-cooking pork is the number one enemy of getting ender juicy meat.
Sauce for the win- The garlic sauce (or gravy) made in this dish is the best part! Once the pork is done, you can remove it from the pan to rest, then use those delicious drippings to make the rich garlic sauce. This is the key to creating all the flavor in this dish.
How long to cook pork tenderloin in the oven?
When cooking pork at 350˚F in the oven, it will take about 25-35 minutes to cook fully. This will vary depending on the size and power of your oven, along with climate, altitude, and a few other factors. When the pork is done the meat will be white throughout and slightly pink just in the center. The best way to figure out when your pork is done is to use a food thermometer.
What temperature should pork tenderloin be cooked to?
It is recommended that pork is cooked to 145˚F when measured in the middle of the cut. Roasting your pork tenderloin to this temperature will cook it to medium which means it will be mostly white, with a slightly pink center.
Recipe Variations
If you love this recipe as much as we do and want some quick ways to change it up for variety, these little tips will do the trick!
Rosemary Pork Tenderloin– Make recipe as directed, except in place of the cajun seasoning, use 1 tsp garlic powder, 1 tsp onion powder, 2 tsp rosemary, with salt and pepper to taste.
Italian Pork Tenderloin– Make recipe as directed, except in place of the cajun seasoning, use 1 tsp garlic powder, 1 tsp onion powder, 2 tsp Italian seasoning mix, with salt and pepper to taste..
Herb crusted Pork Tenderloin– Make recipe as directed, except in place of the cajun seasoning, use 1/2 tsp garlic powder, 1/2 tsp onion powder, 1 tsp fresh chopped parsley, 1 tsp fresh chopped thyme, 1 tsp fresh chopped oregano with salt and pepper to taste..
Dietary Considerations
If you have special dietary needs, this recipe meets some and can be easily modified to comply with others.
As always, check all store bought ingredients for compliance on specific dietary needs. The notes below are a general guide.
Gluten free: This recipe is naturally gluten free given that the seasoning blend you use is gluten free. My homemade Cajun seasoning is naturally gluten free.
Dairy free: This Pork Tenderloin recipe is naturally dairy free.
Nut free: This recipe is naturally nut free
Egg free: This recipe is naturally egg free
Low carb/Keto: This recipe is low carb at only approx 5g net carbs per serving.
Macros: The approximate macro calculation for this recipe is- P: 48 g C: 6 g F: 15 g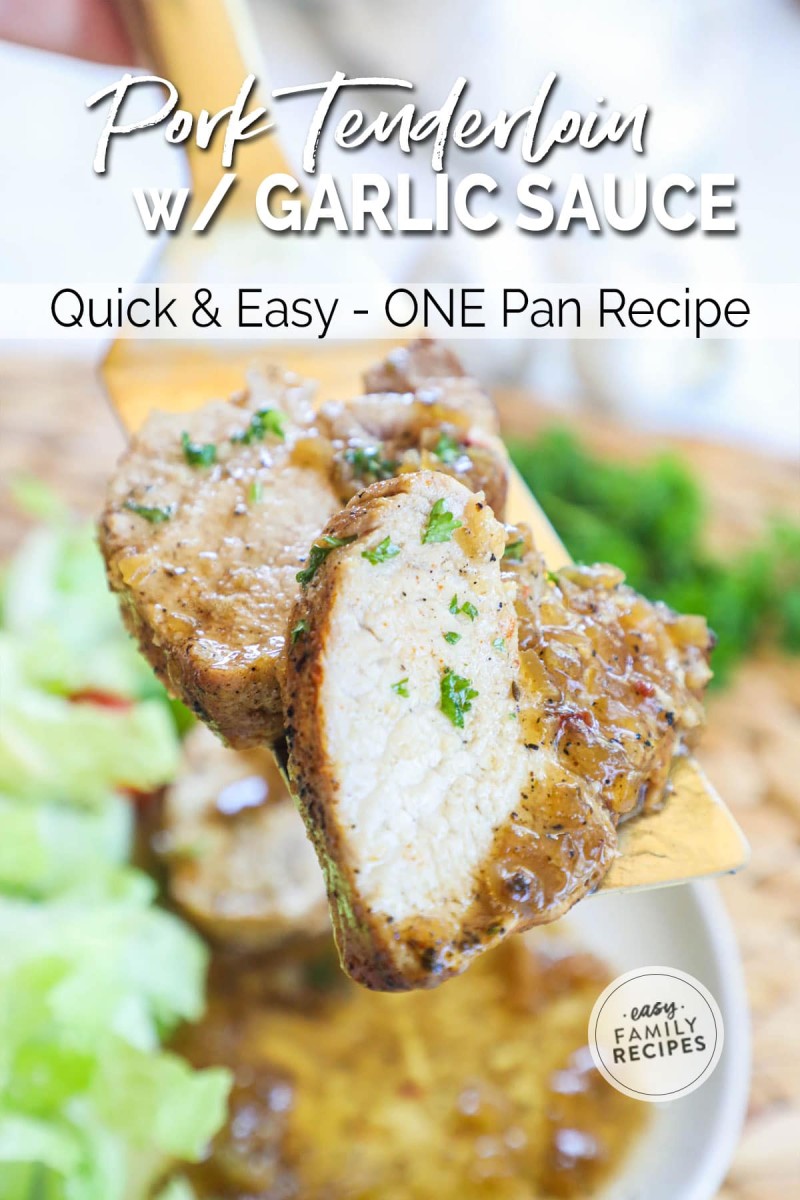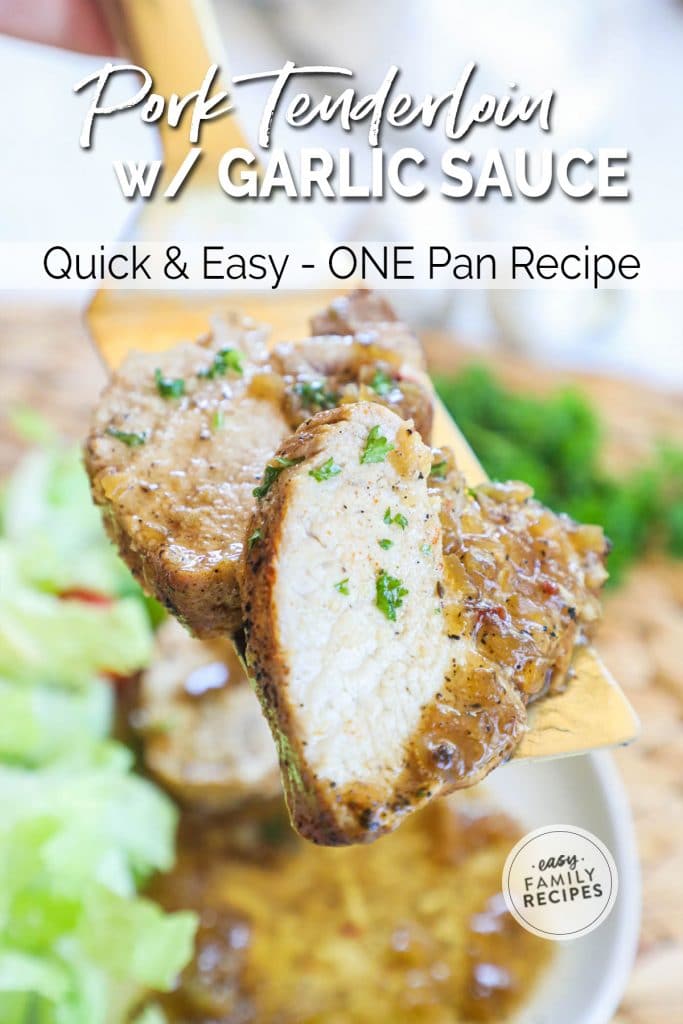 Pork Tenderloin with Garlic Sauce Leftovers
If you have leftovers after making this recipe, then it is your lucky day! They save and reheat well, and can make the start of another delicious dish.
To save leftovers, separate into meal sized portions and then place in an airtight container and store:
in the refrigerator for 3-4 days
in the freezer up to a month
Leftover Pork Tenderloin Recipes
Here are a few ways to repurpose those leftovers and give them a delicious makeover!
Pork Tenderloin Sandwich– Toast a hoagie roll. Spread the garlic sauce on both sides of the roll. Add pork tenderloin medallions and then top with shredded lettuce and tomato.
Garlic Pork Pizza– On a prepared pizza crust, spread the garlic sauce over the crust. Top with mozzarella or Italian blend cheese. Chop up leftover pork and sprinkle over the top. Add chopped spinach, and your choice of crumbled bacon, olives, mushrooms and diced onion. Bake as directed.
Pork Tenderloin Lettuce Wraps– Chop the leftover pork tenderloin and mix with a small amount of garlic sauce. Prep butter lettuce leaves by removing them from the core and cleaning them. Place the diced pork in the lettuce leaf and top with your choice of shredded carrots, diced cucumber and diced tomatoes. Wrap and enjoy!
Pork Fried Rice– Chop leftover pork tenderloin in to bitesized pieces. In a large skillet sauté mixed veggies, pork, and eggs. Add day old rice and season with soy sauce, sesame oil, and garlic sauce. Continue to cook until everything is heated through and the rice is toasty.
More Easy Pork Recipes
If you enjoyed this recipe, I really hope you will take a moment to grab a few more easy recipes for another busy night!
You can check out all of my ||||| recipes here, or see a few of our readers favorite recipes below.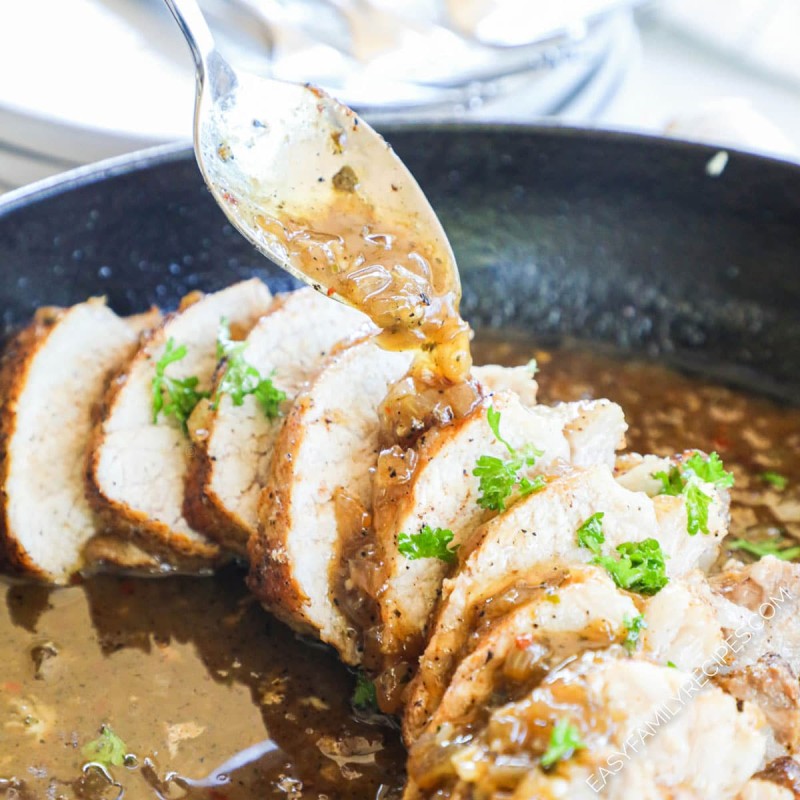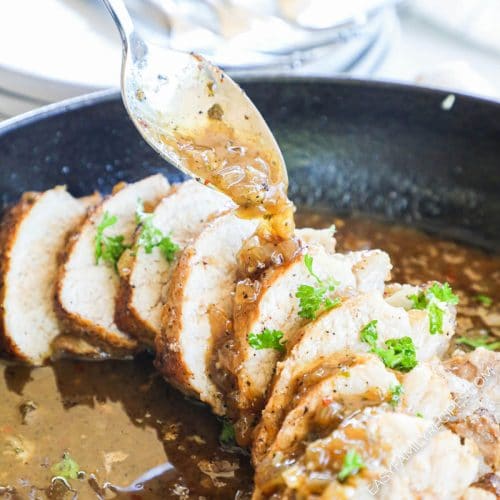 Roasted Pork Tenderloin with Garlic Sauce
This Easy Roasted Pork Tenderloin with Garlic Sauce knocks it out of the park on flavor, but is still very simple to make. The tender, juicy pork is seared, then baked in the oven and a garlic sauce is made with the drippings to finish it with lots of flavor!
Ingredients
For the sauce:
1/2

onion

,

finely diced

4

cloves

garlic

1/2

tsp

red pepper flakes

1/2

tsp

dried oregano

1

cup

chicken broth

,

or vegetable

1

tbsp

cornstarch
Instructions
Preheat oven to 350. Heat oil in a large pan over high heat.

Season the pork tenderloin on all sides with cajun seasoning. Then place in the hot oil and sear for about 1 minutes on each side.

Cover with lid or foil and transfer to the oven to bake for 25-35 minutes or until it reaches 145˚F internal temp.

Once done, remove the pork tenderloin from the pan and put the pan with drippings on the stove over medium heat. Add the onion and cook until translucent.

Add the garlic, oregano, and red pepper flakes and cook 1 minute, then stir in the broth and bring to a simmer.

Combine the cornstarch with water to form a paste, then stir it into the sauce and simmer for 3-5 minutes or until it thickens.

Slice the pork tenderloin and place it back in the sauce to serve. Enjoy!
Nutrition Information
Calories:
359
kcal
(18%)
,
Carbohydrates:
6
g
(2%)
,
Protein:
48
g
(96%)
,
Fat:
15
g
(23%)
,
Saturated Fat:
8
g
(50%)
,
Trans Fat:
1
g
,
Cholesterol:
147
mg
(49%)
,
Sodium:
340
mg
(15%)
,
Potassium:
1018
mg
(29%)
,
Fiber:
1
g
(4%)
,
Sugar:
1
g
(1%)
,
Vitamin A:
947
IU
(19%)
,
Vitamin C:
6
mg
(7%)
,
Calcium:
35
mg
(4%)
,
Iron:
3
mg
(17%)