There are many recipes for how to make a Mississippi Pot Roast out there, but this one is THE BEST! Made with only 5 simple ingredients and a crockpot, this recipe produces the most, tender, juicy, rich, flavorful, pot roast, and couldn't be more quick and easy to make. With the rich and tangy signature flavor of Mississippi Pot Roast, combined with the ease of the slow cooker, this recipe is a staple for weeknight dinner.
Mississippi Pot Roast – The EASY Way!
The slow cooker can be used to make dinner easier, but there are few recipes where is really outshines any other way to prepare it. This Mississippi Pot Roast is one of them!
For a recipe so simple, this pot roast certainly will make you do a double take. We aren't talking about a dry, bland piece of beef. This Mississippi Pot Roast has everything that makes a roast absolutely perfect.
What I love about this recipe:
Extra tender – this roast just falls apart, and can be cut with a fork! The secret is the acidity of the peppers tenderizes the meat even more!
So, so juicy! The juices are locked in the tender stands of beef as it slowly cooks.
Ultra rich beefy flavor- the beef flavor is enhanced by cooking in the seasonings and au jus gravy which creates a thicker, more flavorful broth to coat the strands of meat.
Dump and go- This can go from the fridge to cooking in as little as 5 minutes!
Only 5 ingredients! It tastes so great it is hard to believe it is so simple to make.
Hands off cooking– The slow cooker does the work, you go on with your day!
Sides for Mississippi Pot Roast
Pot Roast is a classic dish, and this Crockpot Pot Roast has the same rich beefy flavors with a tangy twist. You can pair the roast with many of the same classic side dishes as the original, as well as, a few of these new ideas.
Side Dish Ideas
You can choose one or add a few sides to make a wholesome, well rounded dinner.
Recipe Notes
This Crock Pot Mississippi Roast recipe is as simple as promised! Just 5 ingredients and a slow cooker for a family friendly meal.
In this section I am going to go through a few tips and tricks I use when making this recipe to get the absolute best and most delicious results.
Make sure to scroll to the bottom for the FULL recipe card.
Ingredients + Substitutions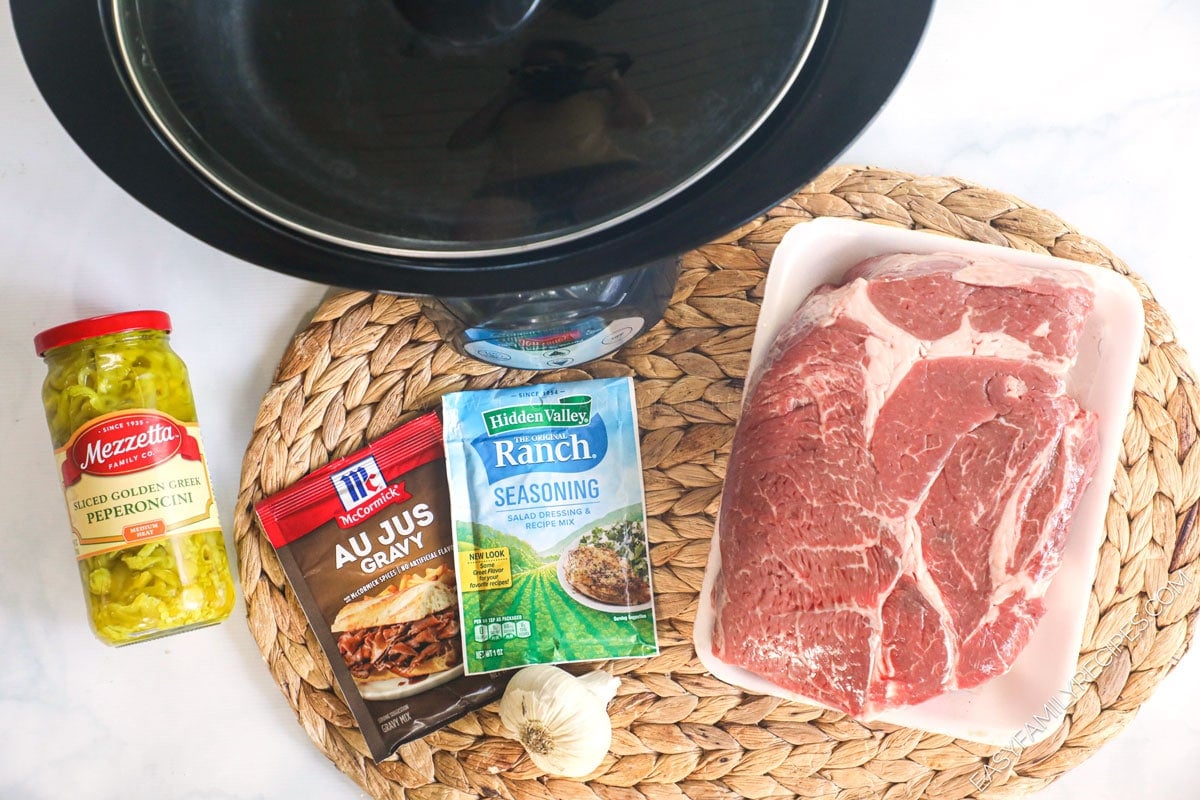 Chuck roast– Chuck roast is my favorite cut for a pot roast because it gets that ultra tender, fall apart texture when it cooks in the crock pot. You can also substitute a round roast which is a little bit more lean, but less tender, or a beef brisket which is still tender but holds together better if you want to slice it.

Sliced peperoncini peppers– Peperoncini peppers are what gives the Mississippi Pot Roast the signature tangy flavor. I prefer to use sliced pepperoncini peppers, but whole can also be used. I like sliced since they blend into the meat with ease. Whole peppers give bigger bursts of flavor, rather than the flavors incorporating together.

Au jus gravy mix- This can be found on the spice aisle. It helps to enhance the rich beefy flavor of the broth.

Ranch mix– I used Hidden Valley Ranch seasoning mix, but you can also use homemade ranch mix.

Garlic cloves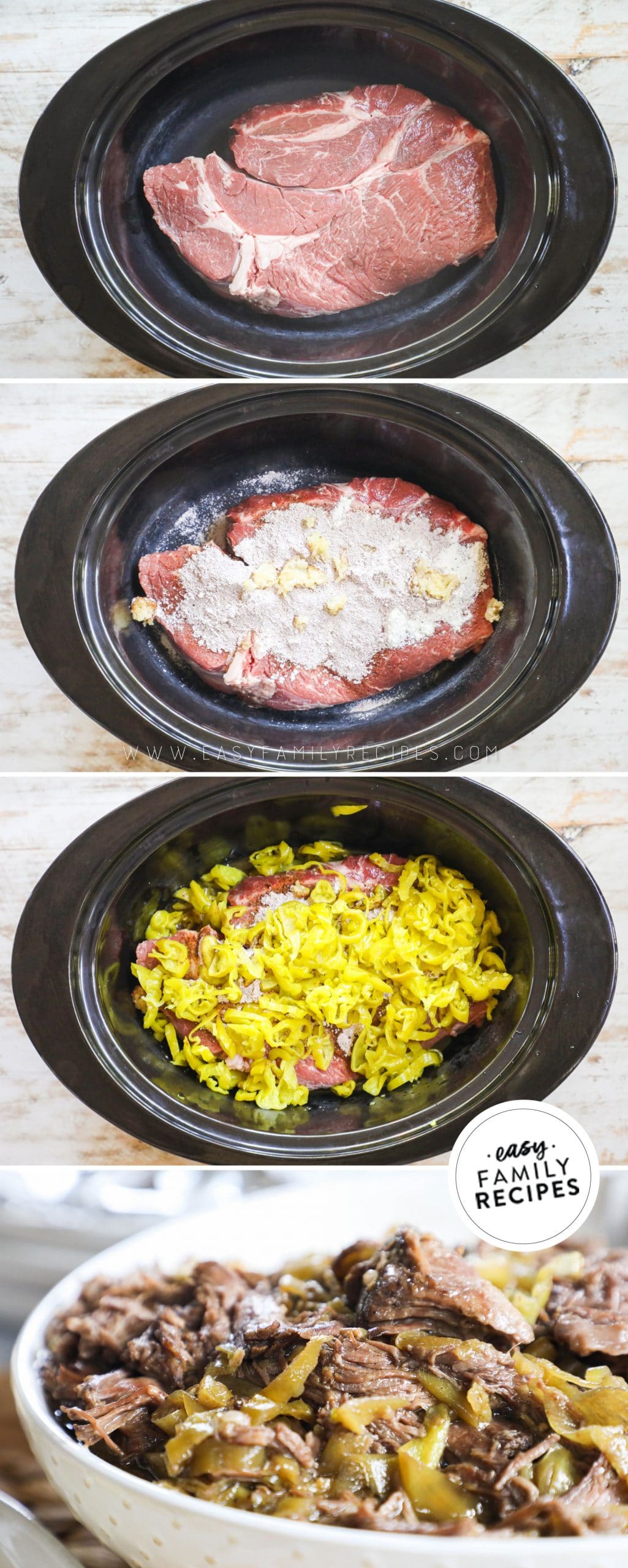 Recipe Tips
Do I need to sear the pot roast?
There are many pot roast recipes that instruct you to sear the outside of the roast before placing it in the slow cooker.

While some think that this can add a bit of extra flavor and texture, it adds significant time to the dish both in prep and clean up, so being in the business of EASY recipes, I have tried it both ways many times, and I don't think it adds a substantial difference in taste or texture to the finished roast.

That said, you can do it and it is okay, but I don't think it is worth the time and extra steps. Using a recipe like this that infuses the pot roast with flavor will give you much more taste with much less effort!

How long do I cook the pot roast in the crockpot?
The length of time you cook your pot roast is one of the most important parts of the recipe.

When cooking a pot roast in a Crock Pot, you should cook it for a minimum of 6 hours, up to 10 hours on low, with 8 being the happy spot.  This process of slowly cooking the meat over a low temperature is where the magic happens and the thick and tough cut of beef transforms into an amazingly tender and flavorful cut of beef.

Cooking for 6-8 hours over low heat in the slow cooker should produce a pot roast that falls apart into tender shreds of beef with little effort.

Spicy or Mild?
Peperoncini peppers can be spicy depending on the type you pick. To make this recipe mild or not spicy, you can either use mild peperoncini peppers or substitute mild sliced banana peppers in place of the pepperoncini peppers.

Can I Cook Mississippi Pot Roast on High?
This recipe becomes the most tender and juicy when cooked on low, however if you find yourself in a pinch, you can cook the roast on high for 4.5- 6.5 hours.
Recipe Variations
If you love this recipe as much as we do and want some quick ways to change it up for variety, these little tips will do the trick!
Mississippi Pot Roast with Onion Soup– Make the roast as directed substituting a packet of onion soup mix in place of the ranch mix.
Mississippi Pot Roast style Chicken– Use 3 lbs of boneless, skinless chicken thighs in place of pot roast. Prepare recipe as directing reducing the time to 4-6 hours on low.
Mississippi Pot Roast with Potatoes and Carrots– Make pot roast as directed adding 1.5 lb of small red potatoes and 1/2 lb baby carrots in the bottom of the crockpot under the roast.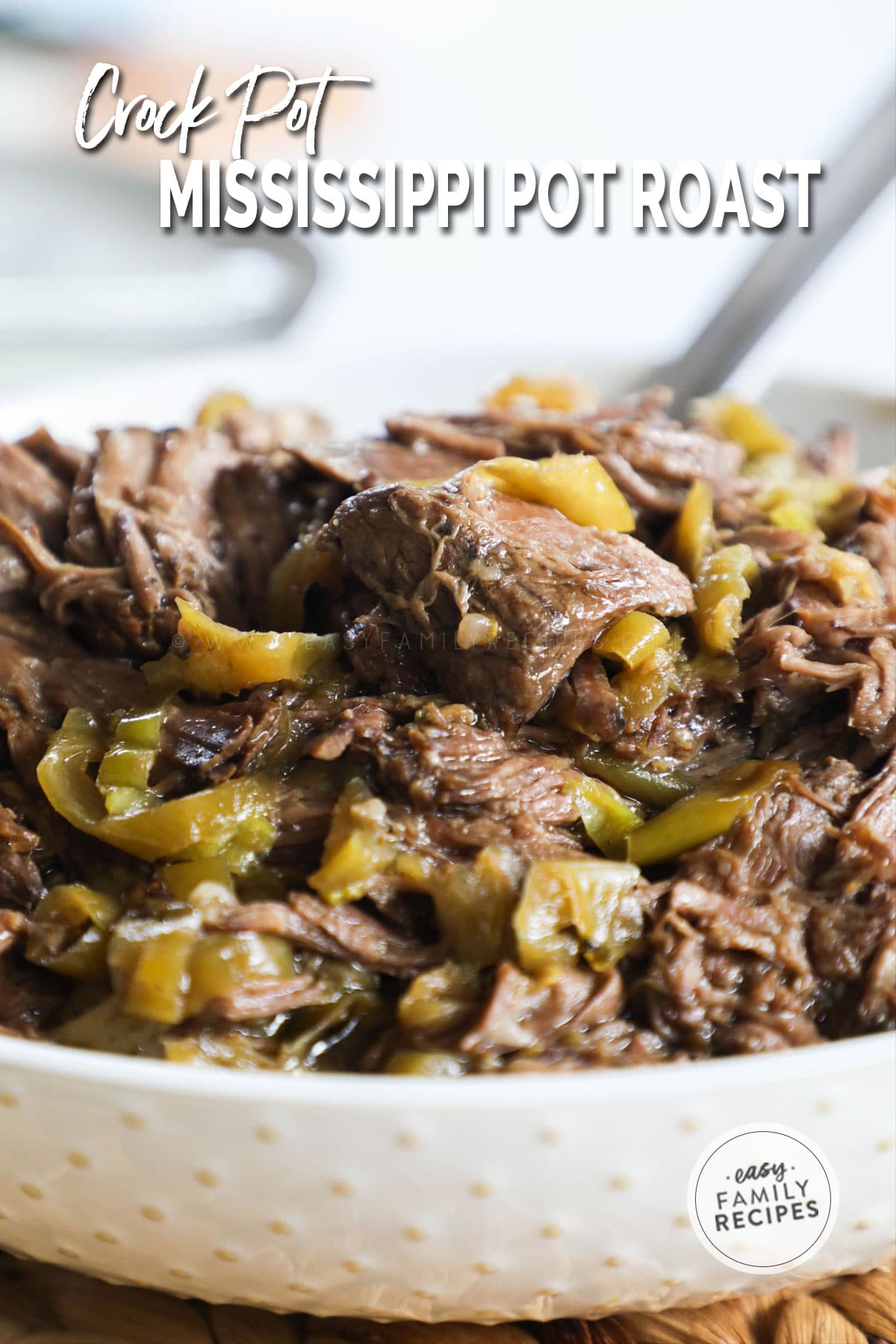 Freezer Meal Instructions
Can you freeze Mississippi pot roast? … You bet you can!
Freezing before or after cooking are both great options for pot roast. This allows you to prepare the Mississippi Pot Roast as a freezer meal, or just save leftovers so that you can have a quick meal ready to go another night. (see the leftover recipe ideas below!)
TO FREEZE BEFORE COOKING:
Follow the recipe directions through step 2, placing the pot roast and ingredients in a large zip top bag or air tight container.
Freeze for up to 6 months.
When ready to use, thaw for 24-48 hours in the refrigerator.
Continue as directed in step 3.
TO FREEZE AFTER COOKING:
Prepare recipe as directed.
Let pot roast cool.
Divide into meal sized portions and place in a zip top bag or air tight container.
Freeze.
When ready to eat, thaw in the refrigerator and reheat in the microwave or covered in an oven safe dish.
What to make with Mississippi Pot Roast Leftovers
If you have leftovers after making slow cooker pot roast, then it is your lucky day! They save and reheat well, and can make the start of another delicious dish.
To save leftovers, separate into meal sized portions and then place in an airtight container and store:
in the refrigerator for 3-4 days
in the freezer up to a month
Leftover Recipes
Here are a few ways to repurpose those leftovers and give them a delicious makeover!
Mississippi Roast Baked Subs– Slice a sub roll and butter each side and season with garlic salt. Broil for a few minutes until the butter is melted and the edges are brown. Pile on the Mississippi Pot Roast and then add provolone cheese on top. Broil again to melt the cheese, and serve with au jus.

Mississippi Beef Roast Bowls– Add your favorite grain to the bottom of a bowl. Pile the pot roast on top. Add shredded lettuce and your choice of veggies, diced bell pepper, mushroom, onion, shredded carrots, etc. drizzle with spicy mayo. Enjoy!

Mississippi Roast Sliders– Cut sliders in half. Pile roast on the bottoms of the rolls. Add mozzarella, provolone, or fontina cheese. Top the rolls and brush with melted butter mixed with garlic salt, oregano, and minced onion. Bake at 350 for 15-20 minutes or until the cheese has melted and the sandwiches are heated through.
More Easy Crock Pot Recipes
If you enjoyed this recipe, I really hope you will take a moment to grab a few more easy recipes for another busy night!
You can check out all of my Crock Pot recipes here, or see a few of our readers favorite recipes below.
Hungry for more family-friendly recipes? Sign up for my free recipe club to get new family-friendly recipes in your inbox each week! Find me sharing daily meal-time inspiration on Pinterest, Instagram, and TikTok.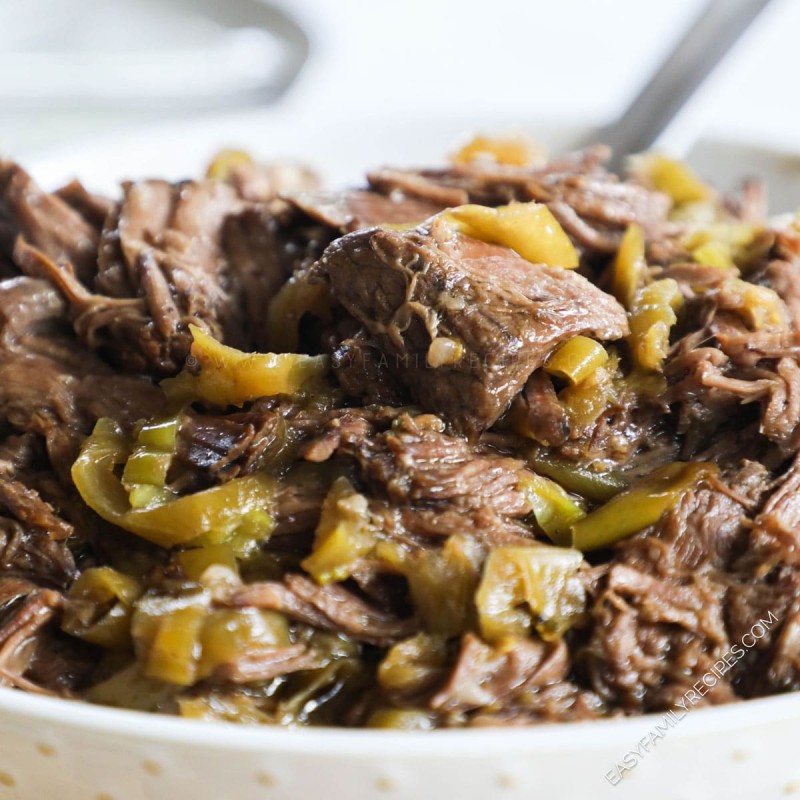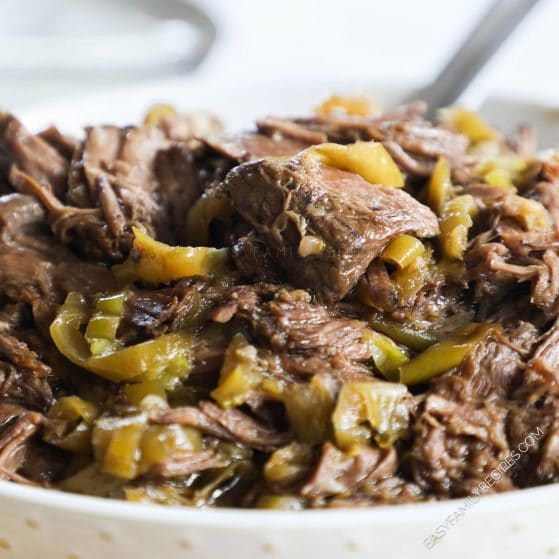 Crock Pot Mississippi Pot Roast
This is the BEST Mississippi Pot Roast recipe! Made in the slow cooker, it is ultra tender, extra juicy, and full of rich beefy flavor. All of that with only 5 ingredients and 5 minutes of prep!
Prep Time: 5 minutes
Cook Time: 6 hours
Total Time: 6 hours 5 minutes
Serves:8 servings
Hover over "serves" value to reveal recipe scaler
Ingredients
3 lbs chuck roast
12 oz sliced pepperoncini peppers
1 oz au jus gravy mix
1 ranch mix
4 garlic cloves pressed
Instructions
Add chuck roast to cork pot.

Cover roast with ranch mix, au jus mix, and pressed garlic.

Add all of the pepperoncini peppers on top and around the roast, Pour 1/2 cup of the juices from the jar over the top and discard the rest.

Cook on low for 6-8 hours or until the roast is tender and easily pulls apart.

Pull roast apart. Mix pulled roast back into the juices. Serve warm over mashed potatoes, on sub rolls, or over rice.
Nutrition Information:
Calories: 320kcal (16%)Carbohydrates: 3g (1%)Protein: 33g (66%)Fat: 20g (31%)Saturated Fat: 9g (56%)Polyunsaturated Fat: 2gMonounsaturated Fat: 10gTrans Fat: 1gCholesterol: 117mg (39%)Sodium: 153mg (7%)Potassium: 680mg (19%)Fiber: 1g (4%)Sugar: 1g (1%)Vitamin A: 167IU (3%)Vitamin C: 36mg (44%)Calcium: 38mg (4%)Iron: 4mg (22%)
(Nutrition information provided is an estimate and will vary based on cooking methods and brands of ingredients used.)