This Million Dollar Chicken Bake is made with a rich and bold flavor combo that can't be beat! Tender chicken breast is layered with a velvety mixture of two kinds of cheese, bacon, and green onions and baked to tender, juicy perfection! With hundreds of glowing reviews, this recipe is a tried and true best baked chicken recipe for an easy dinner!
Easy Chicken Bake
Baked Chicken makes a great dinner option for busy nights because:
It's easy
You can make it all in one dish
It cooks without babysitting so you can get other stuff done!
The problem is that sometimes it is bland, boring, and even can be tough or chewy.
Sound familiar?
This Million Dollar Chicken Bake is rescuing chicken breast destined for boring chewy baking everywhere! If you have ever had Million Dollar dip, you know what I am talking about. If not, you are in for a treat.
It is packed with flavor, baking right in a rich and creamy sauce. The best part is that not only is it delicious, but it can go from the fridge to the oven in as little as 10 minutes!
Easy AND Delicious!
After this recipe becoming one of loved chicken recipes I have ever created, I decided to try my hand at a few other Million Dollar recipes. They all live up to their name, make sure to try our Million Dollar Chicken Casserole, Million Dollar Bacon, Million Dollar Baked Pork Chops, Million Dollar Spaghetti, and this Million Dollar Chicken Salad, which tastes a lot like this recipe, but is perfect for a quick lunch, a great low carb option, or on the go meal for kids or adults!
🍽What to Serve with Baked Chicken
This dish is packed with flavor and pretty rich in its own right so I like to pair it with side dishes that are lighter generally. Of course it goes well with all of the classics, but also pairs well with healthy favorites.
You can pair it with one or pick a few for a well rounded, wholesome dinner, or to make the meal stretch.
🥣 Recipe Tips
This Million Dollar Chicken Bake is simple as promised! Fridge to oven in as little as 10 minutes and just 6 ingredients for a delightful cheesy chicken bake dinner!
That said, I want to share a few tips to help you get the absolute best, most tender and juicy baked chicken dinner. Hopefully this will answer any questions that may come up along the way, and give you a leg up making this recipe!
Make sure to scroll to the bottom of this post for the FULL recipe card.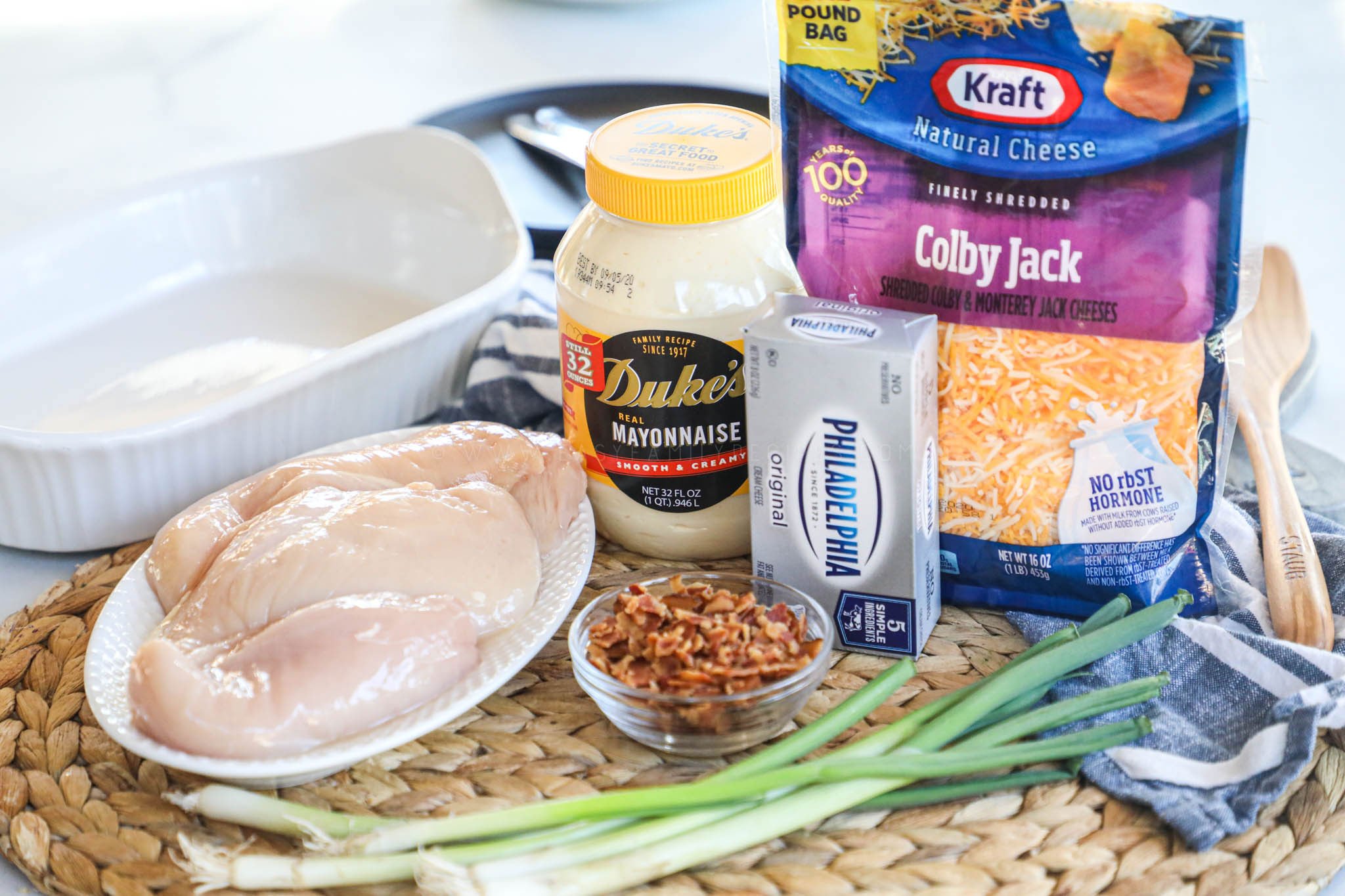 Ingredients
The ingredients are simple and straight forward here, and most are common, everyday fridge/pantry ingredients.
Chicken breast– Try to use thin chicken breast, or cut them in half (butterfly) or pound them out. Thin chicken breasts will cook more quickly and evenly, as well as, stay more tender!
Cream cheese– Make sure it is softened so everything will combine well.
Colby Jack
Mayonnaise
Bacon– You can make this ahead of time and store it in the fridge or freezer, or buy precooked bacon. I like to heat it in the microwave or skillet once am ready to use it to get it nice and crispy, fresh again.
Green Onions
Substitutions:
Chicken- You can substitute boneless, skinless chicken thighs or tenderloins for chicken breast
Cream Cheese- Light cream cheese can be used
Colby Jack- You can use cheddar or mexican blend if needed.
How long to Bake Chicken
The key to getting that tender juicy chicken is all in the baking!
Chicken breast should be cooked to an internal temperature of 165˚F. Once it starts getting hotter, it will start getting more tough and chewy.
This is why I recommend cooking with thin chicken breasts. It allows the chicken to come to the temperature more quickly. When you have thicker (or even normal sized) chicken breasts the outside has to cook longer for the middle to be done.
The best way to get perfect chicken is to use a food thermometer. You can get them inexpensively at most super stores, grocery chains, and even amazon. If you don't have (or want) one, you can still do it without, you just need to keep an eye on it to make sure you don't over cook it.
Depending on the size of your oven, how it is powered, and the climate and altitude you live at, as well as the thickness of your chicken breast, the cooking time can change. I will share some best practices though to get you started.
I cook this dish on the middle rack of my oven at 350˚F uncovered. It generally takes about 35 minutes to be done.
This can range from 30-40 on average. The only way to know exactly when it is done, is with a food thermometer, but you can cut in the middle and check to see if it is done if you don't have one.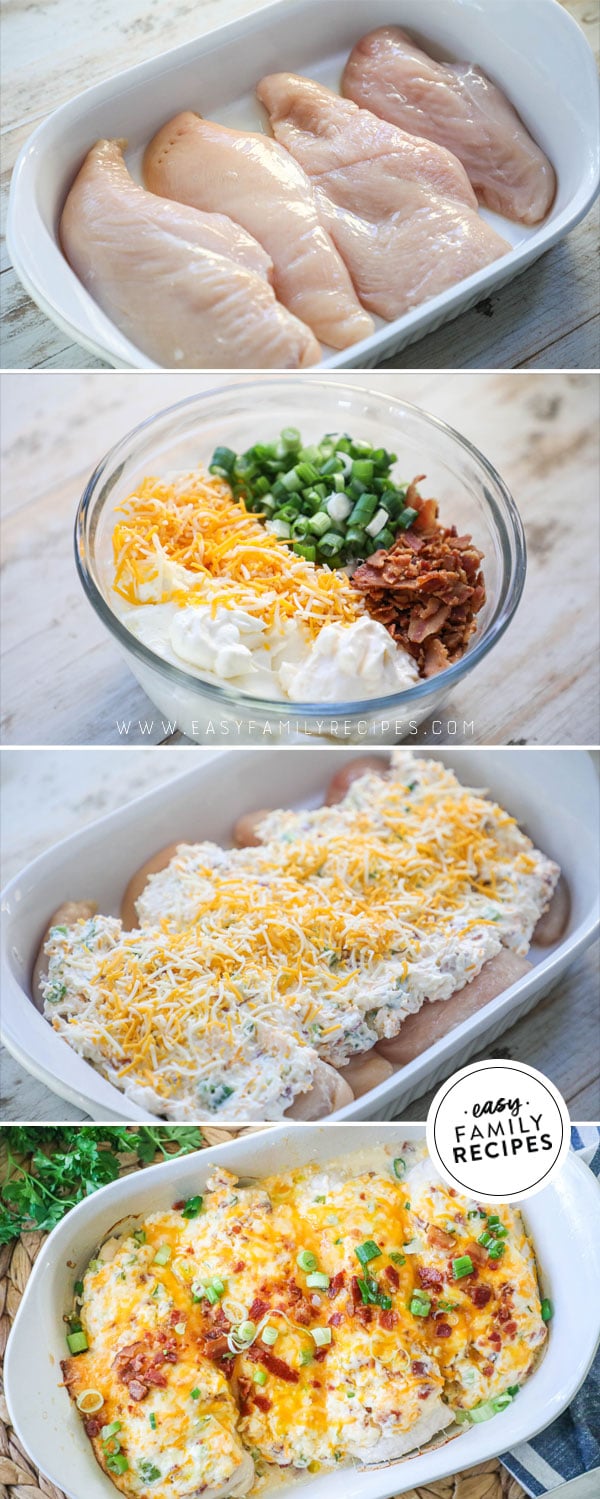 🍜Recipe Variations
I always encourage you to make the recipe as written first. However if you love this recipe and want to mix it up a bit, you can try these fun twists on this chicken bake.
Skinny Million Dollar Chicken Bake- Substitute light cream cheese, light mayo and reduce the colby jack cheese mixed in by 1/2 cup. This will reduce the calorie and fat content in the dish.

Ranch Chicken Bake- Mix 1 tbsp ranch mix into the cream cheese mixture for a fun new flavor combo!

Spinach & Chicken Bake- Mix 12 oz frozen spinach that has been thawed with extra moisture squeezed out, into the cream cheese mixture.

Million Dollar Baked Chicken and Potatoes- Use a larger baking dish and place baby red or gold potatoes that have been cut in half and tossed in olive oil, salt and garlic powder around the chicken. You must use small potatoes for them to cook at the same rate as the chicken.
🚫 Dietary Considerations
If you are cooking for someone with special dietary needs, this dish meets some requirements and can be easily modified for others.
Remember the notes below serve as general guidelines, but you should verify any store bought ingredients for compliance with your dietary needs.
Gluten Free- This recipe is naturally gluten free
Nut Free- This recipe is naturally nut free
Low Carb/Keto- This recipe is low carb with only 2g net carbs per serving and friendly for the Keto diet.
Egg free- If you would like to make this dish egg free, you can use sour cream in place of the mayonnaise in the recipe, or use vegan mayo.
Macro Friendly- If you would like to incorporate this recipe into your macros it has approx 2g carbs, 45g protein, and 35g fat per serving.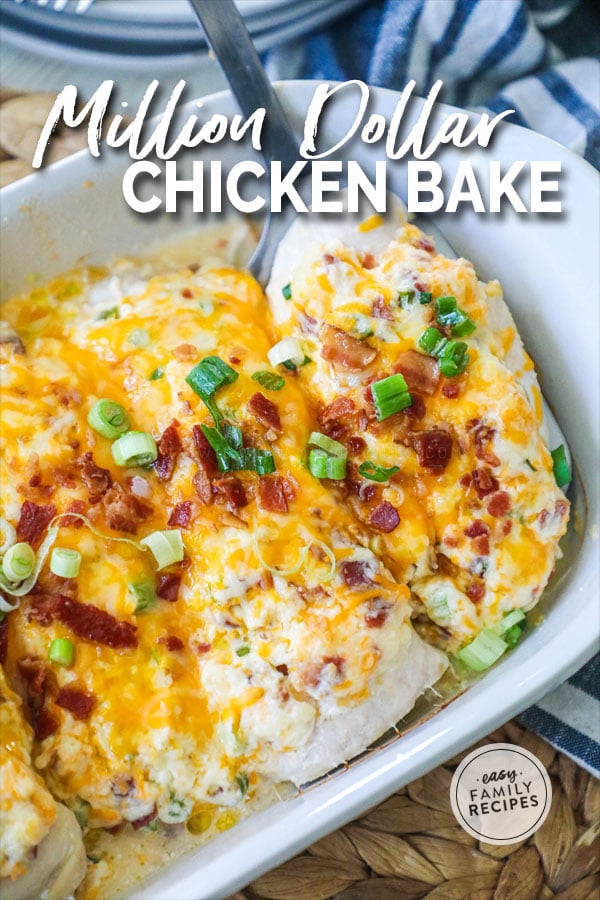 ❄️ Freezer Meal Instructions
If you want to prepare the Million Dollar Chicken for another night, you can prep it as a freezer meal. It can be prepared and frozen for up to 3 months.
Lay the chicken flat in a baking dish or freezer friendly container.
Combine the cream cheese, mayo, bacon crumbles, 1/2 colby jack cheese, and green onions and mix to combine.
Spread the mixture over the chicken breast and freeze. Extra cheese and bacon for topping can be frozen separately.
Once ready to make, thaw for 24-48 hours in the refrigerator.
Add remaining cheese to top and bake as directed.
🍲 Leftover Recipes
If you have any of this delicious chicken bake leftover, then you are in luck! Package it up and place it in the refrigerator for 3-4 days or in the freezer for up to a month.
Million Dollar Chicken Grilled Sandwiches– Slice the leftover chicken and place between to slices of good white bread. Spread the creamy topping on one side of the bread, add fresh spinach leaves and close the sandwich. Grill the sandwich in a buttered skillet over medium heat on each side until golden.
Baked Chicken Stuffed Peppers– Chop the leftovers of the millionaire chicken. Mix equal parts chicken with prepared rice. Stuff the mixture into bell pepper halves with the seeds and ribs removed. Top with extra cheese. Bake in a large baking dish covered for 25-35 minutes or until the peppers are tender and the filling is heated through.
Million Dollar Chicken Stuffed Baked Potatoes- Prepare baked potatoes. Split open and season with salt and pepper. Chop leftover million dollar chicken and stuff inside the potato. Top with cheese and extra bacon and bake for 10-15 minutes or until the cheese on top is melted and the filling is heated through. Top with sour cream and extra bacon and green onions.
Million Dollar Chicken Rice (or Cauli Rice) Bowls– Prepare rice or cauliflower rice. Chop and reheat leftover chicken. Pile in on one side of the bowl. Place your choice of chopped spinach, diced sweet red bell pepper, black beans and additional chopped green onions, around the bowl. Drizzle with ranch dressing and enjoy!
➕More EASY Chicken Bakes
If you enjoyed this recipe, I hope you will take a look around at some of our other easy dinner recipes. You can see all of our dinner recipes here, or some of our favorite easy one dish chicken recipes below.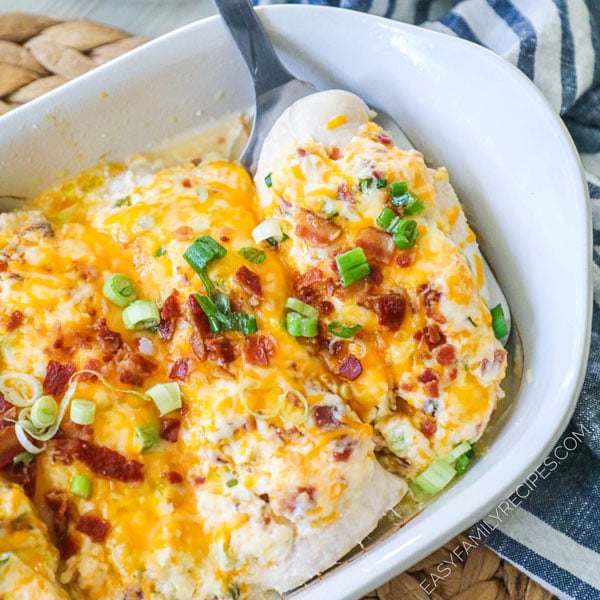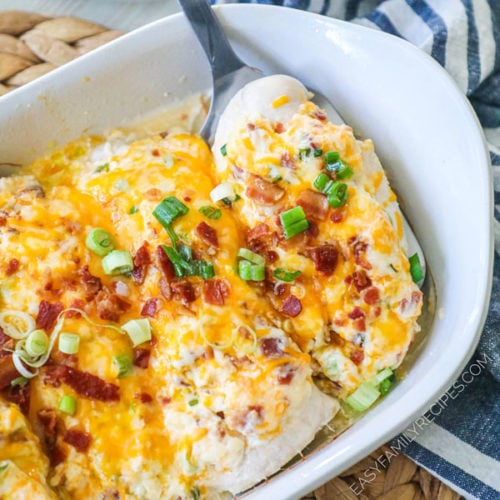 Million Dollar Chicken Bake
This Million Dollar Chicken makes baked chicken breast exciting again! Packed with rich, bold flavors, this one dish meal is a family favorite!
Ingredients
2

lbs

boneless, skinless chicken breasts

,

thinly cut or pounded

6

oz

cream cheese

,

softened

1/4

cup

mayonnaise

1/2

cup

crispy bacon

,

crumbled (about 8 slices)

1/2

cup

green onions

,

chopped (about 4 onions)

1.5

cups

colby jack cheese

,

shredded
Garnish
crumbled bacon

green onions
Instructions
1. Preheat the oven to 350˚F

In a medium sized bowl, mix cream cheese, mayo, bacon crumbles, green onion and half of the cheddar cheese together until combined.

Place the chicken breast in a baking dish and spread the cheese mixture over the chicken. Top with remaining cheddar cheese.

Bake for 30-40 minutes or until chicken is cooked through (165˚F internal temperature)

Garnish with additional bacon and green onions and serve hot!
Nutrition Information
Serving:
8
oz
,
Calories:
493
kcal
(25%)
,
Carbohydrates:
3
g
(1%)
,
Protein:
45
g
(90%)
,
Fat:
35
g
(54%)
,
Saturated Fat:
15
g
(94%)
,
Cholesterol:
172
mg
(57%)
,
Sodium:
688
mg
(30%)
,
Potassium:
711
mg
(20%)
,
Fiber:
1
g
(4%)
,
Sugar:
1
g
(1%)
,
Vitamin A:
837
IU
(17%)
,
Vitamin C:
3
mg
(4%)
,
Calcium:
267
mg
(27%)
,
Iron:
1
mg
(6%)
What temperature to bake chicken in the oven?
Chicken can be cooked at a range of temperatures depending on the cut and size of the chicken and the type of recipe you are using. This recipe bakes the chicken breast at 350˚F for 30-40 minutes. To be done, the chicken should have an internal temperature of 165˚F.
Should I cover the chicken bake while cooking?
I do not cover my chicken bakes while cooking. Because there can be a lot of variables in baking chicken, some ovens may brown the chicken or toppings faster than others. If you prefer a lighter, more melted cheese rather than a crisp cheese on top, you can cover the chicken bake for part or all of the cooking time.

When the chicken bake is cooked covered, it will often take longer to cook, so cooking time may be increased. Also, it will retain more liquid, so you may see more juices in the pan.
There is too much liquid once chicken is baked. What did I do wrong?
Chicken will naturally release liquid as it cooks. To reduce the amount of liquid that builds up in the pan, you can do a few things:
– Bake chicken uncovered which will give the liquid the opportunity to evaporate
– Use a bigger pan. This gives more surface area for the liquid to cook off and will also help the chicken cook faster.
– Don't over cook the chicken. Only cook the chicken bake to done, 165˚F internal temp. As it continues to cook it will lose more liquid and become dry and chewy.
How many calories are in chicken breast?
One chicken breast has 284 calories in a 3.5 ounce (100 g) serving. In this recipe including the toppings there approximately 493 calories per serving (1/6th of recipe).