This Mesquite Chicken Bake is so EASY and absolutely LOADED with flavor! With tender chicken breast seasoned and then smothered in tangy BBQ sauce, onion, cheese, and crispy crumbled bacon you have a recipe for a crowd pleasing dinner the family will love. The smokey mesquite flavor is infused throughout the dish to create an undeniably delicious chicken dinner.
Mesquite Chicken – The EASY Way!
Growing up in Texas, I have had my fair share of barbecue, and some of the best is mesquite smoked!
Mesquite is a tree native to Mexico and now grows across much of the south west and central part of the United States. When you smoke meat using the wood from a mesquite tree you add a naturally sweet, smokey, aromatic flavor to the meat.
While smoking the meat creates an amazingly delicious way to prepare chicken, it also takes a significant amount of time, special equipment and know how.
The good news is, that using a few key ingredients we can capture that stunning mesquite smoked flavor in an easy to make, and incredibly delicious BBQ chicken dinner.
What I love about this recipe
SO DELICIOUS! It definitely has those restaurant quality flavors! It packs in layers of flavor and texture in one easy dish.
Easy Clean Up– You really only need to get one dish dirty to make this easy dinner recipe.
BBQ flavor (cheater style!) When you don't have time, the expensive equipment or energy to make BBQ from scratch, this gives you all the great flavor fast!
Kid friendly- My kids generally love anything to do with BBQ! Throw in some cheese and it is a bonus. If the kiddos don't care for onion, you can either chop super small or leave it off of their pieces.
Quick to Make- It really only takes minutes of prep to get this in the oven to bake!
What to Serve with Mesquite Chicken Bake
Since this dish has the classic flavors of barbecue, it will pair well with many of your favorite traditional BBQ side dishes. There are both classic options and some healthy options to keep it light.
Side Dish Ideas
Potatoes- Any and all kinds are a perfect pairing with Mesquite BBQ Chicken!

Baked Potatoes
Potato Salad

Salad- A simple green salad with ranch dressing can't be beat! Use my homemade buttermilk ranch recipe for a special treat!
You can choose one or add a few sides to make a wholesome, well rounded dinner.
Recipe Notes
This Mesquite Chicken recipe is as simple as promised! Just 1 dish + a few ingredients for this easy chicken dinner.
In this section I am going to go through a few tips and tricks I use when making this recipe to get the absolute best and most delicious results.
Make sure to scroll to the bottom for the FULL recipe card.
Ingredients + Substitutions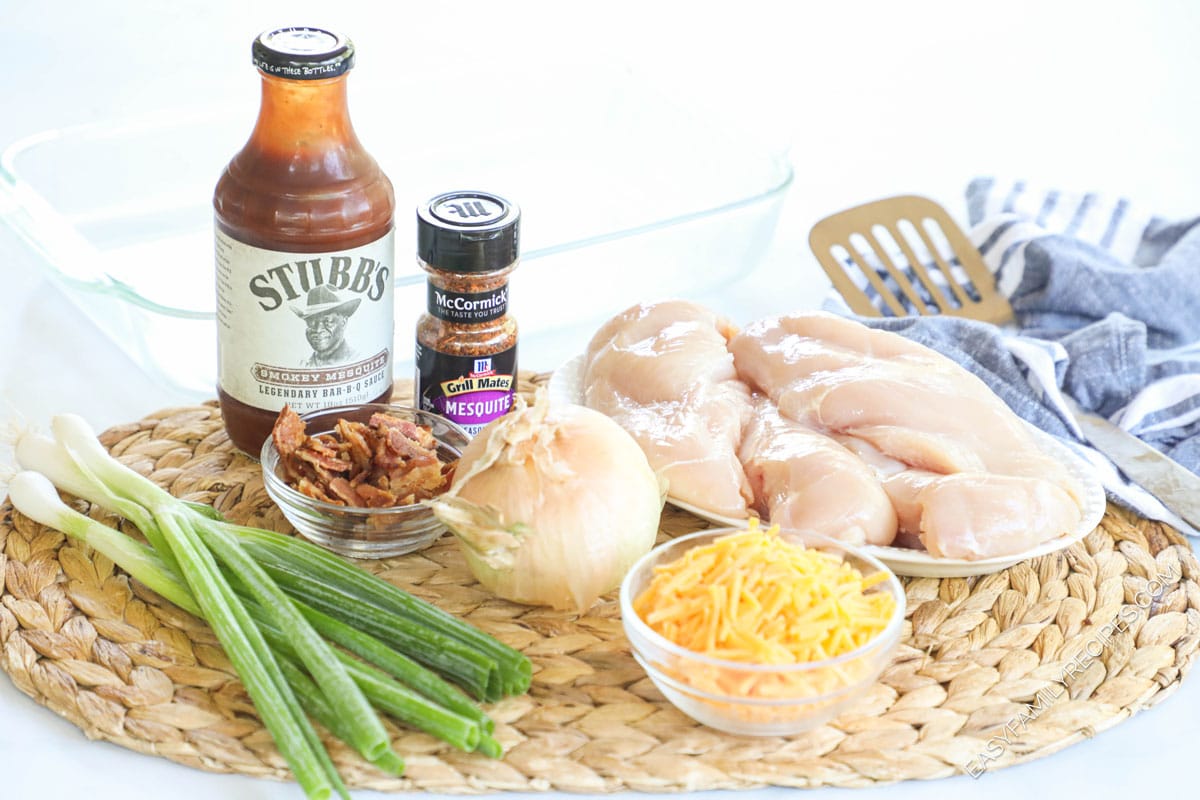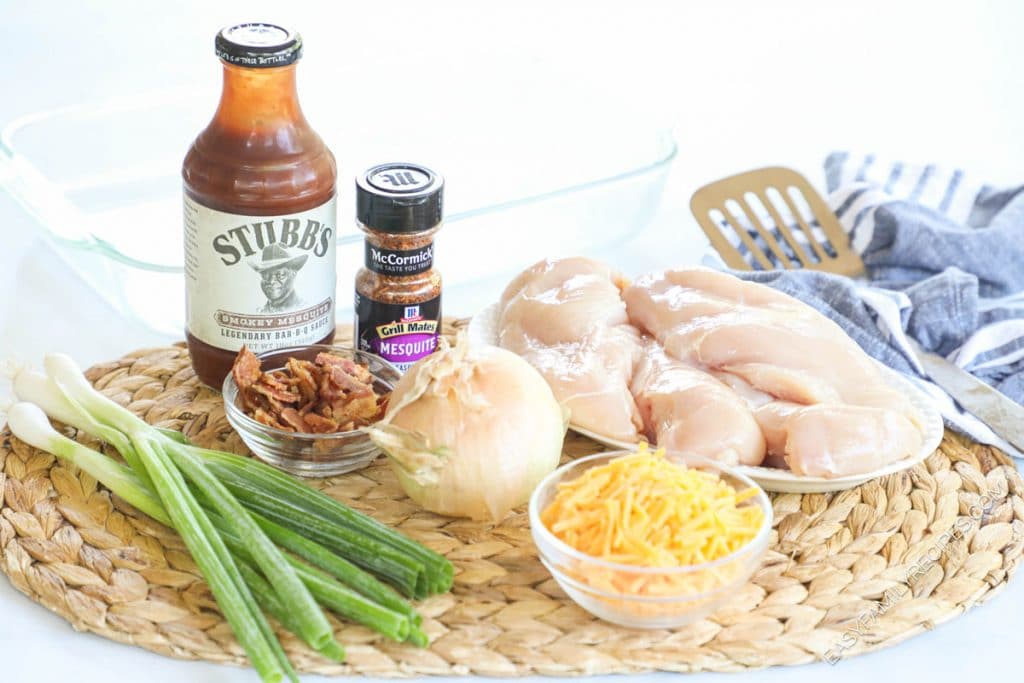 Chicken breast- This recipe is designed to be made with chicken breast. I find it cooks most evenly when the chicken breasts are on the more thin, small side. If you have large chicken pieces, I recommend cutting them in half so that they are half the thickness.

If you prefer another cut of meat, this recipe can also be made with boneless chicken thighs, or chicken tenderloins.

Mesquite seasoning- This is a key ingredient in getting that sweet and smokey flavor. I generally buy the McCormick brand seasoning which can be found in the seasoning aisle of the grocery store.

BBQ sauce– For a more prominent mesquite flavor to the chicken you can also use mesquite BBQ sauce. I have found many brands of BBQ sauce carry a mesquite flavor in my local grocery store. If you can't find mesquite flavor, or just have something else on hand, you can make this recipe with any variety of BBQ sauce and have a great, very tasty result.

Finely diced onion– Red onion, or sweet yellow onion are my top picks!

Cheddar cheese– I love the flavor of sharp cheddar cheese combined with BBQ sauce. You can also use colby, colby jack, monterey jack, or Mexican blend shredded cheese as a substitution.

Crispy crumbled bacon– This tops it off and adds the perfect bit of rich salty flavor, and texture to make this Mesquite Chicken Bake over the top delicious. You can sometimes find mesquite smoked bacon as well, but don't worry too much, any basic hickory or applewood smoked bacon will work wonderfully.

Green onion– chopped small for garnish not only makes it look amazing, but adds a little zing to the finished dish.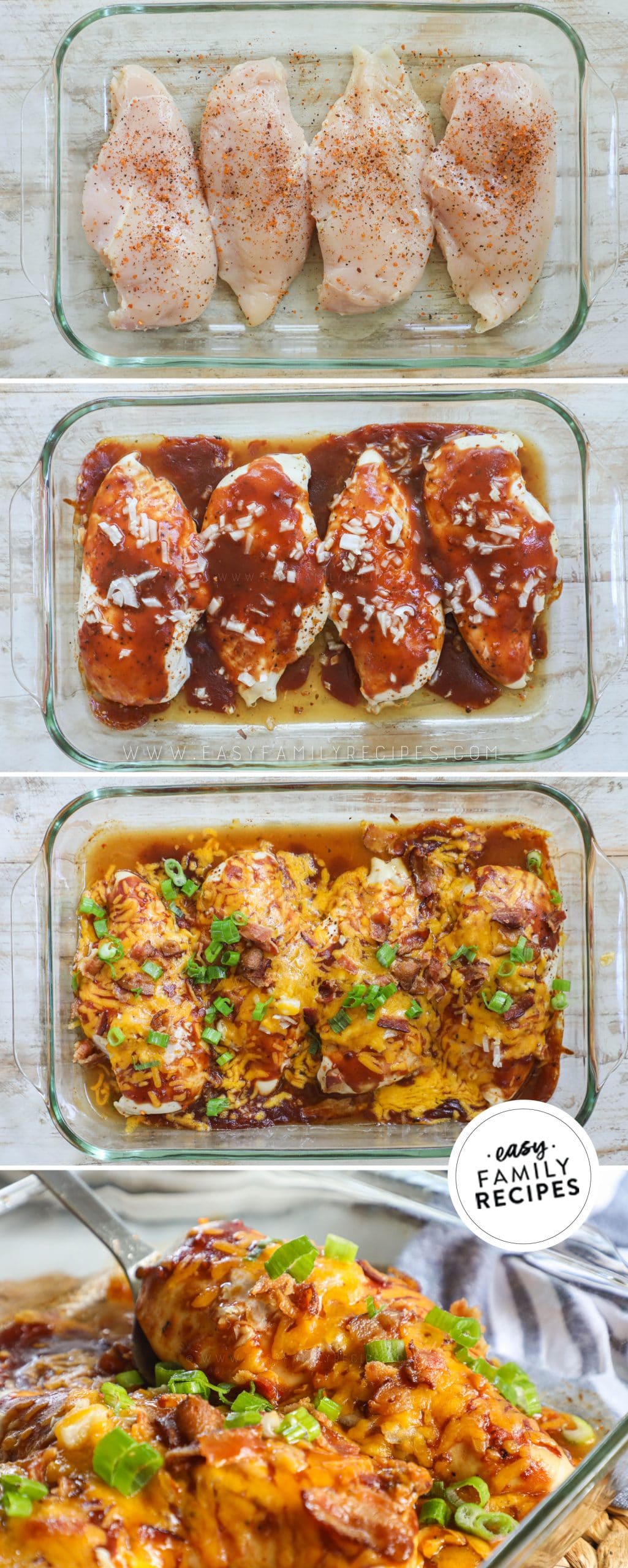 Recipe Tips
Use thin chicken breasts– Using chicken breast that is too thick can increase the baking time substantially. Also, a thinner more even chicken breast will cook more evenly resulting in more tender and juicy chicken.

Don't over crowd the pan – On the same note, try to use a pan big enough to allow the chicken breasts to sit flat without touching too much. This helps them to cook more quickly and evenly! I used a large 9×13 casserole dish here.

Add the cheese and bacon at the end- By adding the cheese and bacon at the end, it keeps the cheese nice and gooey and the bacon nice and crisp.

How to to Cook BBQ Chicken Breast – The total time the Mesquite BBQ Chicken will cook will be 25-35 minutes at 400˚F. This can vary based on the thickness of the chicken breast, the size of the pan you use, and how your oven is powered. It is common to have some variation.

Don't over cook! The number one enemy of tender, juicy chicken is over cooking it. This will cause it to become more dry, tough, and hard to chew. Chicken should be cooked to 165˚F to be cooked through and maintain its juicy and tender texture. I highly recommend using a meat thermometer for this.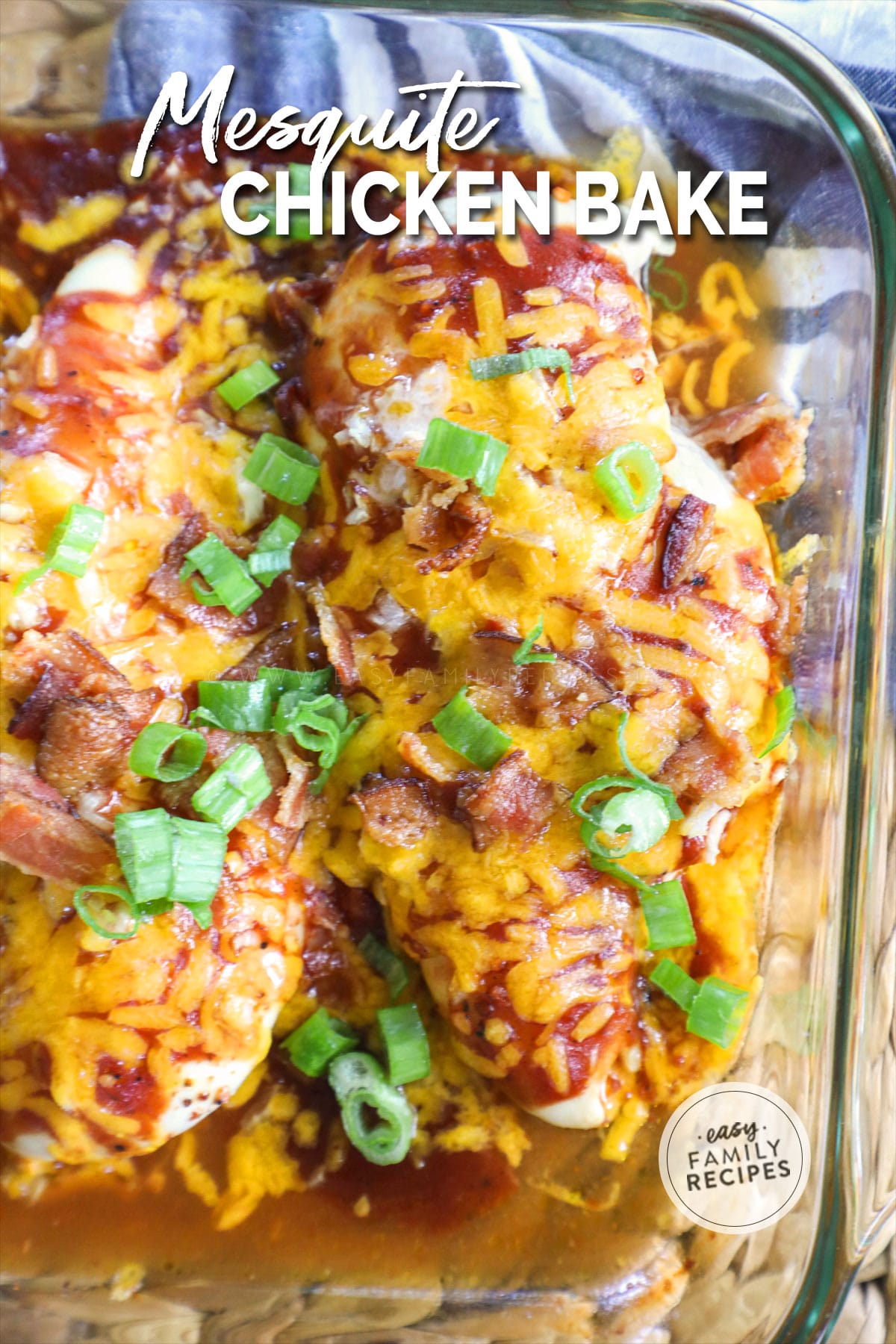 Freezer Meal Instructions
To prepare the Mesquite Chicken Bake recipe as a freezer meal:
Season each side of the chicken with the mesquite seasoning and lay flat in a large baking dish.
Drizzle BBQ sauce over the top of each chicken breast and sprinkle with diced onion.
Package in a freezer friendly container or freezer bag.
When ready to cook, thaw completely for 24-48 hours in the refrigerator.
Continue with recipe cooking as directed.
Mesquite Chicken Breast Leftovers
If you have leftovers after making this Mesquite Chicken bake, then it is your lucky day! They save and reheat well, and can make the start of another delicious dish.
To save leftovers, separate into meal sized portions and then place in an airtight container and store:
in the refrigerator for 3-4 days
in the freezer up to a month
Leftover Recipes
Here are a few ways to repurpose those leftovers and give them a delicious makeover!
Mesquite Chicken Sandwich– Reheat leftover chicken, and toast a hamburger bun. Add the chicken, bacon, lettuce, tomato, onion slices, pickles, and a smear of ranch dressing.
Mesquite Chicken Salad– On a bed of shredded lettuce, add chopped mesquite chicken breast, chopped red bell pepper, cucumber, chopped boiled eggs, diced onion, and crispy french fried onions. Top with ranch dressing and a drizzle of BBQ sauce.
Mesquite Chicken Stuffed Baked Potatoes– Cut and fluff freshly baked potatoes. Add chopped mesquite chicken breast, and top with additional cheese. Bake for 5-10 minutes or until the cheese is melted then top with sour cream, bacon, chives, and a drizzle of BBQ sauce.
Mesquite Chicken Quesadillas– Chop the leftover mesquite chicken bake. Heat a skillet over medium heat and melt a pat of butter. Place a tortilla in the pan and pile the mesquite chicken along with some additional cheese on one half of the tortilla and fold over. Once golden brown flip and cook the other side. Once done add fresh avocado slices inside, and serve warm with pico de gallo and sour cream.
Mesquite Chicken Bowls– On a bed of cilantro lime rice (or your preferred grain), add chopped mesquite chicken, and your choice of black beans, corn, shredded lettuce, fresh jalapeno slices, and pico de gallo. Drizzle with jalapeno ranch dressing and garnish with fresh cilantro.
More Easy Chicken Recipes
If you enjoyed this recipe, I really hope you will take a moment to grab a few more easy recipes for another busy night!
You can check out all of my Easy Dinner recipes here, or see a few of our readers favorite recipes below.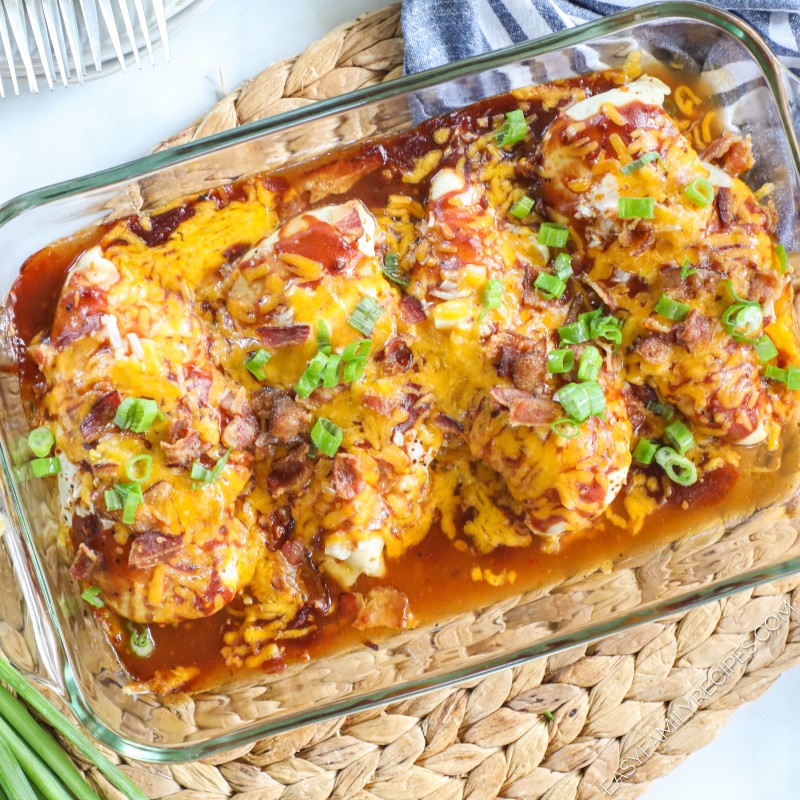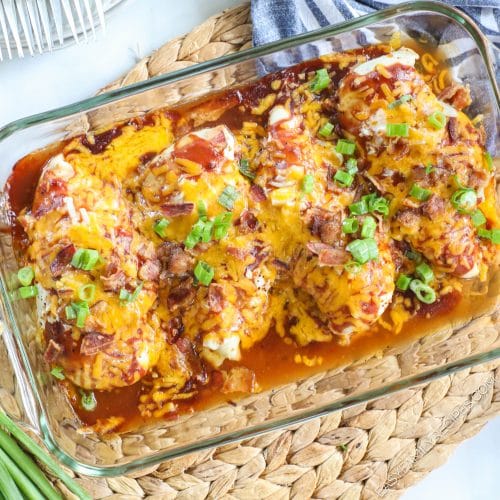 Mesquite Chicken Bake
This Mesquite Chicken Bake brings all the sweet smokey goodness of Mesquite smoked BBQ into a quick and easy family dinner.
Ingredients
2

lbs

chicken breast

,

3-4 chicken breasts

1

tbsp

mesquite seasoning

1/2

cup

BBQ sauce,

(mesquite flavored optional)

1/4

cup

finely diced onion

1/2

cup

cheddar cheese

2

slices

crispy crumbled bacon

,

about 2 oz
Instructions
Preheat the oven to 400˚F.

Season each side of the chicken with the mesquite seasoning and lay flat in a large baking dish.

Drizzle BBQ sauce over the top of each chicken breast and sprinkle with diced onion.

Bake uncovered for 20 minutes, then remove the dish, add cheese and bacon to the top and return to oven for 5-10 minute or until the cheese is melted and the chicken is done (internal temperature of 165˚F.)
Nutrition Information
Calories:
432
kcal
(22%)
,
Carbohydrates:
16
g
(5%)
,
Protein:
58
g
(116%)
,
Fat:
14
g
(22%)
,
Saturated Fat:
6
g
(38%)
,
Polyunsaturated Fat:
1
g
,
Monounsaturated Fat:
3
g
,
Trans Fat:
1
g
,
Cholesterol:
180
mg
(60%)
,
Sodium:
1144
mg
(50%)
,
Potassium:
951
mg
(27%)
,
Fiber:
1
g
(4%)
,
Sugar:
12
g
(13%)
,
Vitamin A:
290
IU
(6%)
,
Vitamin C:
4
mg
(5%)
,
Calcium:
127
mg
(13%)
,
Iron:
1
mg
(6%)