These Garlic Roasted Vegetables are the BEST way to eat veggies. Simple to make, the oven pulls the weight in making the magic happen as the vegetables roast and caramelize to pure, delicious perfection.
Garlic Roasted Veggies – The EASY Way!
I'll get right to the point…. This is absolutely the BEST way to eat vegetables.
Something completely magical happens when these perfectly seasoned veggies go into a piping hot oven. The edges start to caramelize and all of the flavor potential comes to a peak.
It seems like it should be more work, but it couldn't be easier.
Just a bit of chopping to prep the veggies, a quick mix, and the oven does its thing, bringing out everything delicious those vegetables have to offer.
I'd venture to say, these amazing vegetables may win over those healthy food skeptics in your house!
I love these so much in fact, that I have several varieties! Make sure to check out my classic oven roasted vegetables, pesto roasted vegetables, cajun roasted veggies, and Mexican roasted vegetables to make a perfect match for almost any meal you can think up!
How to Serve Garlic Roasted Vegetables
These veggies are so good, you may be tempted to just grab a fork and dig in, but if you can hold off on that first bite, these make a great side dish for almost anything. From grilled meat, to pasta, to casseroles, the garlic flavor of these roasted vegetables makes them a perfect compliment.
As a Side Dish
Serve these vegetables with any of these delicious main dish options.
As a Main Dish
Not only do Garlic Roasted Vegetables make a great side, but they also make an INSANELY good meatless meal when prepared a few simple ways
Veggie Quesadilla– Place garlic roasted vegetables and shredded cheese in a large tortilla and then grill in skillet over medium heat on each side until golden brown. Serve with sour cream and guacamole.
Oven Roasted Vegetable Salad– On a bed of greens, pile on garlic roasted veggies, mozzarella pearls, and then toss with this easy homemade balsamic vinaigrette. SO GOOD!
Roasted Veggie Wrap– On a large flat bread or tortilla, spread a thin layer of mayo and add a handful of spring mix, arugula, or spinach. Top with roasted vegetables, and crumbled goat cheese or feta. Drizzle with balsamic dressing. Wrap it up, slice in half, and enjoy!
Roasted Vegetable Pasta– Prepare pasta per package instructions. Drain, saving 1/2 cup pasta water. Return the pasta to the pot on the warm burner. Toss pasta with olive oil, Garlic Roasted Veggies and parmesan cheese. Add pasta water as needed to thicken.
You can choose one or add a few sides to make a wholesome, well rounded dinner.
Recipe Notes
This Garlic Roasted Vegetable recipe is as simple as promised! Just a few ingredients for the PERFECT side dish.
In this section I am going to go through a few tips and tricks I use when making this recipe to get the absolute best and most delicious results.
Make sure to scroll to the bottom for the FULL recipe card.
Ingredients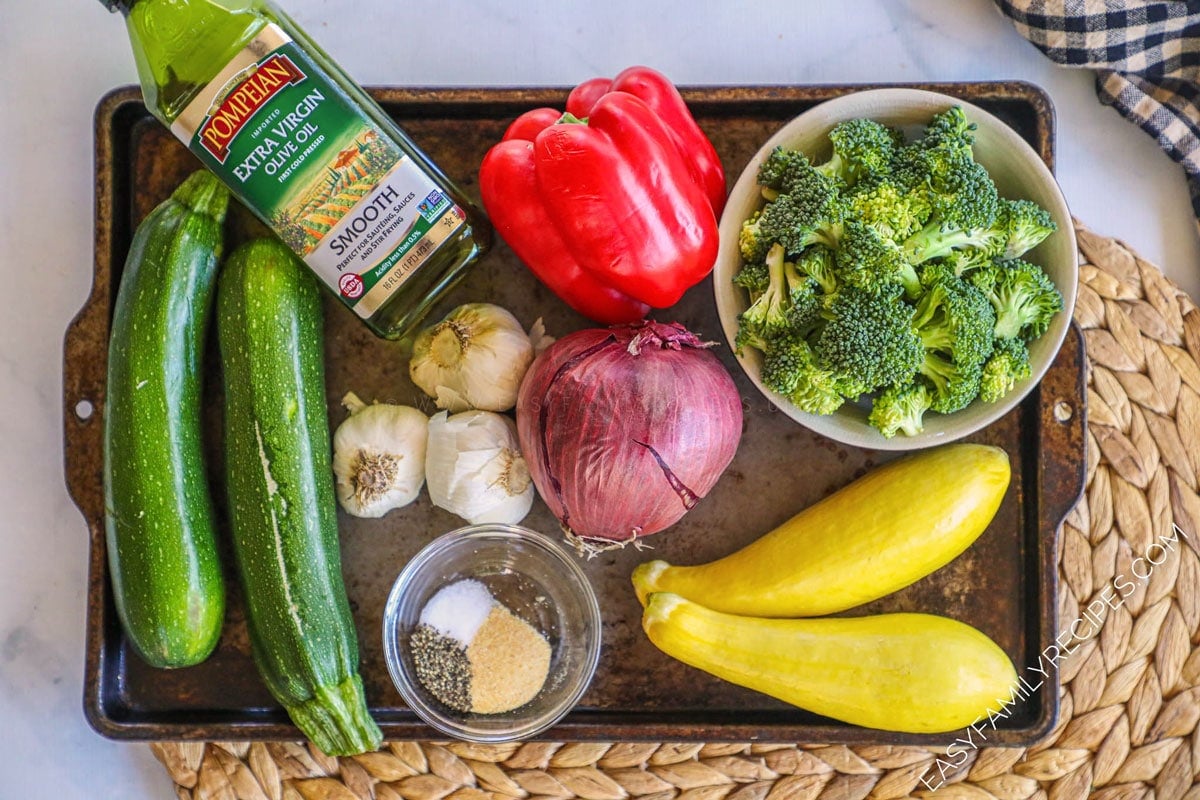 The beauty of this recipe is that you can really use almost any vegetables that your family loves, but this is our go to combo for great results.
Keep in mind this works best when the vegetables all take around the same amount of time to cook, so harder vegetables like carrots or potatoes have to be cut very small if you want to include them in the mix.
Vegetables
Red onion
Red bell pepper
Broccoli
Yellow squash
Zucchini squash
Seasonings
The key to getting all of the delicious garlic flavor in these, is using TWO kinds of garlic. They combine with the oil, salt, and pepper to really make the flavor of each vegetable shine.
Fresh Garlic
Olive oil
Garlic powder
Salt
Black pepper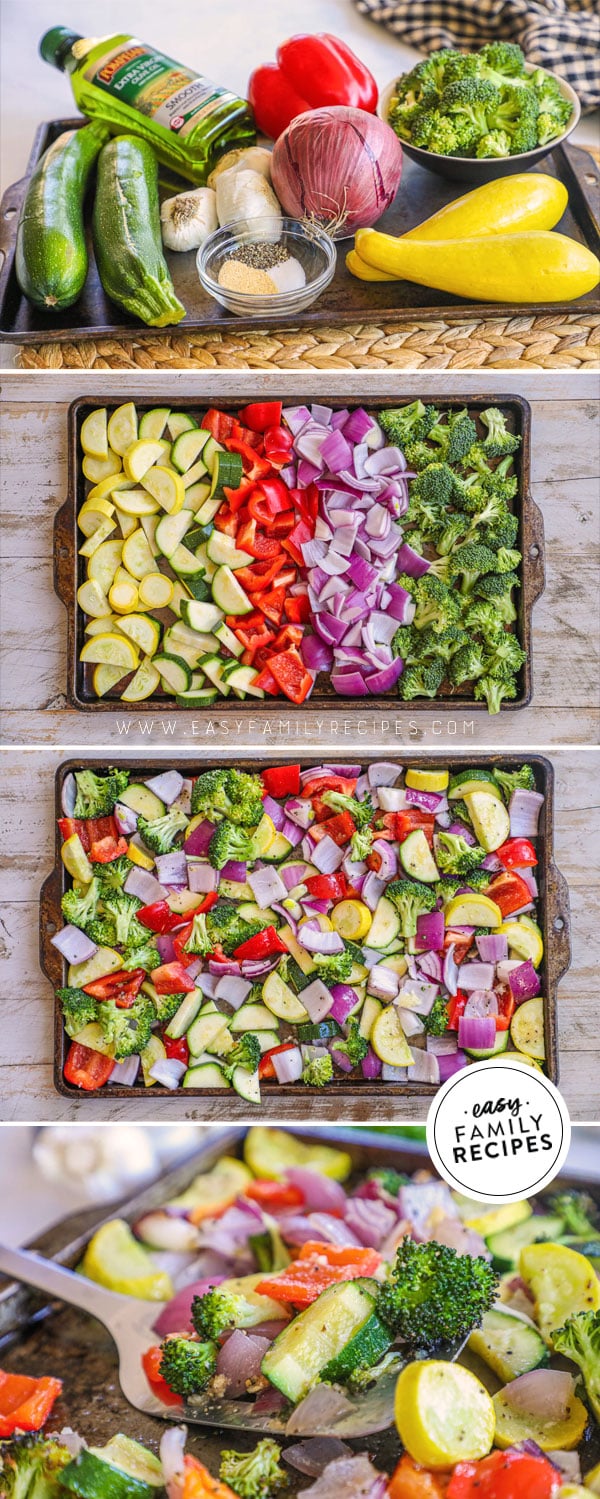 Recipe Tips
Cut vegetables the right size. In order for each veggie to be the absolute best it can be, you want it to cook so that it is soft, but not mushy and the outside just starts to caramelize, but isn't burnt. This takes just a little thought, since some vegetables cook more quickly than others.

Cut faster cooking veggies like squash in thicker slices or chunks to allow it more time to cook, while heartier vegetables like broccoli can be cut in small florets so it has a chance to become tender.

Mix well. The key to getting all of that flavor is making sure each vegetable gets a light coating of oil and seasoning. Make sure to toss the veggies until the seasoning is very evenly distributed.

Cook at a high heat. The high heat gets that slight caramelization on the outside of the vegetables while allowing the inside to become just tender for the maximum flavor.

Line with parchment– Some pans will have a reaction with certain vegetables resulting in a discoloration on the vegetable. This mostly happens with non-coated metal pans. Although this isn't harmful, it doesn't look very appetizing. To prevent this, you can line the pan with parchment paper before adding the vegetables.

Spice it up! I make this recipe just as is, because I absolutely love the garlic flavor, but if you want a little something extra, you can add a variety of spices to the vegetables with delicious results. Thyme, oregano, rosemary, and sage all compliment the flavor really well. You can also try paprika, cayenne pepper for a kick, or chili powder for a hint of smokey flavor or a little kick.
Recipe Short Cuts
If you need to make this recipe, but are extra short on time, here are a few ideas that can help make this recipe even faster!
Pre-chop vegetables– vegetables can be chopped ahead of time to allow this meal to only take minutes to prep when you are ready for it. Most veggies can be cut up to 3 days in advance.
Use frozen– Some vegetables will work well from frozen as well. Heartier vegetables such as broccoli, cauliflower, and green beans all do really well. I recommend you thaw them before preparing the recipe for the best results and even cooking.
Make ahead– You can make the vegetables completely ahead of time (up to 3 days!) and then reheat as needed. They save well in the fridge or freezer. More on that below!
Dietary Considerations
This recipe works really well for special dietary needs. It complies with many special diets and is as healthy as it is delicious!
As always, check all store bought ingredients for compliance on specific dietary needs. The notes below are a general guide.
Gluten free: This recipe is naturally gluten free.
Dairy free: Garlic Roasted Vegetables are naturally dairy free.
Nut free: This recipe is naturally nut free
Egg free: This roasted vegetable recipe is naturally egg free
Low carb/Keto: This recipe is low carb at only 7g net carbs per serving. This can be further reduced by omitting the onions.
Macros: The approximate macro calculation for the Garlic Roasted Vegetable recipe is- P: 2g C: 9g F: 3g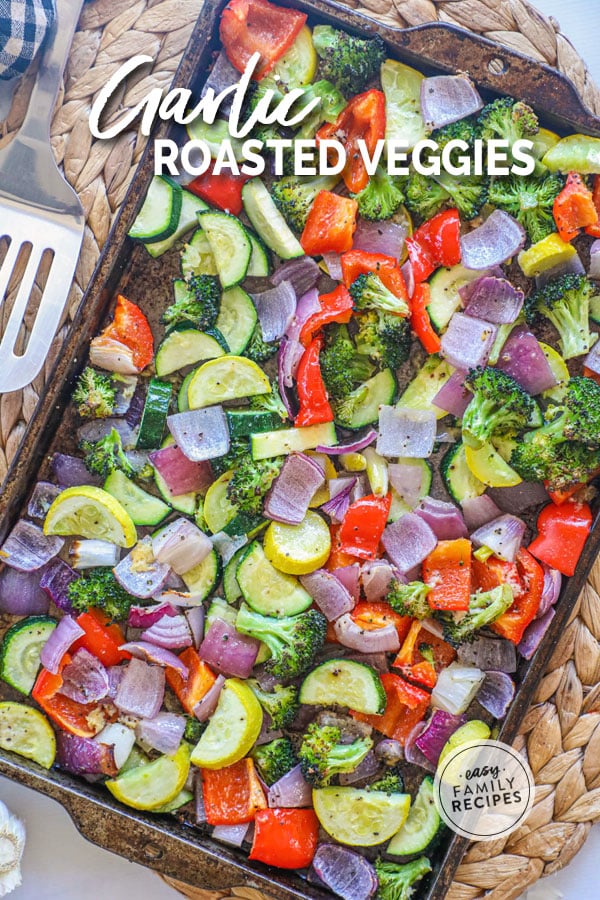 Freezer Instructions
These Garlic Roasted Vegetables can be prepared as a freezer meal by following the recipe below.
While this recipe does make a delicious freezer meal, when using this method, vegetables such as squash will have a less firm texture than they would without freezing. You can choose to leave out the squash and zucchini if you prefer, or add them in fresh when you are ready to bake, if you want to keep the more firm texture.
Chop vegetables and place in a freezer bag or other airtight container.
Drizzle olive oil over veggies, and sprinkle the taco seasoning evenly. Mix until vegetables are evenly coated with oil and seasoning.
Freeze.
Once ready to cook, thaw in the refrigerator for 24-48 hours.
Bake as directed.
Garlic Roasted Veggies Leftovers
If you have leftovers after making this recipe, then you are in for a treat! They save and reheat well, and can make the start of another delicious dish.
To save leftovers, separate into meal sized portions and then place in an airtight container and store:
in the refrigerator for 3-4 days
in the freezer up to a month
You can pair leftovers with another dinner recipe another day or use them as the star of a meatless dish. Ideas for both of these are above in the serving suggestions.
More Easy Side Dish Recipes
If you enjoyed this recipe, I really hope you will take a moment to grab a few more easy recipes for another busy night!
You can check out all of my Easy Side Dish recipes here, or see a few of our readers favorite recipes below.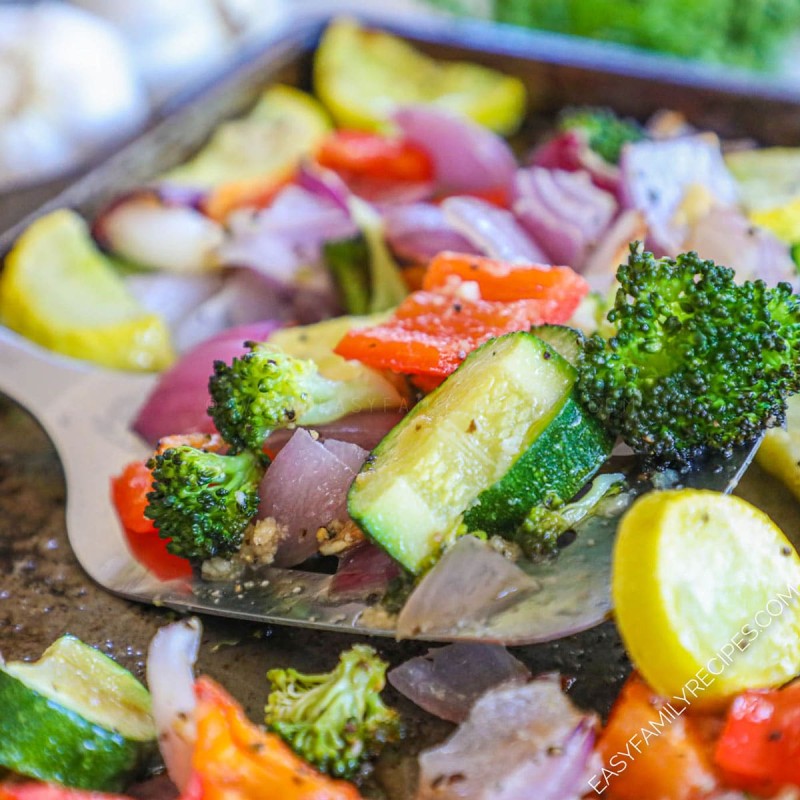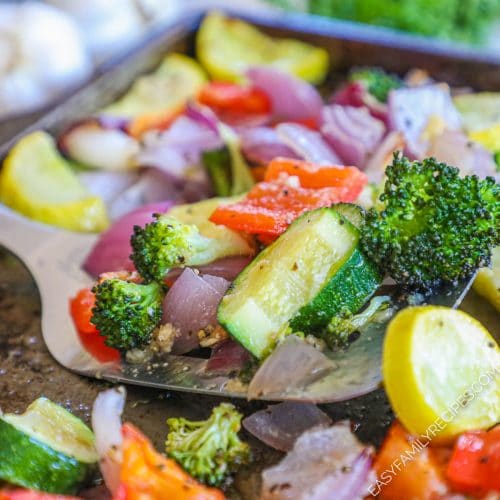 Garlic Roasted Veggies
These Oven Roasted Vegetables are the perfect dish! With a vegetable medley simply seasoned then baked in the oven until tender, they are quick, easy, and a wonderful compliment to almost any meal.
Ingredients
1

red onion

,

roughly diced

1

red bell pepper

,

roughly diced

1/2

lb

fresh broccoli

,

cut into small florets

1

yellow squash

,

cut into 1/2 in slices

1

zucchini squash

,

cut into 1/2 in slices

3

cloves

garlic

,

minced

1

tbsp

olive oil

1

tsp

garlic powder

1/2

tsp

salt

1/2

tsp

black pepper
Instructions
Chop vegetables and place in a large bowl.

Drizzle olive oil, then sprinkle both kinds of garlic, salt, and pepper, and toss until vegetables are evenly coated.

Spread in a single layer on a large baking sheet. Bake 15-20 minutes or until vegetables are tender.

Remove from oven and serve warm. Enjoy!
Nutrition Information
Serving:
0.5
cup
,
Calories:
62
kcal
(3%)
,
Carbohydrates:
9
g
(3%)
,
Protein:
2
g
(4%)
,
Fat:
3
g
(5%)
,
Saturated Fat:
1
g
(6%)
,
Sodium:
212
mg
(9%)
,
Potassium:
371
mg
(11%)
,
Fiber:
2
g
(8%)
,
Sugar:
4
g
(4%)
,
Vitamin A:
987
IU
(20%)
,
Vitamin C:
72
mg
(87%)
,
Calcium:
35
mg
(4%)
,
Iron:
1
mg
(6%)