The key to making a traditional and easy Caprese Salad is using the freshest ingredients. From choosing a tomato, mozzarella, basil, and even the dressing, each layer's unique quality makes this an irresistible flavor combination. It's light, refreshing, and crave-worthy to add to an appetizer spread or something special for yourself to enjoy!
Caprese Salad – The EASY Way!
Caprese salad is a well-known classic, but you'll want to choose high-quality ingredients with big flavors to contrast its simplicity. Picking a juicy, salty, and sturdy tomato and choosing a fresh mozzarella for a quality-looking and tasty Caprese. I'll share my favorites with you!
Why I LOVE this recipe!
It's a classic! Caprese salad is an authentic Italian recipe pairing ripe fresh tomatoes with mozzarella and basil.

Ready in 10 minutes. This salad consists of just slicing and plating the layers however you like and adding a drizzle of balsamic glaze, oil, salt, and pepper.

Great as an appetizer. Caprese salad is a beautiful display of bright colors and showcases the freshness of ingredients. Share with other hor d'oeuvres or as a starter to a weeknight dinner.
What to Serve with Caprese Salad
Caprese Salad is such a versatile recipe because it could be a light lunch, an appetizer, or a fantastic side dish for dinner. I have included several options for what main dishes to pair the salad, along with other sides that go great if you are using more as a core part of the menu.
Main Dish Ideas
Side Dish Ideas
You can choose one or add a few sides to make a wholesome, well rounded dinner.
Recipe Notes
This Caprese salad recipe is as simple as promised! Just 10 minutes for a family friendly appetizer.
In this section I am going to go through a few tips and tricks I use when making this recipe to get the absolute best and most delicious results.
Make sure to scroll to the bottom for the FULL recipe card.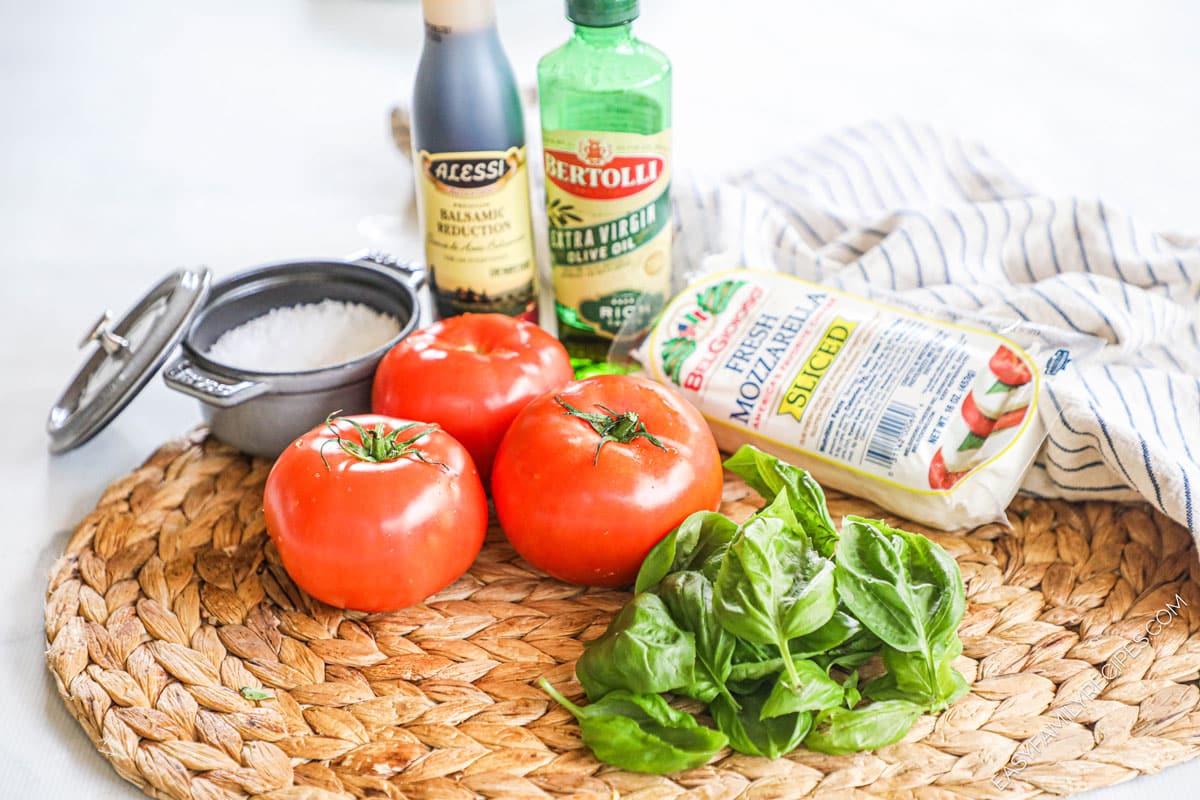 Ingredients + Substitutions
Tomatoes: Slice the tomato into equally thick cuts as the mozzarella.
Mozzarella: The best cheese for a Caprese is fresh mozzarella served at room temperature. It's so much creamier and softer than its counterpart, which is drier and saltier.
Basil: Fresh basil is the only way to go for a Caprese salad. Use larger leaves torn into smaller pieces.
Spices: Salt and pepper. Some optional additions are a light sprinkling of Italian spices for a little more herbiness or red pepper flakes for a kick of heat.
What Tomatoes to use for Caprese Salad (and how to pick a great one!)
So, what are the best tomatoes for a Caprese salad? You want to choose a tomato to counteract fresh mozzarella's creamy, tangy, earthy flavors. It should be ripe, juicy tomatoes that also have a bit of tanginess to them.
My favorite tomato for a Caprese salad is a hearty Beefsteak tomato that holds up to the cheese and has a deliciously juicy crisp bite. Here's a list of the best tomatoes to use for a Caprese:
Beefsteak tomatoes
Roma tomatoes
Campari tomatoes
Cherry tomatoes
When picking out your tomatoes from the produce aisle, look for ripe tomatoes with a bright red color. Generally, green or yellow on them signifies they aren't quite ripe yet.
Feel the tomatoes, too. Heavy tomatoes with smooth skin are full of liquid and are also an indication of it being ripe. That last test using your sense is the smell. It should have a fresh sweet scent. If it smells off, skip it.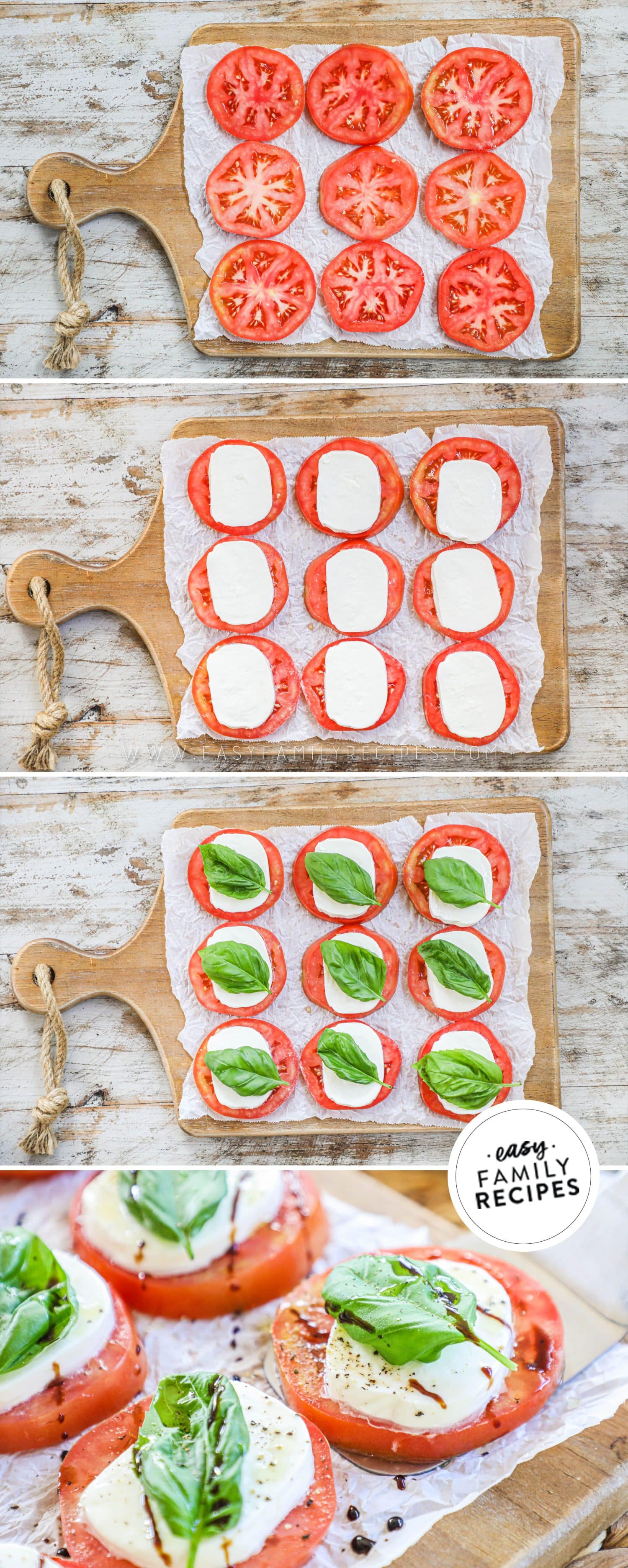 Caprese Salad Dressing
The classic way to dress a Caprese salad is with balsamic glaze, olive oil, salt, and pepper. The balsamic glaze has a sweet and tangy flavor profile that adds a punch of flavor, balancing the smoothness of the mozzarella, the fresh minty flavors of basil, and the juicy, succulent tomatoes.
Balsamic vinegar is a great option if you don't have a balsamic glaze or prefer something not sweet. It still has a pungent, tangy zing and is a lighter option to the glaze. You could skip it altogether and use olive oil to allow the other flavors to shine.
Recipe Tips
Make a homemade balsamic glaze – Combine balsamic vinegar with a sweetener in a pot and reduce over medium-low heat until thickened. It's so easy to make that you'll wonder why you ever bought storebought! You can make as much or as little as you want, and it's much more frugal.

Remove some moisture before serving – The tomatoes and fresh mozzarella have a bunch of moisture, so to help eliminate the excess for a more beautiful display and maintain the best texture as it sits outs, blot them with paper towels.

Heat the tomatoes – For a milder tomato with more depth, pan-cook them on each side for about a minute and add some garlic for a little more flavor.
Recipe Variations
If you love this recipe as much as we do and want some quick ways to change it up for variety, these little tips will do the trick!
Caprese Salad with Cherry Tomatoes – If you love these flavors but want to serve them as a salad, try my tomato mozzarella salad using cherry tomatoes and diced mozzarella, all tossed in a balsamic dressing.

Burrata Caprese Salad – While offering similar flavors, burrata is still mozzarella but instead is a pouch filled with a mix of soft cheese curds and cream. Also similar to mozzarella, it is best served fresh and at room temperature. Layer the tomatoes on a platter with the cheese ball in the center, and when guests arrive, split it open for the cheese curds to pour gently over them. It's a stunning display that's sure to impress!

Cucumber Caprese Salad – Include one more fresh, crunchy layer with slices of cucumbers in your Caprese similar to this classic cucumber tomato salad. It's so refreshing and pairs well with all the flavors. To finish it off, chop all the vegetables into small chunks, add mozzarella, and top with a balsamic dressing.

Pesto Caprese Salad – Skip the balsamic glaze topping and use a bright herby pesto sauce instead. It's bursting with an earthy flavor and pairs perfectly with this Italian classic.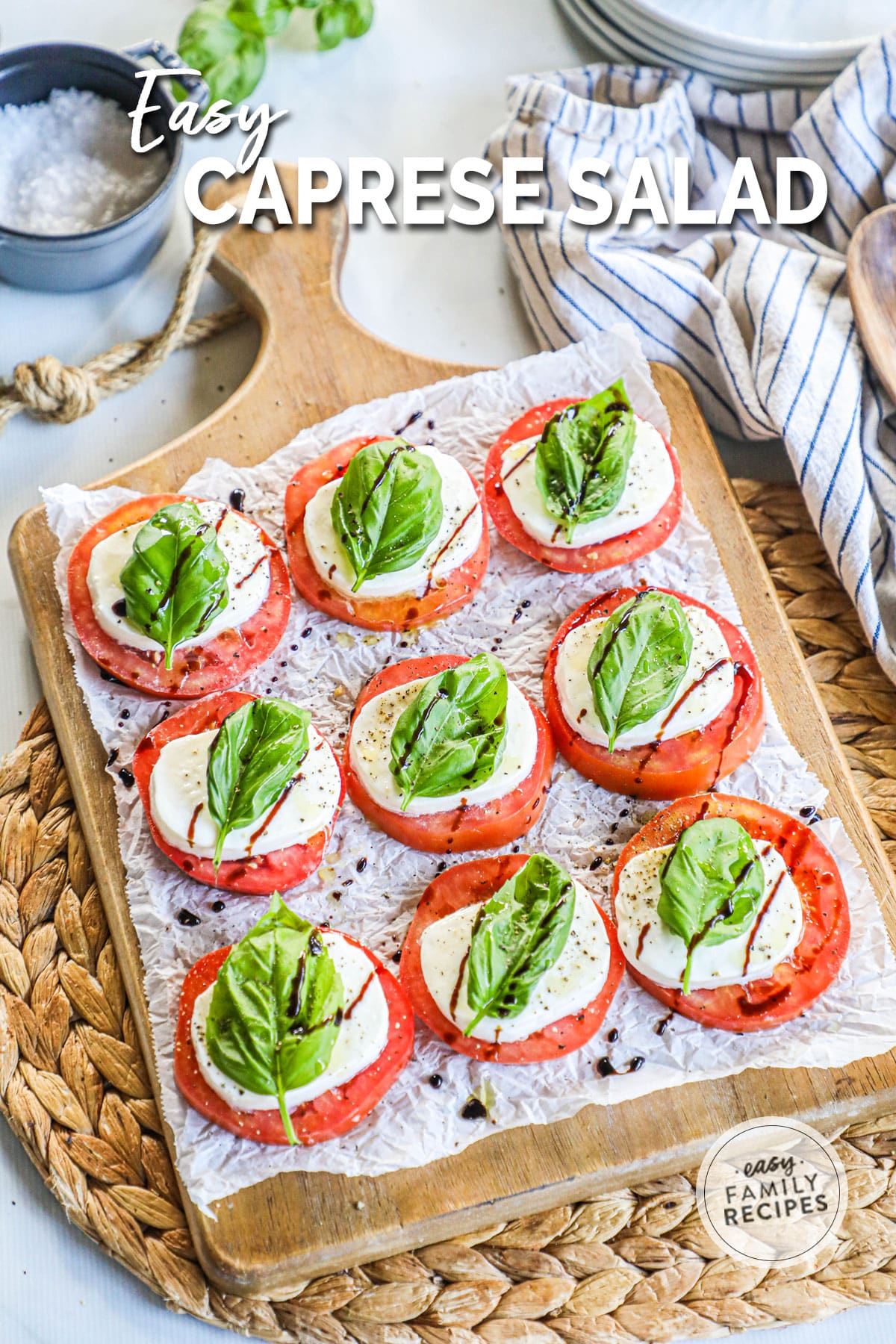 More Salad Recipes
If you enjoyed this recipe, I really hope you will take a moment to grab a few more easy recipes for another busy night!
You can check out all of my salad recipes here, or see a few of our readers favorite recipes below.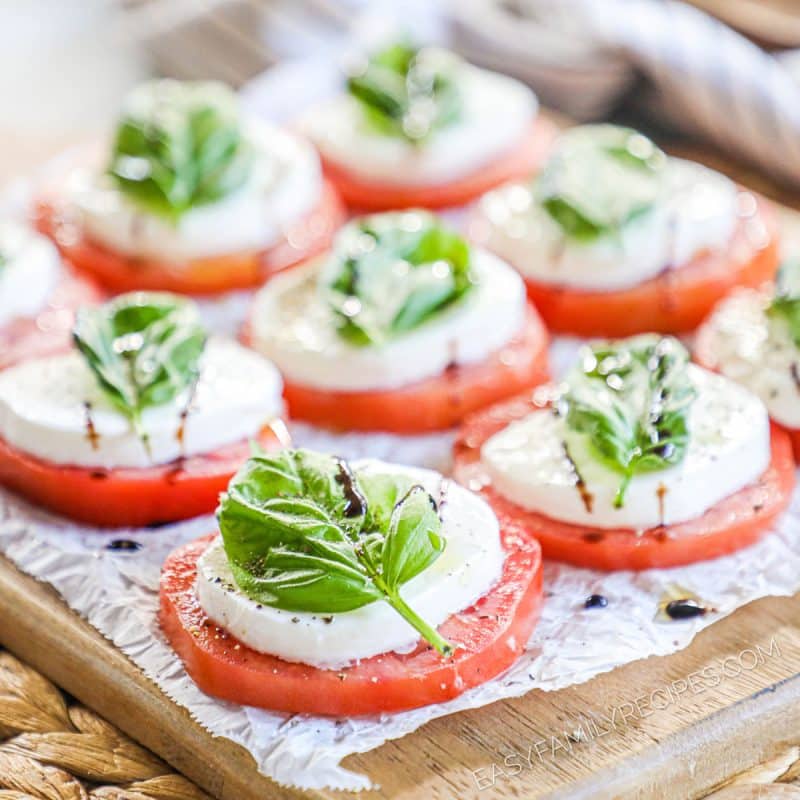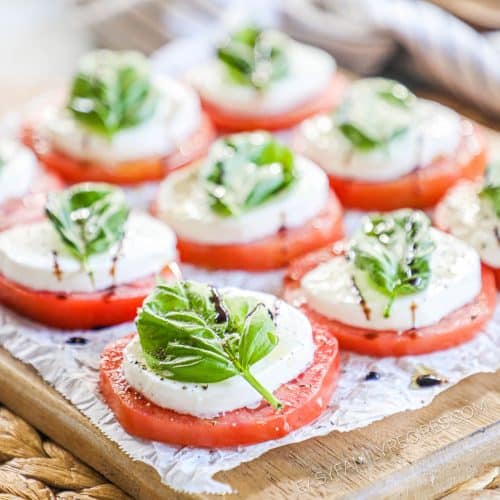 Easy Caprese Salad
Create an authentic Caprese salad recipe with just a few easy steps and just 3 main ingredients – juicy tomatoes, mozzarella, and basil, plus a drizzling of balsamic glaze or olive oil.
Ingredients
3

beefsteak tomatoes

,

(large slicing tomatoes)

8

ounces

fresh mozzarella

,

sliced

12

large basil leaves
Caprese Salad Dressing
flakey salt

,

to taste

freshly cracked pepper

,

to taste

1

teaspoon

olive oil

1

teaspoon

balsamic glaze
Instructions
Slice the tomatoes in 1/2 inch slices, or about the same thickness as the mozzarella, if it is pre-sliced. Discard the stem ends. Lay the tomatoes on a platter.

Top the tomatoes with a slice of mozzarella and a basil leaf.

Dress the salad to your liking with your choice of olive oil, flakey salt, freshly cracked pepper, and/or balsamic glaze. Use one, or all for a delicious flavor combination.
Recipe Notes
Optionally, you can layer the tomatoes and cheese on top of each other or in other artistic configurations.
The basil can be served on the salad whole, or you can chop the basil to make it easier for serving/eating.
Nutrition Information
Calories:
151
kcal
(8%)
,
Carbohydrates:
8
g
(3%)
,
Protein:
10
g
(20%)
,
Fat:
9
g
(14%)
,
Saturated Fat:
5
g
(31%)
,
Polyunsaturated Fat:
1
g
,
Monounsaturated Fat:
3
g
,
Cholesterol:
30
mg
(10%)
,
Sodium:
246
mg
(11%)
,
Potassium:
434
mg
(12%)
,
Fiber:
2
g
(8%)
,
Sugar:
5
g
(6%)
,
Vitamin A:
1714
IU
(34%)
,
Vitamin C:
23
mg
(28%)
,
Calcium:
209
mg
(21%)
,
Iron:
1
mg
(6%)