Crock Pot Honey Garlic Chicken is the perfect light and healthy shredded chicken recipe! With only 4 ingredients plus salt and pepper, this recipe can be prepped and ready to cook in the slow cooker in as little as 5 minutes!Once the Honey Garlic Chicken is done, you have a whole crock pot full of tender, delicious, sweet and savory chicken that you can use to make sandwiches, salads, and is perfect for meal prep!
Easy Chicken – Perfect for Quick Meals + Meal Prep!
One of the things you guys know I LOVE to do is make one meal that can be used to create many more throughout the week or month.
At the end of most of my recipes (for example my Crock Pot Tuscan Chicken, Baked Italian Sausage and Peppers, and Best Sizzling Steak Fajitas) you will find a section where I give you 3-5 new recipes you can make with the leftovers, or extras from the original recipe.
Some call it batch cooking, some call it meal prep, I just call it sanity saving!
If you are like me, busy all week and running around and don't have much time to make dinner, this Crock Pot Honey Garlic Chicken is a life saver!
You can throw it in the crock pot in literally 5 minutes, and then it can be done and waiting for you when you are finished with chores, activities, meetings or whatever has you occupied.
This is NOT a sticky honey garlic chicken, but rather a sweet and savory shredded chicken.
It makes fantastic main dish meals and also works well to meal prep for a busy week! Read on for details on all of these ideas and more.
How to Make Honey Garlic Chicken in the Crock Pot
This recipe is super simple as promised!
I am going to walk through some of the steps and ingredients with you to share my notes on how to get the absolute best result from this recipe.
Make sure you scroll to the bottom of this post to get the FULL printable recipe card for the dish.
Ingredients
These are some notes on particular ingredients I like to use, as well as, substitution options where applicable.
Chicken Breast– The lean cut of chicken adds to making this dish low calorie and healthy. If you would like to substitute another cut, any boneless, skinless cut of chicken would work such as chicken thighs, or tenderloins.
Honey– You can use your favorite brand.
TIP: If your honey gets crystalized, you can microwave it for a few seconds and the crystals will melt and become pourable again! Make sure there is no foil on the bottle before heating.
Garlic– Use fresh garlic for the best results! If you are in a pinch jarred will work also.
Chicken Broth– This is mainly used to help dissolve the honey so that it cooks and doesn't burn in the crockpot. We just use a little, so if you are in a pinch, you can dissolve some bullion granules with water in place of the broth.
Salt & Pepper – I give my recommended amount but you can adjust to taste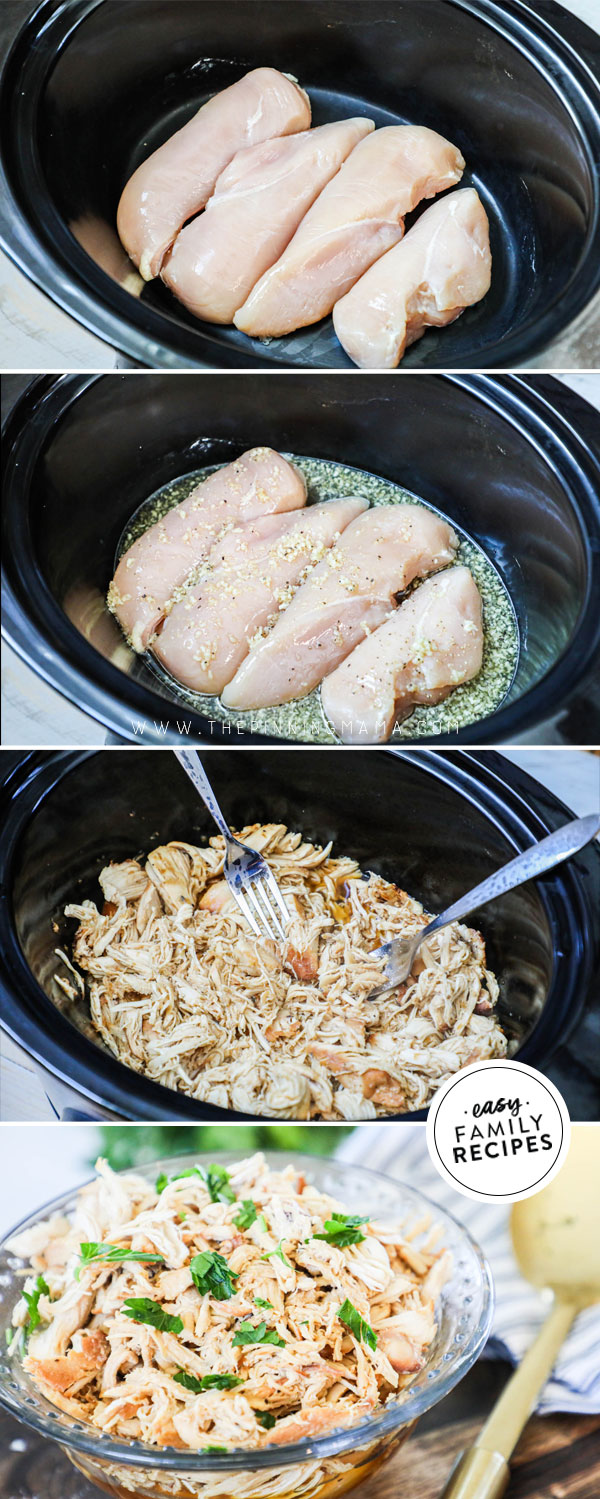 The Method
To make the honey garlic chicken there are just 3 simple steps
Mix
You will need to mix the garlic, honey, and salt and pepper with the broth to start. This is an important step because it adds moisture to the honey into the liquid so that it does not burn and stick to the bottom of the crock pot.
Add the chicken and honey mixture to the crock pot and you are set to cook!
How Long to Cook Honey Garlic Chicken in the Crock Pot
One of the most frequent questions I get asked about cooking chicken in the crock pot is how to avoid making it dry and chewy.
The perfect time for cooking chicken breast in the crock pot is 2.5-3 hours on high, or 3.5-4 hours on low.
The cook time is important for chicken because it allows it to become tender and perfect. When cooked too long in the crock pot, it starts to break down. Although it will not appear burnt in most cases it is over cooked resulting in that dry and hard to chew texture.
Shred
Once the chicken is cooked, you can use two forks to shred it, or remove from the slow cooker and use an electric mixer to shred.
Mix the shredded chicken back into the juices to keep the chicken moist and take advantage of all the flavors in the them.
How to Serve Honey Garlic Chicken
There are so many ways to serve this easy slow cooker meal! Once the chicken is done and shredded, you can use it to make so many meals. They can be as simple as piling onto a bakery bun, stuffing in a hollowed tomato or avocado, serving over rice, or my favorite healthy meal, served right on top of my easy sautéed spinach.
You can also use this chicken as a base to prepare a completely new meal!
Honey Garlic Chicken Bowl – Serve it over rice with baby spinach, thinly sliced red onion, avocado, goat cheese and roasted sweet potato. Drizzle with Honey Mustard Sauce.
Honey Garlic Chicken Club Sandwich– Toast 3 slices of bread per sandwich. Spread mayo or honey mustard sauce on one side of each slice. Layer the sandwich with honey garlic chicken, bacon, butter lettuce, and sliced tomato.
Honey Garlic Chicken Tossed Salad– Pile mixed greens with Honey Garlic Chicken then add apples, thinly sliced red onion, cherry tomatoes, feta cheese and dress it with a Balsamic Vinaigrette.
Honey Garlic Chicken Stuffed Peppers– Mix Honey Garlic Chicken with prepared wild rice and dried cranberries. Stuff mixture into cleaned bell pepper halves and place in a baking dish. Pour 1 cup of chicken broth (or juices from the crock pot if you have them) in the bottom of the baking dish and cover with foil. Bake
Honey Garlic Chicken and Spinach Pasta– Prepare 16 oz pasta per package directions and drain over 1 lb fresh spinach (this will wilt and cook the spinach.) Toss pasta and spinach with butter, olive oil and garlic salt. Stir in Honey Garlic Chicken, then drizzle the top with honey.
What Goes Well with Crock Pot Honey Garlic Chicken
Now that you have a whole list of entrees to make with Honey Garlic Chicken, you need some sides to go with it!
Healthy Side Ideas
Classic Side Dishes
All of these will perfectly compliment Crock Pot Honey Garlic Chicken. You can choose one, or pick a few to really create a big, hearty meal.
Crock Pot Honey Garlic Chicken Meal Prep Ideas
If you love to meal prep, here are some of my best tips and ideas for things to pair with this shredded Honey Garlic Chicken to create a healthy well rounded meal.
All of the options below both for grains and veggies keep well in the fridge so that the meal is perfect no matter whether it is eaten immediately or 3 days later.
Grains and Starches
Roasted Sweet Potatoes
Rice – brown, wild or white, for an extra treat mix with cranberries!
Veggies and Salads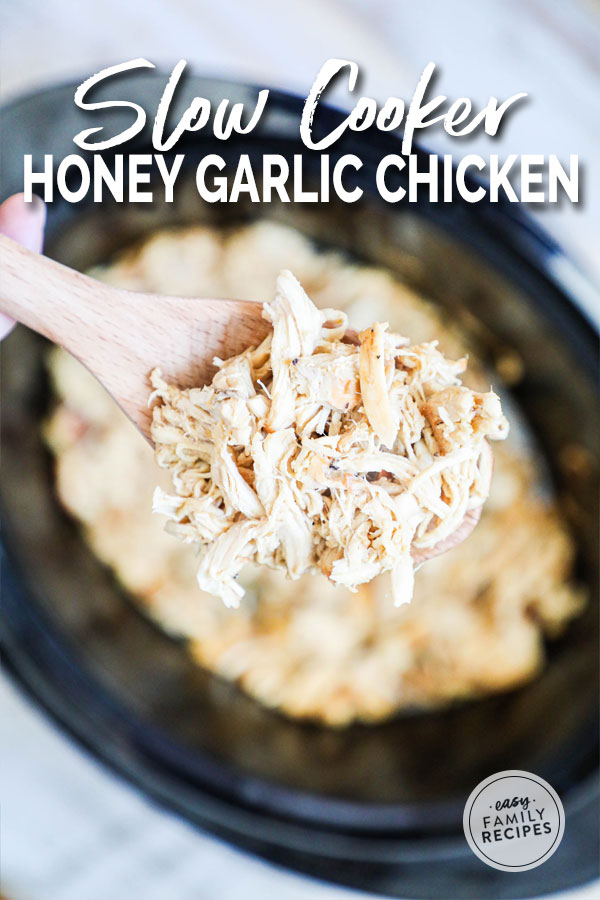 Freezer Meal Instructions
If you love this Crock Pot Honey Garlic Chicken and want to make it even easier to make on a busy night, you can prepare it as a freezer meal.
This will store well in the freezer for up to 3 months.
Whisk together the chicken broth, honey, garlic, salt and pepper.
Pour in a freezer bag or air tight container and place chicken in.
Freeze.
When ready to cook, thaw for 24-48 hours in the refrigerator.
Cook as directed.
If you enjoyed this recipe and need more new and exciting recipes to make on busy nights, I hope you will check out some of our other crock pot recipes.
Here are a few of my favorites:
Balsamic Pot Roast
Crock Pot Pineapple Chicken
Zesty BBQ Pulled Pork
Crock Pot Buffalo Chicken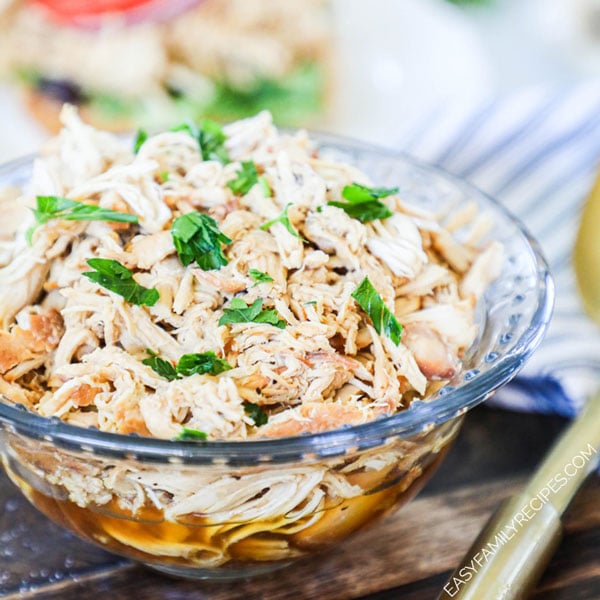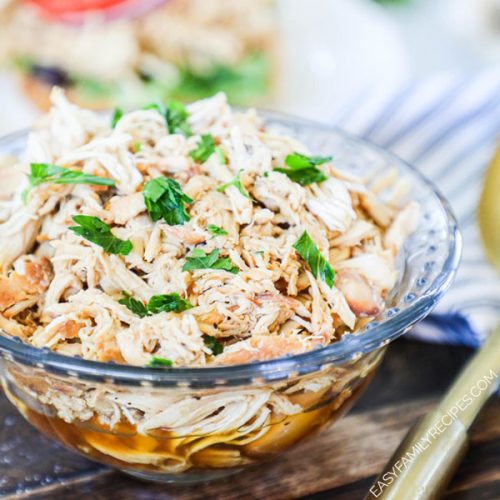 Crock Pot Honey Garlic Chicken
This Crock Pot Honey Garlic Chicken is the perfect sweet and savory meal! You can eat it as a healthy main dish, or use it to make other entrees or meal prep dinners and lunches.
Ingredients
2

lbs

chicken breast

,

boneless, skinless

1/4

cup

chicken broth

1/3

cup

honey

5

cloves

fresh garlic

,

pressed

1/2

tsp

salt

1/2

tsp

pepper
Instructions
In a medium bowl, whisk together the chicken broth, honey, pressed garlic, salt and pepper until the honey has dissolved into the broth.

Lay the chicken breast in a single layer on the bottom of the crock pot.  Pour the honey mixture over the top of the chicken. Cover and cook on high for 2.5-3 hours.

Remove the chicken breasts, and use two forks to shred the chicken, then put it back into the crock pot and mix with the juices.

Serve over sauteed spinach, on a sandwich, or over rice. Enjoy!
Nutrition Information
Serving:
6
oz
,
Calories:
234
kcal
(12%)
,
Carbohydrates:
16
g
(5%)
,
Protein:
32
g
(64%)
,
Fat:
4
g
(6%)
,
Saturated Fat:
1
g
(6%)
,
Cholesterol:
97
mg
(32%)
,
Sodium:
406
mg
(18%)
,
Potassium:
587
mg
(17%)
,
Fiber:
1
g
(4%)
,
Sugar:
15
g
(17%)
,
Vitamin A:
45
IU
(1%)
,
Vitamin C:
3
mg
(4%)
,
Calcium:
12
mg
(1%)
,
Iron:
1
mg
(6%)