This Crock Pot Tuscan Chicken is the perfect combo of EASY + VEGGIE PACKED + DELICIOUS! This simple weeknight meal is loaded with chicken breast, spinach, sun dried tomatoes, and delicious Italian flavors and can be prepped and cooking in the slow cooker in as little as 5 minutes for even the busiest days.
Simple Crock Pot Recipe
I'll tell you what makes me crazy…
When you go to make a recipe in the slow cooker or pressure cooker and there are approximately 3,723 steps to get it started.
Weren't these appliances invented to make life easier?
What is the point of using your Crock Pot if you still have to get additional pots and pans dirty, or you still have to sit there and babysit it and do extra steps all day?
I will tell you one thing that this Crock Pot Tuscan Chicken recipe IS. SIMPLE.
This Tuscan Chicken recipe has lots of complex flavors and just by tasting it you might think it took hours to make. In reality, you can have have this dish from the fridge to the crockpot in as little as 5 minutes.
REALLY!
Now, if you don't have the hours to wait for the slow cooker to cook, you can try my super popular oven baked Tuscan Garlic Chicken, otherwise, read on for this simple crock pot recipe!
Tips for How to Make Tuscan Chicken in the Crock Pot
As promised, this recipe is SUPER EASY, but I am going to walk through a few of my notes on ingredients, process, substitutions, etc. to help answer any questions that may come up.
Make sure to scroll to the bottom of this post for the FULL printable recipe card.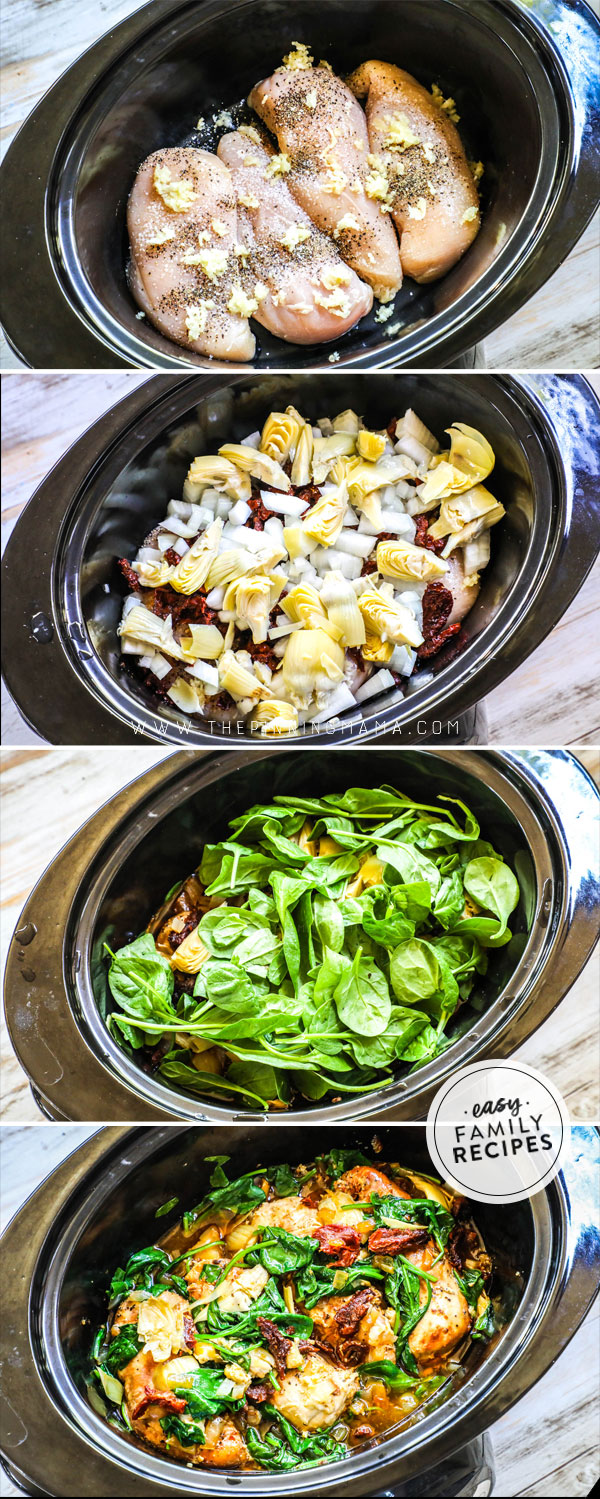 Tuscan Chicken Ingredients (and substitutions)
Chicken
This recipe calls for boneless skinless chicken breasts. My family likes chicken breast, but chicken thighs will work equally as well and stay even more tender than chicken breast, so feel free to make the substitute if your family is a fan.
The recipe as written uses fresh chicken breast. If you want to use frozen chicken breast, you can:
Thaw it over night
Use it frozen, however, you may have to add 30-60 min to the cook time to compensate for the frozen meat.
You can also make Crock Pot Tuscan Chicken with boneless, skinless chicken thighs, or chicken tenderloins.
While most boneless, skinless varieties of chicken will work, I veer away from using bone in chicken in this recipe just for ease.
Vegetables
Sun Dried Tomatoes- I always use the sun dried tomatoes packed in oil with herbs. In this recipe, all three of those things are important and will really alter the recipe if you choose to go a different direction.

To help make the Tuscan Chicken easier to serve, try to find the tomatoes that are julienned. This means that they are already cut into small strips so when you dish it out and eat it, they are already in bite sized pieces.

The flavor is really enhanced by the oil and herbs and Italian seasoning the tomatoes are packed with. You can usually find these in a few different brands in your local grocery store either near the produce, in the specialty foods section, or on the canned vegetable aisle.

The Artichoke Hearts- This Tuscan Chicken recipe uses one can, drained. I find it helpful to buy quartered artichoke hearts so that I can just drain them, then dump the artichokes in to the slow cooker, rather than having to stop and cut them.

The artichoke hearts should be plain and packed in water as opposed to packed in oil with herbs. Since the sun dried tomatoes already have herbs, we don't want to compete with that flavor.

Onion- Use yellow, white, sweet, red- any variety will do!

Spinach- I prefer fresh for taste and texture in this recipe, but frozen will do in a pinch.
Seasonings
Garlic- I always prefer fresh garlic. If you can, use fresh! Six cloves may sound like a lot, but since we are slow cooking over a long period of time the flavor will significantly mellow by the time you actually eat it.

Salt & Pepper

Garnish- optionally you can garnish this dish with freshly chopped basil or parsley.
How Long to Cook Chicken in the Crock Pot
This Tuscan Chicken recipe is a basic dump and cook crock pot recipe. Just pour the ingredients in, and then turn it to cook.
Since we are using chicken breast, which is a more lean cut of meat, we want to make sure not to over cook the dish which can make it dry. If you are using chicken thighs, you can cook it much longer with good results.
On a high, Tuscan Chicken should take about 2.5-3 hours, or 3.5-4 hours on low.
This time can vary if you use a different cut of meat or alter the ingredients.
Once it is done cooking
When the Tuscan Chicken has finished cooking, there may be extra liquid. You can drain it, or use it to spoon over your sides (rice, pasta, veggies, etc.)
The chicken can be served whole, or you can remove the chicken breast and shred the chicken (it should be super easy) then mix it back in.
There is no "right way," it is a matter of preference of how you like your chicken!
Recipe Short Cuts
If you are in a hurry, there are a few things you can do to maximize your time and make sure you can have this dish cooking as quickly as possible.
Pre-cut veggies– Make sure to buy the veggies pre-cut so that you don't have to spend time chopping them. The artichokes and sun dried tomato both come jarred/canned pre cut. You can also find onion pre-diced in most grocery stores in the refrigerator in the produce section.
Cut the meat up into smaller chunks– If the meat is more evenly dispersed through the dish, it can cook faster. This could save you 15-30 minutes off the cook time.
Prepare in advance– You can put the ingredients for this recipe together and store in the fridge up to 24 hours in advance.
Make a freezer meal – See detailed instructions below.
Recipe Variations
This Crock Pot Tuscan Chicken is delicious as is, but there are a couple of variations you can use to switch things up if you want!
Creamy Tuscan Chicken – Mix in 4 oz cream cheese and 1 cup heavy cream after cooking to make the broth into a cream sauce
Cheesy Tuscan Chicken – Once chicken is done cooking, sprinkle 1 cup mozzarella and 1/4 cup parmesan cheese. Replace the lid to the crock pot for 5-10 minutes to let the cheese melt.
Tuscan Chicken Pasta – Mix with 4 oz cream cheese and 1 cup heavy cream after cooking, then toss with 16 oz cooked penne, linguine, spaghetti, or egg noodles.
Crock Pot Tuscan Pot Roast – See this recipe for a delicious beef variation!
Other veggies- Other veggies that go great with these flavors are broccoli, asparagus and red peppers. If you choose to add broccoli or asparagus, only do so toward the last 30 minutes of the cook time or they can over-cook.
Dietary Considerations
If you have, or are feeding someone with special dietary considerations, this is a great dish! It meets many dietary needs naturally and can be modified minimally to check more boxes if needed.
Gluten Free– This recipe is naturally gluten free. Please double check packaging of all store bought products to ensure each is in compliance.
Dairy Free– This recipe is naturally dairy free.
Low Carb/Keto– With only 9 net carbs per serving this dish is relatively low in carbohydrates.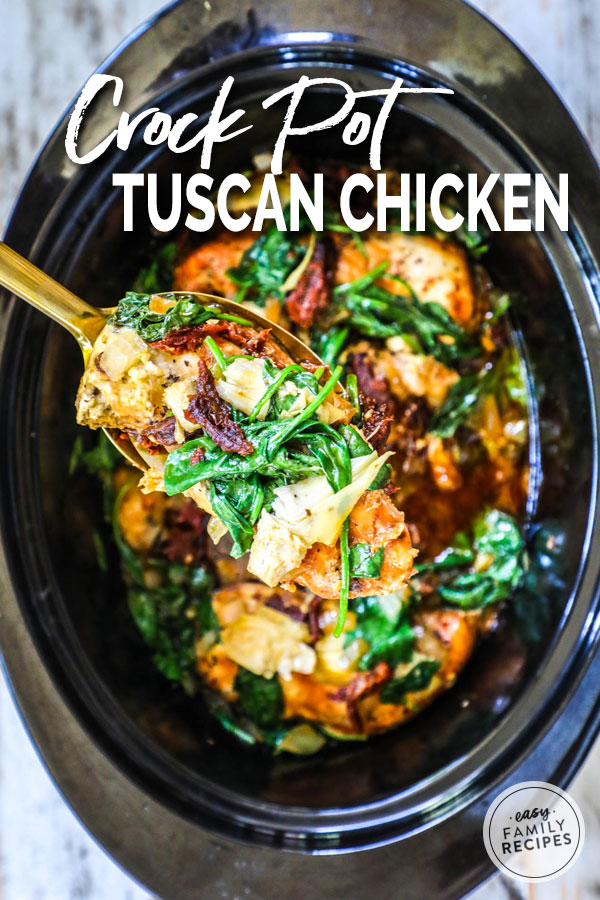 Freezer Meal Instructions
This Crock Pot Tuscan Garlic Chicken makes a great freezer meal both before and after cooking!
To freeze before cooking:
Combine chicken breast, salt, pepper, garlic, artichoke hearts, sun dried tomato (with oil,) and onion.
Place in a freezer bag or air tight container.
Freeze.
When ready to cook, thaw 24-48 hours in the refrigerator.
Cook as directed continuing at step 3.
To Freeze After Cooking:
Cook as directed.
Let cool and divide into meal sized portions.
Package in freezer bags or an air tight container.
Freeze.
When ready to eat, reheat in the microwave or in a skillet.
What to Serve with Crock Pot Tuscan Chicken
This dish is packed with chicken and lots of veggies, so it really is an all in one kind of meal. You can either serve the chicken breasts whole with a scoop of the veggies in a bowl, or you can shred the chicken and mix it in with the vegetables. Both are delicious, and it is just a matter of preference on how you like it!
What to serve with Tuscan Chicken
Here are a few of my go to side dishes to serve with Tuscan Garlic Chicken. You can pick one, or add a few for a big meal.
Pasta- This can be served over pasta. I prefer using either spaghetti, fettuccine or egg noodles. Just cook, toss them with a little olive oil and garlic and serve the crockpot tuscan chicken right on top. You can also use zucchini noodles to keep it light.
Side Salad with balsamic vinaigrette
Over rice- white or brown work well, or use cauliflower rice to keep it light and healthy
Leftover Recipes
If you have leftovers they save wonderfully both in the refrigerator to eat later in the week or in the freezer to eat later in the month. To save leftovers package them in an airtight container and place in the:
Refrigerator for 3-4 days
Freezer for up to 2 months.
When you are ready to eat them, you can reheat the leftovers or use them to make one of these new recipes!
Tuscan Chicken Sandwich – Slice a hoagie roll in half and spread with butter and a sprinkle of garlic salt. Broil for 2-4 minutes or until the butter is melted and the edges are toasted. Pile on the chicken and veggies and sprinkle with mozzarella cheese. Place in oven again until heated through.
Tuscan Chicken Soup– Chop or shred leftover chicken and then add chicken broth and heavy cream (optional) to the chicken and veggie mixture. Add salt and pepper to taste. Heat until simmering then stir in tortellini and continue to cook 5 minutes.
Tuscan Chicken Pizza– Using a prepared pizza crust, spread with pesto. Chop chicken and veggies and spread evenly over the pesto. Top with mozzarella cheese and bake as directed.
Tuscan Chicken Salad– Over a bed of greens, place chicken and vegetables from Crock Pot Tuscan Chicken. Sprinkle with parmesan cheese and crumbled pita chips. Drizzle with balsamic dressing.
Creamy Tuscan Chicken Pasta– Use this homemade alfredo sauce as a base, then stir in the leftovers of the Crock Pot Tuscan Chicken. Toss with your favorite style of pasta cooked as directed.
More EASY Crock Pot Recipes
If you enjoyed this Crock Pot Tuscan Chicken recipe, I'd like to invite you to leave a review and comment below. It helps my blog and makes my day! Also, I hope you will add a few more of my recipes to your meal plan for the next weeks!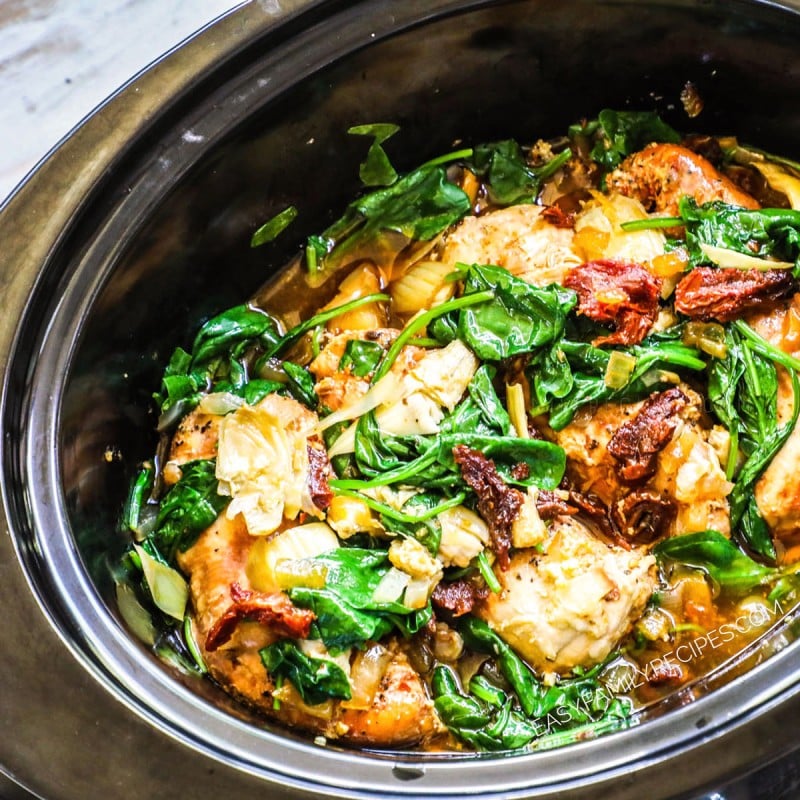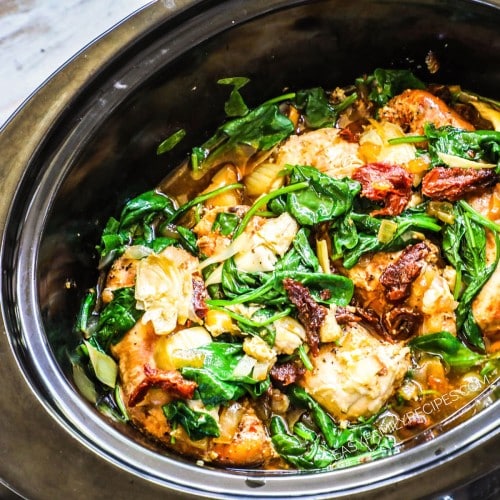 Crock Pot Tuscan Chicken
Crockpot Tuscan Chicken is the perfect busy night meal! It is big on flavor and light on prep. Serve it over pasta or rice, or with a big slice of garlic bread.
Ingredients
3

lbs

chicken breast

,

boneless, skinless

6

cloves

garlic

,

pressed

1

tsp

salt

1/2

tsp

black pepper

14

oz

can artichoke hearts

,

drained and quartered

8

oz

jar sun dried tomatoes packed in oil

,

with herbs

8

oz

baby spinach

1

onion

,

diced
Instructions
Lay the chicken breast in the crock pot and season with salt, pepper and pressed garlic.

On top of the chicken combine the sun dried tomatoes (with oil and herbs,) artichoke hearts, and onion.

Cook on high for 2.5-3 hours, or low for 3.5-4 hours.

Once the chicken is cooked through (165˚F internal temp) open the crock pot and add the spinach on top. Leave the lid closed for 5-10 minutes to let the spinach wilt. Then stir it into the toppings.

Serve hot either as whole chicken breasts with the toppings, or shredded and mixed with the toppings. Enjoy!
Recipe Notes
Substitutions:
Chicken Breasts — You can use chicken thighs if that is what you prefer. 
Onion – Use yellow, white, sweet, red- any variety will do!
Spinach – I prefer fresh for taste and texture in this recipe, but frozen will do in a pinch.
How to Store: To save leftovers package them in an airtight container and place in the:
Refrigerator for 3-4 days
Freezer for up to 2 months.
How to Freeze:
This Crock Pot Tuscan Garlic Chicken makes a great freezer meal both before and after cooking! Follow the freezer section in the post for full instructions. 
How to Reheat: This can be reheated in the microwave in 30 second increments. 
Nutrition Information
Serving:
8
oz
,
Calories:
325
kcal
(16%)
,
Carbohydrates:
12
g
(4%)
,
Protein:
39
g
(78%)
,
Fat:
13
g
(20%)
,
Saturated Fat:
2
g
(13%)
,
Cholesterol:
109
mg
(36%)
,
Sodium:
775
mg
(34%)
,
Potassium:
1260
mg
(36%)
,
Fiber:
4
g
(17%)
,
Sugar:
1
g
(1%)
,
Vitamin A:
3570
IU
(71%)
,
Vitamin C:
51
mg
(62%)
,
Calcium:
67
mg
(7%)
,
Iron:
3
mg
(17%)
Can you put frozen chicken in the crock pot?
The recipe will cook faster if the chicken is thawed, or fresh, but you can add chicken to the crockpot to cook. This can extending the cooking time by 30-60 minutes.
Does the slow cooker need to have liquid?
Liquid is not required for a slow cooker to safely operate. The meat and vegetables in the tuscan chicken will naturally release moisture as they cook, so no additional liquid is needed to cook this recipe in a crock pot.
How do I keep chicken from drying out in the slow cooker?
Chicken breast can become dry and tough if it is over cooked. Cooking chicken breast until just done (165˚F internal temp) will give you the most tender and juicy results. If you use chicken thighs, you can cook the chicken much longer without drying it out, so it is a good options for times when you need a longer cooking time.