This is the BEST Crock Pot Loaded Baked Potato Soup recipe! It is rich, creamy, and loaded up with all of the toppings that you love on your baked potato like sour cream, bacon, and of course cheddar cheese.  This Loaded Potato Soup is made from scratch, but couldn't get any easier since it only has a handful of ingredients and all the magic happens right inside your slow cooker.  The result is perfectly creamy potato soup every time! This soup is hearty enough to be the main meal, or a cup makes for the perfect companion to a salad or dinner entree.  As a bonus, the leftovers reheat beautifully to feed you throughout the week ahead. Crock Pot Loaded Potato Soup is naturally gluten free and can be easily adapted to be vegetarian.
Crock Pot Loaded Baked Potato Soup Recipe
They say the way to a man's heart is through his stomach, but in the case of our marriage, I think they got it backwards.  The way to my heart is most definitely with food, but my husband doesn't care nearly as much.  It is rare that I can get him really excited about what we are eating so I know that when he does get excited, it is because it is good.  I mean REALLY good!
This Crock Pot Loaded Potato soup was a meal that he was all about.  It officially has my husband pleaser stamp of approval which is an award that is given out only once every 6-8 months. And with the amount I cook and create new recipes, that is really saying something!
The beauty of this soup is that it uses the most simple ingredients and methods to make such a great dish.  There is no fancy steps, no intimidating soup terminology, just every day ingredients and a slow cooker to make loaded baked potato soup from scratch.
If you are looking for a low-carb alternative to Loaded Baked Potato soup, I have another recipe that is every bit as delicious, and one of my most popular recipes on the blog, Loaded Cauliflower Soup. You can make and serve it just like potato soup for a similar taste and texture in a lighter meal.
Crock Pot Loaded Baked Potato Soup Toppings
One of the best parts of this soup is that it really gets to be customized by each person that eats it so it is just how they like it. We really like to set up a Baked Potato Soup Bar where the soup is on the end then we fill lots of little bowls with toppings so that each of our kids (or guests) can fill up their bowl pick out their toppings to customize their soup.  The kids love being in charge of their own meal and seem to gobble it up even faster when they feel like they had a hand in making it.  For a party it works great too since you can cater to many dietary preferences by letting each guest top their own soup.
These are some traditional, and not so traditional topping ideas that taste great on your Loaded Potato soup.
Sour cream
Cheddar cheese
Green onions or chives
Crumbled bacon (I make my bacon in the oven like this so it is quick, easy and mostly mess free)
Green chiles
Steamed broccoli florets
Other cheeses like, parmesan cheese, blue cheese, or monterey jack cheese
Diced Onions
Hot sauce
Ranch dressing
French fried onions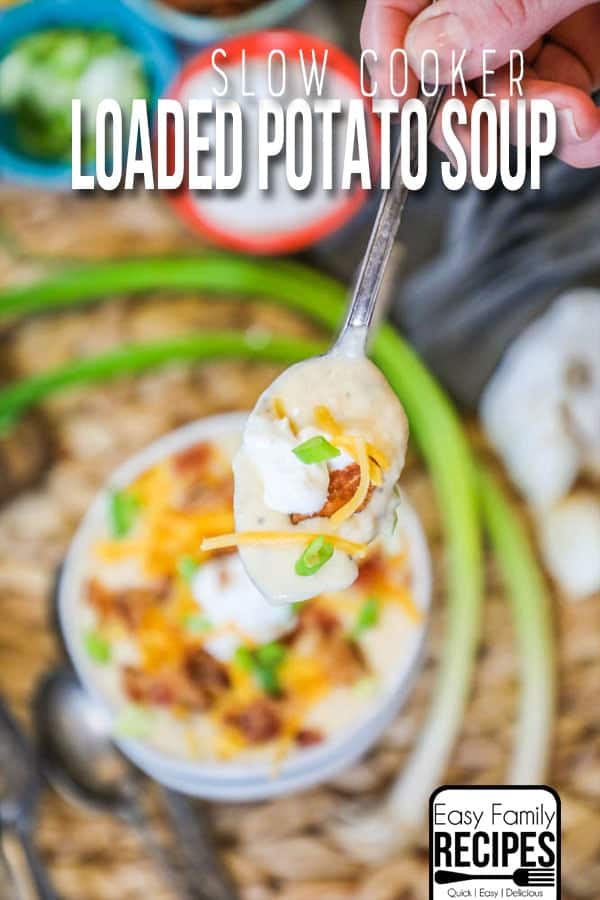 What to  Serve with Crock Pot Loaded Baked Potato Soup
This soup is hearty enough to be a meal on it's own for lunch or dinner, but it also makes a great accompaniment to many other things if you want to want to serve it as an appetizer, soup course, or side.  Here are some favorites that we serve this Loaded Baked Potato Soup with:
Chicken dinners– When you have a chicken meal that needs a side, this is perfect because it goes with such a wide range or flavors,  These are some of my favorites
Grilled meats
Entree Salads
How to make Crock Pot Loaded Baked Potato Soup
This is a super simple recipe, but I will walk through it with you here to answer questions that may come up and share with you my tips on making this recipe to get the best result.  If you have other questions that I haven't gone through, please feel free to drop me a note in the comments and I will try to get an answer for you.  You can find a full, printable recipe card at the bottom of this post.
Crock Pot Loaded Baked Potato Soup Ingredients
2.5 lbs Russet potatoes- These are just your basic baking potatoes.  They are usually called russet or Idaho potatoes and can be bought in 5 lb bags inexpensively in the produce section of any grocery store.
1 small onion (1/2 lb)- I use yellow or white in this recipe
2 cups chicken broth- You can use low sodium if desired or make your own chicken broth super easily as well.
4 cloves garlic
1/2 tsp salt
1/2 tsp ground black pepper
8 oz cream cheese- I use regular Philadelphia cream cheese, but you can also sub light cream cheese here.  Do not use fat free cream cheese as it does not melt the same way and will not work in this recipe.
4 oz shredded sharp cheddar cheese- I like to use sharp because it gives you the most flavor without having to add tons and tons of it to the recipe, but if you are in a pinch you can use mild cheddar or mexican blend cheese.
1.5 cups heavy cream- This will be on the aisle with the milk and be labeled either heavy cream or heavy whipping cream.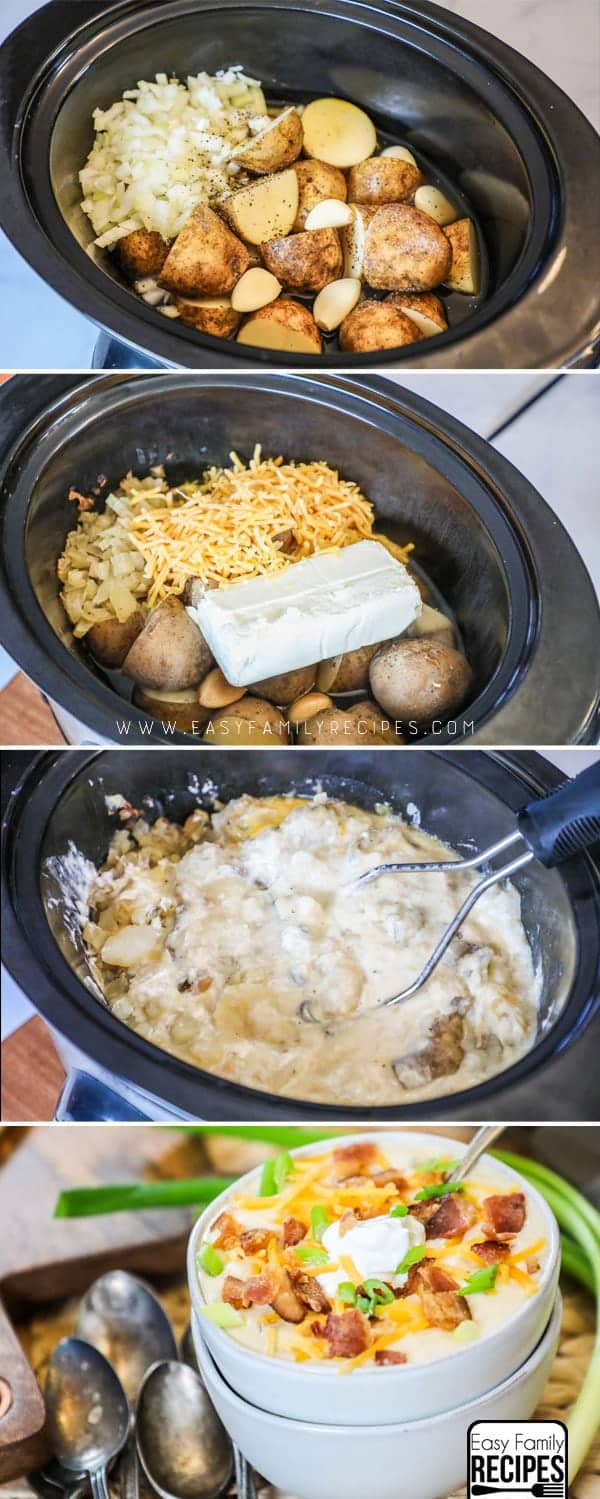 Crock Pot Loaded Baked Potato Soup Instructions- FAQ's
Can I use other types of potatoes in this Loaded Potato Soup?
Baked potatoes are traditionally made with russet potatoes which is why they are the key ingredient of this soup. If you would like to substitute other potatoes you can as long as you are still using the same weight with a good result.
Can I make the Loaded Baked Potato soup lighter?
This soup is made to be rich and creamy.  It can be lightened up and still be tasty, but will lose a bit of the richness. Some substitutions that can be made to make the soup lighter are:
Light cream cheese can be used in place of regular cream cheese to reduce fat
Half and Half can be used in place of the heavy cream to reduce fat
Half the potatoes can be replaced with cauliflower to reduce calories and carbohydrates
Light salt and low sodium chicken broth can be used to reduce sodium
Also, Instant Pot Cauliflower soup gives you much of the same flavors as this Loaded Baked Potato Soup with both less calories and carbs.  It is an excellent alternative to get all the great flavor in a lighter version!
How can I make the Potato Soup thicker?
To make the Baked Potato soup thicker, the best option is to reduce the broth it cooks in by 1/2 cup at the beginning of the recipe.  If you get to the end and decide that you want it thicker, you can reduce the cream that you put in by 1/2 cup.  If it becomes too thick, you can stir in additional cream or milk to thin it back to the desired consistency.
How can I make the Potato Soup thinner?
To make the Crockpot Baked Potato Soup thinner, you can stir in additional, cream, half and half, or milk at the end until it is the desired consistency. Add the milk slowly to the soup while stirring and be careful because if it gets too thin, there is no easy way to thicken it back up at this point.
How many servings does this recipe make?
This recipe makes about 10 cups of soup.  This can vary based on how much steam your slow cooker loses while cooking.  This recipe will serve:
10 people as an appetizer or side (1 cup servings, about 8 oz)
8 people as a main dish (1 1/4 cups servings, about 10 oz)
This is calculated without any toppings.  Soup can be served alone or loaded with toppings to bulk it up for a hearty meal.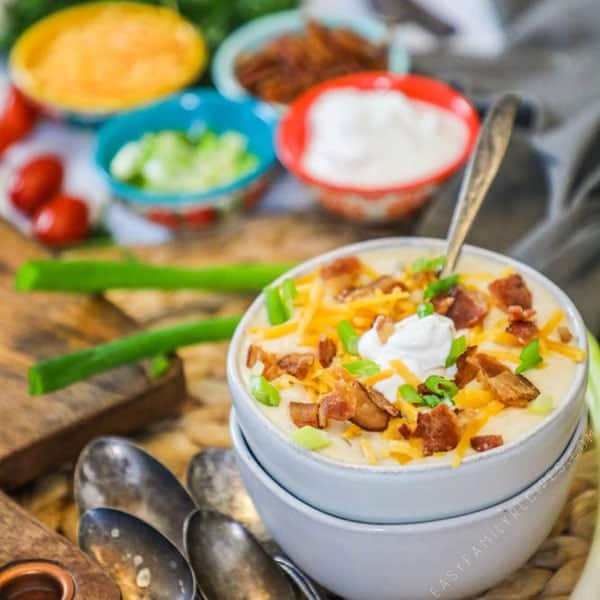 How to store Loaded Potato Soup Leftovers
This soup is great because it reheats wonderfully. You can store it in the refrigerator to eat throughout the week, or you can freeze the soup to use throughout the month.
To refrigerate: store soup in an airtight container in the refrigerator for 3-4 days
To freeze: Store soup in an airtight container, or individual serving sized airtight containers, and place in the freezer for up to 1 month.
Soup can be reheated on the stove top covered over low heat, or in the microwave to eat the leftovers.
Whether you are eating for the first time or finishing off the leftovers, I hope that your family loves this recipe as much as mine and earns their seal of approval too.
If you do get a chance to try it, I would love it if you let me know!  You can leave me a comment below, or if you post a picture on Instagram, make sure to tag me @easyfamilyrecipes so that I can see what you are cooking up! It makes my day to see others enjoying the recipes that I share!
Oh and before you go!… If you need a regular rotation of recipe inspiration like me, make sure to sign up to get our emails!  I send out my new favorites, the recipes my family has been devouring, and some of the best tried and true recipes.  It is easy and free of course!  You can click here to sign up or on the button below.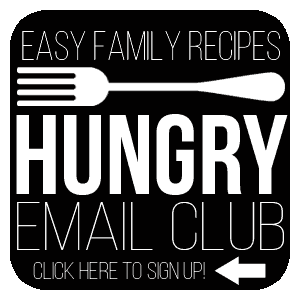 Hungry for more family-friendly recipes? Sign up for my free recipe club to get new family-friendly recipes in your inbox each week! Find me sharing daily meal-time inspiration on Pinterest, Instagram, and TikTok.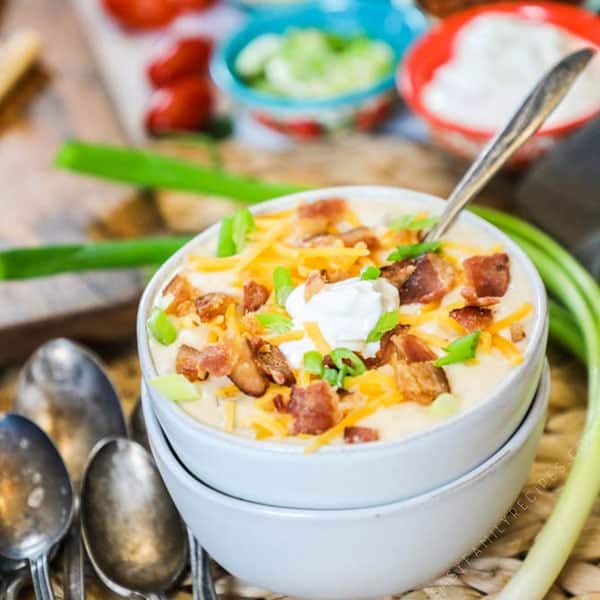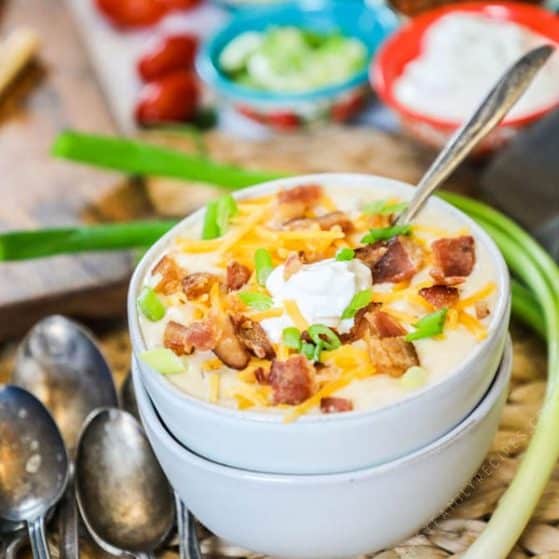 Crock Pot Loaded Baked Potato Soup
This Crock Pot Loaded Baked Potato Soup is the ultimate creamy comfort food! It is rich and filled with the delicious flavors of baked potatoes. You can add a variety of toppings to customize the soup just how you like it. This makes a nice big batch perfect for a family or serving a crowd.
Prep Time: 15 minutes
Cook Time: 4 hours
Total Time: 4 hours 15 minutes
Serves:8 bowls
Hover over "serves" value to reveal recipe scaler
Ingredients
2.5 lbs Russet potatoes
1 small onion 1/2 lb
2 cups chicken broth
4 cloves garlic
1/2 tsp salt
1/2 tsp ground black pepper
8 oz cream cheese
4 oz shredded cheddar cheese about 1 cup
1.5 cups heavy cream
Instructions
Chop the potatoes into 2 in chunks and roughly chop the onion.

Add the potatoes, onion, chicken broth, garlic, salt, and pepper to the crock pot and cook on high for 4 hours or low for 6-8 hours.

Once it is done cooking open the lid and add the cream cheese, cheddar cheese, and cream.  Use a potato masher to blend the soup together for a very slightly chunky loaded potato soup, or an immersion blender for a super smooth loaded potato soup.

Top with your choice of toppings and Enjoy!
Recipe Notes:
How to store leftover Loaded Potato Soup
Leftovers can be stored in an airtight container for
3-4 days in the refrigerator or
In the freezer for up to a month.
Dietary Considerations:
This recipe is naturally gluten free. This recipe can be adapted to be vegetarian by using vegetable broth in place of chicken broth.
©2018 Easy Family Recipes- Recipe found at: https://easyfamilyrecipes.com/crock-pot-loaded-baked-potato-soup/
For more great easy dinner inspiration, sign up for our emails here!
Nutrition Information:
Serving: 1.25cupCalories: 520kcal (26%)Carbohydrates: 49g (16%)Protein: 13g (26%)Fat: 31g (48%)Saturated Fat: 19g (119%)Polyunsaturated Fat: 9gMonounsaturated Fat: 0gTrans Fat: 0gCholesterol: 110mg (37%)Sodium: 262mg (11%)Potassium: 0mgFiber: 4g (17%)Sugar: 5g (6%)Vitamin A: 0IUVitamin C: 0mgCalcium: 0mgIron: 0mg
(Nutrition information provided is an estimate and will vary based on cooking methods and brands of ingredients used.)