This Crock Pot BBQ Brisket is tender, juicy and packed full of real Texas BBQ flavor! Our method infuses the BBQ flavor into the beef brisket, and slowly cooks all day to tender juicy perfection. The brisket can be shredded or sliced and covered with as much tangy barbecue sauce as you want! It shines as a meal on its own, but can also be made in to BBQ Brisket sandwiches, tacos, and more!
Being born and raised in Texas, good BBQ is just part of the culture, and nothing defines Texas barbecue better than beef brisket in my opinion!
Brisket is a great cut because it is fairly lean, but still carries a significant amount of flavor. While, a traditional BBQ joint, will likely slow cook it for hours, we can get a pretty drool-worthy version at home by just using a few simple ingredients and a slow cooker.
The crock pot will develop the flavor and tenderness over the course of the day and infuse all of the delicious flavors from the brisket rub right into the meat. Which makes a winning combination for an EASY family friendly dinner. My kids all rank BBQ Brisket high on their list of favorite meals!
What I LOVE about this recipe:
Real BBQ taste– The rub gives you authentic barbecue flavor, while we are able to convert the way we cook to an easy everyday method anyone can do at home!

Dump and go– After a few minutes of prep, the slow cooker takes over and does all the work while you go on about your day.

Family Friendly– This recipe can be appreciated by kids and adults alike! It is a crowd pleaser, and can easily be made to feed a crowd!

Great for meal prep– Brisket is a recipe that can be used to prep for a week of lunches, or use leftovers to reinvent dinner for a new and exciting meal through out the week. More on that in the leftovers section below!

Fool proof! Even if you are an inexperienced cook, there is little room for error in this recipe since both the preparation and cooking method are so simple and straight forward.

So good! All the flavor that comes from the natural rich beefiness of the brisket combined with the smokey flavor that the rub provides makes for a meal that seems too good to be so easy!
📝Recipe Notes
This Crock Pot Brisket recipe is as simple as promised! Just a few ingredients plus a slow cooker for a family friendly meal.
In this section I am going to go through a few tips and tricks I use when making this recipe to get the absolute best and most delicious results.
Make sure to scroll to the bottom for the FULL recipe card.
All About Brisket
You may be wondering… What is brisket? How is it different than any other roast? There are a a few key differences that make it especially suited to great barbecue. Knowing a little bit about brisket can help you get the most wonderful outcome when cooking it.
Brisket is a cut of beef that comes from the breast or pectoral section of the cow. Because it is a muscle that is highly used and exercised it will be more filled with connective tissue which makes it a tough cut by nature. These tougher cuts lend themselves perfectly to slow cooking- either in a smoker, like traditional barbecue, or in a crockpot like we are using in our recipe.
The brisket can weigh upwards of 14 pounds and is made up of two different cuts of meat, the first cut or flat point, and the second cut, or deckle point. At most grocery stores you will find the large brisket portioned and available in 3-5 lb cuts.
The first cut is more lean and tends to be better for roasting or braising in the oven, while the second cut (deckle point) is ideal for slow cooking because it has a higher fat content, which will keep the meat more "juicy", or rather, prevent it from drying out while cooking slowly over a low temperature.
If you have a choice, or are working with a butcher to get your cut, I highly recommend asking for the second cut.
The other thing I really love about the cut of brisket is that, as opposed to other roasts you can cook in the crock pot, the brisket will keep its form enough to be able to slice even after slowly cooking, rather than just falling apart. This gives you the option to slice OR shred the meat depending on how you want to serve the brisket recipe.
The most common uses for brisket are barbecue and corned beef. Today, we are talking all about the BBQ!
🛒 Ingredients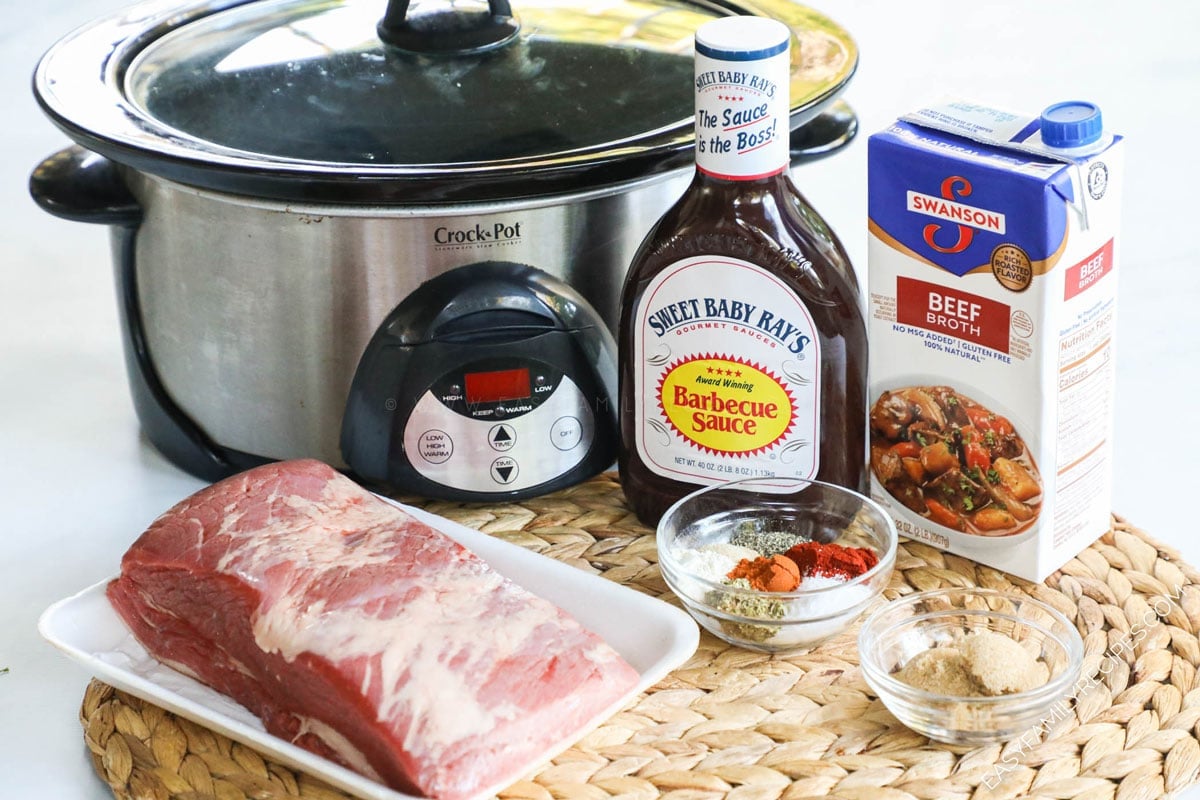 Brisket– You can read all about brisket in the section above. I recommend getting a deckle cut brisket if possible. I also try to get a thicker cut, rather than a longer, more thin cut of meat. These little tricks add to the juiciness of the meat and prevent drying as it cooks.

To prep the brisket for the recipe, I cut any large chunks of fat, or connective tissue from the brisket and it is ready to go.

BBQ sauce– You can use bottled, or homemade BBQ sauce. I used Sweet Baby Rays when I prepared the recipe for these photos. Both are good options! The most important thing is making sure you have a sauce that you really enjoy the flavor of. While the brisket cooks, the juices from the meet will cook into the sauce and make the most delicious BBQ sauce to mix with the meat when done.

Beef broth– This helps to thin the broth a bit so there is enough liquid to cook the brisket roast well. If you are using a thin BBQ sauce, you may not need to add extra liquid to it. Feel free to substitute chicken broth, or vegetable broth.
For the Brisket Rub
Brown sugar– This doesn't make the rub sweet, or taste sugary, rather it helps to balance some of the stronger flavors and blend all of the seasonings together.

Spices– The rub is made from a combination of paprika, salt, black pepper, garlic powder, onion powder, dried oregano, and cayenne pepper. This gives it a classic BBQ brisket taste being able to infuse with the flavor while slowly cooking in the crock pot.
***Make sure to see the recipe card at the bottom of this post for the full quantities and ingredients list.
🥘 Recipe Variations
If you love this recipe as much as we do and want some quick ways to change it up for variety, these little tips will do the trick!
Smokey BBQ Brisket– If you miss the flavor of smoked brisket, you can add 1+ teaspoon liquid smoke to the barbecue sauce mixture. This will help to infuse that smokey flavor into the roast as it cooks.

Instant Pot BBQ Brisket– Increase the broth to 1 cup so that the sauce is thin enough to allow the pressure cooker to pressurize. Follow recipe as directed, cooking at high pressure for 75 minutes, with 15 minute natural release. After removing the brisket, you can simmer the sauce to thicken as desired.
Recipe Step by Step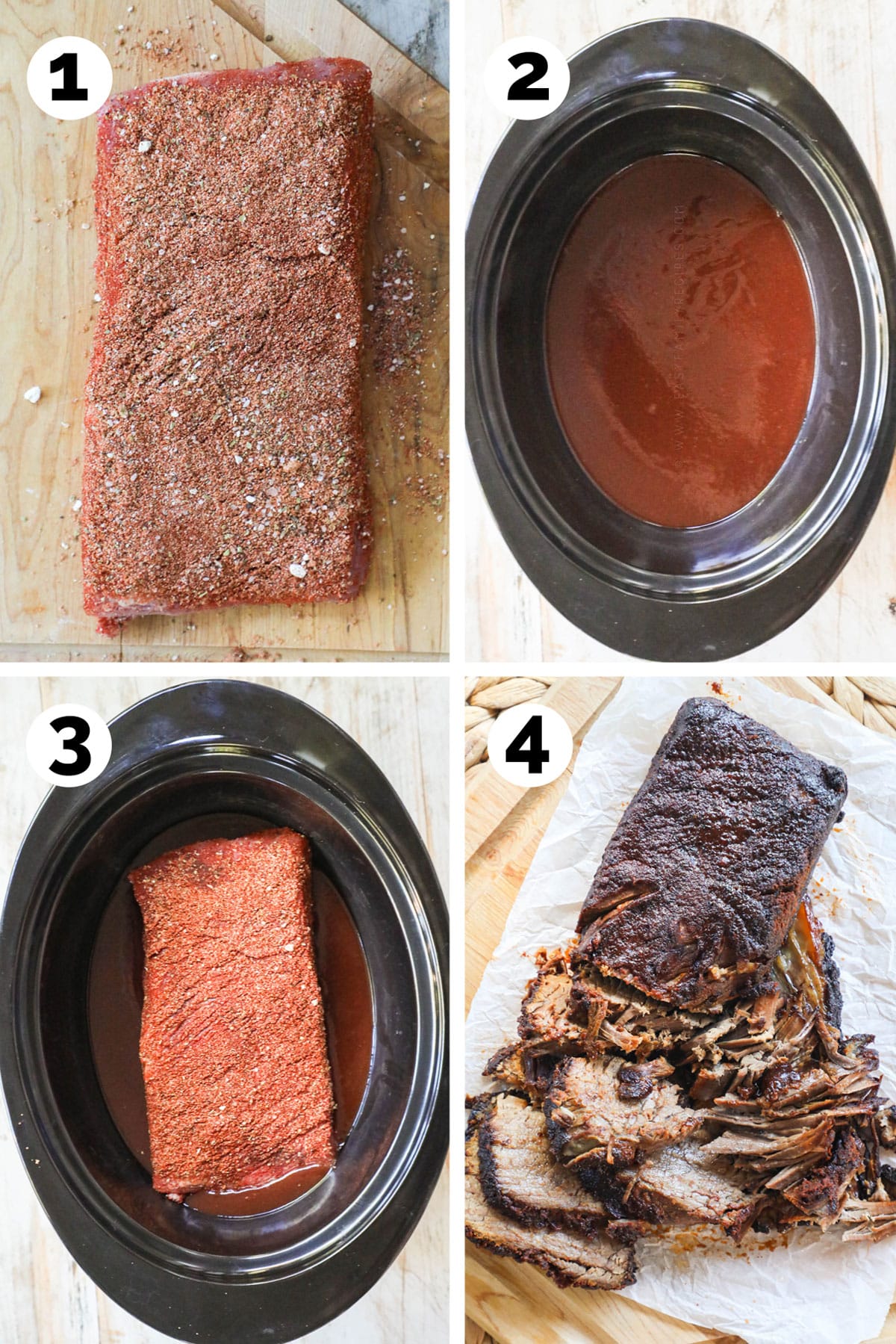 There are a few key steps that make this recipe so delicious. We will walk through the key steps here and go through the key to getting the most delicious results!
Dry Rub– Rub the brisket all over with our dry rub seasoning. Make sure to cover all sides well because this rub will penetrate the meat as it cooks from each side to infuse the most flavor.

BBQ Sauce Base – Mixing the barbecue sauce with the broth gives a nice base for the brisket to cook in. The moisture will surround the beef as it cooks to keep the brisket tender and juicy, even as we cook it for many hours.

Assemble and Cook– Lay the bbq brisket in the sauce mixture. There is no need to baste it at this point, I like to let the top stay dry with only the rub on it so that it really coats the brisket as it cooks. Place the lid on and allow it to cook slowly. Since brisket is a tough cut of meat, the longer the better is a general rule of thumb.

Cut or Shred– One of the great things about Brisket is that even after cooking for many hours it is fork tender, but still able to be sliced. You can remove it from the slow cooker and have the option to slice or shred it based on your preference. Use the BBQ sauce base to add over the meat as desired.
✔️ Recipe Tips
Look for a second cut/deckle cut– This portion of the brisket is the best for slow cooking because it stays moist, not drying out even after cooking for many hours. You can sometimes find these labeled in the meat section, or ask the butcher at your local grocer.

Give it time– Try to make sure you have ample time for the brisket to cook. The roast will need to cook many hours to develop the tenderness associated with this type of barbecue. I like to cook brisket a minimum of 6 hours in the crock pot but up to 8 will provide great results.

Bake at the end– This is an optional step, which will provide extra flavor and texture. By cooking at a high heat when done, it gives the more signature "smoked" look and feel where the outside of the brisket is a darker color and has the slight crisp on the edges of the meat, surrounding the tender inside. That said, it will be just as delicious and taste pretty similar if you are out of time and want to skip this step.
⏲️ Recipe Short Cuts
If you need to make this recipe, but are extra short on time, here are a few ideas that can help make this recipe even faster!
Prepare the brisket rub in advance– This rub can be mixed together, up to a year in advance! You read that right… When creating seasoning mixes, they can be made well ahead of time and stored in a cool dry place for a year. This makes it perfect to prep a larger quantity of the brisket rub and then save it to have on hand when you are ready to cook.

Apply Rub to BBQ brisket– The brisket can be trimmed and the rub can be applied he night before. The brisket sitting overnight with the rub will only enhance the flavor that the brisket absorbs!

Prep as a freezer meal– Follow the recipe below to prepare this BBQ brisket freezer meal.

Cook in advance- Not all recipes can be completely made in advance, but this meat is one that can be fully cooked and sliced/shredded and then reheated at meal time with little change to the taste or texture of the dish.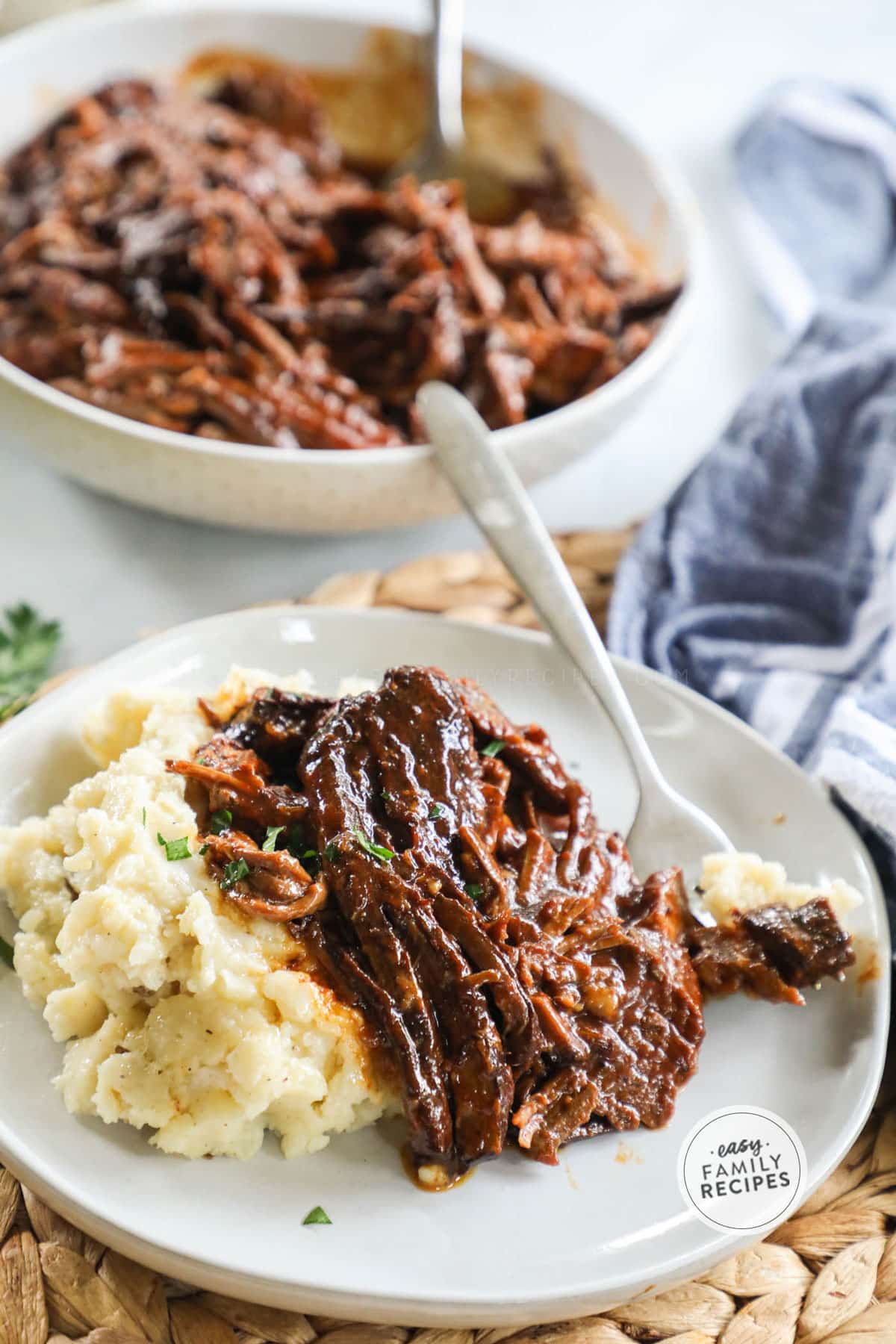 ❄️ Freezer Meal Instructions
Crock pot BBQ brisket can be easily prepared as a freezer meal to make on another busy night, or give to a friend in need.
Prepare the rub and coat the brisket in the rub.
Mix the BBQ sauce and broth and then package sauce and brisket in a freezer bag, or freezer friendly container.
Once ready to cook, thaw for 36-48 hours in the refrigerator.
Cook as directed.
For the best flavor, this meal can be frozen for up to 6 months.
🧆 What to Serve with BBQ Brisket
Since this is a classic Texas style barbecue main dish, it will of course pair well with all of the classic BBQ sides. The brisket shouldn't be limited to just that though, because more than most dinner recipes, this one will pair well with almost any side dish! I have put together a huge list of side dishes that includes everything from classic comfort side dishes to hearty vegetable recipes if you need some ideas.
I am will share some classic ideas, along with some of my favorite less traditional pairings below.
Side Dish Ideas
Coleslaw– go with a traditional recipe, or spice it up with something new like this Sriracha Coleslaw!
Potatoes– Almost any variety, whether you like baked potatoes, potato salad, crispy smashed potatoes, baked potato wedges, creamy mashed potatoes, or even this delicious Cracker Barrel style hashbrown casserole!
Cornbread– Try a classic buttermilk cornbread, or this super easy Mexican style cornbread.
Beans– Go with a classic BBQ baked beans, or just dress up canned black beans with this crazy good recipe.
Vegetables– I love this great roasted vegetable medley, you can also do garlic parmesan broccoli, crispy roasted brussels sprouts, or this killer Jiffy Corn Casserole.
Salad– A classic green salad with this homemade ranch is a hit at our house, as well as, this broccoli slaw, broccoli and cauliflower salad, and our family Rotini Pasta Salad.
Green Beans – You can make Roasted Green Beans or Garlic Green beans in a skillet, or even a Green Bean Casserole!
You can choose one or add a few sides to make a wholesome, well rounded dinner.
Slow Cooker Brisket Leftovers
If you have leftovers after making Crockpot Brisket, then it is your lucky day! They save and reheat well, and can make the start of another delicious dish.
To save leftovers, separate into meal sized portions and then place in an airtight container and store:
in the refrigerator for 3-4 days
in the freezer up to a month
Leftover Recipes
Here are a few ways to repurpose those leftovers and give them a delicious makeover!
Brisket Tacos– Heat corn tortillas in a lightly oiled skillet. Once warm and pliable, pile on BBQ brisket and your choice of fresh cilantro, pico de gallo, sour cream, cheese, jalapeno ranch dressing (the best.) and sliced jalapeños. Best served with Mexican Street Corn Casserole!

BBQ Brisket Stuffed Baked Potatoes– Make baked potatoes using your preferred method. Split the potatoes open and stuff with BBQ brisket, cheddar cheese, sour cream and green onions. Optional, drizzle with ranch instead of sour cream.

Brisket Grilled Cheese– Try this for an extra cheesy and delicious option for a quick lunch or dinner.

Brisket Quesadillas– Heat a large skillet over medium heat. Butter skillet, and lay a large four tortilla in the skillet. Layer on BBQ brisket and cheddar cheese. Optional, add caramelized onions for an extra level of flavor! Serve with sour cream and guacamole for dipping.

BBQ Brisket Salad– Add chopped romaine lettuce to a bowl. Top with diced tomato, cucumber, boiled eggs, red onion, black beans, and corn. Drizzle with ranch and bbq sauce. Optional: add crunched tortilla chips to the top.

Brisket Sandwich– This sandwich is perfect for leftovers and amps up the flavor with an optional jalapeno slaw!

BBQ Brisket Pizza– Spread BBQ sauce on a prepared pizza crust. Top with shredded colby jack cheese. Add shredded brisket to the top of the pizza, then add your choice of thinly sliced red onions and/or thinly sliced bell pepper. Bake as directed. Once done, drizzle with BBQ sauce and top with freshly chopped cilantro- serve hot!
How long does it take to cook a beef brisket in a slow cooker?
Since brisket is a tough cut of beef, you need to cook it for a longer period of time to allow the tough connective tissues to break down and transform it into a tender juicy roast. You will need to cook it on low heat a minimum or 6 hours, but 8-9 hours is generally an even better result.
Does the brisket in a slow cooker need to be in liquid?
Brisket will release juices as it cooks so it does not have to be in liquid to start. That said, you will generally get a better and more delicious result by braising the brisket with some liquid in the crockpot. Our recipe uses a combination of beef broth and barbecue sauce to infuse flavor as it cooks.
Does brisket need to be fully submerged?
The brisket should not be fully submerged in liquid to cook in a slow cooker. Submerging the brisket would result in a boiled brisket rather than a braised brisket. I like to keep the liquid off the top and upper sides of the BBQ brisket so that the flavor of the dry rub can fully infuse into the roast.
Can you over cook brisket in a crock pot?
Yes. Since the crock pot hold in moisture, you will not burn the brisket, but instead an overcooked brisket can fall apart or appear mushy or tough to chew when eating.
➕ More Easy Crock Pot Recipes
If you enjoyed this recipe, I really hope you will take a moment to grab a few more easy recipes for another busy night!
You can check out all of my EASY Crock Pot recipes here, or see a few of our readers favorite recipes below.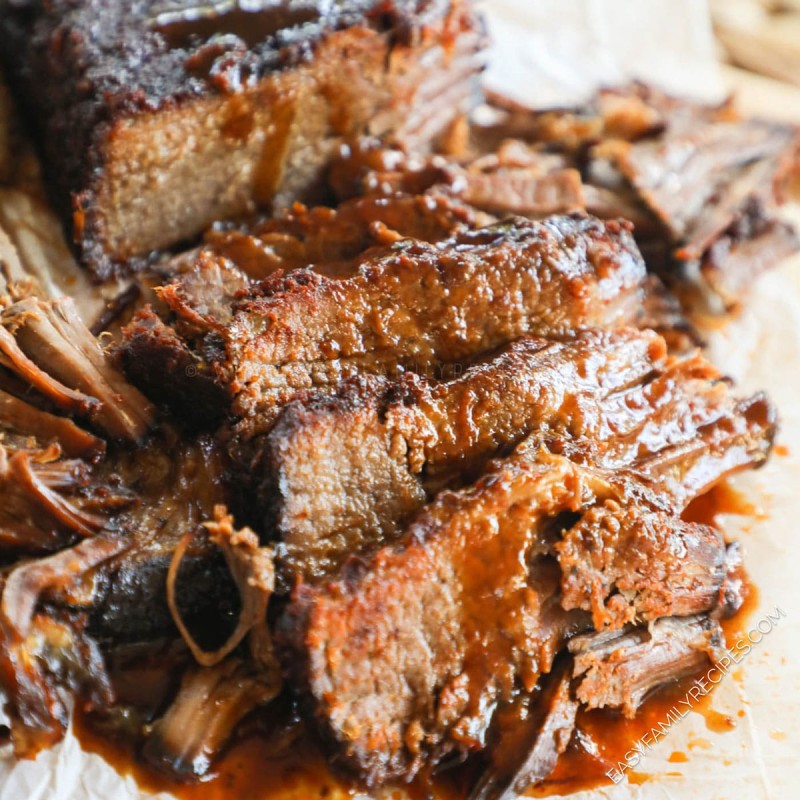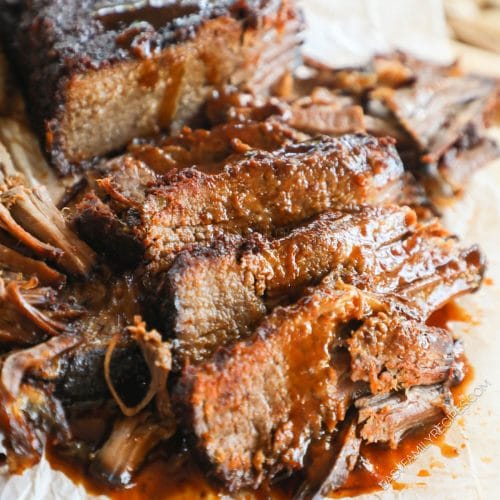 Crock Pot BBQ Brisket
This easy slow cooker beef BBQ Brisket is tender, juicy, and full of flavor. It is cooked slowly over the day as the flavor from the brisket rub infuses into the meat making an amazingly delicious brisket with very little effort!
Ingredients
4

lb

Brisket

,

see note

1

cup

bbq sauce,

(I used Sweet Baby Rays here)

1/2

cup

beef broth
For the Brisket Rub
1

tbsp

brown sugar

1

tbsp

paprika

2

tsp

salt

1

tsp

black pepper

1

tsp

garlic powder

1

tsp

onion powder

1

tsp

dried oregano

1/4

tsp

cayenne pepper
Instructions
To make the brisket rub:
Combine all ingredients in the rub and mix to combine.
To prepare the brisket:
Rub the brisket on all sides thoroughly with the brisket rub.

Combine the barbecue sauce and broth in the bottom of the crock pot and mix. Lay the brisket on top of the BBQ sauce.

Cover and cook on low for 6-8 hours or until the meat is tender and cooked through.

Remove brisket and slice, or shred, and return to sauce mixture.

Serve hot with your favorite sides, on a bun, or on a baked potato.
Optional:
Once the brisket is done in the slow cooker, remove the brisket (in one piece) and place it on a baking sheet. Line the baking sheet with foil for easy clean up.

Bake for 15 minutes at 450˚F to get the smoked BBQ brisket color and texture on the outside of the brisket. The outside of the brisket will darken in color and the edges will begin to crisp as the inside stays tender and juicy.
Recipe Notes
Substitutions:
Beef Broth —

You can also use chicken or vegetable broth.
How to Store: To save leftovers, separate into meal sized portions and then place in an airtight container and store:
in the refrigerator for 3-4 days
in the freezer up to a month
How to Freeze: Crock pot BBQ brisket can be easily prepared as a freezer meal to make on another busy night, or give to a friend in need. This meal can be frozen for up to 6 months.
Prepare the rub and coat the brisket in the rub.
Mix the BBQ sauce and broth and then package sauce and brisket in a freezer bag, or freezer friendly container.
Once ready to cook, thaw for 36-48 hours in the refrigerator.
Cook as directed.
How to Reheat: This can be reheated in the microwave in 30 second increments.
Nutrition Information
Calories:
426
kcal
(21%)
,
Carbohydrates:
17
g
(6%)
,
Protein:
48
g
(96%)
,
Fat:
17
g
(26%)
,
Saturated Fat:
6
g
(38%)
,
Polyunsaturated Fat:
1
g
,
Monounsaturated Fat:
8
g
,
Cholesterol:
141
mg
(47%)
,
Sodium:
1185
mg
(52%)
,
Potassium:
876
mg
(25%)
,
Fiber:
1
g
(4%)
,
Sugar:
13
g
(14%)
,
Vitamin A:
543
IU
(11%)
,
Vitamin C:
1
mg
(1%)
,
Calcium:
34
mg
(3%)
,
Iron:
5
mg
(28%)