This simple 4 step pasta dinner can go from fridge to fork in as little as 20 minutes! Creamy Tomato and Basil Pasta makes a hearty and comforting meal that is a true crowd pleaser. Delicious enough for company but fast enough for even the busiest night, this easy pasta recipe is a regular on our dinner table.
Creamy Tomato Pasta – The EASY Way!
There is no meal that is more loved by everyone in the family than pasta! It is a dinner that is super kid friendly, adults can still enjoy, and the leftovers save well to eat for lunches throughout the week.
All great things, but the BEST thing is just how EASY this tomato and basil pasta is!
You may think making sauce from scratch sounds intimidating. Especially when it is so quick and easy to just open a jar, but trust me my friend, this sauce is so easy and so delicious, you will never look back!
What I love about this recipe:
Fast… I mean really fast! This is one of our fastest recipes! You can make it in less than 20 min if you are really on the ball!
Basic Ingredients- The ingredient list is very basic, with most of them being every day pantry staples!
I made that!! Making this sauce from scratch and having it taste SO GOOD, gives you that "wow! I did something really awesome" kinda feeling!
Restaurant Taste– You can go head to head with your favorite Italian restaurant with this Creamy Tomato and Basil Pasta!
Vegetarian… or not! The recipe is naturally vegetarian, and perfect for a meatless Monday. If you prefer, you can easily add grilled chicken, breaded chicken or other protein if you prefer.
Crowd Pleaser- This recipe has widely loved flavors and is as appealing to kids as it is adults.
Feeds a crowd– The recipe serves 8! You can easily cut it in half, or reheat the leftovers for easy lunches through out the week.
What to Serve with Creamy Tomato and Basil Pasta
Since this dish has the classic Italian flavors of garlic, tomatoes, and basil, it will pair well with many of your favorite traditional side dishes. There are both classic options and some healthy options to keep it light.
Side Dish Ideas
You can choose one or add a few sides to make a wholesome, well rounded dinner.
Recipe Notes
This Tomato Basil Pasta recipe is as simple as promised! Just a few minutes and some pantry staples for a family friendly meal.
In this section I am going to go through a few tips and tricks I use when making this recipe to get the absolute best and most delicious results.
Make sure to scroll to the bottom for the FULL recipe card.
Ingredients + Substitutions
Butter– I generally use salted because it is what I keep on hand. You can use unsalted and thow an extra 1/4 tsp of salt in if needed.
Garlic cloves– I really love using fresh garlic in this recipe. I think it elevates the flavor of the whole sauce and makes it taste fresh and made from scratch, even though we use canned tomatoes.
Crushed tomatoes– Using crushed tomatoes will give you a fairly thick, smooth sauce without having to blend it. I love the texture of crushed tomatoes but if you want a completely smooth sauce, you can blend the sauce before adding the basil.
Heavy cream– Heavy cream will blend more fully than half and half which is why it is my choice for the sauce. It also adds a fullness and richness to the sauce.
Romano cheese– You will want to use grated romano, not shredded, to get the sauce to combine in the smoothest way.
Spice rack– A blend of Italian seasoning, salt, pepper, garlic powder are used to season the sauce. You can buy Italian seasoning blend at most any super market, or it can easily be made at home!
Fresh basil– This is the icing on the cake for the sauce and infuses a fresh herby taste into the tomato basil sauce. I like about half a cup (which is on the heavy side) but you can use less, or more, to your taste preference.
Penne pasta– The tomato and basil sauce will taste amazing on any variety of pasta, but I tend to use varieties like penne because they are really kid-friendly (ie more easy and less messy to eat!)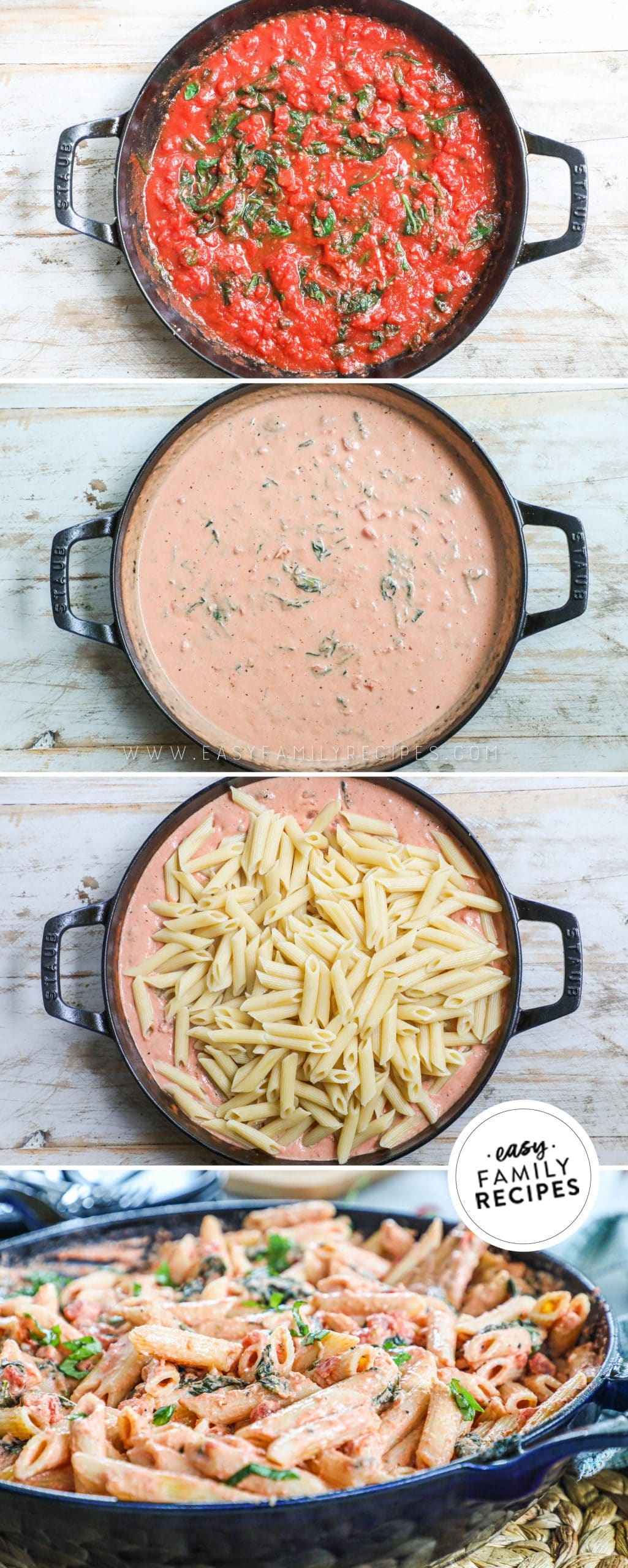 Recipe Tips
Prep ahead– This Creamy Italian Chicken Pasta recipe moves very quickly. I highly recommend prepping and measuring everything in advance so it is ready to go. This will help make the recipe super quick to make, as well as, eliminate anything cooking too long or getting held up along the way.

Watch the garlic– Flash cooking the garlic adds a lot of flavor to the dish, but it should be done in a flash! The garlic is delicate so it can burn easily if left in the pan too long.

Slowly add the cream– You will want to very slowly pour in the cream stirring it in immediately while you add it. This allows it fo fully incorporate into the sauce. If you pour cold cream in all at once it can seize or curdle and you risk not being able to blend it into the sauce.

More or less saucy– The tomato and basil sauce can combine with up to 16 oz (dried) cooked pasta. If you use all 16 oz, it will have a nice coating like shown in the photos, but it won't be super saucy. To have a more saucy pasta, use less cooked pasta combined with the sauce.
Recipe Variations
If you love this recipe as much as we do and want some quick ways to change it up for variety, these little tips will do the trick!
Creamy Tomato and Basil Pasta with Chicken– Make pasta as directed. Use these baked chicken cutlets, or this easy Chicken Parmesan to top the pasta.
Pasta with Spinach and Tomato Cream Sauce– Make the sauce as directed, once you stir in the cream add about 4 oz of baby spinach and allow it to wilt. Then continue with pasta recipe as directed.
Pasta with Tomato Sauce and Ricotta– Make Pasta with Tomato and Basil sauce as directed. At the end, dollop with ricotta cheese.
Dietary Considerations
If you have special dietary needs, this recipe meets some and can be easily modified to comply with others.
As always, check all store bought ingredients for compliance on specific dietary needs. The notes below are a general guide.
Gluten free: This recipe can be made gluten free by using gluten free pasta.
Vegetarian: This Pasta with Tomato and Basil Sauce recipe is naturally vegetarian.
Nut free: This recipe is naturally nut free.
Egg free: This recipe is naturally egg free.
Macros: The approximate macro calculation for this recipe is- P: 14g C: 52g F: 17g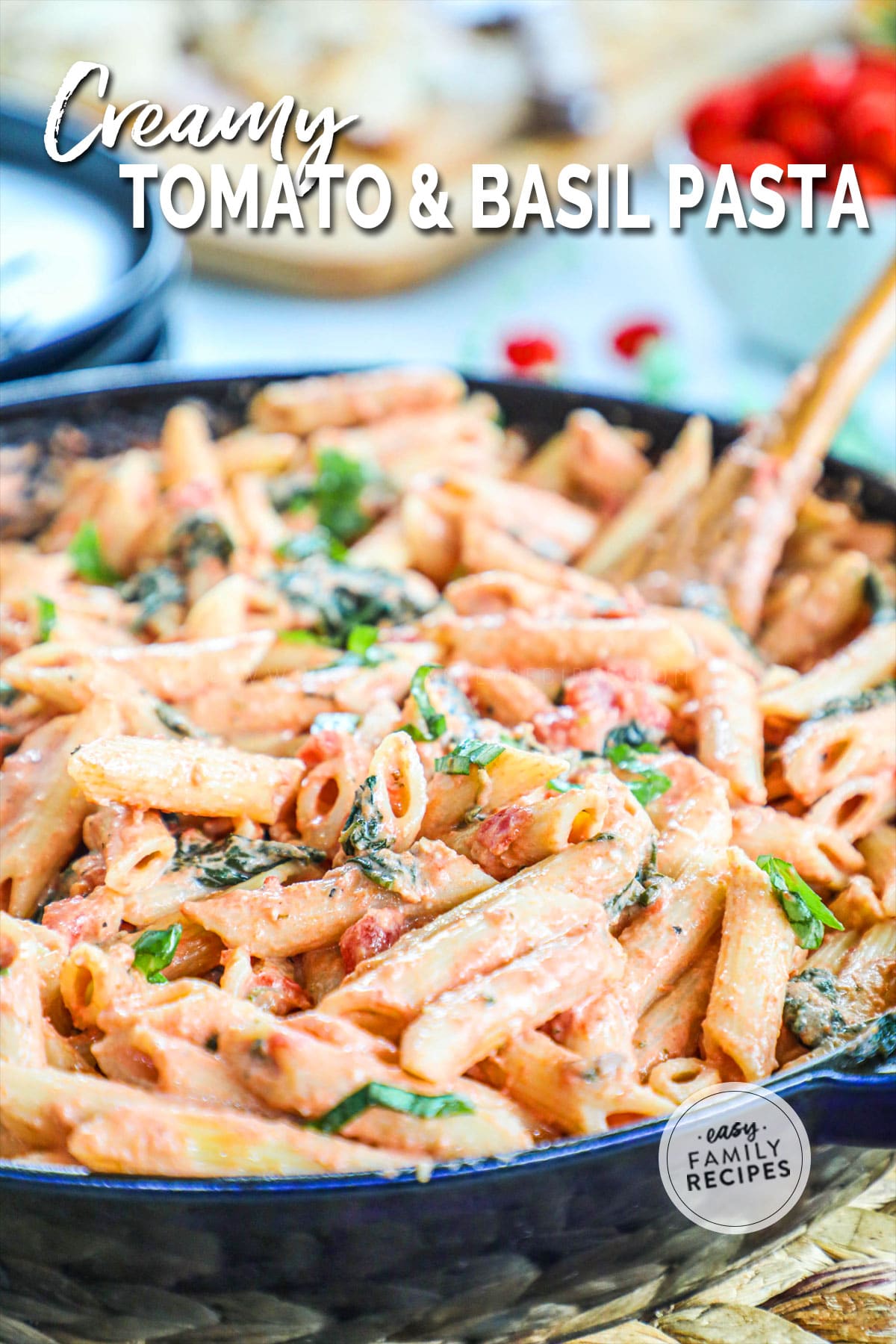 Freezer Meal Instructions
This Tomato and Basil Sauce can be made as a freezer meal. Just follow the freezer instructions below and keep in the freezer for up to 6 months.
Over medium high heat, melt the butter. Add the garlic and Italian seasoning. Flash cook the garlic, about 1 minute, and then add crushed tomatoes. Add heavy cream and bring to a simmer.
Add shredded Parmesan cheese, salt, pepper, and garlic powder, then immediately reduce to low heat and stir continuously, until the cheese melts and the sauce is smooth. Then stir in the basil giving it 2-3 minutes to wilt.
Allow sauce to come to room temperature. Then divide into meal sized portions and package in freezer bags or freezer friendly containers.
Freeze.
Once ready to eat, heat sauce on the stove top or microwave, then mix with prepared pasta, garnish and serve.
Pasta with Tomato Basil Sauce Leftovers
If you have leftovers after making this easy pasta recipe, then it is your lucky day! They save and reheat well, and can make the start of another delicious dish.
To save leftovers, separate into meal sized portions and then place in an airtight container and store:
in the refrigerator for 3-4 days
in the freezer up to a month
More Easy Dinner Recipes
If you enjoyed this recipe, I really hope you will take a moment to grab a few more easy recipes for another busy night!
You can check out all of my Easy Dinner recipes here, or see a few of our readers favorite recipes below.
Hungry for more family-friendly recipes? Sign up for my free recipe club to get new family-friendly recipes in your inbox each week! Find me sharing daily meal-time inspiration on Pinterest, Instagram, and TikTok.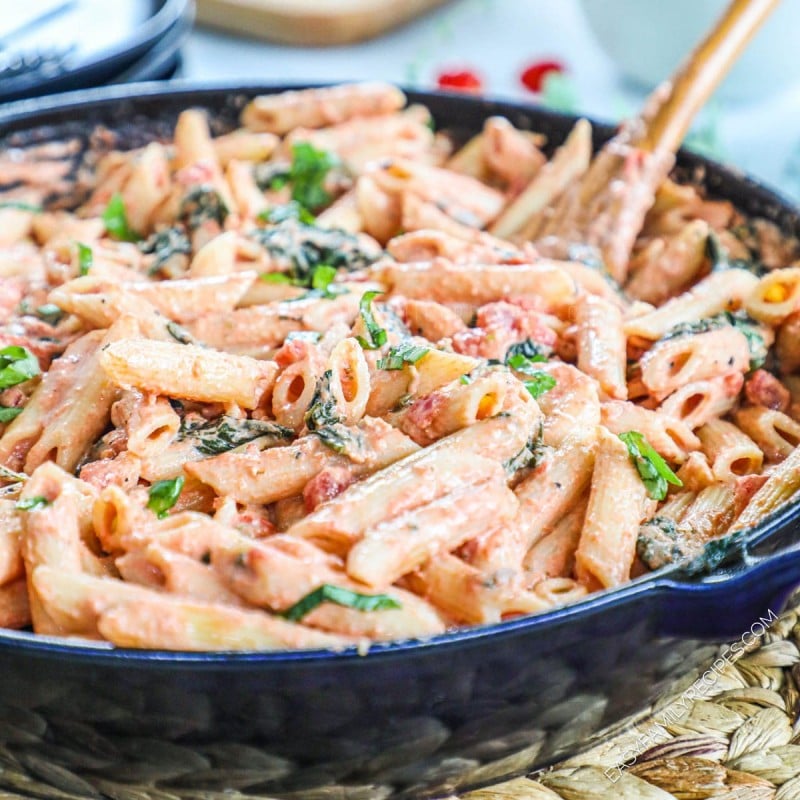 Creamy Tomato and Basil Pasta
This creamy pasta dinner can be made in less than 20 minutes and tastes like it is straight out of your favorite Italian restaurant. Popular with the kids and adults, this dish seems too tasty to be so easy!
Prep Time: 5 minutes
Cook Time: 15 minutes
Total Time: 20 minutes
Serves:8 servings
Hover over "serves" value to reveal recipe scaler
Ingredients
1 tbsp butter
5 garlic cloves minced
1 tsp Italian seasoning
28 oz crushed tomatoes
1 cup cream
1 cup Romano cheese grated
1 tsp salt
1/2 tsp pepper
1/2 tsp garlic powder
1/2 cup chopped fresh basil
16 oz penne pasta
Instructions
Prepare the pasta per package directions.

Over medium high heat, melt the butter. Add the garlic and Italian seasoning. Flash cook the garlic, about 1 minute, and then add crushed tomatoes. Add heavy cream and bring to a simmer.

Add shredded Parmesan cheese, salt, pepper, and garlic powder, then immediately reduce to low heat and stir continuously, until the cheese melts and the sauce is smooth. Then stir in the basil giving it 2-3 minutes to wilt.

Remove from heat and toss pasta with the sauce. Garnish with additional parmesan and/or fresh basil. Enjoy!
Recipe Notes:
If you like your pasta to be more saucy, use 12 oz of pasta instead of 16 oz.
Nutrition Information:
Calories: 413kcal (21%)Carbohydrates: 52g (17%)Protein: 14g (28%)Fat: 17g (26%)Saturated Fat: 10g (63%)Cholesterol: 58mg (19%)Sodium: 611mg (27%)Potassium: 537mg (15%)Fiber: 4g (17%)Sugar: 6g (7%)Vitamin A: 2076IU (42%)Vitamin C: 14mg (17%)Calcium: 219mg (22%)Iron: 3mg (17%)
(Nutrition information provided is an estimate and will vary based on cooking methods and brands of ingredients used.)