If you love spinach dip, you must try this quick Creamy Spinach Chicken Bake recipe. The combination of lean protein, greens, and a creamy sauce will leave your family feeling full, satisfied, and 100% happy! It's a hands-off recipe that takes just 10 minutes of prep, then tender chicken breasts, frozen spinach, and three cheeses cook to perfection in the oven! It's a wonderful weeknight dinner for busy families that still want to enjoy a satisfying meal together.
Creamy Spinach Chicken Bake – The EASY Way!
On busy nights there is nothing better than having a quick and easy recipe like this creamy spinach chicken bake in your back pocket. Juicy chicken coated with creamy, gooey cheese is guaranteed to make even the pickiest eaters happy. I'm willing to bet you can even count on the kids taking a few bites of spinach too!
Like all my chicken bakes, this doesn't take long to prepare. After just 10 minutes, it's in the oven cooking away so you can focus on the dozens of other things that want your attention (or just sneaking a few minutes of quiet time!). When it's done, a hot pan of comforting and creamy baked chicken with spinach and mozzarella will be ready to serve. No matter which sides you choose to pair it with, it's a family hit that will take the stress out of meal time.
Why I LOVE this recipe!
Quick and Easy – Easy ingredients, an easy to follow recipe, and only 10 minutes of your attention are needed to get this cooking.
Speedy Clean Up – Cooking in one pan means just one pan to clean. I always love it when dishes are a breeze!
Kid Friendly – This is a GREAT one to serve for families with littles, tweens, or teens. The garlic, mozzarella, and cream cheese make a gooey, delicious sauce that make even tender spinach super easy to eat!
Super Versatile – Customize your spinach chicken bake with different flavors by adding extra ingredients like artichoke hearts or sun dried tomatoes. Then use the leftovers to make delicious and easy dinner the next night!
What to Serve with Cheesy Chicken Spinach Bake
Since this creamy, cheesy chicken bake has the classic flavors like garlic, spinach, and parmesan, it will pair well with many of your favorite traditional side dishes. There are both classic options and some healthy options to keep it light.
Side Dish Ideas
You can choose one or add a few sides to make a wholesome, well rounded dinner.
Recipe Notes
This spinach chicken bake recipe is as simple as promised! Just 10 minutes of prep and one pan for a family friendly meal.
In this section I am going to go through a few tips and tricks I use when making this recipe to get the absolute best and most delicious results.
Make sure to scroll to the bottom for the FULL recipe card.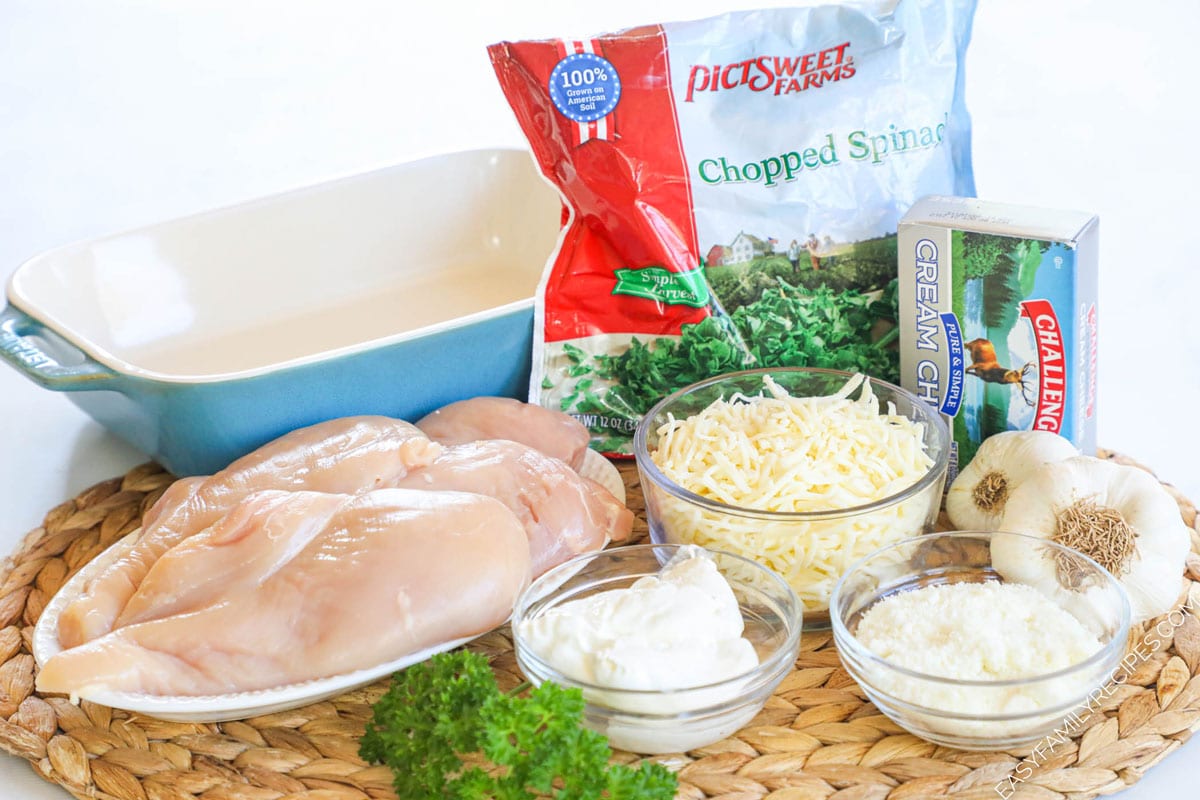 Ingredients + Substitutions
Chicken Breasts – Boneless, skinless chicken breasts is our go to for this chicken and spinach bake. But you could also use tenderloins or cutlets with great results. Make sure you reduce the cooking time to account for smaller pieces baking faster.

Frozen Spinach – I recommend frozen spinach for a few important reasons. Fresh spinach contains a LOT more water which will dilute your creamy sauce. It also has a lot of volume uncooked, so it's difficult to get as much into the recipe. You could make sautéed fresh spinach before hand, then chop it and press out all the liquid, but that's extra work!

Instead, I highly recommend frozen chopped spinach. It comes out of the bag in super small pieces which makes preparing and serving the dish a breeze. You could use whole frozen spinach too and just chop it yourself.

Cream Cheese – I use regular cream cheese, but low-fat will work as well. I don't recommend fat-free however. It just doesn't melt into that silky sauce we really want.

Sour Cream – Use full or low fat sour cream with equal success. Or you can use a full fat, unflavored Greek yogurt with great results as well!

Parmesan Cheese – Grated or shredded will work in this recipe, however I think grated combines a bit more evenly with less effort.

Garlic – You'll want to use 4 whole cloves of fresh garlic for the best flavor. It's key for making the sauce perfect. I like to use my garlic press to get it into a finely crushed form quickly and to release as much of the flavor as I can.

Mozzarella Cheese – You can use your favorite mozzarella cheese here! Pre-shredded is quick, but feel free to grate your own or use fresh mozzarella if you prefer. I definitely recommend draining off any liquid if you choose the fresh stuff however!

Salt & Pepper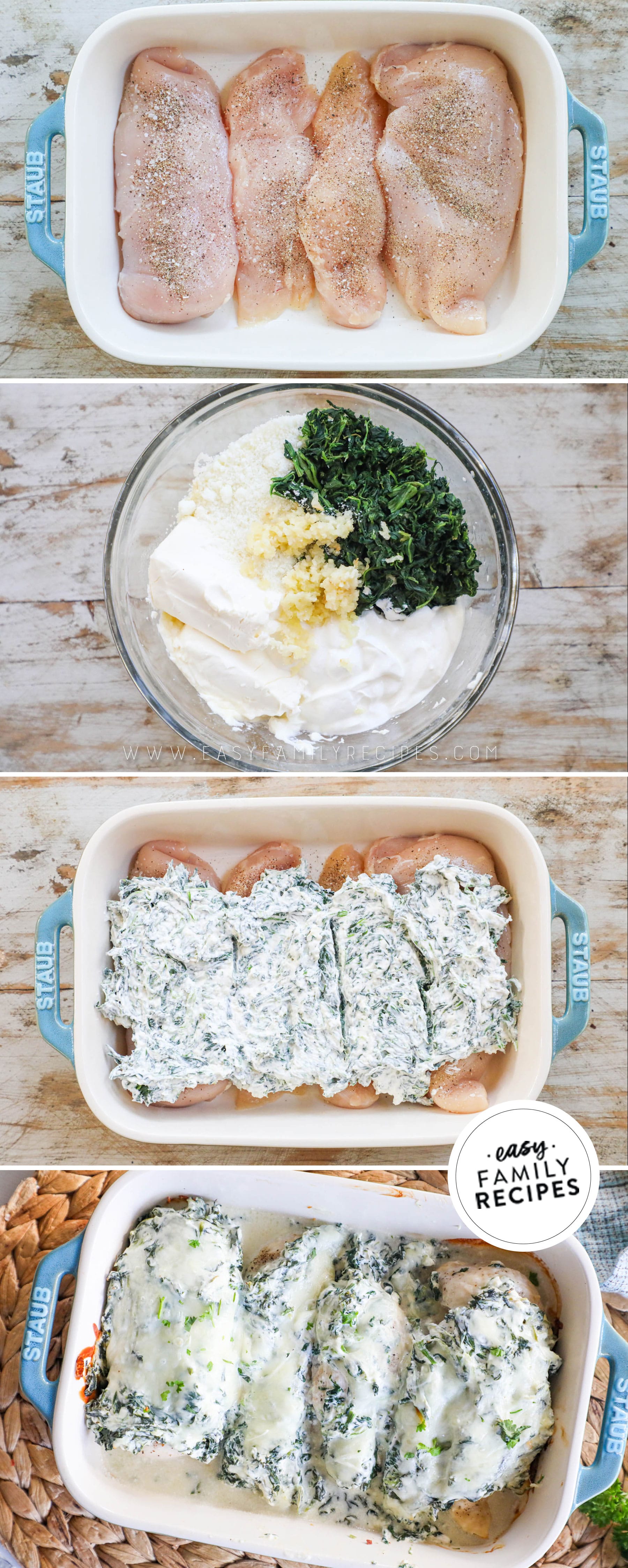 Recipe Tips
Use Thin Chicken Breasts – One essential tip for a perfect creamy spinach chicken bake is to use thin chicken breasts. It encourages even baking, which is SO important for having a delicious juicy breast at the end.

You can either slice larger breasts in half, purchase thin ones, or use a mallet or rolling pin to pound them into a thinner, even size. I'd recommend covering the chicken with plastic wrap if you choose that method to prevent germs from splattering in your kitchen.

Choose a Large Pan – Another key to even baking is to use a pan large enough to lay the breasts side by side with NO overlap. If they're crowded, some parts will cook faster than others, and you'll have a mixture of overcooked and nicely cooked bites, which is no fun! I like a big, high-sided casserole dish for 4 chicken breasts.

Squeeze out the Spinach – One key reason we use thawed frozen spinach is to avoid all the water it would release if cooked from frozen. We want to really squeeze it out to make sure it doesn't make our creamy spinach mozzarella bake watery.

Use a soft kitchen towel or paper towels to wring it out over the sink or a bowl. Or, put it into a fine meshed colander over a bowl and press down into it firmly with a spoon.

Use SOFT cream cheese – Another super important tip is to make sure the cream cheese is completely softened before mixing it in. If it's cold, even a little bit, it won't blend as nicely and melt into its full creamy potential. If you think it needs to be softer, just pop it into the microwave for 30-60 seconds.

Don't overcook! – The number one enemy of tender, juicy chicken is overbaking. You're always aiming for that perfect 'done' temperature which is 165°F internally.

The easiest way to check that it is by using an instant read meat thermometer. If you don't have one, I highly recommend it! They're inexpensive and easy to find at grocery stores, box stores, or online.

Let it Rest – Once you've taken your cheesy chicken spinach bake out of the oven, let it rest for 5-10 minutes while you set the table or assemble the sides. That lets all the yummy juices soak up and thicken, so you have the absolute best flavor possible when serving.
Recipe Short Cuts
If you need to make this recipe, but are extra short on time, here are a few ideas that can help make this recipe even faster!
Use Smaller Chicken– Chicken strips or chunks will cook much faster than a whole breast, which can easily save you time! Cubes of chicken also make serving a breeze. Another reader favorite is using chicken tenderloins in place of chicken breast No need to cut up and portion breasts, just scoop and serve for a quick meal.

Use Prepared Ingredients– Buy shredded cheeses and even pre-minced garlic so that you can literally just measure and bake.

Prep Ahead– Another time-saving option is to get everything assembled ahead of time. You can fully assemble the entire creamy spinach chicken bake up to 24 hours ahead. Cover it with foil and place it in the fridge, then you can add it directly to the oven when you're ready. It may take an extra 5-10 minutes to fully cook when using this method.
Recipe Variations
If you love this recipe as much as we do and want some quick ways to change it up for variety, these little tips will do the trick!
Baked Chicken Thighs with Spinach– Make the recipe as directed but swap boneless, skinless, chicken thighs for the breasts. Add more baking time as needed to make sure they're cooked to the proper 165°F.

Cajun Chicken and Spinach Bake– Add a little spice by seasoning the chicken with my homemade Cajun seasoning before topping it with the spinach and cheese. You can even mix a half teaspoon into the cream cheese mixture. Then bake as directed.

Creamy Lemon Spinach Chicken Bake– Zest and juice 1 lemon. Season the chicken with salt, pepper, and the lemon zest. Add one teaspoon of lemon juice to the cream cheese spinach mixture, then taste, adding more if desired. Continue with the recipe as directed.

Mix in ideas– Try stirring in artichoke hearts, sun dried tomatoes, olives, or bacon to add a new flavor to this dish!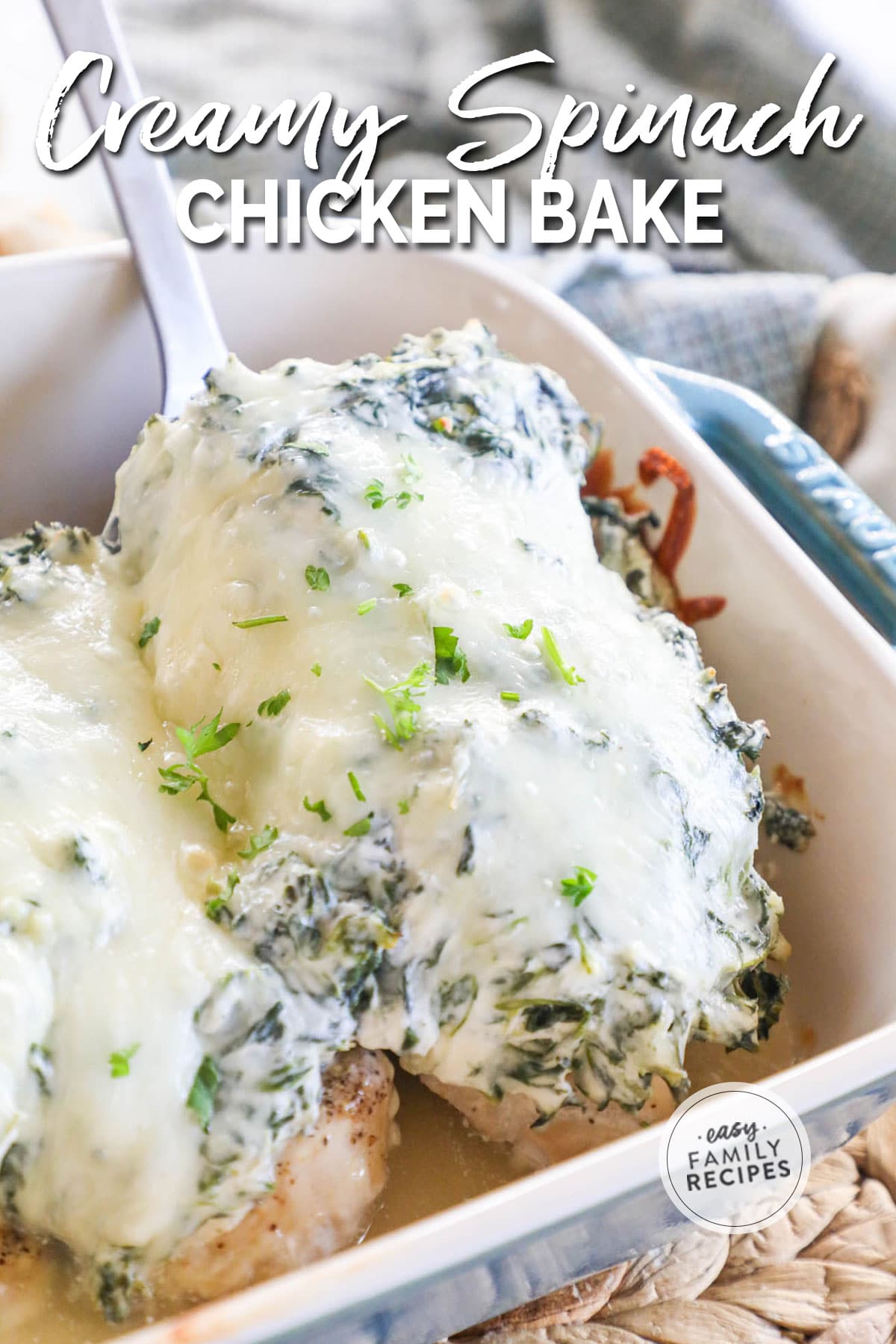 Freezer Meal Instructions
Making this baked chicken with spinach recipe into a freezer meal is simple! Follow the steps below and you can store this recipe in the freezer for up to 6 months.
Assemble the recipe as directed in a freezer safe pan or casserole dish.
Cover and freeze.
When ready to bake, thaw in the refrigerator for 24-48 hours.
Drain off any excess liquid.
Bake as directed.
Creamy Spinach Chicken Bake Leftovers
If you have leftovers after making this chicken and spinach bake, then it is your lucky day! They save and reheat well, and can make the start of another delicious dish.
To save leftovers, separate into meal sized portions and then place in an airtight container and store:
in the refrigerator for 3-4 days
in the freezer up to a month
Leftover Recipes
Here are a few ways to repurpose those leftovers and give them a delicious makeover!
Chicken Spinach Bake Casserole– Mix chopped leftover chicken and sauce with 1-2 cups of cooked rice and a can of cream of chicken soup. Spread in a casserole dish and top with 1/2 cup of shredded mozzarella cheese. Bake at 350°F for 30-40 minutes or until hot throughout and cheese is bubbling.

Creamy Spinach and Chicken Pasta– Cook pasta according to package instructions, reserving 1/2 cup of pasta water. Reheat chopped leftover chicken and sauce in a pan with the pasta water and 1/4 cup of softened cream cheese until hot, thick, and creamy. Serve the chicken sauce over the pasta with freshly grated parmesan.

Cheesy Chicken Spinach Pizza– Reheat the remaining sauce and spread it over a prepared pizza dough. If needed you can thin the sauce with a few splashes of heavy cream to make it easier to spread. Top with chopped chicken and 1-2 cups of shredded mozzarella cheese. Bake according to the dough's package instructions and serve.
More Chicken Bake Recipes
If you enjoyed this recipe, I really hope you will take a moment to grab a few more easy recipes for another busy night!
You can check out all of my easy chicken recipes here, or see a few of our readers favorite recipes below.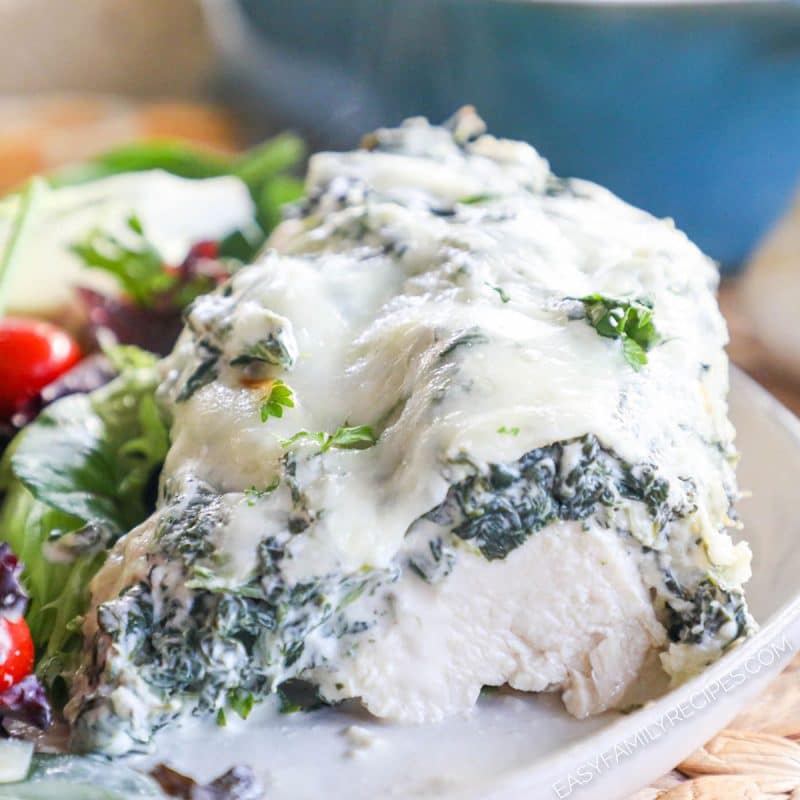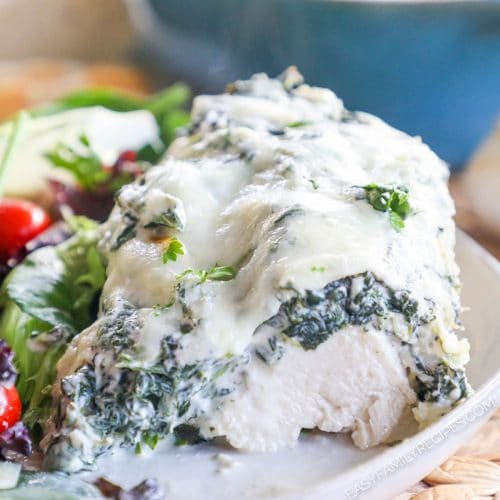 Creamy Spinach Chicken Bake
Three cheeses, spinach, and garlic cook over seasoned chicken breasts to create a creamy oven-baked chicken dish that's perfect for a family dinner. It's easy to prepare any night of the week and takes just 10 minutes of hands-on time.
Ingredients
2

pounds

boneless, skinless chicken breast

12

ounces

frozen chopped spinach

,

thawed

6

oz

cream cheese

,

softened

1/3

cup

sour cream

1/2

cup

freshly grated parmesan cheese

4

cloves

garlic

,

pressed

1/4

tsp

salt

1/4

tsp

ground black pepper

1/2

cup

mozzarella cheese
Instructions
1. Preheat the oven to 400˚F.

Squeeze out as much liquid as possible from the thawed spinach.

In a medium bowl, combine the spinach, cream cheese, sour cream, parmesan cheese and garlic. Stir until well mixed.

Season each side of the chicken breast with salt and pepper, then lay flat in a large baking dish. Spread the spinach mixture evenly over the chicken. Sprinkle the mozzarella cheese over the top.

Cover with foil and bake for 40 minutes. Uncover and bake for an additional 5-10 minutes or until the chicken is cooked through (165˚F internal temp.)
Nutrition Information
Calories:
566
kcal
(28%)
,
Carbohydrates:
8
g
(3%)
,
Protein:
62
g
(124%)
,
Fat:
31
g
(48%)
,
Saturated Fat:
16
g
(100%)
,
Polyunsaturated Fat:
2
g
,
Monounsaturated Fat:
8
g
,
Trans Fat:
1
g
,
Cholesterol:
224
mg
(75%)
,
Sodium:
903
mg
(39%)
,
Potassium:
1259
mg
(36%)
,
Fiber:
3
g
(13%)
,
Sugar:
3
g
(3%)
,
Vitamin A:
10935
IU
(219%)
,
Vitamin C:
9
mg
(11%)
,
Calcium:
399
mg
(40%)
,
Iron:
3
mg
(17%)