This Chile Ranch Chicken is PACKED with flavor and so quick to make using a skillet! With the delicious flavor of ranch, tangy lime, and smokey chili, it is the perfect start of a delicious dinner, or can be used for meal prep, to add to salad, pasta or more!
Skillet Chicken Breasts- The EASY Way!
I have made thousands of chicken breasts over the years, but chicken cooked quickly over medium heat in the skillet remains my favorite.
What makes them so special is that you can get:
Amazing flavor
Perfectly cooked chicken – Tender on the inside and seared on the outside
Quickly cooked
In just one pan!
The combination of the sear on the outside that locks in the flavor and the tender juicy meat inside is pure perfection! I have a couple of little tricks I will share with you below in the tips section to ensure you come out with perfect chicken breasts every time!
You can make chicken breasts with this method in almost any flavor, but today I am sharing a new favorite: Chile Ranch! Both the kids and adults agreed that this was going on the regular rotation.
Quick and easy with just a few ingredients the flavor really makes this meal special!
What to Serve with Chile Ranch Chicken
Since this dish has the classic flavors of ranch and is mixed with chili powder and lime, it will pair well with many of your favorite classic American side dishes, as well as Southwestern and even Mexican sides.
There are both traditional options and some healthy options to keep it light.
Side Dish Ideas
You can choose one or add a few sides to make a wholesome, well rounded dinner.
Recipe Notes
This Ranch Chile Skillet Chicken recipe is as simple as promised! Just seven ingredients for the perfect start to a wholesome meal.
In this section I am going to go through a few tips and tricks I use when making this recipe to get the absolute best and most delicious results.
Make sure to scroll to the bottom for the FULL recipe card.
Ingredients + Substitutions
Chicken breast– You will need your chicken sliced into thin cutlets
Ranch seasoning – You can use a packet of Hidden Valley Ranch seasoning, or use homemade seasoning in this recipe. The homemade seasoning gives you the ability to make the recipe gluten free, dairy free, and is compliant for diets such as Whole30 , Paleo, and Keto.
Lime juice – Fresh lime juice is preferred because it adds the best flavor!
Chili powder
Smoked paprika– I prefer the flavor of smoked but you can substitute sweet paprika or regular paprika if needed.
Salt
Vegetable oil – you can substitute any oil you prefer to cook with at high heat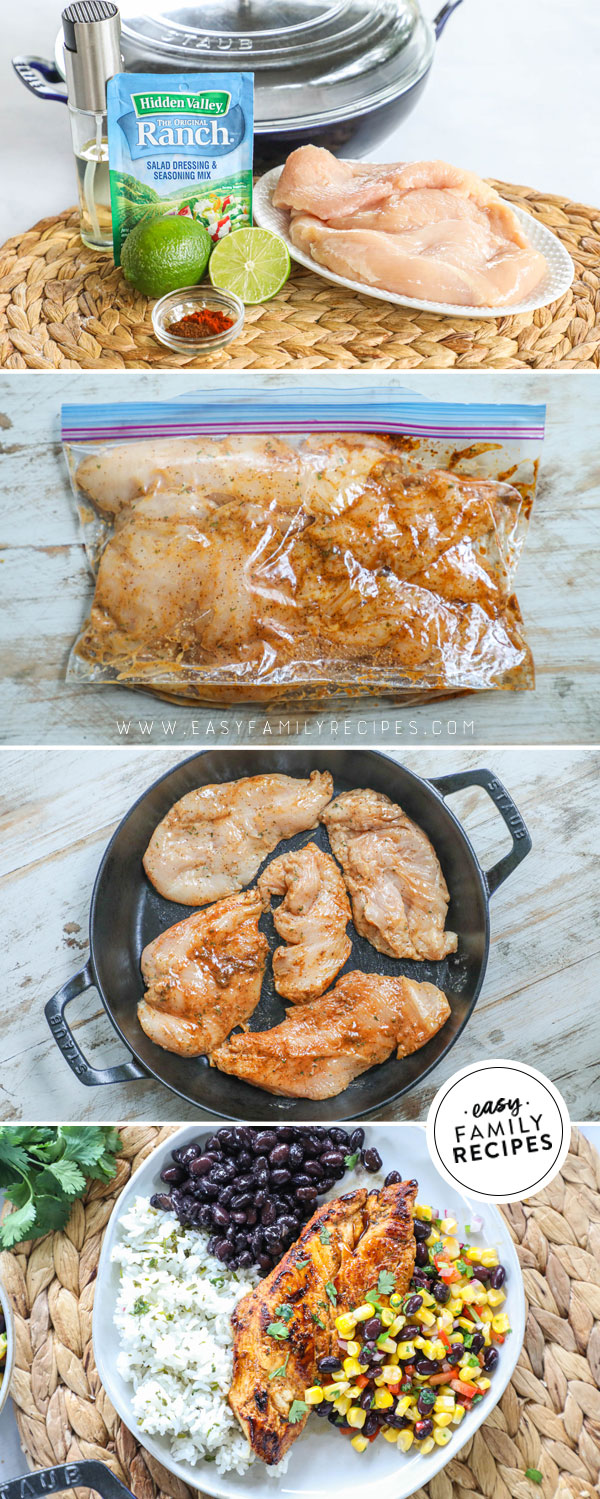 Recipe Tips
Thin chicken breast is a MUST! To make the dish according to the directions, you need to have thin chicken breasts so they are able to cook fully and remain tender and juicy.

There are a few ways to get thin chicken breasts:

Cut the chicken horizontally into thin pieces (about 1/4-1/2″ thick)
Pound the chicken out with a meat mallet
Purchase "thin chicken breasts" or "chicken cutlets" from the grocery store
A combination of the above!


Marinate the chicken– The flavor comes from marinating the chicken. If you are in a big rush, you can go with as little as 10-15 minutes in the marinade. If you have the time I recommend 30-60 minutes. I wouldn't do longer than 24 hours because the lime juice can start to break down the meat.

Start with higher heat and move to lower heat. This method allows you to both create a nice, delicious, flavorful sear on the outside, and cook the chicken all the way through while keeping it juicy (and without having to move the pan to the oven.)

The high heat gives the chicken the seared crust on the outside which provides lots of flavor. This should be done uncovered which will allow that nice sear to form.

The low heat gently cooks the chicken all the way through. This should be done covered to help hold in the heat.

Don't over crowd the pan. This is an important tip for searing chicken. If the pan is overcrowded, the moisture will have no place to go, and thus get trapped under the chicken which will prevent the chicken from searing and instead, basically steam it.

If your pan is too small to do all the chicken at once, I recommend doing it in batches, or using two pans.

Don't over cook your chicken! The number one enemy to a chicken breast is overcooking! The KEY to perfectly cooked chicken is cooking to the perfect temperature.

Chicken breast should be cooked to 165˚F . Once it goes above this temperature, it will start becoming more dry and chewy. The hotter it gets, the more dry, rubbery, and/or hard to chew it will become.

I recommend an instant read meat thermometer very similar to this meat thermometer. You can get these inexpensively at the grocery store, Walmart, or Amazon and I highly recommend adding it to your kitchen if you don't have one! There isn't much that can make you a better cook than this.
Recipe Variations
If you love this recipe as much as we do and want some quick ways to change it up for variety, these little tips will do the trick!
Spicy Chile Ranch Chicken Breasts– Add 1/4-1/2 tsp of cayenne pepper to the marinde for a kick on these chicken breasts. Optionally you can use 1-2 tbsp hot sauce instead.
Chile Ranch Skillet Chicken Thighs– Use boneless skinless chicken thighs in place of chicken breast in this recipe.
Chile Ranch Skillet Chicken Tenders– Use chicken tenderloins in place of chicken breast in this recipe. The cooking time will be reduced.
Buffalo Ranch Skillet Chicken– Make recipe as directed, then once chicken breasts are done cooking, toss with buffalo sauce before serving. Optional: sprinkle crumbled blue cheese over the top.
Dietary Considerations
If you have special dietary needs, this recipe meets many and can be easily modified to comply with others. 
As always, check all store bought ingredients for compliance on specific dietary needs. The notes below are a general guide.
Gluten free: This recipe is naturally gluten free when using the homemade ranch seasoning.
Dairy free: This recipe is naturally dairy free when using the homemade ranch seasoning.
Nut free: This recipe is naturally nut free
Egg free: This recipe is naturally egg free
Low carb/Keto: This recipe is low carb at only approx 3g net carbs per serving.
Macros: The approximate macro calculation for this recipe is- P: 32g C: 4g F: 11g
Freezer Meal Instructions
To make this as a freezer meal follow the instructions below. For best flavor, we recommend using the meal within 6 months of freezing.
To freeze BEFORE cooking:
Combine the ranch seasoning, chili powder, smoked paprika, salt and 2 tbsp oil to make the marinade.
Place chicken breast in a container or freezer bag and cover with the marinade on all sides.
Freeze.
Once ready to cook, thaw in the refrigerator for 24-48 hours.
Add lime juice to marinade 1-2 hours before cooking.
Cook as directed.
To freeze AFTER cooking:
Make recipe as directed. Let any you wish to freeze cool to room temperature.
Prep meat as desired (slice, dice, or separate into portions.) Package in freezer bag or freezer friendly container.
Freeze.
Once ready to cook, thaw in the refrigerator for 24-48 hours.
Reheat in the microwave or on the stovetop.
Chile Lime Chicken Breast Leftovers
If you have leftovers after making these skillet chicken breasts, then it is your lucky day! They save and reheat well, and can make the start of another delicious dish.
To save leftovers, separate into meal sized portions and then place in an airtight container and store:
in the refrigerator for 3-4 days
in the freezer up to a month
Leftover Recipes
Here are a few ways to repurpose those leftovers and give them a delicious makeover!
Chile Ranch Chicken Salad– Chop leftover chicken breast. Fill a bowl with chopped romaine. Add your choice of corn, black beans, tomato or pico de gallo, chopped avocado, and shredded Mexican blend cheese. Drizzle with jalapeno ranch dressing.
Chile Ranch Chicken Quesadillas– Chop leftover chicken. Place over half of a large tortilla. Add chicken, shredded cheese, and your choice of corn, black beans, and drained diced green chiles. Melt butter over medium heat, and once the skillet is hot, fold the tortilla in half and grill until golden brown on each side.
Chile Ranch Chicken Burrito Bowls– Add cilantro lime rice, black beans and chopped Chile Ranch Chicken to a bowl. Top with your choice of corn salsa, red salsa, chopped romaine, shredded cheese, sour cream, and guacamole.
Chile Ranch Chicken Wraps– Slice leftover chicken breast. Spread a thin layer of ranch over a large tortilla or flatbread. add mixed greens, sliced chicken, bacon crumbles, shredded cheese, and sliced tomato. Optional: toss the chicken with buffalo sauce before adding to the wrap.
More Easy Chicken Recipes
If you enjoyed this recipe, I really hope you will take a moment to grab a few more easy recipes for another busy night!
You can check out all of my Easy Chicken recipes here, or see a few of our readers favorite recipes below.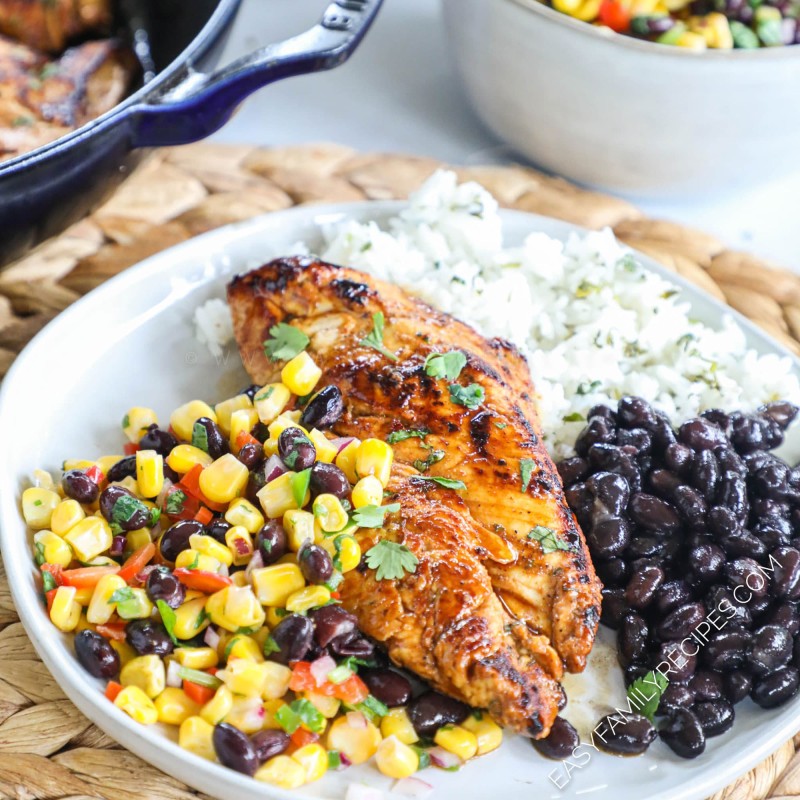 Chili Ranch Skillet Chicken Breast
Chili Ranch Chicken is full of flavor and so simple to make using just a skillet! Packed with the flavors of ranch, tangy lime, and smokey chili powder, this is a delicious way to make chicken breast that is anything but boring!
Ingredients
2

lbs

chicken breast

,

sliced into thin cutlets

2

tbsp

ranch seasoning,

(1 packet)

2

tbsp

lime juice

,

(juice from 1/2 lime)

1

tsp

chili powder

1/2

tsp

smoked paprika

1/2

tsp

salt

3

tbsp

vegetable oil
Instructions
Combine the ranch seasoning, lime juice, chili powder, smoked paprika, salt and 2 tbsp oil to make the marinade.

Place chicken breast in a container or zip top bag and cover with the marinade on all sides. Let rest 30 minutes in the refrigerator.

Heat the remaining 1 tbsp oil in a large skillet over medium high heat. Place chicken in the hot pan and sear on each side for 2 minutes. Then cover the pan and reduce heat to low cooking for 4-8 more minutes or until the chicken breasts are cooked through to 160˚F

Remove the chicken from the pan and let rest 3 minutes. Then serve hot! Enjoy!
Nutrition Information
Serving:
1
chicken breast cutlet
,
Calories:
247
kcal
(12%)
,
Carbohydrates:
4
g
(1%)
,
Protein:
32
g
(64%)
,
Fat:
11
g
(17%)
,
Saturated Fat:
6
g
(38%)
,
Cholesterol:
97
mg
(32%)
,
Sodium:
752
mg
(33%)
,
Potassium:
568
mg
(16%)
,
Fiber:
1
g
(4%)
,
Sugar:
1
g
(1%)
,
Vitamin A:
261
IU
(5%)
,
Vitamin C:
3
mg
(4%)
,
Calcium:
8
mg
(1%)
,
Iron:
1
mg
(6%)