These are the BEST Pan Seared Pork Chops! They are juicy, tender, and have a caramelized crust locking in all those savory juices with a tried and true 2 step cooking process. Top with a crisp sweet corn salsa to add an additional level of texture and flavor to this savory dish that is light enough to not weigh you down. This is a wonderfully quick and easy recipe to add to your weekday meal plan.
Pan Seared Pork Chops – The EASY Way!
This pan seared bone in pork chop recipe is wholesome and bright with a pop of flavor with the corn salsa. I love to make cilantro lime rice and a side of black beans with this pork chop recipe for a well-rounded meal.
If you want a meal that:
Comes together quickly
Is Easy to make
Only one pan
Packs in the flavor and
is light but filling
…then this is surely a recipe that is perfect for you! It is also a versatile recipe in that you could add your own twist to make it new and unique to your taste.
This pork chop recipe is super juicy and tender with rich, deep flavors from the caramelized crust. You'll find that a light side dish accompanies the full flavor of these chops perfectly.
What to Serve with thick Pan Seared Pork Chops
Since this dish has bright, savory flavors, it will pair well with many of your favorite side dishes. There are both classic options and some healthy options to keep it light.
Side Dish Ideas
Grains and Potatoes

Cilantro Lime Rice – my favorite pairing as it is light and soaks in all the rich goodness from the pork chops
Mexican Rice – for a little more flair and flavor this style of rice is a good choice and goes great with corn salsa.
Green Chili Cheddar Mashed Potatoes – a little switch up with these potatoes that are cheesy and has that unique flavor from the green chilis. So yummy!

Salads
Vegetables
You can choose one or add a few sides to make a wholesome, well rounded dinner.
Recipe Notes
This juicy pan seared pork chops recipe is as simple as promised! Just 25 minutes for a family friendly meal that's full of flavor, wholesome, and light.
In this section I am going to go through a few tips and tricks I use when making this recipe to get the absolute best and most delicious results.
Make sure to scroll to the bottom for the FULL recipe card.
Ingredients + Substitutions
Pork Chops – When choosing your cut of meat, look for the bone-in chops as they help keep your pork juicy while cooking and less likely to dry out, and add more flavor from the fat and bone.
Lime Juice – the lime juice helps to tenderize the pork while marinating by penetrating the protein and breaking it down. It also adds a fresh citrus pop to the caramelized crust on the pork chops while they sear.
Seasonings – chili, garlic, and onion powders, and smoked paprika combined with the lime juice for the marinade meld together and give you a deeply rich, zesty, savory flavor on the pan seared chops.
Vegetable Oil – Use vegetable oil or your preferred high heat oil for cooking
Corn Salsa
Frozen corn – grabbing a bag of frozen corn is super easy and has great flavor. You can also substitute fresh corn that has been cooked and cut from the cob, or even canned corn in a pinch.
Black beans – These add protein and hardiness. The creamy texture of the beans with crisp veggies and sweet corn is a perfect topping to savory pan seared pork chops.
Red bell pepper – red pepper is beautiful color contrast in the salsa, and it is also a bit sweeter and less bitter. Any pepper would be delicious if you choose to switch it out for what you have on hand- yellow or orange work, and green can too although it is isn't as sweet.
Cilantro – because of its citrusy flavor, cilantro really helps to give this the salsa flavor.
Red onion – I prefer red onion, but yellow, white, or vidalia can be used too.
Jalapeno – By removing the ribs and seeds, the jalapeno should become mild in flavor. If you want it spicier, you can leave some or all in. Or, you can omit the jalapeno all together to keep it more mild.
Lime juice– Fresh will give you the best flavor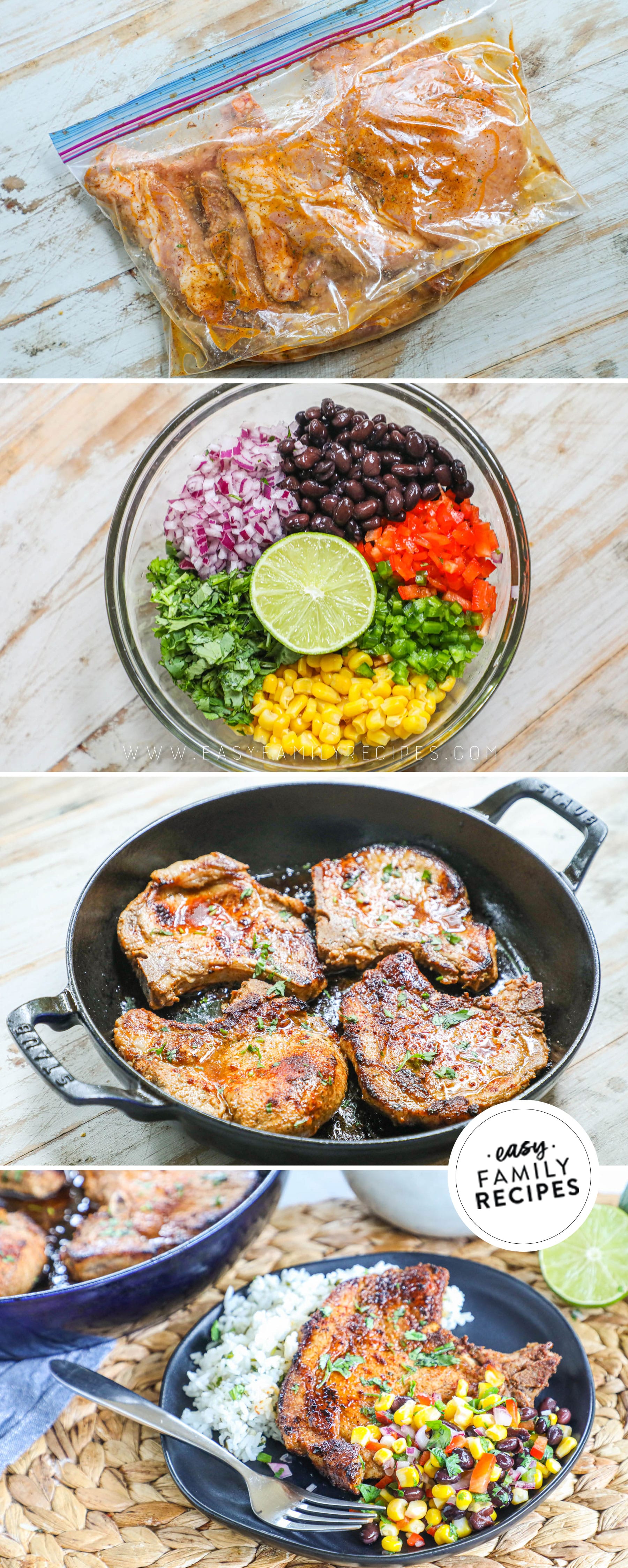 Recipe Tips
Marinate – The more time you allow for the pork chops to marinate the more flavor that will be infused into the meat! Plus, it will be more tender with time as the lime juice and salt begin to break down the meat. Allow at least 10 minutes to marinate, but for the extra punch of flavor and tenderness, try 30 minutes up to 4 hours of marinating in the refrigerator.

Preheat oil and skillet – How to pan sear pork chops? The key to that deliciously crisp, caramelized crust on the pork chop is heating the skillet and oil to temp before placing in your meat.

Two step cooking process – To cook these pork chops to tender perfection we use a two step cooking process.

A hot skillet and oil to sear the outside of the pork chops
Reducing the heat and covering at a very low temp to help cook the pork chops thoroughly without overcooking. This step is where the magic happens and all the juices are dispersed evenly inside the meat.


Do NOT Overcook – It is easy to overcook a pork chop. We want a tender, juicy pork chop and the best way to ensure that this is the result is by using a meat thermometer. You can usually find them at your local grocery stores and will find them to be quite useful.

Chop salsa veggies finely – the finer your vegetables the more flavor you will find in your salsa.

Prepare salsa ahead of time – Speaking of flavor, you can prepare this salsa up to 3 days ahead of time. Not only will chopping the vegetables finely give you flavor but allowing the salsa to chill for an extended amount of time will meld the flavors together. The salsa will be more defined as a whole flavor rather than just veggies mixed together.

Let pork rest – After searing the marinated pork chops and cooking on low, allow the chops to rest out of the pan for about 3-5 minutes. This step will ensure you retain the juiciest goodness inside of the pork and keep them from becoming dry.

Make a meal – My favorite sides with this easy pan seared pork chops dish is a bright and fresh cilantro lime rice and hearty black beans. It's a perfect pair and you already are using these ingredients in the recipe!
Recipe Short Cuts
If you need to make this recipe, but are extra short on time, here are a few ideas that can help make this recipe even faster!
Make Salsa ahead of time – make the salsa up to 3 days early or

Prep for the Salsa – Prep and chop the vegetables for the salsa and refrigerate.

Marinate the pork – Combine the ingredients and marinate the pork for up to 24 hours for the best flavor and for a quick meal.
Recipe Variations
If you love this recipe as much as we do and want some quick ways to change it up for variety, these little tips will do the trick!
And for this recipe, a simple change in the salsa will add different flavor options.
Pan seared pork chops with mango salsa – Use this Mango Salsa recipe in place of the corn salsa. Sear the pork chops in a hot skillet on both sides. Reduce heat and allow to cook through. Top with mango salsa and serve with a fresh salad and side of black beans.

Pan seared pork chops with pico de gallo – Prepare the pico de gallo by tossing together chopped tomatoes, onions, serrano pepper, cilantro, salt and lime juice. Serve over yellow rice.

Pan seared pork chops with pineapple salsa – For a tropical fresh flavor, dish marinate and cook pork chops. Top with this fresh pineapple salsa made with red and green bell peppers, jalapeno, red onion, cilantro, and lime juice. Serve with a side salad topped with Jalapeno Ranch.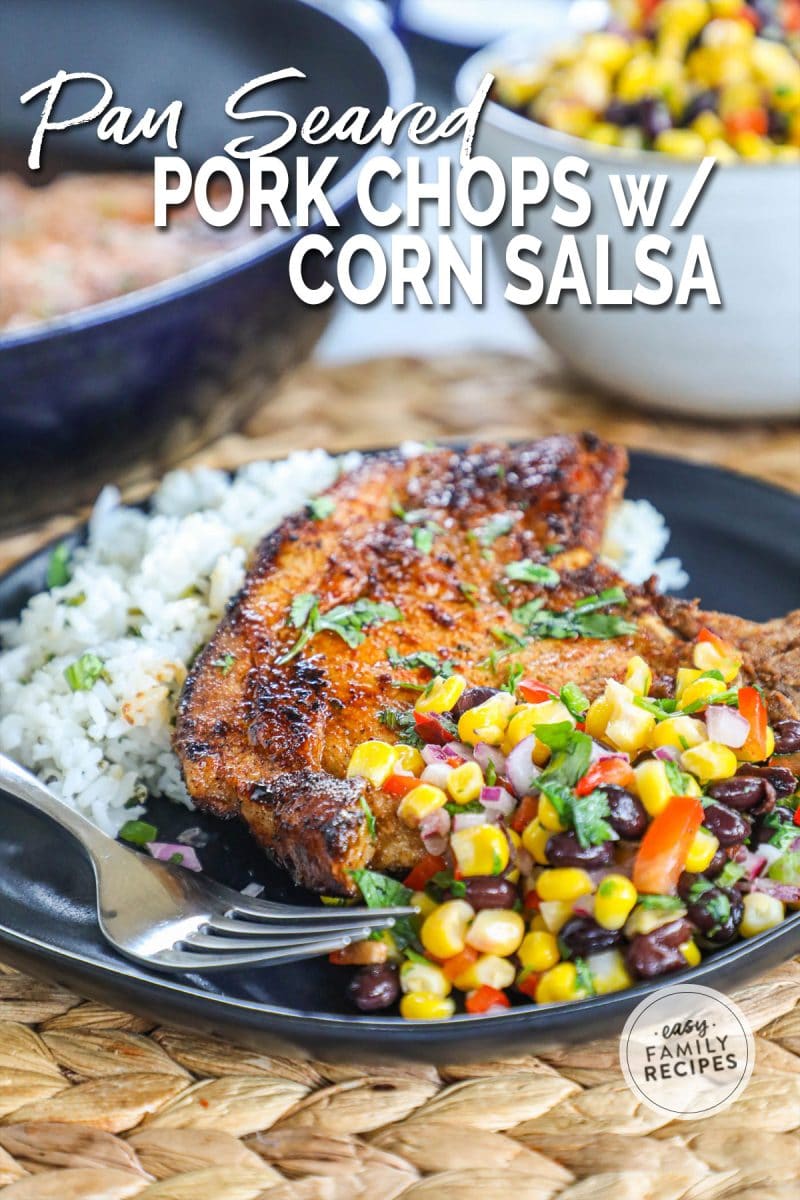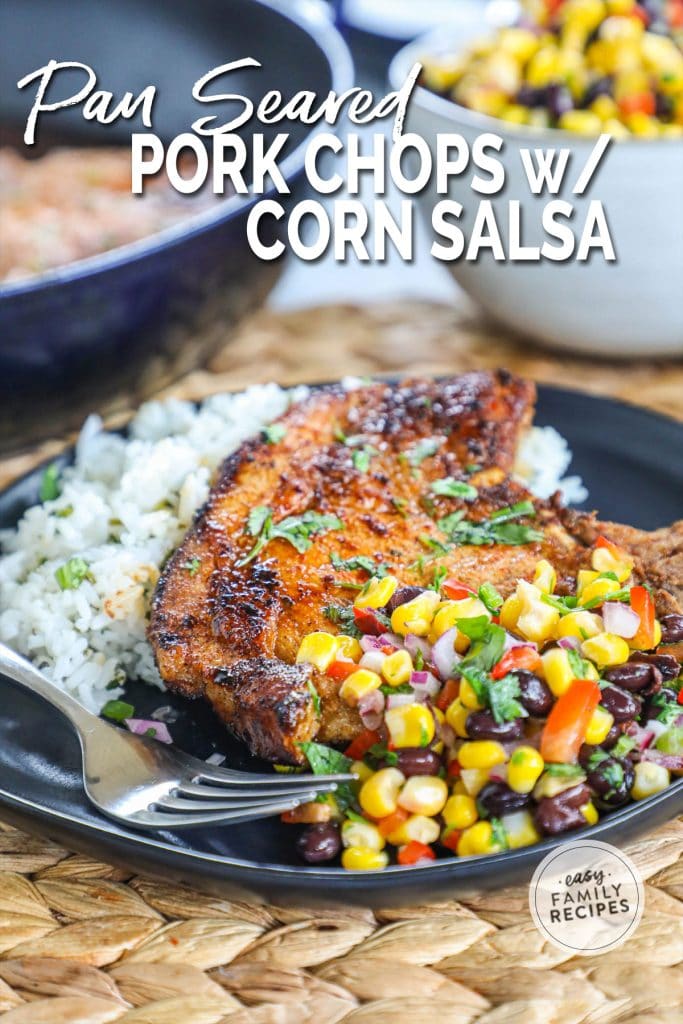 Freezer Meal Instructions
This dish can be made ahead of time and makes great for meal prep. Store in the freezer for up to 6 months.
Combine the oil, lime juice, paprika and chili, garlic, and onion powders in a zip top bag or container.
Place in the pork chops and toss around to cover all sides of the meat.
Freeze.
When ready to use, thaw in the refrigerator for 24-48 hours.
Cook as directed.
To Freeze for Meal Prep
Make recipe as directed. Bring to room temperature after cooking.
Place pork chop in a freezer friendly container with rice and beans.
Freeze.
Once ready to cook, thaw in the refrigerator for 24-28 hours.
Reheat in the microwave or stovetop until internal temperature reaches 165 degrees.

I would not suggest freezing the corn salsa. The texture will degrade while freezing.
Pan Seared Pork Chops Leftovers
If you have leftovers after making Pan Seared Pork Chops bone in with Corn Salsa, then it is your lucky day! They save and reheat well, and can make the start of another delicious dish.
To save leftovers, separate into meal sized portions and then place in an airtight container and store:
in the refrigerator for 3-4 days
in the freezer up to a month
Salsa – store up to 3-4 days in the refrigerator
Leftover Recipes
Here are a few ways to repurpose those leftovers and give them a delicious makeover!
Pork Quesadillas – Chop leftover pork chops. Toss with black beans and green chilis. Heat a large skillet with melted butter. Add a large tortilla shell and top with shredded cheese and the pork mix. Fold in half once golden brown and slice into triangles. Serve with leftover corn salsa and sour cream.

Pork stuffed zucchini boats – Chop leftover pork and mix with corn salsa, cilantro-lime rice, and black beans. Cut zucchini in half lengthwise and scoop out seeds. Fill each boat with mixture and top with shredded cheese. Place in a baking dish, cover with foil, and bake in a preheated 400 degree oven for 30 minutes. Top with my Jalapeno Ranch Dressing.

Pork chop burrito bowls – Add chopped pork on top of cilantro lime rice with black beans, corn salsa, chopped lettuce, shredded cheese, sour cream, and guacamole.
More 30 Minute Dinner Recipes
If you enjoyed this recipe, I really hope you will take a moment to grab a few more easy recipes for another busy night!
You can check out all of my EASY Dinner recipes here, or see a few of our readers favorite recipes below.
Hungry for more family-friendly recipes? Sign up for my free recipe club to get new family-friendly recipes in your inbox each week! Find me sharing daily meal-time inspiration on Pinterest, Instagram, and TikTok.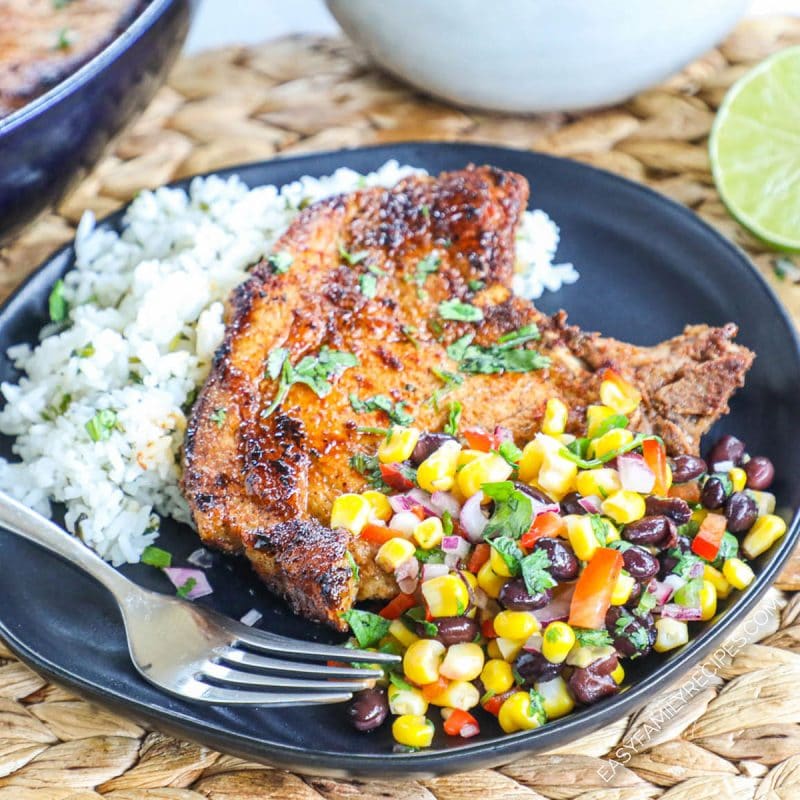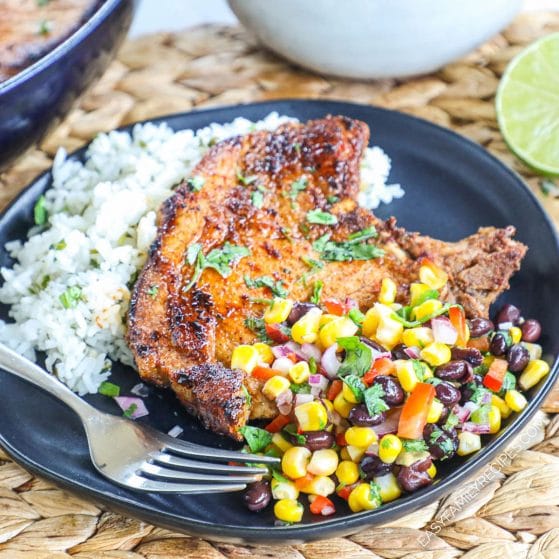 Pan Seared Pork Chops with Corn Salsa
These tender, juicy, bone in pork chops are are pan seared to lock in the flavors and juices, then served with a sweet corn salsa to perfectly compliment the savory pork. This makes a quick, wholesome, and filling meal that won't weigh you down!
Prep Time: 5 minutes
Rest time: 5 minutes
Cook Time: 12 minutes
Total Time: 22 minutes
Serves:4 servings
Hover over "serves" value to reveal recipe scaler
Ingredients
2 lbs bone in pork chops (about 4)
2 tbsp lime juice (juice from 1/2 lime)
1 tsp chili powder
1 tsp garlic powder
1/2 tsp onion powder
1/2 tsp smoked paprika
1/2 tsp salt
3 tbsp vegetable oil
For the corn salsa
1 cup frozen corn thawed
1/2 cup black beans drained and rinsed
1/4 cup red bell pepper finely chopped
1/4 cup cilantro finely chopped
2 tablespoons red onion finely chopped
1 tablespoon fresh jalapeno finely chopped
1 teaspoon lime juice
1 teaspoon lemon juice
1/4 teaspoon salt
Instructions
For the Corn Salsa
Combine all corn salsa ingredients in a medium bowl. Let rest in the refrigerator for flavors to meld.
For the Pork Chops
Combine the garlic and onion powder, lime juice, chili powder, smoked paprika, salt and 2 tbsp oil to make the marinade.

Place pork chops in a container or zip top bag and cover with the marinade on all sides. Let rest 10-30 minutes in the refrigerator.

Heat the remaining 1 tbsp oil in a large skillet over medium high heat. Place pork chops in the hot pan and sear on each side for 2 minutes. Then cover the pan and reduce heat to low cooking for 5-8 more minutes or until the pork chops are cooked through to 145˚F

Remove the pork chops from the pan and let rest 3-5 minutes.

Serve each pork chop topped with about 1/2 cup corn salsa on top.
Nutrition Information:
Serving: 1pork chopCalories: 462kcal (23%)Carbohydrates: 18g (6%)Protein: 39g (78%)Fat: 26g (40%)Saturated Fat: 7g (44%)Polyunsaturated Fat: 8gMonounsaturated Fat: 8gTrans Fat: 1gCholesterol: 117mg (39%)Sodium: 542mg (24%)Potassium: 861mg (25%)Fiber: 4g (17%)Sugar: 1g (1%)Vitamin A: 689IU (14%)Vitamin C: 23mg (28%)Calcium: 48mg (5%)Iron: 2mg (11%)
(Nutrition information provided is an estimate and will vary based on cooking methods and brands of ingredients used.)