In just 20 quick minutes you can develop amazing, family-friendly flavors with this Korean Ground Beef Skillet. The unbelievably fast, homemade sauce coats tender ground beef with salty and sweet Asian inspired flavors that kids and adults will both rave over. Serve it simply over rice, or use it as a delicious protein for bowls, tacos, and so much more.
Korean Beef – The EASY Way!
This Korean beef skillet recipe is exactly what busy parents need on those rushed dinner nights. It's super versatile, SO simple, unbelievably fast, and best of all absolutely delicious! It's an easy way to add a filling, tasty protein to the table and know that your kids will not only eat it, but love it.
It uses a fast Korean style sauce that coats the ground beef perfectly. The ginger, soy, garlic, and sesame flavors are AMAZING! We love classic beef dishes like southern meatloaf or crispy tacos, but this recipe totally transforms simple ground beef into a fun and flavorful dish that is perfect when you want to mix up the menu. I can even change it up throughout the week by serving leftovers in tasty new ways.
Why I LOVE this recipe!
SO FAST – This is a super quick recipe, you just need 5 minutes to prep and then 15 to cook! It doesn't get much faster than that for dinner.
New, Exciting Flavors – Fresh ginger, sesame oil, and soy sauce build amazing flavors in a Korean inspired sauce that keeps dinner from ever getting boring!
Super Versatile – There's not wrong way to serve this. Sometimes I just add generous scoops over fluffy white rice, and other nights we mix it up with tacos, stir-fried noodles, or healthy salads.
Family Friendly – The sweet and salty flavors in this are an easy sell to kids, and adults can enjoy some variety at dinnertime too.
What to Serve with Korean Ground Beef
Since this ground beef skillet has the classic flavors of Korean BBQ, it will pair well with many of your favorite Asian or traditional side dishes. There are both classic options and some healthy options to keep it light.
Side Dish Ideas
Rice – White rice, brown rice, quinoa, or even cauliflower rice are great under a heaping scoop of saucy Korean beef.
Asian Cucumber Salad– This one is so good with fresh ginger!
Shredded Cabbage – Use your favorite cabbage, thinly sliced or shredded, to create a healthy salad for dinner.
Sauteed Veggies – Try green beans or spinach as an addition to rice bowls or served right on the side.
Salad – Chopped salads like my spicy sriracha Asian coleslaw or a green salad are healthy, crisp, and perfect on the side. My salad bar topping list has tons of great ideas to help inspire a great one to serve with Korean beef.
Noodles – Ramen, udon, or rice noodles are all fabulous stir fried and served under this beef skillet. Check the ethnic aisles and refrigerated section to find them.
You can choose one or add a few sides to make a wholesome, well rounded dinner.
Topping Ideas
Recipe Notes
This Korean beef recipe is as simple as promised! Just 20 minutes for a family friendly meal.
In this section I am going to go through a few tips and tricks I use when making this recipe to get the absolute best and most delicious results.
Make sure to scroll to the bottom for the FULL recipe card.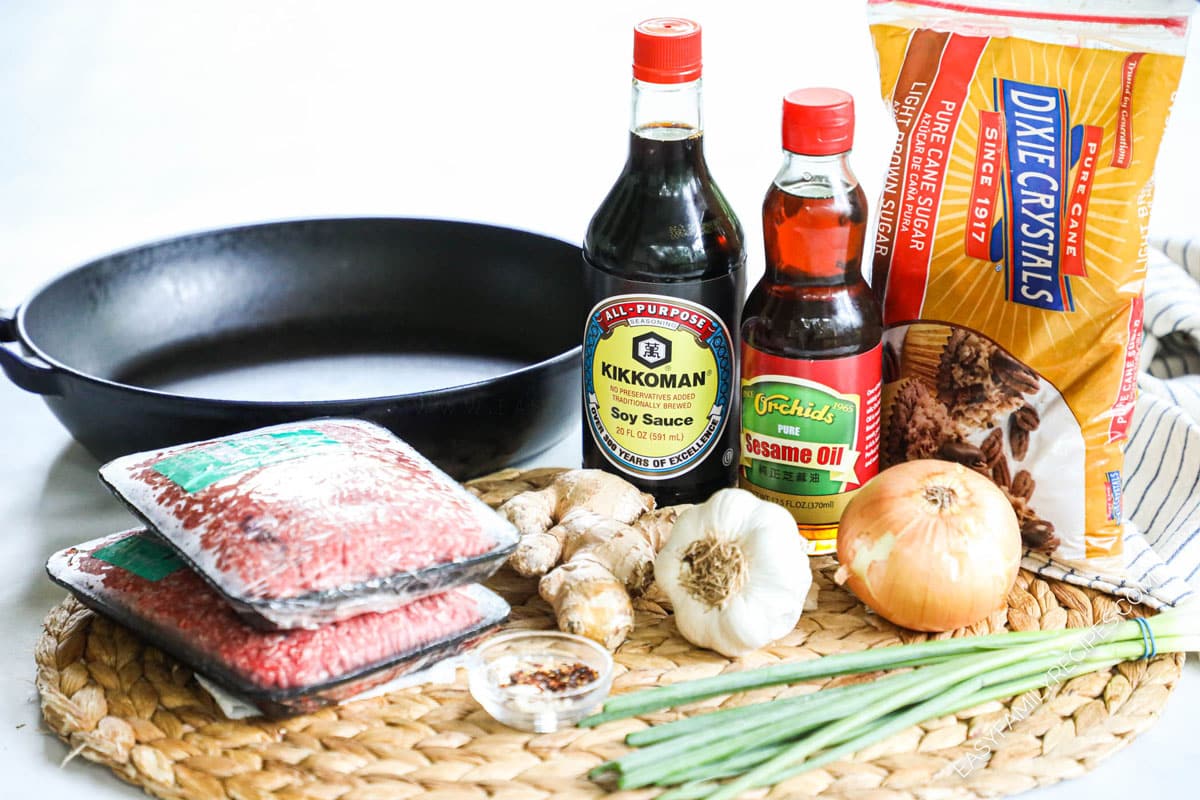 Ingredients + Substitutions
Ground beef – I use a full two pounds of lean ground beef so this meal will easily feed my entire family and hopefully yield some leftovers. It will serve at least four, but maybe more depending on what you serve with it.
Onion – White or yellow onions are the best for this. One whole large one for the amount of beef we're using.
Soy sauce – This should be super easy to find at any grocery store, but there are lots of soy sauce alternatives out there too. Coconut aminos, liquid aminos, and tamari can all work instead.
Brown sugar – Using brown sugar gives you the benefit of all the rich molasses notes in the sauce, which is super tasty! But you can swap in coconut sugar or white sugar if you need to and still have a yummy sauce.
Fresh garlic – I highly recommend using the full amount of fresh garlic. We're using both fresh and powdered to really amp up the flavor.
Fresh ginger – Fresh ginger is a brown, knobby root that you'll find in the produce section. There really is no good substitute for the flavor of the fresh stuff, so I recommend picking up a small piece. What you don't use can be wrapped up and stored in the freezer for another recipe. The next best thing would be jarred fresh ginger. You can find this in the asian section of the grocery store.
Sesame oil – This is an essential ingredient for creating that authentic Korean flavor. It keeps for a long time so you can use it whenever you have a craving for Asian food. You'll find it in the ethnic aisles near the soy sauce.
Seasonings – A combination of granulated garlic, onion powder, and red pepper flakes are the key seasonings you'll need to create the sauce.
Cornstarch – This is a flavorless thickener that creates really nice glossy sauces. You don't have to use it, but you'll have a much more watery sauce if you don't.
Water
Green onions – This is our favorite garnish, but chives or sesame seeds would also be great sprinkled on top.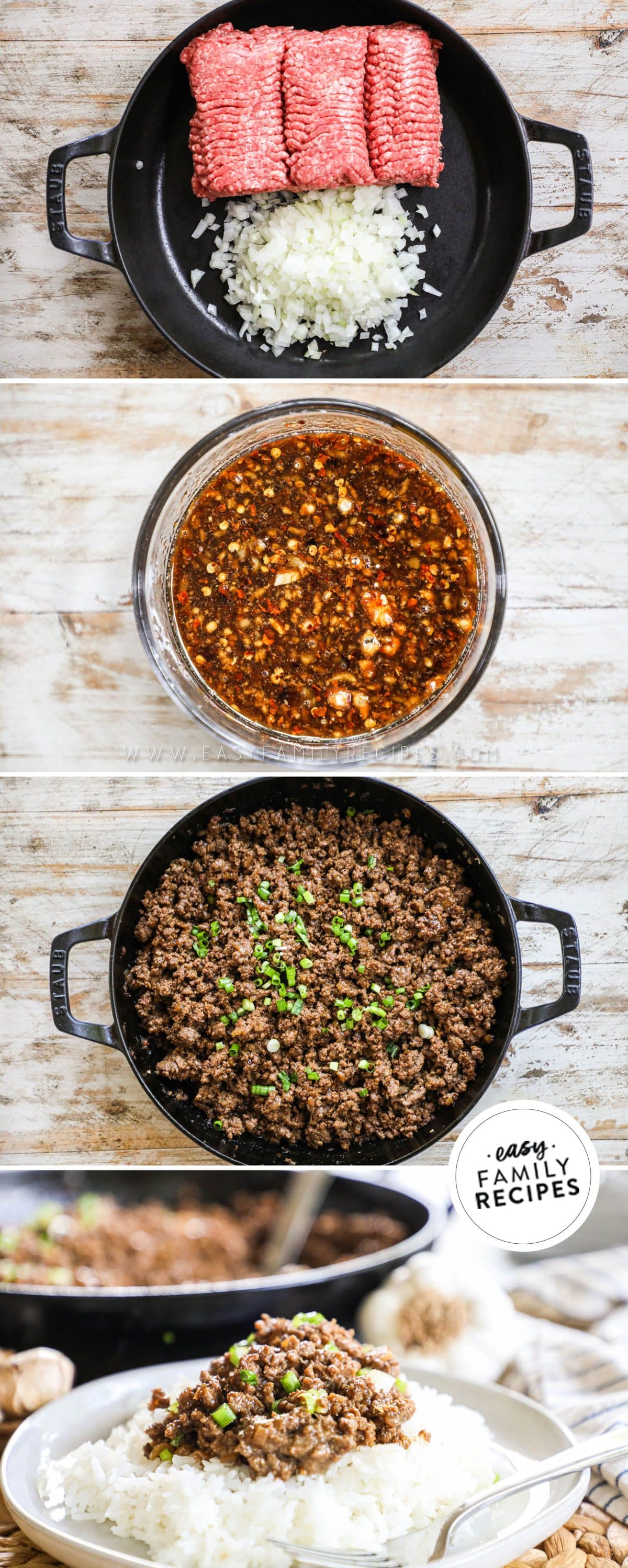 Recipe Tips
Use lean ground beef – One of the ways we keep this Korean beef skillet super fast is by skipping steps like draining the beef after cooking. Make sure you use a lean ground beef so there isn't a lot of fat you'll need to get rid of.

Spring for the ingredients – I like a flexible recipe too, but for the BEST flavor here I really suggest using the recommended ingredients. Fresh ginger and sesame oil are especially important for creating the most delicious flavor in the final dish.

Customize the spice level – If your family loves spice, feel free to add more red pepper flak
es or a squirt of sriracha to the sauce. If yours has no tolerance for heat, just omit the pepper flakes entirely.

Make a cornstarch slurry – It's super important that you mix the cornstarch and water into a slurry before you add it to the sauce. Adding it directly in with the other ingredients can lead to spots of dry cornstarch that can create a lumpy sauce. Making a slurry with cool water lets you ensure it's perfectly smooth before mixing it in.
Recipe Short Cuts
If you need to make this recipe, but are extra short on time, here are a few ideas that can help make this recipe even faster!
Prep Ahead– You can dice the onions and mix the sauce together the night before. That way when it comes time to cook you'll have freed up a few minutes to makes sides or tend to the kids. Cornstarch tends to settle, so I'd leave the slurry out until you're almost ready to add the sauce to the pan.

Cook the night before– This is the perfect recipe to cook ahead of time. The beef is so flavorful and moist thanks to the sauce that you can store it in the fridge for 3-4 days and reheat it in a skillet for a quick meal another night.
Recipe Variations
If you love this recipe as much as we do and want some quick ways to change it up for variety, these little tips will do the trick!
Spicy Korean Beef Noodles– Boil ramen noodles according to package instructions while the beef and onions cook, then drain them and set aside. Make the sauce with double the red pepper flakes and add 1-2 teaspoons of sriracha sauce.
Combine the sauce with the meat and cook until coated, then add in the cooked ramen noodles and toss until well combined.

Korean Beef Stir Fry– Cut one zucchini into thin half circles, one red bell pepper into thin strips, and 5-6 mushrooms into slices. Continue with the recipe as written. When the beef and onions are almost cooked, add in the veggies and stir. Let them cook for 2-3 minutes or until slightly tender, then add the sauce and cook until well-coated.

Korean Beef Fried Rice– Make the recipe as directed. When the beef and onions are cooked, add in 1 1/2 cups of frozen peas and carrots. Cook until tender, then add in the sauce and cook for 5 minutes or until sauce is thickened. Then add in 2 cups of cooked white rice and toss to combine.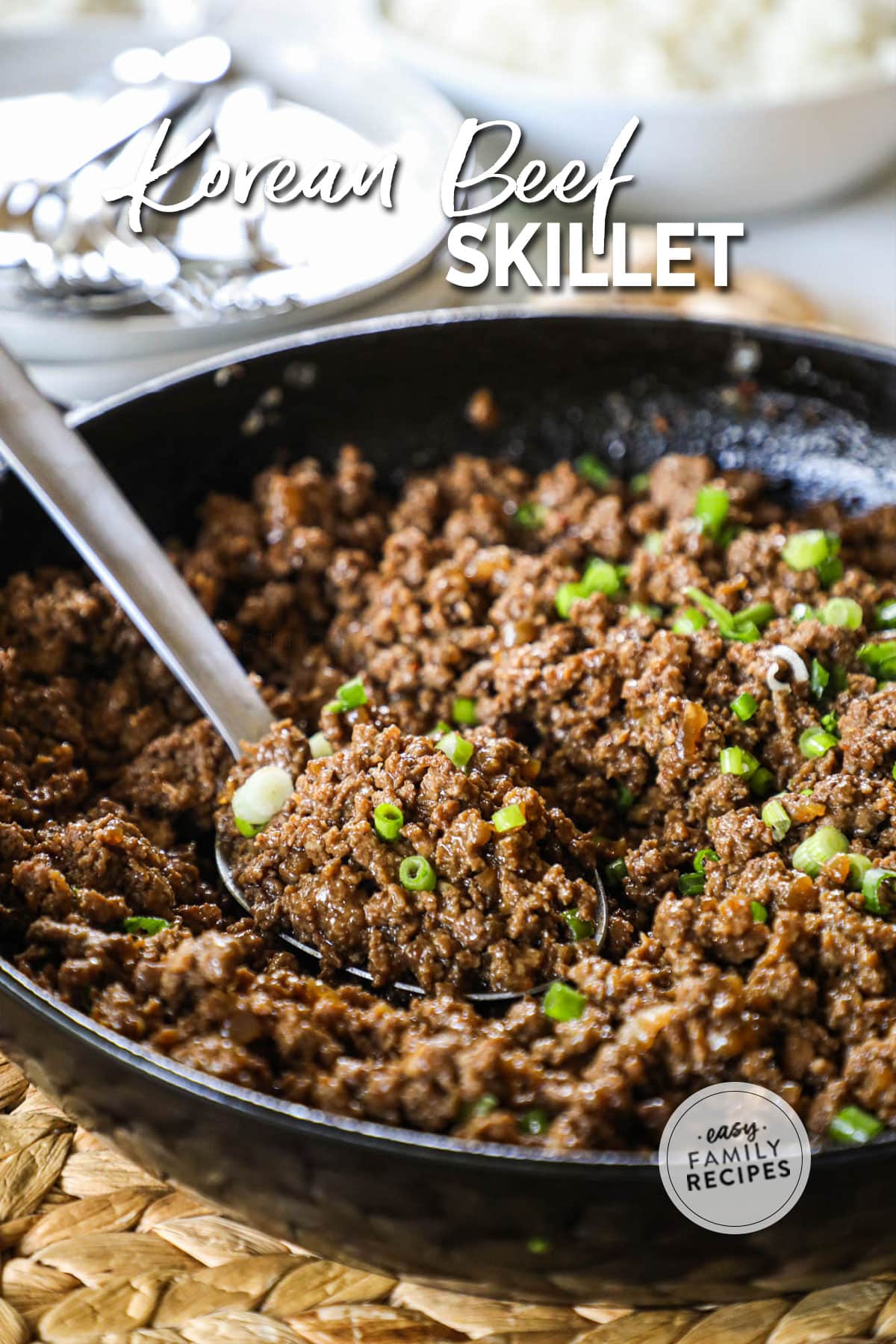 Freezer Meal Instructions
Making this Korean beef recipe into a freezer meal is simple! Follow the steps below and you can store this recipe in the freezer for up to 6 months.
Dice the onion and combine it with the beef in a freezer safe container or bag.
Make the sauce and pour it into a separate container.
Freeze both.
When ready to eat, thaw both in the fridge for 24-48 hours.
Cook as directed.
Korean BBQ Ground Beef Leftovers
If you have leftovers after making a Korean ground beef skillet, then it is your lucky day! They save and reheat well, and can make the start of another delicious dish.
To save leftovers, separate into meal sized portions and then place in an airtight container and store:
in the refrigerator for 3-4 days
in the freezer up to a month
Leftover Recipes
Here are a few ways to repurpose those leftovers and give them a delicious makeover!
Korean Beef Bowls– Cook or reheat white or brown rice and spoon into bowls. Reheat the beef in a microwave or skillet until hot throughout, then divide among the bowls. Add in your favorite veggies like thinly sliced carrots or shredded cabbage and top with sesame seeds and green onions.
Korean Beef Tacos– Make a batch of spicy sriracha Asian coleslaw. Warm corn or flour tortillas and spoon in reheated Korean beef. Top with the coleslaw and serve with a wedge of lime to squeeze over top.
Korean Beef Lettuce Wraps– Wash and gently pat dry butter lettuce or romaine leaves. Warm the Korean beef and serve it in the lettuce topped with shaved carrots, chopped green onions and a side of rice.
More EASY Skillet Recipes
If you enjoyed this recipe, I really hope you will take a moment to grab a few more easy recipes for another busy night!
You can check out all of my easy dinner recipes here, or see a few of our readers favorite recipes below.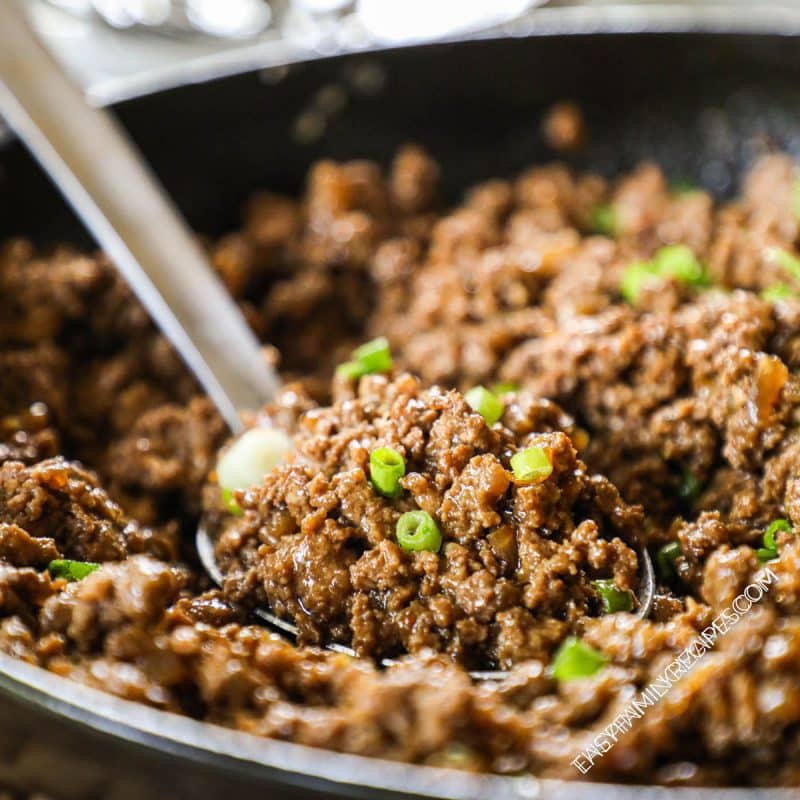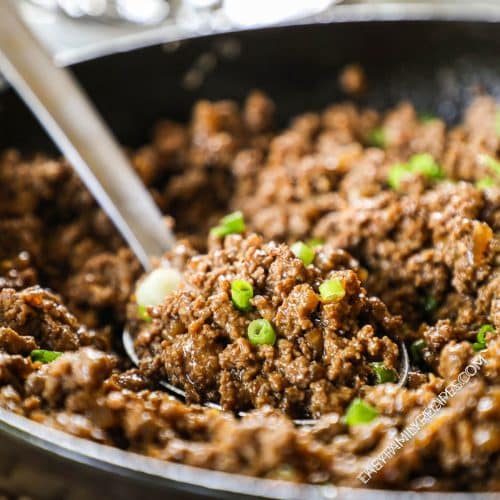 Korean Ground Beef Skillet
A sweet and savory Korean sauce tossed with ground beef and sauteed onions creates a super flavorful dinner. It's a family friendly meal that takes only 20 minutes to cook and can be eaten on its own or served in tons of other delicious ways.
Ingredients
2

pounds

ground beef

1

onion

,

diced
For the Korean sauce
1/2

cup

soy sauce

1/4

cup

brown sugar

4

cloves

garlic

,

pressed

1

tablespoon

minced ginger

1

tablespoon

sesame oil

1

teaspoon

garlic powder

1

teaspoon

onion powder

1/2

teaspoon

crushed red pepper flakes

1

tablespoon

corn starch

2

teaspoons

water
Garnish
3

Green onions

,

thinly sliced
Instructions
Prepare the Korean sauce by combining the soy sauce, brown sugar, fresh garlic, ginger, sesame oil, garlic powder, onion powder, and red pepper flakes in a small bowl. Whisk until combined.

In a separate bowl, mix the cornstarch and water until it becomes a thin paste. Then stir it into the Korean sauce.

In a large skillet, brown the ground beef and onion over medium high heat, breaking the meat up with the spoon as it cooks, until no longer pink.

Add the Korean sauce to the beef and bring to a simmer. Cook about 5 more minutes or until the sauce begins to thicken.

Remove the Korean Beef from the heat and garnish with green onions. Serve over rice, cauliflower rice, or as a lettuce wrap.
Nutrition Information
Serving:
4
ounces
,
Calories:
354
kcal
(18%)
,
Carbohydrates:
11
g
(4%)
,
Protein:
21
g
(42%)
,
Fat:
25
g
(38%)
,
Saturated Fat:
9
g
(56%)
,
Polyunsaturated Fat:
1
g
,
Monounsaturated Fat:
11
g
,
Trans Fat:
1
g
,
Cholesterol:
81
mg
(27%)
,
Sodium:
892
mg
(39%)
,
Potassium:
398
mg
(11%)
,
Fiber:
1
g
(4%)
,
Sugar:
8
g
(9%)
,
Vitamin A:
82
IU
(2%)
,
Vitamin C:
2
mg
(2%)
,
Calcium:
40
mg
(4%)
,
Iron:
3
mg
(17%)