Southern Squash Casserole is dangerously addicting! This easy dish is FILLED to the brim with flavor using sweet summer squash, red peppers, rich cheese and crunchy pecans. Top it all off with crushed seasoned croutons tossed with butter for the most delightful crunch on top. If you love flavor this recipe is for you!
Easy Squash Casserole – Southern Style!
I warned you above, but I will do it again…. This Squash Casserole can be dangerously addictive!
When I make this, it rarely lasts more than one meal in our house. The combo of the crunchy super flavorful topping, along with the sweet summer squash is good, but the rich savory cheese puts it over the top.
If you have a bunch of yellow squash, or you just need an extra delicious casserole or side dish. You have found the right recipe!
There are two things that make THIS Squash casserole recipe extra southern and extra tasty. One is the extra flavorful topping, and the second is the addition of pecans to the casserole for crunch. Both give this recipe a leg up over others you may have tried before!
This goes right alongside some of my tried and true southern casserole favorites like Corn Casserole, Restaurant Style Hashbrown Casserole, Loaded Breakfast Casserole as a treasured family recipe!
What to Serve with Yellow Squash Casserole
Whether you are planning a family dinner, a potluck picnic, or a spread for Christmas, Thanksgiving or Easter, squash casserole can make a great addition to the meal.
Here are a few ideas for Main Dishes we love to serve this with, and other sides that pair well with it to round out the meal.
Main Dish
Side Dishes
Tips for Making the BEST Squash Casserole
I love to include a lot of detailed information in my posts to help answer any questions you may have about the ingredients or method in the recipe.
People ask me lots of questions, so I try my best to give lots of answers!
Make sure and find the FULL recipe card for the Southern Squash Casserole at the bottom of this post, and if you have a question I didn't answer, please feel free to leave it in the comments below.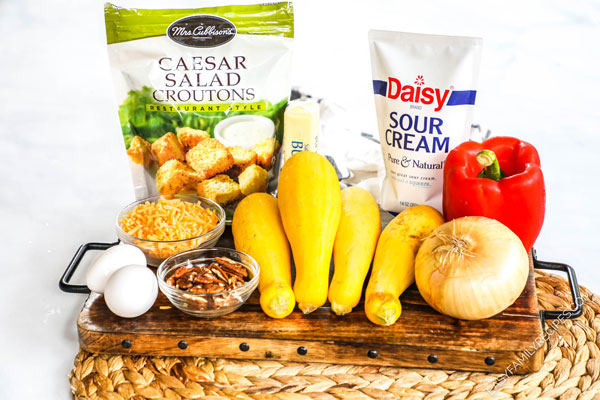 Squash Casserole Ingredients
The Squash
This recipe calls for 5 cups of squash, which is about 3-ish pounds. You will want to use yellow summer squash in this recipe.
When you pick out a squash, I like to look for smaller squash which tend to be more tender with better flavor than larger squash. I also prefer them because they slice easily into bite sized pieces.
If you have large squash those will work just as well, but if I am at the store picking, I go for the smaller squash.
Eggs
The eggs serve as a binder in the casserole and really hold everything together.
Sour Cream
Sour cream helps to give the casserole some of it's creamy texture and also adds a bit of tanginess to the depth of flavor.
I generally use regular sour cream, but you can use light sour cream if you prefer.
Pecans
Adding chopped pecans to this dish really gives the squash casserole the southern feel and taste.
They add a bit of crunch as well as a rich nutty flavor to the dish and really makes this casserole something special instead of another boring casserole.
If you have an allergy, you can leave the nuts out and still have a great tasting casserole, but if possible I recommend you keep them!
Cheddar Cheese
What is a good southern casserole without cheese?! The cheddar brings together the flavors and using sharp allows us to get more flavor without the cheese becoming overpowering or making the dish greasy.
Caesar Croutons
Last but not least, the Caesar croutons are the "secret sauce" to this recipe. Don't skip these!!
You can find them near the salad dressing in your local grocery store and they are generally labeled Caesar Croutons (see ingredient photo above!)
These are a strongly seasoned crouton that works super well for making a crunchy, flavorful, over the top delicious topping for the casserole.
To prepare them, you just want to crush them up into rough crumbs. You can do this easily by placing them in a zip top bag and rolling them with a rolling pin, or giving it to your energetic children to stomp on for a few minutes.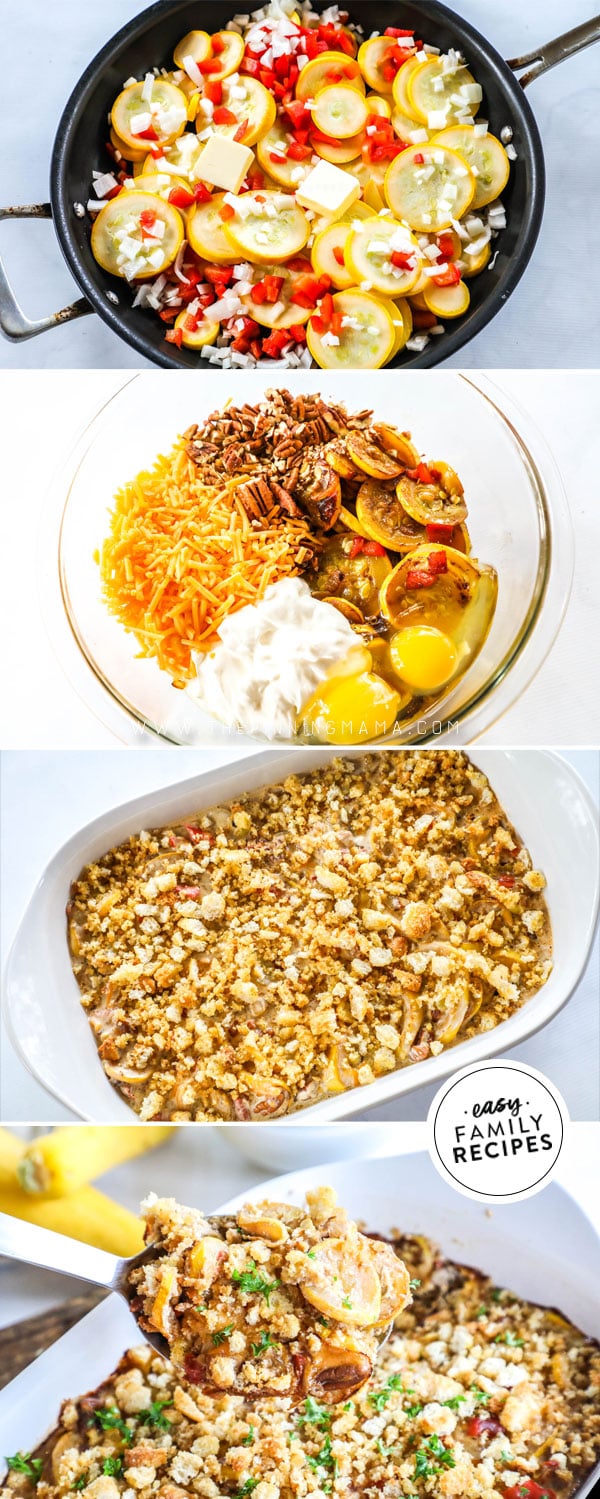 The Method
This casserole cooks in two steps. As much as I love one dish, one step recipes, there is just no way around doing this one in two. Well almost… I will talk about one way to make this a one dish meal below.
Cook the Veggies
We start by sautéing the squash peppers and onions in a skillet. This works to soften and pre-cook these veggies since they won't be in the oven long enough to cook all the way through.
If you prefer you could boil them instead, but I like the flavor and texture better when using a skillet.
Mix in the Binders
Once the squash is done, you just mix it with all of the seasonings and binding agents (eggs, cheese, sour cream etc)
If you want to simplify the Squash Casserole to one dish, you can use an oven safe skillet and mix the ingredients into the skillet then top and bake in the skillet instead of a casserole dish.
Make the Topping
To make the big finish at the end, the crispy, well seasoned crushed crouton topping, just grab those croutons and and crunch them up.
Then mix them with a bit of butter. This enhances the flavor and lets them get extra crispy and delicious as it bakes on top.
How long to Cook Squash Casserole
Once the topping is on, this casserole is ready to go in the oven!
The squash and veggies are precooked, however, the eggs and binders need to cook through.
This casserole usually bakes in about 30-40 minutes depending on the dish you use.
A shallow dish will be on the short side of that time, and a deeper dish could take longer. I generally use a 2.5 qt classic Corningware casserole dish.
Squash Casserole Recipe Substitutions
There are a few ingredients in this casserole that have good substitutions if you are in a pinch.
Squash– Yellow summer squash is recommended, but you can use a combination of yellow squash and zucchini squash with great results. You can also use all zucchini squash, but the flavor will change a bit more
Sour Cream– Greek yogurt can be substituted for sour cream
Pecans– Walnuts can replace pecans, or they can be left out all together.
Cheddar Cheese– I always recommend sharp cheddar, but in a pinch mild or medium cheddar will work, along with mexican blend or colby jack.
Caesar Croutons– If you can't find Caesar croutons, there are a few options

Regular croutons (not nearly as flavorful!)
Italian Bread Crumbs with 1/4 tsp garlic powder
Crushed Ritz crackers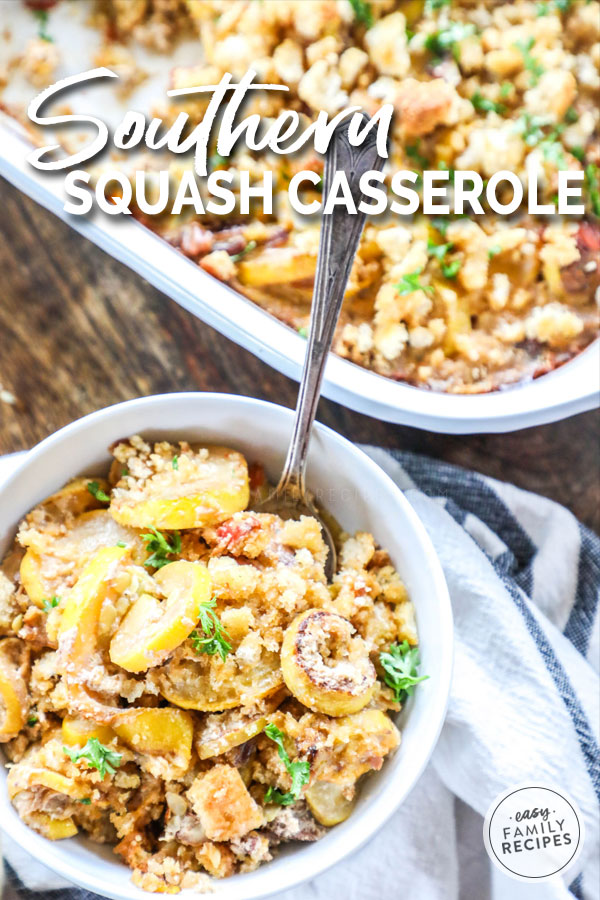 More Delicious Side Dish Recipes
I really hope you enjoyed our Southern Squash Casserole! If you loved it as much as us, I hope you will bookmark some of our other favorite side dish recipes for your next dinner or potluck.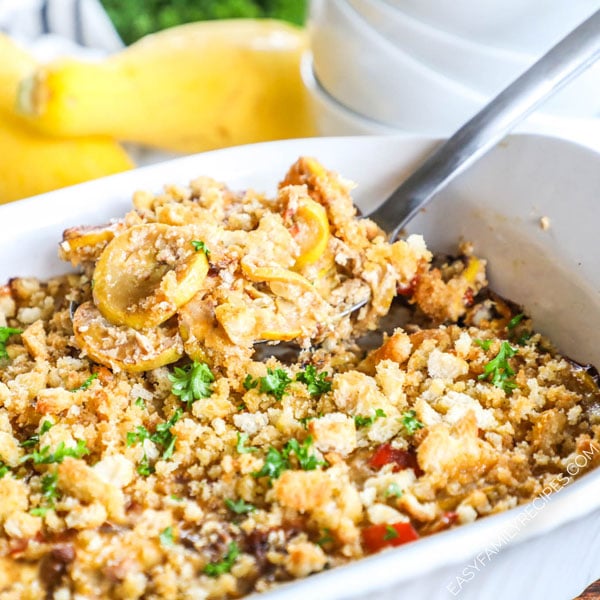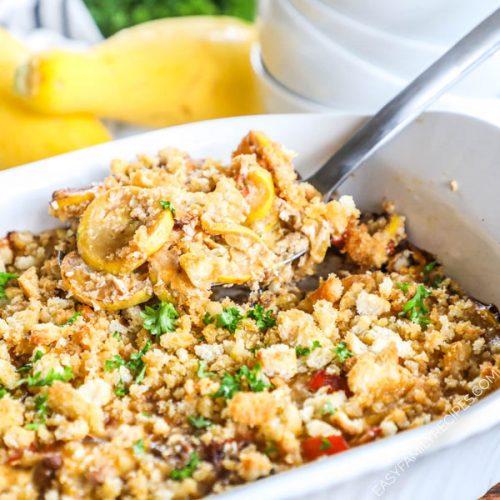 Southern Squash Casserole
This Easy Southern Squash Casserole is filled with yellow squash, cheddar cheese, pecans, and topped with a crushed crouton topping for extra flavor and crunch that makes it dangerously addictive!
Ingredients
5

cups

yellow squash

,

sliced (about 1.5 lbs)

1/2

cup

red bell pepper

,

diced

1/2

cup

yellow onion

,

diced

1/4

cup

butter

,

melted, divided in half

2

eggs

1/2

cup

sour cream

1/4

tsp

salt

1/4

tsp

ground black pepper

1/2

cup

pecans

,

chopped

1

cup

sharp cheddar cheese

,

shredded

1

cup

caesar croutons

,

crushed
Instructions
Sauté Squash, peppers, and onion with 2 tbsp of butter over medium heat for 5-10 minutes or until fork tender.

Transfer vegetables to a bowl and mix with eggs, sour cream, salt, pepper, pecans, and cheese. Spread in a casserole dish.

Crush the croutons into rough crumbs and then mix them with remaining 2 tbsp of melted butter and mix to combine. Sprinkle the crumbs over the top of the casserole evenly.


Bake at 350˚F for 35-40 minutes or until the casserole is cooked and the crumbs are golden brown.
Recipe Notes
©2019 Easy Family Recipes- Recipe found at: https://www.easyfamilyrecipes.com/southern-squash-casserole/
For more great easy dinner inspiration,

sign up for our emails here!
Nutrition Information
Serving:
0.5
cup
,
Calories:
340
kcal
(17%)
,
Carbohydrates:
21
g
(7%)
,
Protein:
9
g
(18%)
,
Fat:
25
g
(38%)
,
Saturated Fat:
12
g
(75%)
,
Cholesterol:
104
mg
(35%)
,
Sodium:
358
mg
(16%)
,
Potassium:
562
mg
(16%)
,
Fiber:
3
g
(13%)
,
Sugar:
4
g
(4%)
,
Vitamin A:
13415
IU
(268%)
,
Vitamin C:
41.5
mg
(50%)
,
Calcium:
236
mg
(24%)
,
Iron:
1.7
mg
(9%)