Crockpot Meatballs in Marinara is the ultimate easy dinner! These tender Italian style meatballs are smothered in marinara sauce and cooked to perfection in the crock pot for an easy dinner that is both filling and delicious! Our family recipe is made with just a few ingredients, but PACKED with flavor! You can serve them up on their own, as spaghetti and meatballs, as a meatballs sub, or more!
Meatballs in Marinara – The EASY Way!
Ground beef can be boring, but this easy recipe transforms it in to something effortlessly delicious. It gets better though, because it is a recipe that is super kid-friendly and the whole family can enjoy equally!
This method takes those classic ground beef meatballs that are already easy to make, and makes it even more simple by adjusting the recipe to cook perfectly in the crock pot. Add in the layers of luscious marinara sauce and this easy dinner just leveled up the flavor for a fast weeknight meal.
What I LOVE about this recipe:
Family friendly– There is not much more kid friendly than spaghetti and meatballs. These have that classic beef Italian meatball flavor that is universally loved!
Quick to make– You can get this meal from fridge to crockpot in as little as 10 minutes. There is no chopping, special prep work, or time intensive methods.
Can be prepped ahead – If you are really in a time crunch, you can make this ahead of time either fresh the day before, or as a freezer meal to save time. Details on both in the post below!
Lots of serving options– I talk all about this in the serving section, but there are just so many ways to eat these crockpot meatballs. It makes it great if you have differing opinions at the table, and also to reinvent the leftovers for serving as a new meal later in the week.
Only a few ingredients needed– This recipe includes all very common fridge/pantry ingredients. You may even have everything you need without a trip to the store!
Set it and forget it!- The crockpot makes these meatballs so simple for a busy day. Just thow them in and let the slow cooker work its magic!!
What to Serve with Meatballs in Marinara
Since this dish has the classic Italian flavors, it will pair well with many of your favorite Italian style side dishes. There are both classic options and some healthy options to keep it light.
Ways to serve
Spaghetti and meatballs- Use traditional spaghetti or whatever pasta your family likes. I like to use shells with my kids because it is less messy for them to eat.
Healthy pasta alternatives- try anything from zoodles, to spaghetti squash to shirataki noodles, or hearts of palm pasta.
Mashed Potatoes- If you aren't a traditionalist, these work well over a bed of garlicky mashed potatoes since the meatballs compliment the flavor well, and the potatoes help to soak up all that marinara sauce!
Side Dish Ideas
You can choose one or add a few sides to make a wholesome, well rounded dinner.
Recipe Notes
This crockpot meatballs in marinara recipe is as simple as promised! Just a few simple steps for a family friendly meal.
In this section I am going to go through a few tips and tricks I use when making this recipe to get the absolute best and most delicious results.
Make sure to scroll to the bottom for the FULL recipe card.
Ingredients
Lean ground beef- The more lean the better! Since we don't pre-cook the meat, there isn't an opportunity to drain off the grease, so using lean meat will prevent the end dish in the slow cooker from being too greasy. I used 90% lean in the pictured recipe.
Italian bread crumbs– This helps to make a super tender meatball. If you only have plain bread crumbs on hand, you can substitute those and add an extra teaspoon of Italian seasoning to the mix.
Beef broth or water– You can use any broth (beef, chicken, veggie, etc) you have on hand, or in a pinch, just use water!
Grated parmesan cheese– This ramps up the flavor and richness of the meatballs. Use the grated (more powdery) variety, not shredded parmesan for best results;.
Eggs
Seasonings– Use a classic combination of Italian seasonings, Garlic powder, Onion powder, and salt to flavor the meatballs. You can get creative and add more, or try new things if you want, but that is my go to mix. Also, fresh herbs can bee used, but you need to add about 3-4x more with fresh since the flavor isn't as concentrated as it is with dried herbs.
Marinara sauce– use your favorite variety of sauce from the store. This is usually the size of an average jar, but it equates to about 2.5 cups. You can choose to use more sauce to make the meatballs a little "wetter"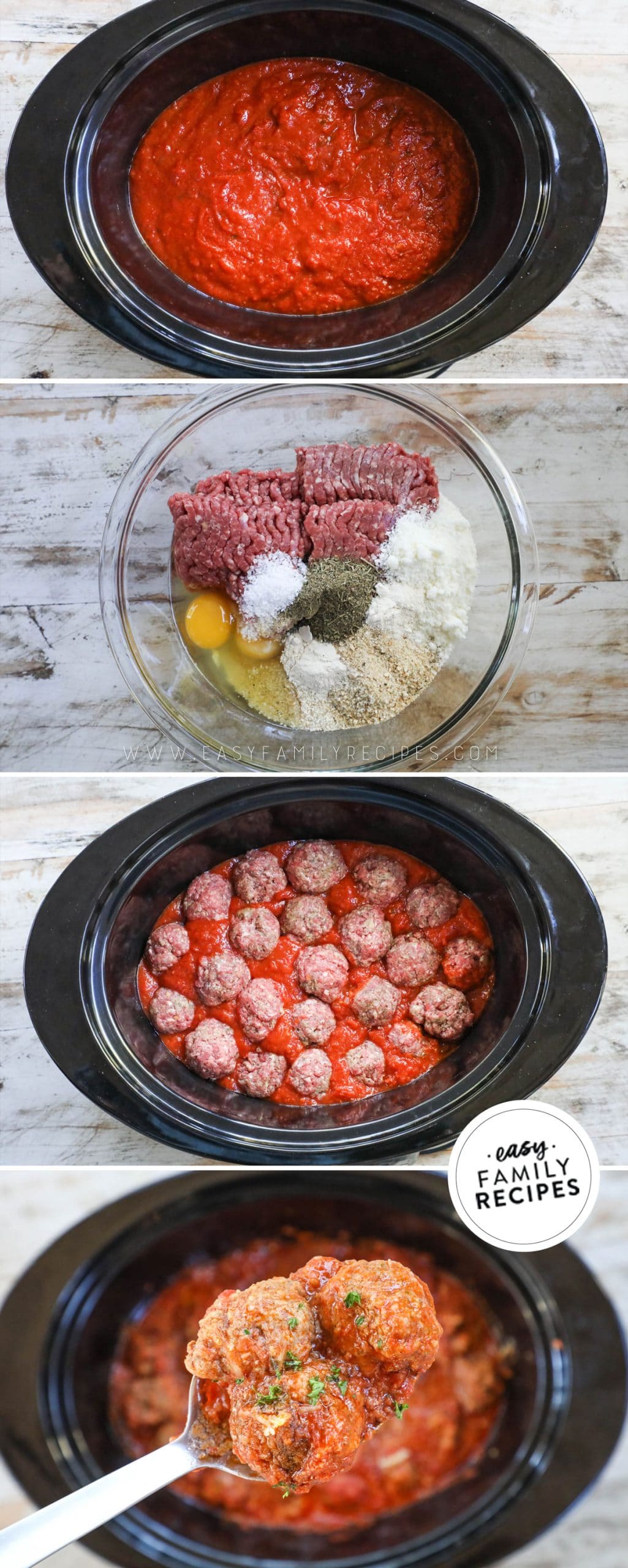 Recipe Tips
Keep the ingredients cold– This helps the fat to stay solid until you start cooking which will help you make more tender, juicy meatballs.

The bread crumbs make the magic– Having moistened bread crumbs is another trick we use to keep the meatballs super tender even though they cook a long time in the crockpot. They will hold in the moisture in the meatball, even as the meat cooks and releasing its liquid.

Use a scoop– Using a cookie or ice cream scoop can help you make meatballs that are all a uniform size. You can roll them lightly with your hands after scooping but try not to compact them too much for the best results.

Make sure the crockpot is covered in sauce– By having a layer of marinara sauce in the crockpot before you lay the meatballs in, it helps to protect the edges of the ground beef from over cooking. I like to pour the sauce in, then arrange the meatballs on top of the sauce.
Recipe Short Cuts
If you need to make this recipe, but are extra short on time, here are a few ideas that can help make this recipe even faster!
Make meatballs ahead– you can mix the ground beef, and other meatball ingredients and form into meatballs up to 24 hours in advance. Then when you are ready to cook, just layer the marinara sauce and meatballs into the slow cooker in minutes.
Prepare as a freezer meal– These meatballs can be prepped to freeze and cook when you are ready up to 6 months in advance. Find the full directions for this method below.
Recipe Variations
If you love this recipe as much as we do and want some quick ways to change it up for variety, these little tips will do the trick!
Ground Beef and Pork Meatballs– Use approx 3/4 lb ground beef, and 3/4 pound ground pork to make the meatballs. Continue with recipe as directed.
Meatballs in Marinara with Spinach– Make recipe as directed. When meatballs are done, lift crock pot lid, add about 4 cups of fresh spinach and return lid. Let wilt (about 5-10 minutes) then remove the lid, stir, and serve.
Turkey Meatballs in Marinara– Use our Italian Turkey meatball recipe to form the meatballs, then cook as directed in marinara sauce in the slow cooker.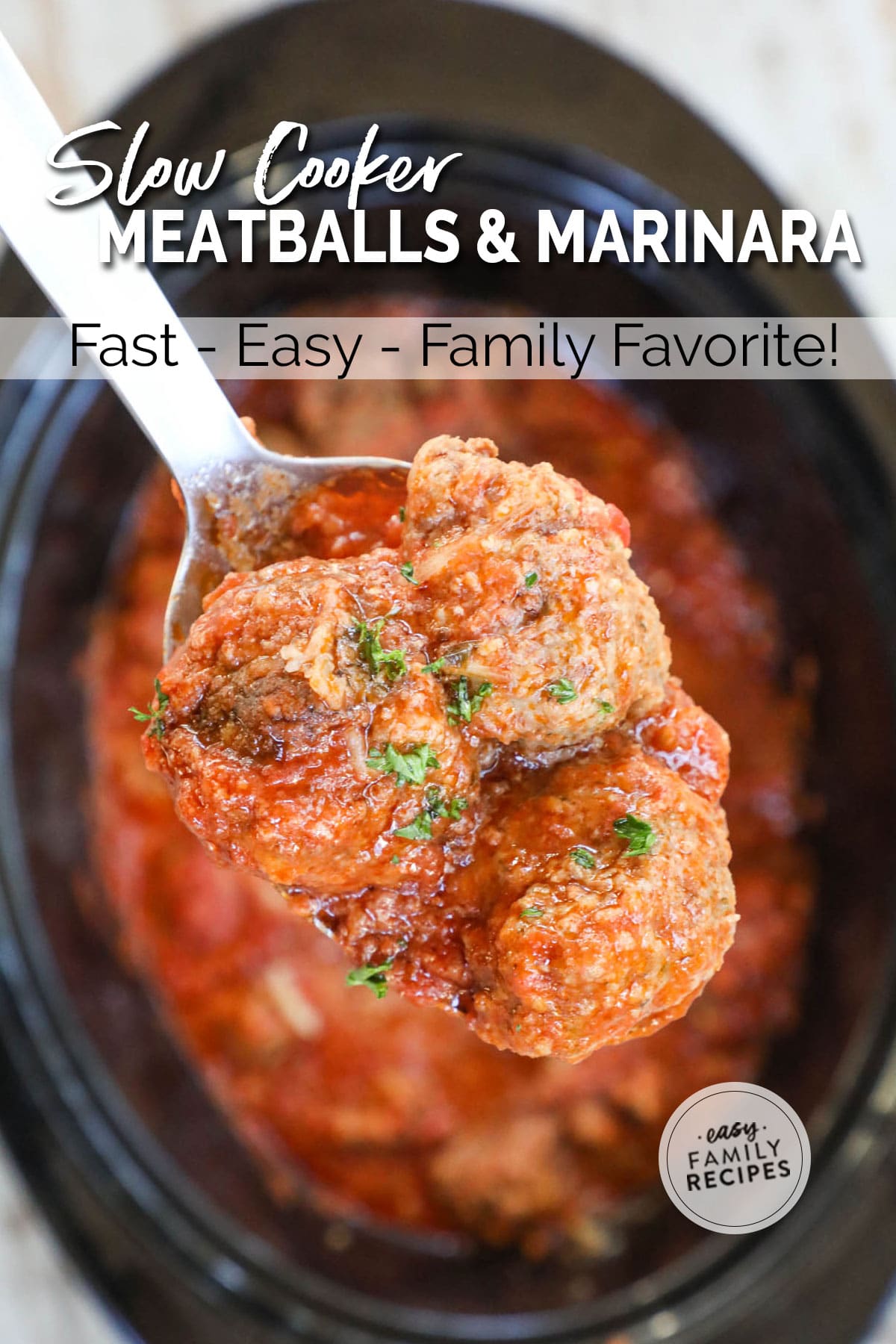 Freezer Meal Instructions
Meatballs in Marinara can be prepared as a freezer meal to make on another busy night, or give to a friend in need.
Form meatballs as directed.
Place in a freezer bag, or other freezer friendly container.
Freeze.
Once ready to cook, thaw overnight in the refrigerator and add on top of marinara sauce in the slow cooker.
Note: You can also add the marinara sauce to the meatballs before freezing and freeze together. Since I use jarred marinara sauce, I find it easier to just keep them separate, but if you choose, add the sauce to the freezer bag along with the meatballs before freezing.
For the best flavor, this meal can be frozen for up to 6 months.
Meatballs in Marinara Leftovers
If you have leftovers after making these easy meatballs, then it is your lucky day! They save and reheat well, and can make the start of another delicious dish.
To save leftovers, separate into meal sized portions and then place in an airtight container and store:
in the refrigerator for 3-4 days
in the freezer up to a month
Leftover Recipes
Here are a few ways to repurpose those leftovers and give them a delicious makeover!
Meatball Marinara Subs– Made popular by Subway, these sub sandwiches are one of my kids all time favorites. Use this meatball subs recipe to make it our favorite way!
Meatball Marinara Casserole– Mix leftover meatballs and sauce with pasta. Add additional sauce if needed. Place in a casserole dish and cover with shredded mozzarella then bake until heated through. Optional: add spinach, or other diced cooked veggies to the casserole.
Meatball Puffs– Place meatball with a little sauce on crescent roll dough (or pizza dough.) Add a little mozzarella cheese then roll the meatball up in the dough and set on a baking sheet. Bake for 18-22 minutes or until the dough is cooked and the meatballs are hot.
More Easy Crock Pot Recipes
If you enjoyed this recipe, I really hope you will take a moment to grab a few more easy recipes for another busy night!
You can check out all of my EASY DINNER recipes here, or see a few of our readers favorite recipes below.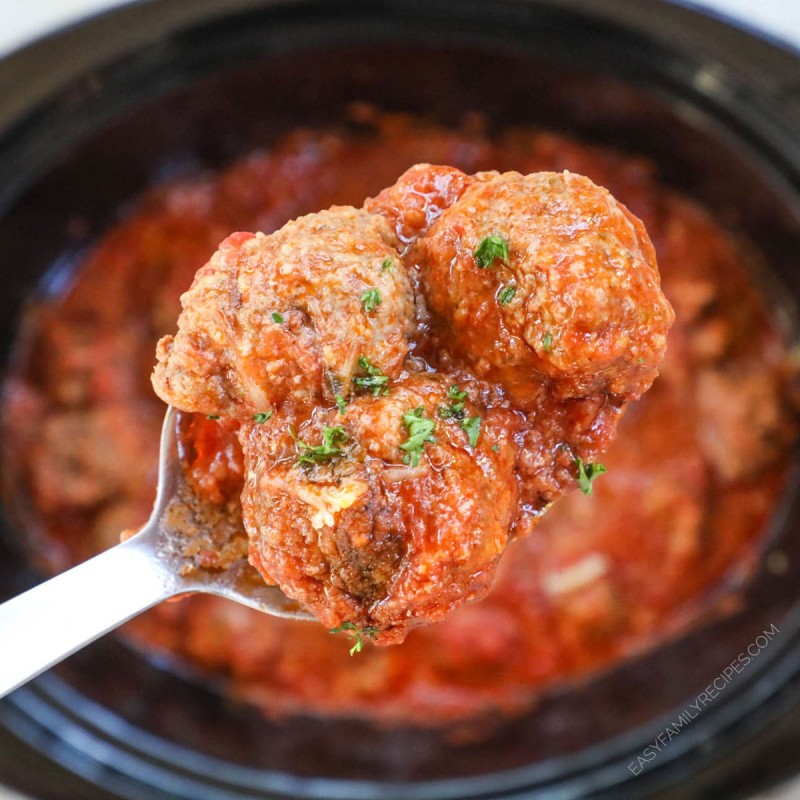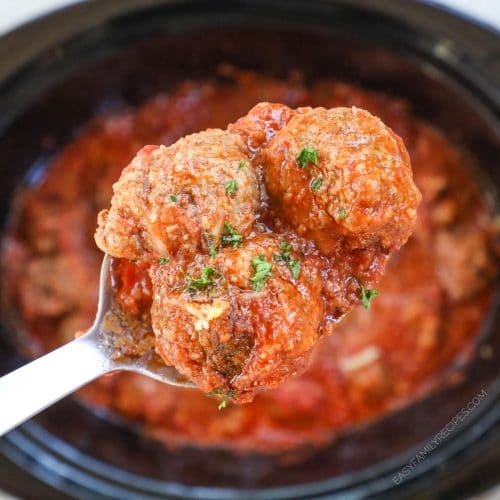 Crockpot Meatballs in Marinara
This easy slow cooker recipe cooks Italian style beef meatballs to tender, juicy perfection in marinara sauce. Serve it as spaghetti and meatballs, meatball subs, or any of your favorite meatball dishes.
Ingredients
1.5

lbs

lean ground beef

3/4

cup

Italian bread crumbs

1/4

cup

beef broth

,

or water

1/4

cup

grated parmesan cheese

2

eggs

1

tbsp

Italian seasonings

1

tsp

garlic powder

1/2

tsp

onion powder

1/2

tsp

salt

24

oz

marinara sauce

,

(1 jar)
Instructions
In a large bowl, combine ground beef, bread crumbs, broth, parmesan cheese, eggs, Italian seasoning, garlic powder, onion powder, and salt. Use a spoon, or your hands to work the mixture until everything is evenly combined.

Roll meat into 24 balls, about 1.5-2 in in diameter.

Pour the marinara sauce in the bottom of the slow cooker. Nestle the meatballs into the sauce.

Cook on low for 4 hours, or high for 2.5 hours.
Nutrition Information
Serving:
3
meatballs
,
Calories:
213
kcal
(11%)
,
Carbohydrates:
13
g
(4%)
,
Protein:
24
g
(48%)
,
Fat:
7
g
(11%)
,
Saturated Fat:
3
g
(19%)
,
Polyunsaturated Fat:
1
g
,
Monounsaturated Fat:
3
g
,
Trans Fat:
1
g
,
Cholesterol:
97
mg
(32%)
,
Sodium:
889
mg
(39%)
,
Potassium:
639
mg
(18%)
,
Fiber:
2
g
(8%)
,
Sugar:
4
g
(4%)
,
Vitamin A:
487
IU
(10%)
,
Vitamin C:
6
mg
(7%)
,
Calcium:
91
mg
(9%)
,
Iron:
4
mg
(22%)