These Slow Cooker Barbacoa Street Tacos are the perfect, easy dinner. These street style tacos marry tender beef barbacoa with tangy green salsa and montery jack cheese for amazing flavor with little work! Using leftover beef barbacoa and a few tricks, you can have delicious and fresh tacos in no time at all!
Barbacoa Tacos – The EASY Way!
Street tacos are one of my favorite foods. I always order them and can oftentimes find the best, hole-in-the-wall street tacos place in a west coast town. Typically, finding them in strip malls or in the back of convenience stores.
While I do not always have access to authentic street tacos, I have developed a darn close barbacoa taco recipe made with my slow cooker barbacoa beef or with any leftover barbacoa from a restaurant.
So what is barbacoa and what are barbacoa tacos? 'barbacoa' isn't just the name for shredded beef, it's actually the Spanish word for barbeque and refers to the tradition of slow-roasting meat in an outdoor fire pit. It can be beef, pork, lamb, or even goat! It is most traditionally associated with beef.We get the same flavor by using our crock pot. Since it cooks low and slow, it is important to use a tougher cut of meat, like chuck roast, to ensure it can hold up to the extended cooking time.
Why I LOVE this recipe!
Easy! – The prep is super simple and cooking these tacos is just as simple.
Texture – There's a lot going on with these tacos carnitas. You have a crisp corn tortilla, crispy but tender and juicy barbacoa meat, refreshing cilantro, creamy jack cheese, and flavorful salsa verde. I'm drooling, already!
Kid-Friendly – If you're family is like mine, they absolutely LOVE Mexican cuisine. This barbacoa taco recipe has the flavors they'll love and allow you to have a variety of toppings for even the pickiest of eaters!
 Leftover recipe – This street taco recipe with pork carnitas is packed full of flavor and uses leftovers from this Slow Cooker Beef Barbacoa recipe. Be sure to check out this recipe for tips and the best pork carnitas to build many meals off of, such as these leftover recipes:

Barbacoa Quessadillas
Barbacoa Nachos
Barbacoa Beef Bowl
What to Serve with Beef Barbacoa Tacos
Since this dish has the classic flavors of beef street tacos, it will pair well with many of your favorite Mexican or Spanish side dishes. There are both classic options and some healthy options to keep it light.
Side Dish Ideas
You can choose one or add a few sides to make a wholesome, well-rounded dinner.
Toppings for Barbacoa Tacos
Wondering what to put on barbacoa tacos? While I love to keep it simple with the toppings listed in the recipe care, street tacos are great because you can do a whole taco topping bar and make multiple little tacos with different toppings. Here are just a few of my other favorite barbacoa tacos toppings.
White Onions
Avocado or Guacamole
Pickled Red Onions
Queso Fresco
Your Favorite Salsa
Pineapple
Jalapenos
Jalapeno Ranch – a MUST try is this delicious spicy ranch that is a perfect sauce for a barbacoa taco!
Recipe Notes
This barbacoa street tacos recipe is as simple as promised! Just 15 minutes for a family-friendly meal.
In this section I am going to go through a few tips and tricks I use when making this recipe to get the absolute best and most delicious results.
Make sure to scroll to the bottom for the FULL recipe card on how to make barbacoa tacos.
Ingredients + Substitutions
Barbacoa Beef – The best part of the taco! I highly recommend using our simple recipe, but any leftover or fresh barbacoa will do!
Corn Tortillas – For these street tacos, the street-style taco shells are the best size for a handheld taco. You can also swap for flour shells or even larger tortillas.
Monterey Jack – I like to use Monterrey jack for these tacos because it is creamy with a slight bite like queso fresco. You could use Colby jack, pepper jack, or a Mexican blend.
Salsa Verde – Salsa Verde is one of the most refreshing salsas, made with roasted tomatillos. You can make your own or use store-bought. You could also swap for our black bean corn salsa, mango salsa, or jalapeno pineapple salsa. 
Cilantro – No street tacos are complete without fresh cilantro! Of course, if you happen to be one of those folks that does not like cilantro you can definitely leave it out.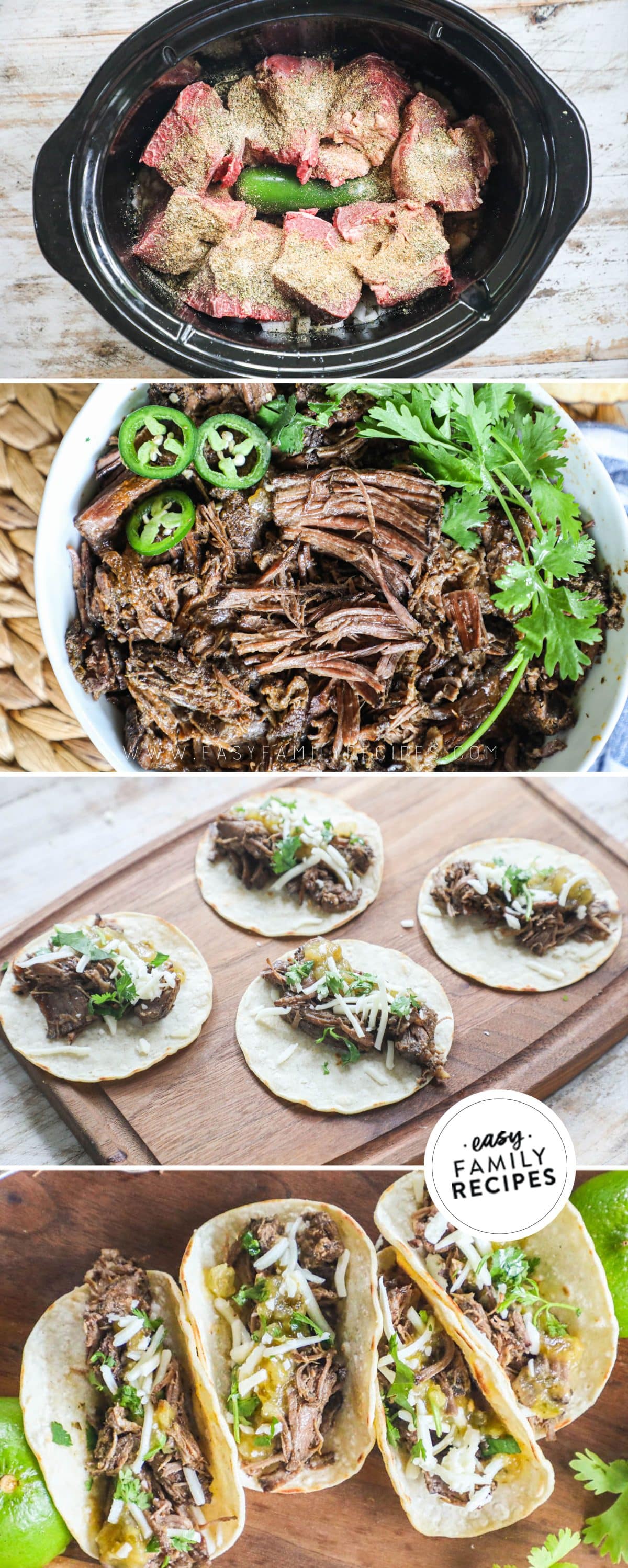 Recipe Tips
Hot pan – For best results on how to warm up corn tortillas for these barbacoa beef tacos and for quicker cooking to get that authentic crisp tortilla shell you'll want to make sure that the pan and oil are very hot. If you add a tortilla to cold oil it will make it greasy instead of just perfectly crisp on the outside and still just a bit soft on the inside.

Also, note you only need a very SMALL amount of oil in the pan. You can also do this without oil, but it does give it a nice crusty outside to the corn shell. This should only take 30-60 seconds.
It is super important to heat corn tortillas before use. This ensures they are playable and won't break when using them.

Don't stir the beef! – Because we are using leftover beef barbacoa, we lose a little bit of that authentic crispy texture the beef has when first made. That's where the pan-frying comes in. When adding the beef to the hot oil let it sit and heat without stirring as it will crisp up and caramelize the beef to its former glory of deliciousness.
Mix it up – Slow cooker barbacoa tacos can be topped with anything you and your family like. The toppings listed above are a great start!
Recipe Short Cuts
While this is a leftover recipe and pretty quick by nature, there is one way to speed it up even more. We all love a good shortcut!
Use premade toppings – Skip making everything from scratch to make this barbacoa tacos slow cooker recipe even simpler. Use your favorite store-bought salsa verde and pre-chopped cilantro and other toppings.
Recipe Variations
If you love this recipe as much as we do and want some quick ways to change it up for variety, these little tips will do the trick!
Barbacoa Taco Bowl– My all-time favorite lunch is a taco bowl! For this one, simply make some rice (like our cilantro lime rice) and top it with the barbacoa that's been pan-heated. Add any additional toppings you like and enjoy!
Barbacoa Breakfast Tacos– For some super yummy breakfast tacos, crisp up the beef in a skillet with a little oil. Add in diced peppers and onions and cook for another 2 minutes. Then, add in eggs and scramble with the beef and veggies. Add to pan-fried corn tortillas and serve with salsa and sour cream.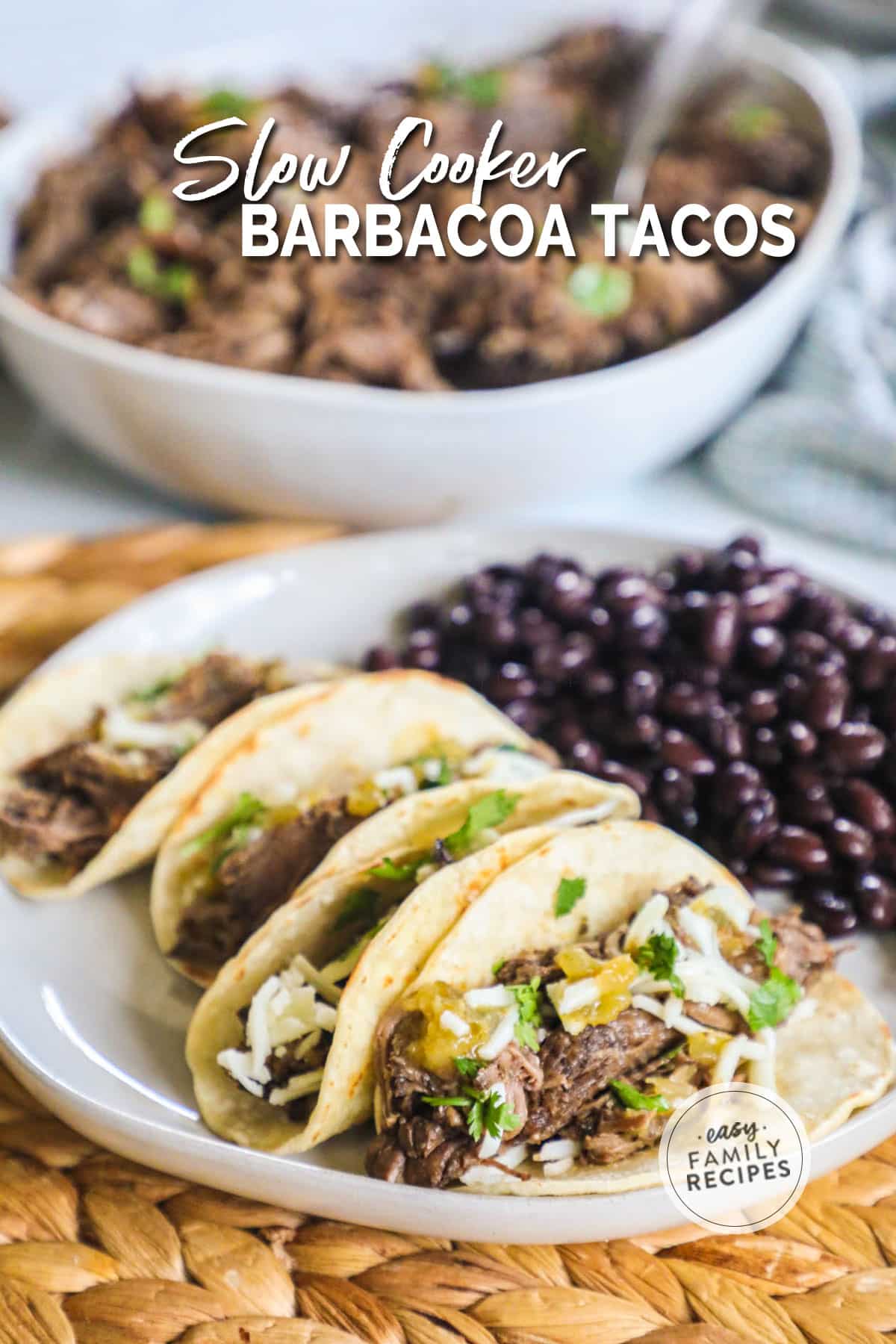 Freezer Meal Instructions
Making this barbacoa taco recipe into a freezer meal is simple! Follow the steps below and you can store this recipe in the freezer for up to 6 months.
Store the barbacoa, leftover or fresh, in the freezer in a sealed container.
When ready to eat, leave it in the fridge the night before and then make this taco recipe as directed.
Barbacoa Beef Taco Leftovers
While this is a leftover recipe by nature, if you have leftovers after making these beef tacos, then it is your lucky day! They save and reheat well, and can make the start of another delicious dish.
To save leftovers, separate into meal sized portions and preferably separate from the tortillas (otherwise they get soggy) and then place in an airtight container and store:
in the refrigerator for 3-4 days
in the freezer up to a month
More Easy Mexican Style Recipes
If you enjoyed this recipe, I really hope you will take a moment to grab a few more easy recipes for another busy night!
You can check out all of my easy Mexican-style recipes here, or see a few of our readers favorite recipes below.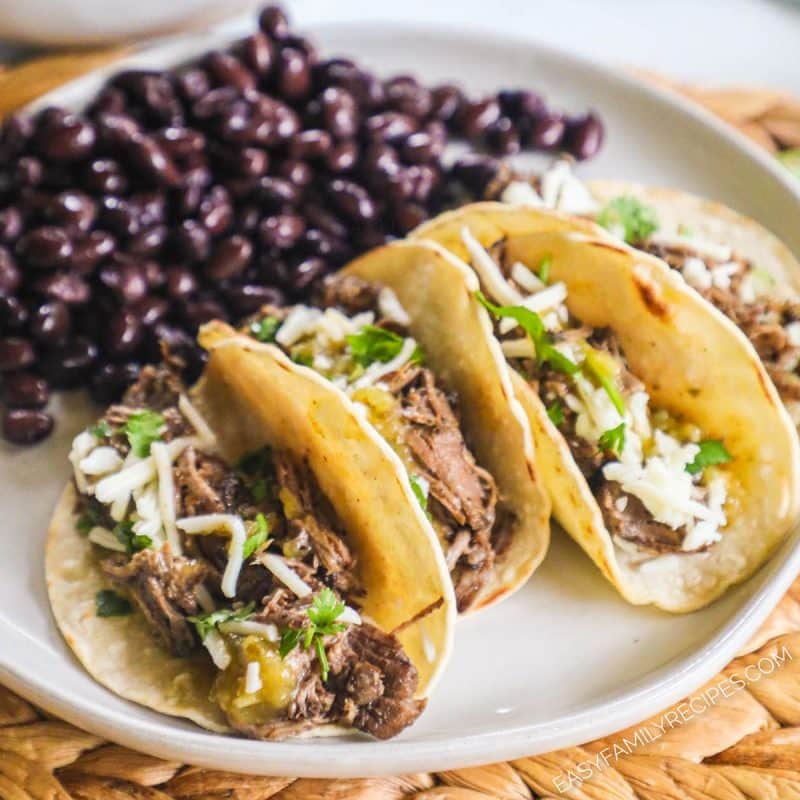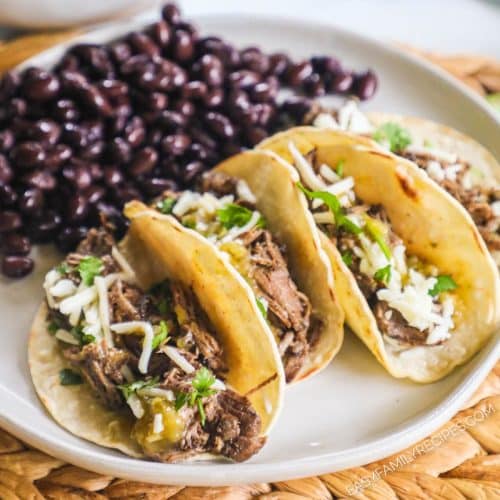 Slow Cooker Barbacoa Street Tacos
These delicious Beef Barbacoa Tacos are packed with flavor! Using leftover barbacoa, these couldn't be easier or faster to make. Use our suggested toppings, or customize it to make them your own- either way, these are sure to be an easy dinner time win!
Ingredients
2

cups

beef barbacoa

12

street taco sized corn tortillas

2

teaspoons

vegetable oil

1/2

cup

salsa verde

1

ounce

shredded monterey jack cheese
Instructions
Heat half the oil in a large skillet over high. Once hot, toast the tortillas 30-60 seconds per side. You should be able to do 2-3 tortillas at a time in the skillet. Once done, set aside.

Heat the remaining oil in the skillet. Add the beef barbacoa and cook for 3-5 minutes without stirring. Then stir and cook 2-3 more minutes or until heated through.

Lay the tortillas out flat. Place a scoop of barbacoa in each one, then top with salsa verde, a sprinkle of monterey jack cheese, and top with freshly chopped cilantro.
Nutrition Information
Serving:
3
tacos
,
Calories:
443
kcal
(22%)
,
Carbohydrates:
37
g
(12%)
,
Protein:
29
g
(58%)
,
Fat:
21
g
(32%)
,
Saturated Fat:
8
g
(50%)
,
Polyunsaturated Fat:
4
g
,
Monounsaturated Fat:
9
g
,
Trans Fat:
1
g
,
Cholesterol:
88
mg
(29%)
,
Sodium:
377
mg
(16%)
,
Potassium:
606
mg
(17%)
,
Fiber:
5
g
(21%)
,
Sugar:
2
g
(2%)
,
Vitamin A:
315
IU
(6%)
,
Vitamin C:
1
mg
(1%)
,
Calcium:
137
mg
(14%)
,
Iron:
3
mg
(17%)