This delicious, quick, and extremely versatile Rotisserie Chicken Salad Recipe is a fantastic way to serve a satisfying lunch, dinner, or snack any day of the week! Whether you're looking for family friendly meal prep or need to use up that leftover rotisserie chicken in the fridge, this creamy, southern style chicken salad is an instant win. Make it as we do, or customize it to your family's tastes easily, and love every single bite.
Rotisserie Chicken Salad – The EASY Way!
A simple rotisserie chicken is definitely one of my favorite busy family shortcuts. Not only can it be a tasty dinner as is, but you can also use it to make tons of other tasty meals like a hearty rotisserie chicken noodle soup or seriously the BEST rotisserie chicken salad. It takes just 15 minutes to toss it together any time of day so it is ready to go when you are. Full disclosure, I'll buy rotisserie chicken JUST for this southern style chicken salad. It's that good!
We love to whip up a big bowl at the beginning of the week and use it as easy lunches for days. It is a super easy snack when I am busy, and it can even be filling enough for a family dinner when I serve it with a few simple sides. Since it can be prepped up to 5 days ahead, it is about as low stress as it gets! Win!
What I Love About This Recipe
Versatile – We love this southern rotisserie chicken salad, but it is also really easy to make your own with other add ins like nuts or dried or fresh fruit.
Healthy – Chicken salad made with rotisserie chicken is a wholesome family meal and easily fits into a low-carb diet.
Hearty – With plenty of protein in this cold salad, it will fill you up and leave you satisfied.
No Cooking – It is just pre-cooked rotisserie chicken and fresh add ins. Feel free to ignore your oven and stove for this one!
Quick & Easy – No fancy ingredients, no complicated prep, and just 15 minutes to get it chilling in the fridge.
Perfect Meal Prep – With 8 hearty servings and a good refrigerator shelf life, this is the best chicken salad to prep and get ahead on lunches for the week.
Recipe Notes
This rotisserie chicken salad recipe is as simple as promised! Just 15 minutes for a family friendly meal.
In this section I am going to go through a few tips and tricks I use when making this recipe to get the absolute best and most delicious results.
Make sure to scroll to the bottom for the FULL recipe card.
Ingredients + Substitutions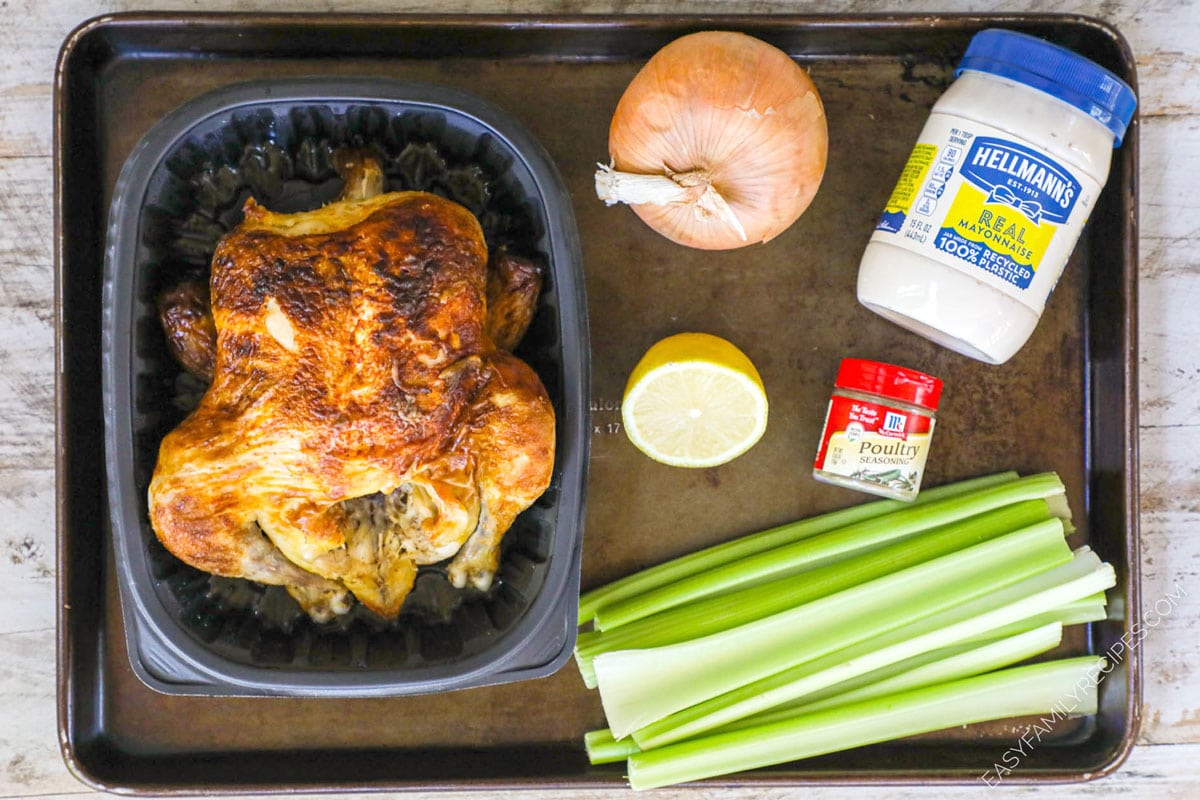 Rotisserie Chicken – You will want an entire chicken to make the full 8 servings. If you are using up leftovers, feel free to half the recipe too! Either shred it, or chop it into chunks, whichever you prefer. You could even just use cooked chicken breasts if you have simply seasoned leftovers.

So that the chicken pairs well with the additions, make sure you are buying and original flavor rotisserie chicken.

Celery – I like to use fresh celery to add crunch and fiber, you will need between 2-3 stalks for a full cup. Celery is also great to add lots of veggies and bulk up the chicken salad recipe with something that is both healthy and cost effective.

Onion – We used yellow but you could certainly choose red or white onions if you prefer them. You will only need about 1/2 of a medium sized one.

Mayonnaise – Any brand you like will work. You could also substitute plain Greek yogurt or miracle whip if you prefer, however it will change the flavor a bit.

Lemon Juice – I love fresh squeezed for a fresh homemade taste, but you can use bottled juice if that is what you have on hand.

Poultry Seasoning – This blend of ground herbs like sage, thyme, rosemary, and marjoram, plus pepper and garlic makes it easy to get lots of classic flavor into the salad.

Salt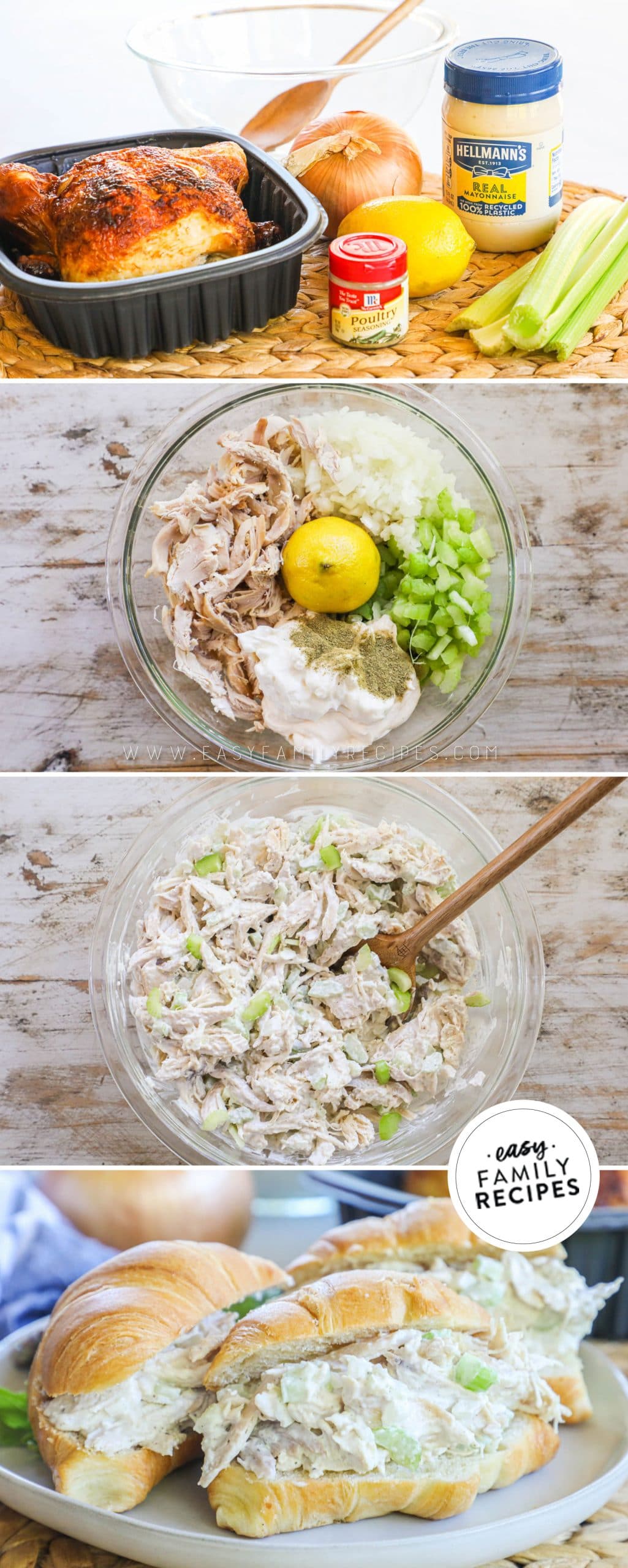 Recipe Tips
Mix the dressing first – One of the best ways to make sure the chicken gets an even coating of the lemon, mayo, and seasoning is by mixing those together first. That way you will have balanced flavor in every single bite.

Chill and taste before serving – Chilling this rotisserie chicken salad recipe lets all those tasty flavors combine. I recommend overnight if possible, but at least 30 minutes if not! Taste before serving and add another squeeze of lemon or pinch of salt if you need to.

Portion it early – If you want to make this seriously effortless meal prep, then just portion it as you put it away to chill! 8 single serve bowls can make quick work of packing lunches in the morning. Just grab and go!
Recipe Short Cuts
If you need to make this recipe, but are extra short on time, here are a few ideas that can help make this recipe even faster!
Prep chicken ahead of time – Shred or chop your chicken ahead whenever you have a spare minute, that way when dinner comes, the messiest part of prep is already done! You can do this up to 3 days in advance.

Chop veggies ahead of time – Chop the celery and onion and store them in the fridge for up to an entire week in advance! You can even get way ahead and prep extras for other recipes like my Easy Crustless Chicken Pot Pie

Make ahead – Have I mentioned how awesome this recipe is for meal prep? It will stay good in the fridge for up to 5 days. Give it a quick mix again before serving and it is good to go.
Recipe Variations
This is a great classic chicken salad recipe. You can build on it, based on your taste preferences. If you love this recipe as much as we do and want some quick ways to change it up for variety, these little tips will do the trick!
Optional mix ins:
Grapes – Slice grapes in half and mix them right in with the veggies.
Chopped pecans – Pecans are a southern chicken salad go-to, but almonds or walnuts would be good too!
Dried cranberries – Any dried fruit can bring a fun, sweetness. Craisins or golden raisins would be tasty too.
Apples – Any variety of apple you like can be diced and added in. Sweet and tart varieties are both really good, plus there is no need to peel them!
Boiled egg – Slice or dice hard boiled eggs and gently fold them in. They are tasty and really good for you!
Green onion – You can absolutely swap the onion for green onions if you like, or add an extra sprinkle on top for a real kick of onion flavor.
Crispy crumbled bacon – Bacon in a rotisserie chicken salad is an easy win. Leftovers from breakfast or prepared bacon pieces make it extra easy to enjoy that salty, crunchy bite in the creamy, cool salad.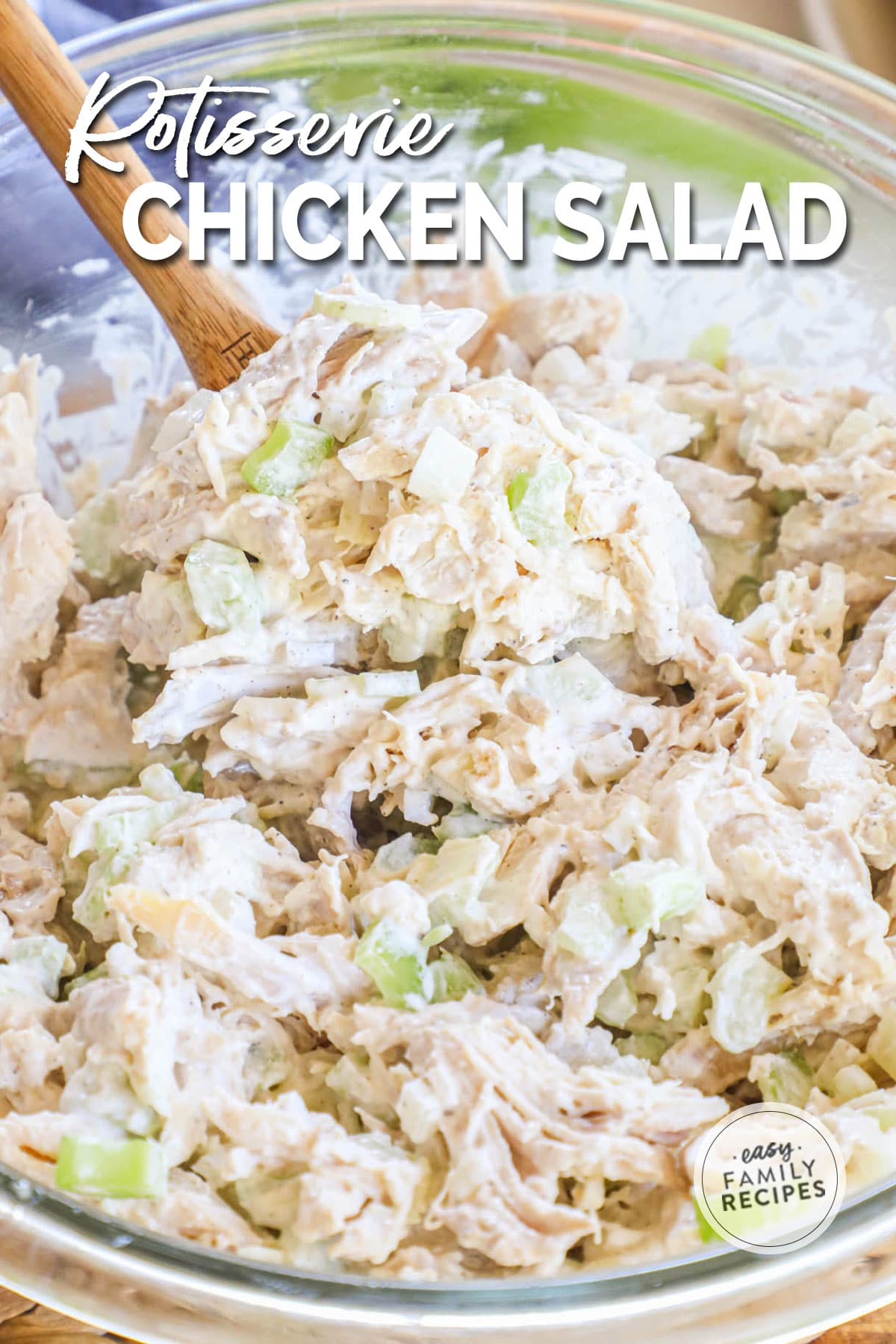 How to Serve Rotisserie Chicken Salad
Since this dish has the classic southern chicken salad flavors, it can be served in traditional ways, as well as a few new and exciting ways to serve it
Chicken Salad Serving ideas
Sandwich – Any sliced bread or roll can make this a really nice meal. Even use small slider buns for kids lunches!
Croissants – You can give easy chicken salad a luncheon feel with flaky, sliced croissants instead of typical bread. It is great for potlucks or picnics!
Stuffed Veggies – Juicy, ripe tomatoes, creamy avocado, or sweet bell peppers can be gently hollowed and filled with homemade chicken salad for a healthy, delicious way to serve it that is elegant enough for parties.
Lettuce wraps – Keep everything low carb by replacing the bread with lettuce. Large leafed varieties like bibb, romaine, or butter lettuce work best.
Crackers – Spreading a spoonful of rotisserie salad on a cracker makes the easiest lunch! Any cracker you like works, from whole grain, light saltines, or butter crackers.
Green salad – Serve it over chopped romaine, spinach, or heartier greens like kale.
Side Dish Ideas
All you need to do to make your chicken salad with rotisserie chicken into a wholesome, well rounded dinner is add a few sides, and there are so many delicious options!
Rotisserie Chicken Salad Leftovers
If you have leftovers after making chicken salad with rotisserie chicken, then it is your lucky day! They save well, and can make the start of another delicious dish.
To save leftovers, separate into meal sized portions and then place in an airtight container and store:
in the refrigerator for 3-5 days
Leftover Recipes
Here are a few ways to repurpose those leftovers and give them a delicious makeover!
Spicy Chicken Salad – Add some flair by mixing in a few extra spices. Cayenne, chili powder, or smoked paprika could all be delicious. Go slow and taste it to make sure you are not making it too spicy!
Buffalo Chicken Salad– Another easy way to mix up the leftovers it to add some of your favorite buffalo sauce and turn it into buffalo chicken salad. You could even use a quick homemade sauce like I do in my buffalo chicken tenders recipe if you do not have the prepared version!
Serve it as a Snack– Instead of packing it into lunches or serving it up for dinner, it makes an excellent after school snack. Fresh veggies like carrots, cucumber slices, or celery are perfect for dipping and make it a really wholesome afternoon pick me up.
More Easy Chicken Dinner Recipes
If you enjoyed this recipe, I really hope you will take a moment to grab a few more easy recipes for another busy night!
You can check out all of my weeknight chicken recipes here, or see a few of our readers favorite leftover chicken recipes below.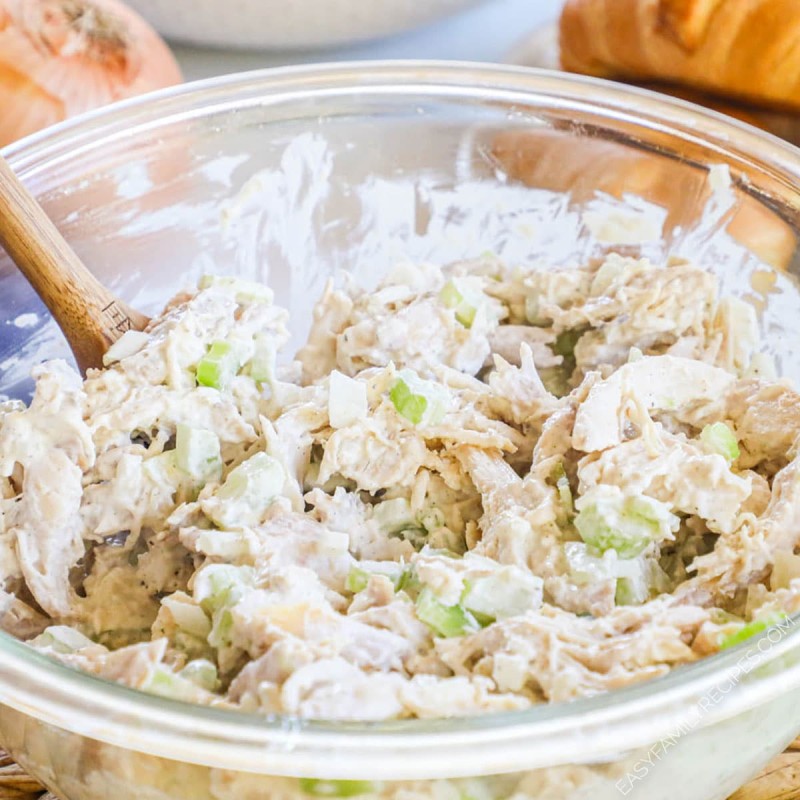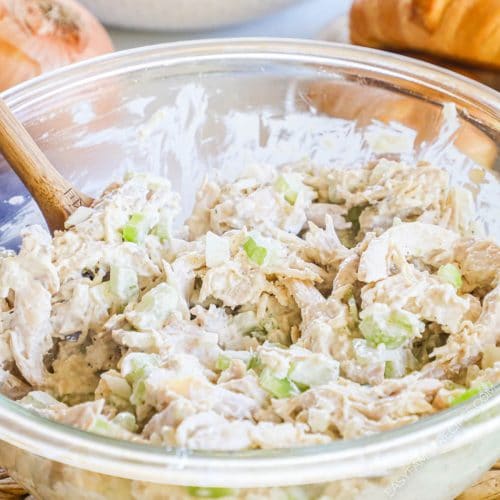 Rotisserie Chicken Salad
This classic chicken salad is make quick and easy with rotisserie chicken! Dress it up with a variety of add ins, or keep it classic! The perfect base recipe for making chicken salad!
Ingredients
1

rotisserie chicken

,

(about 5 cups of pulled chicken)

1

cup

diced celery

1/2

cup

diced onion

3/4

cup

mayonnaise

1

tbsp

lemon juice

1/2

tsp

poultry seasoning

1/2

tsp

salt
Instructions
Remove the meat from the rotisserie chicken. Then shred or chop into bite sized pieces.

In a large bowl, combine the mayonnaise, lemon juice, poultry seasoning and salt, mixing well.

Next add the rotisserie chicken, celery, onion, to the mayonnaise mixture. Stir until everything is evenly coated.
Recipe Notes
Substitutions:
Optional mix ins — grapes, chopped pecans, dried cranberries, apples, boiled egg, green onion, crispy crumbled bacon.

add in 1/2-1 cup of one or more of these mix-ins to give your rotisserie chicken salad a delicious new flavor profile!
How to Store: To save leftovers, separate into meal sized portions and then place in an airtight container and store:
in the refrigerator for 3-5 days
Nutrition Information
Serving:
0.75
cup
,
Calories:
182
kcal
(9%)
,
Carbohydrates:
2
g
(1%)
,
Protein:
6
g
(12%)
,
Fat:
16
g
(25%)
,
Saturated Fat:
3
g
(19%)
,
Polyunsaturated Fat:
10
g
,
Monounsaturated Fat:
4
g
,
Trans Fat:
1
g
,
Cholesterol:
27
mg
(9%)
,
Sodium:
322
mg
(14%)
,
Potassium:
159
mg
(5%)
,
Fiber:
1
g
(4%)
,
Sugar:
1
g
(1%)
,
Vitamin A:
82
IU
(2%)
,
Vitamin C:
2
mg
(2%)
,
Calcium:
12
mg
(1%)
,
Iron:
1
mg
(6%)