Homemade Pork Fajitas are a tasty option when craving some delicious Tex-Mex food but and don't have time for something complicated. This recipe will have a mouthwatering dinner on the table in under 15 minutes with a spread of your favorite toppings and traditional favorites. This makes what we think is the perfect fajita!
Pork Fajitas – The EASY Way!
I was born and raised in Texas and fajitas were always my favorite order when we ate out at a Mexican restaurant. When we moved away from Texas, I made it my mission to figure out how to make fajitas exactly the way they tasted in my favorite Tex-Mex restaurants.
The good news is, with a bit of experimentation and the help of some friends, we nailed the recipe for making Tex-Mex style fajitas, and it's SO EASY!
Tender, juicy pork is tossed in a buttery citrus lime sauce with sautéed onions and a colorful blend of bell peppers. It's a classic recipe for serving as a spread with all the best Tex-Mex topping options. It's such a fun way to enjoy a weeknight dinner with family.
If you are looking for chicken fajitas or steak fajitas, find them here!
Why I LOVE this recipe!
Flavorful restaurant quality meal – Pork fajitas are seriously delicious, made with juicy, marinated pork and sauteed veggies like bell peppers and onions. You're bringing the restaurant experience straight to your kitchen table!

Easy to prepare – This fajita recipe requires just a few simple steps for a recipe the whole family will enjoy. Make it even quicker by marinating the pork and chopping veggies beforehand to make cooking a breeze.

Perfect for entertaining–Pork fajitas can be a fun and interactive meal for entertaining guests. The sizzling skillet of fajitas can is a fun way to serve a family-style meal, allowing everyone to customize their fajitas with their favorite toppings and sauces.

So fast! There isn't much quicker than making these fajitas on a busy weeknight. You can go from fridge to table in as little as 15 minutes!
What to Serve with Pork Chop Fajitas
Include a variety of toppings, just like a traditional fajita setup served in Mexican restaurants. You can also add some of your own favorites, but here are a few ideas to get you started:
Garnish with fresh cilantro
Refried beans and Rice
Sour cream
Shredded lettuce
Shredded cheese
Flour tortillas
Side Dish Ideas
A few other side dishes we love to serve with this pork fajitas recipe are:
You can choose one or add a few sides to make a wholesome, well rounded dinner.
Recipe Notes
This pork fajitas recipe is as simple as promised! Just 15 minutes for a family-friendly meal.
In this section I am going to go through a few tips and tricks I use when making this recipe to get the absolute best and most delicious results.
Make sure to scroll to the bottom for the FULL recipe card.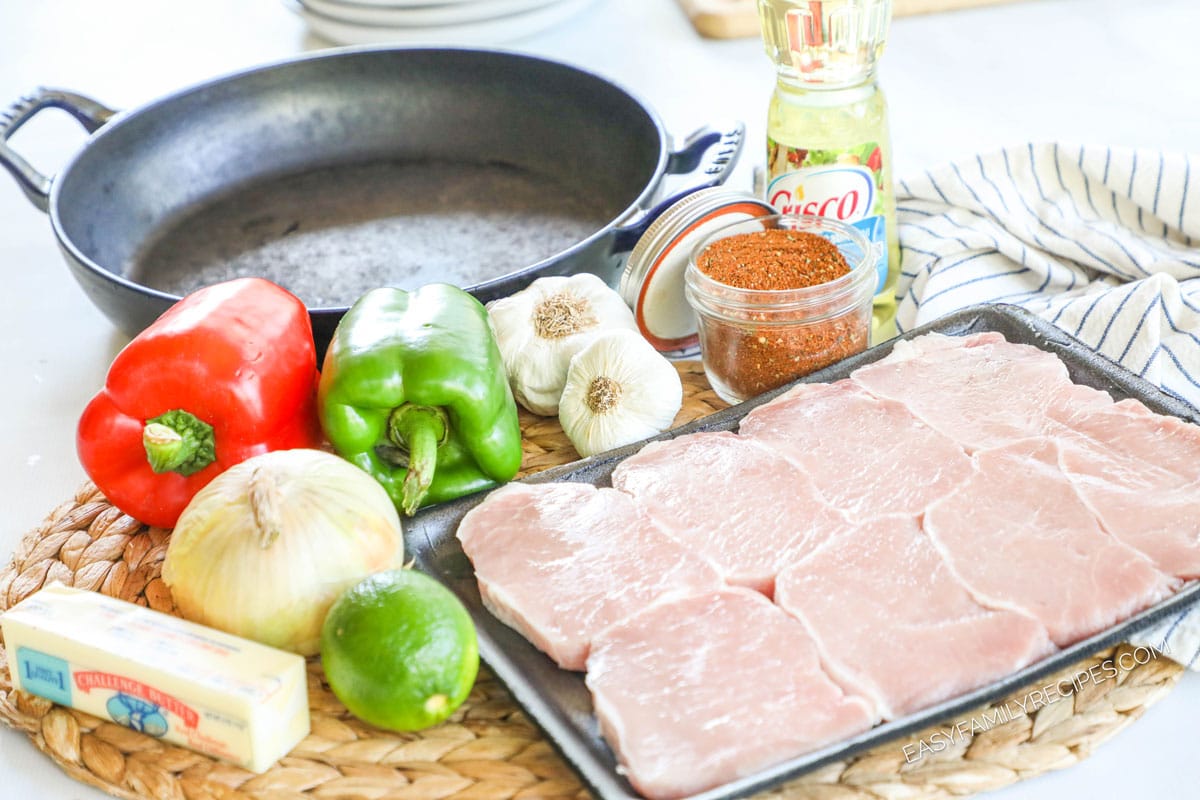 Ingredients + Substitutions
Boneless pork chops: I like to use thin chops less than ¾ of an inch thick. They marinade and cook quickly while still being juicy and flavorful.
Fajita seasoning: Use store-bought seasoning, or try my homemade fajita blend.
Oil: The oil is to cook the pork and vegetables, so any neutral cooking oil will do.
Lime juice: Use fresh limes as a final garnish to give these pork fajitas an authentic taste
Bell peppers: Use various colors, including the tarter green bell pepper, and the sweeter red, orange and yellow bell pepper, for a festive dish.
Butter: Hold off on adding this until the end. It's the secret to the most flavorful pork and veggies for fajitas.
Garlic: for flavor
How to make pork fajitas
1. Marinade for pork fajitas: Mix the fajita seasoning, lime juice, and oil in a bag or container with the pork chops. This only needs a quick marinade and will be ready to cook once the vegetables are prepped.
2. Cook vegetables: Add the pepper and onion strips to a hot oiled skillet and cook until just crisp-tender as they will continue to soften before serving. For now, remove them from the pan and set them aside.
3. Cook the pork: Place the marinated pork chops in a single layer in the same hot skillet and cook on each side for a few minutes until cooked through. You may need to do this in batches to avoid overcrowding the pan. The temperature should reach 145˚F internally. Remove from skillet, and rest for just a minute before slicing into strips.
4. Add the finishing touches: Add the butter, garlic, and lime juice and cook briefly until the garlic is aromatic.
Toss the peppers, onions, and sliced pork into the pan and coat with the butter mixture.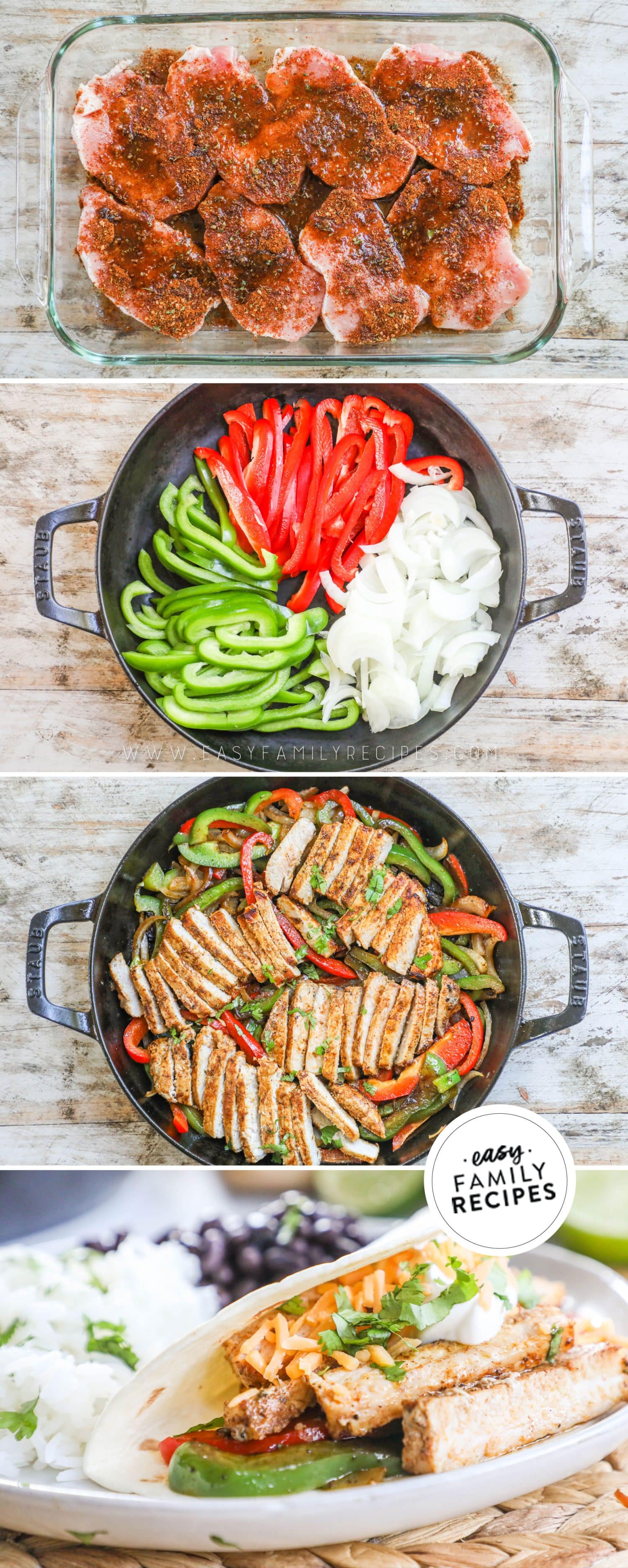 Recipe Tips
Prep ahead– This recipe moves incredibly fast, which is great for getting dinner done quickly, but if you don't have everything chopped, measured, and ready to go ahead of time, it makes it much more challenging and things can burn or become over cooked.

Cook the vegetables separately: To ensure they are cooked to your liking, cook them separately from the pork. Add them back to the pan with the pork just before serving.

Serve with warm tortillas: Warm flour or corn tortillas make the perfect vessel for pork fajitas. Heat them in a hot pan or in the oven before serving.

Use thin pork chops. Thin pork chops are an excellent choice for fajitas because they cook quickly, evenly, and easily slice into thin strips, which is perfect for fajita meat. They're also healthier than other pork cuts as they're leaner. When marinated and cooked correctly, thin pork chops can be succulent, tender, and flavorful.

Cook the pork in batches. Cooking the pork chops in two batches ensures enough space to cook evenly and develop a golden-brown crust on the outside. Overcrowding the pan can cause the pork chops to steam instead of searing, making them tough and chewy.
Recipe Short Cuts
If you need to make this recipe, but are extra short on time, here are a few ideas that can help make this recipe even faster!
Prep vegetables beforehand. To make this fajita dinner even quicker, take advantage of available time during the week to cut your peppers and onions ahead of time. You can store them in the fridge for a few days before using them.

Marinade the pork overnight. A quick marinade will do that trick, but if you know you'll need a ready-to-cook meal, go ahead and pop the chops in the marinade to store in the fridge overnight.

Get toppings ready. One of the best parts of fajitas is the toppings and having a wide variety of options. Save your time and prepare your salsa, dips, dressings, and chopped veggies the day before. You can pull everything out while the fajitas are cooking, set up a table spread with all fixings, and not have to do this last minute.
Recipe Variations
If you love this Tex-Mex fajita recipe as much as we do and want some quick ways to change it up for variety, these little tips will do the trick!
Spicy Pork Fajitas – When cooking the peppers and onions, add in fresh slices of hot peppers like jalapenos or chilis. You can also sprinkle in some red pepper flakes or a touch of cayenne for some added heat.

Sweet and savory – Add about ½ cup of crushed pineapples for an al pastor-flavored fajita when adding the pork and veggie. It'll add a touch of sweetness that pairs well with the Tex-Mex flavors.

Slow Cooker Pork Fajitas – If you want a quick meal ready by the time dinner rolls around, you can start this recipe earlier in the day by adding the peppers, onions, garlic, and pork with marinade to a slow cooker. Turn it on low and cook for about 6 hours. Before serving, slice up the pork and stir in the butter and fresh cilantro.

Grilled Pork Fajitas – Looking for a summer grilling idea? You can grill the chops and cook the pepper and onion mixture on the side. Once the pork chops are marinated, heat your grill to medium-high heat. Remove the chops from the marinade and discard any excess liquid. Grill the pork until lightly charred on the outside. Slice and toss them in with the cooked veggies; they're ready for all the toppings!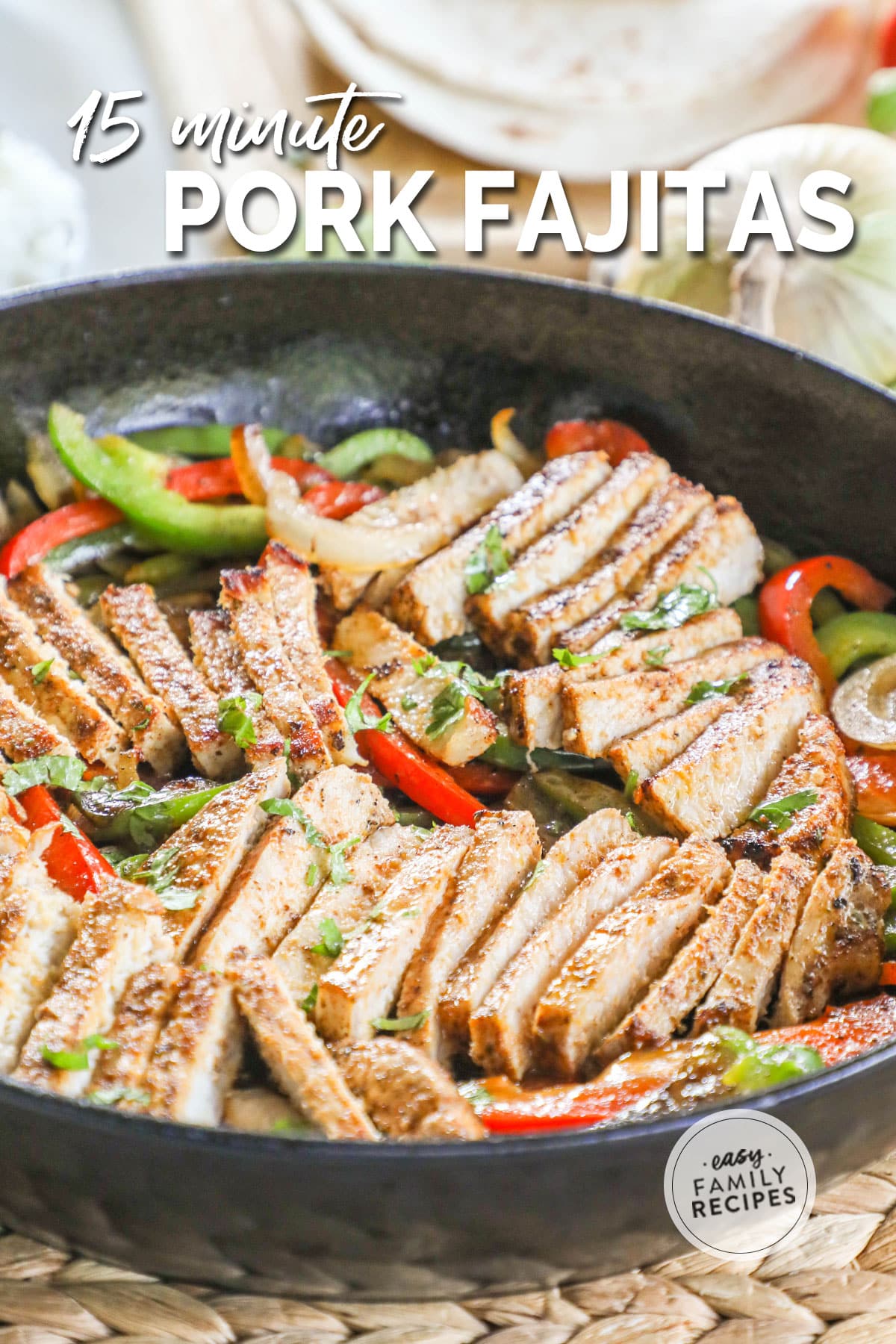 Freezer Meal Instructions
Making this sliced pork chop fajita recipe into a freezer meal is simple! Follow the steps below and you can store this recipe in the freezer for up to 6 months.
Bring the fajita meat and vegetable mixture to room temperature and add to a freezer-safe container.
Transfer to the freezing and store. When ready to enjoy, thaw in the refrigerator and then heat until completely warmed through.
Pork Chop Fajita Leftovers
If you have leftovers after making his easy pork fajitas recipe, then it is your lucky day! They save and reheat well, and can make the start of another delicious dish.
To save leftovers, separate into meal sized portions and then place in an airtight container and store:
in the refrigerator for 3-4 days
in the freezer up to a month
Leftover Recipes
Here are a few ways to repurpose those leftovers and give them a delicious makeover!
Pork enchiladas – Stuff your leftover pork fajitas ingredients rolled inside corn tortillas in a baking dish. Top with enchilada sauce and cheese, and bake until warmed through. Serve with leftover beans and rice and any toppings.

Pork fajita bowl – This is such a quick leftover recipe. Warm your ingredients and layer a bowl with rice, beans, the fajita mixture, and cheese. Add shredded lettuce, fresh chopped red onions, and some jalapeno ranch for a tasty meal.

Pork fajita casserole – If you have some leftover fajita meat and toppings, why not create a family-style casserole? Start by spreading leftover beans and rice in a casserole dish, then add the pork fajitas. Sprinkle cheese over the mixture and bake until it's warm and the cheese is brown and bubbly. Finally, just before serving, top with fresh slices of avocado, diced tomatoes, and lettuce.
What do you put on Pork Fajitas
The traditional set up served with fajitas is rice, refried beans, shredded lettuce, pico de gallo, sour cream, guacamole, and flour tortillas. In Texas (or Tex-Mex style fajitas) you will also be served shredded cheddar cheese.
What meat is traditionally used in fajitas?
Chicken, steak, shrimp, and pork are all common meats used for making fajitas.
What vegetables do you use in fajitas
Bell pepper and onion are the most traditional vegetables to find in fajitas. Other vegetables that are also sometimes used for fajitas include mushrooms, jalapeños, zucchini, and tomato.
More Tex Mex Recipes
If you enjoyed this recipe, I really hope you will take a moment to grab a few more easy recipes for another busy night!
You can check out all of my Easy Dinner recipes here, or see a few of our readers favorite recipes below.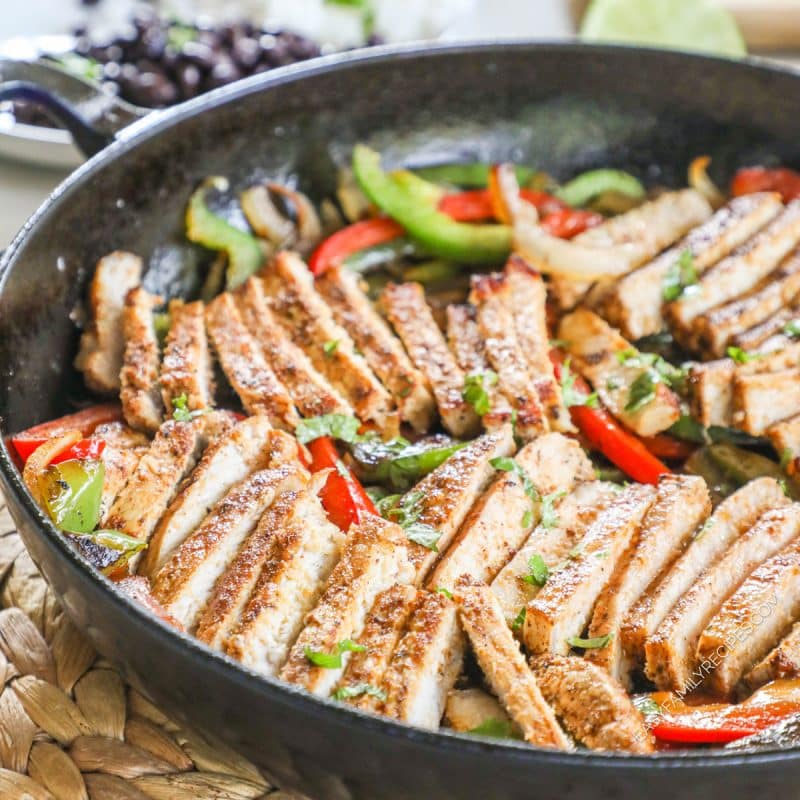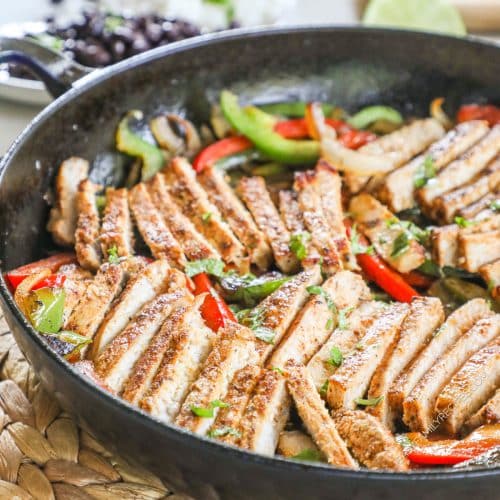 Pork Fajitas
These Tex Mex style Pork Chop Fajitas are tender, juicy, and packed with flavor. They are made in just minutes in a hot skillet. The Pork Fajitas, peppers, and onions can be eaten in tortillas, on a salad, or with rice and beans.
Ingredients
2

lbs

boneless pork chops

,

3/4 inch thick or less, about 8 pork chops

2

tbsp

fajita seasoning

2

tbsp

vegetable oil

,

divided

1

lime

,

juiced

1

green bell pepper

,

sliced

1

red bell pepper

,

sliced

1

sweet yellow onion

,

sliced

1

tbsp

butter

3

cloves

garlic

,

pressed
Instructions
Combine the pork chops with the fajita seasoning, half of the lime juice and 1 tbsp of the oil, and place in a zip top bag or container to marinate while finishing prep.

Cut the peppers and onions into thin strips.

Heat the remaining 1 tbsp oil over medium high heat in a large skillet. Once hot, carefully place the peppers and onions in the skillet, cooking for 3-4 minutes, stirring occasionally. Remove the peppers and set aside.

Then place the pork chops in a single layer in the hot skillet. Let cook (without stirring) for 2-4 minutes. Then flip the meat to the other side and cook for 2-4 minutes or until cooked through (145˚F internal temperature)

Remove from skillet and slice into thin slices.

Stir the butter, garlic, and lime juice in and cook for 1 minute. Then remove from heat and stir in the onions and peppers and sliced pork.

Garnish with fresh cilantro and serve hot. Enjoy!
Nutrition Information
Serving:
8
oz
,
Calories:
325
kcal
(16%)
,
Carbohydrates:
8
g
(3%)
,
Protein:
34
g
(68%)
,
Fat:
17
g
(26%)
,
Saturated Fat:
6
g
(38%)
,
Polyunsaturated Fat:
4
g
,
Monounsaturated Fat:
6
g
,
Trans Fat:
0.2
g
,
Cholesterol:
106
mg
(35%)
,
Sodium:
161
mg
(7%)
,
Potassium:
724
mg
(21%)
,
Fiber:
2
g
(8%)
,
Sugar:
4
g
(4%)
,
Vitamin A:
843
IU
(17%)
,
Vitamin C:
48
mg
(58%)
,
Calcium:
32
mg
(3%)
,
Iron:
1
mg
(6%)