This Picnic Pulled Chicken is the most TENDER and JUICY slow cooker chicken ever! The secret ingredient helps to tenderize the meat while packing in the flavor. Perfect for making everything from pulled chicken sandwiches, to BBQ chicken salad, this recipe is a kid approved family favorite!
This post is sponsored by Milo's Tea Company. All opinions and recipes are cooked up right here at Easy Family Recipes!
Pulled Chicken – The EASY Way!
We do A LOT of chicken around our house, and I share many of those recipes with you.
One of the questions I get most is about chicken becoming dry, especially when using a slow cooker.
This recipe may just change your mind about chicken forever, because this recipe makes THE MOST tender, juicy and delicious BBQ Pulled chicken. We are talking lick your plate clean!
The key ingredient is something you may not expect!
Milo's Famous Sweet Tea!
Milo's Tea is a staple in our home. Especially in the summer months. There is nothing more refreshing than a big, tall, glass of ice cold tea. When the days are longer and the weather is good, I keep a jug on hand in the fridge pretty much all the time.
Milo's beverages are brewed from real tea leaves, are all natural and contain no preservatives or added colors. Available in sweetened with pure cane sugar, zero calorie sweetened with sucralose, or unsweet, you can't go wrong!
Usually we are drinking Milo's Sweet Tea, but it also serves as the secret ingredient in the recipe today!
The sweetness in the tea helps to make the chicken super tender, while the tea adds a complexity (ie a whole lot of deliciousness) to the flavor.
So simple, but works so well. The result is some of the best pulled chicken I have ever had! You have to try it!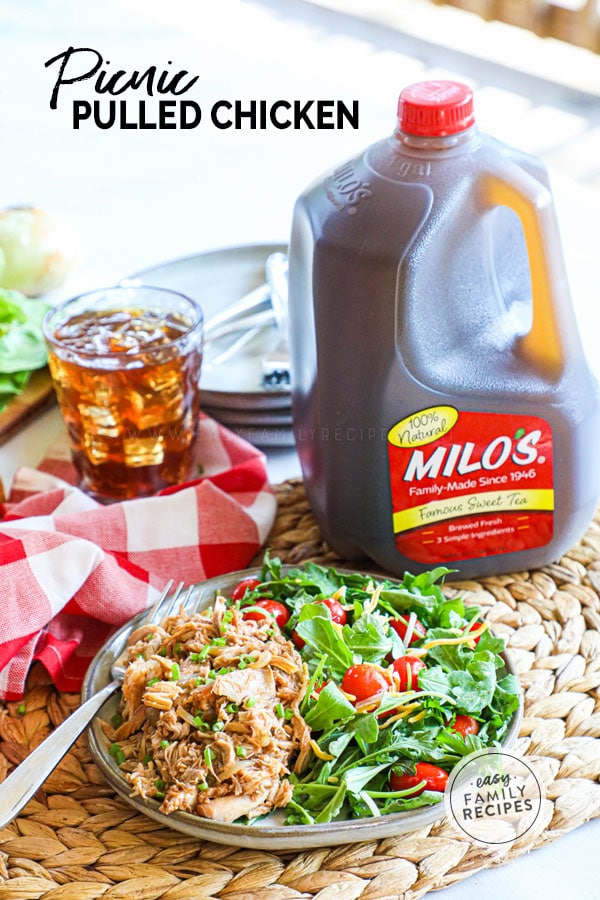 What to Serve with BBQ Pulled Chicken
Since this dish has the classic American flavors, it will pair well with many of your favorite pot luck side dishes. There are both classic options and some healthy options to keep it light.
Side Dish Ideas
Healthy Sides
You can choose one or add a few sides to make a wholesome, well rounded dinner.
Serving Ideas
Pulled Chicken is truly a versatile dish. It can be served in many ways to keep a variety of different opinions happy with little effort! Here are a few of my favorites:
Sandwich– Make a BBQ Pulled Chicken sandwich by piling the meat high atop a bun. I like to add butter lettuce, and sometimes a slice of colby jack cheese, or pickles to top it off.

Salad– One of my all time favorites is topping a pile of chopped romaine with a scoop of pulled chicken. It is good just like that, but to make it even more special, try adding black beans, corn and some crushed tortilla chips.

Bowl– Serve the Pulled Chicken in a bowl with your choice of chopped or cooked veggies and grains. Some of my favorites are avocado, blanched cauliflower, cilantro lime rice, and a sprinkle of cheddar cheese.

Wrap– Use a flat bread, tortilla, or even a large piece of lettuce to make a super flavor packed wrap.
Recipe Notes
This Pulled Chicken recipe is as simple as promised! Just a handful of ingredients and a slow cooker make for a family friendly meal.
In this section I am going to go through a few tips and tricks I use when making this recipe to get the absolute best and most delicious results.
Make sure to scroll to the bottom for the FULL recipe card.
Key Ingredients
Chicken Thighs– Chicken thighs are a key to getting great results because the extra connective tissue in them helps to keep the meat tender while cooking longer in slow cooker. You can substitute other kids of chicken, but you don't get quite the same result as you do with chicken thighs.

Milo's Famous Sweet Tea– This is the SECRET INGREDIENT! It adds so much flavor and the sugars in the tea help to further tenderize the meat.

You can find Milo's Tea in the refrigerated section of most grocery stores in a gallon jug. The best part is when you pick one up for this recipe, you will still have enough left to drink too! Find Milo's in your area by visiting their store locator.

BBQ Sauce– You can use your favorite variety. You will want a bottle that is at least 8 oz to have enough for this recipe. The best BBQ sauce for pulled chicken, is the one that you think tastes the best since it will pass on the flavor to the chicken. Outside of flavor, look for a thicker sauce, in lieu of a thinner sauce since we mix in the tea for flavor.

Spices– What seems like a lot of garlic and onion powder will become mellowed and flavorful as it slow cooks with the chicken. These perfectly complement the flavors in the pulled chicken.

Onion– I use yellow sweet onions when I make this recipe. You can use white or even red based on what you have on hand.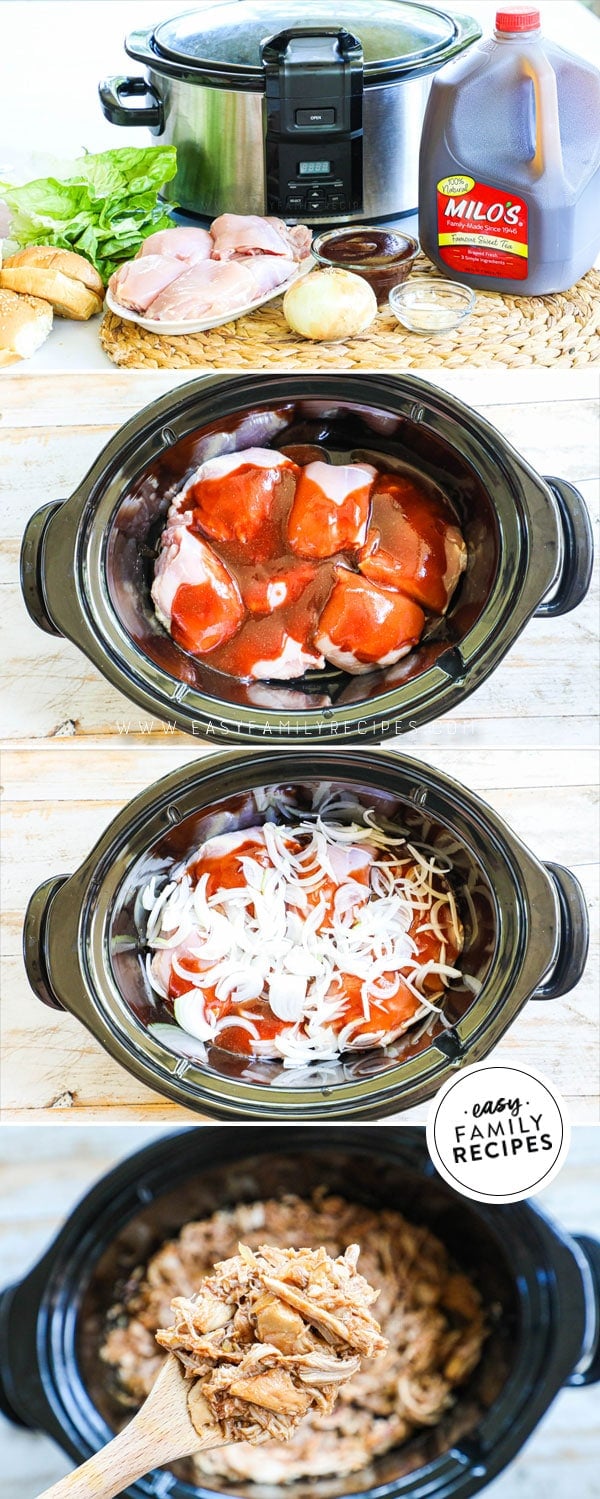 Recipe Tips
Divide the sauce – When you whisk together the sauce, make sure to divide it in half before pouring it over the chicken. This allows us to use half to cook in the flavor and the other half to make the pulled chicken nice and saucy at the end!

Slice the onions very thinly– The onions in this dish will cook down to be just little bursts of flavor incorporated in the chicken. By slicing the onion super thin, it cooks fully through to really develop its sweetness and disappear into the dish. My kids don't even realize there are onions there!

Drain the extra liquid– Once the chicken is done, you can drain the extra liquid through a strainer. This helps to catch all of those lovely little onion slices that add so much flavor. The broth can be discarded, and the onions stirred back into the chicken. If you don't drain the liquid, or stir the chicken back into it, it will dilute the flavor and not be as tasty in my opinion.

Make it saucy– The extra burst of sauce at the end gives it more flavor, keeps it moist, and really finishes it off. If you like your chicken extra saucy you can even make a larger batch of sauce at the beginning to have more left to stir into the meat at the end.
Recipe Variations
If you love this recipe as much as we do and want some quick ways to change it up for variety, these little tips will do the trick!
Smoked Pulled Chicken– Make recipe as directed adding 1 tsp of liquid smoke to the bbq sauce mixture.
Pressure Cooker Pulled Chicken– Make as directed placing ingredients in the pot of the pressure cooker. Cook on high pressure for 6-8 minutes, or until chicken is done (165˚F internal temp) then manually release the pressure and continue by draining the chicken and stirring in additional sauce.
Spicy Pulled Chicken– Make recipe as directed adding 1/2-1 cup (depending on desired level of heat) of diced jalapeños on top of the onions.
Creamy Pulled Chicken– Make recipe as directed. Once done, place the meat back in the slow cooker and add 4 oz cream cheese and cover for 5 minutes. After 5 minutes the cheese will be softened and you can stir it all together.
Dietary Considerations
If you have special dietary needs, this recipe meets some and can be easily modified to comply with others.
As always, check all store bought ingredients for compliance on specific dietary needs. The notes below are a general guide.
Gluten free: This recipe is naturally gluten free. Make sure to verify the BBQ sauce.
Dairy free: This Pulled Chicken recipe is naturally dairy free.
Nut free: This recipe is naturally nut free
Egg free: This recipe is naturally egg free
Macros: The approximate macro calculation for this recipe is- P: 30g C: 30g F: 7g
Freezer Meal Instructions
Picnic Pulled Chicken can be made ahead as a freezer meal, or frozen after it is prepared.
It can be frozen for up to 6 months to maintain the best flavor.
To prep this recipe as a freezer meal:
Prepare and divide the sauce.
In a large freezer bag, or freezer friendly container, add the chicken, onions, and half of the sauce and mix to combine. Place the remaining sauce in a separate bag.
Freeze.
Once ready to cook, let thaw in the refrigerator for 24-48 hours.
Cook as directed.
To freeze after cooking:
Prepare pulled chicken as directed.
Let cool to room temperature.
Divide into meal sized portions and place each in a freezer bag or freezer friendly container.
Freeze.
Pulled Chicken Leftovers
If you have leftovers after making this BBQ Pulled Chicken, then it is your lucky day! They save and reheat well, and can make the start of another delicious dish.
To save leftovers, separate into meal sized portions and then place in an airtight container and store:
in the refrigerator for 3-4 days
in the freezer up to a month
Leftover Recipes
Here are a few ways to repurpose those leftovers and give them a delicious makeover!
BBQ Chicken Nachos– Pile chips on top of a sheet pan. Sprinkle with cheddar cheese, black beans, and corn. Top with pulled chicken. Bake at 425˚F for 10-12 minutes or until the cheese is melted and the nachos are heated through. Drizzle with BBQ sauce and serve with sour cream and guacamole. For a lighter option, try using mini pepper halves instead of chips.

Loaded Pulled Chicken BLT– Toast sandwich bread and pile on some BBQ chicken. Add lettuce, tomato, and crispy bacon.

Pulled Chicken Stuffed Avocado– Cut an avocado in half and remove the pit. Pile a scoop of BBQ Chicken inside the hollow of each half. Sprinkle with cheddar cheese and chopped cilantro.
More Easy Slow Cooker Recipes
If you enjoyed this recipe, I really hope you will take a moment to grab a few more easy recipes for another busy night!
You can check out all of my EASY DINNER recipes here, or see a few of our readers favorite recipes below.
And don't forget to pick up a cool, refreshing jug of Milo's Tea next time you are at the store!
Hungry for more family-friendly recipes? Sign up for my free recipe club to get new family-friendly recipes in your inbox each week! Find me sharing daily meal-time inspiration on Pinterest, Instagram, and TikTok.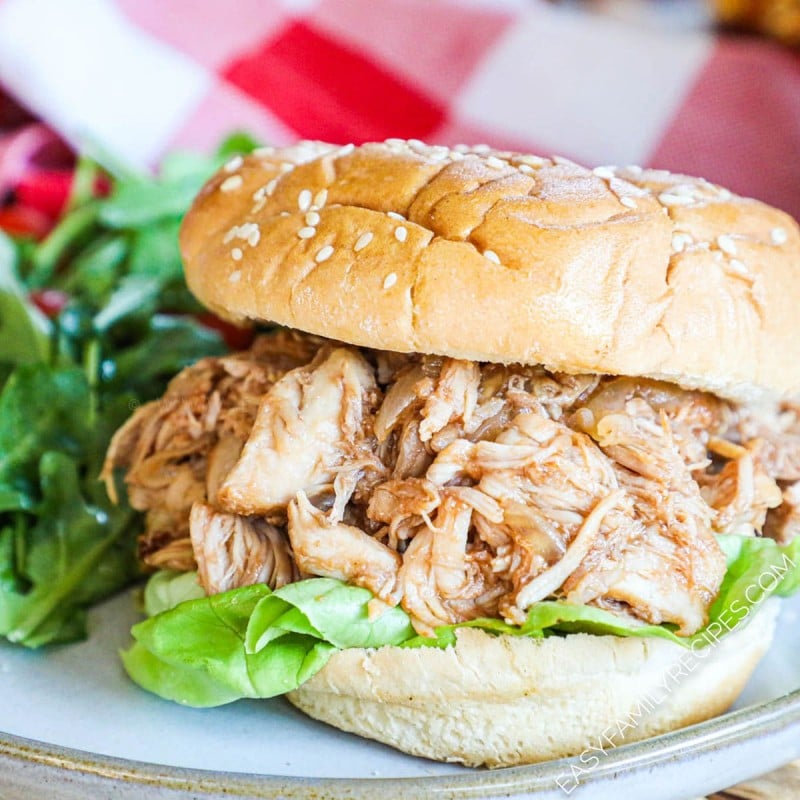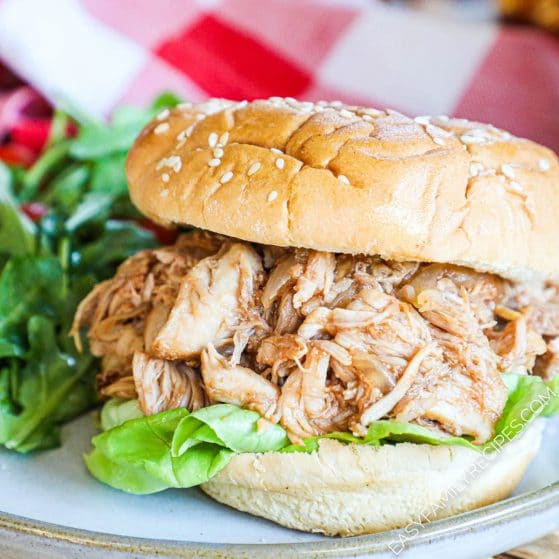 Picnic Pulled Chicken
Picnic Pulled Chicken is the most tender juicy chicken imaginable! Made with only a handful of ingredients, yet packed with flavor, there is no wonder this meal gets made on the regular rotation!
Prep Time: 10 minutes
Cook Time: 3 hours
Total Time: 3 hours 10 minutes
Serves:6 servings
Hover over "serves" value to reveal recipe scaler
Ingredients
2 lbs boneless skinless chicken thighs
1 onion thinly sliced
1 cup barbecue sauce
1/2 cup Milo's Famous Sweet Tea
1 tsp garlic powder
1 tsp onion powder
1/2 tsp salt
Optional- For sandwiches
6 sandwich buns
6 leaves butter lettuce
Instructions
Combine the barbecue sauce, sweet tea, garlic powder, onion powder, and salt and whisk until smooth. Divide the sauce in half (roughly 3/4 cup each.)

Trim the chicken and lay flat in the slow cooker. Pour one half of the sauce over the chicken, then top with thinly sliced onions.

Cook on high for 3-4 hours or low for 4-6 hours.

Once done, remove the chicken and strain the onions out of the broth, Shred the chicken and combine with the onions and remainder of the sauce.

Serve by itself, or on buns with a leaf of butter lettuce. Enjoy!
Nutrition Information:
Calories: 305kcal (15%)Carbohydrates: 30g (10%)Protein: 30g (60%)Fat: 7g (11%)Saturated Fat: 2g (13%)Cholesterol: 144mg (48%)Sodium: 819mg (36%)Potassium: 514mg (15%)Fiber: 1g (4%)Sugar: 25g (28%)Vitamin A: 143IU (3%)Vitamin C: 2mg (2%)Calcium: 34mg (3%)Iron: 2mg (11%)
(Nutrition information provided is an estimate and will vary based on cooking methods and brands of ingredients used.)