Deliver a delicious dinner on even the busiest weeknight with this 15-minute Pepper Steak Stir Fry. It's a one-pan meal of tender, quick-cooking steak, bell peppers, and an irresistible sweet and salty Asian inspired sauce. Serve it by the spoonful over steamed rice or noodles and tuck into an homemade meal that took just a handful of minutes to prep and cook with easy to find ingredients.
Pepper Steak Stir Fry – The EASY Way!
I know the feeling, it's been a busy day and you just don't have the time or energy to cook. But with recipes like this seriously fabulous pepper steak stir fry, dinner can be stress free and FAST. Really, it's faster than dialing for takeout! It's a 100% hit-it-out-of-the-park, homerun kind of family dinner that only takes you 15 MINUTES to make.
I'm telling you, this recipe is super fast, easy, and best of all, it tastes great! The secret is in a hot pan, quick cooking steak and bell peppers, and a dynamite Asian sauce that you can whip together with just a handful of basic ingredients. It goes from fridge to fork in less time than it will take the kids to wash up and set the table, and it's just downright tasty!
Why I LOVE this recipe!
SO Fast! – It doesn't get much faster than a 15 minute dinner!
Family Favorite – Everyone loves takeout, and this recipe lets you whip up a takeout style dinner with better flavor in less time. The kids and adults will both love it.
Easy to Customize – Add or change the vegetables, make the sauce spicy or add more garlic, you can definitely adjust this recipe easily to make it just right for your family.
Easy Ingredients – Even the sticky sweet Asian sauce is made with ingredients you'll recognize and can easily find in your pantry already or at most grocery stores.
What to Serve with Steak and Pepper Stir Fry
Since this dish has the classic flavors of sesame and soy, it will pair well with many of your favorite Asian side dishes. There are both classic options and some healthy options to keep it light.
Side Dish Ideas
Rice – Steamed white or brown rice, or even another grain like quinoa or farro make a great option that will soak up the extra sauce.
Noodles – Udon or ramen noodles are quick cooking, available at most grocery stores, and so well with the sauce of this steak and bell pepper stir fry.
Asian Cucumber Salad – This crisp and cool salad is packed with Asian flavors and a great healthy side to serve anytime.
Spicy Sriracha Asian Coleslaw – Make this cold, spicy salad ahead and have it ready to serve from the fridge when dinner is ready.
Cabbage – A bed of shredded cabbage is a great way to keep this low carb and healthy.
You can choose one or add a few sides to make a wholesome, well rounded dinner.
Recipe Notes
This pepper steak stir fry recipe is as simple as promised! Just 15 minutes and one pan for a family friendly meal.
In this section I am going to go through a few tips and tricks I use when making this recipe to get the absolute best and most delicious results.
Make sure to scroll to the bottom for the FULL recipe card.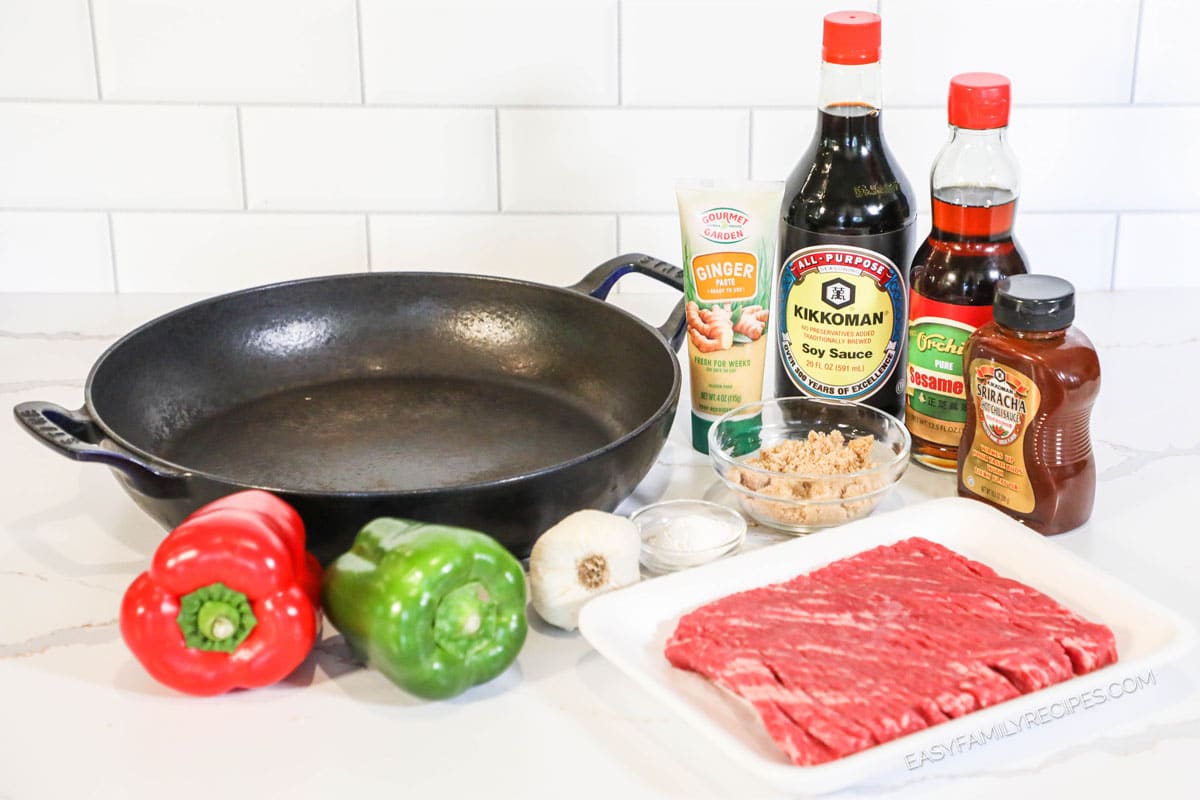 Ingredients + Substitutions
Thinly sliced steak – We usually opt to make this a flank steak stir fry. It's already thin, cooks quickly, and is delicious! But technically any type of thinly sliced steak can be used. The best steaks for stir fry are the tender cuts that are meant to cook fast like sirloin, flank, or skirt steak. Make sure to trim off any of the connective tissue before cooking the meat so it it ends up perfectly tender and chewable.

Save the roasts and tougher ones for a different time. If you check the meat section you might even be able to find 'stir fry' strips of beef that are pre-cut and can save you prep time.

Bell peppers – I highly recommend a combo of red and green bell peppers for this recipe. It's the perfect combination of sweet and sharp flavors to go with your steak. But any combination of red, orange, yellow, or green is fine too.

Sesame oil – This oil creates that iconic Asian flavor. I recommend you grab a bottle from the ethnic or Asian foods aisle at your grocery store. It keeps for a year in the fridge so it's definitely worth it. But canola or vegetable oil can be used instead if you'd like.

Soy sauce – Soy sauce packs a powerhouse of flavor into our sauce, but you can definitely use an alternative like tamari or liquid or coconut aminos with great results.

Brown sugar

Ginger – Fresh ginger has the best flavor, and it's usually easy to find nearby the root vegetables or other spices in the produce section. You only need a little nub for this recipe, and the rest can be wrapped up and frozen for another time.

If not using fresh, my second choice is jarred minced ginger, then last, powdered. If you're swapping in powdered ginger use 1 teaspoon.

Garlic – I recommend fresh garlic, but a 1/2 teaspoon of garlic powder can be used instead.

Sriracha – This is optional and you can adjust how much you use based on your family's taste for spicy food.

Cornstarch – It's VERY important that you first mix this into cold water to make it a slurry. Adding the powder straight into recipes can lead to lumpy sauce instead of a thickened silky one. Once it's dissolved in the water you can use it.

Garnish – I like a sprinkle of sesame seeds or green onions on top of mine, but the kids love a dollop of yum yum sauce or my Japanese spicy mayo! The choice is yours!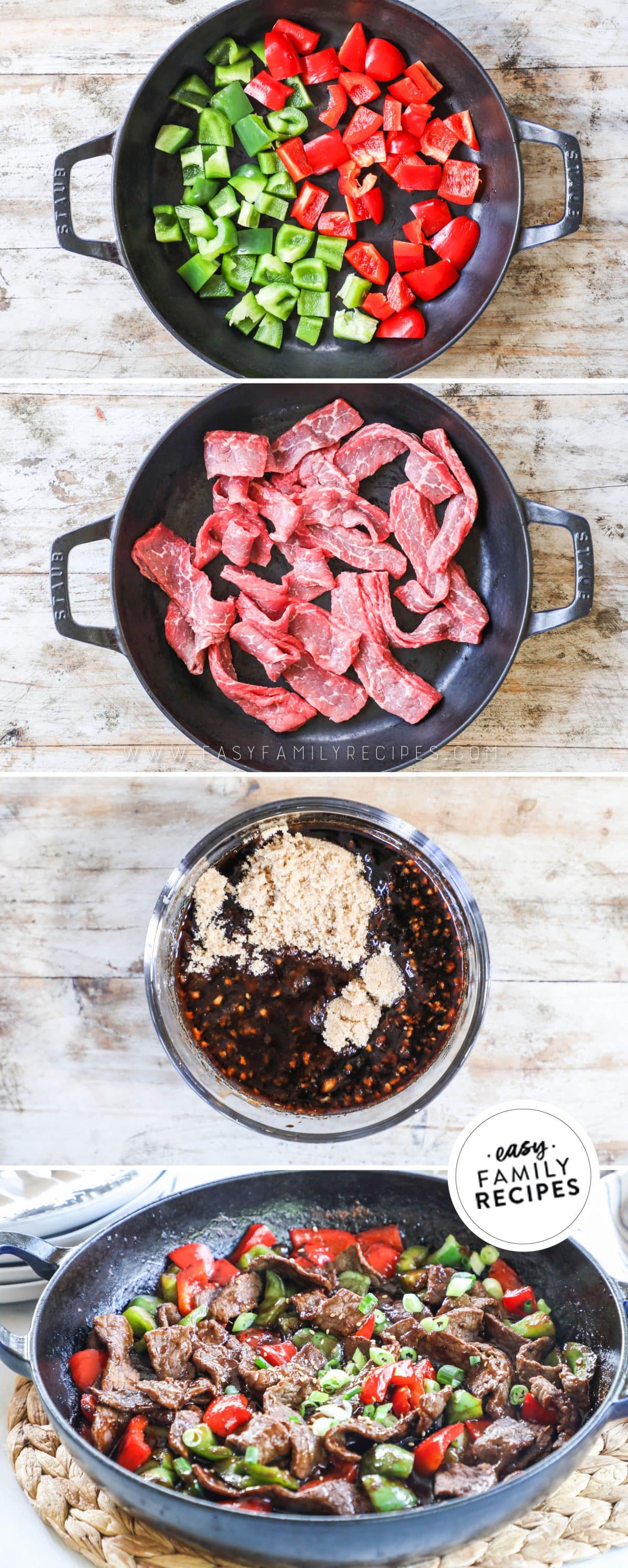 Recipe Tips
Prep the sauce first – This recipe moves very quickly so I always suggest making the sauce first. That way there's no risk of overcooking anything while you're trying to mix it last minute.

Use a LARGE skillet – It's important that you don't overcrowd the pan while you're cooking the steak. Too many pieces will trap all the steam and moisture coming off the cooking steak, and that means steamed meat instead of beautiful brown caramelized edges.

Use your largest, high sided skillet to provide enough space around the pieces to allow browning. If you don't have one big enough, don't worry, you can always cook the meat in batches.

Get the pan hot – Part of what makes this recipe quick and tasty is a hot pan. Get it nice and hot before you add any meat to it. That lets the steak develop a crusty, brown exterior without cooking so long that it's tough and dry.

Don't touch the steak – I know it's tough but it's really best to not touch the steak AT ALL for the first 2-3 minutes that it's in the pan. Let it cook undisturbed in that piping hot pan to develop the brown sear. It will mean a much better flavor in your stir fry.
Recipe Short Cuts
If you need to make this recipe, but are extra short on time, here are a few ideas that can help make this recipe even faster!
Buy prepared ingredients– You can sometimes find 'stir-fry' steak sold at the grocery store already sliced really thin. The produce aisle often has pre-chopped veggies like bell peppers as well. Or, a package of frozen bell pepper strips will work and can be cooked from frozen.

Prep ingredients ahead– Take 5 minutes to chop and prep everything ahead of time. Slice the steak, dice the peppers, and mix the sauce up to 12 hours ahead. Store them separately then follow the cooking instructions when you're ready to eat.
Recipe Variations
If you love this recipe as much as we do and want some quick ways to change it up for variety, these little tips will do the trick!
Steak and Broccoli Stir Fry– Replace the bell peppers with 2 cups of broccoli florets chopped into uniform, small pieces. Cook the recipe as directed, sautéing the broccoli until just tender, around 5-6 minutes.

Steak and Asparagus Stir fry– Swap out the chopped bell peppers with 1 bunch of asparagus that is trimmed and chopped into 1-2 inch pieces. Then cook the recipe as written.

Spicy Pepper Steak Stir Fry– Cook the recipe as directed but add 1 small jalapeno that's been seeded and diced in with the bell peppers. Also increase the sriracha in the sauce to 1 tablespoon or add a 1/4-1/2 teaspoon of crushed red pepper flakes to it, depending on taste.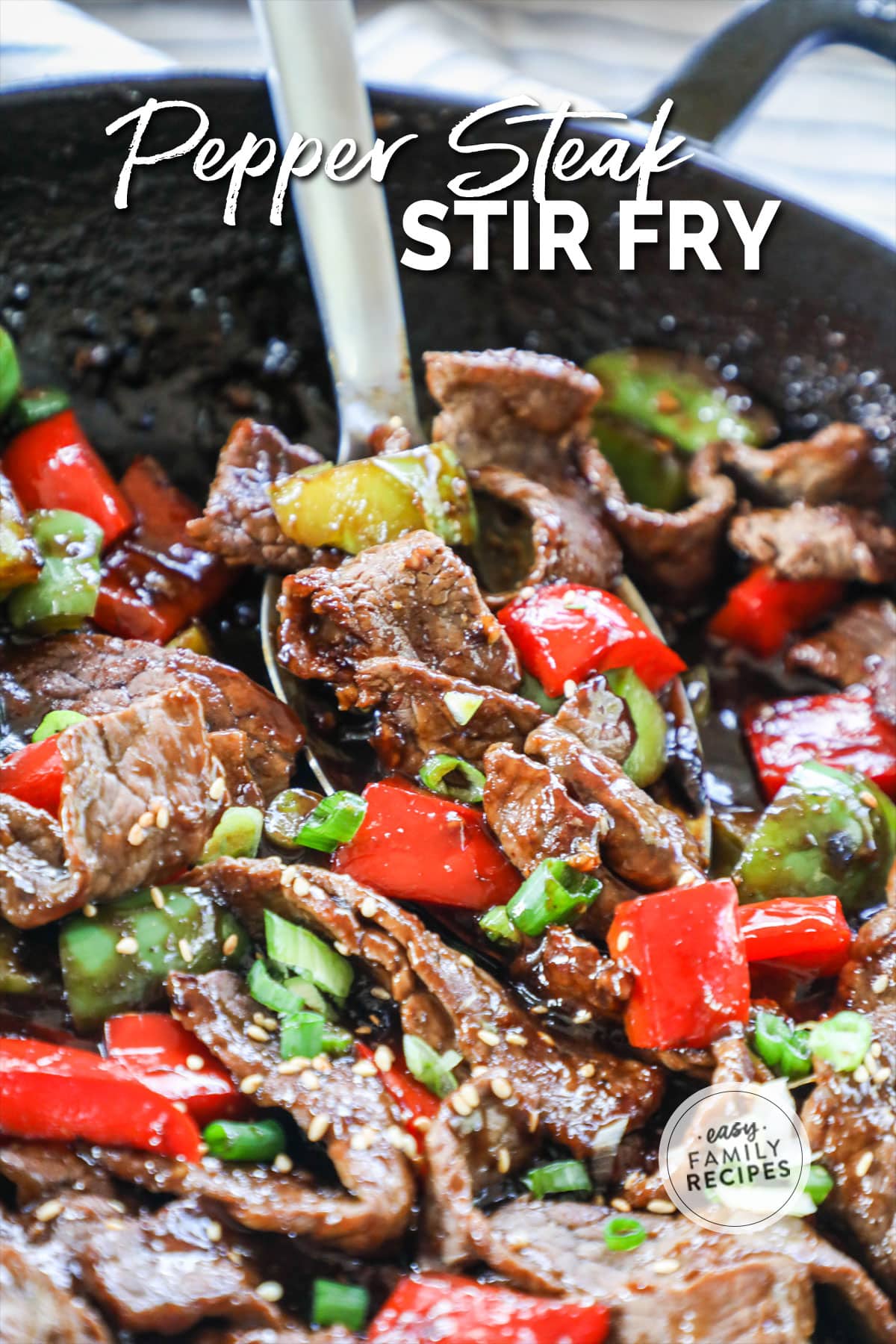 Freezer Meal Instructions
Making this 15 minute pepper steak stir fry recipe into a freezer meal is simple! Follow the steps below and you can store this recipe in the freezer for up to 6 months.
Slice the steak and peppers.
Freeze in a freezer safe bag or container.
Make the sauce and freeze separately.
When ready to cook thaw in the fridge for 24-48 hours,
Cook according to recipe.
Pepper Steak Stir Fry Leftovers
If you have leftovers after making steak and pepper stir fry, then it is your lucky day! They save and reheat well, and can make the start of another delicious dish.
To save leftovers, separate into meal sized portions and then place in an airtight container and store:
in the refrigerator for 3-4 days
in the freezer up to a month
Leftover Recipes
Here are a few ways to repurpose those leftovers and give them a delicious makeover!
Pepper Steak Lettuce Cups– Gently reheat the stir fry and cook or reheat rice. Arrange several large leaves from lettuces like butter or romaine. Add a scoop of rice and a spoonful of stir fry to each lettuce cup, then garnish with sesame seeds and sliced green onion and serve.

Pepper Steak Egg Rolls– Chop up your leftover steak and bell pepper stir fry. Lay out an egg roll wrapper and fill with 3 tablespoons. Roll and seal according to package instructions. Heat several inches of oil in a high sided skillet or large pot. When at 350°F fry the egg rolls in a single layer until golden brown on both sides. Drain on a paper towel and serve with spicy mayo or yum yum sauce for dipping.

Pepper Steak Fried Rice– Make a delicious version of my steak fried rice easily with leftovers! Heat a large pan with butter and cook one finely diced onion in it until tender. Then add in 2-3 cups of cooked rice and the leftover peppers and steak with any leftover sauce. Cook for 2-3 minutes until well coated then push to the side of the pan and cook two scrambled eggs. Toss to combine it all and serve it hot with a sprinkle of green onions.
More EASY Stir Fry Recipes
If you enjoyed this recipe, I really hope you will take a moment to grab a few more easy recipes for another busy night!
You can check out all of my quick dinner recipes here, or see a few of our readers favorite recipes below.
Hungry for more family-friendly recipes? Sign up for my free recipe club to get new family-friendly recipes in your inbox each week! Find me sharing daily meal-time inspiration on Pinterest, Instagram, and TikTok.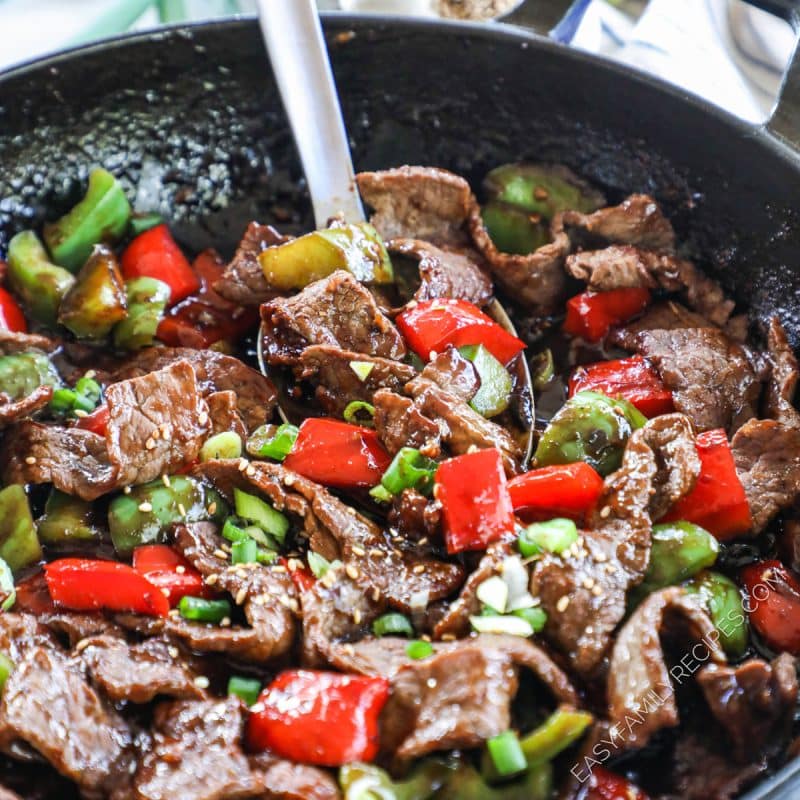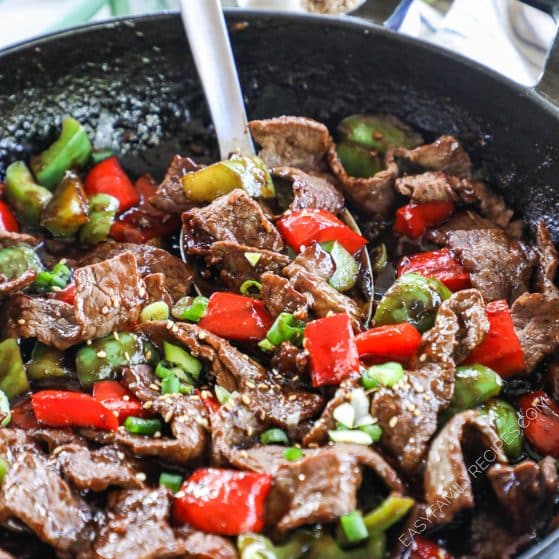 Pepper Steak Stir Fry
Thinly sliced steak, fresh peppers, and a sweet, soy-based sauce cook together in one pan to create a delicious family dinner that only takes 15 minutes from fridge to fork.
Prep Time: 5 minutes
Cook Time: 10 minutes
Total Time: 20 minutes
Serves:4 people
Hover over "serves" value to reveal recipe scaler
Ingredients
16 oz flank steak or other thinly sliced steak
2 tablespoons sesame oil divided
1 red bell pepper chopped
1 green bell pepper chopped
Stir fry sauce
1/2 cup soy sauce
1/4 cup brown sugar
4 garlic cloves minced
1 tablespoon fresh ginger (1 teaspoon ground ginger)
1 teaspoon sriracha optional
1 tablespoon cornstarch
1 tablespoon water
Instructions
In a small bowl, whisk together the soy sauce, brown sugar, garlic, ginger, and sriracha. Mix the cornstarch and water together until the cornstarch is dissolved, then whisk into the stir fry sauce.

Heat a large, high-sided skillet with 1 tablespoon of oil over medium high heat.

Trim any excess fat off of the flank steak. Slice it into thin strips against the grain of the meat.

Once the pan is hot, add the steak to the pan in a single layer. Cook for 2-3 minutes without stirring, then stir and cook an additional 1-2 minutes. Remove steak from pan and set aside.

Add the remaining oil in the pan and add the chopped bell pepper. Cook stirring occasionally for 4-6 minutes or until the peppers become tender.

Add the meat back the pan and pour the stir fry sauce in and toss to coat in the sauce. Cook 1-2 minutes or until the sauce has thickened then remove from heat.

Garnish as desired with green onion and/or sesame seeds.
Nutrition Information:
Calories: 314kcal (16%)Carbohydrates: 21g (7%)Protein: 28g (56%)Fat: 13g (20%)Saturated Fat: 3g (19%)Polyunsaturated Fat: 3gMonounsaturated Fat: 5gCholesterol: 68mg (23%)Sodium: 1714mg (75%)Potassium: 602mg (17%)Fiber: 1g (4%)Sugar: 16g (18%)Vitamin A: 1043IU (21%)Vitamin C: 64mg (78%)Calcium: 52mg (5%)Iron: 3mg (17%)
(Nutrition information provided is an estimate and will vary based on cooking methods and brands of ingredients used.)