This Easy Roasted Green Beans recipe takes only 5 minutes of prep and can be customized to 5 different flavors to suit whatever you are making for dinner! The simplest and most delicious way to make green beans is with this fool-proof oven method!.They go from the fridge to the oven in minutes with just a few simple ingredients!
Green beans – The EASY Way!
Nothing is more classic than green beans. They go with pretty much any meal and are served everywhere from a kids meal to the fanciest restaurants (of course they call them haricot verts because they want them to seem far fancier!)
Green beans can be sautéed, steamed, fried, blanched, made into a Green Bean Casserole, and cooked in almost any other method, but today I am going to talk all about roasting green beans in the oven.
Why?
Let me share what I LOVE about this recipe:
Easy – Like as in couldn't be easier
Fast- meaning you can have them in the oven in as little as five minutes
Minimal clean up– You can do the whole recipe just using 1 sheet pan
Kid friendly… but also fancy. They fit on any plate and can hold their own next to a chicken nugget or a filet mignon.
DELICIOUS – The combination of their natural sweetness brought out by the roasting in the oven at high heat gives a fairly universally loved flavor.
Easy + Healthy + DELICIOUS = a winning side dish for dinner… or any time!
Recipe Notes
This recipe for Roasted Green Beans is as simple as promised! As little as 4 ingredients for a family friendly side dish.
In this section I am going to go through a few tips and tricks I use when making this recipe to get the absolute best and most delicious results.
Make sure to scroll to the bottom for the FULL recipe card.
Ingredients
Sometimes you think, this is just too simple. It can't be great… But I assure you, even with just these 4 basic ingredients, you can get green beans that have phenomenal flavor and the best taste! Simple is definitely best at times!
Green beans
Olive oil
Salt
Black pepper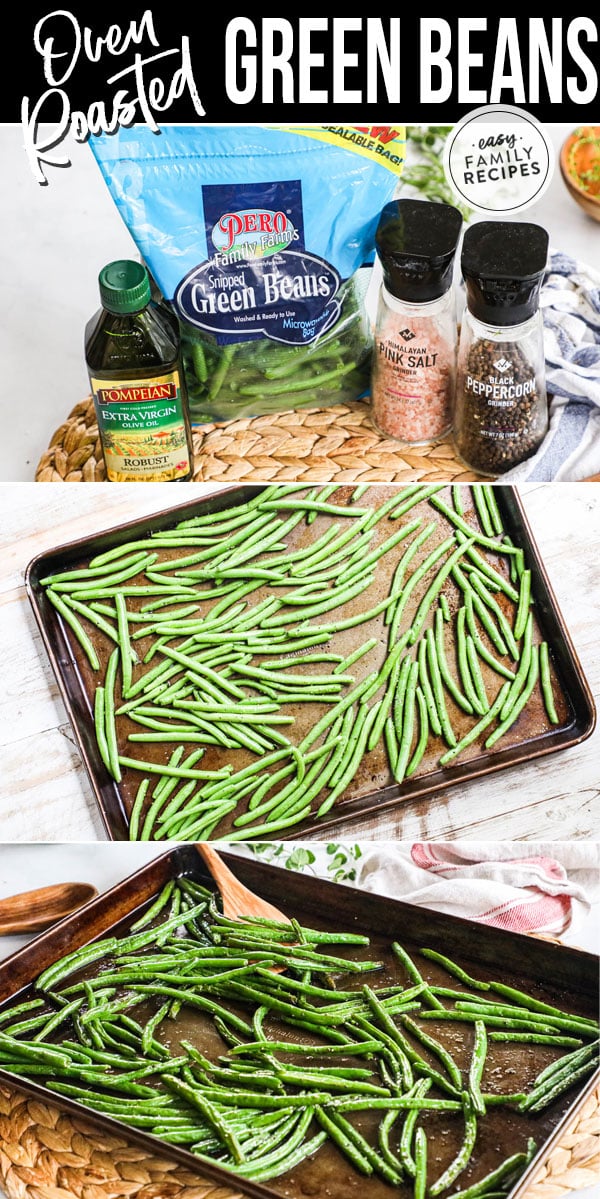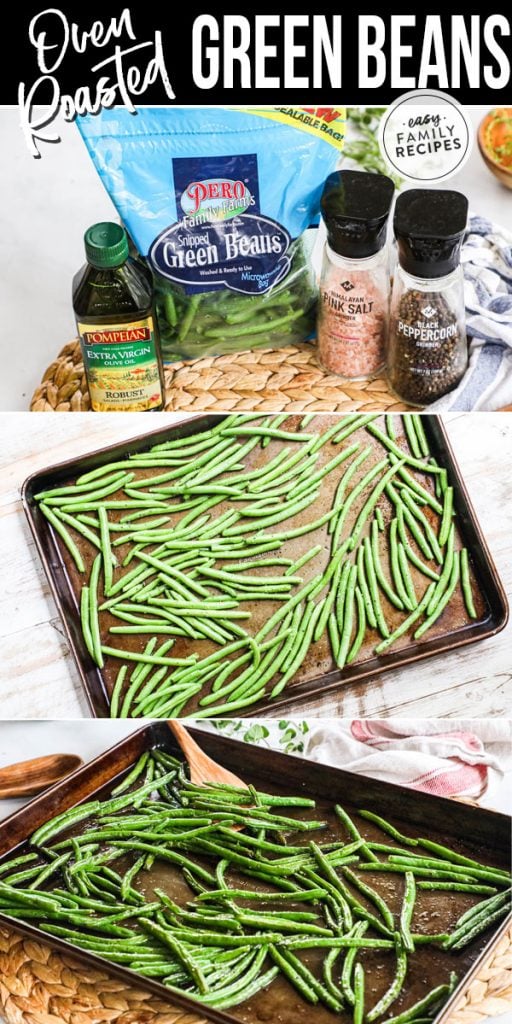 Tips for using Fresh Green Beans
How long to cook Green Beans in the oven– We roast our green beans at 400˚F for 8-12 minutes or until green beans are tender.

The time will vary based on both the size of your green beans and how tender you like them to be.
Longer = More tender or soft and darker green bean.
Shorter = More crunch left, more plump, and lighter green bean.

Keep them dry– I recommend purchasing pre-washed green beans -OR- washing them at least a day ahead of time. Having dry green beans helps them to roast vs steam in the oven.

Don't crowd the pan– The best pan to use when making roasted green beans in the oven is an extra large rimmed baking sheet. We choose a large pan because if the pan is too crowded the end result will be steaming the green beans instead of roasting them since there is a high water content that is released from the bean as they cook.

Even in a crowded pan, the green beans will still cook, but the steamed green beans retain more moisture and will not get the nice caramelized bottom that roasting can provide. If you don't have a pan big enough, I recommend using 2 smaller pans instead of piling them onto one pan.
Recipe Variations
If you love this recipe as much as we do and want some quick ways to change it up for variety, these little tips will do the trick! Find the recipe for each in the recipe card at the bottom of this post.
Garlic Roasted Green Beans– Tender classic roasted green beans enhanced with the flavor of garlic. For another flavor boost add fresh parmesan cheese or crunch with toasted almond slivers or pine nuts!
Pan Roasted Green Beans with Bacon– The classic tender roasted green beans gets an upgrade with the addition of savory bacon.
Balsamic Roasted Green Beans– Perfect for serving with steak or chicken, these give a tangy twist to the traditional roasted green bean recipe.
Asian Roasted Green Beans– We love using this recipe when serving Asian inspired dishes. It adds a fresh vibrant flavor and color to the plate!
Lemon Pepper Roasted Green Beans– This combination of the tart lemon with the sweet green bean and a sprinkle of freshly ground pepper is a match made in heaven.
Dietary Considerations
If you have special dietary needs, this recipe meets some and can be easily modified to comply with others. This is referencing the basic green bean recipe. The extra 5 modifications may not comply with the diets below.
As always, check all store bought ingredients for compliance on specific dietary needs. The notes below are a general guide.
Gluten free: This recipe is naturally gluten free.
Dairy free: Roasted Green Beans are naturally dairy free.
Nut free: This recipe is naturally nut free
Egg free: This green bean recipe is naturally egg free
Low carb/Keto: This recipe has only 5g net carbs per serving.
Macros: The approximate macro calculation for this recipe is- P: 2g C: 8g F: 4g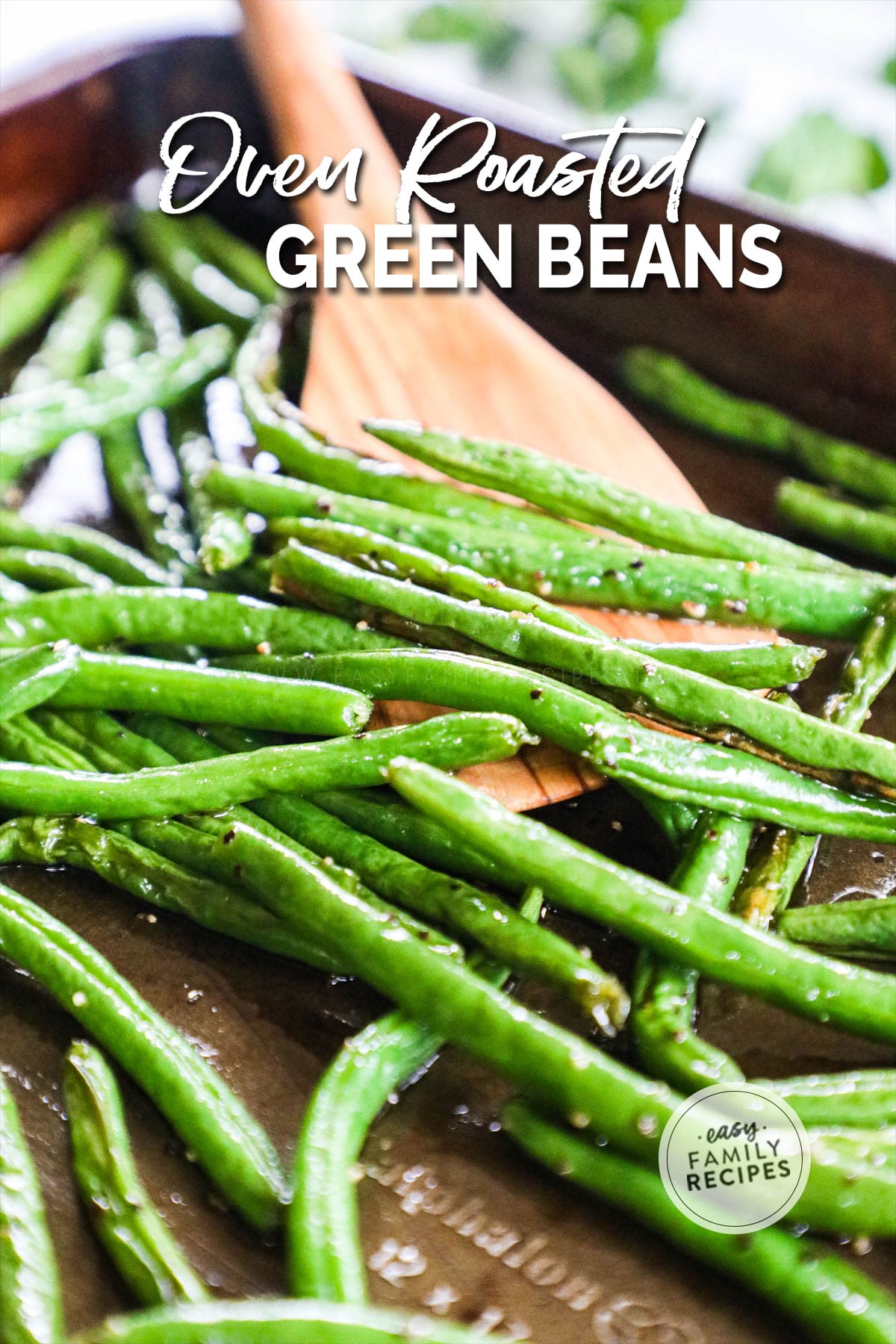 What to Serve Green Beans with
Green Beans are one of the most classic side dishes and appear in the cuisines for many cultures. This makes them the perfect compliment to serve with many types of dinner recipes and proteins such as beef, chicken, pork and seafood.
There is also options for flavoring the green beans to customize the style below!
Serve Green Beans as a side dish with:
You can choose one or add a few sides to make a wholesome, well rounded dinner.
Leftover Roasted Green Beans
If you have leftovers after making Roasted Green Beans, then it is your lucky day! They save and reheat well, and can make the start of another delicious dish.
To save leftovers, separate into meal sized portions and then place in an airtight container and store:
in the refrigerator for 3-4 days
in the freezer up to a month
More Easy Sides
If you enjoyed this recipe, I really hope you will take a moment to grab a few more easy recipes for another busy night!
You can check out all of my Easy Side Dish recipes here, or see a few of our readers favorite recipes below.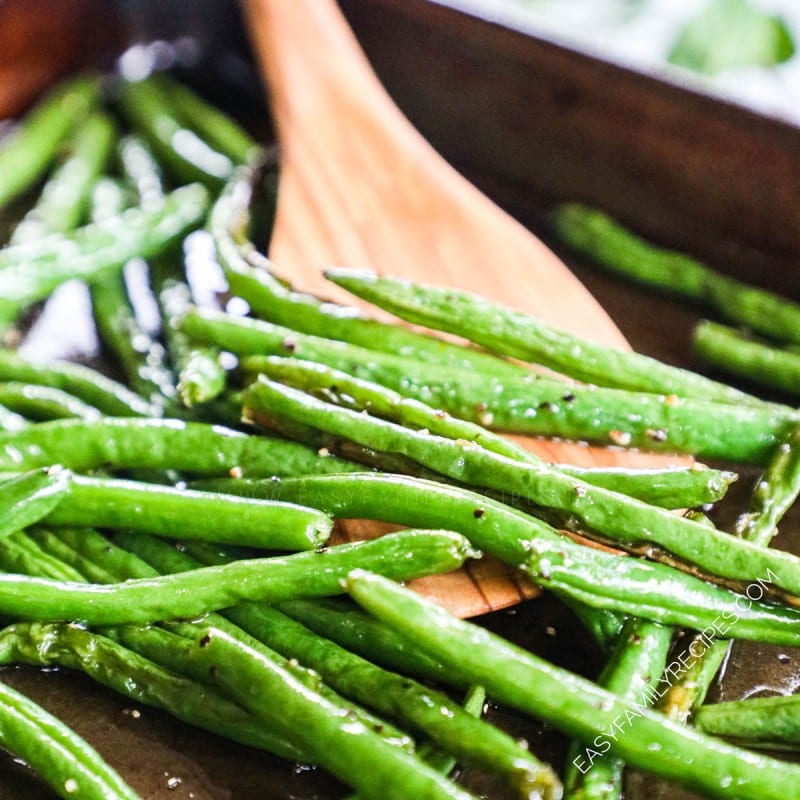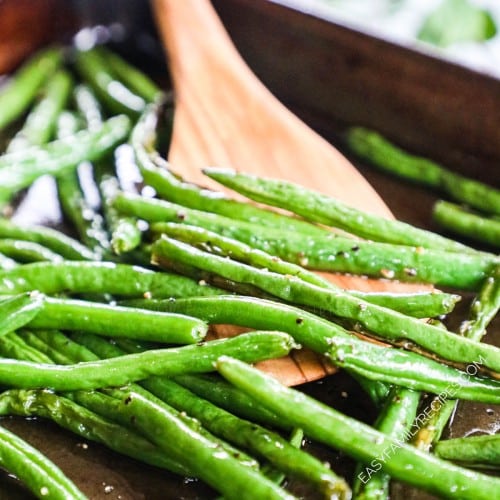 Oven Roasted Green Beans
The roasting in this classic green bean recipe recipe brings this vegetable to the peak of flavor. A perfect side dish for chicken, beef, fish or pork, make them classic, or try one of 5 flavor variations for something new!
Ingredients
1

lb

green beans

1

tbsp

olive oil

1

tsp

salt

1

tsp

pepper
Instructions
Toss green beans with the the olive oil, salt, and pepper, then spread in a single layer on a baking sheet.

Bake at 400˚F for 8-12 minutes or until green beans are tender.
Recipe Notes
FLAVOR OPTIONS:
You can adapt the flavor of these green beans easily with just a few extra ingredients. 
Garlic Roasted Green Beans– Add 1/4 tsp garlic powder and 2 fresh crushed garlic cloves to the olive oil, salt and pepper. Bake as directed. Optional: While hot, toss with 1/4 cup grated parmesan.
Pan Roasted Green Beans with Bacon– Cut 4 slices of bacon into small pieces (1/2″ or less). Sprinkle the bacon pieces evenly over the green beans that have been seasoned with the oil, salt, and pepper and bake as directed. Once done toss the green beans and bacon together then remove from the baking sheet.
*Can also be made with prosciutto.
Balsamic Roasted Green Beans– Make green beans as directed by recipe. Once done, immediately toss the green beans with 1 tbsp thick/syrupy balsamic vinegar, or balsamic glaze.
Asian Roasted Green Beans– Make Green Beans as directed. Once done, immediately toss the green beans with 1-2 tbsp teriyaki glaze. Sprinkle with toasted sesame seeds.
Lemon Pepper Green Beans– Add 1/4 tsp garlic powder and 2 fresh crushed garlic cloves to the olive oil, salt and pepper. Bake as directed. While hot, toss with 1 tbsp fresh lemon juice and optionally, 1/4 cup grated parmesan.
How to Store: To save leftovers, separate into meal sized portions and then place in an airtight container and store:
in the refrigerator for 3-4 days
in the freezer up to a month
How to Reheat: This can be reheated in the microwave in 20 second increments
Nutrition Information
Calories:
67
kcal
(3%)
,
Carbohydrates:
8
g
(3%)
,
Protein:
2
g
(4%)
,
Fat:
4
g
(6%)
,
Saturated Fat:
1
g
(6%)
,
Sodium:
588
mg
(26%)
,
Potassium:
239
mg
(7%)
,
Fiber:
3
g
(13%)
,
Sugar:
4
g
(4%)
,
Vitamin A:
782
IU
(16%)
,
Vitamin C:
14
mg
(17%)
,
Calcium:
42
mg
(4%)
,
Iron:
1
mg
(6%)