Flavor OVERLOAD! These Green Chile Pork Chops are pure perfection! Boneless pork chops are smothered in a creamy, delicious green chile cheese sauce and then oven baked to be perfectly tender and delicious. This meal is loved by all, but also naturally low carb for a keto friendly meal.
Smothered Pork Chops – The EASY Way!
Green Chile is one of my all time favorite flavors. It is crazy delicious, but one of the most important reasons I love it so much is that it can elevate a meal next level deliciousness, with very little work. I am talking EASY!
My Green Chile Chicken, and Crock Pot Green Chile Chicken are two of my most popular recipes, and today we are adding these Green Chile Pork Chops to the family…. and they might be the best one yet!
What makes them so great?
Smothered – The pork chops are smothered in the delicious southwest sauce which gives them tons of flavor with very little prep!
Boneless pork chops – This recipe is made with boneless pork chops so it is especially family friendly. Kids and adults will both really enjoy it, and there is little prep involved.
Oven Baked – these bake to tender perfection hands off – no need for babysitting this recipe
One Dish- All the magic happens in one casserole dish. There is no need to sear beforehand (unless you want to!)
I have no doubt, that this will become a staple on many tables because of the winning combination of ease and flavor.
What to Serve with Green Chile Pork Chops
Since this dish has the classic southwestern flavors, it will pair well with many of your favorite Mexican inspired side dishes.
There are both classic options and some low carb/keto options to keep it light.
Side Dish Ideas
Low Carb Side Dishes
You can choose one or add a few sides to make a wholesome, well rounded dinner.
Recipe Notes
This Oven Baked Pork Chop recipe is as simple as promised! Just eight ingredients and a casserole dish for a family friendly meal.
In this section I am going to go through a few tips and tricks I use when making this recipe to get the absolute best and most delicious results.
Make sure to scroll to the bottom for the FULL recipe card.
Ingredients
Really there are only a few ingredients in this recipe which is what makes it so crazy simple to make!
Boneless pork chops– Try to get a uniform size about 1 in thick so that they bake evenly. If you can't find the right size, you can usually ask the butcher to cut some for you.

This recipe is written for boneless pork chops. If you have bone in pork chops, you can use them, however the cook time will increase.

Cream cheese– I use regular Philadelphia cream cheese. You can also use low fat or neufchatel cheese if you prefer. I recommend not using fat free because it doesn't melt the same so it doesn't work well.

Chopped green chiles– You can find these with the canned goods or in the Mexican foods section of your local grocery store. Make sure you get the chopped. You will add the whole can including any juices in it to get ALL the flavor.

Mexican blend cheese– Mexican blend is generally my go-to for this dish, but you can also use cheddar, colby jack or Monterey jack cheese with delicious results.

Spices– Just a quick blend of garlic powder, cumin, salt, and ground black pepper create the magic for the sauce!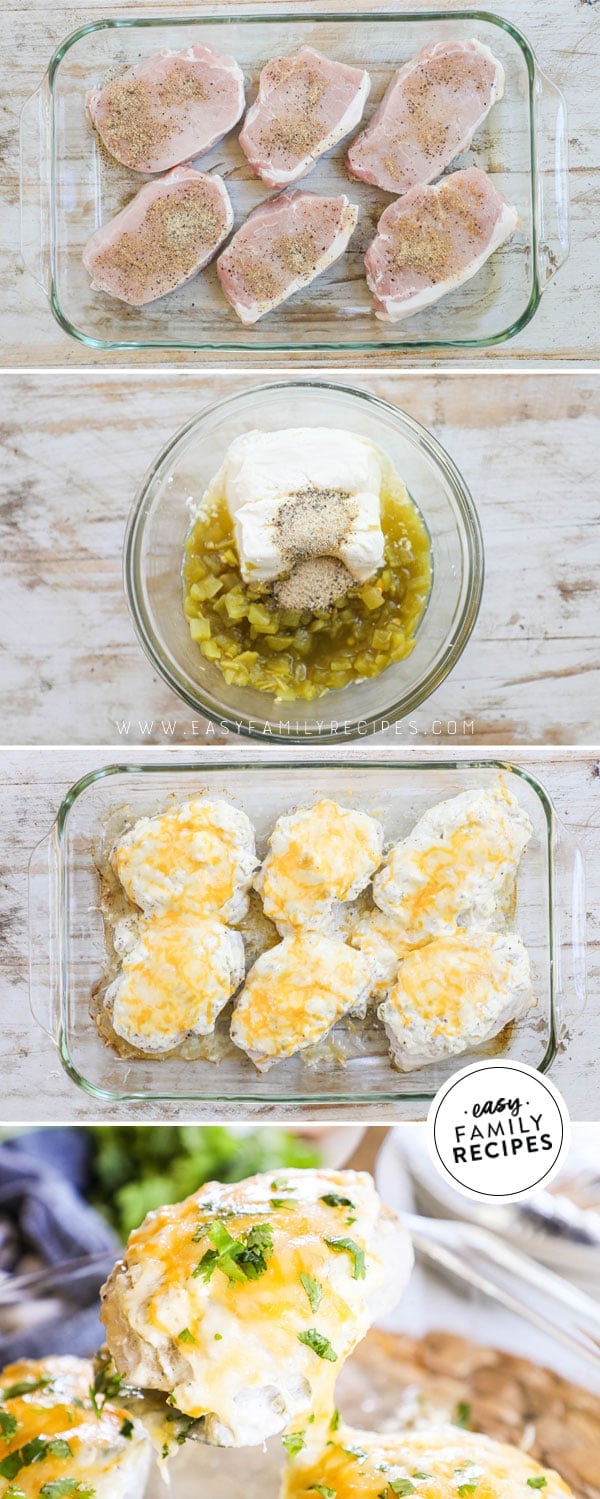 How to get the MOST Tender Boneless Pork Chops
These pork chops will have great flavor thanks to the super delicious sauce they are smothered in, but they also need to be super tender to be extra delicious!
Boneless pork chops can be just is juicy and delicious as their bone in counterparts. The key is to not over cook them.
This can be trickier than it seems since they are a lean cut of meat, but the simple tips below will help you get it just perfect every time!
Don't cook from the fridge– A tip that seasoned pro's use when cooking pork chops is to let them rest at room temp for about 20-30 minutes before cooking. This helps to bring the temperature up a bit so they cook more evenly, resulting in a more tender pork chop.

My recommendation is to let them sit out in the baking dish while you are preparing the other parts of the meal.

Get the right thickness– Pork chops are lean so that means that as they cook above their ideal temp, they will start to get tough. To avoid this, you don't want pork chops to thick or thin when baking. A 1-1.5 inch pork chop is perfect, so that the outside doesn't have to cook too long (getting tough) to make sure the inside is done.

Cook to the right temperature– Boneless pork chops should cooked to an internal temperature of 145˚F. This will ensure the most tender and juicy pork chops.

The BEST way to do this is by using a meat thermometer. If you don't have one, they are inexpensive, easy to use and will make you a much better cook with no effort! Grab one at the store or on Amazon!

Let it rest– Pork chops benefit from resting for about 5 minutes after they come out of the oven so that the juices can distribute throughout.
Do I need to Sear the Pork Chops Before Baking?
Searing pork chops before baking them is a common method, and creates more texture, or a more interesting dish to eat. Because these pork chops are smothered in a flavorful sauce, I haven't found it necessary to sear them to get a great result.
If you prefer to sear the pork chops before baking them, you absolutely can add that step to this recipe with great results. I have found that my personal preference is to save the time and dishes though!
Recipe Variations
If you love this recipe as much as we do and want some quick ways to change it up for variety, these little tips will do the trick!
Spicy Green Chile Pork Chops– If you like a kick, add 1/4-1/2 tsp cayenne pepper, and 1/4 cup diced canned jalapeños to the spice mixture to top the pork chops and bake as directed. You can garnish with additional jalapeños.
Keto Green Chile Pork Chops– This recipe is naturally low carb and keto friendly, but to up the protein, fat, and flavor even more, I recommend adding crumbled bacon to the top 5-10 minutes before it is done cooking.
Loaded Green Chile Pork Chops– Add 1/2 cup drained and rinsed black beans and 1/2 cup corn to the cheese mixture. Continue as directed. Baking time may increase by 5-8 minutes.
Dietary Considerations
If you have special dietary needs, this recipe meets some and can be easily modified to comply with others.
As always, check all store bought ingredients for compliance on specific dietary needs. The notes below are a general guide.
Gluten free: This recipe is naturally gluten free.
Nut free: This recipe is naturally nut free
Egg free: This recipe is naturally egg free
Low carb/Keto: This recipe is low carb at only 2g net carbs per serving.
Macros: The approximate macro calculation for this recipe is- P: 39g C: 3g F: 29g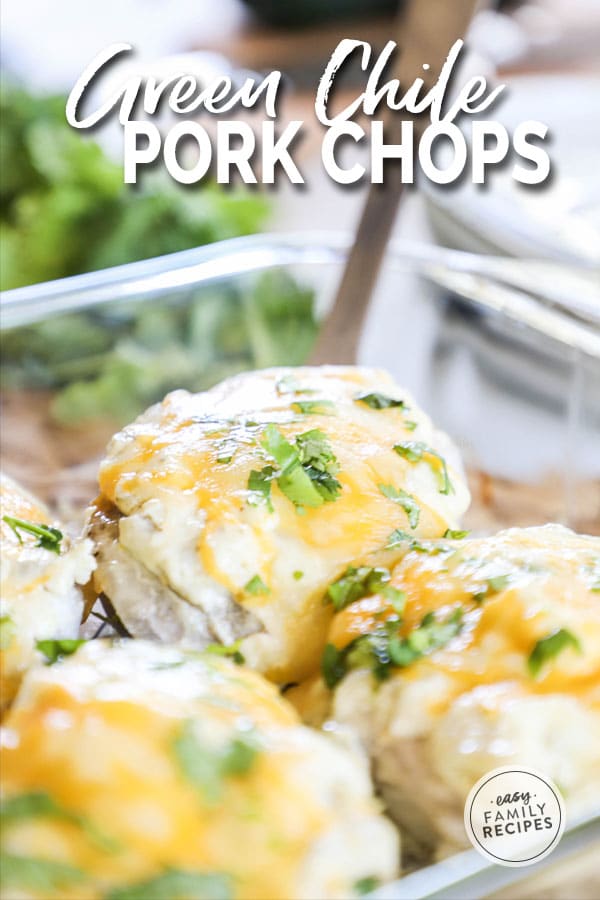 Freezer Meal Instructions
These Green Chile Pork Chops can be made as a freezer meal to prep for another day, or give to a family in need. To prepare this recipe as a freezer meal:
Mix to combine the garlic powder, cumin, salt and pepper. In a medium bowl, mix the cream cheese and half of the spice mixture until combined. Then stir in the green chilis until evenly mixed.
Lay the pork chops flat in a freezer friendly container. Season each side of the pork chops with the remaining half of the spices. Then cover each one with the green chili mixture and top with shredded cheese.
Freeze
When ready to cook, thaw completely, then transfer to a baking dish and cook as directed.
Note, alternately you can store the cream cheese mixture and the pork chops separately in freezer bags. Once ready to cook, thaw completely and place the pork chops in a baking dish. Then mix the cheese mixture to recombine, and place it on top of the pork chops, continuing with the recipe and baking as directed.
Green Chile Smothered Pork Chops Leftovers
If you have leftovers after making this recipe, then it is your lucky day! They save and reheat well, and can make the start of another delicious dish.
To save leftovers, separate into meal sized portions and then place in an airtight container and store:
in the refrigerator for 3-4 days
in the freezer up to a month
If you plan to use them in another dish as noted below, you can pre slice or chop the meat to make it easier.
Leftover Recipes
Here are a few ways to repurpose those leftovers and give them a delicious makeover!
Green Chile Pork Quesadillas– Slice the pork and fill a large tortilla with the pork and cheese mixture and fold in half. Heat a large skillet over medium heat. Add a little butter to the skillet, then cook on each side until golden brown.

Optional: Top with sour cream, guacamole or salsa to finish.

Smothered Pork Nachos– Place a layer of tortilla chips on a baking sheet. Add chopped green chile pork and dollop the cheese topping evenly over the top of the chips. Add your choice of corn, black beans, diced onion, or bell peppers and top with additional cheese. Bake at 400˚F for 8-10 minutes or until heated through.

Optional: Trade the tortilla chips for halved mini sweet peppers for a healthier version of this recipe.

Green Chile Pork Baked Peppers– Combine pork and cheese topping with cooked rice. Cut bell peppers in half and hollow out the seeds. Stuff the mixture in each pepper half and top with cheese. Place in a casserole dish and cover. Bake at 400˚F for 20-25 minutes or until the peppers are soft and heated through.
More Easy Dinner Recipes
If you enjoyed this recipe, I really hope you will take a moment to grab a few more easy recipes for another busy night!
You can check out all of my easy dinner recipes here, or see a few of our readers favorite recipes below.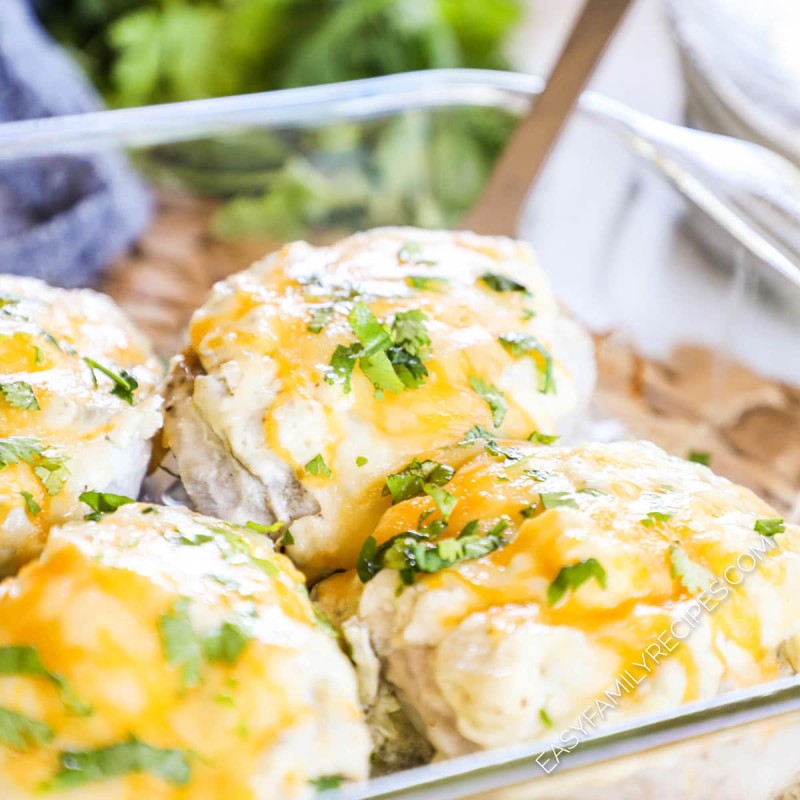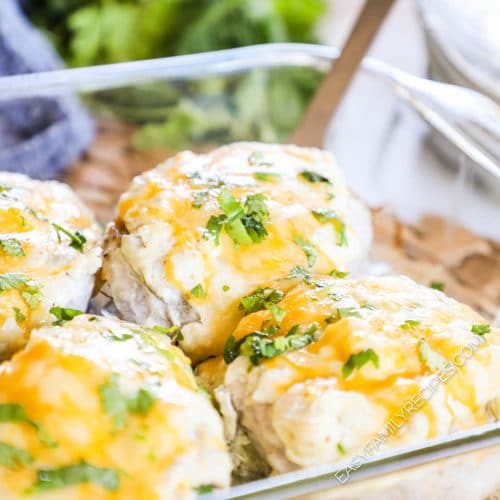 Green Chile Pork Chops
These Green Chile Pork Chops are the perfect easy and flavorful meal.  Loaded with tender pork, tangy green chiles, the perfect amount of southwestern spices it is finished off with cheese for a flavor combo the whole family will love!
Ingredients
2

lbs

Boneless pork chops

,

about 1 in thick

8

oz

cream cheese

,

softened (1 package)

4

oz

can chopped green chiles

,

(1 small can)

1

cup

Mexican blend cheese

,

shredded

1

tsp

garlic powder

1/2

tsp

cumin

1/2

tsp

salt

1/2

tsp

ground black pepper
Instructions
Heat the oven to 400˚ F. Mix to combine the garlic powder, cumin, salt and pepper.

In a medium bowl, mix the cream cheese and half of the spice mixture until combined. Then stir in the green chilis until evenly mixed.

Lay the pork chops flat in a large baking dish. Season each side of the pork chops with the remaining half of the spices. Then cover each one with the green chili mixture.

Bake on the middle rack for 15 minutes. Then add the cheese to the top of the pork chops and return to the oven to bake an additional 5 minutes or until they are cooked through at an internal temperature of 145˚F.

Let sit 5 minutes then garnish with fresh cilantro and serve warm!
Nutrition Information
Calories:
437
kcal
(22%)
,
Carbohydrates:
3
g
(1%)
,
Protein:
39
g
(78%)
,
Fat:
29
g
(45%)
,
Saturated Fat:
14
g
(88%)
,
Cholesterol:
161
mg
(54%)
,
Sodium:
593
mg
(26%)
,
Potassium:
660
mg
(19%)
,
Fiber:
1
g
(4%)
,
Sugar:
1
g
(1%)
,
Vitamin A:
654
IU
(13%)
,
Vitamin C:
6
mg
(7%)
,
Calcium:
177
mg
(18%)
,
Iron:
1
mg
(6%)
Quick FAQ's
How long do you cook pork chops in the oven?
For boneless pork chops 1-1.5″ thick, you will bake in the oven at 400˚F about 20 minutes.
What temperature are pork chops done?
Pork chops should be cooked to an internal temperature of 145˚F.
How to make pork chops tender
1. Bring to room temperature before baking
2. Only cook to 145˚F, do NOT over cook
3. Let rest for 5-10 minutes before serving.
Is this recipe spicy?
No, this recipe uses mild green chiles which have amazing flavor but are not generally spicy. To make this recipe spicy, see recipe variations section above.