This One Pan Greek Chicken and Cauliflower is a family favorite. Packed with fresh flavors, it is incredibly delicious, all while being super simple to make. Loaded with protein packed chicken breast, wholesome cauliflower, fresh lemon, and savory seasonings, this meal is as healthy as it is delicious.
One Pan Chicken – The EASY Way!
This Greek Chicken and Cauliflower couldn't be easier and, OH MY GOODNESS, is it delicious!
To top it off this recipe only has 5 INGREDIENTS!
When you talk about making a quick and easy dinner, the most delicious way to do it is almost always in a skillet, especially when you want to keep your dinner light and healthy.
This simple three step process gives you delicious seared chicken and veggies packed with flavor and ready to eat so quickly that it feels almost too good to be true!
All you have to do is:
Prep
Marinate
Cook
Seriously – a chicken recipe with just a few ingredients, little prep time, and a few minutes to cook– that your family will LOVE. It may sound too good to be true, but I promise you this recipe is it!
What to Serve with Greek Chicken & Cauliflower
Since this dish has the classic flavors of Mediterranean cuisine, it will pair well with many of your favorite Greek style side dishes. There are both classic options and some healthy options to keep it light.
Side Dish Ideas
Rice– To make it extra delicious, add a squeeze of fresh lemon and a sprinkle of dill
Cucumber Tomato salad– Pictured here, this light salad perfectly compliments the dish with flavor and crunch!
Roasted vegetables– These roasted veggies are my go to for any protein based meal. So good and so easy!
Pita bread– You can buy pita at most grocery stores in the deli section or on the bread aisle.
Feta cheese – this can be used to top the dish if you want something a little extra
Greek Salad– This is a classic side and one of my personal favorites. Just top chopped romaine with tomato, cucumber, kalamata olives, and feta then use a greek dressing or red wine vinaigrette.
Roasted potatoes– Simple and delicious, these are a perfect side when you want to make the meal extra filling.
You can choose one or add a few sides to make a wholesome, well rounded dinner.
Recipe Notes
This Greek Chicken and Cauliflower Skillet recipe is as simple as promised! Just one skillet is standing between you and a family friendly meal.
In this section I am going to go through a few tips and tricks I use when making this recipe to get the absolute best and most delicious results.
Make sure to scroll to the bottom for the FULL recipe card.
Ingredients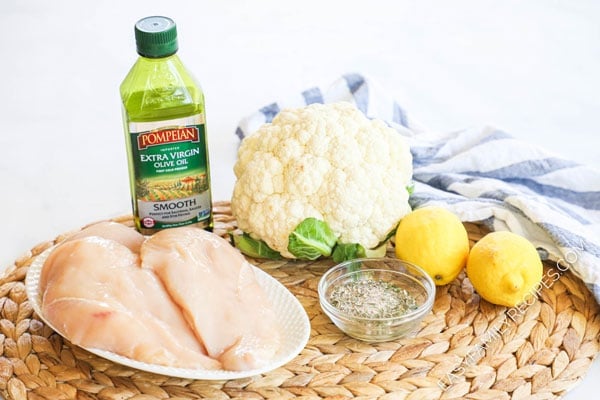 Chicken breast– My preference in this recipe is chicken breast, however you can use any cut of chicken that is boneless/skinless. Other substitutions that work well are chicken tenderloins, and boneless, skinless chicken thighs.
Cauliflower– I generally use fresh cauliflower for this recipe. You can also use frozen cauliflower that has been thawed.
Greek seasoning– My absolute favorite seasoning is this homemade Greek Seasoning, it takes about 5 minutes to make and is so, so delicious! If you prefer to use store bought seasoning, I recommend Cavendar's which you can find on the spice aisle of most major grocery stores.
Lemon juice – using fresh lemon is so important for flavor!
Olive oil – just a little bit for the marinade and a little for the skillet.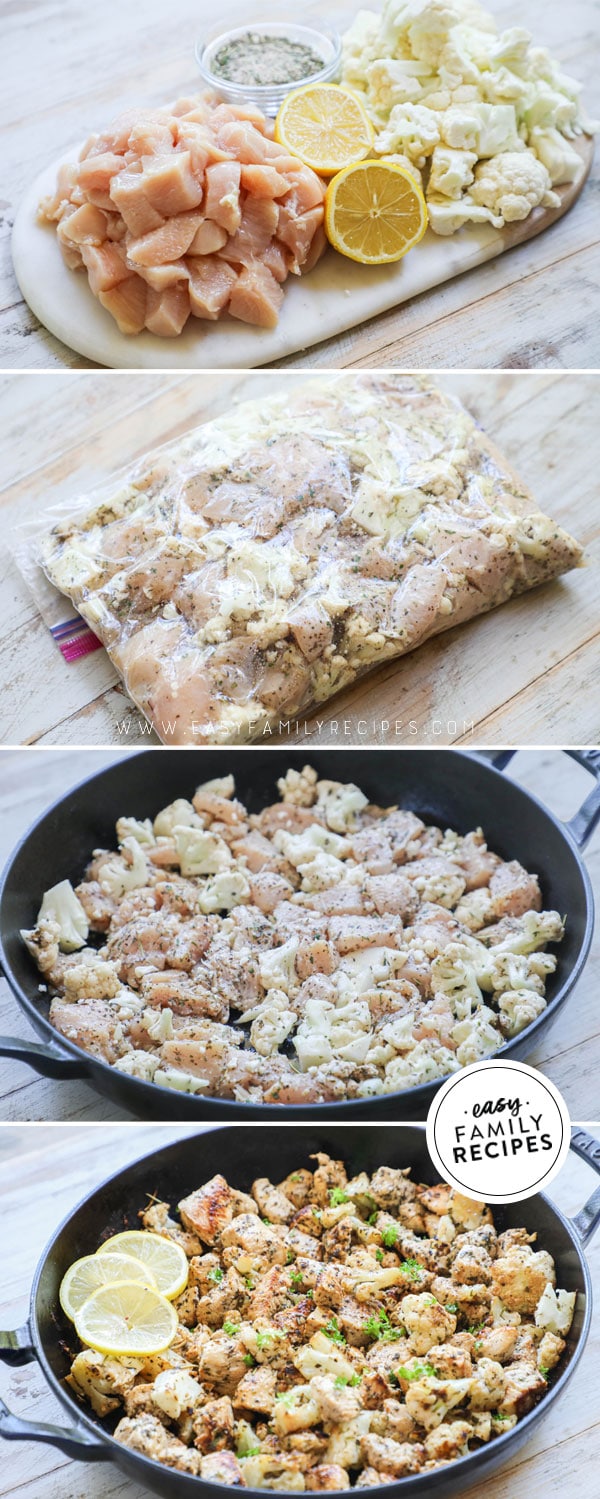 Recipe Tips
Cut evenly– When chopping the chicken and cauliflower for this recipe, try to keep the size of the chop as consistent as possible. This will help the dish to cook evenly so that it can be as tender, juicy, and flavorful as possible.

Marinate– This really infuses the flavor into the chicken and cauliflower. You can get great results for letting it sit for just 10 minutes. If you need to prep ahead you can make it in the morning and let it sit all day in the fridge marinating.

Get that great sear– This recipe calls for medium-high heat. This may vary a bit as each stovetop is different. You want the pan to be nice and hot when you put the chicken and cauliflower in it. This allows it to sear and caramelize the bottom of the chicken and cauliflower giving you SO MUCH FLAVOR!

There are three big keys to this:

Use med-high to high heat and make sure the pan is hot when you put the meat and cauliflower in.
Don't stir right away, give the meat 1-2 minutes to develop the sear before flipping or stirring.
Don't over crowd the pan– If the pan is too packed it will end up steaming the meat and veggies rather than searing them. If your pan is too small for the quantity of chicken and cauliflower, do it in 2-3 small batches. They are quick so it won't take too much time and it will be much tastier!
Recipe Short Cuts
If you need to make this recipe, but are extra short on time, here are a few ideas that can help make this recipe even faster!
Prep ahead– The chicken and cauliflower can be prepped and chopped up to 2-3 days in advance when placed in an air tight container and refrigerated. You can also combine them with the oil and seasoning up to 24 hours in advance. I don't like to add the lemon juice more than 2 hours in advance because it can start to "cook" the chicken when it sits too long.
Use Frozen– Frozen or pre chopped refrigerated cauliflower can be used in place of fresh cauliflower. Make sure that anything that is frozen is thawed to ensure safe, even cooking.
Do a Freezer Meal– Prepare this as a freezer meal up to 6 months in advance per the instructions below.
Recipe Variations
If you love this recipe as much as we do and want some quick ways to change it up for variety, these little tips will do the trick!
Greek Chicken Skewers– If you prefer to grill, you can make the chicken as directed and place the chicken and cauliflower on skewers or kabobs, then cook over medium heat on a grill until cooked through (165˚F internal temperature.)
Greek Chicken Thighs– Substitute boneless skinless chicken thighs for the chicken breast, and continue with recipe as directed.
Greek Chicken with Yogurt– To make this greek chicken recipe with a yogurt marinade, add 1/4 cup Greek yogurt to the marinade with oil, Greek seasoning, and lemon juice. Continue recipe as directed.
Dietary Considerations
If you have special dietary needs, this recipe meets many.
As always, check all store bought ingredients for compliance on specific dietary needs. The notes below are a general guide and not meant to be a specific plan.
Gluten free: This recipe is naturally gluten free.
Dairy free: Greek Chicken and Cauliflower is a naturally dairy free recipe.
Nut free: This recipe is naturally nut free
Egg free: This Greek Chicken and Cauliflower recipe is naturally egg free
Low carb/Keto: This recipe is low carb at only 6g net carbs per serving.
Macros: The approximate macro calculation for this recipe is- P: 33g C: 7g F: 9g.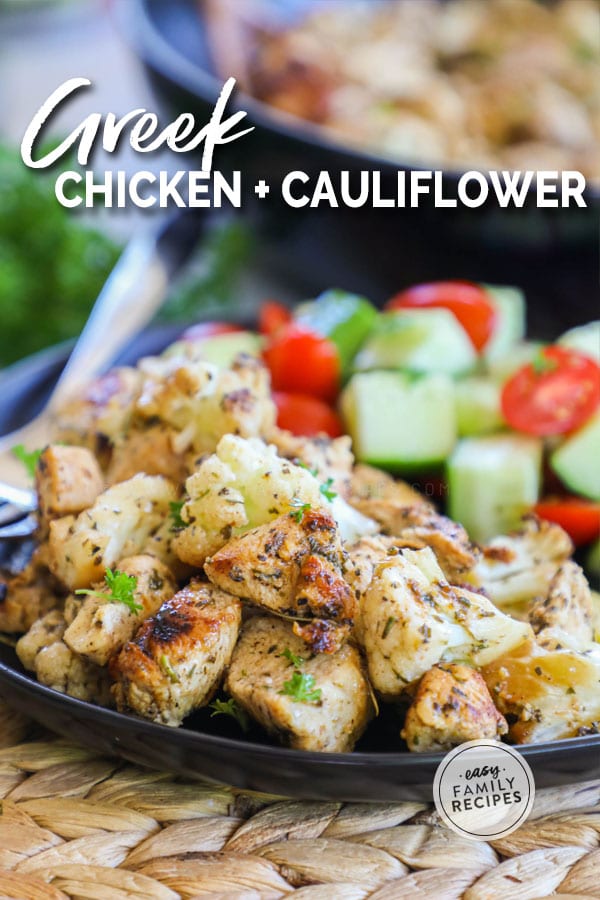 Freezer Meal Instructions
Greek Chicken and Cauliflower can make a great freezer meal. This will allow you to have a meal prepped and ready for another busy night in a moment's notice.
For the best flavor, this meal should be used within 6 months of freezing.
Evenly chop the chicken breast and cauliflower into about 1 inch pieces.
Combine chicken breast and cauliflower with greek seasoning, and 1 tbsp of the olive oil. Mix well to combine.
Place in a freezer bag or freezer friendly container and freeze.
Once ready to use, thaw for 24-48 hours in the refrigerator.
Add the lemon juice to the chicken mixture 10 minutes, up to 2 hours before cooking.
Continue with recipe as directed.
Greek Chicken and Cauliflower Skillet Leftovers
If you have leftovers after making this healthy chicken skillet, then it is your lucky day! They save and reheat well, and can make the start of another delicious dish.
To save leftovers, separate into meal sized portions and then place in an airtight container and store:
in the refrigerator for 3-4 days
in the freezer up to a month
Leftover Recipes
Here are a few ways to repurpose those leftovers and give them a delicious makeover!
Chicken and Cauliflower Pitas– Heat leftovers, then heat pita bread in a skillet or in the oven until warm. Spread a layer of tzatziki over the pita bread and pile the chicken on top. Add your choice of tomato, cucumber, olives, pepperoncini peppers, mixed greens, and feta cheese.
Chicken and Cauliflower Bowls– Add a base of hummus to a bowl. Reheat the leftovers and pile them on top. Add a scoop of grains such as quinoa, farro, or rice. Then top with your choice of toppings – red onion, tomato, cucumber, olives, pepperoncini peppers, mixed greens, and feta cheese. Drizzle with tzatziki.
Greek Chicken "Nachos"– Lay a bed of pita chips on a plate or platter. Dollop hummus over the chips and then reheat the chicken and cauliflower and spread it over the chips. Top with your choice of red onion, tomato, cucumber, olives, pepperoncini peppers, mixed greens, and feta cheese. Drizzle with tzatziki and fresh lemon juice.
More Easy Skillet Recipes
If you enjoyed this recipe, I really hope you will take a moment to grab a few more easy recipes for another busy night!
You can check out all of my Skillet recipes here, or see a few of our readers favorite recipes below.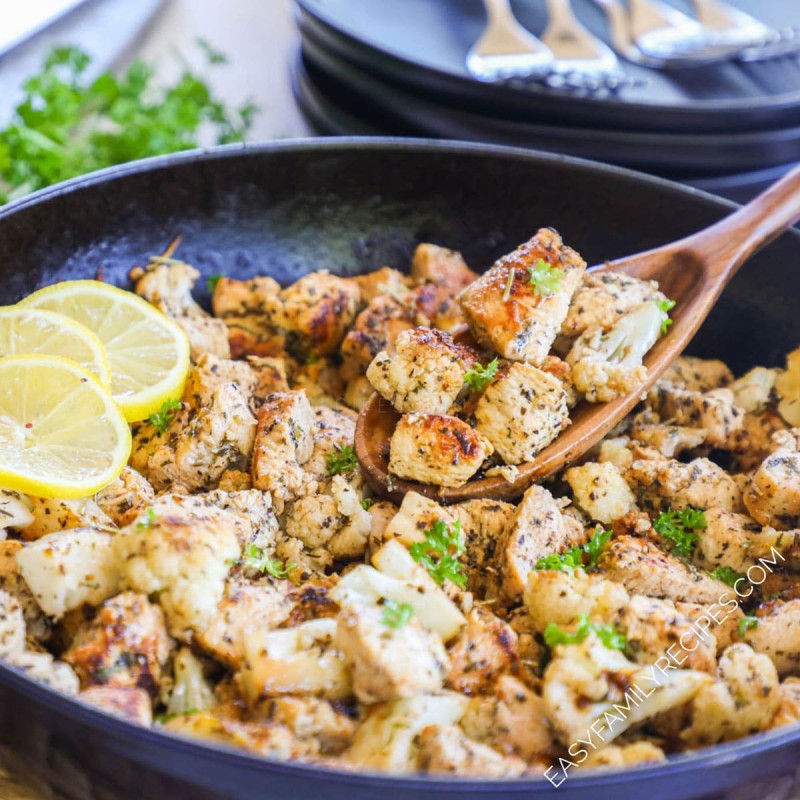 One Pan Greek Chicken and Cauliflower
This One Pan Greek Chicken and Cauliflower is the ultimate skillet meal. Packed with flavor, it only uses 5 simple ingredients and is as quick and easy as it is delicious! Serve it up with a few sides, or pile it into a pita, wrap, or on a salad.
Ingredients
2

lbs

chicken breast

1/2

head cauliflower

3

tbsp

greek seasoning

3

tbsp

lemon juice

,

(about 1 lemon)

2

tbsp

olive oil
Instructions
Roughly chop the chicken breast and cauliflower into about 1 inch pieces.

Combine chicken breast and cauliflower with greek seasoning, lemon juice, and 1 tbsp of the olive oil. Mix well to combine. Let marinate for 10+ minutes.

Heat a large skillet over medium high heat with the remaining 1 tbsp of olive oil. Once the oil is hot, add the chicken and veggies to the skillet and let them cook on the first side for 3-4 minutes without turning. Then cook for an additional 3-5 minutes stirring once or twice, until chicken is cooked though (165˚F internal temp.)

Note: you may have to cook the chicken in batches if it won't fit flat in the skillet without piling up. Overcrowding the skillet will cause it to steam instead of searing.

Once done, remove from heat and serve immediately. Enjoy!
Nutrition Information
Calories:
248
kcal
(12%)
,
Carbohydrates:
7
g
(2%)
,
Protein:
33
g
(66%)
,
Fat:
9
g
(14%)
,
Saturated Fat:
2
g
(13%)
,
Cholesterol:
97
mg
(32%)
,
Sodium:
752
mg
(33%)
,
Potassium:
710
mg
(20%)
,
Fiber:
1
g
(4%)
,
Sugar:
1
g
(1%)
,
Vitamin A:
45
IU
(1%)
,
Vitamin C:
28
mg
(34%)
,
Calcium:
18
mg
(2%)
,
Iron:
1
mg
(6%)