Million Dollar Spaghetti is every bit as delicious as the name implies! With layers of spaghetti, a hearty meat sauce, and creamy cheese all baked to perfection. This baked spaghetti casserole is hearty, filling, and perfect for when you need to feed a crowd!
Baked Spaghetti – The EASY Way!
I have a thing for million dollar recipes… If it is good enough to earn that name, I need to try it! We have done Million Dollar Chicken, Million Dollar Pork Chops, Million Dollar Bacon and Million Dollar Dip, which all live up to the hype and are deserving of the name!
How does Million Dollar Spaghetti fare?
After making it many times, putting our own twist on it to make it equally easy and delicious, my kids said, "Mom this is the BEST spaghetti you have ever made!" My husband cleaned his plate, and I was wowed with the way all the flavors came together, so it was a BIG WIN at our house!
Why I LOVE this recipe:
Lives up to the hype– It says it is worth a million dollars, and the taste is there to prove it!
Feeds a crowd– This will easily serve 10 people- could be even more if you have small servings.
Comforting and filling- This spaghetti casserole has all of those warm comforting flavors and the double meat and triple cheese layers make this dinner very satisfying.
New twist on an old favorite! Spaghetti is an old favorite, but this adds a new twist on those familiar flavors that keeps dinner anything but boring.
Kid friendly– The best recipes are ones that both kids and adults can enjoy and this Million Dollar Spaghetti casserole falls solidly in that camp!
Perfect for potlucks– If you need something to bring to a potluck or a meal to drop off to a friend in need, this is fantastic because it has meats, veggies, grains all in one dish. It is easy to transport and saves well if you have extras.
What to Serve with Million Dollar Spaghetti
Since this dish has the classic flavors of spaghetti, it will pair well with many of your favorite Italian side dishes. This casserole is super hearty, so if you don't want to add any sides, you will be just fine. That said, I usually like to add a side and some bread to to dip in all that delicious sauce. I have included some of my favorites below!
Side Dish Ideas
Green Salad with Creamy Italian dressing– Toss some mixed greens with cucumber, tomato, and this Creamy Italian Dressing. The dressing only takes 5 minutes and will make your salad insanely delicious!!
Garlic Parmesan Broccoli– This quick oven roasted broccoli is about as easy and delicious as a side dish can get!
Garlic Bread– Or for a change of pace, try this garlic cheese bread, or this amazing pesto garlic bread!
Oven Roasted Vegetables– This is one of my go-to sides that goes with EVERYTHING!
Tomato Basil Mozzarella Salad– Light, quick and so delish!
You can choose one or add a few sides to make a wholesome, well rounded dinner.
Recipe Notes
This Million Dollar Baked Spaghetti recipe is as simple as promised! Just a few basic ingredients for a family friendly meal.
In this section I am going to go through a few tips and tricks I use when making this recipe to get the absolute best and most delicious results.
Make sure to scroll to the bottom for the FULL recipe card.
Ingredients + Substitutions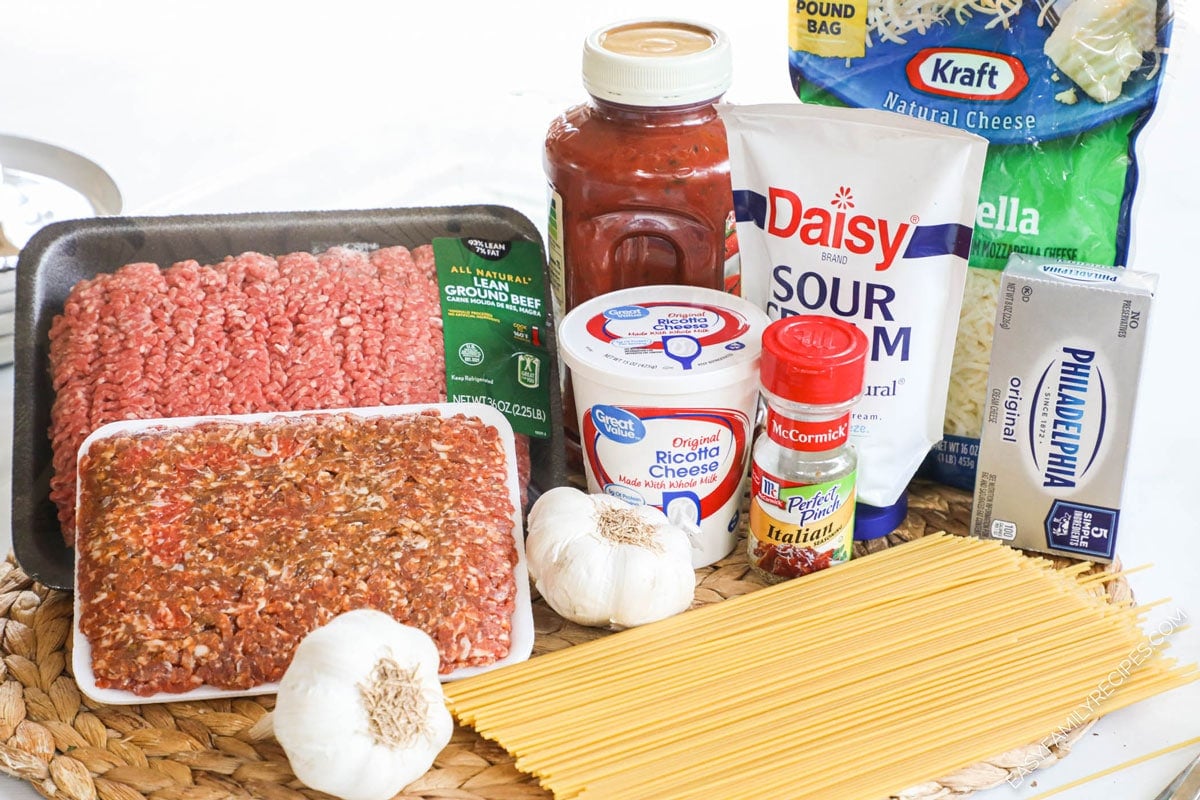 Spaghetti– grab classic spaghetti to get this dish started. If you want, you can use other types of pasta as well. Rigatoni or ziti works well and can be less messy for the kiddos.

Meats– For this recipe I love to use a combination of lean ground beef and Italian sausage because it creates an incredible flavor for the sauce. We use 2 pounds of meat in the sauce, so if you prefer you can change the ratio, or even use all beef or all sausage. This is made to our taste preferences, but it can certainly be varied based on what you have on hand or what your family prefers! In addition, you can also substitute other ground meats such as ground turkey, ground chicken or ground pork.

Spaghetti sauce- You will use the equivalent of 1 large jar, or 2 small jars in the recipe. You can use what ever sauce you prefer or make spaghetti sauce from scratch. You will want to choose a sauce that does not have meat like marinara sauce, since we are adding the meat in fresh. Make sure to use a sauce that you love the flavor of because it will add a lot of flavor to the Million Dollar Spaghetti so using a quality sauce is a good idea!

Ricotta cheese– I prefer whole milk ricotta for the richness it adds to the dish. You can also use part skim ricotta, or substitute cottage cheese.

Cream cheese– I use regular cream cheese, but you can also use neufchatel, or low fat cream cheese. I don't recommend fat free cream cheese

Sour cream– Again, I use regular sour cream, but low fat would work!

Italian seasoning– you can grab this on the seasoning aisle at the store, or make your own Italian seasoning blend here!

Shredded mozzarella cheese– Both shredded mozzarella and Italian blend cheese will work well in the Million Dollar Spaghetti casserole. Also, I suggest using two cups, one cup in the middle layer, and one on top, but you can use more or less to your preference on how cheesy you want the casserole to be.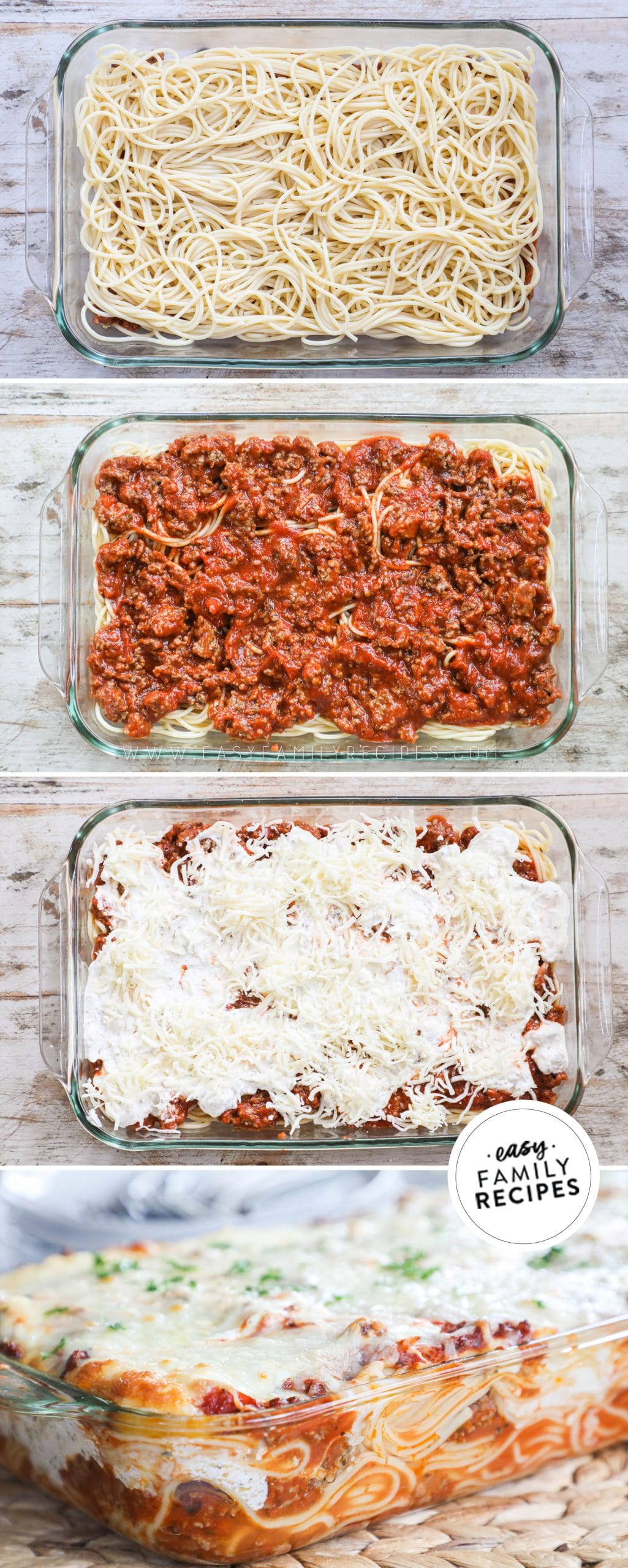 Recipe Tips
Slightly undercook the pasta– The pasta should be al dente, or still very slightly firm when you drain it. This allows the pasta to continue to cook and soak in all the liquid from the sauce while baking the Million Dollar Spaghetti casserole without getting mushy or losing flavor or texture.

Make sure cream cheese is softened– This seems like a small detail, but it is really important to getting the best results! Make sure your cream cheese is softened, either by leaving it at room temperature, or by microwaving it until soft. This allows the cream cheese to smoothly and fully incorporate into the cheese mixture. If you try mixing it with cream cheese that is not soft, you will end up with little lumps of cream cheese, rather than a nice combined cheese mixture.

No need to bake covered– You should be able to bake this uncovered in the oven. I like to put it on a baking sheet just in case any sauce splatters over the side, but that is optional. Each oven does cook a bit differently though, so if you find the top browning more than your preference, you can loosely cover with foil for the remainder of the cooking time.

Scale if needed– This recipe makes a lot. I mean it will feed a nice portion size to about 10 people! While the leftovers of the Million Dollar Spaghetti do save well, if this is just too much, or you don't care for leftovers, you can scale the recipe in half to make about 5 servings instead. You can do this by cutting the quantity of each ingredient in half and assembling the casserole in an 8×8 baking dish instead of a large one.
Recipe Variations
If you love this recipe as much as we do and want some quick ways to change it up for variety, these little tips will do the trick!
Meatless Million Dollar Spaghetti– Omit the beef and turkey from the Million Dollar Spaghetti, and instead layer marinara sauce, cheese mixture, mozzarella in the casserole. This makes a great option for meatless Monday!
Million Dollar Spaghetti Squash Casserole– If you are looking to keep this casserole lighter, or more carb conscious, you can use spaghetti squash in place of spaghetti noodles. Cook a spaghetti squash, discard the seeds and use a fork to remove the strands of squash. Use the squash "noodles" to layer the casserole as directed. Bake for 30-40 minutes or until the edges of the casserole begin to bubble.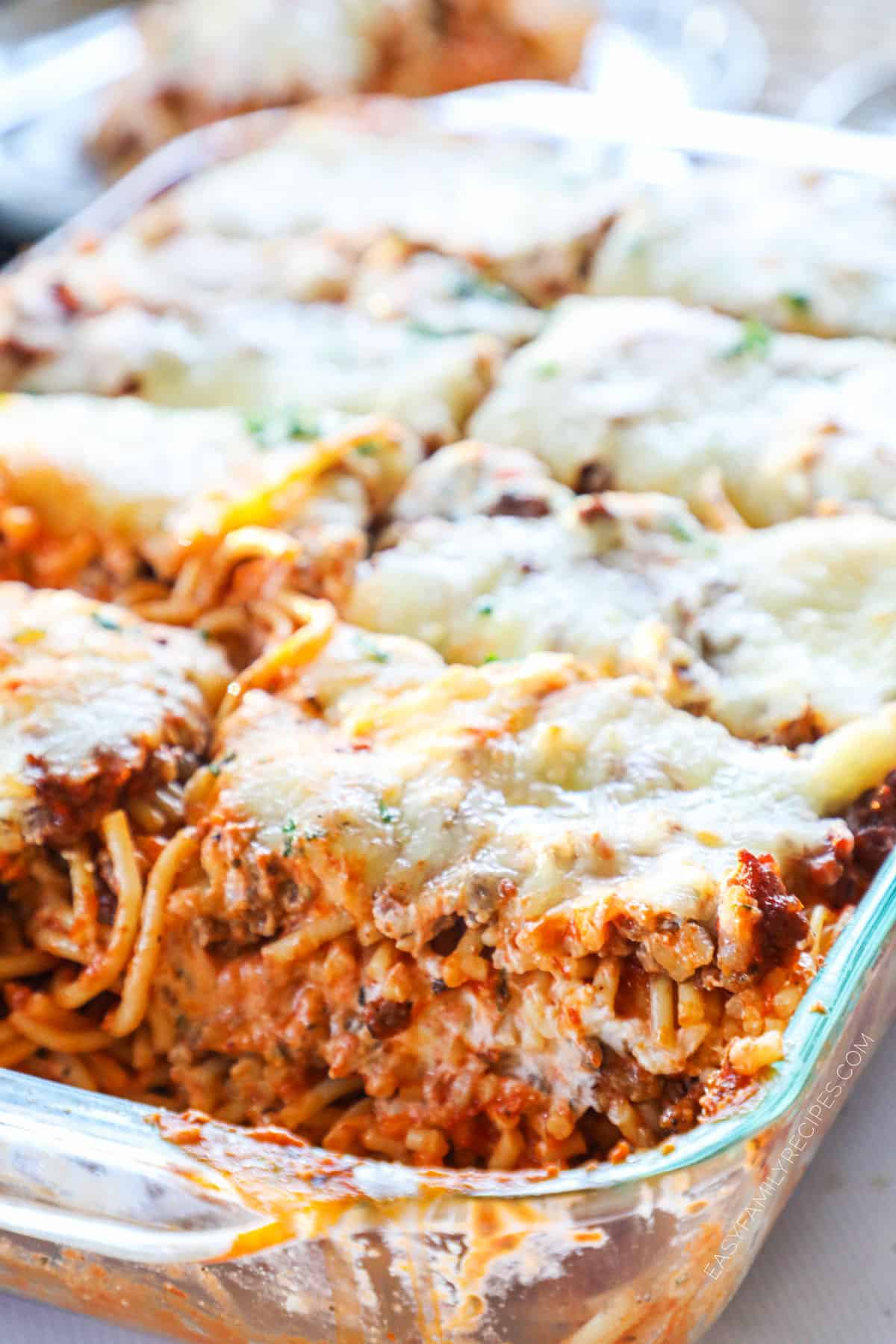 Freezer Meal Instructions
Million Dollar Baked Spaghetti Casserole can be made as a freezer meal up to 6 months in advance. To prepare for freezing:
Cook and assemble casserole per recipe instructions.
Tightly cover casserole dish with plastic wrap and then foil.
Freeze.
Once ready to eat, thaw for 24-48 hours in the refrigerator.
Bake as directed adding 10-20 minutes to the cooking time. You want to cook until the center is heated through and the edges are bubbly.
Million Dollar Spaghetti Leftovers
If you have leftovers after making Million Dollar Baked, then it is your lucky day! They save and reheat well, and can make the start of another delicious dish.
To save leftovers, separate into meal sized portions and then place in an airtight container and store:
in the refrigerator for 3-4 days
in the freezer up to a month
More Easy Casserole Recipes
If you enjoyed this recipe, I really hope you will take a moment to grab a few more easy recipes for another busy night!
You can check out all of my Easy Casserole recipes here, or see a few of our readers favorite recipes below.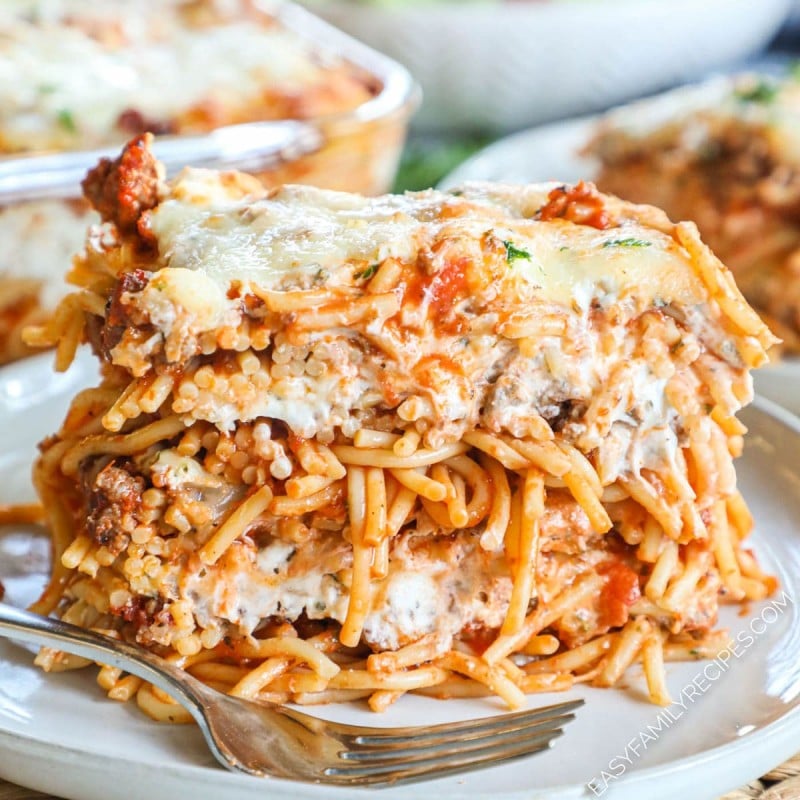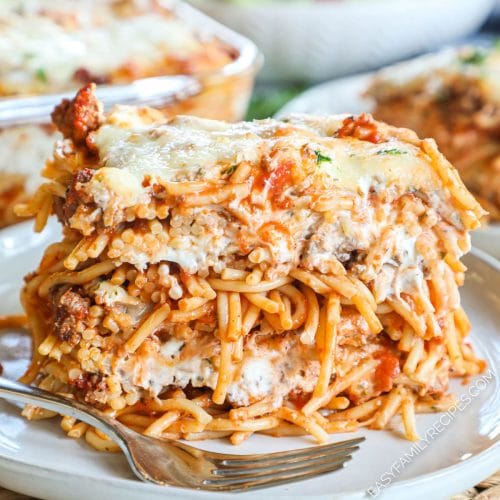 Million Dollar Baked Spaghetti
This easy Million Dollar Baked Spaghetti Casserole is a layered casserole that is hearty and delicious! With layers of pasta, meaty sauce, and 3 kinds of cheese, this casserole is a crowd pleaser and makes plenty to feed everyone!
Ingredients
16

ounces

dried spaghetti

1

pound

lean ground beef

1

pound

Italian sausage

45

ounces

spaghetti sauce

,

(1 large jar, or 2 small jars)

8

ounces

ricotta cheese

4

ounces

cream cheese

,

softened

1/2

cup

sour cream

1

tablespoon

Italian seasoning

2

cups

shredded mozzarella cheese
Instructions
Cook the spaghetti noodles to al dente per package directions. Once done, drain and set aside.

While the spaghetti cooks, brown the ground beef and Italian sausage over medium heat. Once it is done, drain then mix together with the spaghetti sauce.

In a medium bowl, combine the ricotta cheese, softened cream cheese, sour cream, and Italian easoning. Mix until smooth.

In a 9×13 casserole dish, spread a thin layer of sauce over the bottom. Add half the spaghetti noodles on top of the sauce. Then spread evenly over the noodles half of the meat sauce, half of the ricotta mixture, and half of the mozzarella cheese. Repeat these layers with the remaining spaghetti, meat sauce, and cheese.

Bake at 375˚F for 40-45 minutes or until the edges are bubbly and the casserole is hot throughout.

Garnish with fresh parsley and serve warm.
Recipe Notes
To cut recipe in half, use these measurements:
8 oz spaghetti
1/2 pound ground beef
1/2 pound Italian sausage 
24 ounces spaghetti sauce
4 ounces ricotta cheese
2 ounces cream cheese
1/4 cup sour cream
1.5 teaspoon Italian seasoning
1 cup shredded mozzarella cheese
Nutrition Information
Calories:
587
kcal
(29%)
,
Carbohydrates:
43
g
(14%)
,
Protein:
32
g
(64%)
,
Fat:
32
g
(49%)
,
Saturated Fat:
15
g
(94%)
,
Polyunsaturated Fat:
3
g
,
Monounsaturated Fat:
11
g
,
Trans Fat:
1
g
,
Cholesterol:
110
mg
(37%)
,
Sodium:
1238
mg
(54%)
,
Potassium:
874
mg
(25%)
,
Fiber:
4
g
(17%)
,
Sugar:
8
g
(9%)
,
Vitamin A:
1037
IU
(21%)
,
Vitamin C:
10
mg
(12%)
,
Calcium:
230
mg
(23%)
,
Iron:
4
mg
(22%)