Tender, juicy and made over the top delicious with the creamy topping, these Million Dollar Baked Pork Chops are the ultimate easy dinner! Made in only one pan you can have this delicious pork dinner on the table in under 30 minutes!
Baked Pork Chops – The EASY Way!
Making tender juicy pork chops is easier than you might think! With just a few simple tips, you can go from dry and bland to mouthwateringly delicious.
And these pork chops, my friends, are 100% mouthwateringly delicious!
The best part is it couldn't be easier. With just one pan and less than 30 minutes, this easy pork dinner is on the table and ready to be devoured!
With a name like Million Dollar Pork Chops, these have a lot to live up to and they won't disappoint. The name was derived from the wildly popular Million Dollar Dip recipe (also called Neiman Marcus Dip.) This flavor combo takes the tender juicy pork to another level with the creamy delicious flavors.
Sides to Serve with Pork Chops
Pork chops are a traditional dish, and even though this version of baked pork chops have a little extra flair with the bacon loaded cheesy topping, they still carry those same flavors.
This will lend it to pair well with many of your favorite classic side dishes. Since the dish is rich by nature, I like to keep the sides on the lighter side most of the time, but I included a variety of options for all tastes.
Side Dish Ideas
Vegetables
Potatoes
Salad
Bread
You can choose one or add a few sides to make a wholesome, well rounded dinner.
Recipe Notes
This Million Dollar Pork Chops recipe is as simple as promised! Just a few simple ingredients for a family friendly meal in under 30 minutes.
In this section I am going to go through a few tips and tricks I use when making this recipe to get the absolute best and most delicious tender, juicy pork chops in the oven.
Make sure to scroll to the bottom for the FULL recipe card.
Ingredients + Substitutions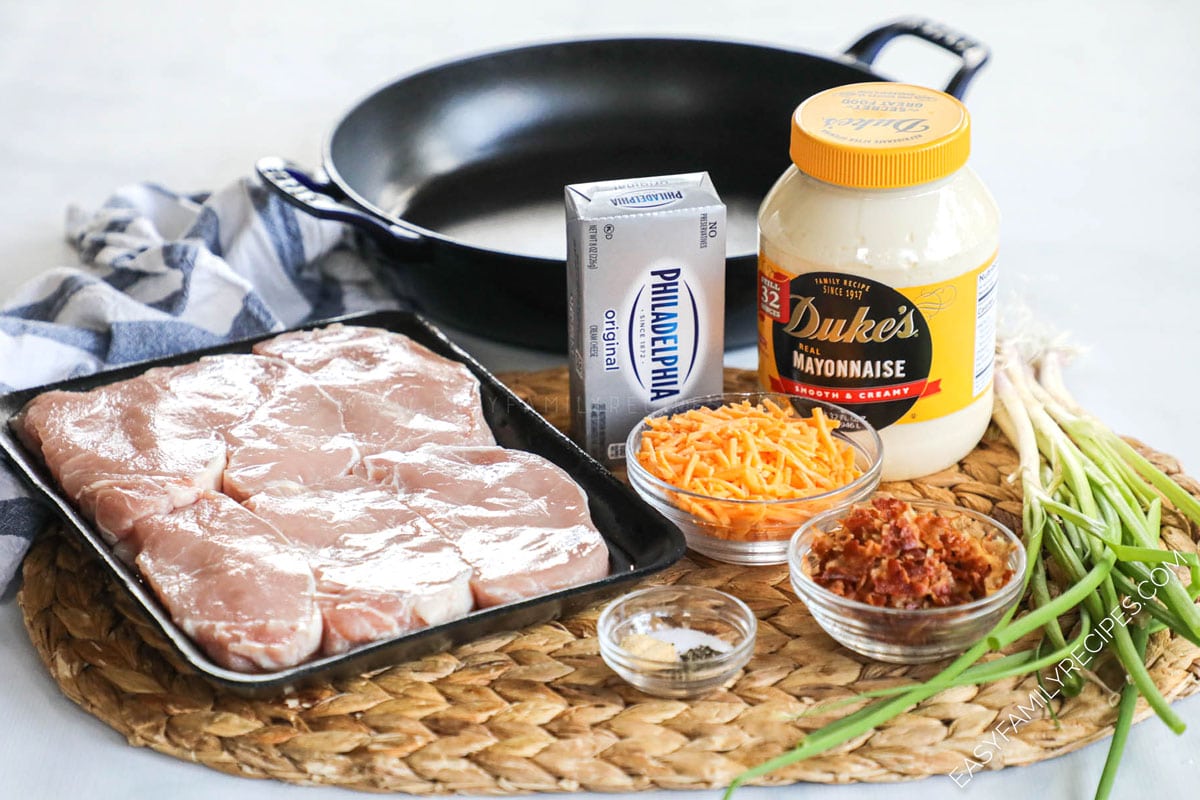 Boneless pork chops – You want to get thick cut pork chops, about 1- 1.5 inch in thickness, This will help them to stay nice and juicy while cooking. If your grocery store only has thin cuts, you can generally ask the butcher for a 1″ cut, or a double cut pork chop.

You can use bone in pork chops with this recipe if preferred, however, the cook time will generally bit a bit longer.

Seasonings– salt, black pepper, and granulated garlic create a base layer of flavor on the pork chop.

Oil– this is just a small bit of oil that allows you to sear in the moisture in the pork chop before baking them. This also creates the nice brown crust of flavor on the outside.

I use vegetable for this because it is what we generally keep on hand, but canola, or avocado oil would also work.
For the Topping
Cream cheese– I use classic Philadelphia cream cheese. If you want to lighten it up you can use light here as well. Make sure that you take time to soften the cream cheese because this will allow the flavors to blend completely together.

Mayonnaise– Again, I use the regular stuff, but light mayo can be used to reduce the fat/calories in the recipe. I have had readers substitute both sour cream and greek yogurt for the mayonnaise and report great results.

Crispy bacon crumbles- Fresh bacon cooked crispy and crumbled will deliver the absolute best flavor for this dish, but in a pinch you can use store bought pre-cooked bacon.

Green onions – chop them up and save some extra for topping!

Cheddar cheese– I like to use sharp cheddar for the most cheesy flavor, however you can use mild, medium, or other varietes of cheese like colby jack, monterey jack or Mexican blend cheese.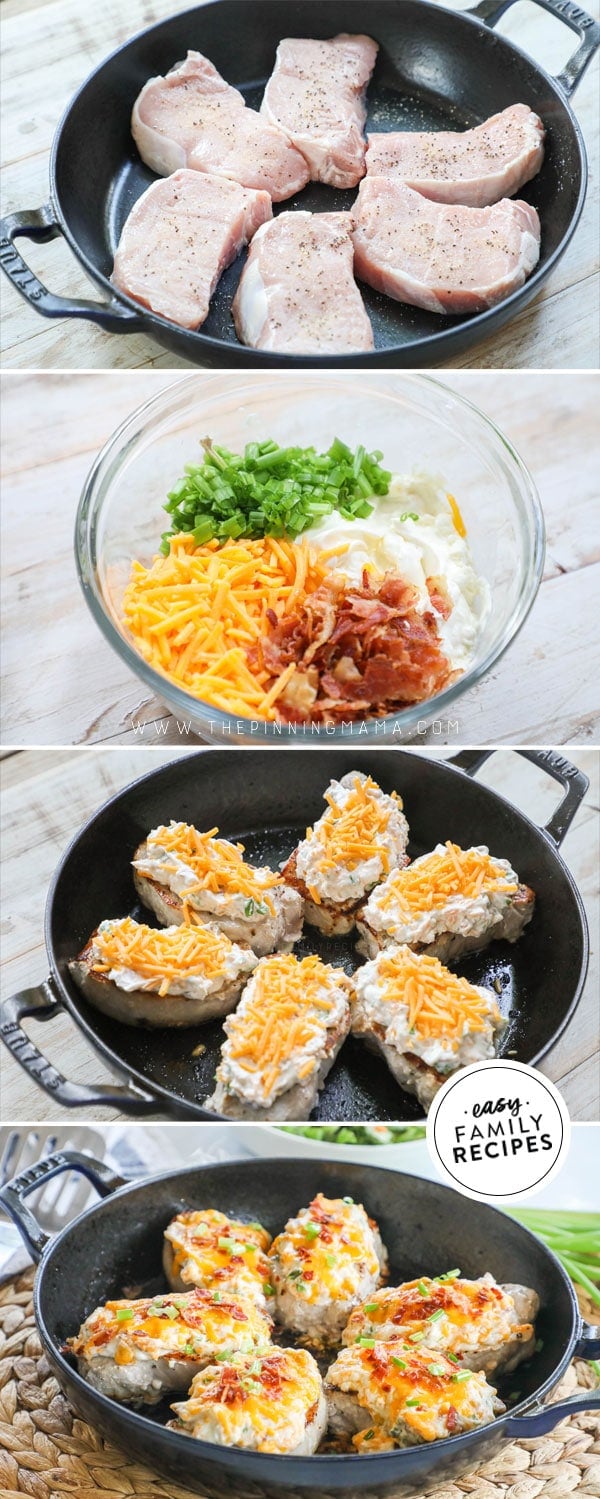 Recipe Tips
Use a LARGE pan – It is important that there is breathing room between the pork chops and that they aren't stuffed too tightly in the pan. If they are too tight, you won't be able to get a sear on them effectively because the moisture can't escape from under them.

If you don't have a pan large enough, I would sear the pork chops in batches, then transfer to a baking dish to finish in the oven.

Heat is important– Since the point of the skillet is to sear them, you want to make sure to preheat both the pan and the oil, and DO NOT add the pork chops until everything is already hot. This will give you the most color and flavor, and also help to lock in the moisture and keep the pork chops juicy (because who wants dry pork chops, eww!)

The Secret to Tender and Juicy Oven Baked Pork Chops– The biggest mistake I see people make when cooking pork chops is to cook them to the perfect temperature, and not past. Pork should be cooked to 145˚F, measured in the middle of the thickest part of the meat. Each degree over this that it cooks, will start the process of becoming more dry and tough.

It is really easy to cook pork chops in the oven perfectly, you just need a meat thermometer. They are inexpensive and can be purchased anywhere from the grocery store, to Walmart, to Amazon.

I use an instant digital meat thermometer similar to this. Another option is this oven safe meat thermometer is even easier to use because it has an oven safe probe you can leave in while cooking.

If you don't have an oven safe pan, you can sear the pork chops as directed, then transfer them to a baking dish to finish cooking in the oven. You may need an extra minute or two since you don't have the continuous heat of the hot pan.
Recipe Short Cuts
If you need to make this recipe, but are extra short on time, here are a few ideas that can help make this recipe even faster!
Pre-season the pork chops– You can prep and season the pork chops earlier in the day or the night before.
Prepare the topping in advance– The bacon cheese topping can be prepared up to 48 hours in advance. If you prefer your bacon on the crispier side, you may want to wait and add the bacon right before cooking though.
Prepare as a freezer meal– Make this recipe up to 6 months ahead of time as a freezer meal. See instructions below!
Recipe Variations
If you love this recipe as much as we do and want some quick ways to change it up for variety, these little tips will do the trick!
Brine the Pork Chops– If you have extra time, you can brine the pork chops before cooking to lock in even more juicy flavor. To do this, combine 1 quart of water with 1/4 cup kosher salt. Let the pork chops rest submerged in the mixture for 15 minutes, or up to 8 hours when refrigerated, before cooking. Pat dry and continue with recipe.
Skip the Sear– If you are short on time, you can skip the sear and just season the pork chops, top them with the cream cheese mixture, and bake at 400˚F for 12-18 minutes, or until 145˚F. This will still result in a tender, juicy pork chop, but won't have the extra layer of flavor you get from searing.
Ranch Pork Chops– If you love LOTS of flavor, try mixing in a packet of dry ranch mix to the cream cheese mixture, then make as directed.
Dietary Considerations
If you have special dietary needs, this recipe meets some and can be easily modified to comply with others.
As always, check all store bought ingredients for compliance on specific dietary needs. The notes below are a general guide.
Gluten free: This recipe is naturally gluten free. Check bacon and other ingredients to ensure a gluten free variety is used.
Nut free: This recipe is naturally nut free
Egg free: This recipe can be made egg free by using vegan mayonnaise
Low carb/Keto: This recipe is low carb at only 6g net carbs per serving.
Macros: The approximate macro calculation for this recipe is- P: 54g C: 8g F: 43g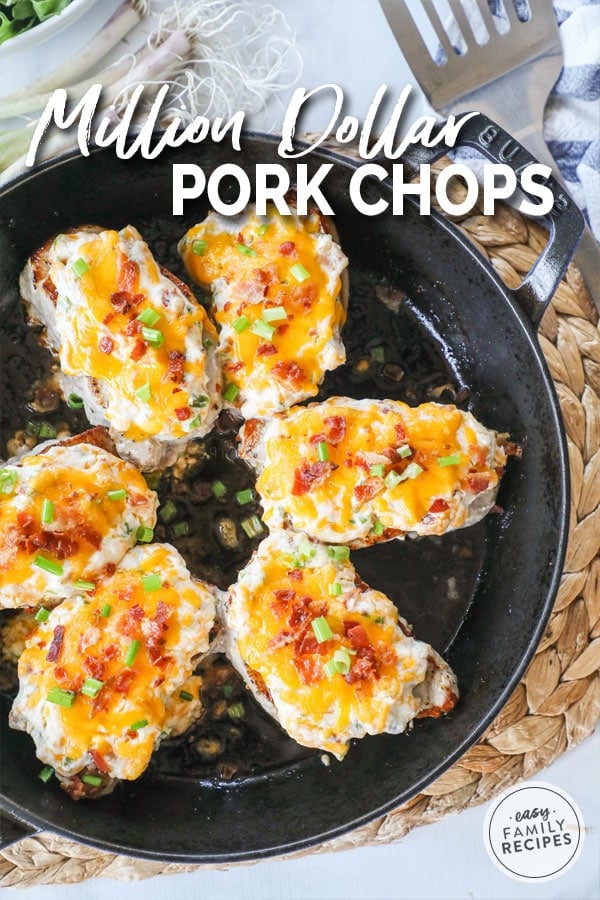 Freezer Meal Instructions
These pork chops can be prepared as a freezer meal easily. For the best flavor, use within six months of making.
Prepare the topping by mixing cream cheese, mayo, bacon crumbles, green onion and half of the cheddar cheese together until combined.
Place in a freezer bag or container.
Season the pork chops and place in a separate freezer bag or container.
Freeze.
When ready to make, thaw for 24-48 hours in the refrigerator.
Stir the topping mixture until creamy, then continue to make the recipe as directed.
Million Dollar Baked Pork Chop Leftovers
If you have leftovers after making these cheesy pork chops, then it is your lucky day! They save and reheat well, and can make the start of another delicious dish.
To save leftovers, separate into meal sized portions and then place in an airtight container and store:
in the refrigerator for 3-4 days
in the freezer up to a month
Leftover Recipes
Here are a few ways to repurpose those leftovers and give them a delicious makeover!
Creamy Pork Quesadillas– Chop the pork chop and topping. Scoop into a large tortilla and add extra cheese if desired. Fold in half and grill in a buttered skillet over medium high heat on each side until golden.
Million Dollar Pork Stuffed Baked Potatoes- Prepare baked potatoes. Split open and season with salt and pepper. Chop leftover million dollar pork chops and stuff inside the potato. Top with cheese and extra bacon and bake for 10-15 minutes or until the cheese on top is melted and the filling is heated through. Top with sour cream and extra bacon and green onions.
Cheesy Pork Protein Bowls– Prepare rice or cauliflower rice. Chop and reheat leftover pork chops. Pile in on one side of the bowl. Place your choice of chopped spinach, diced sweet red bell pepper, black beans and additional chopped green onions, around the bowl. Drizzle with ranch dressing and enjoy!
More Easy Dinner Recipes
If you enjoyed this recipe, I really hope you will take a moment to grab a few more easy recipes for another busy night!
You can check out all of my Easy Dinner recipes here, or see a few of our readers favorite recipes below.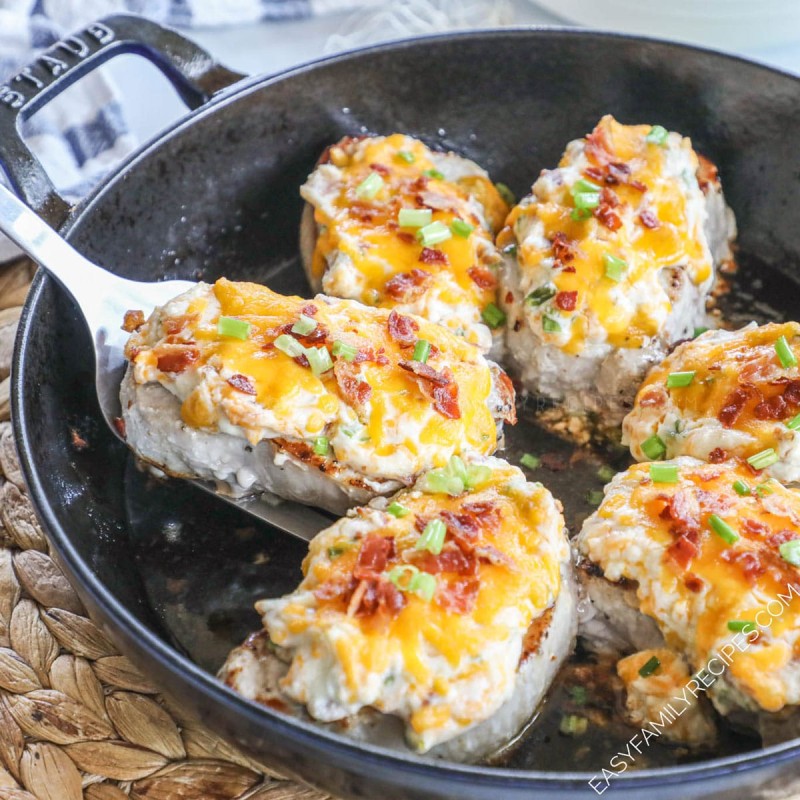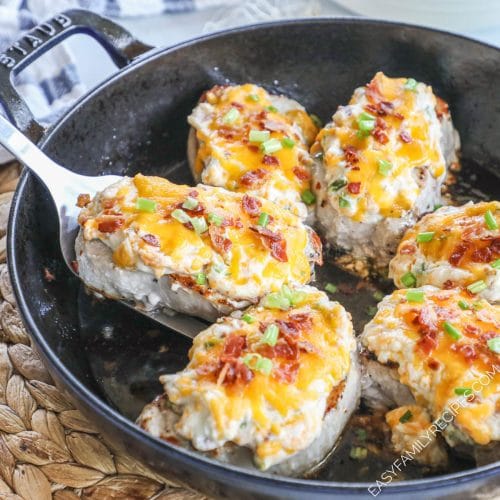 Million Dollar Baked Pork Chops
These Oven Baked Pork Chops are amazingly delicious, with tender, juicy boneless pork chops that are pan seared and topped with a creamy delicious topping and baked to perfection!
Ingredients
For the Pork Chops
2.5

lbs

boneless pork chops

,

(about 6 one inch pork chops)

1/2

tsp

salt

1/2

tsp

ground black pepper

1/2

tsp

granulated garlic

1

tbsp

vegetable oil

,

(or canola oil)
For the Topping
6

oz

cream cheese

,

softened

1/4

cup

mayonnaise

1/2

cup

crispy bacon crumbles

,

(about 8 slices)

1/2

cup

chopped green onions

,

(about 4 onions)

1

cup

shredded cheddar cheese
Garnish
crumbled bacon

green onions
Instructions
Preheat the oven to 425˚F

In a medium sized bowl, mix cream cheese, mayo, bacon crumbles, green onion and half of the cheddar cheese together until combined.

Heat oil in a large, oven safe skillet, over medium high heat. Season each side of the pork chops with salt, pepper, and garlic powder. Once the oil is hot cook pork chops 1 minute per side.

Spread the cheese mixture evenly over the pork chops. Sprinkle the remaining cheese over top and transfer the dish to the oven.

Bake for 10-14 minutes or until pork chops are cooked through (145˚F internal temperature)

Garnish with additional bacon and green onions and serve hot!
Nutrition Information
Serving:
1
pork chop
,
Calories:
599
kcal
(30%)
,
Carbohydrates:
8
g
(3%)
,
Protein:
54
g
(108%)
,
Fat:
43
g
(66%)
,
Saturated Fat:
18
g
(113%)
,
Cholesterol:
182
mg
(61%)
,
Sodium:
902
mg
(39%)
,
Potassium:
814
mg
(23%)
,
Fiber:
2
g
(8%)
,
Sugar:
1
g
(1%)
,
Vitamin A:
653
IU
(13%)
,
Vitamin C:
2
mg
(2%)
,
Calcium:
203
mg
(20%)
,
Iron:
1
mg
(6%)