This Keto Breakfast Casserole is a go to when we want a hot breakfast! Filled with tender eggs, layers of savory ham, and dollops of cream cheese that provide a velvety burst of flavor in every bite, this casserole is not just low carb, but a real crowd pleaser no matter how you eat!
Keto Breakfast Casserole – The EASY Way!
We are breakfast people though and though. Whether it is a busy morning or a lazy one, a big pot luck brunch, or breakfast for one, this casserole meets the mark!
What I love most about this Keto Breakfast casserole is that even though it is super low carb, it is packed with delicious comforting flavors and something anyone will love to eat no matter their diet.
This casserole is super simple with just a handful of ingredients and bakes completely hands off.
What makes this casserole the perfect combo of EASY + DELICIOUS?
Just mix and bake– No special skills needed
Extra bursts of flavor! The cream cheese pockets give it an unexpected burst of flavor.
Perfect for meal prep and freezing! If you are only feeding 1 or 2, this works beautifully for freezing or reheating for quick breakfasts with no fuss.
Whether or not you follow a low carb diet, this breakfast casserole is a winner, however, if you are looking for a more traditional breakfast casserole, make sure to check out my Loaded Sausage Breakfast Casserole and my Bacon, Egg, and Cheese breakfast casserole.
What to Serve with Ham & Cheese Breakfast Casserole
This keto casserole is plenty filling on its own. If this is the only thing you have on the breakfast table it will bee plenty. However if you want to round the meal out with a few wholesome sides, there are some great options.
Since this dish has the classic flavors of ham and cheese, it will pair well with many of your favorite traditional American side dishes. There are both low carb options and some classic options as well.
Low Carb Breakfast Sides
Cauliflower hash
Mixed berries
Sliced avocado sprinkled with garlic salt
Toppings- Try adding salsa, hot sauce, or sour cream as a topping for the casserole
Breakfast meat- Bacon, Sausage links or patties
Classic side dishes
Fruit salad (I especially like apples with ham)
Biscuits or toast
Grits
Yogurt
You can choose one or add a few sides to make a wholesome, well rounded breakfast.
Recipe Notes
This Keto Breakfast Casserole recipe is as simple as promised! Just mix and bake for an EASY and family friendly meal.
In this section I am going to go through a few tips and tricks I use when making this recipe to get the absolute best and most delicious results.
Make sure to scroll to the bottom for the FULL recipe card.
Ingredients
Eggs
Heavy cream
Ham
Cream cheese
Sharp cheddar cheese
1/4 tsp salt
1/4 tsp ground black pepper
Substitutions
I always recommend making the recipe as directed at least the first time you try it, but if you are in a pinch or have special needs for the recipe there are a few substitutions that do work well.
Eggs– You can use egg substitute such as egg beaters in this recipe, also, a combinations of whole eggs and egg whites can be used.
Cream– Half and half or milk can be used in place of cream. This will make it lighter in calories and fat but generally will raise the sugar content making it a less keto friendly option.
Cheese– Other types of cheeses can be used to give the breakfast casserole different flavors. You can try monterey jack cheese, pepper jack, swiss, or even an Italian or Mexican blend.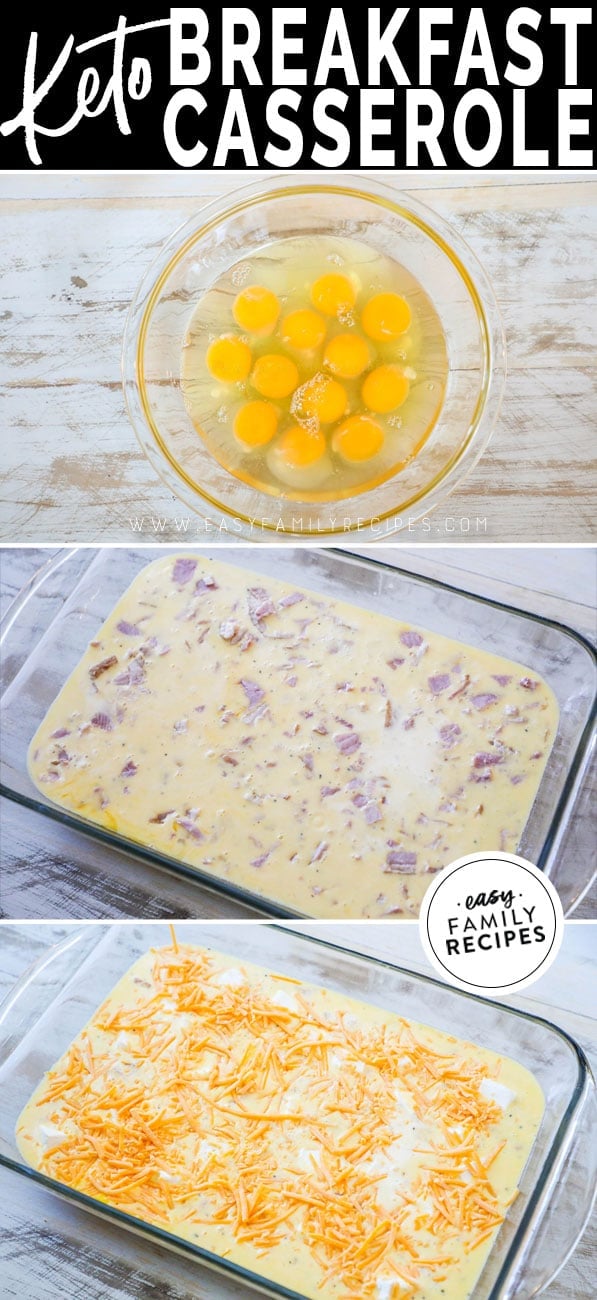 Easy Family Recipe Tips
There isn't too much science to getting a really awesome casserole out of this recipe. It is generally foolproof!
There are just a couple of things that can make it a little extra special!
Whisk the eggs and cream. You can stir or use a fork to mix the eggs up and it will work fine. Using a whisk will allow you too incorporate more air into the mixture which will help you end up with a lighter fluffier texture in your egg casserole. I like to whisk the eggs and cream really well in the first step!
Layer the cream cheese and ham. Since the ham and cheese is more dense than the eggs, they will sink as the casserole bakes. By layering the cream cheese first and then the ham it will help the ham stay to the middle of the casserole.
Extra cheesy top– If you like the top of your casserole to be covered with a nice layer of melty cheese, you can do one of two things-

Save the cheddar cheese and only add it in the last 5-8 minutes of baking.
Add the cheese as directed (this will give you cheddar in the middle of the casserole as it sinks while baking) then add additional cheese to the top of the casserole in the last 5-8 minutes of baking.
Recipe Variations
If you love this recipe as much as we do and want some quick ways to change it up for variety, these little tips will do the trick!
Loaded Ham & Cheese Breakfast Casserole– In a skillet sautee chopped cauliflower, chopped red bell pepper, and a pressed clove of garlic. Once done, add 4 oz of chopped fresh spinach and stir until wited. Place this mixture in the casserole dish before pouring the eggs in and then continue the recipe as directed.
3 Meat Keto Breakfast Casserole– Prepare bacon and breakfast sausage per package directions and drain fat. Crumble the bacon and sausage and add them into the recipe with the ham.
Jalapeno Ham Breakfast Casserole– Slice 2-3 jalapeno peppers and remove the seeds and stems if desired for less spiciness. Make casserole as directed and after adding the ham and cream cheese, but before adding the cheddar cheese sprinkle the jalapeno slices over the top of the casserole. Finish and bake as directed.
Dietary Considerations
If you have special dietary needs, this recipe meets some and can be easily modified to comply with others.
As always, check all store bought ingredients for compliance on specific dietary needs. The notes below are a general guide.
Gluten free: This recipe is naturally gluten free.
Nut free: This recipe is naturally nut free
Vegetarian– This casserole can be modified to be vegetarian by omitting the ham or using a meatless ham substitute.
Low carb/Keto: This recipe is low carb at only 1g net carb per serving.
Macros: The approximate macro calculation for this recipe is- P: 13g C: 1g F: 20g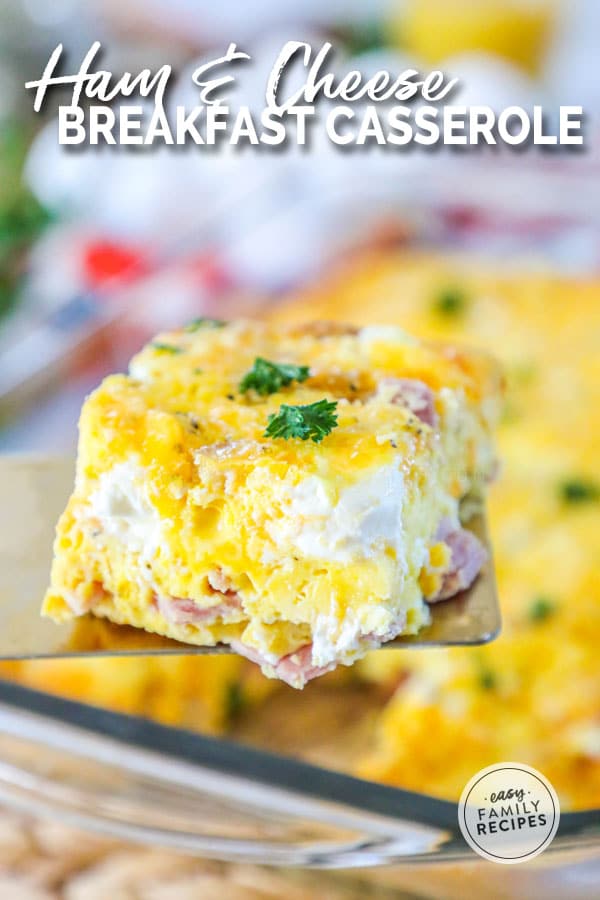 Make Ahead Breakfast Casserole
If you want to prepare this breakfast casserole ahead of time to bake later it can be easily done!
You can make this casserole earlier in the day or prepare it the day before and let it sit overnight in the refrigerator with the instructions below.
Instructions
Prepare the casserole as directed leaving off the grated cheese.
Cover tightly with a lid or plastic wrap and refrigerate up to 24 hours.
Remove the plastic wrap and let the casserole sit at room temperature for about 10-15 minutes.
Sprinkle the cheddar cheese over the casserole then bake as directed.
Meal Prep + Freezing Instructions
This casserole makes about 12 slices. You can prepare the casserole ahead of time and then just heat and serve 1 slice at a time for a quick breakfast.
Refrigerator Instructions
Allow casserole to cool close to room temperature.
Cut into serving sized slices.
The breakfast casserole can be stored covered in the casserole dish, or moved into separate meal prep containers.
Breakfast Casserole will stay good 4-5 days in the refrigerator.
Freezer Instructions
Allow casserole to cool close to room temperature.
Cut into serving sized slices.
Place each slice not touching each other on a piece of parchment paper or a baking sheet and flash freeze for 30 min to 1 hour.
Once they start to harden, you can move the slices into a freezer bag or container together.
For best flavor reheat and eat within 1-3 months.
More Easy Keto Recipes
If you enjoyed this recipe, I really hope you will take a moment to grab a few more easy recipes for another busy night!
You can check out all of my EASY Low Carb recipes or best casserole recipes here, or see a few of our readers favorite recipes below.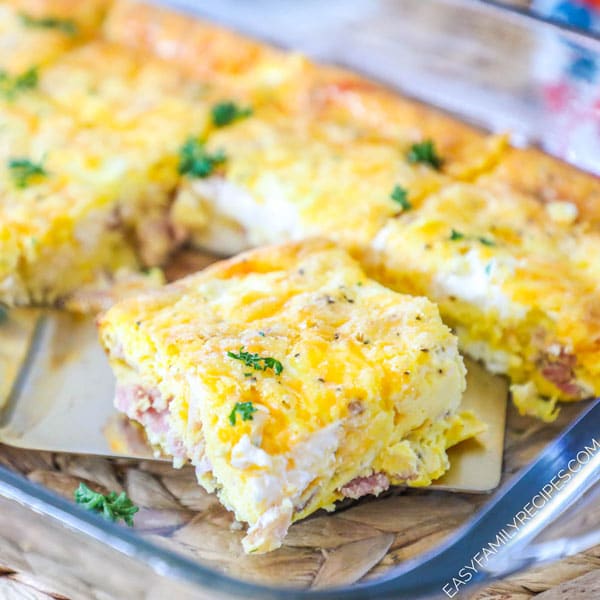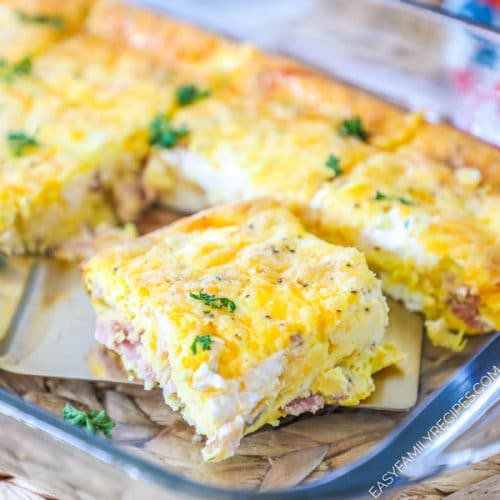 Keto Ham Cheese Breakfast Casserole
This Keto Ham & Cheese Breakfast Casserole is not only low in carbs, but out of this world in flavor! The salty ham perfectly compliments the tender eggs, and the addition of cream cheese gives the casserole a rich and velvety burst of flavor in each bite.
Ingredients
12

extra large eggs

1

cup

heavy cream

2

cups

ham

,

diced

4

oz

cream cheese

,

cubed

1/2

cup

sharp cheddar cheese

,

shredded

1/4

tsp

salt

1/4

tsp

ground black pepper
Instructions
Preheat the oven to 350˚F.

In a large bowl, whisk the eggs, heavy cream, salt and pepper together. Then pour the mixture in a greased 9×13" casserole dish.

Drop the cubes of cream cheese evenly throughout the egg mixture..  Sprinkle the ham and cheddar cheese over the top.

Bake for 30-40 minutes, or until the center is set and springs back when touched. Enjoy!
Recipe Notes
If you prefer more of a cheesy top, add an 1/2-1 cup of cheddar cheese to the top of the casserole 5-8 minutes before the end of the cook time.
Nutrition Information
Serving:
1
slice
,
Calories:
239
kcal
(12%)
,
Carbohydrates:
1
g
,
Protein:
13
g
(26%)
,
Fat:
20
g
(31%)
,
Saturated Fat:
10
g
(63%)
,
Cholesterol:
221
mg
(74%)
,
Sodium:
455
mg
(20%)
,
Potassium:
160
mg
(5%)
,
Sugar:
1
g
(1%)
,
Vitamin A:
703
IU
(14%)
,
Vitamin C:
1
mg
(1%)
,
Calcium:
82
mg
(8%)
,
Iron:
1
mg
(6%)