Whether you are planning a salad bar for a large gathering, a party, or for a family dinner, this list is the ultimate guide to making the best salad bar spread. Packed with topping options from greens, to vegetables, cheeses, nuts, meats and more, we not only cover everything to put in a salad, but also the best combinations for making a salad.
How to Make a Salad Bar- The EASY Way!
A salad bar is a great option for almost any occasion. It can be scaled to feed a huge crowd, made beautifully for something as elegant as a bridal shower or baby shower, made simply for a family dinner, or anything in between. The beauty of it is, everyone loves it because each person can customize it to exactly what they like!
Today, I am going to share with you my resource list I keep to go through for when I am throwing together a salad bar to pick the toppings.
There are HUNDREDS of toppings on this list that I go through to as a reference to pick and choose what I want to serve. You don't need them all, but this serves a great place to look through and narrow down what you want without forgetting anything!
Make sure to check out my post on pizza toppings and combos if you need something to go with your salad bar!
What to put on a salad bar:
Here are a few rules of thumb for deciding what you need for your salad bar.
How many people do you need to feed? For a small family dinner I made do 4-5 toppings and 1 type of greens. For a large party, I may do 20+ toppings with a choice of 3 greens.

Is there a theme? Do you want a caesar salad bar, or is the salad bar an addition to pizza, BBQ, pasta, or another type of cuisine you can try to compliment? This helps narrow down what you may want to offer on the salad bar.

What do you have on hand? Do you have produce already on hand you hope to use, or are certain things readily available and in season?

Combine categories– Make sure to choose toppings from each category below to give more options for creating your salad masterpiece. Having a balance of greens, vegetables, proteins, grains, crunch and dressing makes the most versatile options.
Salad Bar Greens
Choose one or more of these as a base for your salad:
Romaine
Shredded cabbage- red or green
Iceberg lettuce
Arugula
Spinach
Kale
Mixed greens
Salad Bar Topping Ideas
The possible options for topping a salad are virtually limitless, so we will break down the toppings into categories to help organize it in an easy way to narrow down a few options from each to create a well balanced salad bar. Make sure to check out the section below to get salad topping combination ideas and inspiration.
Vegetables
Tomato
Cucumber
Onion – Red, white, yellow, green
Carrots
Bell pepper
Zucchini
Squash
Mushrooms
Olives
Avocado
Broccoli
Cauliflower
Artichoke
Asparagus
Beets
Jacima
Okra- pickled
Radish
Roasted sweet potatoes
edamame
Green peas
Brussels sprouts- shredded or roasted
Jalapeños
Basil
Fruits
Apples
Pears
Mandarin oranges
Mango
Pineapple
Strawberries
Blueberries
Blackberries
Raspberries
Figs
Shredded coconut
Dried cranberries
Dried apricots
Proteins
Bacon/ Bacon bits
Chicken Breast- shredded, grilled, baked, poached, fried
Chicken thighs
Chicken tenders
Steak
Ham
Boiled eggs
Salmon
Deli meat- turkey, ham, etc
Tofu
Shrimp
Nuts + Seeds
Nuts and seeds can be added raw, seasoned or toasted to a salad.
Walnuts
Pecans
Almonds
Peanuts
Sun flower seeds
Pumpkin seeds
Pepitas
Grains + Beans
Cooked grains or rinsed and drained canned beans are a great way to bulk up a salad.
Quinoa
Barley
Corn
Black Beans
Pinto Beans
Chick peas
Black eyed peas
Red beans
Navy beans
Cooked pasta
Cheeses
Add cheese either shredded, grated, or cut into bite sized cubes.
Cheddar
Parmesan
Romano
Monterey Jack
Blue Cheese
Gorgonzola
Mozzarella- Fresh or shredded
Queso fresco or Cojita
Fontina
Goat cheese
Feta cheese
Burrata
Crunch
Croutons
Tortilla Chips, or crispy strips
Pita Chips
Toasted ramen noodles
Salad Dressing
Caesar
Greek
Asian
French
Poppy seed
Olive oil and vinegar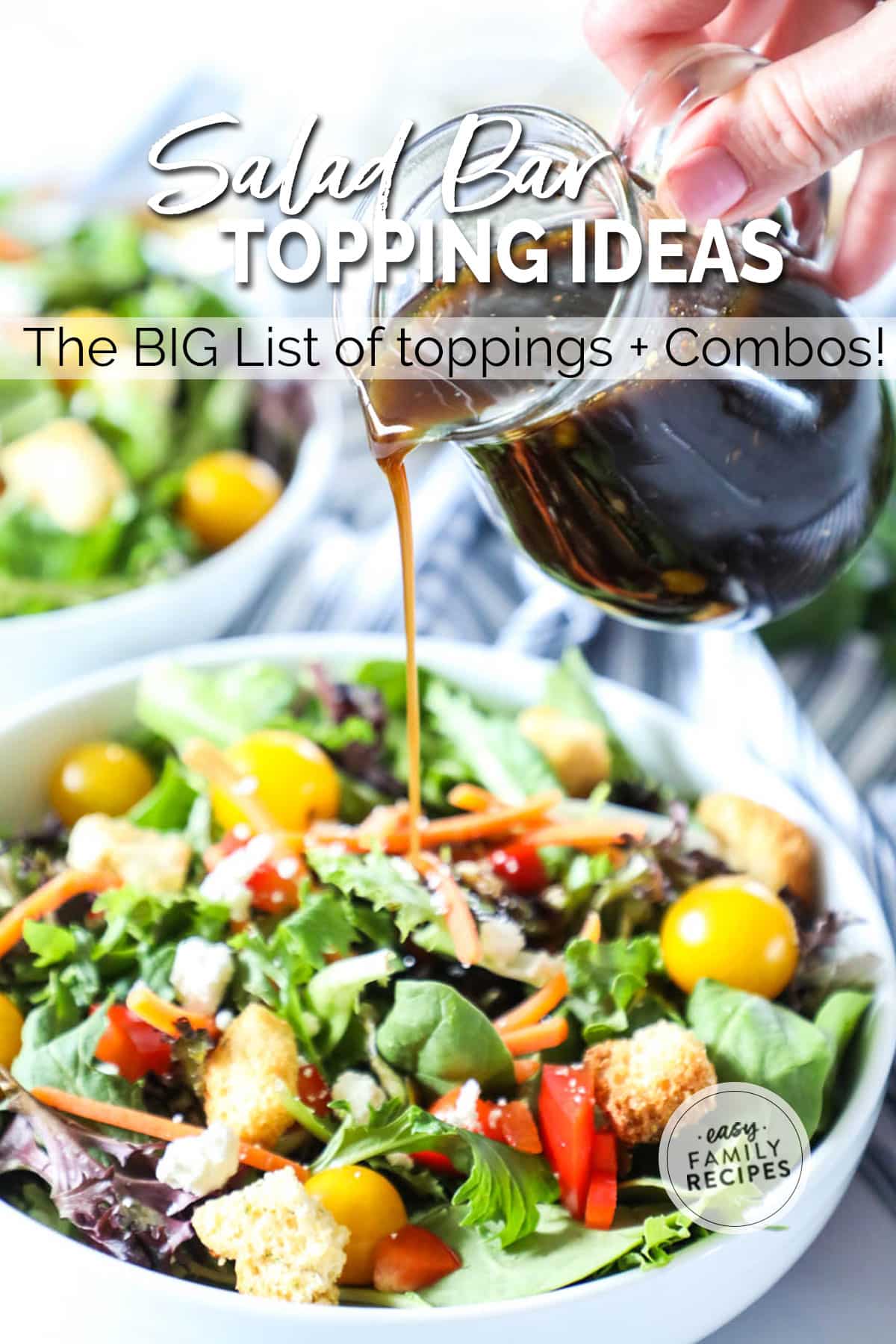 Salad Combinations
If you are putting together a salad bar, it can be very helpful to have some combinations in mind to help ensure you have enough to make a well rounded salad. Here are a few popular salad combinations:
Caesar Salad
Chopped Romaine
Parmesan cheese
Croutons
Caesar Dressing
Optional protien: grilled chicken, salmon, hard boiled egg
Southwest Salad
Chopped Romaine
Shredded Red Cabbage
Tomato
Corn
Red Bell Pepper
Avocado
Tortilla Strips
Ranch or Jalapeno Ranch Dressing
Spinach Strawberry Salad
Spinach
Strawberries
Candied Pecans
red onion
Poppy seed dressing
Classic Wedge Salad
Quartered Iceberg lettuce
Tomato
Blue Cheese
Crumbled bacon
Buttermilk or blue cheese dressing
Cobb Salad
Chopped Romaine or iceberg
Tomatoes
Avocado
Chicken
Hard boiled eggs
green onion
Blue cheese
Red wine vinaigrette
Caprese Salad
Sliced Tomato
Fresh Mozzarella
Torn basil leaves
Olive oil + Balsamic vinegar
Steakhouse Salad
Romaine lettuce
Tomato
Shredded carrots
Cucumber
Croutons
Cheddar Cheese
Ranch dressing
Greek Salad
Romaine Lettuce
Tomato
Cucumber
Pepperoncini Peppers
Olives
Greek dressing
Croutons or pita chips
With THOUSANDS of combinations of to make from a good salad bar, there is no way to list them all here, but use this a great starting point to put together your own salad bar. Take inspiration from here, or leave me a comment with fun topping ideas and combos that YOU love!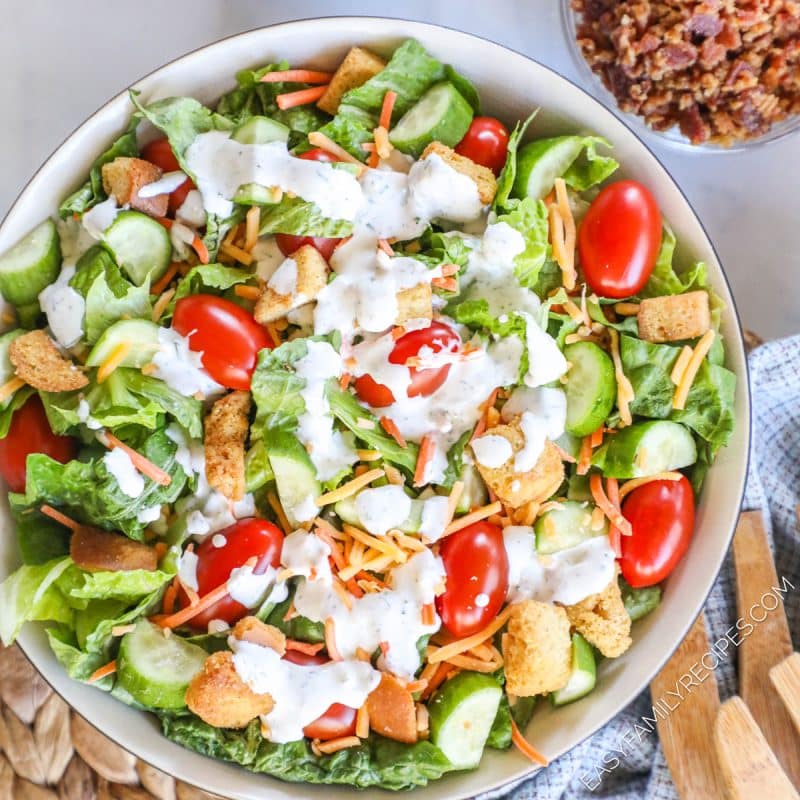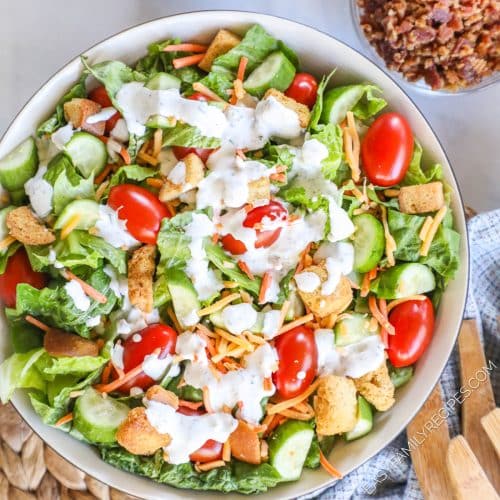 Salad bar
A salad bar is a great way to feed a crowd to let them each customize their own salad creations. This list of toppings will allow you to have the most popular options for salad combinations. ***Choose some or all depending on how robust you want to make your salad bar.
Ingredients
Greens
Shredded ice berg lettuce

,

or wedges

Chopped romaine lettuce

Arugula

Spring mix

Spinach
Vegetables
Cherry tomatoes

Sliced cucumber

Shredded carrots

Diced onion

Black olives

Diced bell pepper
Cheese
Cheddar cheese

,

shredded

parmesan cheese

,

shredded

bleu cheese

,

crumbled

Feta cheese

,

crumbled
Dressings
Olive oil

Red wine vinegar
Crunch
Croutons

Pita chips

,

crushed

Tortilla Chips

,

crushed

Candied pecans

Almond slivers
Instructions
Place lettuce or greens in large bowls at the front of the salad bar.

Use smaller bowls for all other toppings. Arrange them after the lettuce.

Place dressings in a pour friendly container at the end of the salad bar.
Recipe Notes
Other items to get for a salad bar:
Plates
Forks
Napkins
Serving tongs