This Italian Chicken and Veggie Skillet recipe requires just one pan and is a home-run dinner! It is quick, easy, light, and delicious. The chicken breast, zucchini, bell peppers, broccoli, and onions are full of robust Italian flavors and you will love how quickly this all comes together. You can practically snap your fingers and it will be ready!
One Pan Italian Chicken and Veggie Skillet – The EASY Way!
If you are looking for an easy weeknight meal, the most delicious way to do it is almost always in a large skillet. The beauty of using a skillet to make the Italian Chicken is that your chicken will be juicy and tender while perfectly seared on the outside. The sear is super important because this is how the flavors really pop!
The boneless skinless chicken breast cooks up quickly in your skillet. Chicken cooked in a skillet always yields the juiciest flavors, especially if you use our tricks. This family friendly chicken and veggies recipe includes a variety of vegetables that absorb all the delicious Italian flavors. Your family will be asking for seconds!
Skillets are also great when when you want to keep your dinner light and healthy. This simple, healthy, and flavor packed dinner will be on the table in no time and it will feel too good to be true.
I know how busy the nights can get and knowing that I can throw together an entire wholesome meal into one pan really makes me so happy! I really do sleep better knowing that I provided my family with a healthy, complete meal that didn't even take much effort!
Why I LOVE this recipe!
One Pan – When you have had a long and busy day, the last thing you want to do is wash a bunch of dishes. Using one pan is the answer to that! Easy cleanup is a big win!

Quick – In as little as 15 minutes of prep and 15 minutes to cook, you will have a meal on your dinner table.

A Wholesome Complete Meal – Veggies and protein cook together for a WHOLE meal, so you can eliminate even adding a side if you wanted to.

Versatile – This versatile meal is extra family friendly because of how you can adapt it to everyones tastes. There is a good variety of veggies in this, so just leave out or add in other veggies to make the different palates happy.
What to Serve with Italian Chicken and Veggies
Since this dish has the classic Italian flavors, it will pair well with many of your favorite Italian side dishes. There are both classic options and some healthy options to keep it light. Don't forget that this meal is already complete with protein and veggies, so don't feel like you need to even make a side dish!
Side Dish Ideas
Tortellini Salad – My kids love this even though the word "salad" is in the name!
Pesto Cheese Bread – This crusty bread has the perfect amount of pesto and gooey cheese on top. It's making me drool just thinking about it!
Pasta – Serve your chicken and veggies over or alongside any pasta such as spaghetti or even ravioli or tortellini would be delicious.
Spaghetti Squash – To keep this dish extra light, spaghetti squash would be delicious!
Italian Quinoa Salad – If you're looking for a lighter side this is a great option. You can also prep this salad ahead of time!
You can choose one or add a few sides to make a wholesome, well rounded dinner.
Recipe Notes
This One Pan Chicken and Veggie recipe is as simple as promised! Just 30 minutes for a family friendly meal.
In this section I am going to go through a few tips and tricks I use for how to make Italian Chicken and veggies in a skillet to get the absolute best and most delicious results.
Make sure to scroll to the bottom for the FULL recipe card.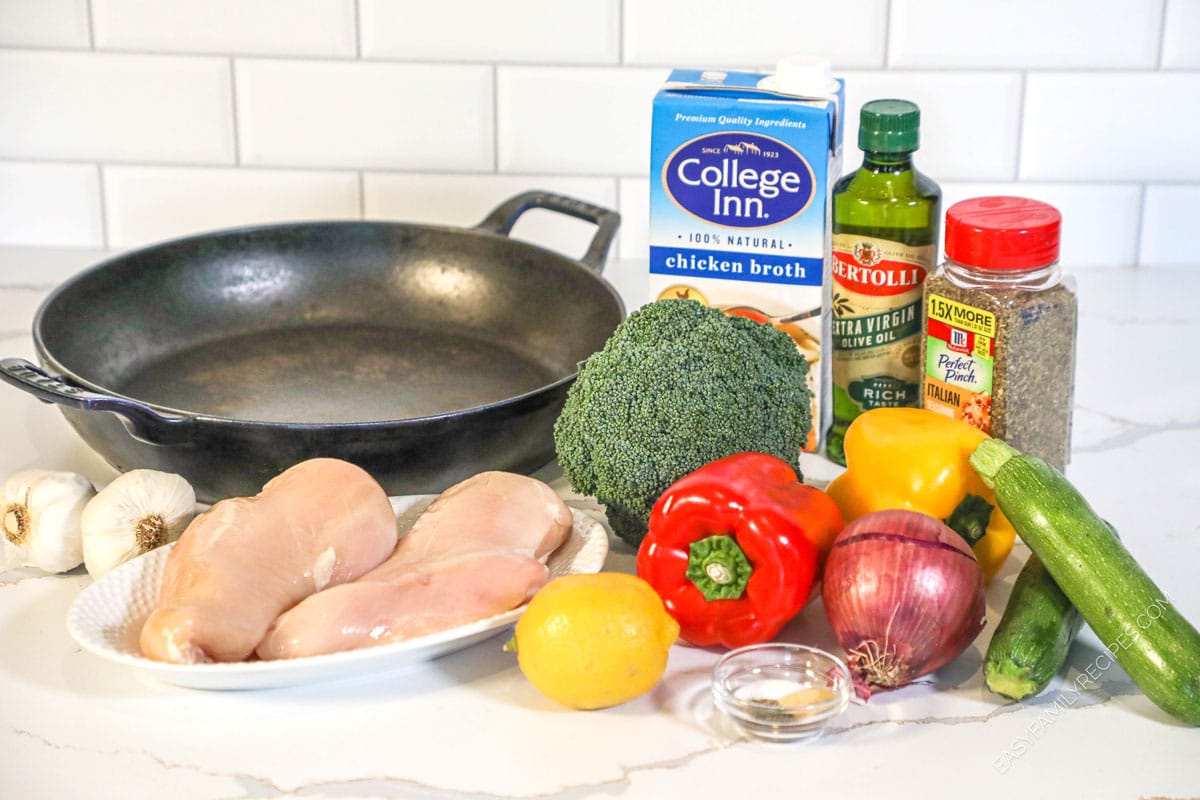 Ingredients + Substitutions
Boneless, skinless chicken breast – For this dish chicken breasts works best. If you prefer dark meat, you can also use skinless chicken thighs or chicken tenderloins.

Italian seasoning – this seasoning is easy to whip up and also have extra for other recipes, but you can use your favorite seasoning that's in your spice cabinet.

Salt and Pepper

Oil – I use olive oil but canola, vegetable, or any other neutral-flavored cooking oil can be used instead.

Zucchini – Cut your zucchini into larger chunks so that they do not cook too quickly in your skillet. We love zucchini, but if for some reason you only have yellow squash you can use it instead of a zucchini.

Red and yellow bell pepper – These are the sweeter two of the bell peppers. They are perfect for this dish because of the Italian flavors we want to achieve.

Broccoli – Cut into VERY small floret pieces so that it can cook at the same speed as the other veggies in this dish. If you buy them pre-cut you will likey want to chop them down a little more.

Red onion – This is what I prefer for this recipe, but you can also use a white or yellow onion.

Chicken broth – This is an easy way to add flavor, but water works if you don't have it. Chicken stock and vegetable broth are also good options.

Lemon juice – I highly recommend using fresh lemon juice, but you can use bottled if that is what you have.

Italian dressing – Our Italian dressing is delicious! If you have the time, we recommend making it. Otherwise, your favorite bottled Italian dressing will also work.

Shaved parmesan cheese – This is an optional garnish, but freshly shaved parmesan really is like the icing on the cake!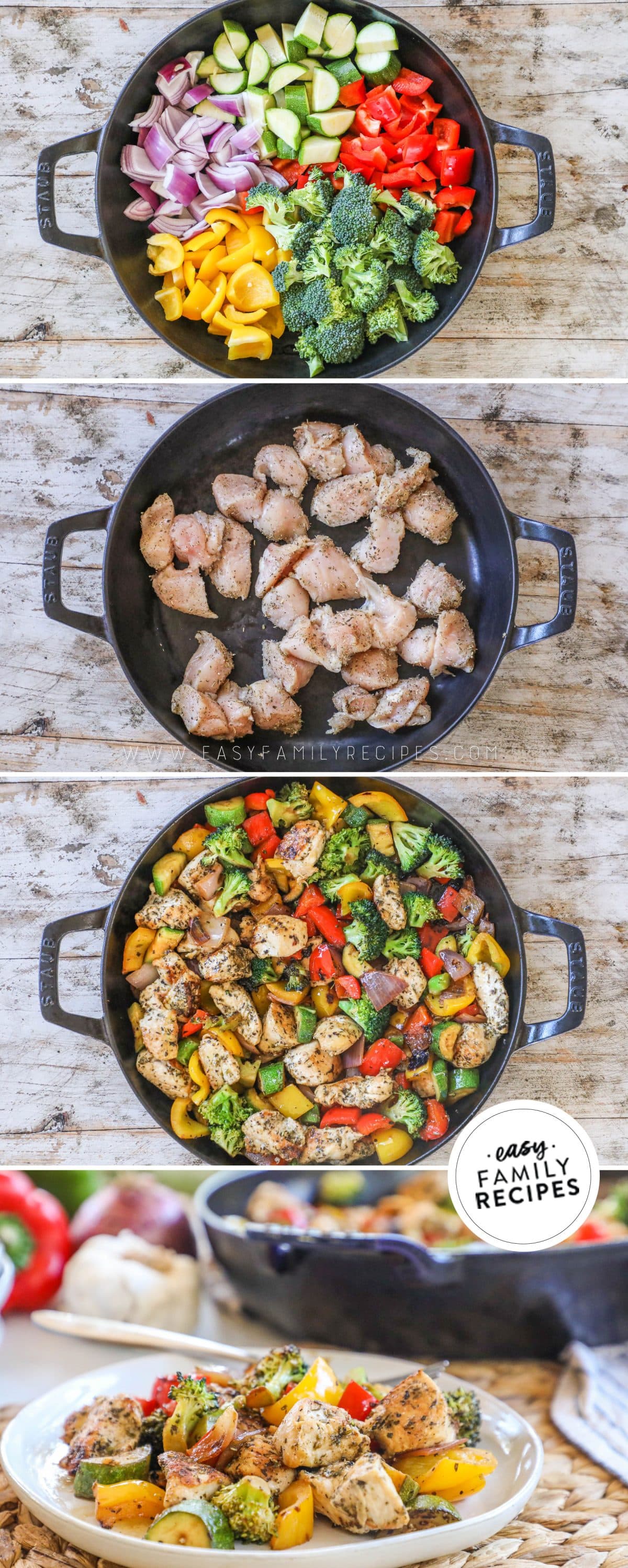 Recipe Tips
Use a Large Skillet – There are a couple of VERY important tips here, and this is one you really don't want to miss. Because we're making a one-pan meal, you will need the largest, high-sided skillet you have so that it can contain all of the chicken and veggies. You need space in your pan so that everything can have a nice sear.

Quick Cooking Technique– One trick we use to get the chicken to cook extra fast is by cutting it into small bite sized pieces (around 1″) and cooking it in a hot pan. Evenly cooked chicken also results in extra tender and juicy pieces!

Sear the Chicken – This is another VERY important tip! Bring your skillet to medium heat with olive oil. Heat up the pan first, add the chicken and then let it cook for 2-3 minutes without stirring so that you get a good sear. Then, continue to cook until the chicken is done. You will start off by searing the chicken in the pan. This is an important step for a few reasons. By having a sear, we're enhancing the spices and caramelizing the outside of the chicken which creates flavor.

Perfectly Cooked Veggies – Zucchini will cook faster than broccoli. We suggest cutting the zucchini into thicker chunks and cutting the broccoli into smaller florets. If you prep your veggies like this, they will cook at a similar rate. If you prefer to just add broccoli first, then onion, peppers, and zucchini you can, but I have found that is not necessary.

Deglaze – Searing the chicken is the secret to this classic dish because it leaves flavorful Italian seasoned brown bits on the bottom of your pan. When you add the lemon juice and broth, make sure to scrape all of those pieces up from the bottom of the pan. It's called deglazing and it will add huge flavor to the dish!
Recipe Short Cuts
If you need to make this recipe, but are extra short on time, here are a few ideas that can help make this recipe even faster!
Pre-chop your chicken – You can pre-cut your chicken breast up to 48 hours in advance of making any recipe. Utilize this short cut to save time and mess!

Buy pre-cut zucchini, peppers, broccoli florets and onions – you can find these in the refrigerator in the produce section of most grocery stores. If you don't want to buy pre-cut veggies, you can also cut them up to 48 hours in advance and store them in the fridge.

Prep or buy Italian seasoning – We have a delicious homemade Italian seasoning that you can make up to a year in advance or buy pre-made seasoning at the store.

Prep or buy Italian dressing – Ahead of time you can make our homemade Italian dressing or simply buy your favorite bottled brand.

One Pan Chicken and Veggie Freezer Meal – You can make this recipe as a freezer meal so that it is all prepped and ready to go as soon as you are ready to cook. See full directions below.
Recipe Variations
If you love this recipe as much as we do and want some quick ways to change it up for variety, these little tips will do the trick!
Balsamic Chicken and Veggies – Marinate your chicken in our Balsamic Vinaigrette for 15 minutes or up to overnight in the refrigerator. This is the BEST chicken marinade. Just add about 1/2 cup of dressing per pound of chicken for maximum flavor. Once marinated, follow the rest of the original Italian Chicken and Veggie Skillet recipe. Before serving, add a balsamic glaze (you can buy this at the store in the dressing aisle) and parmesan cheese to the top of your dish!

Add more veggies – After deglazing your pan (step 5) add a cup of cherry tomatoes and spinach. Your tomatoes will blister and your spinach will cook down. Then, add your chicken, salt and pepper and continue on to step 6. Other veggies that would also work well are mushrooms and capers.

Chicken with Veggies and Pasta – Follow this recipe as instructed, but serve alongside cheese tortellini.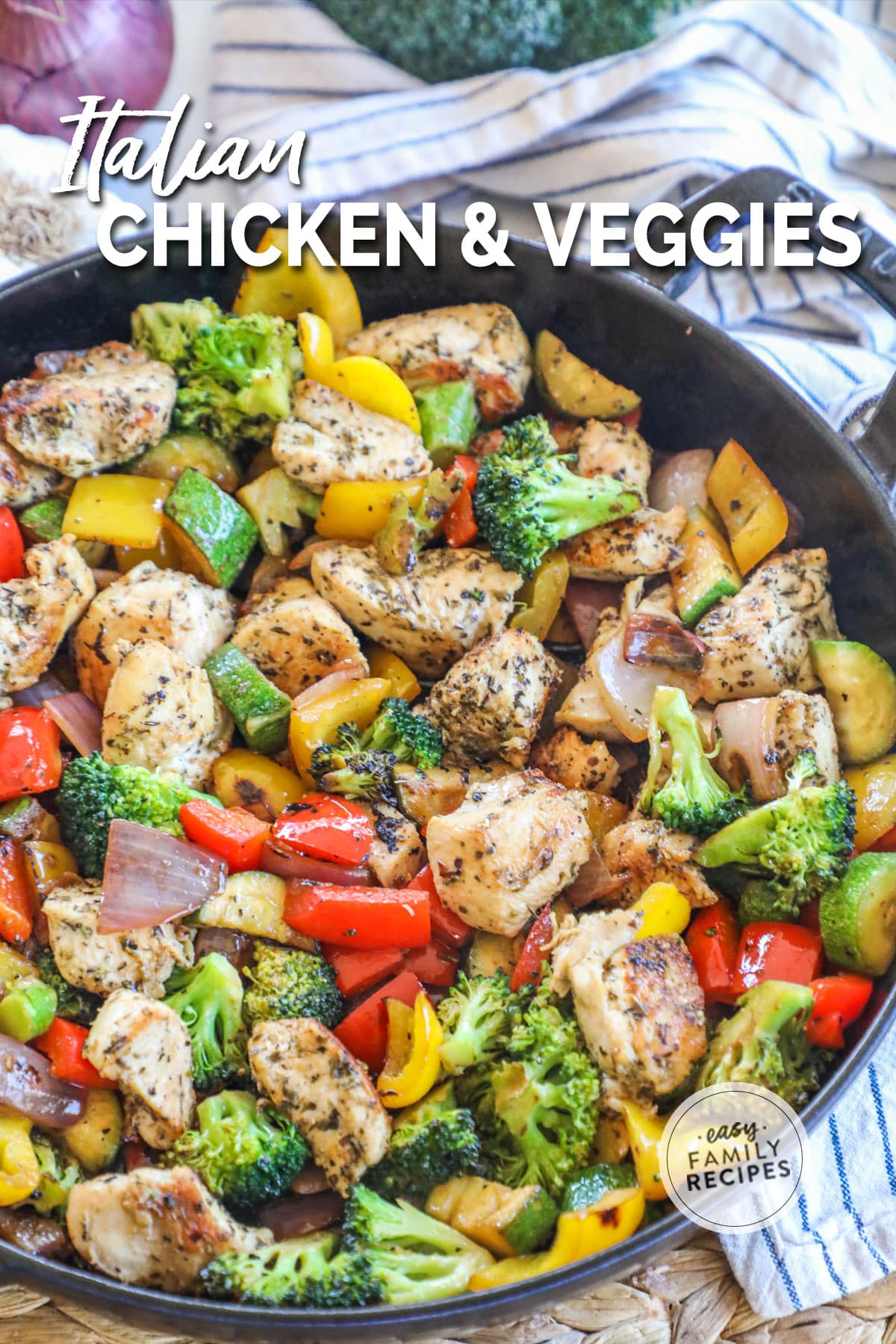 Freezer Meal Instructions
Making this Italian Chicken and Veggie Skillet recipe into a freezer meal is simple! Follow the steps below and you can store this recipe in the freezer for up to 6 months.
To freeze before cooking:
Cut and season the chicken.
Cut the vegetables.
Package in separate freezer bags or containers.
Freeze.
When ready to cook, thaw in the fridge overnight.
Continue with recipe as directed.
To freeze after cooking:
Cook the recipe completely.
Allow it to cool all the way.
Package in a freezer bag or container.
Freeze.
When ready to eat, thaw in the fridge overnight.
Reheat with a splash of water in a large skillet over medium high heat. When it is heated throughout, serve.
Italian Chicken and Veggie Skillet Leftovers
If you have leftovers after making our one pan Italian chicken and veggie skillet, then it is your lucky day! They save and reheat well, and can make the start of another delicious dish.
To save leftovers, separate into meal sized portions and then place in an airtight container and store:
in the refrigerator for 3-4 days
in the freezer up to a month
Leftover Recipes
Here are a few ways to repurpose those leftovers and give them a delicious makeover!
Chicken and Veggie Quinoa Bowls – Scoop warm leftovers over a bowl of cooked quinoa, top with fresh parmesan and a drizzle of balsamic glaze to really transform this meal into something new! Then, serve for an easy lunch or dinner.

Grilled Wraps – I LOVE a sandwich, but sometimes a toasty wrap is even better. Place a scoop of your chicken and veggies into a large flour tortilla and sprinkle with parmesan cheese. Roll the tortilla up so it is closed on both ends like a burrito, then place it in a hot, lightly oiled grill pan. Let it toast on both sides and serve hot.

Chicken and Veggie Spaghetti Squash– To cook spaghetti squash, add it whole to a preheated 400 degree oven and let it bake for 35-40 minutes until easily pierced with a fork. Cool it and cut in half, fork out the spaghetti and serve your leftovers on top.

Hearty Chicken and Veggie Fettuccini Alfredo – Reviving these leftovers has never been easier than this. Try our creamy, irresistible, and super easy Alfredo sauce recipe. Prepare fettuccini, add your chicken and veggies and ladle a nice spoonful of Alfredo on top and everyone will be asking for more!
More One Skillet Recipes
If you enjoyed this recipe, I really hope you will take a moment to grab a few more easy recipes for another busy night!
You can check out all of my quick and easy dinner recipes here, or see a few of our readers favorite recipes below.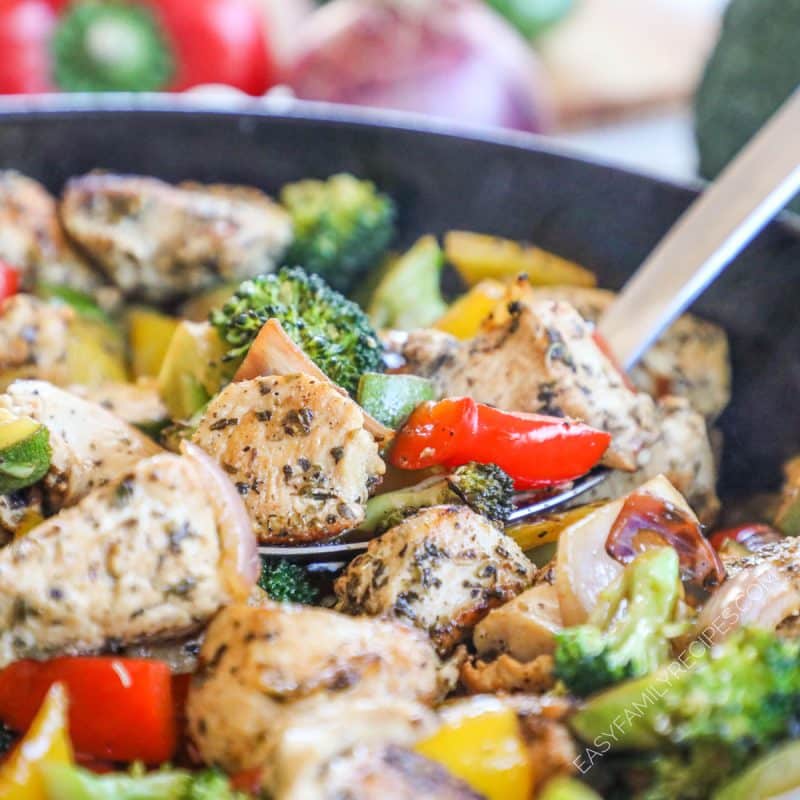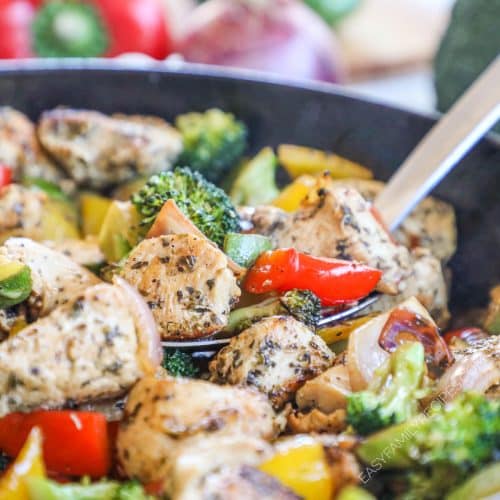 Italian Chicken and Veggie Skillet
This one pan meal is quick, easy, light, and delicious. The chicken breast, zucchini, bell peppers, broccoli, and onions are full of robust Italian flavors and you will love how quickly this all comes together. This is the perfect busy weeknight meal and since it is made in one skillet it can be cleaned up easily as well.
Ingredients
For the chicken
1

pound

boneless, skinless chicken breast

,

cut into 1-inch pieces

1

tablespoons

Italian seasoning

1

teaspoon

salt

,

divided

1

teaspoon

pepper

,

divided

2

tablespoons

olive oil

,

divided
For the vegetables
1

medium zucchini

,

sliced into half moons

1

red bell pepper

,

chopped

1

yellow pepper

,

chopped

1

pound

broccoli crown

,

cut into small florets

1

small red onion

,

diced
To finish
1/4

cup

chicken broth

1

lemon

,

juice of (about 3 tablespoons)

1/4

cup

Italian dressing
Instructions
Season the chicken with 1/2 teaspoon salt, 1/2 teaspoon pepper, and Italian seasoning.

Heat a large, high-sided skillet with 1 tablespoon olive oil over medium high heat. Once hot, add the chicken. Let cook 2-3 minutes without moving to develop a sear.

Stir the chicken and cook 2-3 more minutes or until done (165˚F.) Remove the chicken from the skillet and set aside.

Add the remaining olive oil to the skillet along with the chopped vegetables and cook for 4-6 minutes, stirring occasionally, until the vegetables start to become tender.

Pour in the chicken broth and lemon juice to deglaze the pan, and add the chicken back into the skillet. Season to taste with remaining salt and pepper.

Drizzle Italian dressing over the skillet and garnish with parmesan cheese.
Nutrition Information
Calories:
278
kcal
(14%)
,
Carbohydrates:
19
g
(6%)
,
Protein:
29
g
(58%)
,
Fat:
11
g
(17%)
,
Saturated Fat:
2
g
(13%)
,
Polyunsaturated Fat:
1
g
,
Monounsaturated Fat:
6
g
,
Trans Fat:
0.01
g
,
Cholesterol:
73
mg
(24%)
,
Sodium:
813
mg
(35%)
,
Potassium:
1134
mg
(32%)
,
Fiber:
6
g
(25%)
,
Sugar:
6
g
(7%)
,
Vitamin A:
1860
IU
(37%)
,
Vitamin C:
220
mg
(267%)
,
Calcium:
109
mg
(11%)
,
Iron:
2
mg
(11%)