This EASY Salsa Verde Chicken and Rice Skillet is a flavorful family meal perfect for even the busiest weeknight. One pan and everyday ingredients like jarred salsa and cheese transform chicken and rice into a complete meal. Enjoy the easy prep and quick clean up of this chicken thighs and rice skillet, and serve up a big pan of Mexican inspired flavors the family will adore.
One Skillet Chicken and Rice – The EASY Way!
I'm no stranger to busy weeknights where feeding the family something good feels like an impossible task. But that's why I love sharing recipes like this one-pan Salsa Verde chicken and rice skillet. It only takes 35 minutes to get a flavorful, filling meal on the table, which makes it a saving grace on even the craziest of nights.
Even if I serve it without sides, I know I've provided a healthy, complete meal to my entire family. There's protein from the chicken, grains from the rice, and even some veggie power with the corn and salsa. What's even better than that is that it's actually really delicious! My kids love throwing a spoonful onto a tortilla and chowing down until they're full and happy, and that makes me pretty happy too.
Why I LOVE this recipe!
Easy Weeknight Recipe – 5 quick minutes of prep, one pan, and 30 minutes to cook make it ideal for any night of the week.
A Complete Meal – Protein, grains, and veggies make this a healthy, satisfying, and complete meal all on its own.
Quick Prep & Clean Up – No chopping, easy ingredients, and only one pan to wash make this a super fast meal on both ends!
SUPER Flavorful – Spices, salsa verde, and cheese build layers of amazing family friendly flavors.
Easy to Customize – This can be served up in a bowl, on a tortilla, with chips, or any other way you like. You can also adjust spice level and add your favorite toppings to make it truly perfect for your family!
What to Serve with Salsa Verde Chicken and Rice Skillet
Since this one pan chicken and rice dish has the classic flavors of salsa verde, it will pair well with many of your favorite Mexican side dishes. There are both classic options and some healthy options to keep it light.
Side Dish Ideas
Toppings
Jalapenos
Sour Cream
Crushed Tortillas Chips
Shredded Lettuce
You can choose one or add a few sides to make a wholesome, well rounded dinner.
Recipe Notes
This salsa verde chicken and rice casserole recipe is as simple as promised! Just one pan and 35 minutes for a family friendly meal.
In this section I am going to go through a few tips and tricks I use when making this recipe to get the absolute best and most delicious results.
Make sure to scroll to the bottom for the FULL recipe card.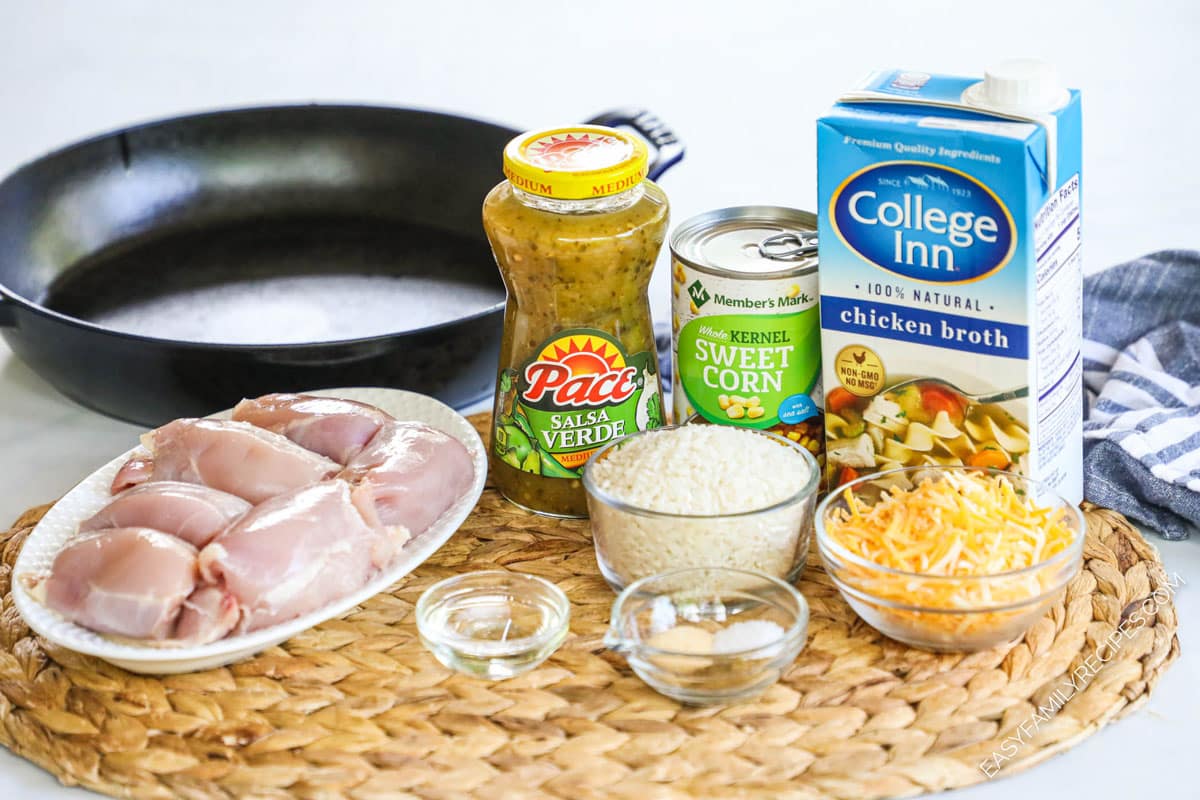 Ingredients + Substitutions
Chicken – I use boneless, skinless chicken thighs which stay wonderfully tender and moist. You can definitely use breasts as well.
Seasonings – A combination of salt, garlic powder, and cumin season the chicken and start building flavor.
Oil – Use a high heat oil like vegetable, canola, or grapeseed so that it doesn't smoke and burn while you sear the chicken.
Chicken Broth – This is any easy way to add flavor, but water works if you don't have it. Chicken stock and vegetable broth are also good options.
Long-grain Rice – The rice you choose is VERY important in this recipe. I've created this to work with a white, long-grain rice. If you choose to change it, you might need to adjust the liquid or the cooking time, or possibly both.

Short grain, brown, or wild rice can all be used, but you'll need to reduce or increase the broth according to the package instructions. If you need to increase the cooking time, wait until the last 10 minutes to add the chicken so it doesn't get overcooked while the rice finishes.
Salsa Verde – I use a prepared jar of salsa which saves tons of time. You can use your favorite brand. Keep in mind that the spice level of the salsa will affect how spicy your chicken and rice skillet is. Use mild if your family doesn't like a lot of heat, or go with a hot version if you like it spicy!
Sweet Corn – Drained, canned corn is my go-to because it's so easy and sweet! But you can also use frozen corn or even fresh corn that's been cut from the cob. Let frozen corn thaw first so it doesn't add extra moisture to the dish.
Cheese – I used colby jack to top my chicken and rice casserole, but you can use any shredded cheese that melts well. Cheddar, a Mexican blend, Monterey Jack, or even a spicy Pepper jack could all be delicious.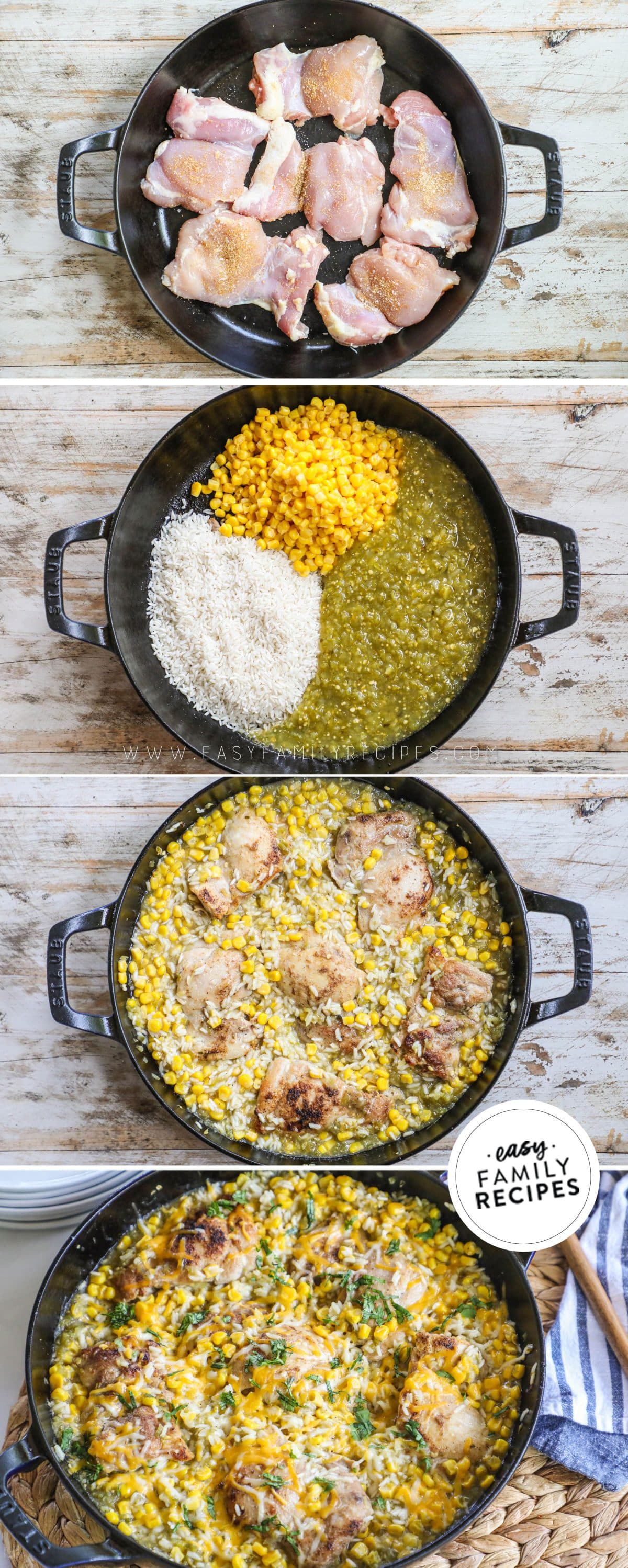 Recipe Tips
Use a Large Pan with a Good Lid – Because we're making this as a one-pan meal, you definitely need the largest, high-sided skillet you have to contain the rice, liquid, veggies, and chicken. It also needs to have a tight fitting lid so it can trap the moisture while the rice is cooking.

Sear the Chicken – Before we do anything else, the recipe begins with searing the seasoned chicken in the pan. This is an important step for a few reasons. First, we're enhancing the spices and caramelizing the outside of the chicken which creates flavor. Second, we're starting the cooking process so it can finish cooking with the rice and come out juicy and moist.

Don't Forget to Deglaze – Searing the chicken is going to leave flavorful brown bits on the bottom of your pan. When you add the broth, make sure to scrape all of it up. It's called deglazing and it will add huge flavor to the dish!

Don't Overcook the Chicken – The secret to deliciously juicy Salsa Verde chicken is to cook the thighs to 165°F. Overcooking can lead to dry, chewy chicken, and that's no fun! I always recommend using a meat thermometer if possible. They're cheap and easy to find at most grocery stores or online. Start checking 10 minutes after you've added the chicken back into the skillet.

Melt the Cheese – I highly recommend having gooey, melted cheese on top of your salsa verde chicken and rice skillet, and it's easy to do! Just sprinkle it over the top when it's finished cooking and pop the lid back on. The residual heat in the pan will melt it to perfection in just 2 quick minutes.
Recipe Short Cuts
If you need to make this recipe, but are extra short on time, here are a few ideas that can help make this recipe even faster!
Use Instant Rice– A super quick alternative to long-grain rice is minute rice, or instant rice. It doesn't expand as much, so to keep the yield the same you'll need to adjust the ratio to 1 1/2 cups of rice and 1 1/2 cups of broth. It will only need 5 minutes to cook once added to the liquid. To make sure the chicken is cooked in such a short time, I'd recommend cutting it into small tenders or chunks so it cooks through during the browning step.
Skip Melting the Cheese– I like the gooey, melted cheese, but it's entirely optional. You can simply sprinkle it on and serve.
Recipe Variations
If you love this recipe as much as we do and want some quick ways to change it up for variety, these little tips will do the trick!
Spicy Salsa Verde Chicken and Rice– Make the recipe as directed but use a spicy salsa verde and add a diced jalapeno in with the corn. Leave the ribs and seeds in the pepper for a more intense heat, or remove them to make it milder. When it's finished cooking, use fresh or pickled jalapenos as a topping.
Salsa Verde Chicken with Beans– Cook the recipe exactly as directed but add a can of drained and rinsed black or pinto beans into the skillet at the same time as the corn.
Salsa Verde Chicken with Peppers– Dice a green, yellow, or red bell pepper and add it into the recipe with the corn and salsa, otherwise cooking exactly as it's written.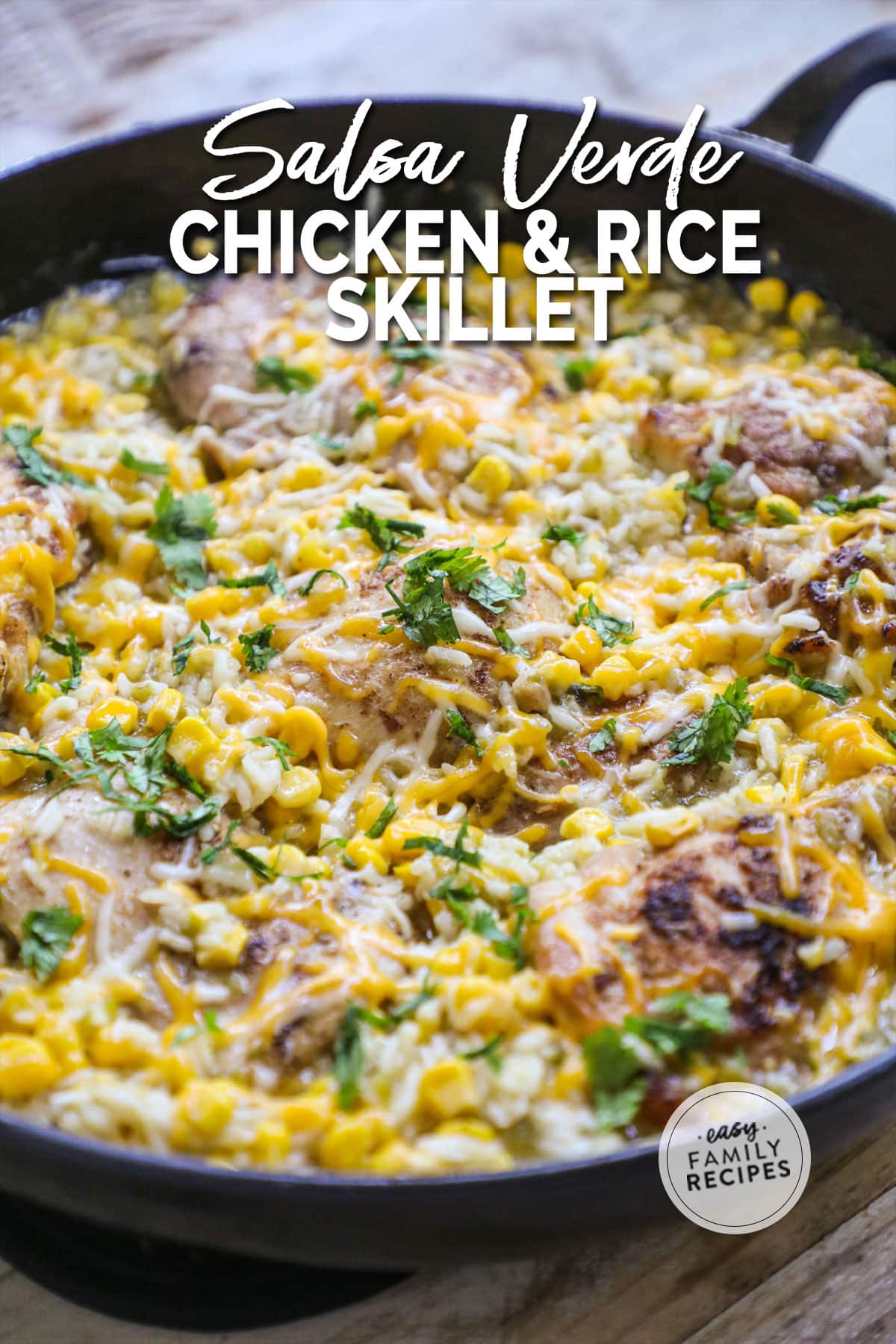 Freezer Meal Instructions
Making this salsa verde chicken and rice recipe into a freezer meal is simple! Follow the steps below and you can store this recipe in the freezer for up to 6 months.
Season the chicken and place in a freezer safe bag or container.
Freeze the broth.
Combine the corn, rice, and salsa and freeze in a separate container.
When ready to cook, thaw everything in the fridge for 24-48 hours.
Cook the recipe as directed and add freshly shredded cheese at the end.
Salsa Verde Chicken Leftovers
If you have leftovers after making skillet chicken with rice, then it is your lucky day! They save and reheat well, and can make the start of another delicious dish.
To save leftovers, separate into meal sized portions and then place in an airtight container and store:
in the refrigerator for 3-4 days
in the freezer up to a month
Leftover Recipes
Here are a few ways to repurpose those leftovers and give them a delicious makeover!
Salsa Verde Chicken Stuffed Peppers– Cut the tops from bell peppers and remove the seeds and ribs. Chop leftover chicken and mix it with leftover rice and a splash of broth or water. Fill each pepper and place it in a casserole dish. Cover and bake at 350°F for 30-40 minutes, or until the peppers are tender and the filling is hot. If desired top with more cheese bake uncovered for and additional 10 minutes to melt.
Salsa Verde Chicken Burritos– Reheat the chicken and rice. Add it to a large flour tortilla with 1-2 tablespoons of shredded cheese and a scoop of refried beans or black beans. Roll it up and serve.
Salsa Verde Chicken Enchiladas– Chop the leftover chicken and mix it with leftover rice. Heat a can of green enchilada sauce and dip corn tortillas into it one at a time. Add a scoop of the chicken and rice mixture to the tortilla and roll it up. Tuck enchiladas into a casserole dish and top with remaining sauce and 1 cup of shredded cheese. Bake at 350°F for 20-25 minutes or until hot and the cheese is melted.
More One Pan Chicken Recipes
If you enjoyed this recipe, I really hope you will take a moment to grab a few more easy recipes for another busy night!
You can check out all of my easy chicken recipes here, or see a few of our readers favorite recipes below.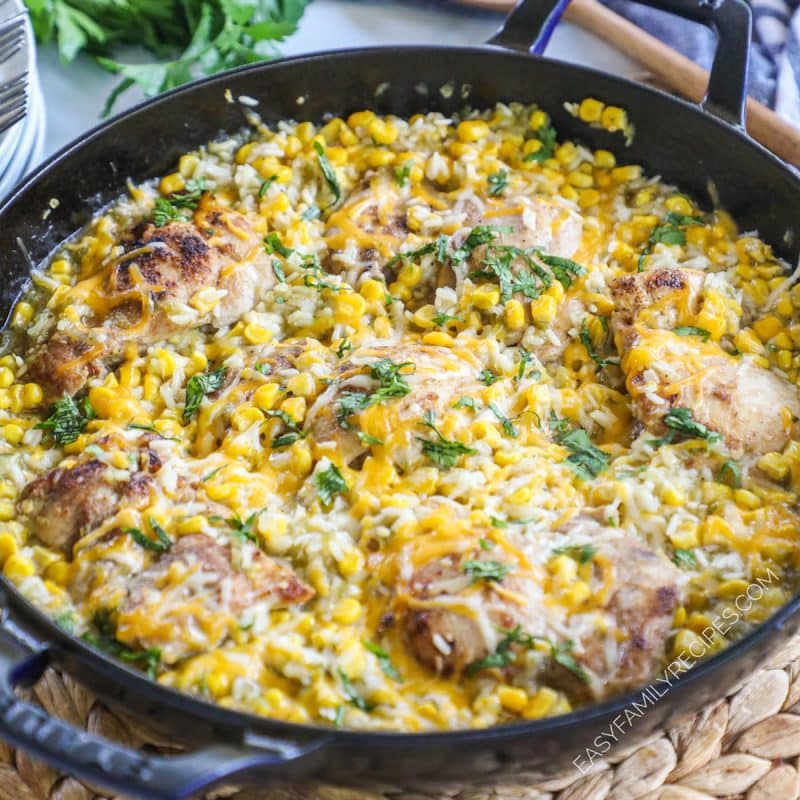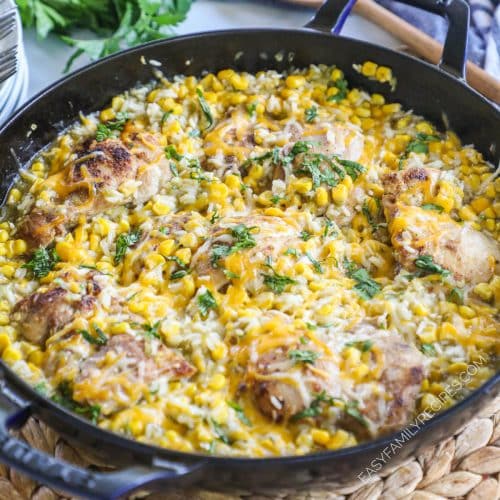 Salsa Verde Chicken and Rice Skillet
This one pot recipe uses juicy chicken thighs, salsa verde, rice, and corn to build a delicious weeknight dinner. With almost no prep required, it's a flavor-packed family meal that can be thrown together any night of the week.
Ingredients
1.5

pounds

boneless, skinless chicken thighs

,

about 6

1/2

teaspoon

cumin

1/2

teaspoon

garlic powder

1/2

teaspoon

salt

1

tablespoon

vegetable oil

,

or other high smoke point oil

2

cups

chicken broth

,

or water

1

cup

long grain rice

1

cup

salsa verde

1

can

sweet corn

,

(15.25 ounce can) drained

1/2

cup

colby jack cheese
Instructions
Season the chicken thighs with garlic powder, salt, and cumin on each side.

Heat a large skillet over medium high heat. Add the oil and then lay the chicken thighs flat in the skillet and let cook without moving 3-4 minutes. Flip and let cook for 2-3 minutes on the other side. Remove chicken from the skillet and set aside.

This sears the chicken, but will not fully cook it. The chicken will finish cooking with the rice.

Pour the chicken broth in the pan to deglaze scraping the bottom to remove any brown bits, then add the salsa verde, corn, and rice to the pan and bring to a boil.

Immediately cover and reduce heat to low so that the rice continues to simmer.

Cook for 15 minutes, then remove the lid, stir the rice and nestle the chicken in to the rice.

Continue to cook 10-15 more minutes or until the rice is tender and the liquid is absorbed.

Add cheese on top, and return the lid for 1-2 minutes or until the cheese has melted. Serve warm!
Nutrition Information
Calories:
342
kcal
(17%)
,
Carbohydrates:
29
g
(10%)
,
Protein:
27
g
(54%)
,
Fat:
12
g
(18%)
,
Saturated Fat:
4
g
(25%)
,
Polyunsaturated Fat:
3
g
,
Monounsaturated Fat:
3
g
,
Trans Fat:
1
g
,
Cholesterol:
119
mg
(40%)
,
Sodium:
987
mg
(43%)
,
Potassium:
459
mg
(13%)
,
Fiber:
1
g
(4%)
,
Sugar:
4
g
(4%)
,
Vitamin A:
493
IU
(10%)
,
Vitamin C:
2
mg
(2%)
,
Calcium:
98
mg
(10%)
,
Iron:
1
mg
(6%)