My Hot Honey Chicken Breast Recipe is here to satisfy your cravings and make you think you're in Nashville. It is the ultimate easy weeknight family recipe because it has minimal prep and cook time! This buttermilk soaked chicken is drizzled with a sweet and spicy, hot honey drizzle. For the perfect blend of heat and sweetness you are able to use as little or as much red pepper flakes as you'd like to adjust the heat level. Get ready for a crispy, flavorful adventure that you won't soon forget!
Hot Honey Chicken – The EASY Way!
My son has claimed this as his FAVORITE chicken dish! It makes my mom heart so happy when he asks for "moms hot chicken". Hot honey chicken is known for being a relatively simple dish to prepare. When you need a satisfying meal on the table fast, or maybe you are just craving the Nashville hot chicken flavor, this dish is a lifesaver. With minimal prep and cook time, you can enjoy a delicious dinner that will have everyone asking for seconds.
One of the advantages of Hot Honey Chicken Breast is that it can be easily customized for your family. In the recipe I suggest what I think is the perfect amount of spice, but feel free to adjust the level of heat by using more or less red pepper flakes.
Since the hot honey sauce isn't added until the end, you'll have the chance to even just serve warm, delicious buttermilk chicken to whoever doesn't like spice. Sometimes the little ones are sensitive to spice, and this lets you cater it to their tastebuds.
Whether you drizzle, toss or simply serve without the sauce, the chicken will be perfectly seasoned and cooked to perfection. You are going to be serve a mouthwatering dish that keeps you coming back for more!
Why I LOVE this recipe!
Customizable – Yes, "hot" is in the recipe name, but you can reduce the heat by using less red pepper. You can even leave the sauce off of the chicken if you have someone that doesn't like spice. Just serve the delicious buttermilk chicken.
Quick and Easy – Because this is a skillet meal, the chicken cooks up fast!
Minimal Ingredients – The simplicity of this makes it easy to gather the necessary ingredients without much hassle.
Incredible Flavor – The combination of sweet honey and spicy hot sauce creates a bold flavor profile that hits all the right notes.
What to Serve with Hot Honey Chicken
Since this dish has the classic flavors of comfort food, it will pair well with many of your favorite comforting and flavorful side dishes. There are both classic options and some healthy options to keep it light.
Side Dish Ideas
You can choose one or add a few sides to make a wholesome, well rounded dinner.
Recipe Notes
This Hot Honey Chicken recipe is as simple as promised! Just 30 minutes from start to finish for a family friendly meal.
In this section I am going to go through a few tips and tricks I use how to make Hot Honey Chicken to get the absolute best and most delicious results.
Make sure to scroll to the bottom for the FULL recipe card.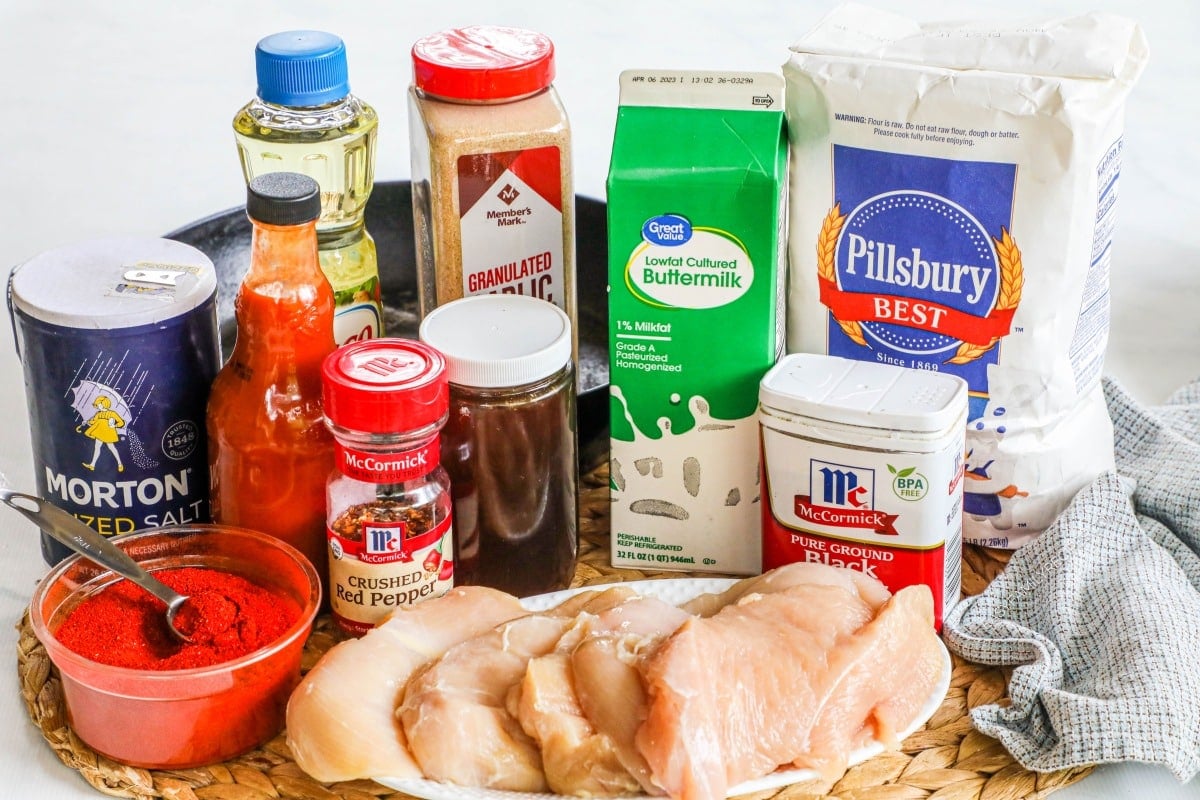 Ingredients + Substitutions
Boneless Skinless Chicken Breast – You can substitute with boneless, skinless chicken thighs. Look for a 2 lb package so you can get 6 pieces. Trim the chicken breast or chicken thighs to prep.
Buttermilk – Use full fat or low fat. The buttermilk helps tenderize and adds flavor to your chicken as it soaks in it.
Flour, Paprika, Salt and Pepper – These spices are necessary because you will dredge the chicken breast in it after the chicken has soaked in the buttermilk.
Cooking Oil – any cooking oil of your choice
Honey – This provides the sweetness of the hot honey drizzle
Red Pepper Flakes – The spice from the red pepper flakes add depth and complexity to the overall flavor profile of this dish. I have provided what I think is the perfect amount, but you can add more or less depending on your preference.
Hot Sauce – When combined with honey, the hot sauce provides a complementary flavor and balance to the sweetness of the honey.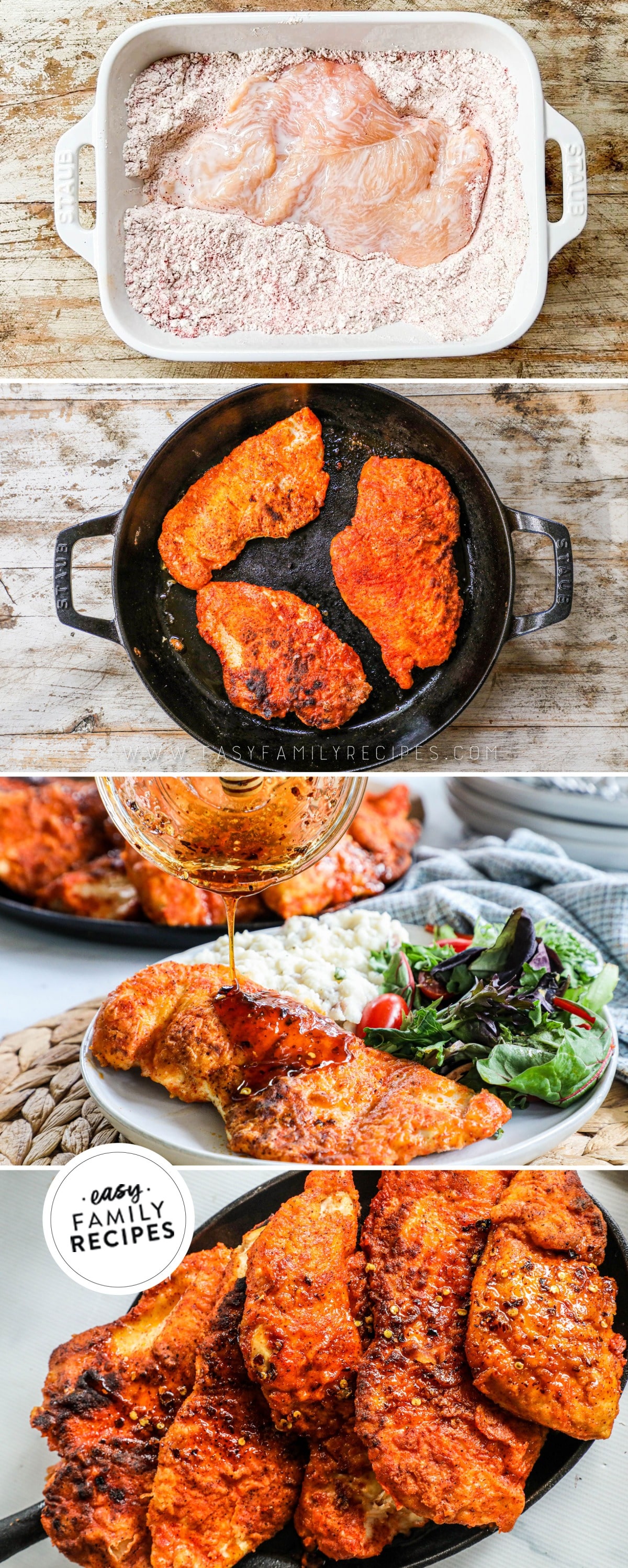 Recipe Tips
Chicken Breasts –

Make sure to either thinly cut your chicken or pound it thin

. Since this is a skillet meal, this is important because you don't want the outside to cook faster than the inside.

Once it reaches an internal temperature of 165 degrees, you'll know your chicken is finished and ready to be drizzled with your hot honey drizzle.

Flour, Paprika, Salt and Pepper – This skillet meal cooks up very quickly so prepare this mixture ahead of time. After your chicken has soaked in the buttermilk you liberally dredge them in this flour mixture. Make sure to really coat them and set them aside until your pan is HOT.
Buttermilk – After you have trimmed your chicken breast, soak them in the buttermilk to tenderize and add flavor.
Large Skillet – Use the biggest pan you have so that your chicken will have plenty of space. If you need to pan fry your chicken in a couple of batches that is best.

With your stove on medium-high heat, heat up your pan and oil BEFORE you place your chicken into it. This is important so that your chicken doesn't get over-cooked or oily.
I like to start with 2 tbsp of cooking oil and cook my chicken breasts for about 3-5 minutes on each side. If the chicken seems to be getting dry, add small amounts of cooking oil.
Once your chicken has cooked all the way through to 165 degrees, place them on a paper towel to soak up any extra oil or grease. Continue cooking all of your chicken until you are finished.

Hot Honey Sauce – If you want to change the spiciness level, I suggest adjusting the amount of red pepper flakes you use. You can use more or less depending on your taste.
Recipe Short Cuts
If you need to make this recipe, but are extra short on time, here are a few ideas that can help make this recipe even faster!
Prep your chicken – Up to 2-3 days ahead of time, trim, cut or pound your chicken ahead of time to save you a step.
Prep ingredients – Mix your flour, paprika, salt and pepper and set aside until you are ready to start cooking.
Recipe Variations
If you love this recipe as much as we do and want some quick ways to change it up for variety, these little tips will do the trick!
Hot Honey Garlic Chicken – Adding garlic to your hot honey chicken can add a wonderful depth of flavor. When you are heating up your cooking oil, add the minced or chopped garlic to the pan and sauté for about 1-2 minutes until fragrant, stirring occasionally to prevent burning. Continue with steps 5 and 6.
Hot Honey Chicken Tenders – Follow the same instructions, but use tenders instead of chicken breasts. Chicken tenders will provide a slightly different texture and shape compared to chicken breasts, but they will work well with the hot honey sauce, delivering a delicious and flavorful result.
Sticky Glaze – For a thicker glaze, simmer the hot honey sauce in a saucepan until it reduces and thickens slightly. This concentrated glaze can be brushed onto the chicken during the cooking process or used as a dipping sauce.
Citrus Kick – Add a burst of freshness by incorporating citrus flavors. Mix the hot sauce and honey with some freshly squeezed lemon or lime juice. The citrus acidity will brighten the flavors and provide a tangy kick.
Asian Infused – Add soy sauce, grated ginger, and minced garlic to the honey and hot sauce mixture.
Crunchy Hot Honey Chicken – Make it crunchy with cornflakes or panko breadcrumbs.

Follow the same steps, but add a small bowl of panko or crushed cornflakes. Proceed with the breading process by dipping the chicken in the seasoned flour, then back into the buttermilk, and finally coat it in the cornflakes or panko breadcrumbs mixed with desired seasonings.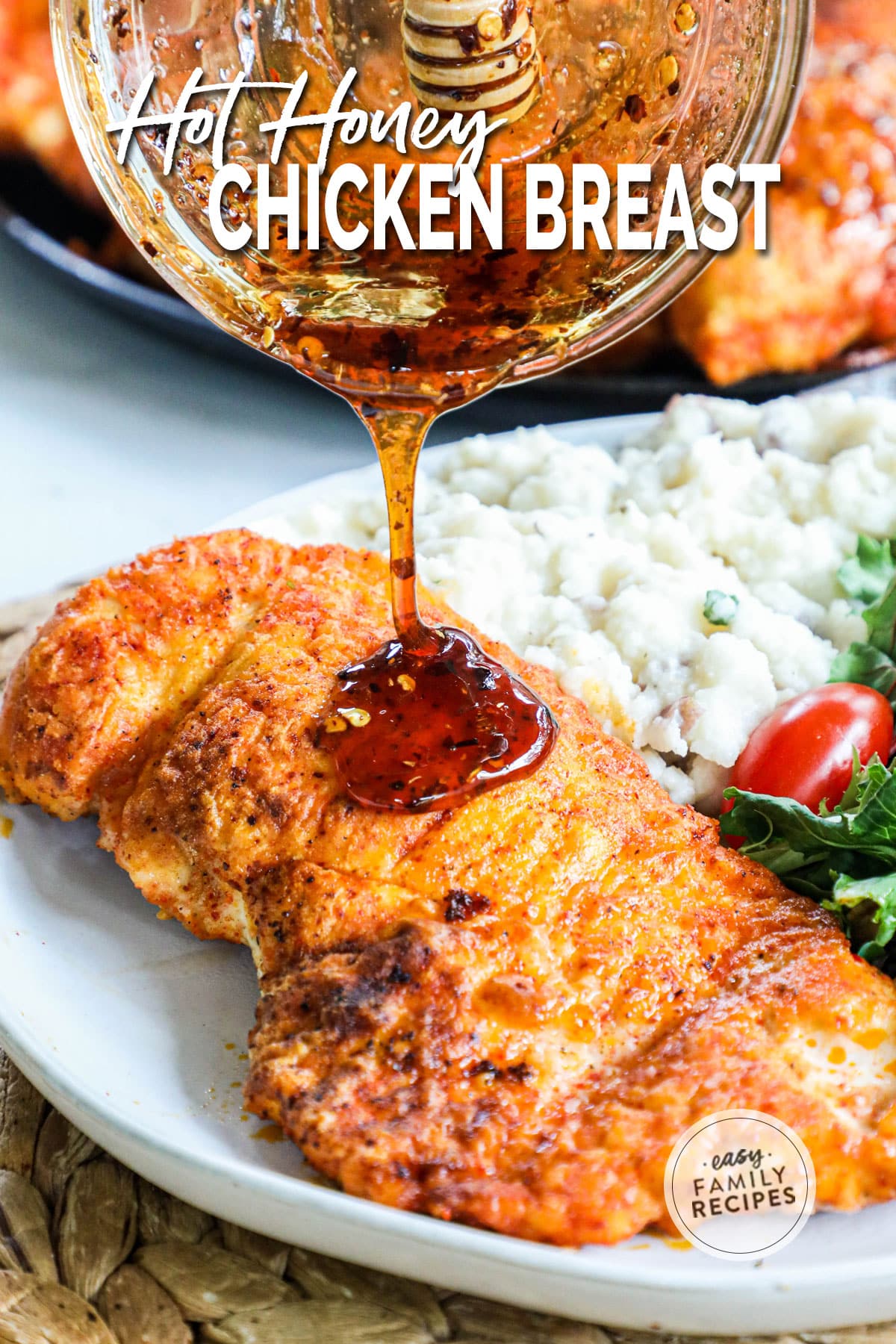 Hot Honey Chicken Leftovers
If you have leftovers after making Hot Honey Chicken, then it is your lucky day! They save and reheat well, and can make the start of another delicious dish.
To save leftovers, separate into meal sized portions and then place in an airtight container and store:
in the refrigerator for 3-4 days
in the freezer up to a month
Leftover Recipes
Here are a few ways to repurpose those leftovers and give them a delicious makeover!
Honey Hot Chicken Sandwich – Shred or slice the leftover hot honey chicken and use it as a filling for sandwiches. Layer it on bread or rolls along with your favorite toppings like lettuce, tomato, cheese, and mayonnaise for a delicious and easy meal.
Chicken Bowls – Slice the reheated hot honey chicken into bite-sized pieces and place them on top of prepared rice or quinoa. Arrange assorted vegetables like bell peppers, carrots, cucumbers, and lettuce around the bowl. Add sliced avocado for creaminess and sprinkle sesame seeds and chopped green onions for extra flavor. Drizzle soy sauce or your preferred dressing over the bowl, and gently toss everything together.
Salad Topping – Slice the leftover hot honey chicken into strips or cubes and use it as a protein topping for salads. Add it to a bed of mixed greens or your preferred salad base along with other vegetables, such as cherry tomatoes, cucumbers, and avocado. Drizzle my buttermilk dressing over the salad for a complete and flavorful meal.
Wraps or Tacos – Repurpose your leftovers by wrapping it up tortillas or butter lettuce to create flavorful wraps or tacos. Add some crunchy vegetables, salsa, sour cream, and cheese for added texture and taste.
Stir-Fry or Fried Rice – Slice or shred your leftovers and add it into a stir-fry (here is my stir-fry recipe) or fried rice dish (and here is my fried rice recipe! just omit the ham). Sauté it with vegetables, such as bell peppers, onions, and carrots, along with soy sauce and other desired seasonings for a flavorful and quick meal.
More Chicken Recipes
If you enjoyed this recipe, I really hope you will take a moment to grab a few more easy recipes for another busy night!
You can check out all of my reader favorite chicken recipes here, or see a few of our readers favorite recipes below.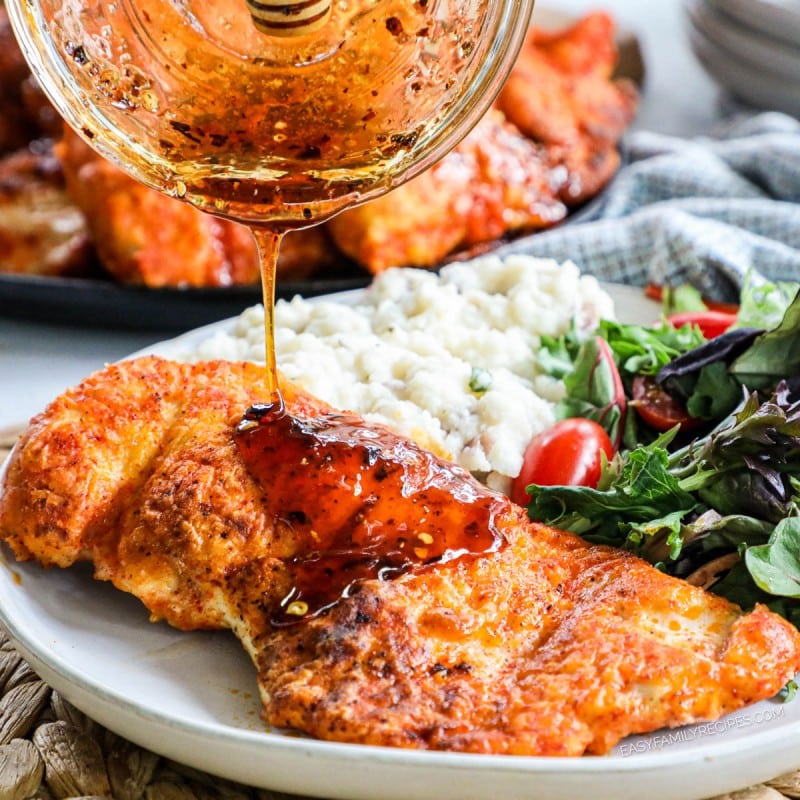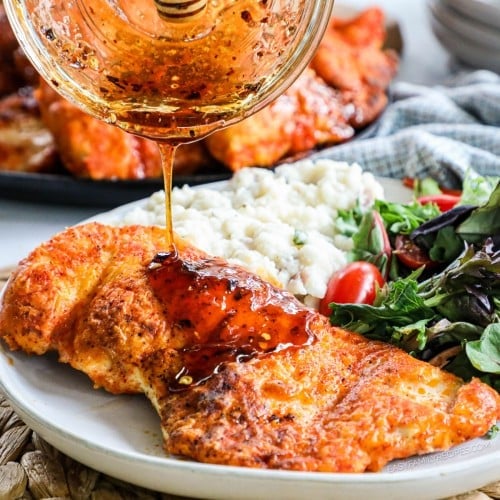 Hot Honey Chicken
Hot Honey Chicken is soaked in buttermilk and seasonings, then drizzled with a customized-to-your-taste hot honey drizzle. For the perfect blend of heat and sweetness you are able to use as little or as much red pepper flakes as you'd like. We love a meal that can be catered to everyone's taste buds, especially when children are involved!
Ingredients
2

pounds

boneless skinless chicken breast

,

cut or pounded thin (about 6 thin pieces)

1

cup

buttermilk

1

cup

flour

2

tablespoons

paprika

2

teaspoons

salt

1

teaspoon

ground black pepper

1/4

cup

oil

,

+ more as needed (your preferred cooking oil)
For the hot honey drizzle
1/4

cup

honey

1

teaspoon

red pepper flakes

1

teaspoon

hot sauce
Instructions
Pour buttermilk over chicken breast and stir to coat. Let it sit in the refrigerator while you prepare the coating and honey.

Add the flour, paprika, salt and pepper to a shallow dish and mix to combine.

In a small bowl, whisk together the honey, red pepper flakes, and hot sauce. Set aside.

Take the chicken breast out of the buttermilk and coat it on each side liberally with the flour mixture. Repeat with each chicken cutlet.

Add the oil to a large skillet, and heat over medium heat. Once hot, add the chicken in a single layer to the pan. Only put in as many pieces as you can fit without them touching.

Allow the chicken to cook 3-4 minutes then flip and continue to cook until done (165˚F internal temp.) About 4-5 minutes.

Remove the chicken to a paper towel lined plate.

TIP: Depending how your stove cooks, you may want to reduce the heat to medium low once you add the chicken so the outside doesn't over cook before the inside gets done.

Repeat until all chicken is cooked. Add more oil as needed if the skillet starts to get dry spots.

Once it is all done, arrange the chicken on a platter and drizzle the hot honey over each piece. Optionally, you can serve the chicken and allow each person to top with as much honey as they like.
Nutrition Information
Calories:
407
kcal
(20%)
,
Carbohydrates:
31
g
(10%)
,
Protein:
36
g
(72%)
,
Fat:
15
g
(23%)
,
Saturated Fat:
2
g
(13%)
,
Polyunsaturated Fat:
4
g
,
Monounsaturated Fat:
7
g
,
Trans Fat:
0.1
g
,
Cholesterol:
101
mg
(34%)
,
Sodium:
1018
mg
(44%)
,
Potassium:
708
mg
(20%)
,
Fiber:
2
g
(8%)
,
Sugar:
14
g
(16%)
,
Vitamin A:
1362
IU
(27%)
,
Vitamin C:
2
mg
(2%)
,
Calcium:
66
mg
(7%)
,
Iron:
2
mg
(11%)