Hawaiian meatballs have an addictingly sweet and tangy flavor! Made in the crock pot with only 5 ingredients, they can be prepped and cooking in no time!
These are perfect for an entree for dinner, or can be served as an appetizer or party food for a potluck, family gathering, neighborhood BBQ or holiday party.
Easy Crock Pot Meatballs
Over the past year or so I have fallen in love again with meatballs! They may seem ordinary, but really, they are an awesome way to hit it out of the park both with flavor and ease.
Here are a few reasons why meatballs can be your best friend in the kitchen:
They can be bought or premade and frozen so there is little work to get them ready
They are super slow cooker friendly so you can focus your attention elsewhere
They can go well with almost any flavor combo- Hawaiian is our flavor of choice today!
You can find them in a variety of different meat options based on preference (beef, pork, turkey, chicken, even vegetarian and vegan!)
The combination of all of these things make meatballs a really power packed option for using in the kitchen.
This Hawaiian Meatballs recipe uses a sweet and tangy combo of flavors. You can prep it in less than 5 minutes, and the crock pot will do the work melding all of the delicious flavors.
With so little work, these always turn out perfect! I had a friend make this recipe and serve it to a group of native Italians that was visiting, she immediately texted me when they left and told me how they were all raving over the meatballs! So although this is far from Italian, they do know their meatballs, so I will gladly take the compliment!
Tips for Making Hawaiian Meatballs
This recipe is as easy as I have promised. I am going to walk through my notes and tips for how to make Hawaiian Meatballs in the crock pot, so that I can hopefully answer any questions that may arise while cooking.
Make sure to scroll to the bottom of the post for the FULL recipe card.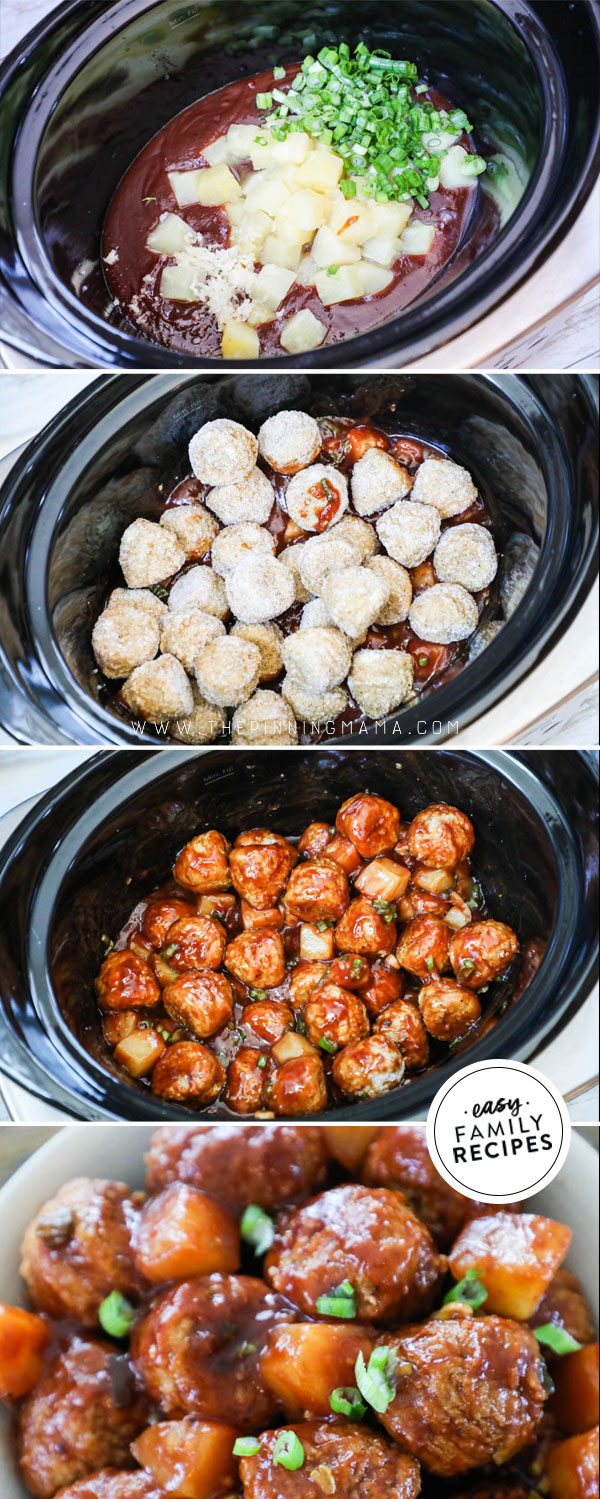 Ingredients
With only 5 ingredients these meatballs come together quickly. There are a few options for each ingredient I will call out below so you can pick what works best for you!
Meatballs
Obviously, these are a key ingredient for this recipe, so the meatballs that you choose can make a big impact on the flavor and your enjoyment of the dish.
The recipe uses frozen, pre-cooked meatballs. You can use either homemade meatballs, or store bought meatballs for ease.
For homemade meatballs, you can use these ground turkey meatballs, or your favorite meatball recipe.
If you choose to use frozen meatballs, you can choose any variety that suits your taste, including:
Beef
Pork
Chicken
Turkey
Vegetarian or Vegan
Any of these varieties or combination of meats will work well as long as they are plain meatballs and aren't glazed or flavored (buffalo, teriyaki, etc.).
Pineapple
We will use pineapple chunks for the Hawaiian Meatballs. I use canned pineapple chunks, however, you could use fresh if you prefer.
I don't recommend using crushed pineapple because it has a higher liquid content if not drained well and can lead to the sauce being runny.
You will use a 20 oz can and drain the juice, reserving 1/4 cup to mix into the sauce.
Using chunks gives you the delicious pops of flavor, and mixing in the reserved juice creates the sweet and tangy Hawaiian flavor.
BBQ Sauce
The last super important ingredient is the BBQ sauce. You will want to use a traditional tomato based barbecue sauce, not a vinegar based sauce.
I really like the original Sweet Baby Rays BBQ sauce in this recipe, but you can absolutely this or use your favorite sauce, whatever it may be.
How Long to Cook Meatballs in the Crock Pot
Since the meatballs are already fully cooked, the cook time is more about heating the meatballs to a proper serving temperature and infusing the flavor of the sauce into the dish.
The meatballs will cook on low for 4-6 hours or high for 2-3 hours in the crock pot and should be cooked until they reach the serving temperature of 165˚F.
Recipe Variations
If you like to mix it up, there are a couple of ways to add some fun new flavors and variations to these Hawaiian Meatballs.
Spicy Hawaiian Meatballs – Make recipe as directed, adding 1 tsp crushed red pepper and up to 1/4-1 tsp cayenne pepper depending on level of spice desired.
Teriyaki Hawaiian Meatballs– Replace the BBQ sauce with teriyaki glaze and make as directed.
Hawaiian Meatballs & Peppers– Make as directed, adding 1 red or green chopped bell pepper and 1/2 sweet yellow onion to the mixture before cooking.
Sticky Hawaiian Meatballs– Replace the canned pineapple with 1 cup of pineapple jelly. Then cook as directed. This will result in a thicker, stickier sauce.
Dietary Considerations
This recipe can be easily modified to meet many dietary needs.
Dairy Free– This recipe can be made dairy free when dairy free meatballs are used. You can find dairy free meatballs frozen or use this Dairy Free meatball recipe.
Gluten Free– This recipe can be made gluten free when gluten free meatballs are used. You can find frozen gluten free meatballs at most stores, or you can use this Gluten free meatball recipe.
Low Carb – The carb count in this recipe can be greatly reduced by using sugar-free BBQ sauce, and low carb meatballs. Find a recipe for low carb meatballs here.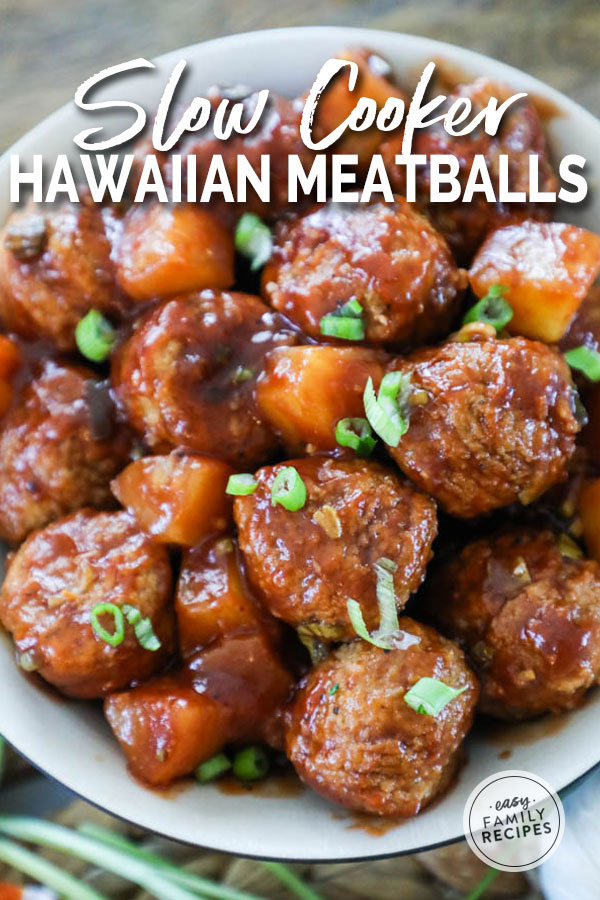 Freezer Meal Instructions
Hawaiian Meatballs can easily be made into a freezer meal that can be prepared another night.
Place the meatballs in a freezer bag or air tight container.
Mix the bbq sauce with the pineapple, reserved juice, garlic and onions.
Pour sauce over the meatballs and stir to coat.
Freeze.
When ready to eat, this can be thawed overnight in the refrigerator or cooked in the slow cooker from frozen.
This meal is best when used within 3 months of freezing.
How to Serve Hawaiian Meatballs
As I mentioned above, one of the things I love most about this recipe is that it can be served as an entree, an appetizer or a grazing party food.
Served as an Appetizer
To serve it as an appetizer, you can either:
Leave it in the slow cooker on the warm setting
Place the meatballs with a pineapple chunk on a toothpick
Served as an Entree
To serve this as an entree you can spoon the meatballs over a side and top with chopped green onions, or place them on Hawaiian rolls as sliders. Try the Hawaiian meatballs served over:
Rice- Plain white or brown rice works well
Mashed Potatoes– these extra creamy ones are the best!
Cauliflower rice
Zoodles – make from scratch or find them in the produce or freezer section
Side Dishes
If you are serving it as a main dish, you can pair the Hawaiian Meatballs with one or a few sides to round out it out to a balanced, wholesome dinner.
Here are a few sides that go well with Hawaiian Meatballs:
What to do with Leftover Meatballs
If you have leftover Hawaiian Meatballs, it is a good day, because they reheat well, and can be used to make some other really delicious meals for later in the week.
Save them in the refrigerator for 3-4 days or in the freezer for up to a month.
Recipes for Leftover Hawaiian Meatballs
Hawaiian Meatball Pizza– On a prepared pizza crust, spread a layer of BBQ sauce. Top with mozzarella or provolone cheese. Chop up the meatballs and sprinkle the meatballs and pineapple chunks over the top of the pizza. Cook as directed.
Hawaiian Meatball Kabobs- Slice bell peppers and onions into chunks. Place on kabob sticks with meatballs and pineapple chunks. Place on a cookie sheet and cook at 400˚F for 20-25 minutes.
Hawaiian Meatball Sliders– Slice a package of sweet Hawaiian Rolls in half. Place the bottom of the rolls in a baking dish then put a meatball inside each roll. Chop the pineapple and sauce and spoon it over the meatballs. Place slices of provolone cheese over the meatballs and top with the roll tops. Brush the rolls with melted butter, then bake at 350˚F for 25-30 minutes or until the tops are brown and the cheese is melted.
Hawaiian Meatball and Rice Bowl– Mix equal parts mayonnaise and Asian sweet chili sauce. Add sriracha to make it spicy if desired. Toss the sauce with coleslaw mix. Create the bowl by placing prepared rice in each bowl, spoon meatballs and pineapple into each bowl, then top with asian slaw.
More Easy Crock Pot Meals
I hope you and your family enjoy this recipe as much as we do. If so, take a minute to grab a few more of our simple and delicious slow cooker recipes. These are perfect for busy weeknights, and as always kid and family approved!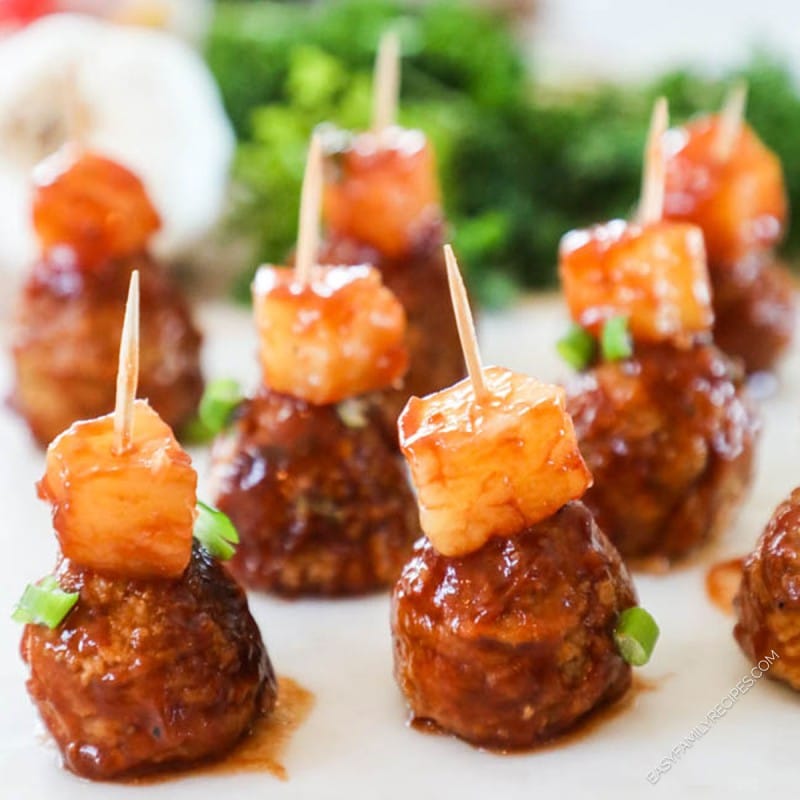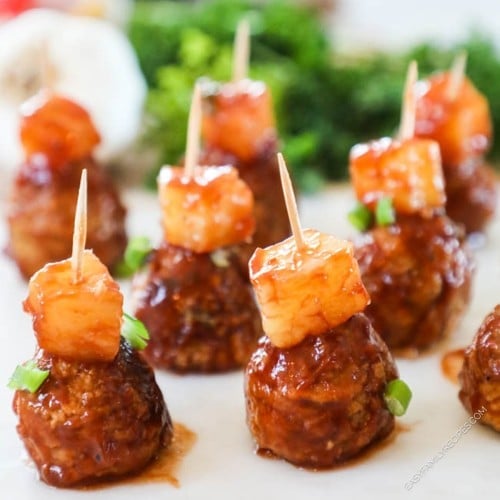 Hawaiian Meatballs
These Hawaiian Meatballs are the perfect combo of sweet and savory! They make a great appetizer or finger food, and are just as good as a kid-approved family dinner.
Ingredients
2

cups

barbecue sauce

20

oz

can pineapple chunks

,

drained with 1/4 cup juice reserved

4

cloves

garlic

,

pressed

4

green onions

,

chopped

2

lbs

frozen meatballs
Instructions
Combine the barbecue sauce, pineapple chunks, reserved pineapple juice, garlic and green onions in the slow cooker and mix until smooth.

Pour the meatballs in the slow cooker and stir into the sauce until coated.

Cook on high for 2-3 hours, or low for 4-6 hours or until they reach 165˚F.
Recipe Notes
How to Store:
Place them into an airtight container and store them in the refrigerator for 3-4 days or in the freezer for up to a month.
How to Reheat: These meatballs can be reheated in the microwave in 30 second increments. 
Nutrition Information
Calories:
623
kcal
(31%)
,
Carbohydrates:
54
g
(18%)
,
Protein:
27
g
(54%)
,
Fat:
32
g
(49%)
,
Saturated Fat:
11
g
(69%)
,
Cholesterol:
108
mg
(36%)
,
Sodium:
1066
mg
(46%)
,
Potassium:
802
mg
(23%)
,
Fiber:
2
g
(8%)
,
Sugar:
45
g
(50%)
,
Vitamin A:
350
IU
(7%)
,
Vitamin C:
12.6
mg
(15%)
,
Calcium:
77
mg
(8%)
,
Iron:
2.4
mg
(13%)