If you're craving the ultimate weeknight meal that's quick and beats your favorite takeout, this quick Turkey Fried Rice is it! Made with fragrant jasmine rice, savory turkey, mixed veggies, and a fluffy scrambled egg, all tossed in sesame oil and soy sauce, this dish will satisfy your taste buds and busy schedule. With only 15 minutes of prep and cooking time, you can enjoy a homemade dinner just as good as your go-to takeout spot.
I'm excited to share with you one of our family's all-time favorites – a Turkey Fried Rice recipe that's incredibly easy and quick and a fantastic way to put those delicious leftovers to good use.
This turkey stir-fry rice has become a real star in our home, and I'll tell you why: it's kid-friendly, making it a go-to for family meals where everyone's happy. Plus, it's an absolute breeze to whip up, and even faster if you prep some ground turkey to keep in the freezer!
If you are looking for another version of fried rice, make sure to check out our Easy Chicken Fried Rice, Steak Fried Rice, and Ham Fried Rice. fried rice is perfect for whatever protein you have on hand!
So, let's dive into this crowd-pleasing, time-saving recipe that will leave you with a happy family and an empty plate!
Why I LOVE this recipe!
Quick and convenient – Perfect for those busy nights when you need dinner on the table in a hurry.
Versatile turkey options – Whether it's ground turkey, leftover Thanksgiving turkey, or deli turkey, this recipe welcomes them all. Just dice them into small pieces to ensure they incorporate into the rice and every bite is full of the best turkey flavors.
Kid-friendly and crowd-pleasing – The combination of savory turkey, fluffy rice, and scrambled eggs makes it a hit with everyone.
Reduced food waste – A great way to repurpose Thanksgiving leftovers or make use of deli turkey.
Recipe Notes
This ground turkey fried rice recipe is as simple as promised! Just one pan and 15 minutes for a family friendly meal.
In this section, I am going to go through a few tips and tricks I use for how to make the BEST turkey fried rice recipe to get the absolute best and most delicious results.
Make sure to scroll to the bottom for the FULL recipe card.
Ingredients + Substitutions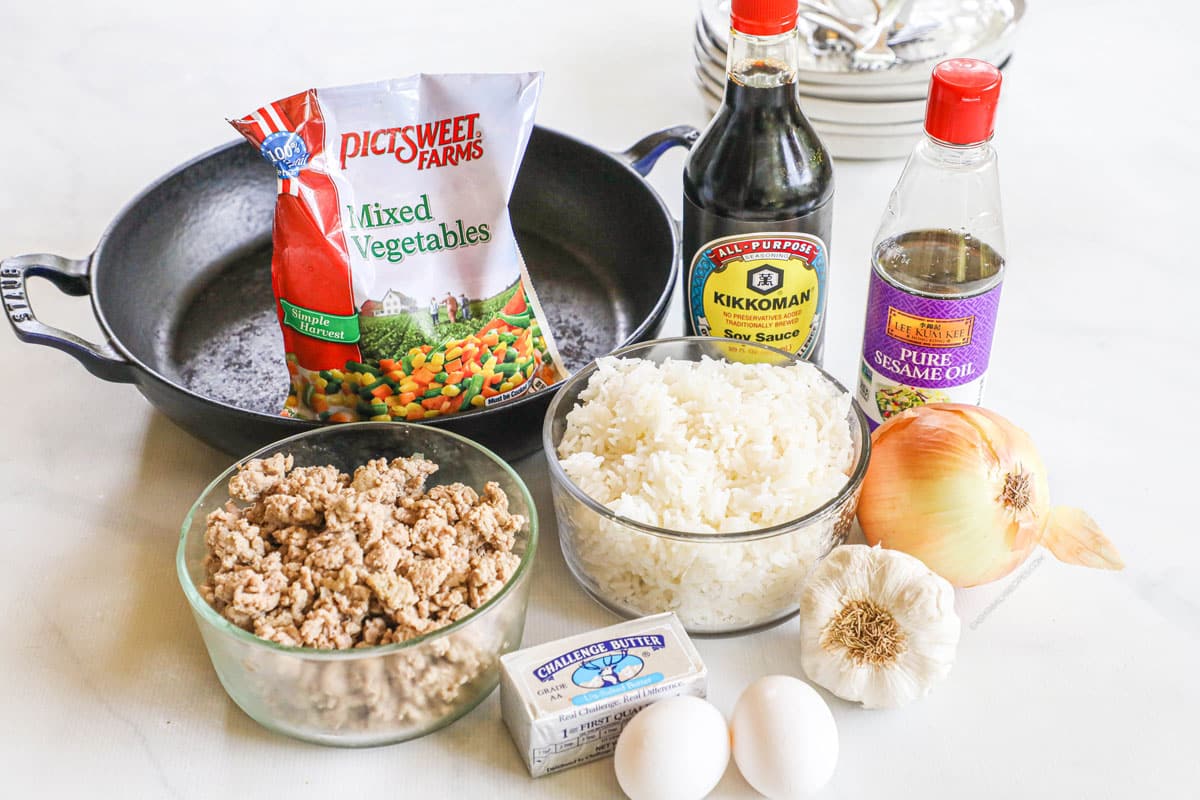 Turkey – Ground turkey is an excellent choice for this fried rice recipe. Make sure to cut it into small pieces, about 1/4″, so it combines well with the other ingredients. You can easily find ground turkey at your nearby grocery store, but this recipe is very flexible and can be adapted to use leftover turkey from holidays or deli turkey.

Rice – Leftover jasmine rice is the best for making fried rice because it is slightly dryer and creates that ideal fried rice texture. Don't worry, though, you can use fresh rice as well!

Mixed Vegetables – I use frozen mixed vegetables to keep this dish simple. You can customize it by using fresh veggies and different combinations.

Eggs – I like to push the rice to the side and scramble the eggs in the same pan with sesame oil. It adds a yummy nutty taste to the eggs and incorporates it throughout the dish.

Onion + garlic – Freshly sautéed garlic and onions add depth of flavor to this fried rice, making them the perfect aromatics to elevate this dish.

Soy sauce – Soy sauce is added to fried rice to enhance the flavor and offer a rich, umami taste. It's a key ingredient for saltiness, flavor depth, and color as it caramelizes the rice.

Butter

Sesame oil– You can substitute vegetable or canola oil in a pinch, but I think the flavor of the sesame oil adds a lot to this recipe so I don't recommend skipping it if you can help it!
Make sure to see the recipe card at the bottom of this post for the full quantities and ingredients list.
Recipe Variations
If you love this recipe as much as we do and want some quick ways to change it up for variety, these little tips will do the trick!
Ground Turkey Cauliflower Fried Rice – Lighten your fried rice using cauliflower rice instead. You can make your own from fresh or by using frozen.

Teriyaki Turkey Fried Rice – Replace the soy sauce with homemade teriyaki sauce to add sweetness and change the flavor.

Cashew Turkey Fried Rice – For added crunch and nutty flavor, toss in some roasted cashews. They'll provide a satisfying texture and a touch of richness to your fried rice.

Leftover Turkey Fried Rice– If you have leftover turkey from Thanksgiving or another holiday, you can shred it up and use it in this recipe in place of ground turkey.
Recipe Step by Step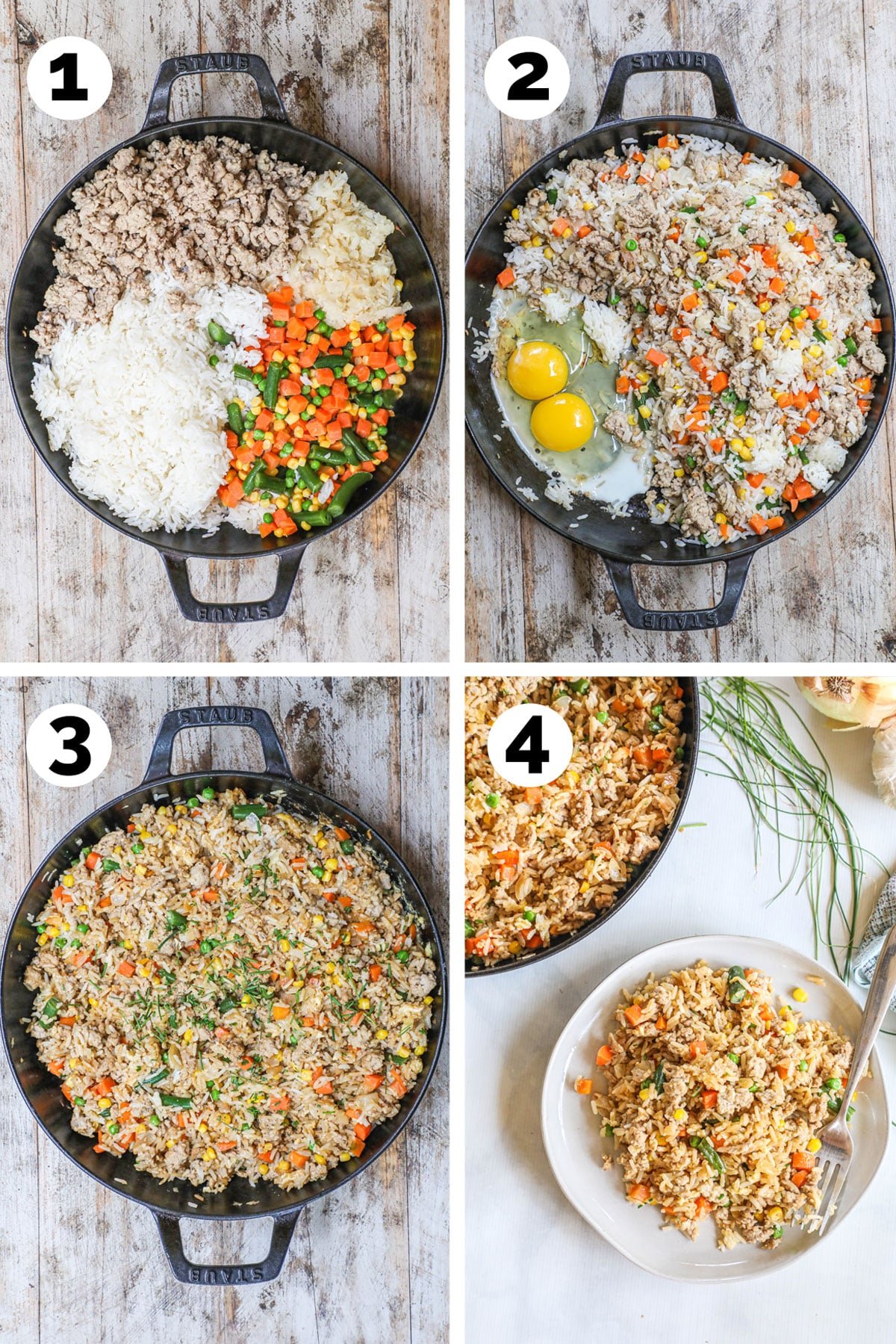 I am going to highlight a few key steps in the recipe here, but make sure to jump down to the recipe card for comprehensive instructions on how to make turkey fried rice.
Step 1 – Prepare the ingredients, like chopping the onion, pressing the garlic, and, if needed, chopping your turkey (not necessary if using ground turkey).

Step 2 – Heat up a large pan (a bigger pan means more surface area for flavor!) and saute the onion and garlic until the edges begin to brown and the garlic is very aromatic.

Step 3 – Add the cooked rice, veggies, ground turkey, and sesame oil. Give it a good stir and allow it to cook for a few minutes to get the turkey cooked through. Then push to one side and add the egg, scrambling and cooking until done.

Step 4 – Toss the egg into the rice mixture and add soy sauce to caramelize the rice. Add a final garnish of green onions and sauces, if desired.
Recipe Tips
Prep ahead – Chop and measure your ingredients before starting to ensure a smooth and speedy cooking process.

Use a large pan – Opt for a spacious pan to allow your ingredients to crisp up and impart more flavor. You can use a wok or skillet, as long as it has room to fry and not steam from the pan being overcrowded.

Don't over-stir – Let the rice, turkey, and veggies cook undisturbed for that perfect fried texture and added flavor.

Embrace the sesame oil – For that authentic fried rice flavor, don't skip the sesame oil in the egg scramble.

Adjust seasoning to taste – Customize the recipe with more or less soy sauce and seasonings to suit your preferences.
Recipe Short Cuts
If you need to make this recipe, but are extra short on time, here are a few ideas that can help make this recipe even faster!
Utilize leftovers – Whether rice or turkey, this recipe is ideal for repurposing leftover ingredients.

Cook the rice in advance – If you don't have leftover rice, you can prep it the day before and store it in the fridge until you're ready to use it. Not only does this save time later, but it also makes for a crispier fried rice texture.

Chop the turkey ahead of time – If you're using leftover turkey or deli-style, you can go ahead and dice it up to 1-2 days in advance and store it in the fridge. That's what helps make this recipe extra quick: having your ingredients ready to throw into the pan!

Frozen veggies – While fresh vegetables are an option, using frozen mixed vegetables keeps it simple and convenient.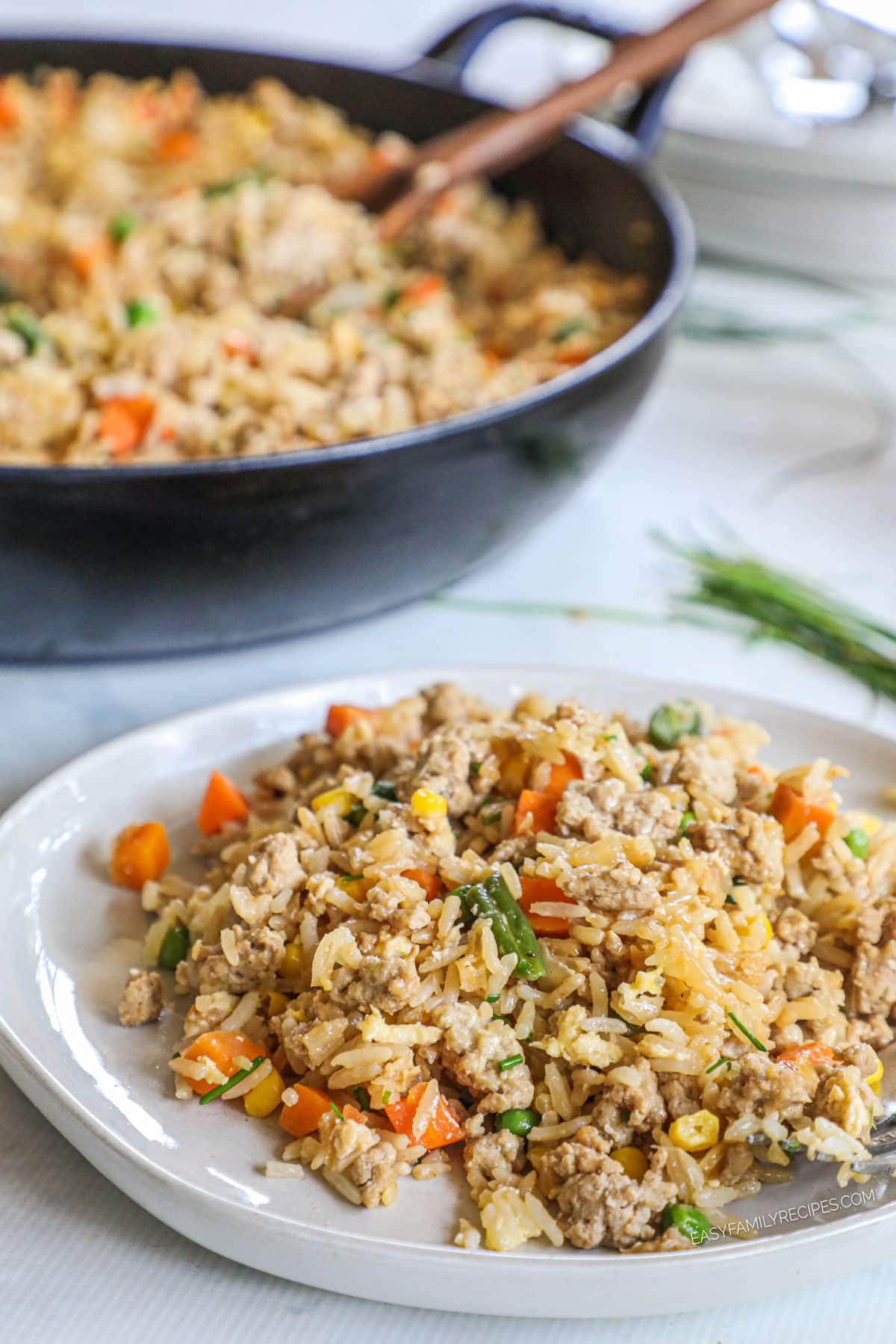 Freezer Meal Instructions
Making this fried rice with ground turkey recipe into a freezer meal is simple! Follow the steps below and you can store this recipe in the freezer for up to 6 months.
How to Freeze Turkey Fried Rice
Cool the Fried Rice: Allow the turkey fried rice to cool down to room temperature.
Portioning: Decide how you want to portion the fried rice for freezing. You can use airtight containers or resealable freezer bags. Portion sizes can vary depending on your needs, but it's often a good idea to portion it into individual or family-sized servings.If using freezer bags, press out as much air as possible before sealing them. This helps prevent freezer burn.
Freeze: Place the portions in the freezer. Make sure they're stored flat initially to save space. Once frozen, you can stack them vertically if needed.
Thaw and reheat: When ready to eat, thaw in the refrigerator overnight. Reheat in a large skillet with a splash of water until heated through.
What to Serve with Turkey Egg Fried Rice
Since this protein based dinner has the delicious flavors of Chinese take out, it will pair well with many of your favorite Asian side dishes and sauces.
Choose one or several of these side dishes to create a wholesome, well-rounded dinner. There are both classic options and some healthy options to keep it light.
Side Dish Ideas
Asian Cucumber Salad – This salad is light and flavor-packed with a ginger soy dressing.
Green beans – Simply add extra veggies to the stir fry or serve on the side.
Sriracha Slaw — This cabbage is creamy with a little kick to spice things up a bit!
Additional topping ideas
Add one of these yummy sauces or toppings to your turkey fried rice for an additional kick of flavor and to really round out this meal!
Yum Yum Sauce – Make this sauce to drizzle on your stir fry – it's worth it!
Spicy Sriracha Mayo – Just the right about of kick.
Toasted sesame seeds – You can get pre-toasted seeds or simply toast them in a hot skillet for a few seconds. It pairs so well with the sesame oil in the recipe!
Turkey Fried Rice Leftovers
If you have leftovers after making this recipe, then it is your lucky day! They save and reheat well, and can make the start of another delicious dish.
To save leftovers, separate into meal sized portions and then place in an airtight container and store:
in the refrigerator for 3-4 days
in the freezer up to a month
Recipe FAQ's
Can I use brown rice instead of white rice?
Yes, you can substitute brown rice for white rice for a nuttier flavor and added nutrition.
Can I add other vegetables to the fried rice?
Absolutely! Feel free to customize your Turkey Fried Rice with your favorite veggies like bell peppers, peas, carrots, or broccoli. Just be sure to chop them into small, uniform pieces for even cooking or choose your favorite frozen blend.
Why is my fried rice mushy?
To ensure your fried rice has the perfect texture, it's essential to use cooked and cooled rice. Freshly cooked rice can become mushy when fried. You should also avoid overcooking the rice in the pan and gently fold it into the other ingredients. And one more reason your rice is mushy is using too small of a pan or simply overcrowding it. Use the largest pan you have to get the best results!
More EASY Asian Recipes
If you enjoyed this recipe, I really hope you will take a moment to grab a few more easy recipes for another busy night!
You can check out all of my easy one pan recipes here, or see a few of our readers favorite recipes below.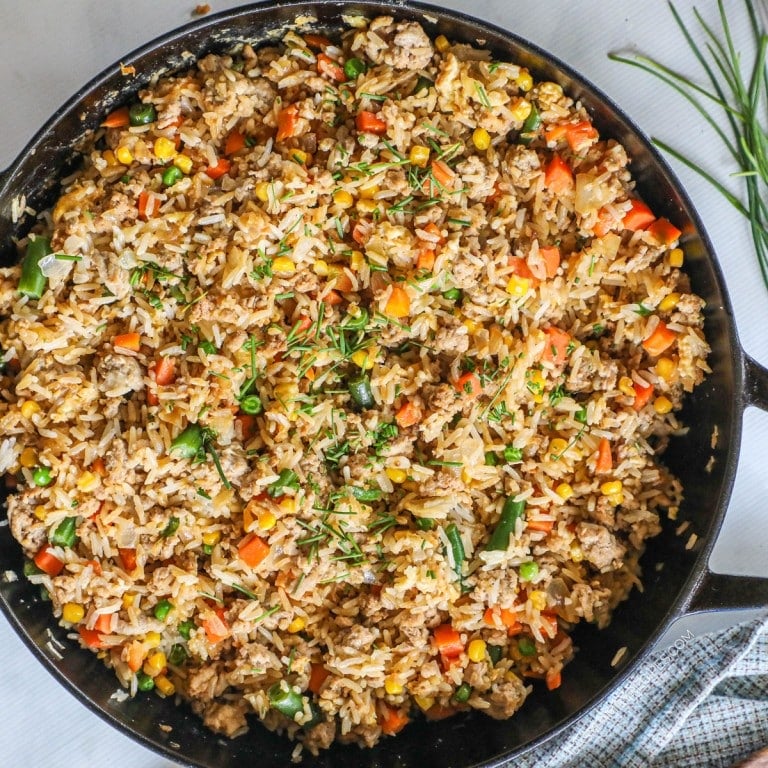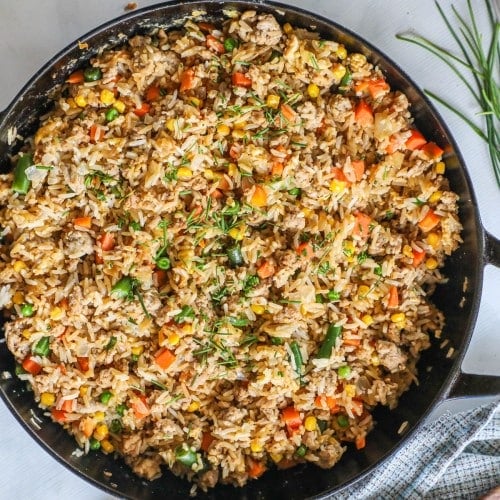 Ground Turkey Fried Rice
This QUICK and EASY Turkey Fried Rice recipe takes just minutes from start to finish and will rival your favorite take out restaurant. This makes a wholesome and filling meal, no matter how busy the day gets, and it is a great tasty way to use up ground turkey.
Ingredients
3

cups

ground turkey

,

or shredded turkey

3

cups

jasmine rice

,

cooked

1

cup

mixed vegetables

,

frozen

2

eggs

1

onion

,

medium

1/4

cup

soy sauce

2

tbsp

butter

1

tbsp

sesame oil

1

tbsp

garlic

,

minced
Instructions
Chop the onion and press the garlic.

Heat a wok or large skillet over medium high heat. Once the skillet is hot, add butter and onion and garlic to the skillet and cook for 2-3 minutes or until the edges start to brown.

Add the rice, veggies, ground turkey, and sesame oil to the skillet and stir to combine. Let cook 3-5 minutes, then push to one side and add the egg, scrambling and cooking until done.

Stir the egg into the mixture, add the soy sauce, and cook 1-2 more minutes, then remove from heat.

Garnish with green onions and drizzle with yum yum sauce or spicy mayo if desired. Serve warm, and ENJOY!
Recipe Notes
Substitutions: Swap out the rice for cauliflower rice. Use any veggies, fresh or frozen. How to Store: Allow to cool and store in the fridge for 3-5 days. How to Freeze: Allow to cool completely and store in the freezer for up to 6 months. How to Reheat: If frozen, allow to thaw overnight in the fridge. To reheat, add to a large skillet with a splash of water and cook until heated through. How to Scale: This recipe is super easy to halve or double. Just remember if doubling to use a large enough pan or cook in batches.
Nutrition Information
Serving:
1.5
cups
,
Calories:
573
kcal
(29%)
,
Carbohydrates:
81
g
(27%)
,
Protein:
37
g
(74%)
,
Fat:
11
g
(17%)
,
Saturated Fat:
4
g
(25%)
,
Polyunsaturated Fat:
2
g
,
Monounsaturated Fat:
3
g
,
Trans Fat:
0.2
g
,
Cholesterol:
126
mg
(42%)
,
Sodium:
668
mg
(29%)
,
Potassium:
577
mg
(16%)
,
Fiber:
3
g
(13%)
,
Sugar:
1
g
(1%)
,
Vitamin A:
1765
IU
(35%)
,
Vitamin C:
5
mg
(6%)
,
Calcium:
55
mg
(6%)
,
Iron:
2
mg
(11%)