Get ready to be dazzled by these Glazed Lemon Scones! These sweet and tender scones are bursting with fresh lemon flavor, and they're the perfect way to start your day or to perk up your afternoon. Plus, they're effortless to make, even if you're new to baking. You don't need any fancy equipment or advanced skills – just some simple ingredients and a willingness to get your hands a little floury. With a little bit of mixing and shaping, you'll have a batch of warm, golden scones that smell absolutely divine and will brighten your day.
Lemon Scones – The EASY Way!
If you're a lemon lover, these lemon scones with glaze are a must-try! The fresh lemon zest and juice give them a bright and zesty flavor that's simply irresistible.
If you loved my popular Lemon Meltaway Cookies, these freshly baked sweet scones will hit the spot and have a similar texture. They're also made without eggs and rely on the heavy cream, adding richness and a soft crumbly texture to this easy lemon scones recipe that you will love! The lemon glaze is the perfect finishing touch for these scones, taking them to new heights of citrusy goodness!
Why I LOVE this recipe!
Perfect for any occasion. Whether you're looking for a breakfast treat, a leisurely weekend brunch recipe, or an indulgent afternoon snack, these scones are perfect. They're also a great gift idea or addition to any dessert table. Once you take a bite of these tender, flaky pastries, and the sweet and tangy glaze, you'll be hooked.

Easily customizable. Get creative with your scone recipe by adding fresh berries or swapping out the lemon glaze for your favorite flavor. Experiment with different citrus fruits or other ingredients like chocolate chips or dried cranberries to make each batch unique and perfectly tailored to your taste. The possibilities are endless!

Great make-ahead recipe. Not only can you easily double or halve the recipe to fit your needs, but these scones also offer the option to freeze the dough before baking. This is a game-changer for anyone who craves the taste of freshly baked goods. Simply freeze the dough and bake the scones whenever you want to indulge in warm, flaky pastries straight from the oven.
What to Serve with Lemon Glazed Lemonade Scones
Since this dish has the classic flavors of fresh citrus and savory biscuits, it will pair well with many of your favorite breakfasts and brunch recipes. There are both classic options and some healthy options to keep it light.
Pairing Ideas
You can choose one or add a few sides to make a wholesome, well rounded dinner.
Recipe Notes
This lemon scone recipe is as simple as promised! Just 20 minutes for a family friendly treat.
In this section I am going to go through a few tips and tricks I use when making this recipe to get the absolute best and most delicious results.
Make sure to scroll to the bottom for the FULL recipe card.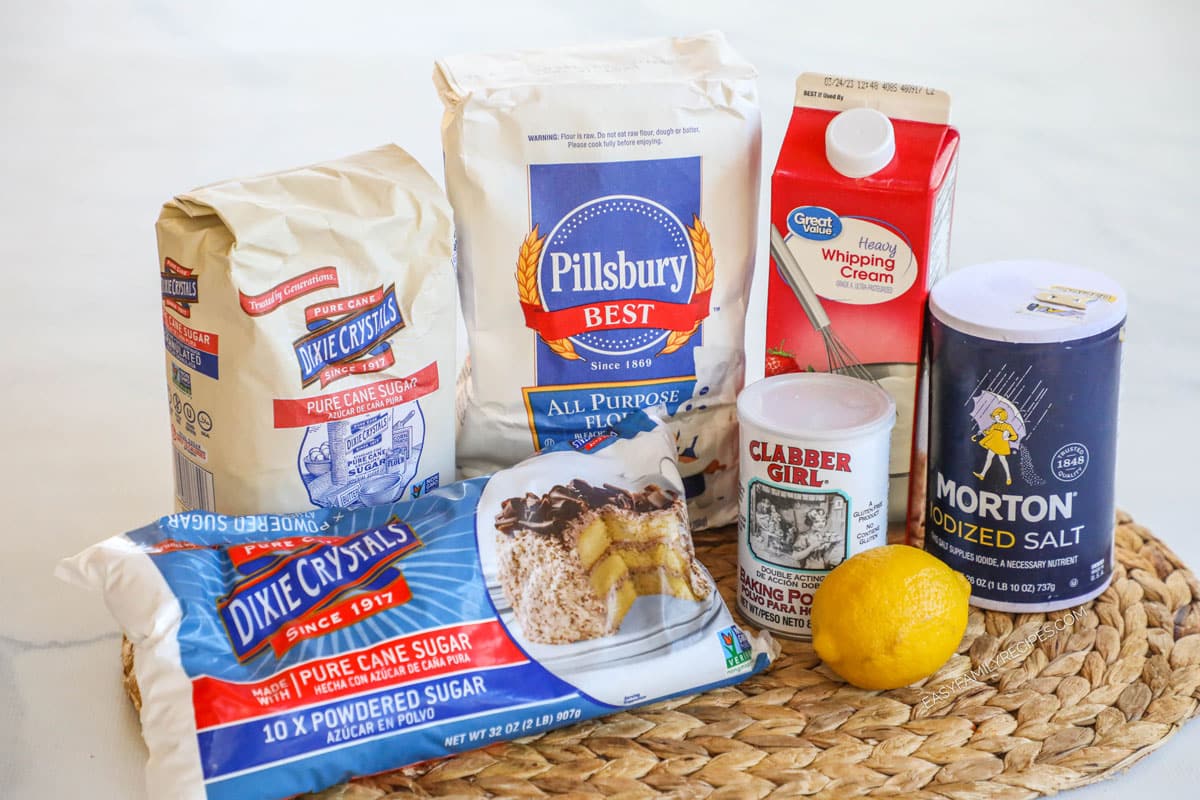 Ingredients + Substitutions
All-purpose flour: I like to use all-purpose flour because it balances a tender, flaky texture and a sturdy crumb.
Sugar: Granulated sugar works perfectly for scones and adds just the right amount of sweetness. You could swap for another sugar, but it may change the texture.
Baking powder: The key to achieving a light and fluffy rise and a tender scone.
Salt: Enhances the flavor and balances the sweet and zesty flavors in both the scone dough and lemon glaze.
Lemon juice and zest: Lemon zest is added to the scone dough to give it a bright citrus flavor. Fresh lemon juice is used in the glaze to add a sweet, tangy taste that perfectly complements the scones.
Heavy cream: Heavy cream is used in the scone dough and the glaze for richness and creaminess.
Powdered sugar: Also known as confectioners' sugar, will create a smooth and creamy texture, making it perfect for making a sweet and tangy glaze for the lemon scones.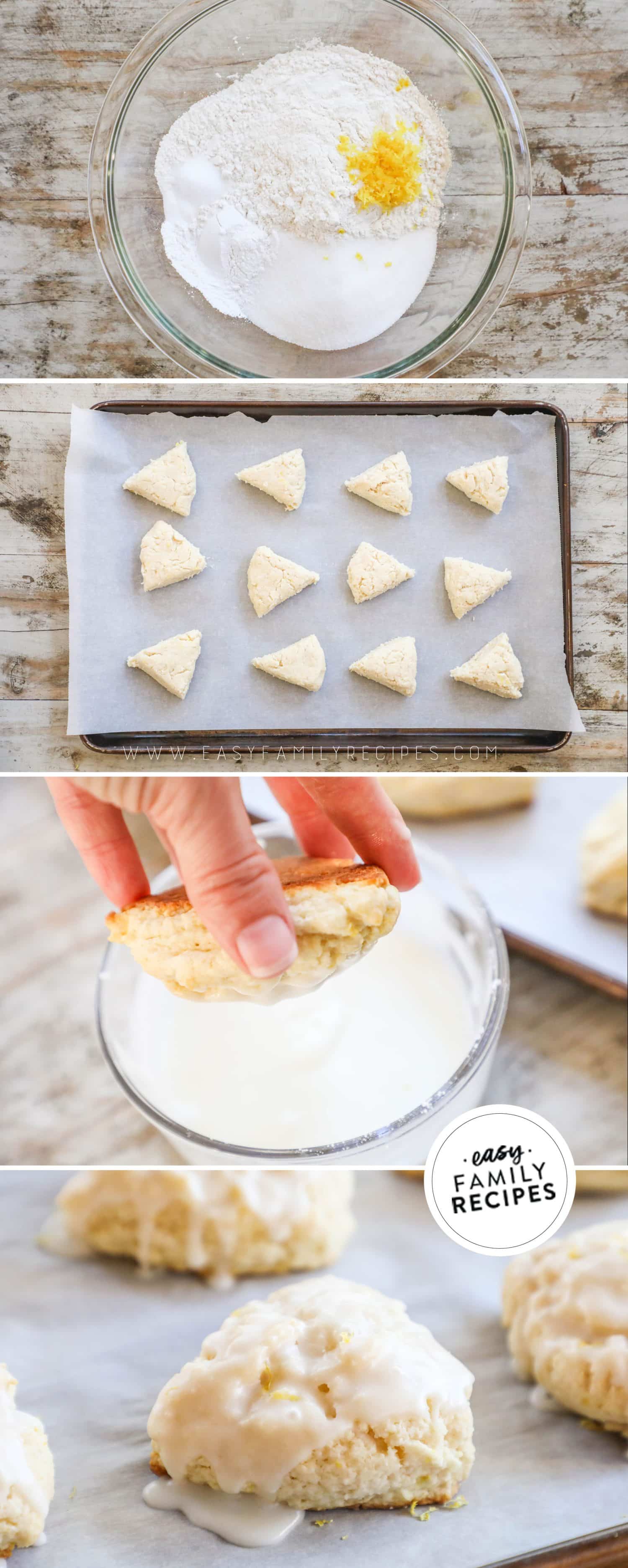 Recipe Tips
Don't overwork the dough. Overworking the dough can make the scones tough and dense. Mix the dough until it just comes together, and avoid kneading it too much.

Add cold butter. This recipe doesn't use butter, but you can absolutely add some for a buttery scone! If doing so, use extra cold or even frozen butter. This will help create a flaky texture.

Shape the dough. After you whisk the dry ingredients together and fold in the heavy cream, transfer it to a lightly floured surface, divide evenly and shape into two round discs about 1 1/2 inches thick.

Chill the dough. After shaping the dough into a disc, chill it in the refrigerator for at least 30 minutes. This will help the scones maintain their shape and rise better in the oven. It will also help you get cleaner cuts when cutting the scone dough with a pastry cutter disc into wedges.

Cool on a wire rack. You can dive right in and enjoy your scones straight from the oven, but I suggest allowing them to cool for 10-15 minutes first.

Spoon or dip to glaze. To add the glaze to your scones, you can either drizzle it over the top with a spoon or dip the scones into it. You can enjoy your freshly baked lemony scones immediately or wait for about 20 minutes to allow the glaze to set and form a delicious crust on top.
Recipe Short Cuts
If you need to make this recipe, but are extra short on time, here are a few ideas that can help make this recipe even faster!
Prepare the dry ingredients beforehand– To save time, prepare a premade mix of flour, salt, baking powder, and sugar in a zip-top bag or container. This allows you to make a batch of delicious scones whenever you want quickly. Just be sure to date the flour mixture to ensure you're mix is still fresh when ready to use.

Make drop scones– Instead of shaping the dough into a disc and cutting it like a pizza, you can use a large cookie scoop to form the scone dough into uniform portions directly on your parchment line baking sheet.

Adjust the recipe size as needed– Doubling or halving the recipe is a great way to adjust the yield of the scones to your needs, whether you're baking for a large group or just yourself.
Recipe Variations
If you love this recipe as much as we do and want some quick ways to change it up for variety, these little tips will do the trick!
Lemon blueberry scones – To add blueberries to the scone dough, gently fold in about 1 cup of fresh or frozen blueberries after combining the wet and dry ingredients. Be careful not to over mix the dough

Lemon poppy seed scones – To add poppy seeds to your lemon scone recipe, simply mix 1-2 tablespoons of poppy seeds into the dry ingredients before adding the wet ingredients. The poppy seeds will add a nutty flavor and a slight crunch to the scones.

Raspberry lemon scones – To add raspberries to the scone dough, you can simply fold in fresh or frozen raspberries after mixing the dry ingredients. Be gentle when folding them in to avoid crushing the berries and creating a mushy texture. Alternatively, you can press a few raspberries into the top of the dough before baking for a more visible raspberry effect.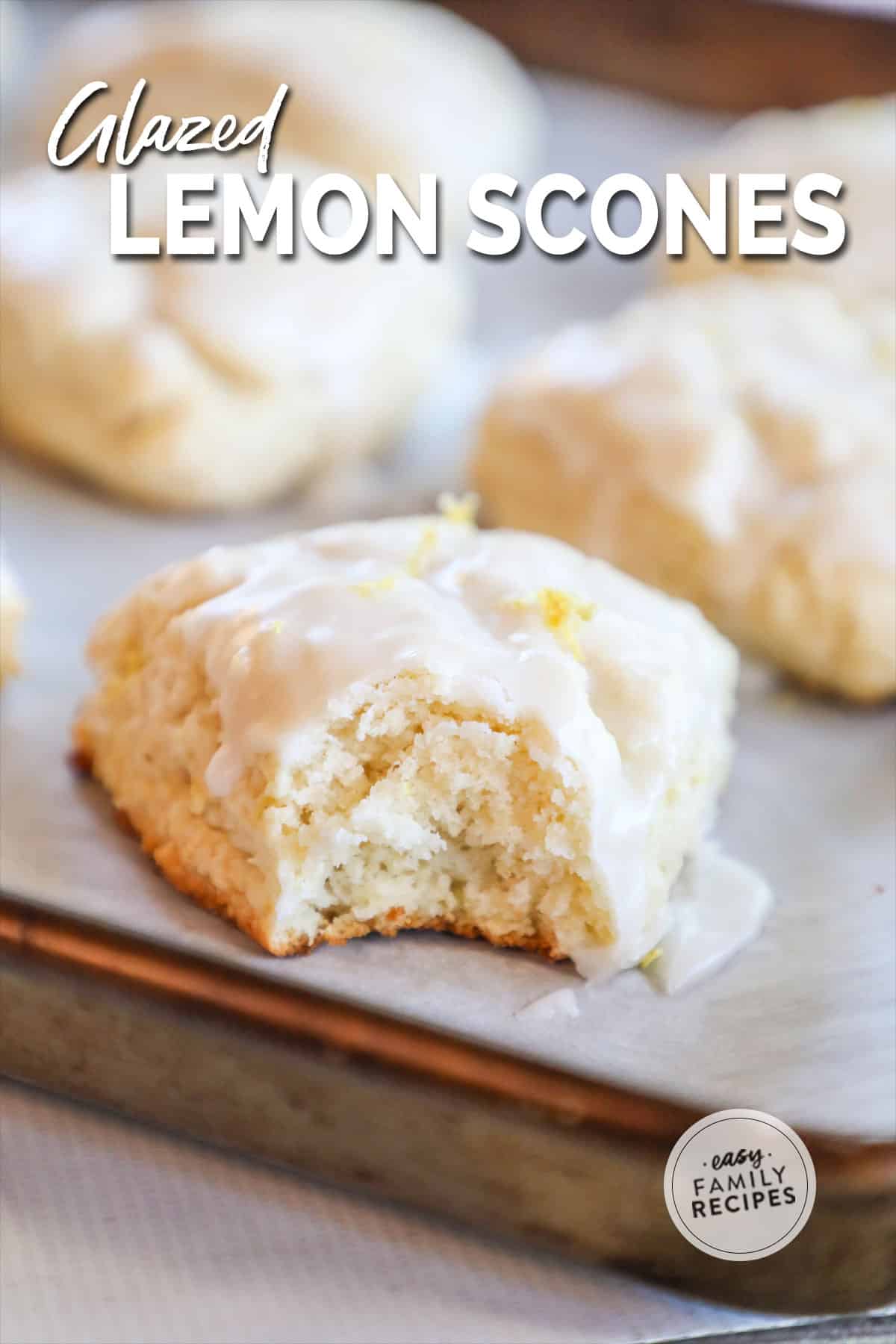 Freezer Instructions
Making this lemon cream recipe into a freezer meal is simple! Follow the steps below and you can store this recipe in the freezer for up to 2-3 months.
To freeze unbaked scone dough:
Place them on a baking sheet lined with parchment paper and freeze for 1-2 hours until solid. Then, transfer the scones to a freezer-safe bag or airtight container and store them in the freezer for 2-3 months.
When you're ready to bake the scones, preheat your oven and place the frozen scones on a baking sheet lined with parchment paper. Bake for a few minutes longer than the original recipe until golden brown and cooked through.
To freeze cooked scones:
First, allow them to cool completely to room temperature. Then, wrap each scone individually with plastic wrap, covering them tightly. Place the wrapped scones in a freezer-safe container or freezer bag, and store them in the freezer for up to 2-3 months.
When you're ready to enjoy them, simply remove the desired number of scones from the freezer, unwrap them, and let them come to room temperature. You can also reheat them in the oven or microwave for a warm and delicious treat.
Glazed Lemon Scones Leftovers
If you have leftovers after making citrus-infused scones, then it is your lucky day! They save and reheat well, and can make the start of another delicious dish.
To save leftovers, separate into meal sized portions and then place in an airtight container and store:
on the counter up to 2 days
In the fridge up to 3 days
in the freezer up to 2-3 months
More Baked Good Recipes
If you enjoyed this recipe, I really hope you will take a moment to grab a few more easy recipes for another busy night!
You can check out all of my baked goods recipes here, or see a few of our readers favorite recipes below.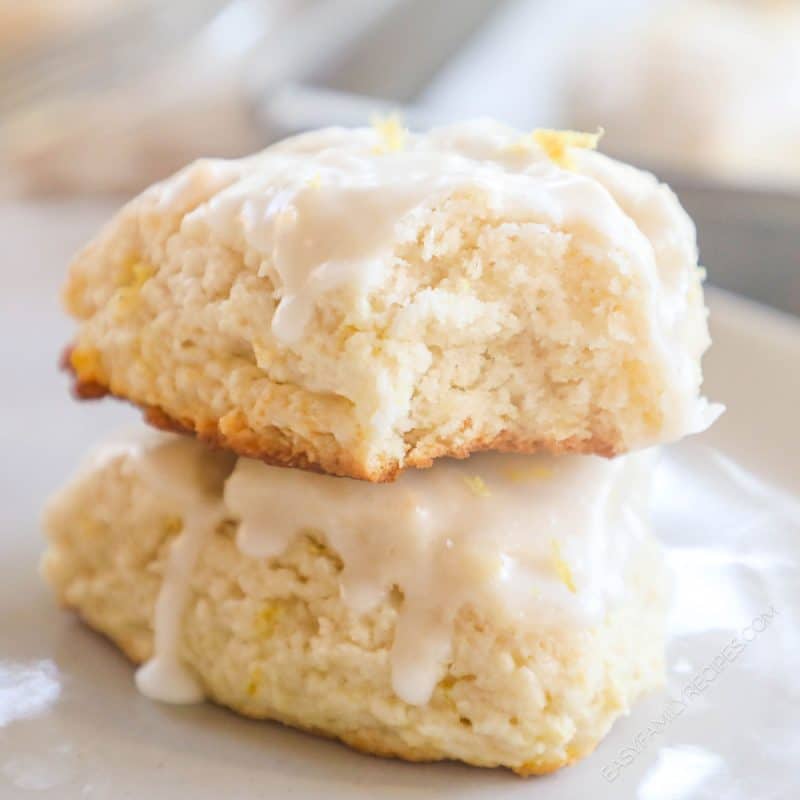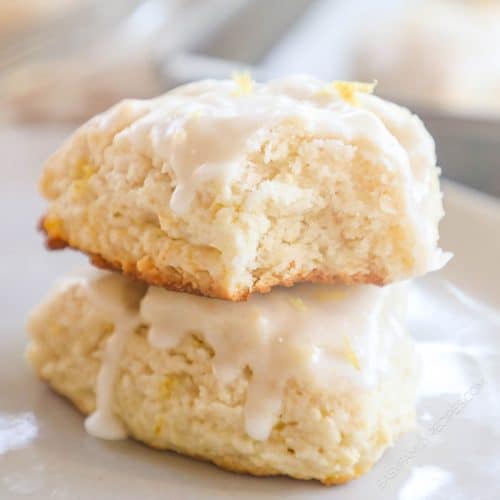 Lemonade Scones
These lemon scones are tender and fluffy with a sweet-tangy glaze. Easy to make, customize, and freeze for a quick breakfast or snack!
Ingredients
2

cups

all purpose flour

1/3

cup

sugar

1

tablespoon

baking powder

1/2

teaspoon

salt

1

lemon

,

zest of

1.5

cups

heavy cream
For the glaze
1

cup

powdered sugar

4

teaspoons

lemon juice

2

teaspoons

heavy cream or milk

,

plus more as needed

⅛

tsp

salt
Instructions
In a large bowl, combine the flour, sugar, baking powder, lemon zest, and salt.

Create a well in the flour and pour the cream into the well. Mix until the scone dough just comes together. The dough should hold together, but not be overly sticky.

Flour a surface and divide the dough in half. Form each half into a disc about 1.5-2" tall. Cut the disc into 6ths to form 6 triangles. (cut like a pizza.)

Transfer each scone to a large baking sheet. Bake for 12-14 minutes or until the centers are set and the edges start to brown.

While the scones are baking, mix up the lemon glaze by combining the powdered sugar, lemon juice, and heavy cream. Add more cream as needed to until the glaze is the right consistency.

Let cool for 5 minutes then spread glaze over the top of each scone either with a spoon or by dipping the top in. Garnish with additional lemon zest if desired.
Nutrition Information
Serving:
1
scone
,
Calories:
241
kcal
(12%)
,
Carbohydrates:
34
g
(11%)
,
Protein:
3
g
(6%)
,
Fat:
11
g
(17%)
,
Saturated Fat:
7
g
(44%)
,
Polyunsaturated Fat:
1
g
,
Monounsaturated Fat:
3
g
,
Cholesterol:
34
mg
(11%)
,
Sodium:
236
mg
(10%)
,
Potassium:
66
mg
(2%)
,
Fiber:
1
g
(4%)
,
Sugar:
17
g
(19%)
,
Vitamin A:
441
IU
(9%)
,
Vitamin C:
6
mg
(7%)
,
Calcium:
85
mg
(9%)
,
Iron:
1
mg
(6%)