This White Chocolate Chai Latte is the perfect warm drink for cold months. Warm Chai Tea is melted with sweet white chocolate and combined with steamed milk. This drink is a treat and warm you up in the most delicious way!
This post is sponored by Unilever and Operation in Touch. All tips and recipes are cooked up right here at Easy Family Recipes!
Chai Tea Latte – The EASY Way!
Warm drinks on a cold day are the epitome of comfort! This White Chocolate Chai Latte is not only comfort, but an absolute treat to look forward to!
With a rich Chai tea carrying the flavors of cinnamon, vanilla, cloves, and other warm spices, paired with just enough white chocolate to bring in some richness and a touch of sweet, then combined with perfectly frothed steamed milk, you are about to get a hug in a glass!
The best part is not only is it delicious to drink, but it is so simple to make! I mean can be ready in 5 minutes or less kind of easy!
With this combo of easy and tasty, we are honored that this White Chocolate Chai Latte is featured on the Operation In Touch Meal Solutions page where they provide quick, delicious recipe ideas for military families. As a military spouse myself, the opportunity to contribute is a special honor!
Make sure to check the Meal Solutions Page for more quick, easy, and delicious dinner ideas like this one!
Operation in Touch serves the military community every day as a source for savings, promotions, and recipes and tips, as well as all the latest deals at your commissary. Additionally, Unilever is donating to Camp4Heroes, a sanctuary helping wounded veterans find their purpose.
What to Serve with Chai Latte
A chai latte can be everything from a quick pick me up drink in the afternoon, to something to savor with friends at a cafe, to a signature beverage you can serve at a holiday party.
Since this beverage has classic warm flavors, it will pair well with many of your favorite traditional eats. There are both classic options and some healthy options to keep it light.
Pairing Ideas
Morning
Coffee Cake
Muffins
Scones
Fruit
Snack
Dessert
Chocolate
Cookies
Biscotti
Recipe Notes
This White Chocolate Chai Latte recipe is as simple as promised! Just FOUR simple ingredients to make a delicious barista style hot beverage.
In this section I am going to go through a few tips and tricks I use when making this recipe to get the absolute best and most delicious results.
Make sure to scroll to the bottom for the FULL recipe card.
Ingredients
TAZO Chai Latte Concentrate – This is where the magic happens! The TAZO concentrate makes it so simple to make a drink with as much flavor as one you would buy at a fancy coffee shop.

The TAZO Classic Chai Latte is the warmest, richest tea, featuring the boldest black teas blended with spiced notes of cinnamon, cardamom, ginger, and black pepper.
White chocolate chips

Milk– Any variety from whole to fat free will work.

Heavy cream– This helps the milk to get extra frothy and delicious!
Topping (optional)
If you want to go classic you can leave the toppings off, however if you want the drink to have a fancy look, or be an extra special treat, these really make the hot tea extra delicious and extra beautiful!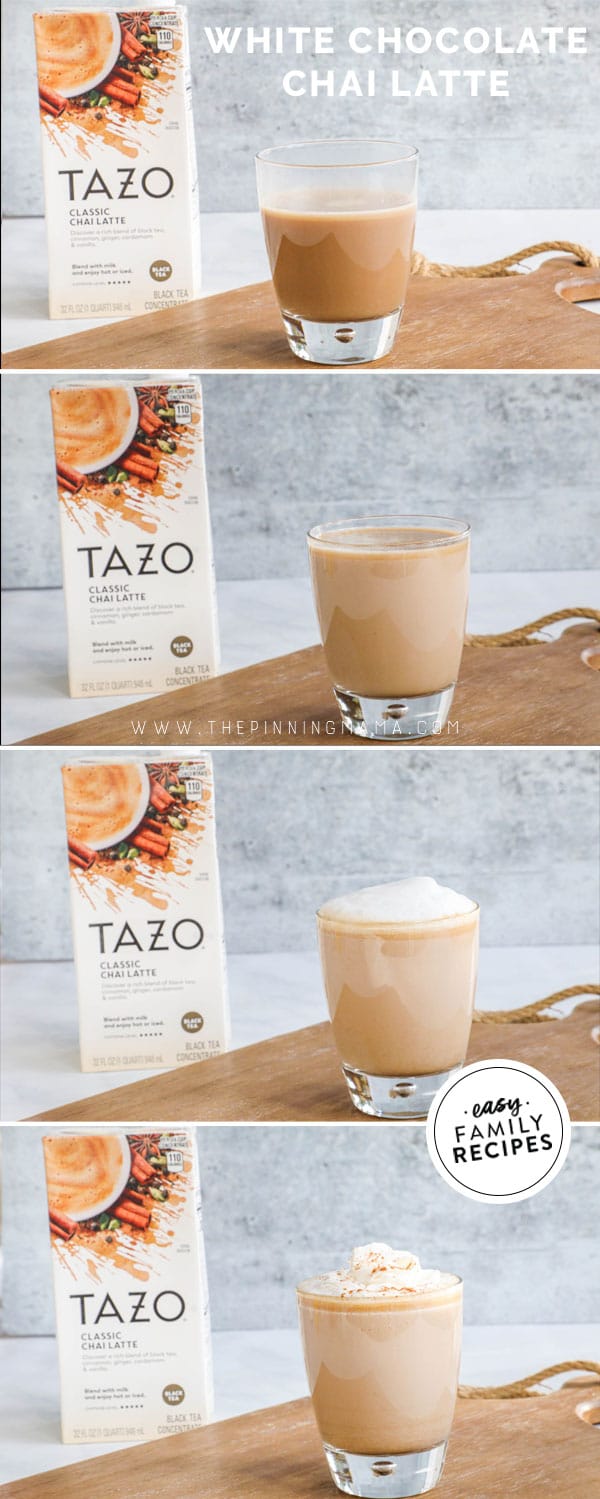 Recipe Tips
Warm the tea slowly– You don't want to rush heating the chocolate because it can cause it to seize instead of melting perfectly into the tea. When you heat the tea slowly over low heat, the white chocolate will slowly melt flawlessly into the tea giving it a hint of that sweet delicious flavor.

Stir constantly- stirring while the chocolate melts helps the chocolate to melt completely into the tea. If you just leave it, you will find it can become gritty or over cooked instead of melting away.

Use a whisk to froth – If you don't have a milk frother, you can just use a whisk to incorporate air into the milk as it heats. You want to whisk vigorously and aim for the milk to roughly double in size.

Pour to taste – The ratio of tea to milk I have in the recipe is personal preference. You can create a warmer, stronger tea taste by adding more tea and less milk, or a milder flavor by adding more milk and less tea. This recipe is very versatile in that regard.
Recipe Short Cuts
If you need to make this recipe, but are extra short on time, here are a few ideas that can help make this recipe even faster! These work especially well if you want to make bigger batches for entertaining, so that you can quickly heat and serve.
Pre-mix the white chocolate and chai– This can be done up to 24 hours in advance and stored in the fridge. Then reheat when you are ready to serve.

Melt the chocolate in the microwave– If the standing and stirring make you antsy, you can speed things up by melting the chocolate in the microwave and slowly incorporating it into the warm tea.

Milk frothing shortcut– To make frothing the milk extra quick, place the milk and cream in a mason jar with plenty of room to spare. Screw the lid on tightly, and shake vigorously until the milk doubles in size. Then heat and serve!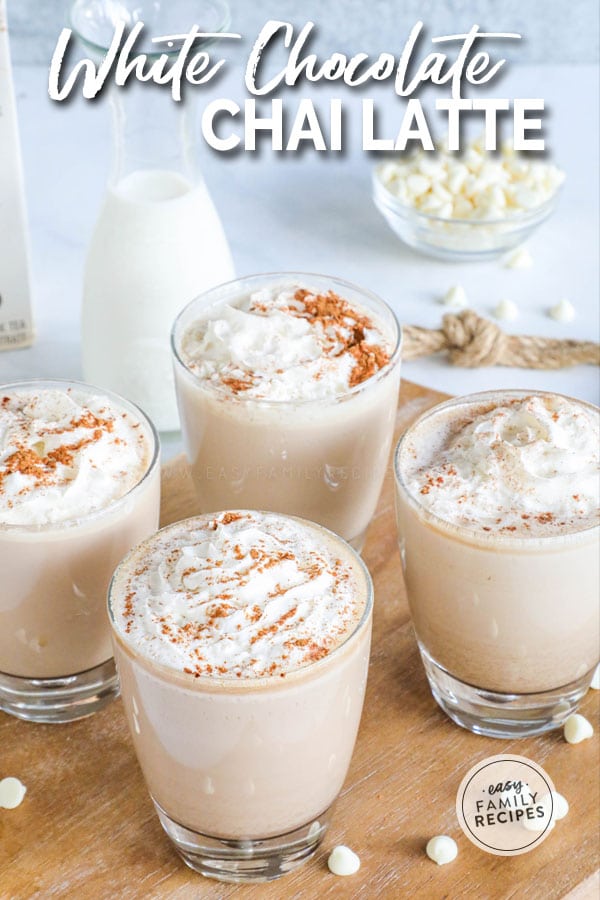 More Easy Recipes
If you enjoyed this recipe, I really hope you will take a moment to grab a few more easy recipes for another busy day!
You can so many quick and easy recipe ideas for beverages, meals, and desserts on the Meal Solutions page , or see a few of our readers favorite recipes below.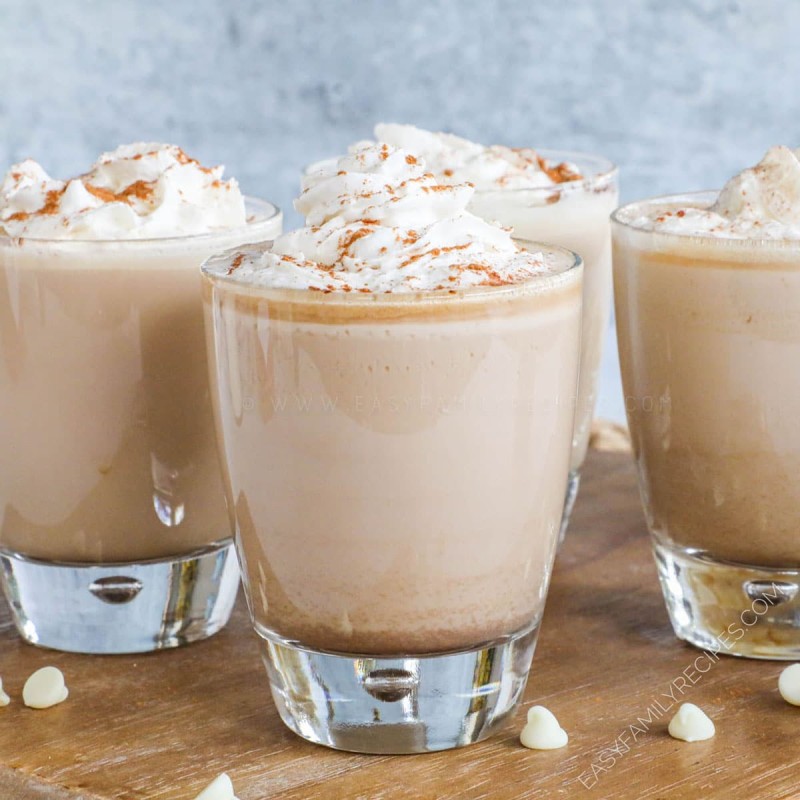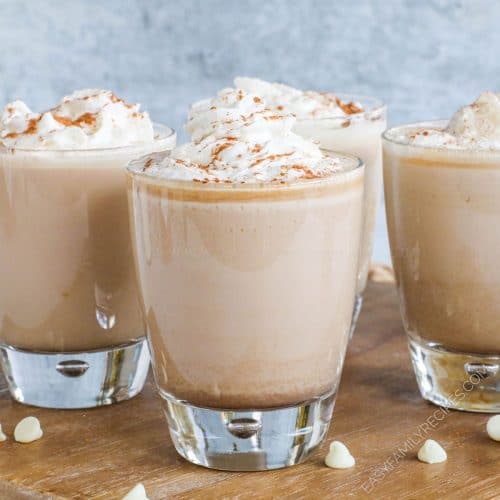 White Chocolate Chai Latte
This steamy White Chocolate Chai Latte is the perfect warm coffee house style drink. It has rich flavors and combined with creamy, frothed milk and topped with whipped cream and cinnamon for a beverage as beautiful as it is delicious.
Ingredients
1.5

cups

TAZO Classic Chai Latte Concentrate

1/4

cup

white chocolate chips

1.5

cups

milk

1

tbsp

heavy cream
Instructions
Combine the chai tea concentrate and the white chocolate in a heavy bottomed pot. Heat over low heat and stir continuously until the chocolate has completely melted and incorporated in the tea.

Remove the tea from the pot pouring half in each of two cups.

Add the milk and cream to the pot and again heat over low. Whisk continuously to create froth until the milk is doubled in size.

Pour half of the milk over each glass of tea, then spoon froth over the top.

If desired, top with a dollop of whipped cream and a sprinkle of cinnamon and serve warm. Enjoy!
Recipe Notes
This makes 2, 12 ounce glasses of Chai Tea Latte, or 3, 8 ounce glasses.
Nutrition Information
Serving:
12
oz
,
Calories:
346
kcal
(17%)
,
Carbohydrates:
23
g
(8%)
,
Protein:
7
g
(14%)
,
Fat:
14
g
(22%)
,
Saturated Fat:
8
g
(50%)
,
Cholesterol:
29
mg
(10%)
,
Sodium:
112
mg
(5%)
,
Potassium:
378
mg
(11%)
,
Sugar:
22
g
(24%)
,
Vitamin A:
291
IU
(6%)
,
Calcium:
257
mg
(26%)