These Garlic Smashed Potatoes are one of our favorite side dishes! They are everything a potato should be. They are tender on the inside and crispy on the outside. They are packed with the perfect amount of garlic flavor and the perfect amount of richness. And with a only a few ingredients, of course they are easy to make! Garlic Smashed potatoes are the perfect dish for everything from a steak on the grill, to a baked chicken dinner, meat loaf, or something traditional like a burger.
Garlic Smashed Potatoes Recipe
Let me start out by saying if you have never had potatoes made this way, you are missing out on life! This recipe is super simple and the result is something that so many agree is absolutely the most delicious way to eat potatoes. There can be variations on flavor like these Ranch Smashed Potatoes, but the concept is the same. Boil the potatoes until soft, mash them down, add enough oil to help them get nice and crispy and bake at a high temperature until crispy perfection.
I feel almost as if it is my job in life to convert people to making these one by one, because every time we serve them people say it is one of the best potatoes they have ever had. I also love that these are just as easy to make in a small batch for a family dinner or a huge batch for barbecue or football party.
As a bonus, these Garlic Smashed Potatoes are both gluten free and dairy free so it makes a great choice when you are serving someone with sensitivities or special dietary requirements.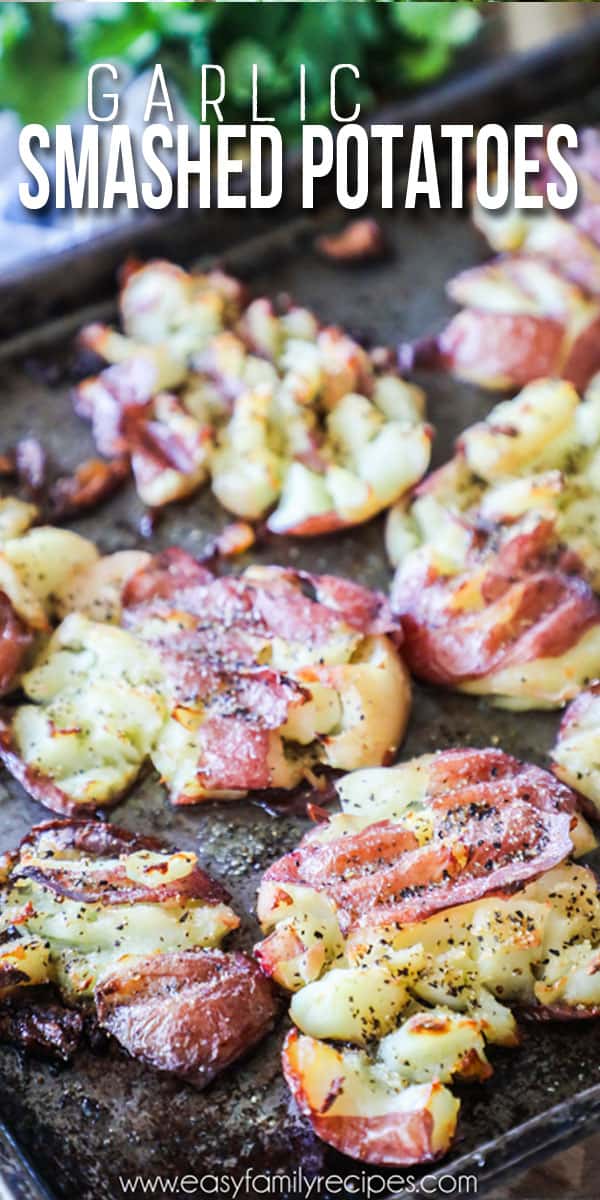 How to Make Garlic Smashed Potatoes
This Garlic Smashed recipe is super simple but there are a few tricks to getting a great result. I am going to walk you through some of my tips for getting the best out of this recipe, but makes sure to hop down to the FULL printable recipe card at the bottom of this post.
Ingredients
All you need for this recipe are 5 of the most basic ingredients, so it is easy to make this in a pinch since you almost always have these on hand.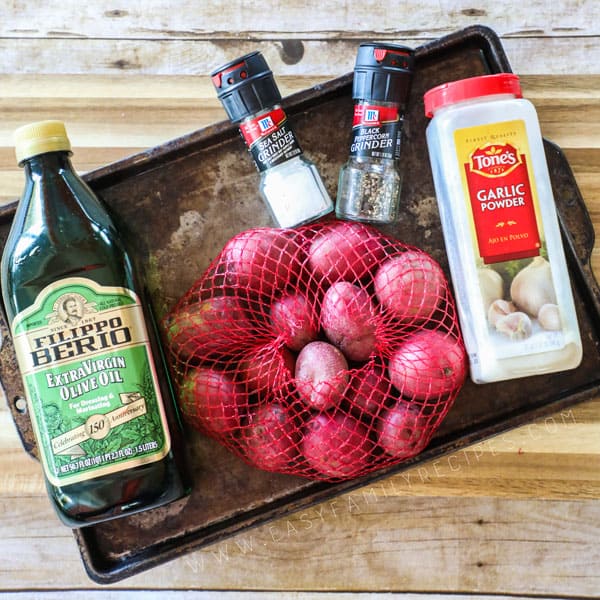 24 oz baby red potatoes- This is a common weight they are sold in at the store which is why I generally make this quantity. If you have to buy them individually this equates to 1.5 pounds of potatoes. My biggest tip is to buy the smaller potatoes. Even though the larger potatoes will work, they take substantially longer to cook and are harder to smash to the right thickness. Smaller potatoes just yield a better result in this recipe.
1/4 cup + 1 Tbsp extra virgin olive oil- This sounds like a lot of oil and it is, but you really need it all to get them to cook properly. Much of the oil does stay on the pan so it isn't all consumed.
1 tsp garlic powder- I really prefer using garlic powder and salt instead of garlic salt because it allows you to always know the ratio of the spices you are getting so that you can get the taste you want. In a pinch I am sure it would be okay to use garlic salt.
1 tsp salt
1/2 tsp ground pepper
Instructions
Again, these are pretty basic to make, but there are a few pointers to add to get the best result. First, make sure that the potatoes are soft enough when you boil them. You don't want the fork to just be able to pierce the skin, but you want them really soft so they will be easy to mash down.
Next, make sure you are generous with the olive oil. The first coat on the pan keeps them from sticking while baking so make sure it is covered. When you drizzle it over the top try to make sure it gets in all of the nooks and crannies because this will make those nooks and crannies into delicious crispy potato bites.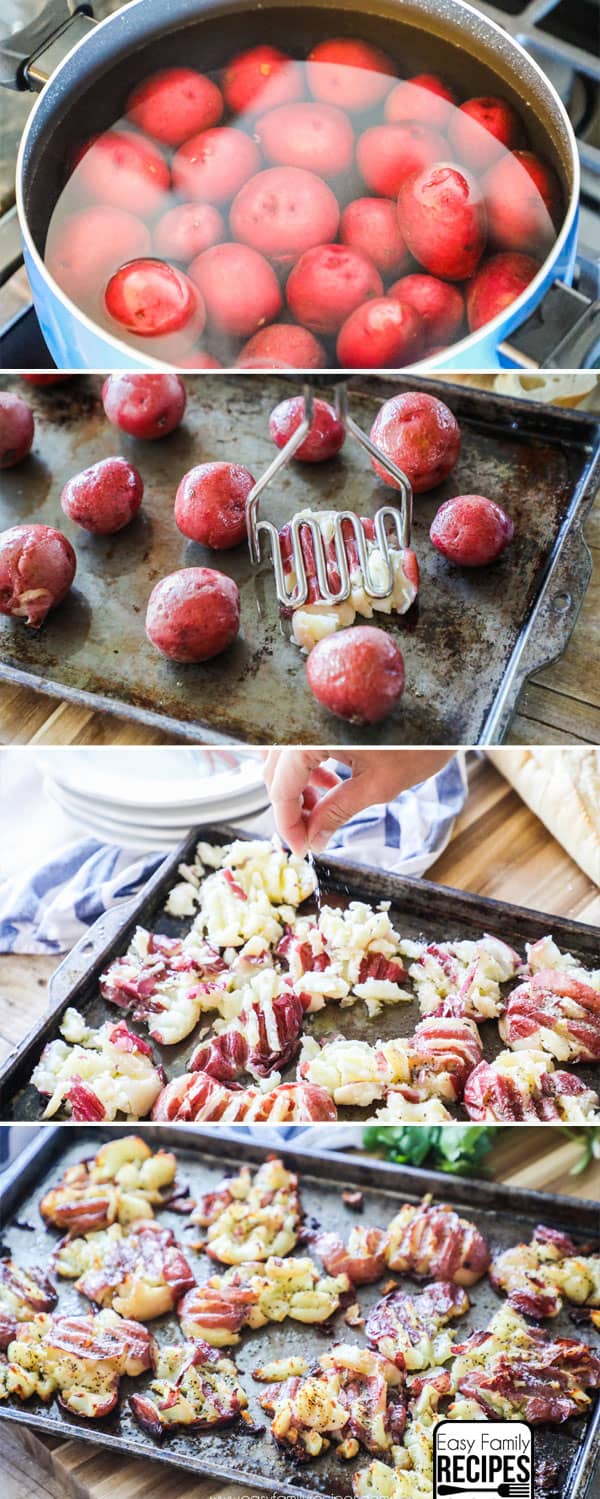 When you smash the potatoes try not to demolish them, but also, make sure that you get them thin and spread out enough. If they are thicker you will end of with more of a mashed potato and less of the delicious crispy outsides with little bits of creamy insides.
Lastly, I know 425˚F sounds high, but the potatoes need it to get those crispy edges! Keep an eye on them toward the end and adjust the cooking time up or down if they seem like they are getting too browned or are not quite crispy enough yet.
I really hope that you love and rave about these potatoes as much we do! If you get a chance to try them, I would love it if you would let me know! You can leave me a note in the comments or if you post a pic, tag me @easyfamilyrecipes so I can see what you are making! Nothing makes me happier than seeing others enjoy the recipes I share!
How to Serve Garlic Smashed Potatoes
Garlic Smashed Potatoes should be served piping hot right out of the oven. They will be best in the first 15 minutes after cooking while they are still warm and crispy. If you aren't able to serve in this time-frame you can return them to the oven to reheat them.
These potatoes are great as is, but if you want a little something extra you can sprinkle parmesan cheese or sour cream on top of them for even more deliciousness!
This Garlic Smashed Potatoes version is a classic flavor that pairs perfectly with, well… almost anything! I think this is a great way to add a starch to a meal and since the flavor is so complimentary to many different kinds of dishes, you can keep this recipe in your back pocket for when you need something to serve with what ever you have going in the kitchen that day. Here are some of my favorite meals to pair it with:
Grilled meats (Steak, chicken, etc)
Baked Chicken Dinners (This Buffalo Chicken Casserole is always a hit!)
Hamburgers- I love to make these on the stove top and find that these potatoes are so much yummier than making baked french fries
Italian Dishes (without pasta) like Chicken Marsala or Chicken Piccata
Meatloaf
Rotisserie Chicken
Basically anywhere you would think of making mashed potatoes or french fries these make a great alternative! If you have a favorite dish you love to serve these with I would love to hear it in the comments! I am always looking for new ideas.
….Oh and before you go! If you are like me and need a regular steam of dinner inspiration, please think about signing up to get my Hungry Emails. It's free! I send out an email each week with what I am making and what I need to make ASAP! I would love to have you join us! Just click here or on the button below.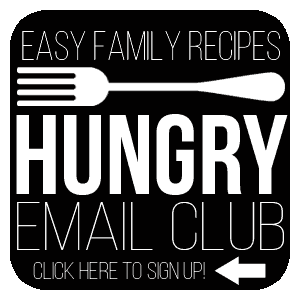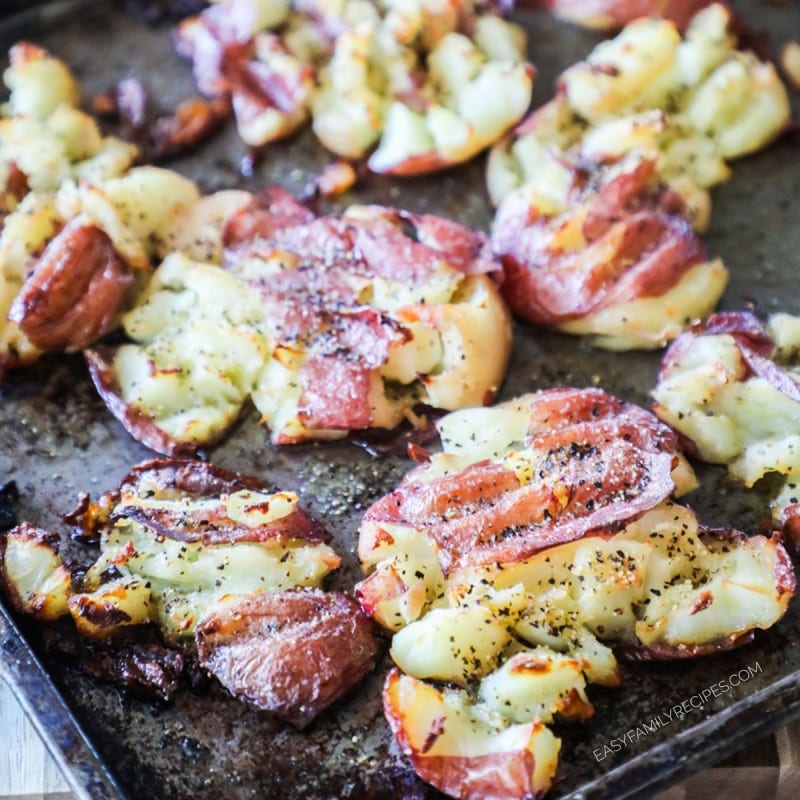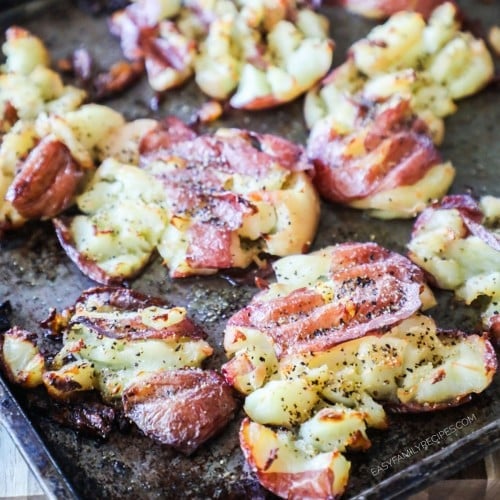 Garlic Smashed Potatoes
These Garlic Smashed Potatoes are tender on the inside, crispy on the outside and full of delicious garlic flavor. They are the perfect side for grilling out or baked chicken.
Ingredients
24

oz

baby red potatoes

1/4

cup

virgin olive oil

,

+ 1 Tbsp extra

1

tsp

garlic powder

1

tsp

salt

1/2

tsp

ground pepper
Instructions
Boil the potatoes about 20-30 minutes or until the fork not only can pierce the potato, but they are very tender. Then drain the potatoes in a colander.

Mix the garlic powder, salt and pepper together in a small bowl.

Spread 2 tbsp of olive oil on a baking sheet so that it is completely covered, then arrange the potatoes on the cookie sheet so that they are evenly spaced.

Use a potato masher or the bottom of a glass to smash each potato until it is about 1/2 inch thick. Then sprinkle the seasoning directly on top of each potato and finish by drizzling the remaining olive oil over each potato generously.

Bake at 425˚F for 25-30 minutes or until the edges of the potatoes are browned and crispy. Serve hot and enjoy!
Recipe Notes
Substitutions: Seasoning can be adjusted to personal preference either more or less.  This gives you a starting point using what we prefer.
How to Store: To save leftovers, separate into meal sized portions and then place in an airtight container and store:
in the refrigerator for 3-4 days
in the freezer up to a month
How to Reheat: This can be reheated in the microwave in 30 second increments, or cover with tin foil and place into the oven to reheat.
©2018 Easy Family Recipes- Recipe found at: https://www.easyfamilyrecipes.com/garlic-smashed-potatoes/
Nutrition Information
Serving:
6
oz
,
Calories:
241
kcal
(12%)
,
Carbohydrates:
27
g
(9%)
,
Protein:
3
g
(6%)
,
Fat:
13
g
(20%)
,
Saturated Fat:
1
g
(6%)
,
Cholesterol:
0
mg
,
Sodium:
612
mg
(27%)
,
Potassium:
783
mg
(22%)
,
Fiber:
3
g
(13%)
,
Sugar:
2
g
(2%)
,
Vitamin C:
14.6
mg
(18%)
,
Calcium:
17
mg
(2%)
,
Iron:
1.3
mg
(7%)