This Easy Stir Fry Sauce recipe is made with just a few simple ingredients that you probably already have in your kitchen. It's perfect for any type of stir fry, whether you're using chicken, beef, pork, shrimp, or vegetables. You can make the stir fry sauce in just minutes, or prepare it in advance to keep on hand for a quick weeknight meal.
Stir Fry Sauce – The EASY Way!
A good Stir Fry Sauce is one of my secrets for adding a TON of flavor to food, with just a tiny bit of time and effort.
This Easy Stir Fry Sauce recipe is one of the most used sauces on busy weeknights.
The great thing about homemade stir fry sauce is that it takes about 5-10 minutes to make (depending on how organized your pantry is!) and then you can pop it in an airtight container and it will stay good for UP TO A MONTH!
So for 5 minutes of work you can have this delicious seasoning on hand when you need a quick dinner!… or until you run out which very well may be sooner because this stuff is just that good.
You can easily make a double or triple batch of homemade stir fry sauce in the same amount of time so you can always have it on hand.
Recipe Notes
This Easy Stir Fry Sauce recipe is as simple as promised! Just mix together some key ingredients and seasonings and you have the perfect stir fry flavors that taste just like take out, but faster than getting in the car.
In this section I am going to go through a few tips and tricks I use when making this recipe to get the absolute best and most delicious results.
Make sure to scroll to the bottom for the FULL recipe card.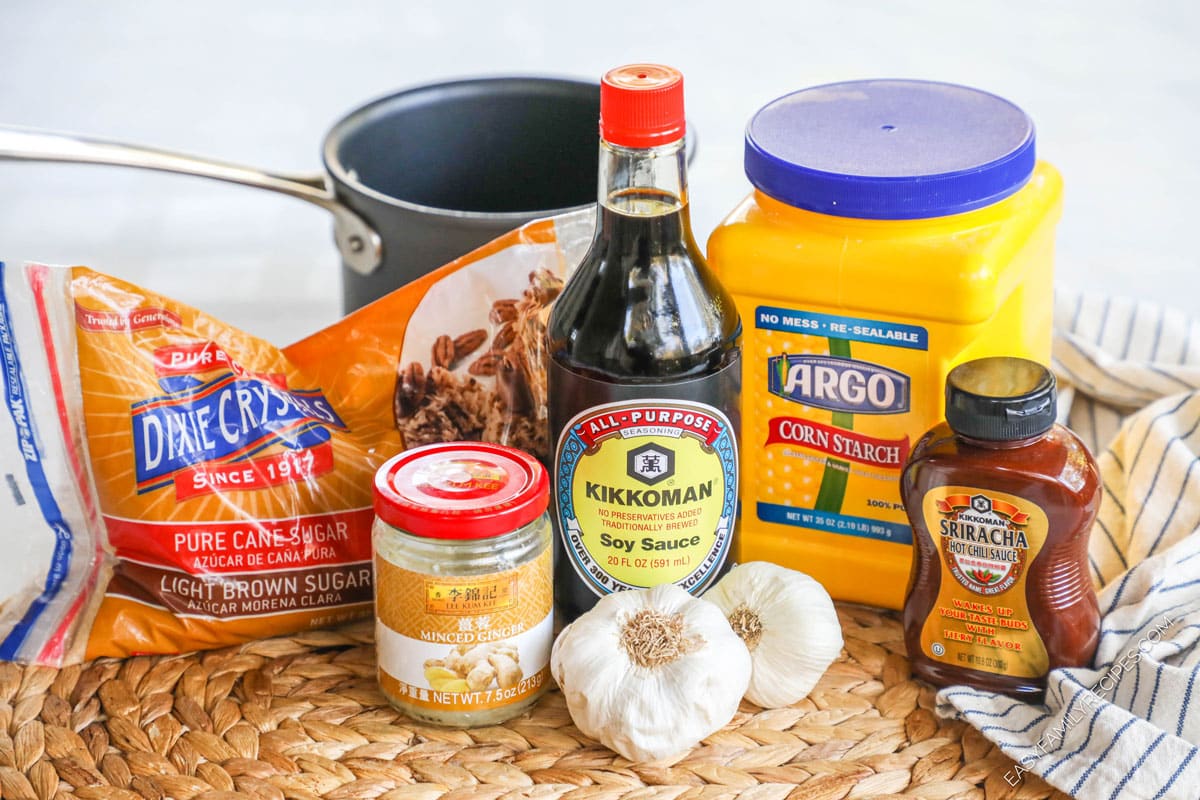 Ingredients
Soy sauce – you can use regular or low-sodium soy sauce, or substitute gluten free soy sauce to make the recipe gluten free
Brown sugar- you can also use honey in place of brown sugar, but I prefer the depth of flavor brown sugar adds
Garlic- I like fresh garlic but you can also use jarred
Ginger – you can use fresh ginger or jarred minced ginger. If you are in a pinch you can use dried ginger as well.
Sriracha- this is optional. It doesn't add much heat, but it does add a nice layer of flavor, if you don't have sriracha you can substitute 1/4-1/2 teaspoon red pepper flakes
Cornstarch- this is necessary for helping the sauce to thicken and become sticky
Water
This list is filled with pantry basics that come together to make dinner time magic. All of these ingredients are commonly found and there shouldn't be anything you have to hunt down. You may even have every single one already in your kitchen!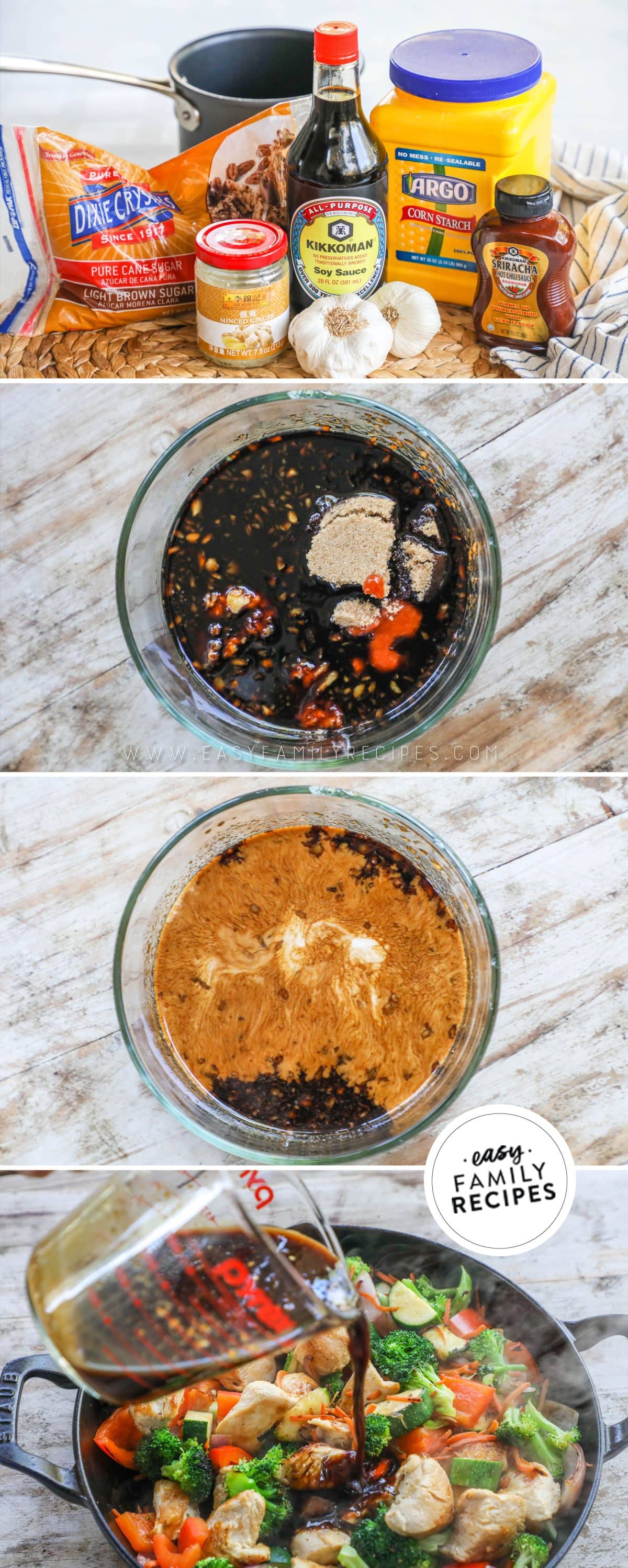 Recipe Tips
Key Ingredients! There are only a few ingredients in the stir fry sauce but they are all important! If you can use fresh ingredients like ginger and garlic, it will add more flavor, but if you need to speed it up, jarred works well too!

Whisk to combine– Using a whisk is really helpful to make stir fry sauce because the sugar takes a minute to dissolve. The whisk works really well to get everything to combine. I like to continue to whisk until the bottom of the mixture no longer feels thick. You can also add all of the ingredients to a mason jar and shake, if you find that easier than whisking.

Don't overcrowd the pan– To make the best stir fry you will need enough space for the meat, vegetables and stir fry sauce to be in the pan without crowding. If you add too much food to the pan at once, it will steam instead of stir fry. If you have a lot of food, cook it in batches so that it doesn't overcrowd the pan.

Double, triple, or more! This recipe can easily be scaled up to make a big batch of stir fry sauce. This will allow you to keep it on hand for longer periods of time, especially when you start throwing it in everything as your "secret ingredient" like I do!

Glaze too thick? If you find the glaze has gotten too thick while cooking, you can use a little chicken broth or vegetable broth to thin it out to your desired consistency.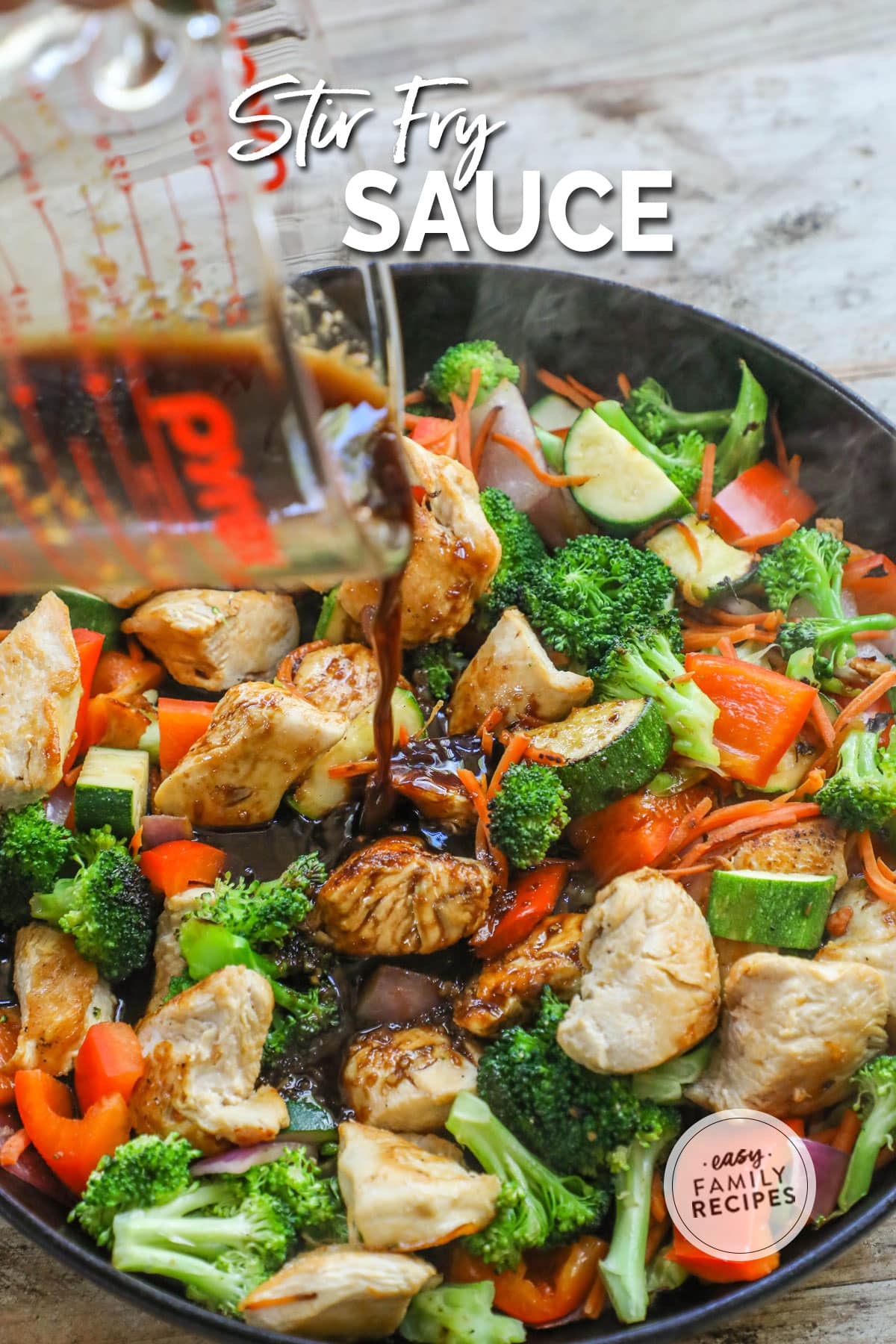 How to use Stir Fry Sauce
The thing that makes Easy Stir Fry Sauce so great, is that it can add so much flavor to a recipe with so little effort! I use it in SO many ways, both for main dishes, and side dishes.
From seasoning meat, to stir frying vegetable sides, rice, and more there are so many ways to use this seasoning.
These are a few of my go-to uses- but if you have a favorite I missed, I would love to hear in the comments.
Main Dish Ideas
Stir Fry– The most obvious use for the stir fry sauce is making stir fry of course. I recommend using one recipe of sauce with about 2 pounds of meat and 4-5 cups of vegetables. You can reduce the amount of sauce if you want to make less than this, or increase the sauce to make more.
Marinate and season meat– You can also use this stir fry sauce recipe to marinate meat. Add about 1/2 cup of stir fry sauce per pound of meat then refrigerate to marinate.
You can do this with chicken, pork, lamb or beef. Grill it, bake it, or cook it up in a skillet like a traditional stir fry.
These are a few examples of using this Stir Fry Sauce with meat:
Chicken Stir Fry
Ground Beef Stir Fry
Pork Stir Fry
Vegetable Stir Fry
Tofu
Side Dish Ideas
The stir fry sauce can also be used to make side dishes. Here are some great options:
Asian Vegetable Stir Fry– Freshly chop veggies, or use a frozen mix from the store.
Cabbage Stir Fry– This works great with freshly shredded cabbage, or coleslaw mix from the store!
Green Beans
Broccoli
Cauliflower
Bell peppers and Onions
Carrots
Snap Peas or snow peas
Mushrooms
Baby corn
Asparagus
Noodles – Like lo mein or rice noodles
If you want a full stir fry recipe, check out some of these popular recipes:
More Seasoning Mix Recipes
If you enjoyed this recipe, I really hope you will take a moment to grab a few more easy recipes for another busy night!
You can check out all of my Easy recipes here, or see a few of our readers favorite seasoning mixes recipes below.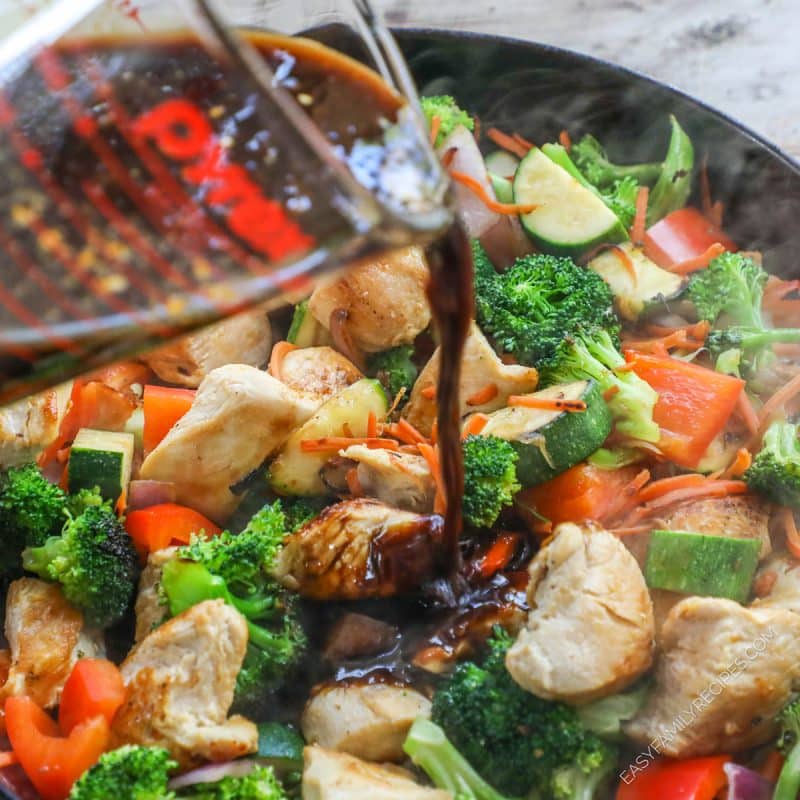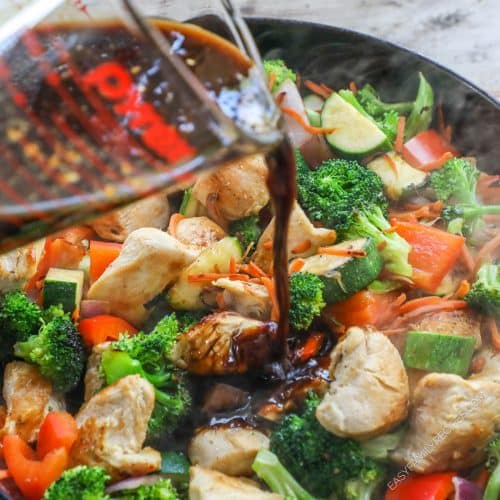 Stir Fry Sauce
This easy stir fry sauce uses pantry staples and everyday ingredients to make the most flavorful and delicious sauce for stir fry. You can whip this sauce up in as little as 5 minutes and use it to add amazing flavor to chicken, beef, pork, or vegetables.
Ingredients
1/2

cup

soy sauce

1/4

cup

brown sugar

1

tablespoon

minced garlic

1

tablespoon

minced ginger

,

(1 teaspoon ground ginger)

1

teaspoon

sriracha

,

optional

1

tablespoon

cornstarch

2

tablespoons

water
Instructions
In a small bowl, whisk together the soy sauce, brown sugar, garlic, ginger, and sriracha.

Mix the cornstarch and water together until the cornstarch is dissolved, then whisk into the stir fry sauce.
Recipe Notes
Yield: Stir fry sauce should be combined with about 2 pounds of meat and 4-6 cups of vegetables.
To Make Stir Fry:
Heat a large, high-sided skillet with 1 tablespoon of oil over medium high heat.

Once the pan is hot, add the protein to the pan. Once cooked through, remove from skillet and set aside.

Add the remaining oil in the pan, then add the vegetables. Cook stirring occasionally for 4-6 minutes or until the veggies become tender.

Add the meat back the pan and pour the stir fry sauce in and toss to coat in the sauce. Cook 1-2 minutes or until the sauce has thickened then remove from heat.
How to Store:
Stir Fry Sauce will stay fresh for up to a month in the refrigerator
How to Scale: You can easily make a double or triple batch of homemade stir fry sauce in the same amount of time so you can always have it on hand. 
Nutrition Information
Calories:
55
kcal
(3%)
,
Carbohydrates:
12
g
(4%)
,
Protein:
2
g
(4%)
,
Fat:
0.04
g
,
Saturated Fat:
0.01
g
,
Polyunsaturated Fat:
0.01
g
,
Monounsaturated Fat:
0.01
g
,
Sodium:
1101
mg
(48%)
,
Potassium:
64
mg
(2%)
,
Fiber:
0.2
g
(1%)
,
Sugar:
9
g
(10%)
,
Vitamin A:
1
IU
,
Vitamin C:
1
mg
(1%)
,
Calcium:
14
mg
(1%)
,
Iron:
1
mg
(6%)