This Pico de Gallo recipe is the most fresh, quick and delicious salsa recipe. Loaded with fresh tomatoes, cilantro, onion, lime, and optional jalapeño for a kick, it is perfect for serving with chips, on a salad, tacos or with any of your favorite Mexican dishes and made in minutes.
Easy Homemade Salsa!
One of the things I love so much about salsa is that the flavors are so fresh and simple, but also crazy delicious.
Pico de gallo, or Pico for short, is one of my favorite salsas and it is so easy to make at home! It is created simply by combining fresh tomato, onion, cilantro, and lime with optional jalapeño for heat.
While many salsas use canned tomatoes, or can require cooking, Pico de gallo just uses fresh veggies and herbs, and because of this, is sometimes also referred to also as salsa fresca.
If you can chop veggies, you can make this salsa! And it only takes just a few minutes from start to finish!
How to Serve Pico de Gallo
Pico de Gallo is super versatile and can be used as a salsa for dipping, topping for a salad or even as a garnish for your favorite Mexican dishes. Here are some of our favorite ways to serve it!
I could literally go on for pages with recipes that go great with Pico de gallo, but this is a good place to start.
Recipe Tips!
Pico de Gallo is as easy to make as I promised! I will walk you though a few of my tips and tricks here to help you get the absolute BEST and tastiest pico.
Make sure to scroll to the bottom of this post for the FULL recipe card. If you have more questions, you can drop them in the comments below.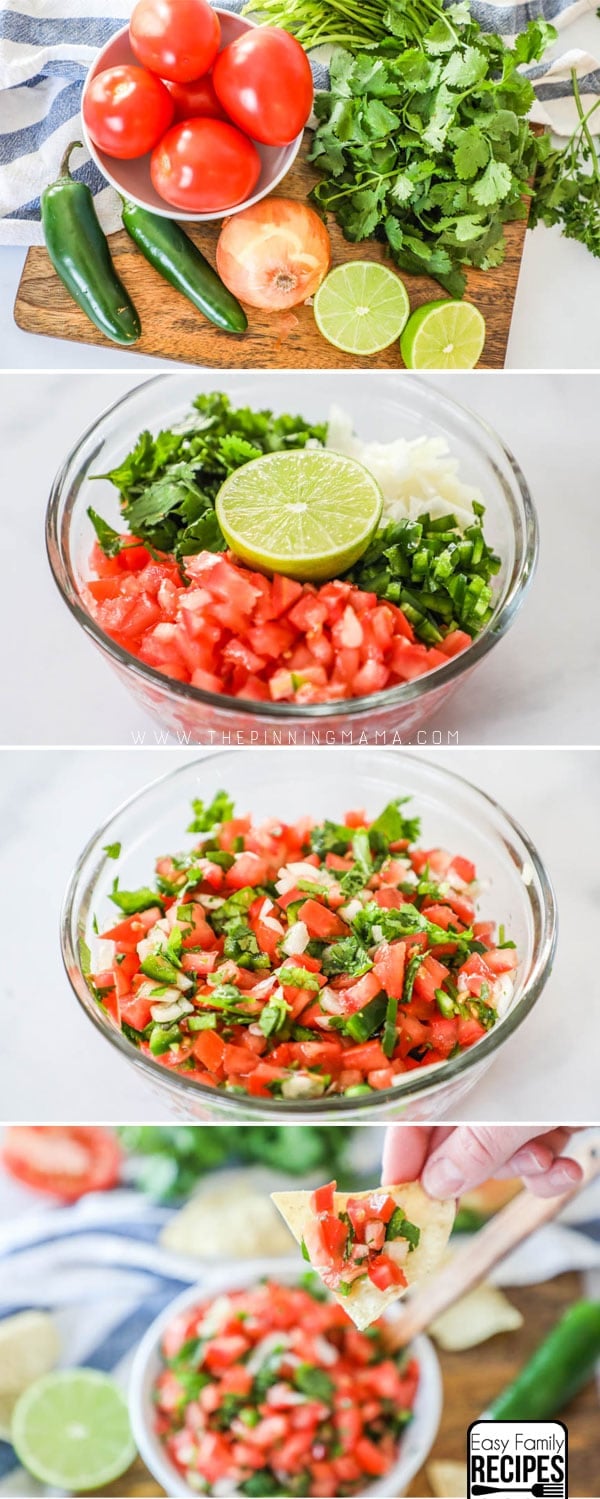 Ingredients
This recipe has simple fresh ingredients that combine together to get the best of each flavor.
Tomatoes
Onion
Jalapeño pepper
Cilantro
Lime juice
Salt
Pick the best produce
It is important to pick out produce that looks fresh and is free of blemishes. Since we don't cook this salsa recipe, the produce needs to be at its best to really shine.
I prefer sweeter varieties of tomatoes. Generally speaking the smaller and brighter red the tomato is, the sweeter it will be. Since the tomato really is the star of the show, finding great flavor is important. I tend to use grape or roma tomatoes most frequently.
Chop it up
Taking the time to chop the produce into a fine dice will reward you with the flavors combining even better and packing more of those flavors in every bite!
Since the salsa is simply made from the diced fruits and veggies, the smaller you can dice them, the more salsa like it becomes.
Little extras
Making pico de gallo can be as simple as tossing the ingredients together. If you have an extra minute or two you can do two things that can make it just that much better!
Salt the tomatoes- stir the salt into the diced tomatoes and place them in a mesh strainer. Allow them to sit like this over a bowl for about 10-15 minutes. The salt will pull additional moisture from the tomatoes enhancing their natural sweetness. If you don't have extra time for this you can stir the salt in at the end as directed in the recipe.
Mix the onions and jalapeño peppers with the lime juice first. Doing this allows the acidity from the lime juice to temper the bite of the onion and jalapeño. This step also makes the flavors of the most potent ingredients combine more readily.
Chill
Once the Pico de Gallo is prepared, allow it to chill for 10-30 minutes. This gives it time to develop its flavor as a whole, instead of the individual flavor of each ingredient standing out.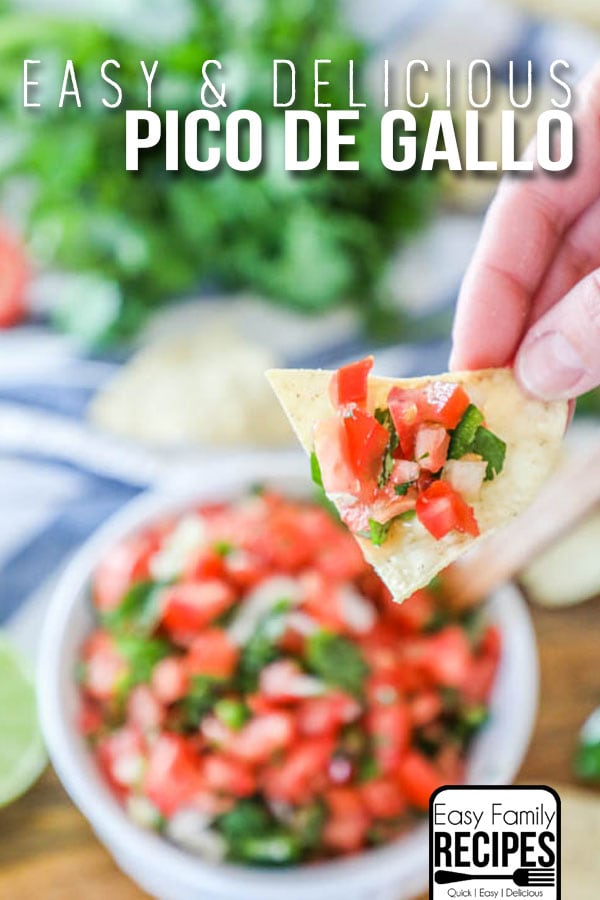 How to Store Pico de Gallo
Once you are done making the salsa, you can store it in an airtight container in the refrigerator. It can be stored for up to 5 days for the freshest and best taste.
Can you freeze Pico de Gallo?
Pico de gallo can be frozen however it will change the texture of the salsa slightly when thawed.
It is still a great salsa, however it will lose some of the firmness that the tomatoes and onions once held.
To freeze Pico de Gallo:
Prepare recipe as directed.
Drain any excess liquid.
Store in a zip top bag or freezer friendly container.
Freeze.
When ready to serve, thaw in refrigerator for 24-48 hours. Do not heat to thaw.
More Mexican Favorites
Being born and raised in Texas, many of the recipes I share here have a Tex-Mex flair. Make sure to check out a few of my favorites listed below.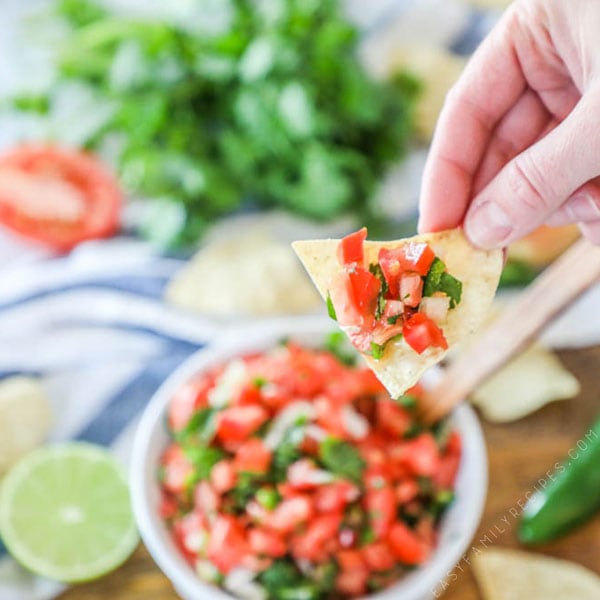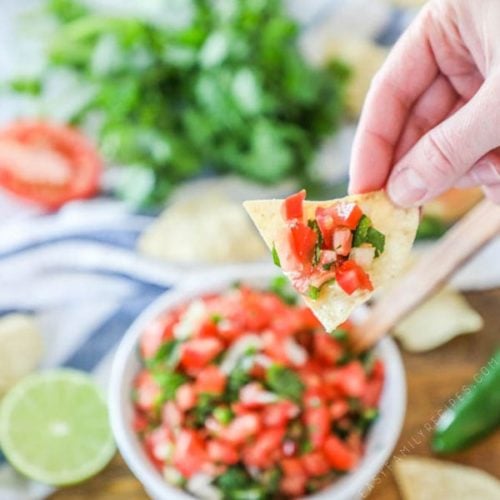 Easy Pico de Gallo
This fresh and easy salsa recipe is made from fresh tomatoes, onion, cilantro and lime. You can add jalapeno for kick or leave it out all together. Use it as a dip for chips, or pile it on top of your Mexican favorites like tacos, nachos, burritos and more.
Ingredients
2

cups

Tomatoes

,

grape or roma tomatoes preferred

1/2

cup

diced yellow onion

,

about 1/2 large onion

1

serrano or jalapeno pepper

1/2

cup

chopped cilantro

,

about 1/2 bunch

1/4

tsp

salt

1/2

lime

,

juiced
Instructions
Dice the tomatoes, onion, and cilantro into small pieces. Wash the jalapeño pepper and remove the stem, seeds and ribs from the pepper and then dice that as well.

In a medium bowl, combine the diced onions, peppers and lime juice together and mix to incorporate the flavors. Then stir in the tomatoes and cilantro and season with salt to taste.

Let chill for 10 minutes or more to allow flavors to meld. Serve with chips or as a topping on your favorite Mexican dish. Enjoy!
Recipe Notes
Store leftovers in an airtight container in the refrigerator for 3-4 days.
To freeze leftovers drain any excess juices and place in an airtight container in the freezer for up to 3 months. Pico de gallo will change texture a bit once thawed but will still be good as a salsa.
Dietary Considerations:
This recipe is naturally:
Gluten free
Dairy free
Vegetarian
Vegan
Low fat
Nutrition Information
Serving:
0.25
cup
,
Calories:
9
kcal
,
Carbohydrates:
2
g
(1%)
,
Protein:
1
g
(2%)
,
Fat:
1
g
(2%)
,
Saturated Fat:
1
g
(6%)
,
Sodium:
50
mg
(2%)
,
Potassium:
76
mg
(2%)
,
Fiber:
1
g
(4%)
,
Sugar:
1
g
(1%)
,
Vitamin A:
263
IU
(5%)
,
Vitamin C:
7
mg
(8%)
,
Calcium:
5
mg
(1%)
,
Iron:
1
mg
(6%)