This super easy Guacamole recipe tastes just like the tableside guacamole made at your favorite Mexican restaurant! Jam packed with fresh avocado, onion, cilantro, tomato and garlic, you won't believe how delicious it is and how simple it is to make!
Fresh Guacamole- The EASY Way!
When we dine at our local Mexican restaurant, fresh tableside guacamole is always our appetizer of choice.
It is filled with creamy avocado, garlic, cilantro, and lime and whipped up from ingredients to an amazing dip right there before your eyes!
It seems like magic, but this dip is super simple to make at home too. Unlike some dishes, you can have guacamole tasting just like it does tableside in the restaurant without any special ingredients or tools, just everyday stuff you already have at home.
What to eat with Guacamole
If you are planning to make guacamole, make sure you not only have the ingredients for guac on hand, but also some things to dip in it, top with it, and eat it on.
Being born and raised in Texas, we eat a lot of guacamole in our house, so I am going to list just a few of my favorite traditional pairings as well as a few that might surprise you!
Appetizer
If you are serving guacamole as a dip or appetizer, these are a few of my favorite things to use as dippers.
Tortilla chips
Plantain chips
Bell pepper strips
Tortillas or pita bread
Pineapple or mango
Cucumber slices
Celery Sticks
Main Dish
These are a few dishes to top off with a scoop of guacamole for an extra burst of flavor on your main dish.
Fajitas – both chicken fajitas and beef fajitas are great with guac!
Tacos- try these healthy ground turkey tacos
Nachos
Black Bean Soup
Quesadillas
Burgers- try it spread right on top of the patty!
Salad- One of my favorite adders to a salad
Toast
Eggs- I love guac on top of scrambled or fried eggs! So good!
Recipe Notes
This recipe is as simple as can be. There is no cooking required and just a few ingredients to gather. There are a couple of tricks though that will help take you from average guacamole to the BEST guacamole.
Make sure to find the FULL step by step recipe in the recipe card at the bottom of this post.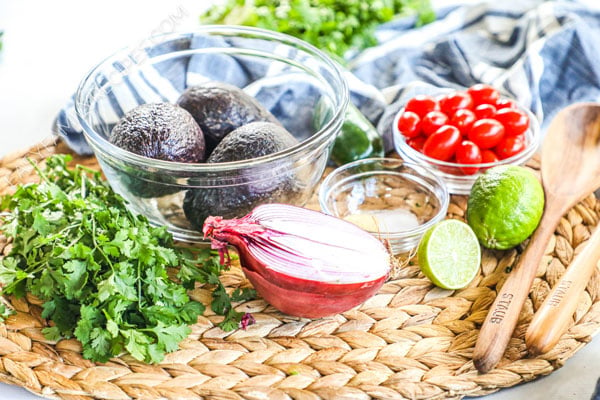 Guacamole Ingredients
Since there is no cooking involved, the ingredients are really important! With the perfect ingredients, the flavors all work together to make that magic happen.
Avocado
Tomatoes
Lime juice
Onion
Cilantro
Salt
Garlic Powder
Jalapeno
I have been to hundreds of restaurants offering tableside guacamole, and each place has their own spin on it.
This recipe is modeled after the traditional Tex-Mex way to make guacamole, but the beautiful thing about tableside guac is that you can use exactly what you like, and leave out anything you don't.
If you love tomatoes, you can add extra. If you think cilantro tastes like soap then you can leave it out all together. Use this recipe as a guide and go from there to create the perfect guacamole for you!
Tips & Tricks
Here are a few things that will help your guacamole be just as good as any restaurant. These tips make all the difference!
How to pick an Avocado
When you are at the store, you want to get avocados that are evenly colored a bright to dark green. They will most likely be firm since they are picked before the peak of ripeness. That is okay as long as the skin is evenly toned and lacks blemishes. They usually start out a lighter green which gets darker as they get closer to becoming ripe.
Also, I always like to take a look at the stem. I prefer it to be attached. Make sure there is no hint of mold on it. This is usually where avocados will start to show that they are going bad.
Be careful squeezing them. Gently squeeze to feel them. Even though they are firm now, you can still bruise them which will show up as they ripen.
Last, my personal preference is to choose the longer avocados as opposed to the fatter, more round avocados. I usually find the longer avocados have smaller seeds than the round ones, giving you more fruit. This isn't always the case but seem to work for me more often than not.
How to store Avocados
Once you have picked out your avocados, let them ripen on the counter at room temperature. It is best to take them out of the bag and let them ripen in open air to avoid mold.
How to know when your avocados are ripe
The key to the BEST guacamole is perfectly ripe avocados! This can be a little tricky since it can happen fast, but I have a trick I use that will extend the ripeness many times to help you be able to use them at their peak ripeness for longer.
Avocados are ripe when they are dark green in color (sometimes they can still be a little lighter depending on variety,) have a slight give to their firmness, and the stem should be able to be easily peeled away and reveal a light green color.
How to Keep Avocados from going bad
Once the avocados are the perfect ripeness you can use them right away, or use this trick to keep them from going bad, and extend the period of perfect ripeness.
Store avocados whole in the refrigerator to extend the peak ripeness for up to 7-10 days.
Do not cut them, peel them, or open them. Just pop the avocados in the fridge whole and remove them when you are ready to make your guacamole. They will stay good far longer than sitting on the counter.
You can also freeze avocados at their peak ripeness. To do this, cut the avocado open, remove the seed and skin and place them flat in a bag or freezer container and freeze. This will save them and keep them from turning brown.
No Molcajete Needed!
Generally tableside guacamole is made in a molcajete which is the traditional Mexican mortar and pestle that they use to grind and mash the guacamole to combine.
To make the authentic guacamole at home, you can go all out and get one, but it really isn't necessary. Just grab a bowl and a fork and you will be good to go!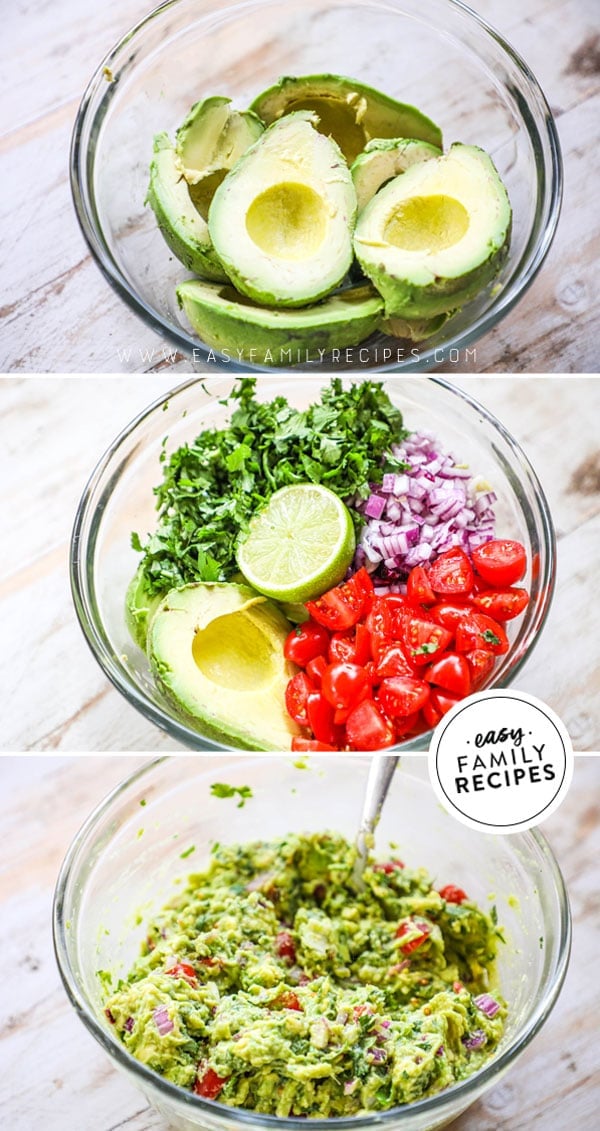 Making the Guacamole
When making the guacamole, one tip that makes the guacamole extra good is to place the avocado and onion in the bowl first and squeeze the lime over them.
This accomplishes two BIG things besides just adding flavor.
The acidity of the lime helps to protect the avocado from browning
The lime juice tempers the onion so that it doesn't have the strong bite that raw onion naturally carries. This is helpful since we aren't cooking the dish which usually changes the flavor of the onion.
Fresh Garlic vs Garlic Powder
There is some debate on whether to use fresh garlic or garlic powder in guacamole. I prefer and almost always use garlic powder. The reason I do this is first because it more evenly blends the flavor to really enhance the overall taste. Second, I serve this to my whole family and my kids don't love the bite of the fresh garlic. Garlic powder offers flavor without the bite.
If you prefer fresh garlic you can absolutely substitute it in this recipe. I recommend you add it in with the onion and avocado and pour the lime juice over it to get the best flavor.
Spice it up!
Diced jalapeño is added to add heat to the guacamole. This is very much personal preference on how you prefer your guac. You can use the suggested amount for light spiciness, or add more or include the ribs and seeds of the jalapeño to make the guacamole spicier.
If you are like me and serve this to your kids, you can feel free to leave out the jalapeño all together. It will still be absolutely delicious, and if you don't like spiciness, you won't miss a thing!
Creamy Guacamole vs Chunky Guacamole
As written, this recipe makes a slightly chunky guacamole. If you prefer a super smooth and creamy guacamole, all you need to do is pre-mash the avocado with the fork until it is smooth. Then, cut all of the additional ingredients you are including as small and fine as possible.
Make it yours!
The beauty of Tableside Guacamole is that it can be made to order with just what you like. Don't be afraid to use this recipe as a guide and add a little more of something you love or omit something that you don't.
You can also get creative with some of the variations below!
Recipe Variations
This recipe makes a very authentic Tex-Mex restaurant style guacamole. The beauty of it is that you can add on from here and make some really original and delicious new twists on the easy guacamole recipe.
Fruit Guacamole – Try stirring in one of these fruit options- diced pineapple, mango, peach or watermelon to your guacamole. The sweet and savory combo is surprisingly delicious!
Sundried Tomato Bacon Guac– Add 1/4 cup chopped sun dried tomatoes and top with 1/4 cup crispy crumbled bacon. The saltiness is the perfect compliment to the avocado.
Sour Cream Guacamole– Stir in 1/4 cup sour cream to the guacamole for an ultra creamy version of this guacamole.
Loaded Guacamole– Stir in 1/4 cup each black beans, corn, cheddar cheese and green onion to the guacamole on the last step.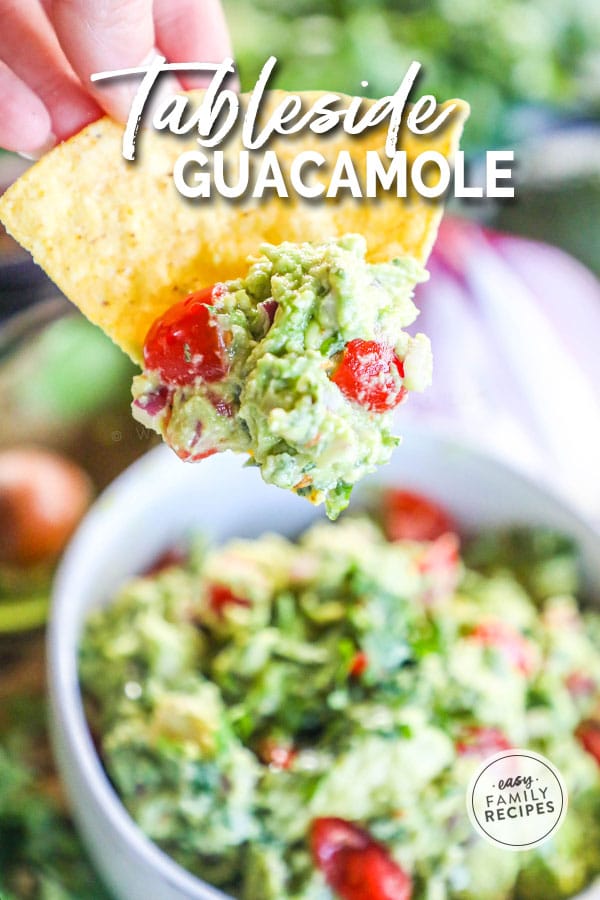 Freezer Method
Guacamole can be frozen so that you can make a big batch and divide it up to have perfect guacamole ready for whenever your Mexican craving hits!
To freeze:
Add the avocado, onion, and lime juice and stir and mash the avocado.
Stir in the garlic powder and salt. Then mix in the cilantro.
Place the guacamole in a freezer bag, then lay flat and squeeze all of the air out and seal the bag.
Freeze.
When ready to eat, thaw in the refrigerator, then right before serving stir in the tomatoes and jalapeño.
More Mexican Favorites
If you enjoyed this Easy Guacamole recipe as much as we do, I hope that you will take a minute to check out a few more of our super easy and always delicious recipes.
You can find all of our easy recipes here, or take a look at a few of our most popular ones below.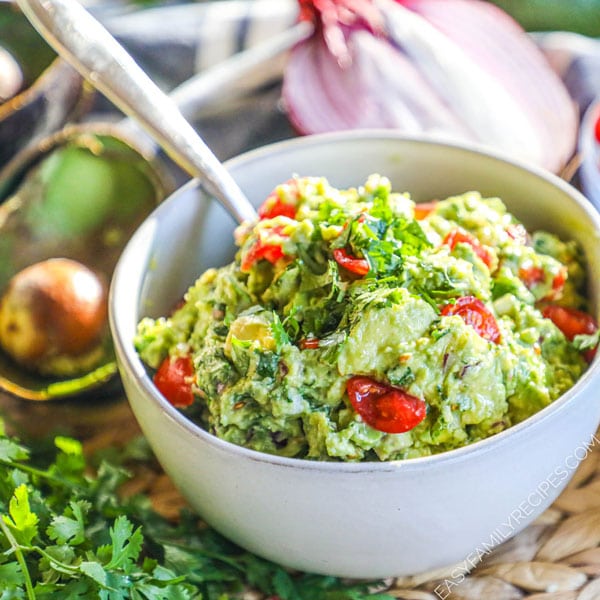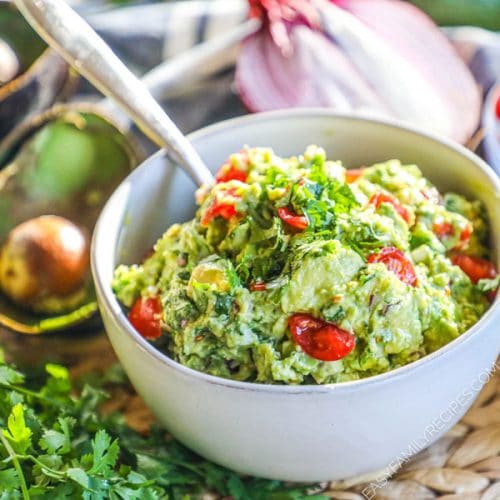 Easy Tableside Guacamole
This easy Guacamole is made just like they make tableside in your favorite Mexican restaurant. It uses authentic flavors combined in just minutes for creamy and delicious fresh guacamole ready for dipping with tortilla chips, veggies or to top your favorite Mexican dish.
Ingredients
3

avocados

,

large and ripe

1

cup

grape tomatoes

,

quartered

1

lime

,

Juice of

1/2

cup

onion

,

finely diced

1/2

cup

cilantro

,

finely chopped

1/2

tsp

salt

1/2

tsp

garlic powder

1/4

cup

jalapeno

,

finely diced (optional)
Instructions
Remove the avocado from the skin and discard the pit. Place the avocado in a large bowl.

Add the diced onion, garlic powder, and salt, then squeeze the lime juice over the mixture.

Using a fork stir and mash until the avocado is mostly smooth and the lime juice and spices have been incorporated.

Add the tomatoes, cilantro, and jalapeno and gently stir until combined.
Nutrition Information
Serving:
0.5
cup
,
Calories:
106
kcal
(5%)
,
Carbohydrates:
7
g
(2%)
,
Protein:
2
g
(4%)
,
Fat:
9
g
(14%)
,
Saturated Fat:
1
g
(6%)
,
Sodium:
122
mg
(5%)
,
Potassium:
356
mg
(10%)
,
Fiber:
5
g
(21%)
,
Sugar:
1
g
(1%)
,
Vitamin A:
290
IU
(6%)
,
Vitamin C:
13
mg
(16%)
,
Calcium:
13
mg
(1%)
,
Iron:
1
mg
(6%)