This Thai Pulled Pork is seasoned with special sauce blend, then slow cooked with sweet peppers in the crock pot until ultra tender and juicy! Creamy Peanut Butter finishes the dish off making it just a touch rich an creamy. Perfect for breaking up the week with new and exciting flavors, this dish is a family favorite!
Crockpot Thai Pork – The EASY Way!
It is easy to get into a rut for weeknight dinners. There isn't much time, we always feel rushed, and everyone is hungry and wants dinner like yesterday!
This is a meal I love to pull out when things are getting boring because the flavors are amazing- well loved by both kids and grown ups! It brings a delicious flavor twist to the week and really couldn't be easier to make since the slow cooker does all the work.
What I love about this recipe!
Start it in the morning- This cut of pork is best when it cooks slowly over a long time. This makes it perfect to throw in the crockpot in the morning before work, school, or a day of meetings or errands.
Dump and go- This Thai Pork just required putting the ingredients in and letting the slow cooker work it's magic.
Fun flavors- This dish brings new flavors to the table to take us out of a dinner-time rut.
Lots of serving options- You can serve it over rice, on a salad, in a wrap or a bowl. There are lots of ideas we talk about below to make this meal work for everyone in the family.
Leftovers reheat well- Leftovers are a treat because they are good cold or hot!
What to Serve with Thai Pork
We primarily like to eat this dish as a bowl. This gives each family member the ability to add what they like to theirs and customize it to their taste preference. When we serve it like this we do lots of options which makes it a filling meal in itself- no sides or extras needed!
If you prefer, you can serve it as just a meat, over rice and pair it with a few more traditional sides from Asian cuisine.
Bowl Options
Rice – white, cilantro lime rice, or cauliflower rice
Shredded cabbage– I use coleslaw mix for a short cut
Lime wedges
Shredded carrots
Chopped cucumber
Sauce– I love spicy mayo for the grown ups and do yum yum sauce for the kids
Toasted sesame seeds
Bean sprouts
Chopped Peanuts
Side Dish Ideas
Egg Rolls or Spring Rolls
Rice
You can choose one or add a few sides to make a wholesome, well rounded dinner.
Recipe Notes
This crockpot dinner recipe is as simple as promised! Just 7 ingredients and a crockpot for a family friendly meal.
In this section I am going to go through a few tips and tricks I use when making this recipe to get the absolute best and most delicious results.
Make sure to scroll to the bottom for the FULL recipe card.
Ingredients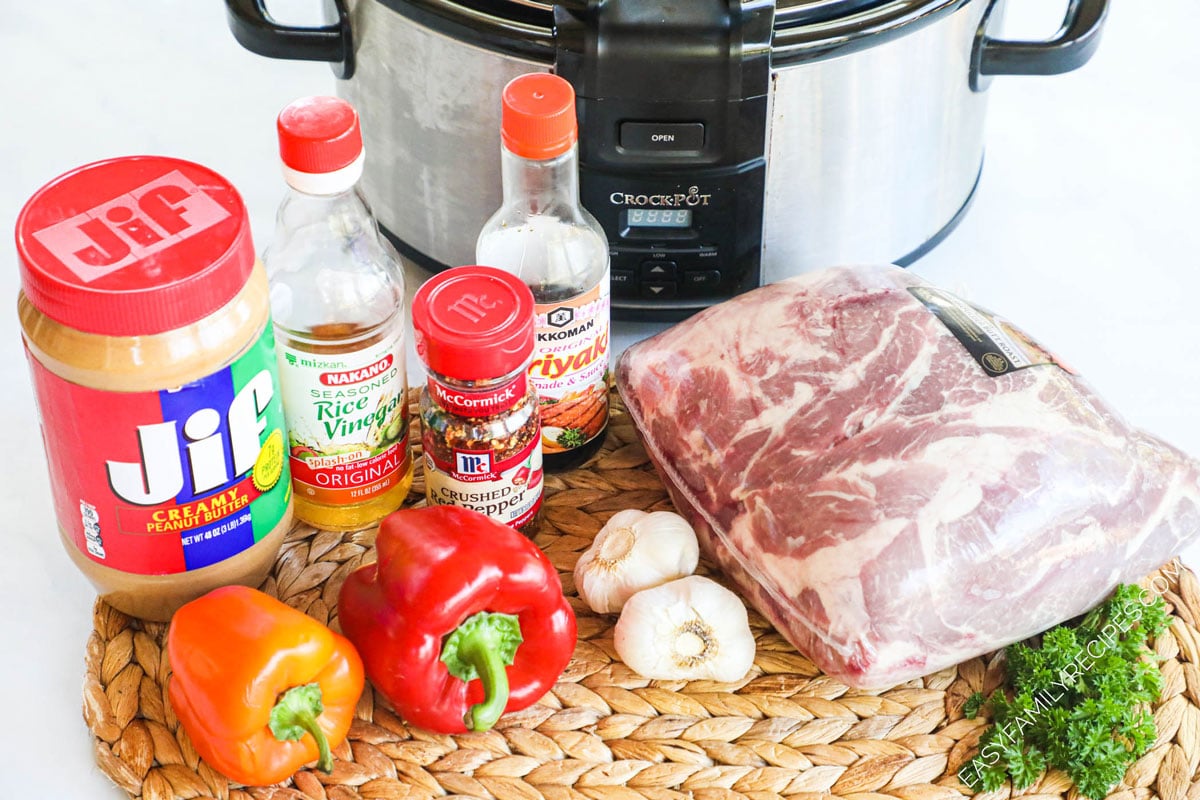 Pork roast– You can use a variety of cuts with great results. I generally use a pork shoulder, picnic roast, or Boston butt.
Sweet bell peppers– You can use red, orange or yellow in this dish. The peppers almost disintegrate over the cooking time which really allows the sweetness to incorporate into the finished dish for great flavor and moisture.
Teriyaki sauce– Any will work in this recipe. I generally use Kikkoman brand. You can use the thicker glaze or the sauce. Since it cooks so long, there isn't much difference between flavor in the two in the end.
Rice wine vinegar– This can be found in the vinegar section of the grocery store.
Garlic– generally I am a big proponent of fresh garlic, but in this recipe, you can get equal flavor from fresh or jarred. It is up to you!
Red pepper flakes- This is completely optional, but it really adds more flavor than heat to the dish. You can also adjust the quantity up or down for more or less spice based on your personal preference.
Creamy peanut butter– The peanut butter will finish the dish and add quiet a bit of flavor and texture. It gives it a richness and helps to make the sauce a bit more creamy and thick. Feel free to use traditional peanut butter, or well mixed natural peanut butter.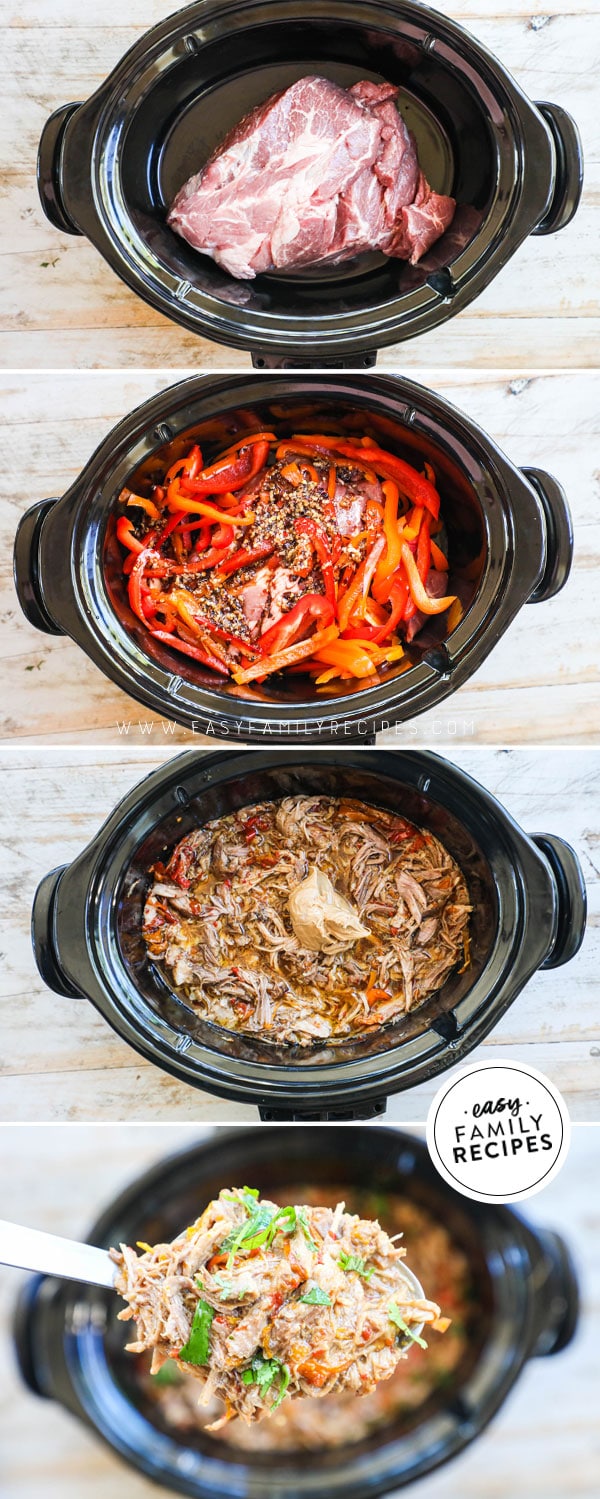 Recipe Tips
Trim the meat– Since we are using a fattier cut of pork, I prefer to trim as much excess fat from the meat before cooking so that there is less fatty pieces that can get mixed in while shredding. This is optional, because you can also remove additional fat while shredding, but I think it helps you end with a more lean result.

Long cook time– Give yourself plenty of cook time for this dish. Since the pork roast is a tough cut of meat, the longer you cook, the more tender, melt-in-your-mouth meat you will end up with in the end. Also, the flavor continues to develop as it cooks.

Removing the juices- After the pork cooks, all of the fat that has melted away in cooking and juices from the meat are going to be in the crock pot. I prefer to remove about half of the juices in order to get the preferred consistency for our meat.

The easiest way to do this, in my opinion, is to remove the roast, then spoon/ladle the juices out. I just eyeball about half then shred the roast and add it back in. When spooning the juices out, I try to skim from the top to remove as much excess fat as possible.

Shredding the pork– If it has been cooked long enough, you should be able to shred the meat without much effort. You can use two forks, or shredding claws. I like to watch and remove any additional excess fat when when shredding.
Recipe Short Cuts
If you need to make this recipe, but are extra short on time, here are a few ideas that can help make this recipe even faster!
Trim ahead– Trimming the meat takes the bulk of the time for recipe prep. You can trim the meat several days in advance and have it ready to go when you want to make it
Prep Veggies ahead– The peppers can be pre-cut up to 3-4 days in advance, or can be bought pre-cut in many super markets.
Prep the night before– You can prepare everything for the Thai Pork the crockpot the night before and refrigerate in the pot. Then just move the pot back into the cooking part of the slow cooker and go! If you are cooking straight from the refrigerator, you may need to add 30 min – 1 hr to the cook time.
Prepare as a freezer meal– This can be prepared as a freezer meal up to 6 months in advance using the instructions below.
Dietary Considerations
If you have special dietary needs, this recipe meets some and can be easily modified to comply with others.
As always, check all store bought ingredients for compliance on specific dietary needs. The notes below are a general guide.
Gluten free: This recipe can be made gluten free by using gluten free Teriyaki sauce.
Dairy free: This Thai Pork recipe is naturally dairy free.
Egg free: This recipe is naturally egg free.
Low carb/Keto: This recipe has a carb count of approx 8g net carbs per serving.
Macros: The approximate macro calculation for this recipe is- P: 56g C: 10g F: 15g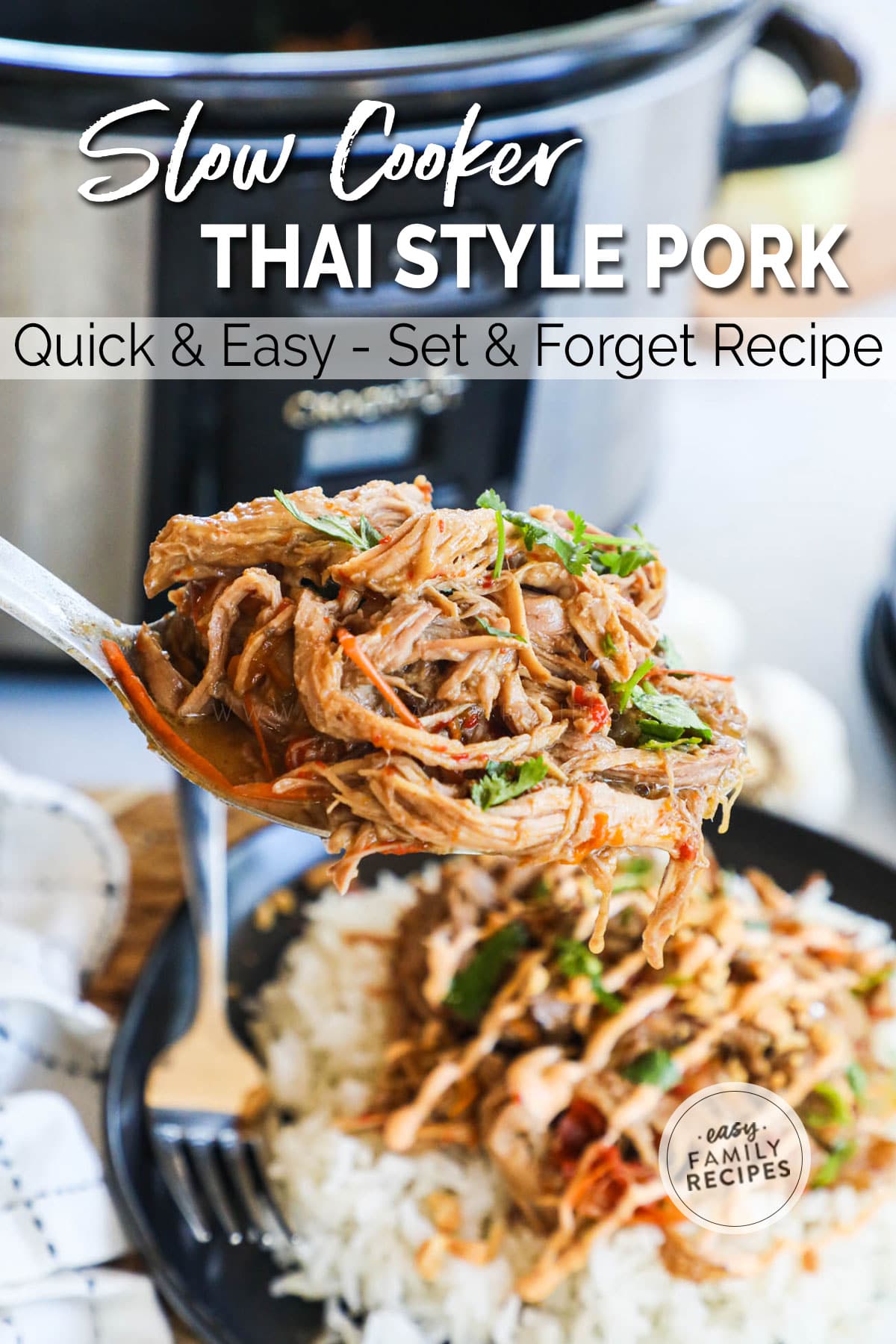 Freezer Meal Instructions
Crock Pot Thai Pork can be prepared as a freezer meal to make on another busy night, or give to a friend in need. Just follow the directions below:
Trim any large pieces of fat from the roast, then place the pork, bell peppers, teriyaki sauce, vinegar, garlic and red pepper flakes in a freezer bag, or other freezer friendly container.
Freeze.
When ready to cook, thaw for 24-48 hours in the refrigerator.
Continue with the recipe and cook as directed.
For the best flavor, this meal can be frozen for up to 6 months.
Crock Pot Thai Pork Leftovers
If you have leftovers after making this Crockpot Thai Pork recipe, then it is your lucky day! They save and reheat well, and can make the start of another delicious dish.
To save leftovers, separate into meal sized portions and then place in an airtight container and store:
in the refrigerator for 3-4 days
in the freezer up to a month
Leftover Recipes
Here are a few ways to repurpose those leftovers and give them a delicious makeover!
Bahn Mi Style sandwiches– Spread mayo on each side of a toasted sub roll. Add leftover pork to the roll. Top with pickled veggies such as radishes, carrots, or cucumbers. Garnish with cilantro and spicy mayo if desired.
Thai Pork Pizza– On a prepared pizza crust, spread a thin layer of oil and garlic. Top with mozzarella cheese. Then add the leftover Thai Pork and top with shredded carrots, bean sprouts, green onion and chopped peanuts. Bake as directed then garnish with cilantro.
Thai Pork Salad– Create the base of the salad with 1/2 chopped romaine and 1/2 chopped cabbage. Add leftover pork, shredded carrots, chopped green onion, cucumber, and chopped peanuts to the salad. Drizzle with Japanese spicy mayo or yum yum sauce, or use ginger dressing to serve.
More Crock Pot Recipes
If you enjoyed this recipe, I really hope you will take a moment to grab a few more easy recipes for another busy night!
You can check out all of my Easy Dinner recipes here, or see a few of our readers favorite recipes below.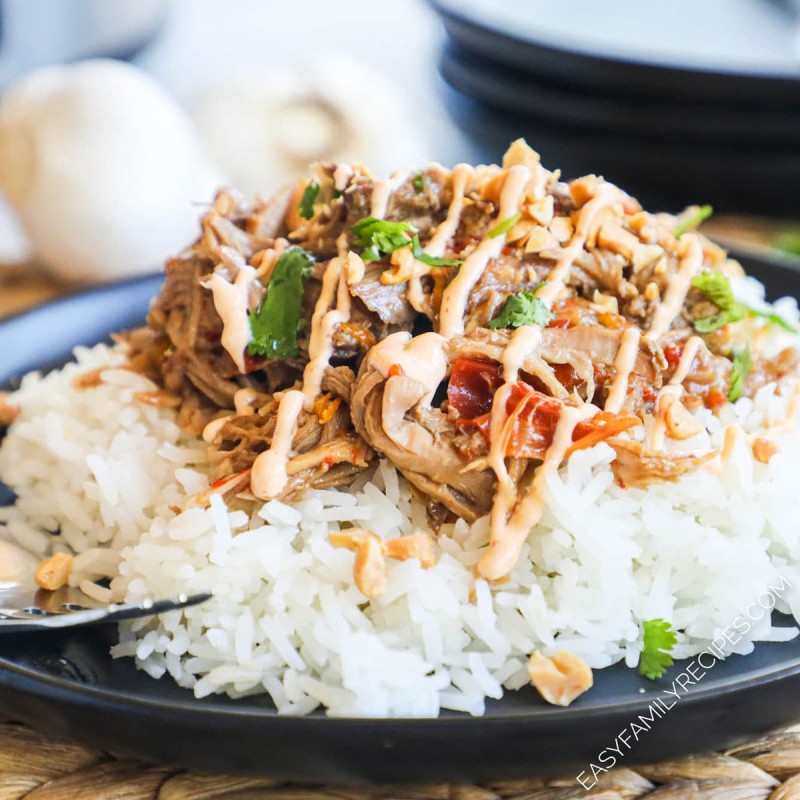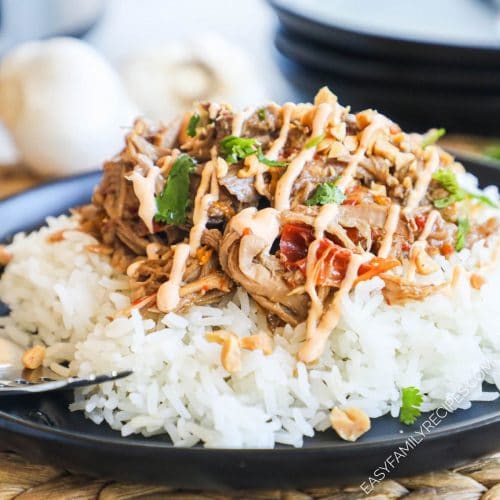 Slow Cooker Thai Style Pork
This quick and flavorful slow cooker Thai pork is every bit as good as take out and every bit as easy!  It is full of tender chicken, sweet red peppers, and rich peanut flavors that make the perfect topping for a bed of jasmine rice.
Ingredients
3

lb

pork roast

2

sweet bell peppers (red, orange or yellow)

,

cut into strips

1/2

cup

teriyaki sauce

2

tbsp

rice wine vinegar

6

cloves

garlic

,

minced

2

tsp

red pepper flakes

,

optional

1/4

cup

creamy peanut butter
Instructions
Trim any large pieces of fat from the roast, then place the pork, bell peppers, teriyaki sauce, vinegar, garlic and red pepper flakes in a crock pot on low for 7-8 hours. or high for 5-6 hours.

After it has cooked, use a fork to shred the pork and remove about half of the juices in the slow cooker. Add back in the shredded pork and the peanut butter and stir until combined.

Serve over jasmine rice (or whatever rice you prefer) and top with any combination of the toppings that you prefer. Enjoy!
Recipe Notes
Keep leftovers in an air tight container in the refrigerator for up to 3 days or in the freezer for up to 3 months.  This tastes just as good reheated as it does fresh, so it makes a great option for meal prepping lunches.
Topping options:
Chopped peanuts

Cilantro
Teriyaki glaze
Lime wedges
Nutrition Information
Calories:
404
kcal
(20%)
,
Carbohydrates:
10
g
(3%)
,
Protein:
56
g
(112%)
,
Fat:
15
g
(23%)
,
Saturated Fat:
4
g
(25%)
,
Cholesterol:
143
mg
(48%)
,
Sodium:
1094
mg
(48%)
,
Potassium:
1081
mg
(31%)
,
Fiber:
2
g
(8%)
,
Sugar:
6
g
(7%)
,
Vitamin A:
1440
IU
(29%)
,
Vitamin C:
52
mg
(63%)
,
Calcium:
33
mg
(3%)
,
Iron:
2
mg
(11%)