This quick and easy Italian Chicken Pasta is made with a rich, creamy tomato sauce, tender pan seared chicken, and extra veggies for a wholesome and filling meal. This meal can be prepped, cooked, and on the table in as little as 30 minutes making it perfect for a family friendly dinner on a busy weeknight.
Italian Chicken Pasta – The EASY Way!
Nothing is a bigger win with my kids than pasta… but it can't be mac n cheese all day everyday! This delicious Italian Chicken Pasta is both kid approved AND loaded with wholesome ingredients.
Even better?… This Italian Chicken Pasta isn't just delicious, but also surprisingly quick and easy to make! All you need is 1 pot and 1 pan!
When something is kid-friendly, full of flavor, and easy to make… well, we can that a WIN in our home!
What I love about this recipe!
Family friendly and Fancy– It doesn't get more win-win than this! Pasta is maybe the ultimate kid-friendly food. Combined with a creamy red sauce and a handful of spinach makes this dish sophisticated enough to even serve to company!
Filling– With pasta, veggies, and protein all in one pan, this meal can stand on its own without needing lots of extras or side dishes.
1 pot + 1 pan– No need for a bunch of dishes! This meal comes together with just a pot to cook the pasta and a large pan to do everything else!
Minimal prep– There is almost no prep for this meal, just active cooking time which keeps it super quick to make. No chopping, sorting, rinsing. Just cooking dinner!
Simple everyday ingredients– The only thing fancy is the end result!
Customizable– If you don't like spinach, use other veggies. Or take some out for the kids before adding it in. Try asparagus, broccoli, mushrooms, and more in this delicious dish!
Homemade, made easy! Pasta sauce sounds more like something you buy at the store, than something you make from scratch… until you meet this sauce! You won't believe how crazy easy it is to make sauce so delicious!
What to Serve with Italian Chicken Pasta
As mentioned above, this pasta is packed with protein and veggies so it is super filling. You can serve this as a meal without needing to add anything else to the menu.
If you do want to round the meal out, or stretch it further, there are a few really good side dish options for the Italian Chicken Pasta.
Side Dish Ideas
You can choose one or add a few sides to make a wholesome, well rounded dinner.
Recipe Notes
This Italian Chicken Pasta recipe is as simple as promised! Just a handful of simple ingredients and a big ol' skillet for a family friendly pasta dinner.
In this section I am going to go through a few tips and tricks I use when making this recipe to get the absolute best and most delicious results.
Make sure to scroll to the bottom for the FULL recipe card.
Ingredients + Substitutions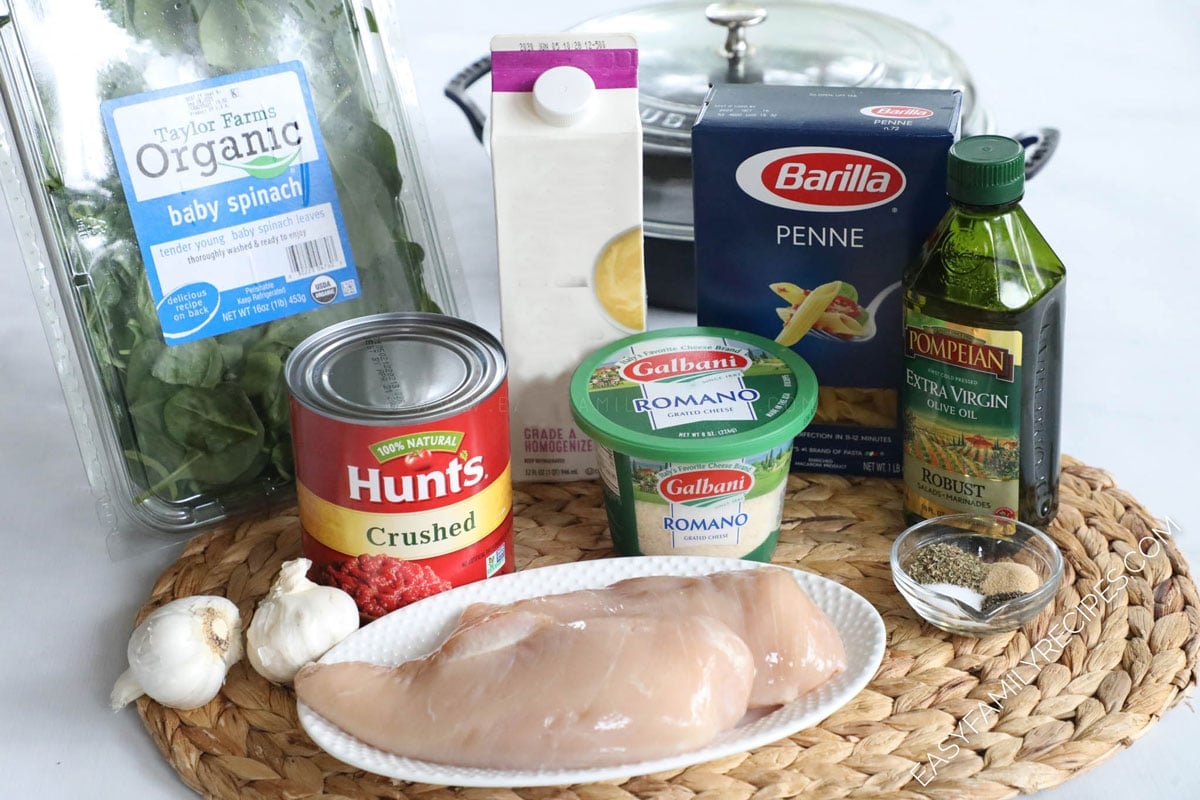 For the Chicken
Chicken breast – I use boneless, skinless chicken breast in this recipe. You can also substitute other cuts of boneless chicken such as, chicken thighs or chicken tenderloins. If you use a different cut of chicken, the cooking time may vary.
Olive oil
Seasonings– We use a blend of garlic powder, Italian seasoning, salt, and pepper to season the chicken and the sauce. If you don't have Italian seasoning on hand you can make my homemade Italian Seasoning blend to use with common ingredients probably already in your spice rack.
For the sauce
Garlic cloves – I prefer fresh for the best flavor, but you can use jarred garlic in a pinch.
Crushed tomatoes– These provide the flavor for the base of the sauce. You can get any basic crushed tomatoes at the store and use them with good results, but if you splurge on a higher end can like San Marzano, you won't be disappointed!
Heavy cream– Heavy cream works best in this recipe. Half and half can work if you do it very carefully, but it rarely combines as smoothly and makes the sauce as creamy as real cream does.
Romano cheese- Try to use a good quality Romano cheese that is grated (not shredded.) This adds a rich nutty flavor and helps to thicken the sauce.
Fresh spinach– I highly recommend using fresh spinach over frozen or canned. Fresh spinach is very delicate when wilted and will not overpower the sauce with its flavor. When you add the spinach in initially, it will look like a lot. It wilts quickly and ends up to be a minimal amount that will perfectly compliment the sauce.
Penne pasta– I like penne because it is especially kid friendly, but you can use almost any variety of pasta you like or have on hand with great results in this recipe.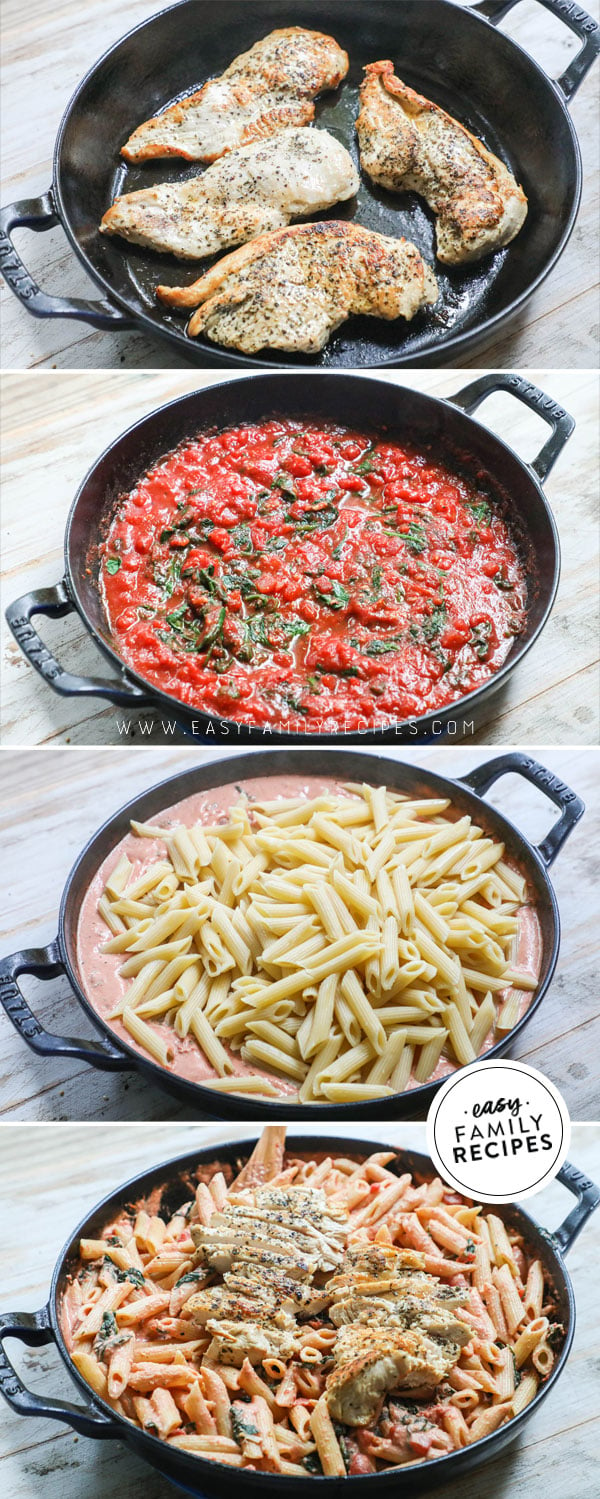 Recipe Tips
Prep ahead– This Creamy Italian Chicken Pasta recipe moves very quickly. I highly recommend prepping and measuring everything in advance so it is ready to go. This will help make the recipe super quick to make, as well as, eliminate anything cooking too long or getting held up along the way.

Get the perfect sear– Getting the perfect sear on the outside of your chicken isn't hard, you just have to know a couple of things!

You need a HOT pan! This will be medium high to high heat on most stovetops.
Make sure the pan AND the oil are hot before adding the chicken
Don't move the chicken. Allow it to sit for 1-2 minutes before you lift and flip it. This allows it to form that coveted caramelization on the outside.


Don't overcrowd the pan- When cooking your chicken, you want the chicken to be able to lay flat with breathing room. Depending on the size of your chicken and the size of your pan, you may need to sear the chicken in 2 batches to ensure the pan isn't over crowded. When the pan gets too full, it makes it very had to get the delicious browning on the outside of the chicken.

Watch the garlic– Flash cooking the garlic adds a lot of flavor to the dish, but it should be done in a flash! The garlic is delicate so it can burn easily if left in the pan too long.
Recipe Short Cuts
If you need to make this recipe, but are extra short on time, here are a few ideas that can help make this recipe even faster!
Pre-cook the chicken– The chicken can be cooked in advance and stored in the refrigerator for up to 3 days ahead of making the recipe.
Pre-make the sauce– The sauce can be made and stored in the refrigerator for up to 4 days ahead of making the recipe.
Recipe Variations
If you love this recipe as much as we do and want some quick ways to change it up for variety, these little tips will do the trick!
Spicy Italian Chicken Pasta– Make recipe as directed adding 1-3 tsp of crushed red pepper flakes in the tomato sauce based on your desired level of heat.
Italian Chicken Pasta Bake– Make each component of the dish. Cube the chicken and mix together with the sauce and pasta. Transfer to a large baking dish and cover with mozzarella cheese, or Italian cheese blend. Bake at 350 for 15-20 minutes.
Creamy Italian Pasta with Sausage– Omit the chicken and instead, brown and cook 1.5 lbs of Italian sausage. Drain any grease and set sausage aside, then continue with recipe.
Dietary Considerations
If you have special dietary needs, this Italian Chicken Pasta recipe meets some and can be easily modified to comply with others.
As always, check all store bought ingredients for compliance on specific dietary needs. The notes below are a general guide.
Gluten free: This recipe is can be made gluten free by using gluten free pasta.
Nut free: This recipe is naturally nut free.
Egg free: This recipe is naturally egg free.
Vegetarian – This recipe can be made vegetarian by omitting the chicken.
Low carb/Keto: This recipe can be made in a reduced carb fashion by substituting zoodles, spaghetti squash or other low carb pasta substitute for traditional pasta.
Macros: The approximate macro calculation for this recipe is- P: 23 g C: 56 g F: 21 g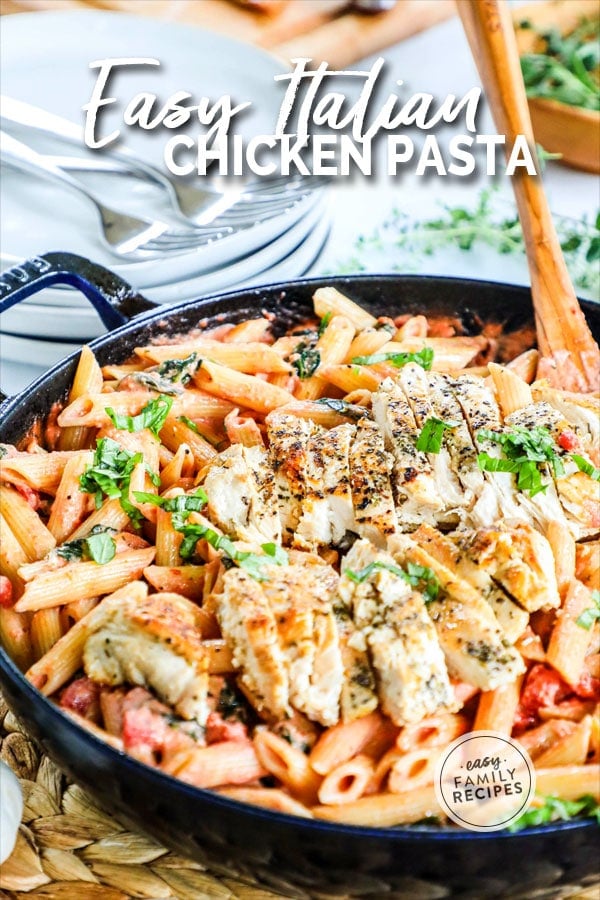 Freezer Meal Instructions
Creamy Italian Chicken Pasta can be made as a freezer meal easily. Follow the method below for best results:
Cook chicken per recipe instructions. Once done, allow to come to room temperature, then slice or cube.
Make the

sauce per recipe instructions. Once done, allow to cool to room temp.

Combine the chicken and sauce and package in freezer bags, or freezer friendly containers.
Freeze.
Once ready to eat, heat on the stovetop and prepare pasta per package instructions.
Mix drained pasta with sauce and enjoy!
For best tasting results store up to 6 months in the freezer.
Creamy Italian Chicken Pasta Leftovers
If you have leftovers after making Italian Chicken Pasta, then it is your lucky day! They save and reheat well, and can make the start of another delicious dish.
To save leftovers, separate into meal sized portions and then place in an airtight container and store:
in the refrigerator for 3-4 days
in the freezer up to a month
More Easy Pasta Recipes
If you enjoyed this recipe, I really hope you will take a moment to grab a few more easy recipes for another busy night!
You can check out all of my Easy Dinner recipes here, or see a few of our readers favorite recipes below.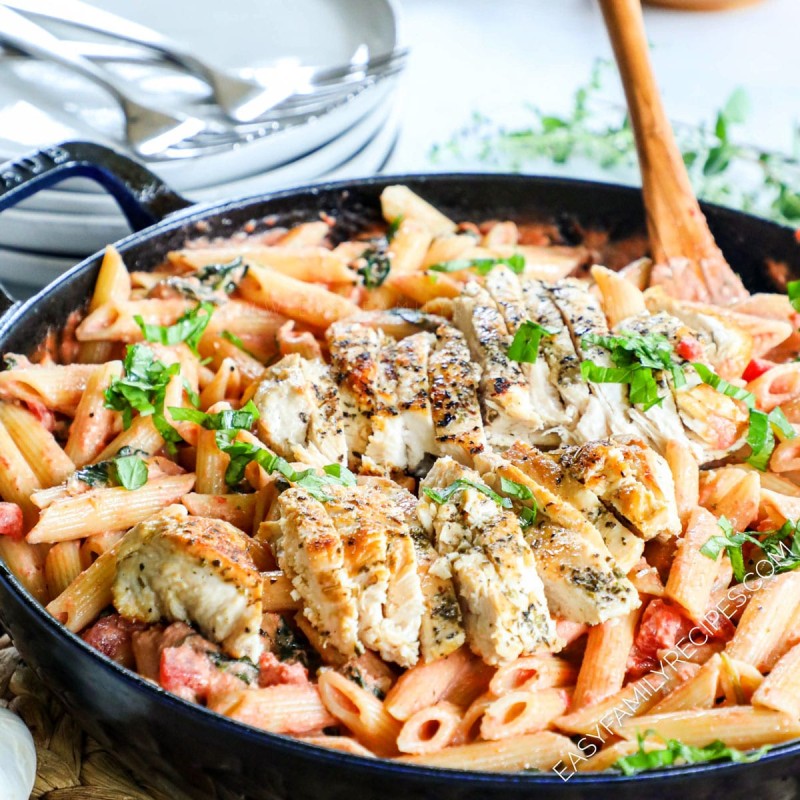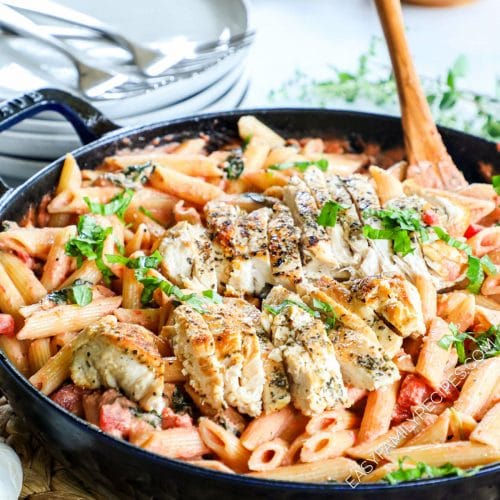 Creamy Italian Chicken Pasta
This Italian Chicken Pasta is a pasta lovers dream! With a rich and creamy red sauce nestling penne pasta and tender pan seared chicken breast, it is easy to see why this is a family favorite!
Ingredients
For the Chicken
1

lb

chicken breast

2

tbsp

olive oil

1/2

tsp

garlic powder

2

tsp

Italian seasoning

1

tsp

salt

1/2

tsp

pepper
For the sauce
5

garlic cloves

,

minced

28

oz

crushed tomatoes

1

cups

cream

1

cup

Romano cheese

,

grated

4

oz

fresh spinach

16

oz

penne pasta
Instructions
In a large skillet, on med-high heat, heat 1 tbsp olive oil until hot. Season chicken with half of the Italian Seasoning, salt, and pepper. Cook 1-2 minutes on each side to sear, then cover, reduce heat to low and continue cooking until cooked through. Remove chicken from the pan and keep chicken warm.

Add the remaining 1 tbsp olive oil to the skillet over medium high heat, garlic, and remaining Italian seasoning. Flash cook the garlic, about 1 minute, and then add crushed tomatoes.

Add heavy cream and bring to a simmer. Add shredded Parmesan cheese then immediately reduce to low heat and stir continuously, until the cheese melts and the sauce is smooth and stir in the spinach giving it 2-3 minutes to wilt. Remove from heat and toss pasta with the sauce.

Slice chicken into 1/2 inch strips and top pasta with chicken, OR cut the chicken into cubes and stir into the pasta. Garnish with additional parmesan and/or fresh basil. Enjoy!
Recipe Notes
If you like your pasta to be more saucy, use 12 oz of pasta instead of 16 oz.
Nutrition Information
Calories:
497
kcal
(25%)
,
Carbohydrates:
53
g
(18%)
,
Protein:
26
g
(52%)
,
Fat:
21
g
(32%)
,
Saturated Fat:
10
g
(63%)
,
Cholesterol:
90
mg
(30%)
,
Sodium:
664
mg
(29%)
,
Potassium:
752
mg
(21%)
,
Fiber:
4
g
(17%)
,
Sugar:
6
g
(7%)
,
Vitamin A:
2056
IU
(41%)
,
Vitamin C:
15
mg
(18%)
,
Calcium:
225
mg
(23%)
,
Iron:
3
mg
(17%)