These Cajun Chicken Alfredo Zoodles are the best way to pack in veggies for dinner.  In just 30 min, tender chicken and sweet bell peppers are cooked in cajun spices and tossed with a rich homemade alfredo sauce with a Cajun twist. Then it is all folded right into perfectly cooked zucchini noodles for a low carb meal that makes everyone happy!
Low Carb Cajun Chicken Alfredo
There are few things in life tastier than rich alfredo sauce. This recipe is a one up on on that classic alfredo in several ways!
First the Cajun twist gives the favor in this dish a major upgrade. It is part tangy and part heat and comes out to equal addictingly delicious. Both the chicken, veggies, and the sauce get the seasoning for the perfect balance.
Then we lightened it up to make it a bit healthier by tossing our chicken and alfredo sauce combo with zucchini noodles (or zoodles!) instead of traditional pasta.
This does 3 major things:
Veggie packed -Loads the meal up with lots of wholesome veggies
Lower Carb – Transitions chicken alfredo pasta from carb loaded to low carb! With only 10 net carbs, it is a full meal you can enjoy and still feel like you indulged but really keep that carb number very reasonable!
Lower Calorie– Lighten up the calories by using a veggie base rather than a starch base. You can lighten it up even more with the tips below!
How to serve Cajun Chicken Zoodles
This really is a full meal in one pan. No need to add extras if you are in a rush. However if you want to stretch the meal further or make it more special there are a few extra side dishes that really go well with this Cajun Chicken Alfredo.
Pick one or add a few! They all make a addition to this meal.
How to Make Cajun Chicken Alfredo
I am going to walk you through some of my tips and tricks for getting the most delicious and best results from this recipe. Make sure you hop down to the bottom of the post for the FULL recipe card!
This recipe has 3 basic parts. Each is simple and happens quickly, then at the end they come together to make the most delicious meal!
Make the cajun chicken and peppers
Make the alfredo sauce
Make the zoodles
Let's cover some tips and FAQ's on each!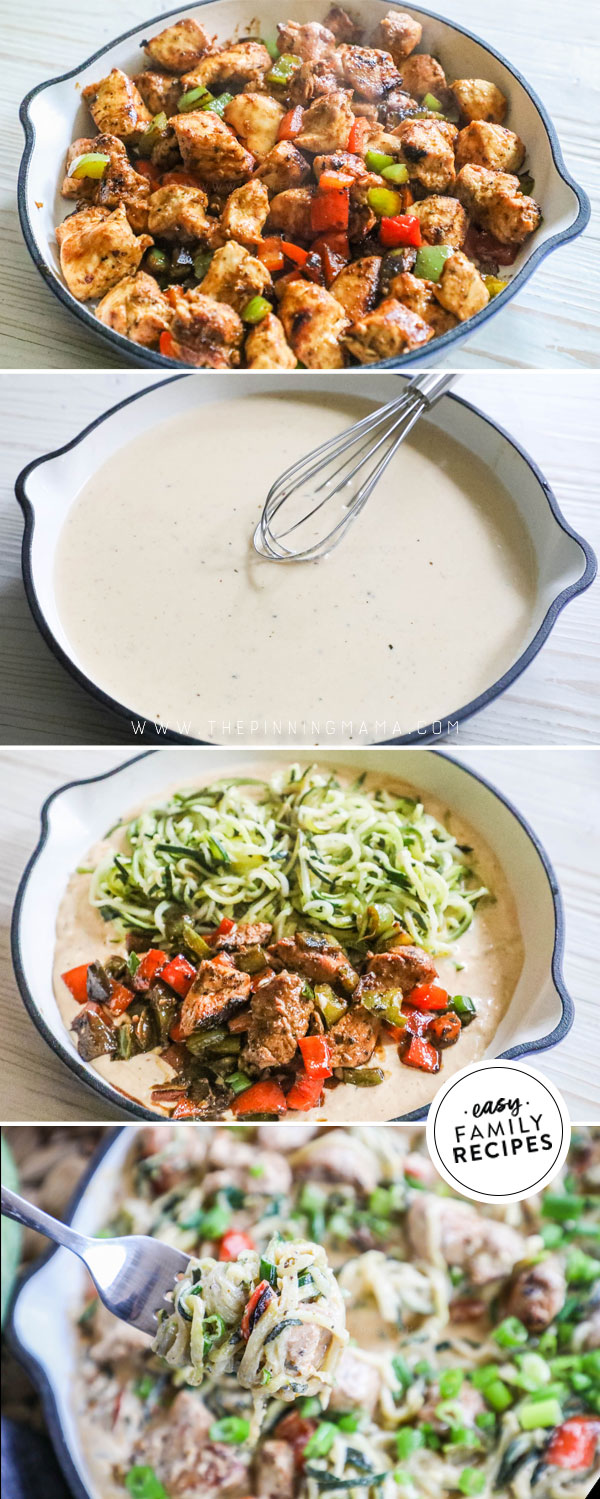 The Chicken
I always use chicken breast for this recipe. It is our family's preference since it is lean, healthy, and readily available at the store. If you prefer you can use another boneless skinless cut of chicken like chicken thighs or tenderloins with good results.
To start, you will chop the chicken so that it can marinate with the spices a bit while you finish the chopping. It doesn't need long to soak up all of that flavor, a few minutes will do it!
Cajun seasoning is a key ingredient in this recipe. I highly recommend you use this homemade version. It is what I always use and so I can tell you it works awesome in this recipe. If you are in a time crunch you can sub a store bought seasoning in it's place. Find Cajun seasoning on the spice aisle of your grocery store.
Also note, if you are gluten free or have food sensitivities, homemade is the way to go!
Chop the peppers into larger, bite sized pieces (not a small dice.) This allows them to cook at the same rate as the chicken and you can avoid them getting mushy in the end.
Once you are ready to put everything in the pan, be ready because this moves fast! I recommend having the garlic pressed and ready to mix in as well.
The Alfredo Sauce
The beauty of this recipe is the simplicity. Save dishes by removing the chicken from the skillet and using the same pan to make the alfredo sauce in.
The key to the sauce is whisking. It will take a minute for the cream cheese to fully melt and be able to combine. You will definitely want to use a whisk to get it nice and smooth! It is much harder if you are just using a spoon.
The Zucchini Noodles
You can source the zucchini noodles, or zoodles, several different ways.
Spiralize- Buy fresh zucchini and use a spiral cutting tool to cut it into noodles. You can find stand alone tools to do this or there are often attachments for food processors or mixers that will also do this.
Frozen- The most convenient option. Most grocery stores now carry zoodles in the freezer section where you would find other vegetables. I use these often for convenience but find them to not be quite as firm as I would ideally like in the end.
Fresh- Many nicer grocery stores now carry already cut zoodles fresh in the produce section. Check your local grocer to see if you have this awesome short cut on the shelf!
The zoodles will be ready in just minutes in the pan since they are cut so finely. I like to use a high heat to allow the outside to cook and crisp a bit, but the inside can stay a bit firm to give the dish better texture.
Mix it up!
To wrap it up, you just toss it all together! I like to move everything over to the skillet with the alfredo sauce. Generally, since zucchini has a high content of water, taking from that pan and moving to the alfredo pan allows you to lift the zucchini out of the moisture and avoid making the dish watery.
Recipe Short Cuts
This is a quick meal that comes together in as little as 30 min, however, if you are really in a time crunch there are a few things you can do to speed up the recipe even more!
Use premade– You can cut some time by using premade Cajun seasoning or premade alfredo sauce. The premade seasoning is a great shortcut, however, I think the homemade alfredo sauce is significantly better than most store bought varieties, so it is worth the extra 5 min if you can spare the time!
Prep ahead! You can prep the chicken, peppers, zoodles, and garlic ahead 24-48 hours in advance to save yourself time cooking.
Use Frozen- You can use frozen zoodles, or prepare the chicken up to a month in advance snd freeze it until you are ready to make this. It is also a great way to keep leftovers from my Cajun Chicken Skillet recipe and reinvent them later!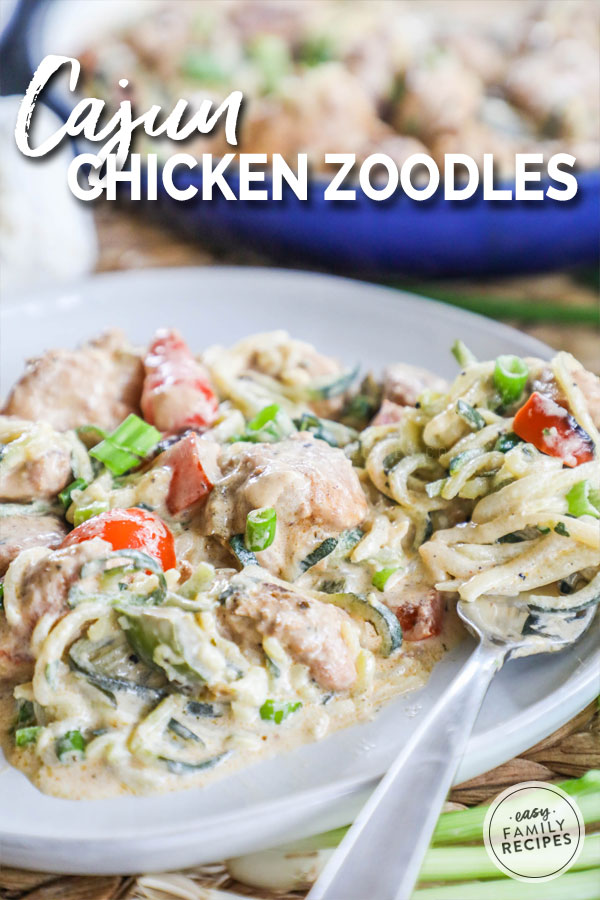 Dietary Considerations
This recipe is friendly for several dietary needs.
Gluten Free- This recipe is naturally gluten free when using homemade cajun seasoning referenced.
Low Carb- This dish has roughly 10 net carbs per serving. This makes it a good choice for most low carb diets like keto, Atkins, and south beach. You can lower the carbs further by leaving out peppers or not serving over zucchini noodles.
Dairy free- This dish is NOT dairy free. If you make or buy a diary free alfredo sauce you could modify the recipe.
Leftover Cajun Chicken Alfredo
Leftover Cajun Chicken Alfredo can be saved in the refrigerator for 2-3 days.
This recipe doesn't freeze super well, so I don't recommend that. However, you can make the cajun chicken and veggies ahead of time and freeze them, then just make the alfredo sauce and zoodles the day of for quicker prep. The chicken and veggies freeze beautifully!
More Easy Dinner Recipes
If you enjoyed this recipe, I hope you will take a few minutes to save some of our other recipes to make another night! Here are some other veggie packed, low carb recipes you might like!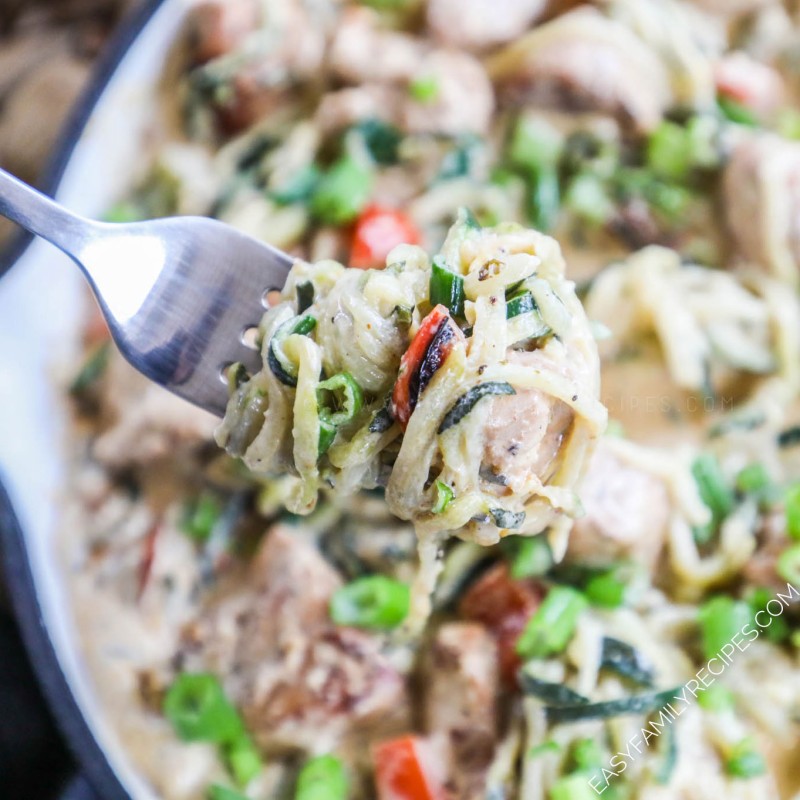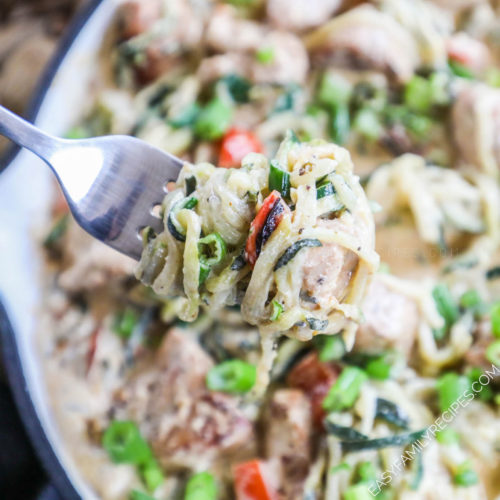 Cajun Chicken Alfredo Zoodles
This flavor packed dinner is quick to make and loads up zucchini noodles with tender chicken, zesty cajun spices, and rich alfredo sauce. With just a few minutes in the kitchen you can have this veggie loaded restaurant quality meal on the table!
Ingredients
For the Chicken
2

lbs

chicken breast

,

boneless, skinless

2

bell peppers

,

1 red, 1 green

2

tbsp

cajun seasoning

2

tbsp

olive oil

3

cloves

garlic

,

pressed

1/4

cup

green onion

,

chopped
For the Sauce
2

cups

heavy cream

1

cup

parmesan cheese

,

grated

1/2

cup

butter

4

oz

cream cheese

1

tbsp

cajun seasoning
For the Zoodles
4

lb

zucchini

,

spiralized

1

tbsp

olive oil
Instructions
Chop chicken into 1 in chunks. Place in a zip top bag with 1 tbsp of olive oil and cajun seasoning. Mix the chicken until all is coated with the seasoning. Let marinate, while you chop the bell pepper into bite sized pieces.

Heat remaining 1 tbsp of oil in a large skillet over high heat. Once hot, add the chicken and peppers to the skillet with the chicken in a single layer. If there is too much chicken for a single layer, work in batches. Let the chicken cook on the first side for 3-4 minutes without stirring, then use tongs to flip each piece over. Cook on the second side for 2 minutes, then add the garlic, stir well, and cook for 1 additional minute or until cooked through (165˚F internal temp)

Once the chicken is done, remove the chicken from the skillet and set set aside. In the skillet melt the butter with the seasoning over medium heat. Add the cream, cream cheese, and parmesan and whisk until the cheese is completely melted and bring the mixture to boil for one minute, then remove from heat.

To prepare the zoodles, heat 1 tbsp olive oil over high heat in a large skillet. Once hot, add the zoodles and let cook 2-3 minutes without stirring. Then stir and cook an additional 2 minutes or until they are soft but not mushy.

Toss the zoodles, chicken and peppers with the sauce until coated. Sprinkle the green onions over the top of the pasta. Serve immediately. Enjoy!
Nutrition Information
Serving:
12
oz
,
Calories:
637
kcal
(32%)
,
Carbohydrates:
13
g
(4%)
,
Protein:
34
g
(68%)
,
Fat:
50
g
(77%)
,
Saturated Fat:
27
g
(169%)
,
Cholesterol:
208
mg
(69%)
,
Sodium:
523
mg
(23%)
,
Potassium:
1221
mg
(35%)
,
Fiber:
3
g
(13%)
,
Sugar:
7
g
(8%)
,
Vitamin A:
4225
IU
(85%)
,
Vitamin C:
81.3
mg
(99%)
,
Calcium:
258
mg
(26%)
,
Iron:
2.1
mg
(12%)