This easy Chicken Piccata Casserole recipe brings in all the delicious flavors of the classic Italian meal and makes it into a super quick, easy, and delicious  one dish dinner.  It has all of the richness and tangy lemon flavor of the Chicken Piccata from your favorite restaurant but is simple to make even on the busiest of week nights. This is a hit with the youngest to the oldest in our family and I hope it will be for yours too!
Easy Chicken Piccata Casserole Recipe
Chicken Piccata has been one of my favorite meals for a LONG time! I used to only order it at restaurants, and eventually I learned to make it at home but it still takes a little more time and effort than I have to give on the average weeknight. When it came to figuring out what recipe I should share with you next, I started thinking how I could make chicken piccata easier so it could be something I could make more often.
I had a few ideas and started playing around in the kitchen. There were lots of ingredients, lots of trials and a few errors that we don't want to speak of again. In the end though, we came out with a super creamy, perfect lemony casserole. While it is nowhere near authentic, it does do a really good job of taking those delicious flavors of classic chicken piccata and packing them in a WAY easier to make package.
If Italian is your favorite, you might want to try out some of my other easy Italian chicken recipes:
Or you can see a big list of my favorite baked chicken recipes here!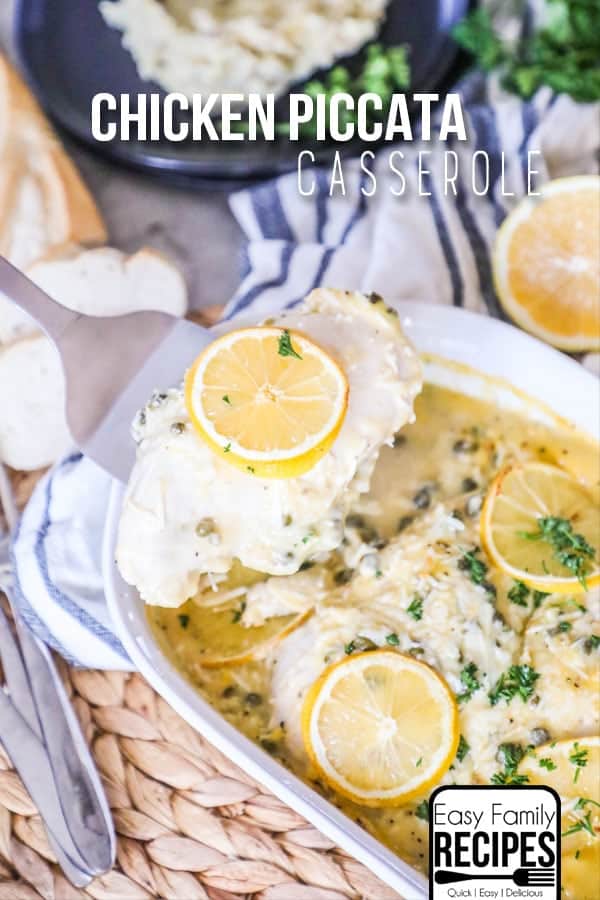 What to serve with Chicken Piccata Casserole
The great thing about this meal is that the main part is baked all in one casserole dish. You can pair it with a couple of simple sides and have an awesome dinner on the easy. You can go with classic options, low carb options or a couple from each. It's up to you!
Classic Chicken Piccata Serving Options
Here are a few things that you might even find on the menu served with Chicken Piccata at your local Italian restaurant:
Pasta
Garlic bread, or breadsticks
Mashed potatoes- These are my favorite Mashed Potatoes!
Low Carb serving options
These are lighter, but in every case, just as delicious to serve with Chicken Piccata!
Sauteed Spinach (or other greens)
Side salad
Roasted cauliflower
Other veggies like my favorite garlic green beans
My personal favorite is the sauteed spinach, and my husband loves putting the chicken piccata on a bed of mashed potatoes and smothering it with sauce! If you have a favorite way to serve it, make sure to leave me a note in the comments so I can try it out!
How to Make Chicken Piccata Casserole
As I have mentioned a few times, the absolute best part about this dish (next to the taste of course!) is how easy it is to make. I am going to walk through a few things here just to answer any questions that may come up while making this. You can find the full, printable recipe card at the bottom of this post.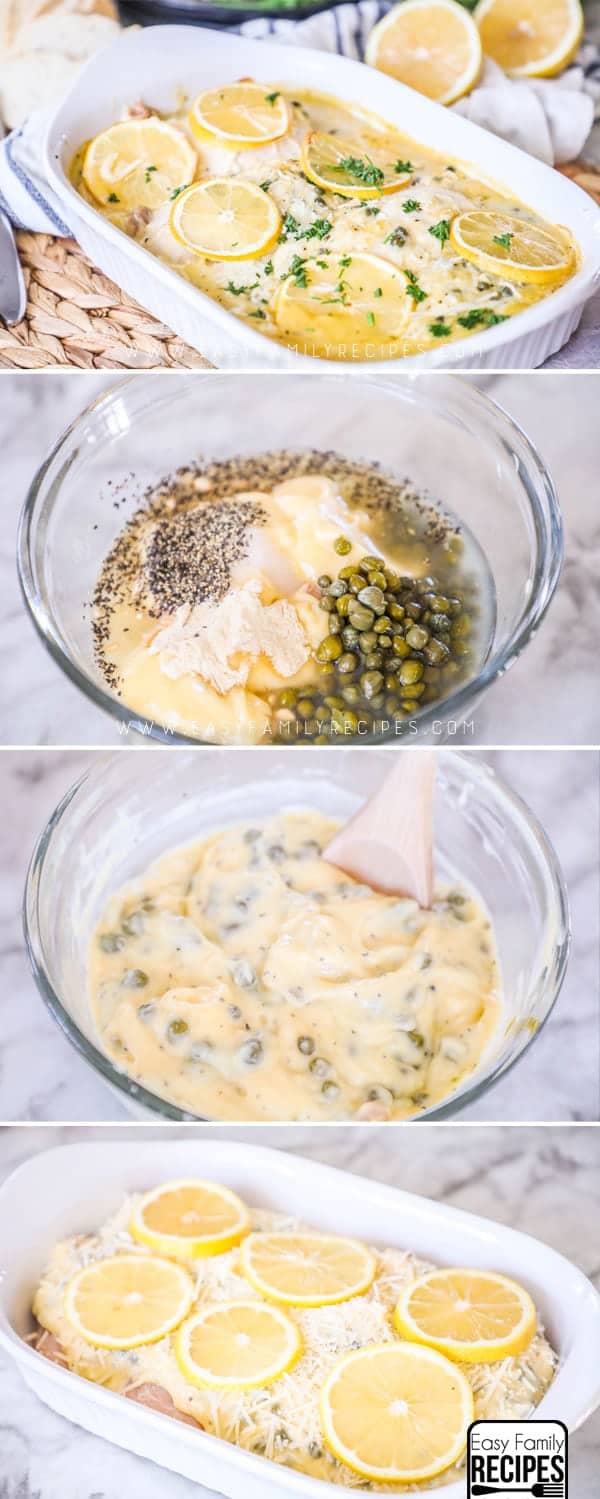 Chicken Piccata Casserole Ingredients
2 lbs boneless skinless chicken breast- This is about 3-4 normal sized chicken breasts. If your chicken breasts are extra thick, I recommend slicing them in half so they are half the thickness so they will cook more quickly and evenly.
1 can (10.5 oz) Cream of Chicken soup- I use the regular cream of chicken soup. The 98% fat free version is thinner and can be substituted, but the sauce will be thinner over all.
1/4 cup fresh lemon juice- This will be about 1 large lemon's worth of juice
1/2 jar (4 oz) capers- A small jar of capers is generally 4 oz, so you will just need half the jar or 2 oz. If you really like capers though you can add more!
3/4 cup freshly grated parmesan cheese- You can buy a block of parmesan and grate it or buy it pregrated at the store, just don't use the powdery kind for the best result.
1 tsp garlic power
1/2 tsp salt
1/2 tsp pepper
Garnish (optional)
1 lemon, thinly sliced- You won't eat this but if you have a lemon you can bake on top of the chicken, it adds some extra flavor as it bakes and then makes for a gorgeous presentation when it comes out of the oven!
Fresh parsley, chopped
Chicken Piccata Casserole Instructions FAQ's
Q: Can I use chicken tenderloins, thighs, or other chicken cuts?
A: Yes! Other cuts of chicken will work nicely in this dish. Both chicken tenderloins or boneless, skinless chicken thighs will work really well. The cooking time will most likely be reduced in both cases, so keep an eye on it to make sure it doesn't over cook. When the dish is done the chicken will be 160˚F internally.
Q: Can I make this dish healthier?
A: In general this is a pretty wholesome dish. It is protein rich, low calorie, and packed with flavor. I like to up the health value of this dish by serving it with lots of great veggies like sauteed spinach, salad, or other oven roasted veggies. Optionally, you can use a low fat cream of chicken soup, but I think the dish turns out much better with the original cream of chicken.
Q: Can I freeze this?
A: Yes! You can freeze this either before or after cooking. To freeze before cooking, mix the sauce and place it in one freezer bag, then put the chicken in a separate bag. When you are ready to cook, thaw everything, remix the sauce and assemble and bake as directed. To freeze after cooking, store in an airtight container in meal sized portions and place in the freezer for up to a month.
I hope that your family enjoys this dinner as much as mine does!
If you do get a chance to try it, I would love it if you let me know! You can leave me a comment below, or if you post a picture on Instagram, make sure to tag me @easyfamilyrecipes so that I can see what you are cooking up! It makes my day to see others enjoying the recipes that I share!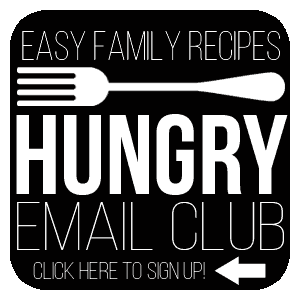 Oh and before you go!… If you need a regular rotation of recipe inspiration like me, make sure to sign up to get our emails! I send out my new favorites, the recipes my family has been devouring, and some of the best tried and true recipes. It is easy and free of course! You can click here to sign up or on the button below.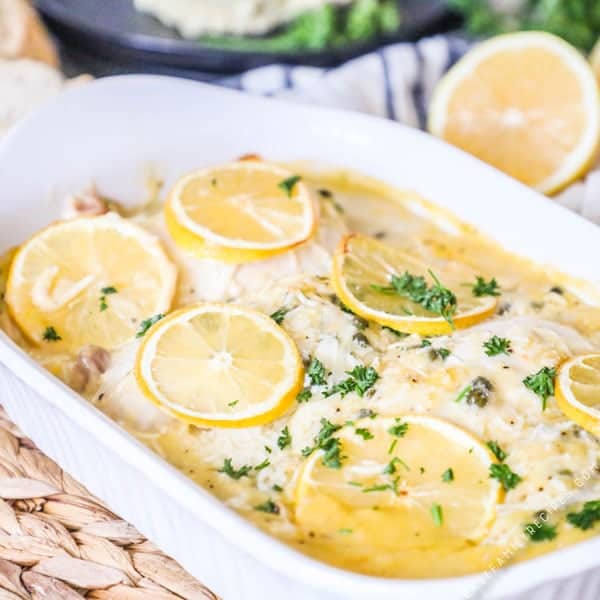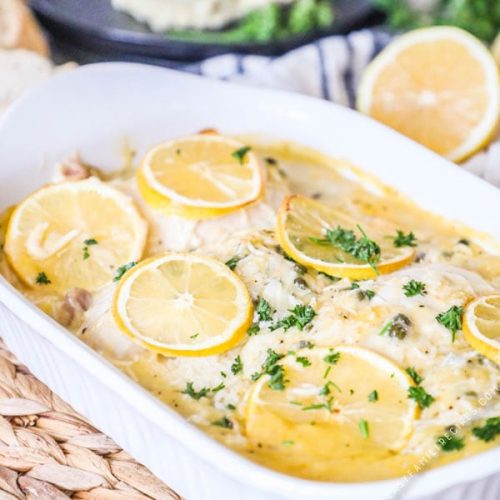 Chicken Piccata Casserole
This easy Chicken Piccata Casserole is a hit with the youngest to the oldest in our family! The creamy sauce combined with the tangy lemon and tender chicken is the perfect combination. The best part is that it all bakes in one dish for quick and easy prep and simple clean up!
Ingredients
2

lbs

boneless skinless chicken breast

1

can

,

10.5 oz Cream of Chicken soup

1/4

cup

fresh lemon juice

1/2

jar

,

4 oz capers

3/4

cup

freshly grated parmesan cheese

1

tsp

garlic power

1/2

tsp

salt

1/2

tsp

pepper

Garnish

,

optional

1

lemon

,

thinly sliced

Fresh parsley

,

chopped
Instructions
Preheat the oven to 375˚F.

Mix the cream of chicken soup, lemon juice, capers, 1/2 cup parmesan cheese, garlic, salt and pepper together in a bowl.

Lay the chicken breasts flat on the bottom of a large casserole dish.  Pour the cream of chicken soup mixture over the top and spread it evenly. Top with the remaining 1/4 cup parmesan cheese and top with two lemon slices on each chicken breast.

Bake for 35-45 minutes or until the chicken is cooked through (160˚F internal temp) and the sides are bubbly.

Add freshly chopped parsley over top and serve.  Remove lemon slices before eating. Enjoy!
Recipe Notes
You can cut the chicken in half, chunks, or use chicken tenderloins in lieu of full chicken breasts to make serving easier. Cooking time may be reduced.
Leftovers can be stored in an airtight container for 3-4 days in the refrigerator or in the freezer for up to a month.
Nutrition facts provided based on my best estimation for the recipe and may not be accurate depending on what brands you use or modifications you make to the recipe.  I recommend using a nutrition calculator with the exact brands and measurements you use for the most accurate calculation.
©2018 Easy Family Recipes- Recipe found at: https://www.easyfamilyrecipes.com/Chicken-piccata-casserole/
For more great easy dinner inspiration, sign up for our emails here!
Nutrition Information
Serving:
8
oz chicken and 1/2 cup sauce
,
Calories:
389
kcal
(19%)
,
Carbohydrates:
9
g
(3%)
,
Protein:
55
g
(110%)
,
Fat:
16
g
(25%)
,
Saturated Fat:
5
g
(31%)
,
Polyunsaturated Fat:
3
g
,
Monounsaturated Fat:
0
g
,
Trans Fat:
0
g
,
Cholesterol:
127
mg
(42%)
,
Sodium:
1157
mg
(50%)
,
Potassium:
0
mg
,
Fiber:
0
g
,
Sugar:
2
g
(2%)
,
Vitamin A:
0
IU
,
Vitamin C:
0
mg
,
Calcium:
0
mg
,
Iron:
0
mg