Cheeseburger Pasta is one of our favorite family meals! It is a rich, creamy, and comforting pasta dish packed with two kinds of cheese, savory ground beef. It comes together in just one skillet and full of creamy goodness!
Homemade Cheeseburger Pasta- The EASY Way!
Lucious layers of velvety cheese sauce – check!
Lots of tender, gently seasoned, ground beef – check!
Enough pasta to bring it all together and make it filling- Check!
This dish gets all the checks from taste to one pot ease of making. Not only are the flavors full of ooey, gooey, and cheesy goodness, but you can make this delicious comfort food in as little as 20 minutes!
Since it is so easy to make, I don't put up much of a fight when my kids ask for it on a weekly basis!
Move over Hamburger Helper… This Homemade Cheeseburger Pasta recipe is here to stay!
What to Serve with One Pot Cheeseburger Pasta
If you are planning your meal and need a couple of sides to round out the dish, there are plenty of great options to fill up your table.
I like to pair this dish with a veggie or two since this recipe is already fairly rich and filling, plus it helps to keep it wholesome! You can never go wrong with a slice of garlic bread to dip in that cheesy goodness!
Side dish ideas
You can pick one, or serve Cheeseburger Pasta with a few sides to really stretch the meal to feed a crowd. Either way works great to leave you with a happy family!
Recipe Tips
Cheeseburger Pasta is just as easy to make as I promised! I am going to go through a few of my notes and tips here to make sure you get the absolute best results when you make this dish, and hopefully answer any questions that may come up while cooking.
Make sure to scroll to the bottom of this post to find the FULL recipe card.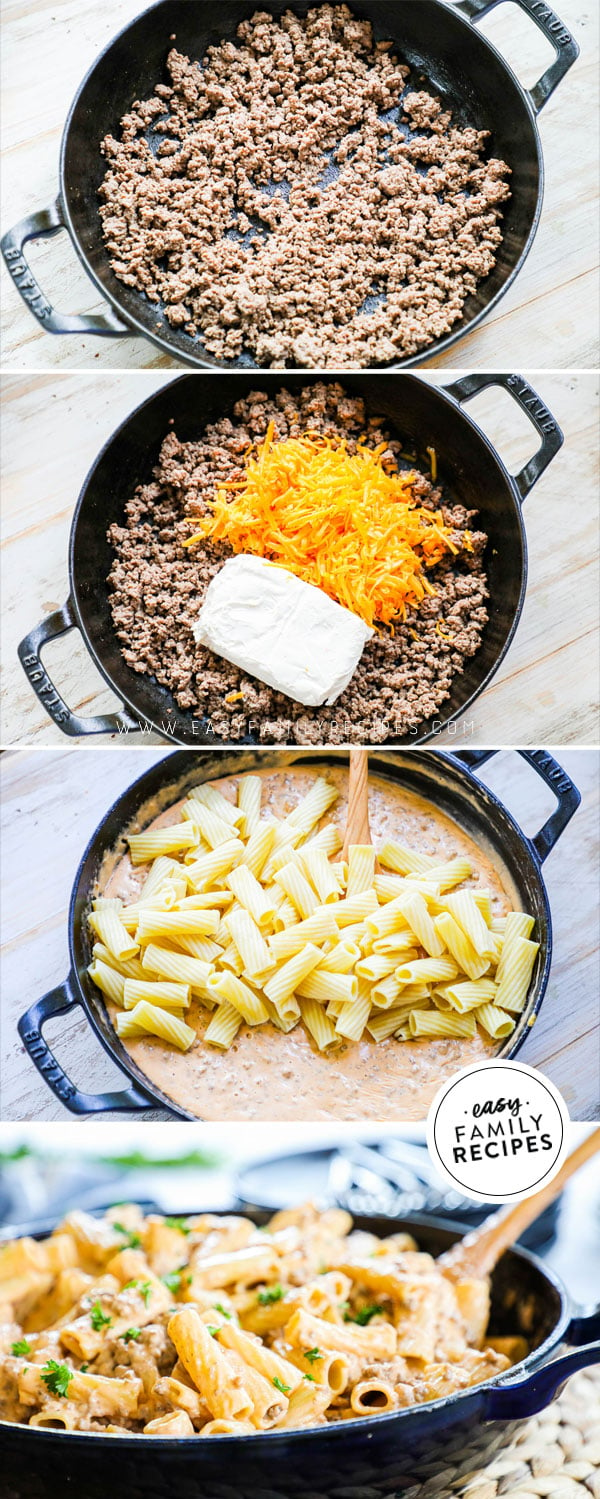 The Meat
There are a lot of things to make with ground beef, but this is one of the best!
Ground beef gives us the "burger" in our cheeseburger pasta recipe.
I like to use the most lean ground beef I can find. Since we will drain it after it cooks, it just saves some time and mess! Generally I find about 93% lean on the shelf at the supermarket, but if you see something else, don't worry… they all work!
Substitutions: If you don't prefer ground beef, this recipe can be made with other ground meats as well such as ground turkey or ground chicken.
The Sauce
Our cheese sauce is simple and delicious! It gets its creaminess from cream cheese and milk, and its excellent flavor from the sharp cheddar cheese and seasonings.
The key to making the sauce smooth, rich, and creamy is to start with a warm skillet with ground beef. Add the cream cheese and cheddar and keep stirring until they are fully melted. There will be no lumps left (except for the meat.)
Then (and only then!) start to pour the milk in slowly. Keep stirring as you pour. If you pour it all in at once it is harder to get it to mix smoothly. If you pour slowly stirring as you go, it allows the milk to thin the sauce evenly and it will combine beautifully!
This may sound like a lot of standing over the pan, but in reality, this step only takes 3-5 minutes from start to finish so it is quick!
Note: This isn't a super "saucy" dish as written. If you like your pasta heavier on the sauce, you can either stir in less pasta, OR double the ingredients for the sauce.
Substitutions: For the sauce I recommend classic cream cheese. If you want to keep it a little lighter, you can substitute low fat or neufchatel cheese. Do not use fat free cream cheese as it does not have the same melting properties.
Another substitution that can be made is using most any kind of milk. We use 2% because that is what we keep in our fridge. You can use skim, whole, or even half and half. Any of these will work to make a nice creamy cheese sauce for the Cheeseburger Pasta.
For the cheese I prefer sharp cheddar because it gives you the most flavor with the least amount of cheese. If you only have mild cheddar that will work too! You can add a little extra if you want a stronger flavor.
The Pasta
This ground beef pasta dish starts and ends with the pasta! To be the most efficient with your time (ie get dinner on the table as quickly as possible) start the pasta first thing, then cook the rest of the dish while the pasta cooks.
You can pick any pasta that your family likes. I generally choose a penne, rigatoni (shown here) or campanelle because they all are easy to serve, cook quickly, and the kids can get them on the fork and into their mouths without much trouble.
Once the pasta is done, drain it well, then just stir it into the sauce and it is ready to go! Easy peasy!
Substitutions: You can use alternative types of noodles based on preference or dietary needs. Anything from gluten free noodles, spaghetti squash, to zoodles, or shirataki noodles can be stirred into the sauce.
Recipe Variations
If you love this recipe and want to try something new, here are a few ideas for new twists on this tried and true recipe
Dietary Considerations
This recipe can meet a variety of dietary needs with slight modifications. See notes for each below.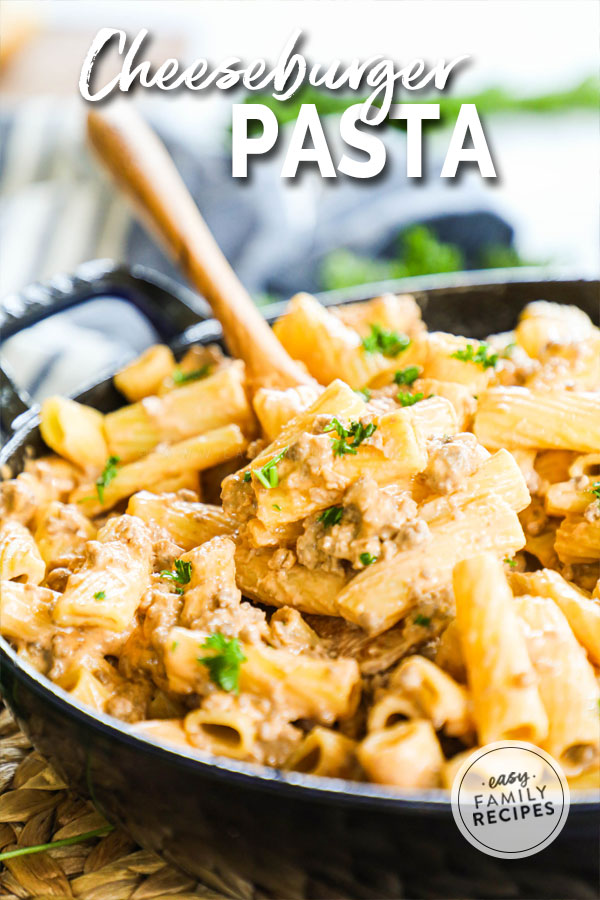 Cheeseburger Pasta Skillet Leftovers
If your hungry crew doesn't devour the whole skillet of this Cheeseburger Pasta, leftovers can be saved for another day.
Place leftovers in an airtight container and refrigerate for up to 4 days.
This dish does not freeze well, so I recommend only making as much as you can eat fresh.
To reheat leftovers, place in a microwave safe dish and heat in 30 second increments stirring in between until heated through.
More Easy Dinner Recipes
If you enjoyed this recipe I hope you will take a few minutes to check out some of our other recipes perfect for a hungry crowd.
⭐️⭐️⭐️⭐️⭐️Don't forget to leave a comment and rating and let me know how you liked the recipe!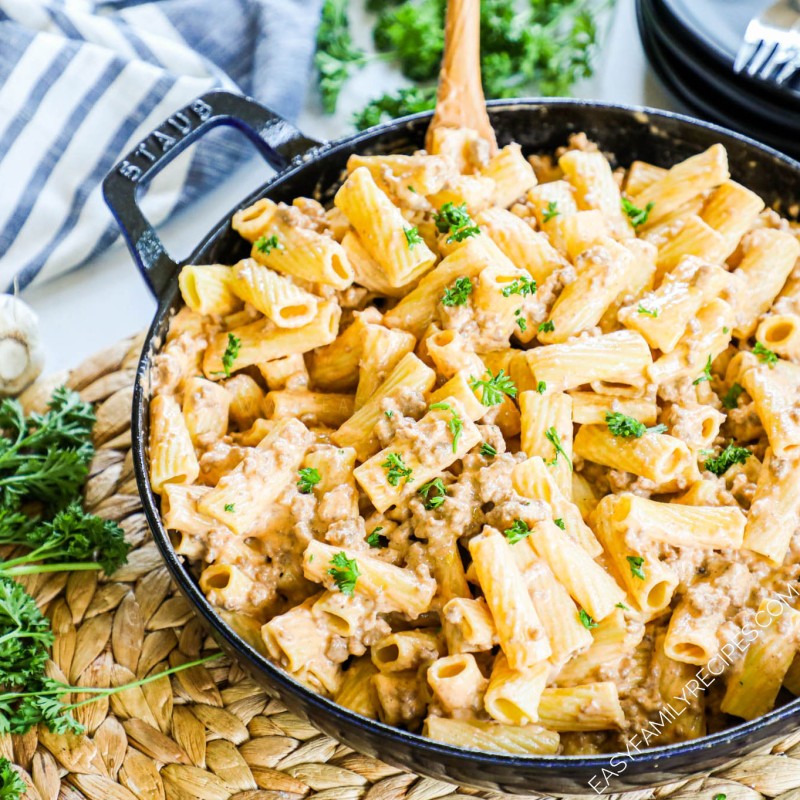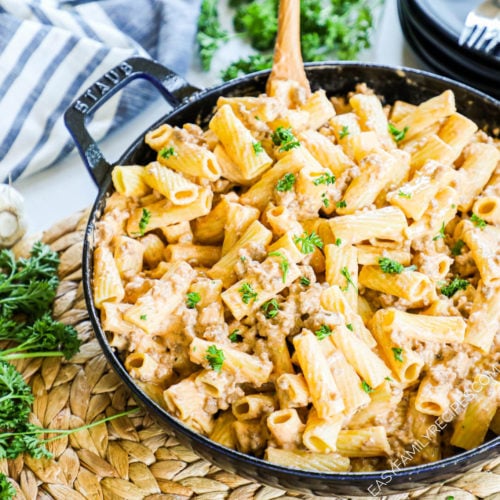 Cheeseburger Pasta
The Cheeseburger Pasta always gets 5 stars from the kids for taste and 5 stars from the parents for how easy it is to make from scratch! Filled with tender ground beef, two kinds of cheese, and lots of delicious pasta, all made in one skillet, this recipe is a keeper!
Ingredients
1

lb

lean ground beef

1/2

tsp

garlic powder

1/2

tsp

salt

1/2

tsp

onion powder

16

oz

pasta

8

oz

cream cheese

8

oz

sharp cheddar cheese

3/4

cup

milk
Instructions
Cook pasta per package instructions.

While pasta is cooking, brown the hamburger meat in a large skillet, breaking it up as it cooks. Once it is done, drain any excess grease and return the meat to the skillet.

Add the cream cheese, cheddar cheese, and seasonings (garlic powder, salt, and onion powder) to the meat and stir until it is melted and combined.

Slowly add the milk while continuously stirring to make a sauce.

Add the cooked pasta into the sauce and stir to coat. Serve immediately. Enjoy!
Recipe Notes
*If you like your pasta more "saucy" you can either use less pasta, or double the ingredients for the sauce.
Nutrition Information
Calories:
511
kcal
(26%)
,
Carbohydrates:
45
g
(15%)
,
Protein:
29
g
(58%)
,
Fat:
23
g
(35%)
,
Saturated Fat:
13
g
(81%)
,
Cholesterol:
98
mg
(33%)
,
Sodium:
464
mg
(20%)
,
Potassium:
420
mg
(12%)
,
Fiber:
2
g
(8%)
,
Sugar:
4
g
(4%)
,
Vitamin A:
687
IU
(14%)
,
Calcium:
276
mg
(28%)
,
Iron:
2
mg
(11%)