This Broccoli Cauliflower Salad is one of my FAVORITE go to salads. This salad is quick and easy to throw together. This salad is gluten free, dairy free, low carb and can be altered with minor modifications (listed below) to be Paleo and Whole30 complaint.
Broccoli Cauliflower salad is loaded with crunch and is filled with delicious flavors in each and every bite. I like to pair this salad with grilled meats, barbecue sandwiches, or just eat it by itself for a lighter meal.
The BEST Broccoli Cauliflower Salad
In my younger years, I used to pass up any salad with broccoli or cauliflower in it. I was so used to having these vegetables in a traditional way and didn't realize how delicious they could be in a salad. I remember the first time I tried this salad, I was sold.
A lot of my food inspiration comes from food I eat and I knew once I tired broccoli cauliflower salad I had to recreate it myself. I love new and fun flavor combination for salads.
After a few failed attempts at trying to get the dressing for this salad right, I finally succeeded. It was the perfect flavor of sweet and a little tangy. The ingredients are simple yet so delicious.
Next my goal was to find the perfect combination of ingredients to keep this salad simple yet full of flavor and crunch. I love sunflower seeds because they are small yet so delicious. And of course I couldn't leave out bacon!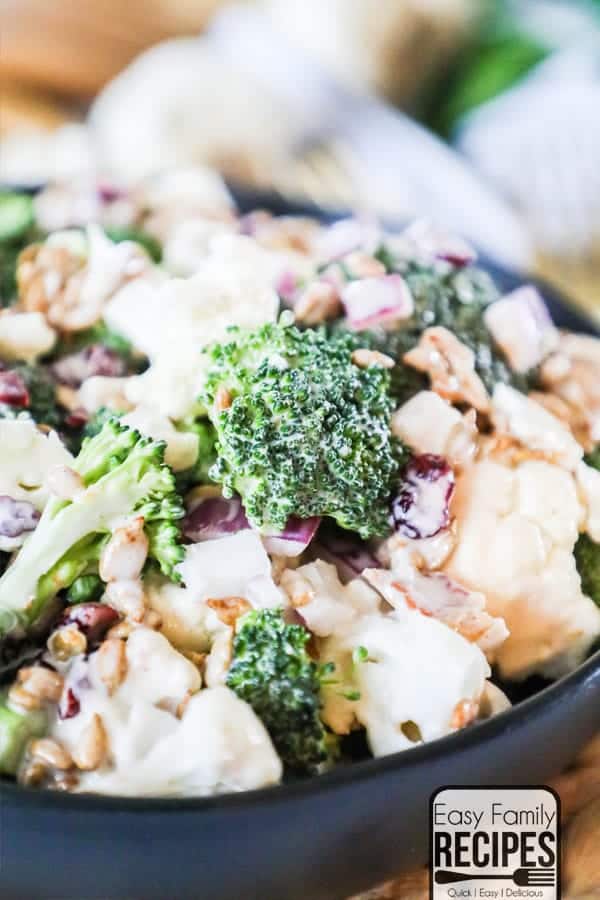 Broccoli Cauliflower Salad Serving Suggestions
The great thing about this salad in my book is the fact that it can be served as a side dish or on its own as a light meal. My kids and husband prefer to have salad as a side dish, but I like it both ways. I especially like to eat this salad the next day for lunch after the flavors have marinated together. Below are a few of our meals to serve broccoli cauliflower salad with.
If you have any more serving ideas, please comment below. I love to hear from my readers!
Recipe Tips
This salad comes together super quick and easy for even the most timid cooks.
Combine the mayonnaise, vinegar and sugar and whisk together.
Next, add broccoli, cauliflower, onion, and Craisins. Try to chop the broccoli and cauliflower in at least bite sized pieces, if not small bite sized pieces. The smaller the pieces the easier the salad will be to chew. If you are serving this to kids I suggest going on the smaller side.
Add the dressing and stir until coated. Lastly, add the sunflower seeds and bacon, and place in the refrigerator. When you are ready to serve give it a stir and serve chilled.
If you want to make this salad for the next day, or well ahead of time, I recommend saving the bacon and sunflower seeds and stirring them in right before serving. Also, the longer you chill it the more the flavors will meld together and it also allows the vinegar to soften the broccoli a bit to make it easier to chew.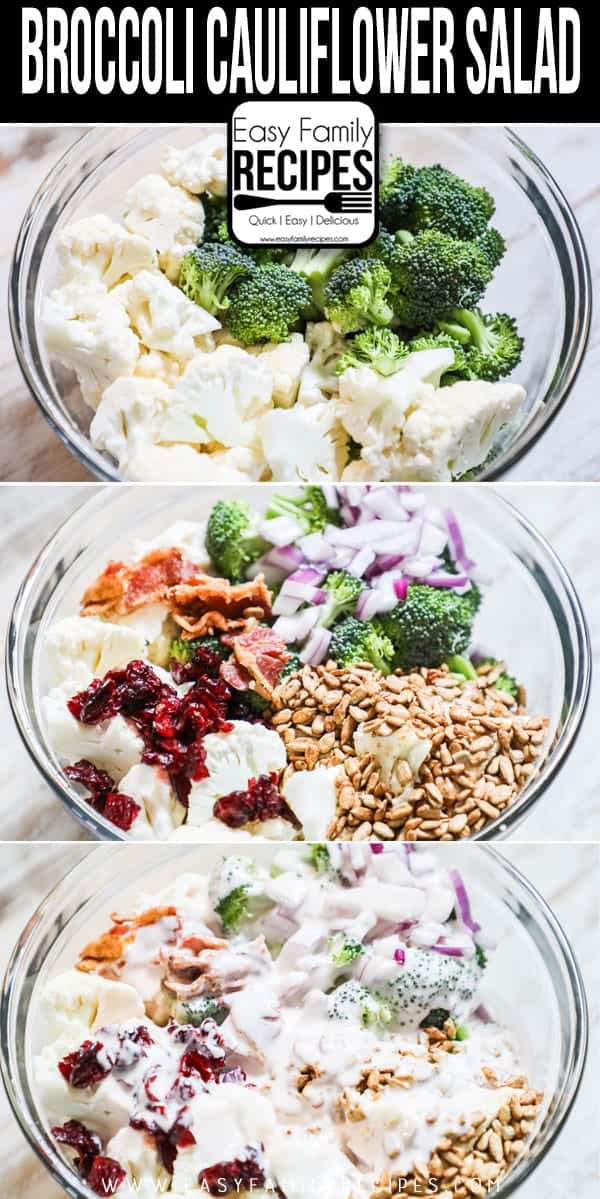 Paleo + Whole30 Modifications
To modify this salad to make it Paleo or Whole30 friendly, you will want to verify the bacon you use is compliant, and also do two other small modifications.
Omit the sugar. This will make the salad more tangy but it is still very good.
Substitute raisins for craisins. Dried cranberries usually have added sugar, so make sure to use raisins (check for added sugar, but most don't have it) instead for compliance.
Can I use frozen broccoli in place of fresh broccoli?
I wouldn't recommend it. The best part of the Broccoli Salad is the crunch the fresh broccoli gives it. The cellular structure in frozen broccoli has been altered because of the freezing process and it is not nearly as crunchy anymore and would not work the same way in the salad.
Can I make this Broccoli Cauliflower Salad low carb?
This Broccoli Salad doesn't have much sugar in it, but there are a couple ways you can lower the added sugars. The white sugar can be reduced or totally omitted. This will make the dressing more tangy, since the sugar help to cut the sharpness of the vinegar. Since it is mixed with the mayonnaise, I think it is still very good, I just prefer the taste with the small amount of sugar added.
Also, Craisins, and most other dried cranberries have added sugar in them. You can substitute raisins for the cranberries to eliminate the extra added sugar they contribute.
Is this recipe Gluten Free?
Yes this recipe is naturally gluten free. Always remember to check labels when buying your products to make sure you ensure the brand you buy is gluten free.
Can I make this Broccoli Cauliflower Salad vegetarian?
If you omit the bacon from the broccoli salad it will be a vegetarian side dish. If you omit the bacon and use vegan mayonnaise, then it will be a vegan side dish. If the bacon is omitted you may need to use additional salt to season.
How do I store leftovers from Broccoli Cauliflower Salad?
This salad stores really well, intact the flavors are even more delicious the second day. You can place this salad in an airtight container for 3-4 days in the refrigerator. Mix well before serving!
You will not be disappointed with this DELICIOUS salad. I hope you enjoy it as much as me and my family!
If you do get a chance to try it, I would love it if you let me know! You can leave me a comment below, or if you post a picture on Instagram, make sure to tag me @easyfamilyrecipes so that I can see what you are cooking up! It makes my day to see others enjoying the recipes that I share!
Oh and before you go!… If you need a regular rotation of recipe inspiration like me, make sure to sign up to get our emails! I send out my new favorites, the recipes my family has been devouring, and some of the best tried and true recipes. It is easy and free of course! You can click here to sign up.
More Easy All-American Side Dish Recipes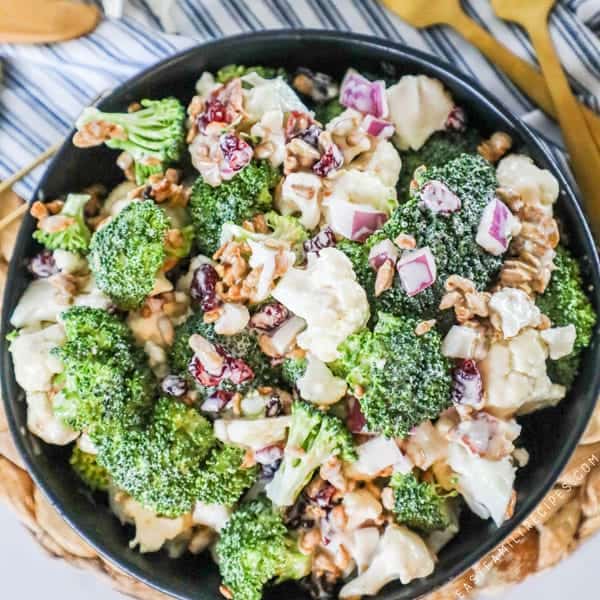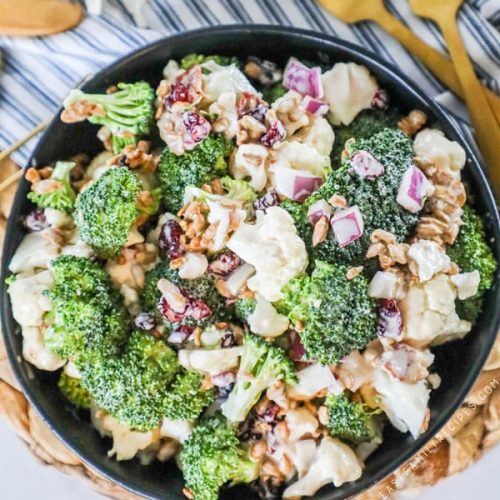 Broccoli Cauliflower Salad
Broccoli cauliflower salad is loaded with flavor. This salad is full of sweet, salty and tangy flavors. This salad is super easy and quick to make and is perfect for a side dish, light meal, picnic or potluck.
Ingredients
.75

lbs

Broccoli florets

,

cut into bite sized pieces

.75

lbs

cauliflower florets

,

cut into bite sized pieces

1/4

cup

Red onion

1/4

cup

Craisins

3

tbsp

red wine vinegar

1

cup

mayonnaise

1

tbsp

Sugar

,

optional

1

cup

sunflower seeds

1/2

cup

crumbled bacon
Instructions
Combine the mayonnaise, vinegar, and sugar in a bowl and whisk until smooth.

In a large bowl, add the broccoli, cauliflower, onion, craisins and dressing and toss to coat.

Add the sunflower seeds and bacon and toss again gently to distribute.

Serve chilled. Enjoy!
Recipe Notes
Leftovers of Broccoli Cauliflower Salad can be stored in the fridge for up to a week. If possible keep the sunflower seeds and bacon separate until serving.
Dietary Modifications
This recipe is naturally gluten free and dairy free. Please check all packages of products bought to ensure compliance.
Low Carb + Paleo + Whole30 Modifications
Omit sugar in dressing
Substitute raisins (with no added sugar) for craisins
Ensure bacon doesn't have added sugar
Use Whole30 Compliant mayonnaise
Vegetarian Modification
Vegan Modification
Omit Bacon
Use vegan mayonnaise
Nutrition facts provided based on my best estimation for the recipe and may not be accurate depending on what brands you use or modifications you make to the recipe.  I recommend using a nutrition calculator with the exact brands and measurements you use for the most accurate calculation.
©2018 Easy Family Recipes- Recipe found at: https://easyfamilyrecipes.com/broccoli-cauliflower-salad/
For more great easy dinner inspiration,

sign up for our emails here!
Nutrition Information
Calories:
359
kcal
(18%)
,
Carbohydrates:
13
g
(4%)
,
Protein:
8
g
(16%)
,
Fat:
31
g
(48%)
,
Saturated Fat:
5
g
(31%)
,
Cholesterol:
21
mg
(7%)
,
Sodium:
418
mg
(18%)
,
Potassium:
382
mg
(11%)
,
Fiber:
3
g
(13%)
,
Sugar:
6
g
(7%)
,
Vitamin A:
290
IU
(6%)
,
Vitamin C:
59.1
mg
(72%)
,
Calcium:
45
mg
(5%)
,
Iron:
1.5
mg
(8%)