For a super fast, family friendly meal make this one pan Beef Ramen Stir Fry and serve a delicious dinner in 30 minutes or less. Vibrant veggies, lean ground beef, instant ramen noodles, and a homemade stir fry sauce combine quickly to create a tasty, Asian inspired dinner that is easy to customize and perfect for even the busiest weeknight.
Beef Ramen Stir Fry – The EASY Way!
When you need a yummy recipe but don't have tons of time to spare, stir fry is always a good way to go! It's designed to cook fast, can adapt to any veggies you have, and always delivers BIG delicious flavor that your family will actually enjoy.
This beef ramen stir fry is perfect for those busy nights. It's a favorite for us and it's SO easy to make. In 30 minutes or less you'll transform a single pound of ground beef, tons of vegetables, and those instant ramen noodles that have been hiding in the back of your pantry into something delicious! A homemade sweet and savory sauce that takes just a minute to whisk together finishes it all off to make a fantastic meal that's full of color and flavor, but 100% stress free to make.
Why I LOVE this recipe!
So Fast and Easy! – This recipe takes just 25 minutes from fridge to table. It's easy to prep, cook, and clean up!
A Complete Meal – With protein, vegetables, and noodles all in one pan you can skip the sides and still feel good about what you're serving.
Full of Vegetables – This easy beef ramen stir fry is loaded with colorful healthy vegetables. Once tossed with savory beef and a sweet salty sauce, even the kids will devour them!
Versatile Family Meal – Add extra spice or swap in your family's favorite veggies to make this recipe just right for you.
What to Serve with Ramen Stir Fry
Since this dish has the classic flavors of ramen noodle stir fry, it will pair well with many of your favorite Asian and traditional side dishes. There are both classic options and some healthy options to keep it light.
Side Dish Ideas
Asian Cucumber Salad with Ginger Soy Dressing – This crisp and refreshing vegetable salad would be a fantastic cold dish to serve with a hot, savory stir fry.
Spicy Siracha Asian Coleslaw – A creamy coleslaw seasoned with herbs, green onions, and a hint of spice makes a great cool side dish.
Asian Green Salad – Top chopped greens or cabbage with crispy rice noodles, cucumber, shredded carrots, mandarin oranges, and sesame seeds. Add a ginger soy dressing or creamy, spicy Japanese mayo.
Classic Cucumber Tomato Salad – This cold, easy side salad would balance out the saucy ramen noodle stir fry perfectly.
Roasted Brussels Sprouts – Bring more vegetables to the table with a pan of perfectly roasted brussels sprouts either seasoned classically or infused with Asian flavor.
Roasted Green Beans – Whether you season with garlic, simple salt and pepper, or glaze them with a homemade teriyaki sauce, a pan of tender roasted green beans is a great dinner side.
White Rice – Simple steamed rice is always a perfect beside Asian meals!
You can choose one or add a few sides to make a wholesome, well rounded dinner.
Recipe Notes
This beef ramen stir fry recipe is as simple as promised! Just one pan and 25 minutes for a family friendly meal.
In this section I am going to go through a few tips and tricks I use when making this recipe to get the absolute best and most delicious results.
Make sure to scroll to the bottom for the FULL recipe card.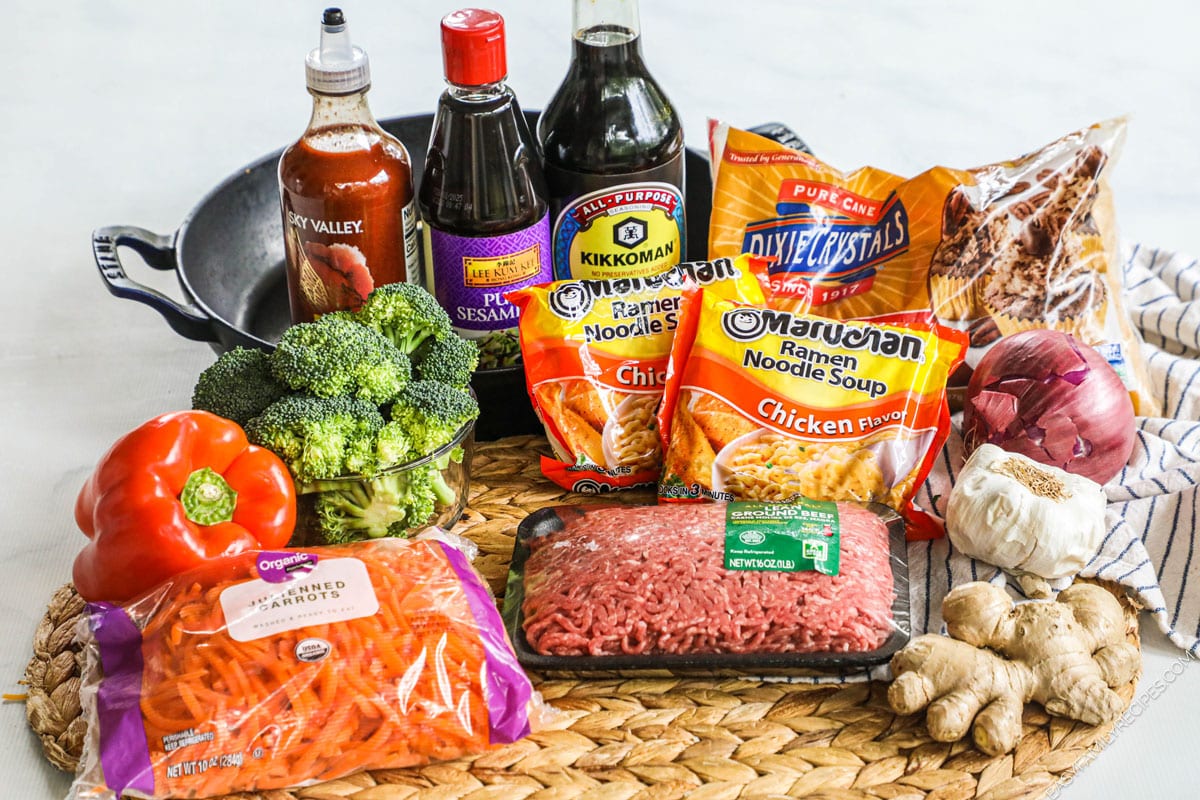 Ingredients + Substitutions
Ground Beef – I always use lean ground beef so there's less grease to worry about draining after cooking. You can use any ground beef that have on hand.
Ramen Noodles – Two packets of instant ramen noodles are needed for this easy stir fry recipe. It doesn't matter which flavor you use, we won't be using the flavor packet.
Sesame Oil – Sesame oil is a key component of creating that delicious stir fry flavor. It's usually easy to find by the cooking oils or on ethnic food aisles at your local grocery store. It keeps forever in the fridge so if you like stir fry, grab a bottle! If you don't have it, any neutral option like olive oil, vegetable oil, or canola oil will work.
Vegetables – The beauty of this recipe is versatility. I love red bell peppers, onion, broccoli, and carrots, but you can use any mix of fresh or frozen vegetables that your family will eat.
Soy Sauce – Coconut aminos, tamari, or liquid aminos are good alternatives if you don't have or can't use soy sauce.
Brown Sugar
Garlic – Fresh is best! But 1/2 teaspoon of granulated garlic will also work.
Ginger – Ginger is a great addition to Asian meals. Plus you can store the extra wrapped up in the freezer for whenever you need it. If you only have powdered, use only half the amount.
Sriracha – Totally optional, but delicious!
Cornstarch – This is the essential thickener that makes the stir fry sauce cling to the ramen noodles and beef.
Optional Garnishes – We love a sprinkle of toasted sesame seeds and green onions, but chives, chopped peanuts, or any other garnish you like can work. Or skip it!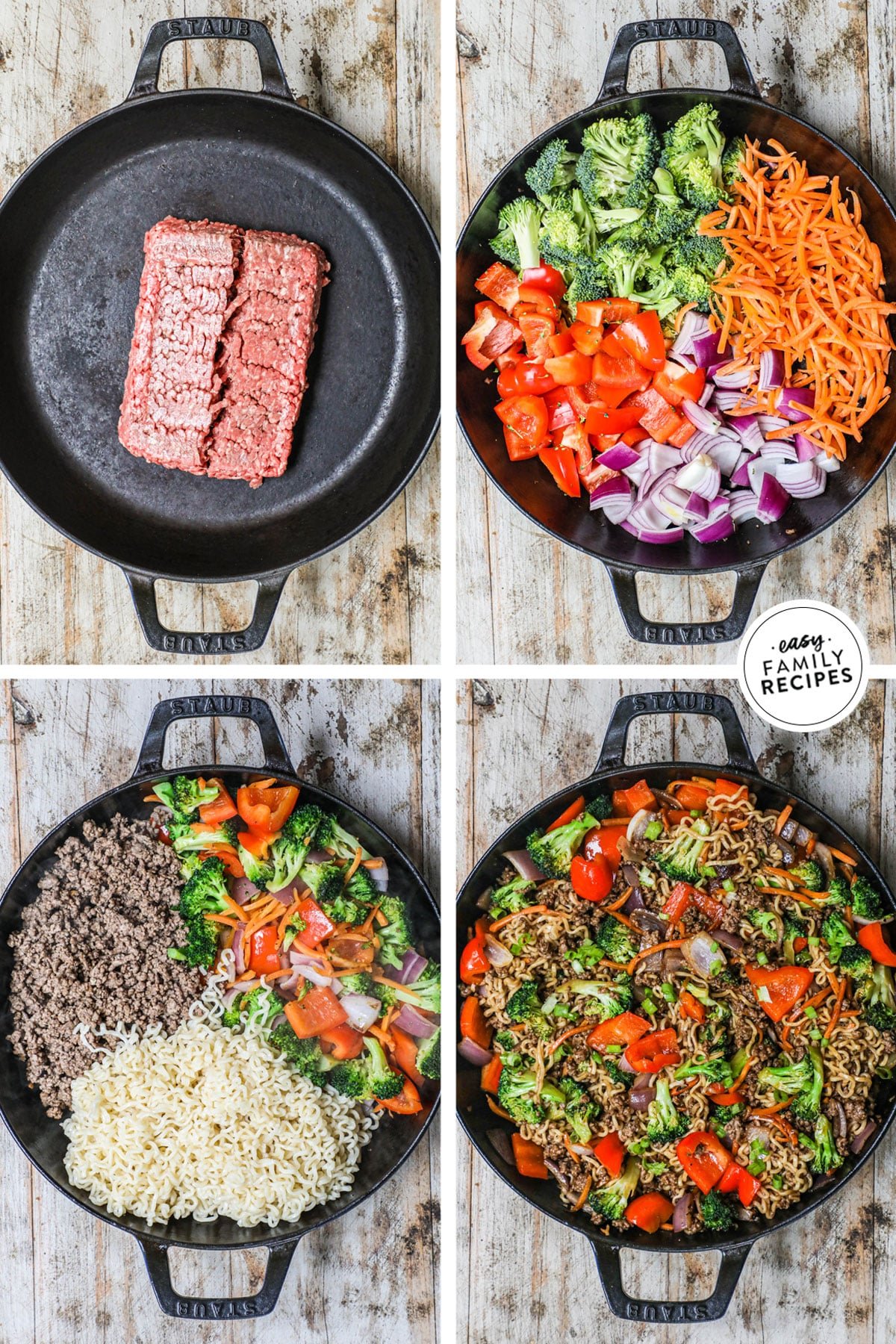 Recipe Tips
Get 100% prepped before cooking – This is a very fast-moving recipe once you get going. I recommend chopping all your vegetables, getting your beef ready, and whisking together all the sauce components before you even heat up your pan.
Use a high sided skillet – Choose your widest skillet with high-sides to make your ground beef ramen stir fry. That will help keep all the vegetables, beef, and noodles in the pan, instead of making a mess on your stovetop.
Whisk the cornstarch smooth – Before you add cornstarch to the stir fry sauce it's very important to whisk it thoroughly with cool water until all the lumps are completely gone. Once it's smooth, whisk it into the cool sauce before adding it to the pan.
Drain off extra grease – If your ground beef has a high fat content you may have lots of fat in the pan after cooking. Drain that off before you add the vegetables so the final dish doesn't taste greasy.
Toss with tongs – My tool of choice to get my beef ramen stir fry nice and saucy is a good pair of tongs. Lift and toss the noodles, vegetables, and beef so that everything is evenly distributed and nicely coated before serving.
Recipe Short Cuts
If you need to make this recipe, but are extra short on time, here are a few ideas that can help make this recipe even faster!
Use Pre-Chopped Veggies– Check the fresh produce section at your grocery store for pre-chopped vegetables. Often sliced bell pepper, shredded carrots, chopped broccoli, and even pre-sliced onions are available so you can skip the prep all together. Or, go with your favorite frozen vegetable medley. They can be added to the pan straight from the freezer.
Go with Leftover Ground Beef– If you have a couple of burger patties left from the night before you can absolutely chop those up and use that instead. Just make sure you're using lightly and neutrally seasoned beef.
Pre-cook components– You can absolutely pre-brown the beef and cook the ramen noodles up to 24 hours ahead. Refrigerate both separately until you're ready to cook, then simply start from step 4 in the recipe.
Recipe Variations
If you love this recipe as much as we do and want some quick ways to change it up for variety, these little tips will do the trick!
Chicken Ramen Stir Fry– Swap in ground chicken or chicken pieces for the ground beef. For ground chicken, cook as directed for the beef. For chicken pieces, brown 1/2″ to 1″ chunks in 1 tablespoon of oil for 2 minutes per side then remove to a plate and continue with the recipe as directed.
Ramen Stir Fry with Egg– Skip the ground beef and start the recipe by sautéing the vegetables in the skillet. Remove them to a plate and set aside. Add a splash more oil if the pan is dry then add in 2-3 whisked eggs. Scramble gently until they just begin to set. Add in the vegetables, noodles, and stir fry sauce and toss together.
Shrimp Stir Fry with Ramen Noodles– Prep one pound of raw, shelled and deveined shrimp to replace the beef. In the hot skillet cook the shrimp for 1-2 minutes per side until opaque and slightly pink then remove to a plate. Continue with the recipe as written.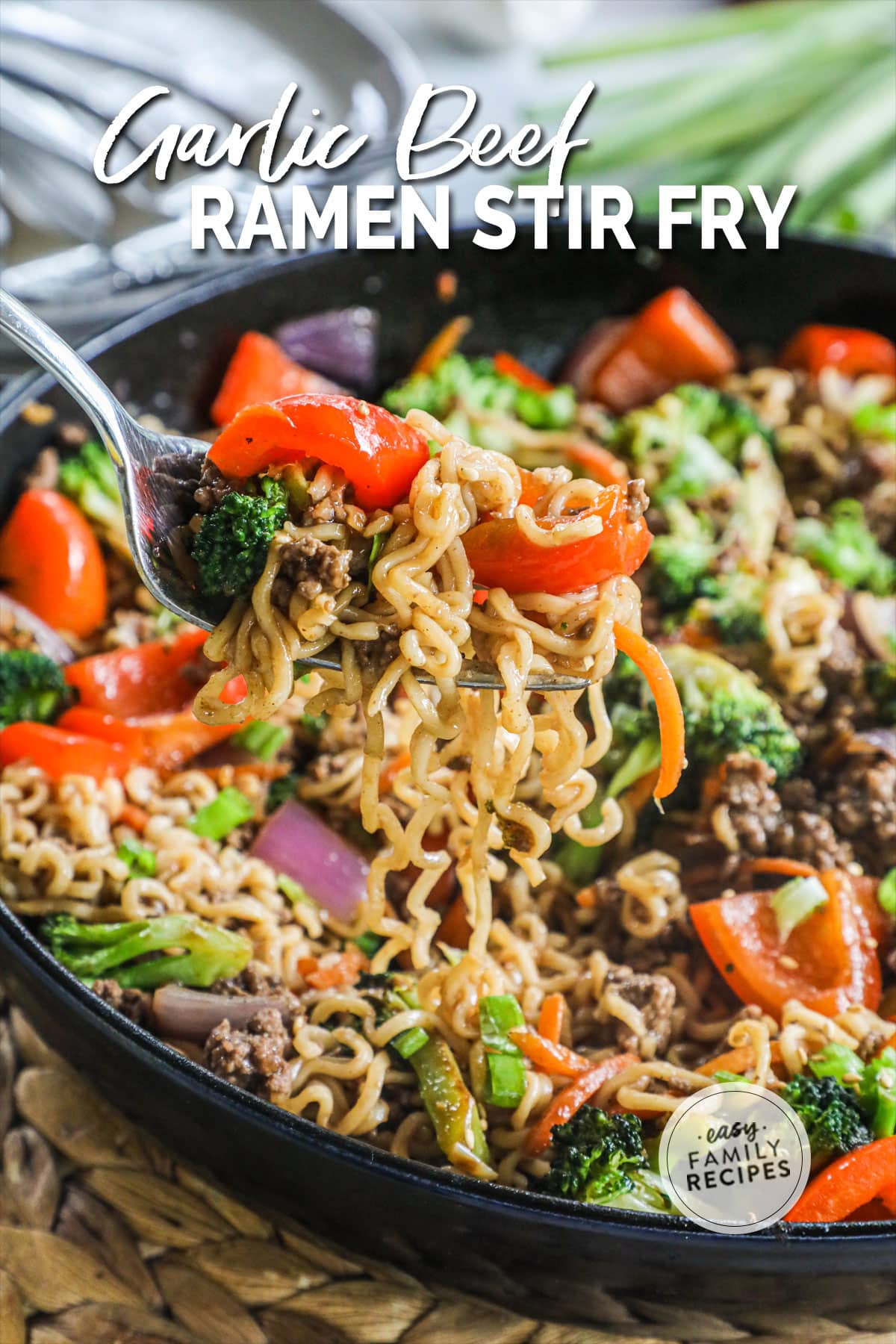 Beef Ramen Stir Fry Leftovers
If you have leftovers after making ramen noodle stir fry, then it is your lucky day! They save and reheat well, and can make the start of another delicious dish.
To save leftovers, separate into meal sized portions and then place in an airtight container and store:
in the refrigerator for 3-4 days
in the freezer up to a month
More EASY Ground Beef Recipes
If you enjoyed this recipe, I really hope you will take a moment to grab a few more easy recipes for another busy night!
You can check out all of my easy dinner recipes here, or see a few of our readers favorite recipes below.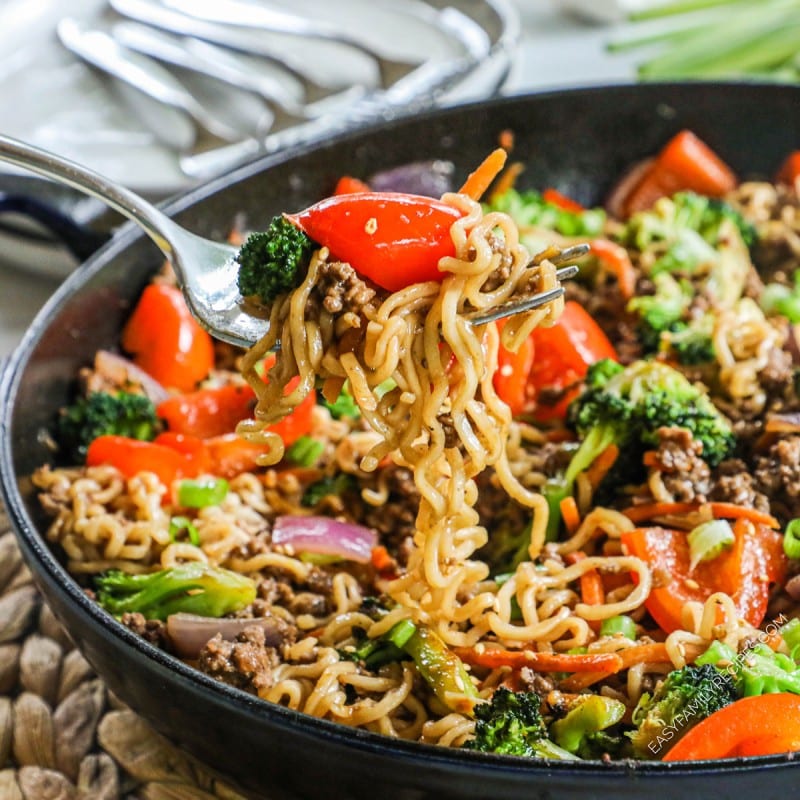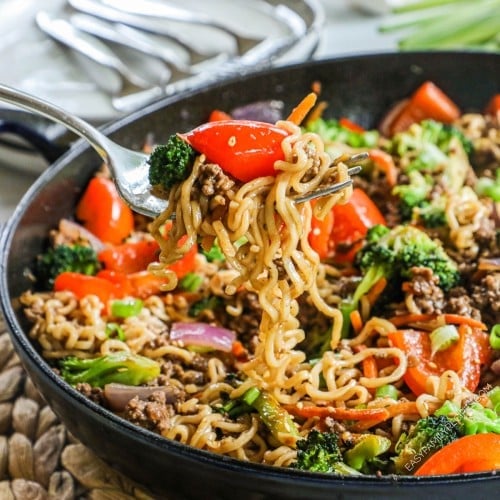 Garlic Beef Ramen Stir Fry
Lean ground beef, colorful fresh vegetables, instant ramen noodles, and an easy homemade stir fry sauce come together in one skillet to make a delicious family friendly meal in 30 minutes or less.
Ingredients
1

pound

lean ground beef

6

ounces

ramen noodles

,

seasoning packets discarded (2 packages)

1

tablespoon

sesame oil

1

large onion

,

chopped

1

red bell pepper

,

chopped

1/2

pound

broccoli

,

cut into florets

1

cup

shredded carrots
For the sauce
1/3

cup

soy sauce

1

tablespoon

brown sugar

2

teaspoons

sriracha

,

optional

2

teaspoons

minced garlic

,

minced

1

teaspoon

minced ginger

1

tablespoon

corn starch

2

tablespoons

water
Garnish
Sliced green onions

sesame seeds
Instructions
In a medium saucepan, bring water to a boil. Add ramen noodles and cook until tender, about 2 minutes. Drain the noodles.

To make the sauce, whisk together soy sauce, brown sugar, Sriracha, and garlic.

In a large skillet, cook the ground beef over medium heat, breaking it apart as you go. Once cooked, drain any excess grease and remove from pan and set aside.

Heat the oil in the skillet and then add onions, peppers, carrots and broccoli and cook until tender, about 6-8 minutes. Stir in the cooked ground beef and ramen noodles.

Pour the sauce over the skillet and toss until completely combined, then garnish with green onions and sesame seeds.
Nutrition Information
Calories:
454
kcal
(23%)
,
Carbohydrates:
44
g
(15%)
,
Protein:
33
g
(66%)
,
Fat:
16
g
(25%)
,
Saturated Fat:
6
g
(38%)
,
Polyunsaturated Fat:
3
g
,
Monounsaturated Fat:
7
g
,
Trans Fat:
0.4
g
,
Cholesterol:
70
mg
(23%)
,
Sodium:
2121
mg
(92%)
,
Potassium:
882
mg
(25%)
,
Fiber:
5
g
(21%)
,
Sugar:
9
g
(10%)
,
Vitamin A:
5707
IU
(114%)
,
Vitamin C:
94
mg
(114%)
,
Calcium:
77
mg
(8%)
,
Iron:
6
mg
(33%)