It's amazing how easy it is to make homemade teriyaki sauce with common ingredients in just 15 minutes. The flavor is so delicious and you can use this sweet and savory sauce on all your favorite traditional Asian-style dishes. Learn how to make this quick teriyaki sauce with simple ingredients such as fresh garlic and ginger, soy sauce, sesame oil, a combination of honey and brown sugar, and rice vinegar.
DIY Teriyaki Sauce – The EASY Way!
After a year of trials to perfect this recipe for a perfect balance of sweet and savory, I introduce you to what I think is the best teriyaki sauce -made from scratch using ingredients that you probably have on hand.
Why I LOVE this recipe!
So easy to make. Making a homemade sauce from scratch doesn't have to be labor intensive or require a lot of time. This simple teriyaki sauce adds all the ingredients to one small pot to cook for a few minutes into a thick, beautifully sweet, and savory condiment.

The best flavor. It's sweet, tangy, and savory with a perfect balance of flavors. It goes perfectly with chicken, fish, and even veggies.

Versatile to different cooking methods. You can use this sauce as a marinade, brush it onto meat that's cooking on the grill, in a pan, or being baked. Toss noodles and vegetables in this ginger teriyaki sauce for a flavorful side.

Easy to store. Make up a batch of this sauce and store it in the refrigerator for a sweet and savory flavoring to meals.
What is Teriyaki Sauce
Teriyaki sauce is a Japanese-style sweet, salty, and tangy sauce that has a thick but pourable consistency. When cooked on meat and in recipes it is sticky and full of flavor. It combines the sweetness of honey and brown sugar with the savor of soy sauce and is infused with fresh garlic and ginger for an irresistible taste.
What to Serve with Homemade Teriyaki Sauce
Teriyaki Sauce has rich Asian flavors and can be the perfect sauce to use to finish a main dish or make a side dish really stand out. There are both main dish and side dish serving ideas for this easy Teriyaki sauce that our family loves below.
Main Dish Ideas
Side Dish Ideas
Crispy Roasted Brussels Sprouts– A drizzle of teriyaki sauce makes these next level!
Teriyaki Noodles– Just cook your favorite noodle and toss with the sauce. Add veggies to bulk it up if you want to eat it as a main dish.
You can choose one or add a few sides to make a wholesome, well rounded dinner.
Recipe Notes
This teriyaki sauce recipe is as simple as promised! Just 15 minutes for a family friendly condiment to add to all your favorite Asian dishes.
In this section I am going to go through a few tips and tricks I use when making this recipe to get the absolute best and most delicious results.
Make sure to scroll to the bottom for the FULL recipe card.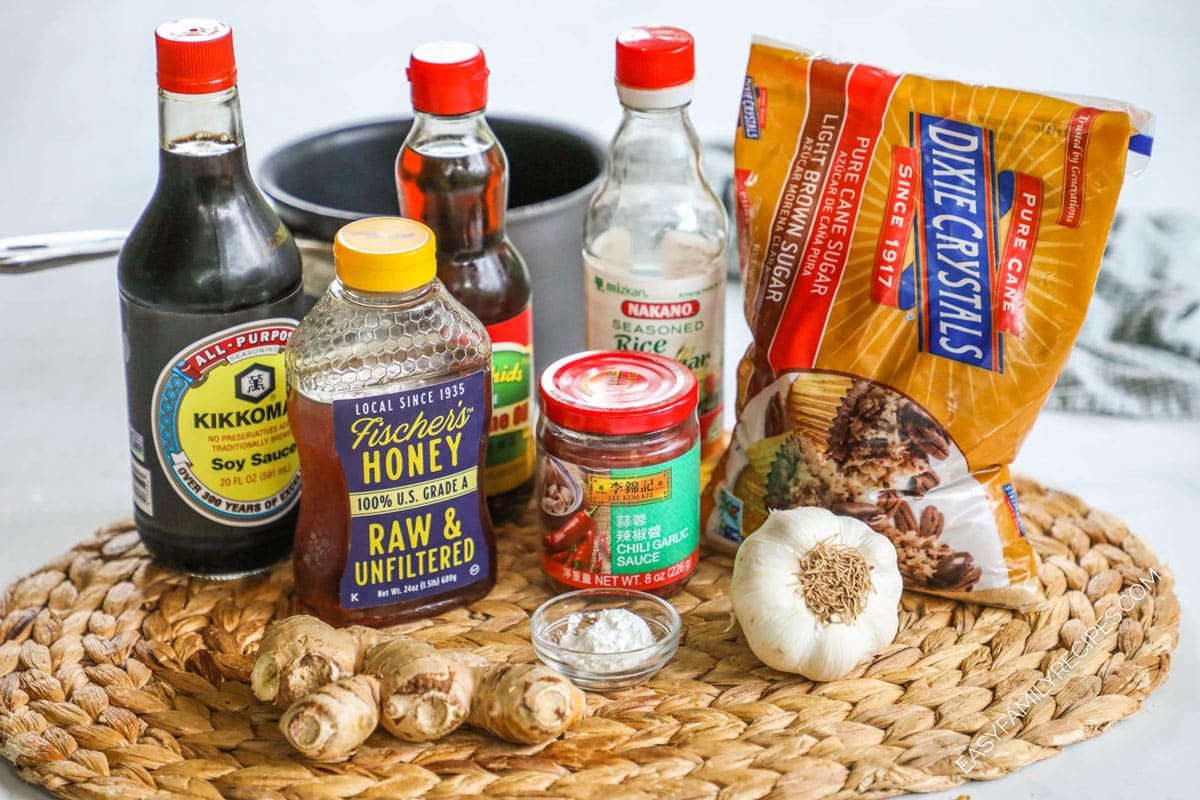 Ingredients + Substitutions
Soy sauce – This is a key ingredient for the best umami flavor. You can use reduce sodium soy sauce for lower sodium, or try tamari for a gluten-free option.

Brown sugar – Add a depth of rich molasses flavor with brown sugar. You can use dark or light brown sugar for this sweet teriyaki sauce.

Honey – You'll find that honey has an earthy sweetness that enhances most recipes. It's a subtle flavor that isn't overly sweet. Maple syrup could work as a substitute or use more sugar instead of honey.

Rice vinegar – This ingredient adds just the right amount of acidity to balance the sweetness of the sauce. Substitute for apple cider vinegar. Mirin (a rice wine) is also an option but it is sweeter and less acidic which may alter the results.

Garlic – Fresh is the way to go! I wouldn't substitute for garlic powder, but if you want to skip the prep you can use minced garlic in a jar or garlic paste instead.

Ginger – Just the garlic, fresh is best and you can also purchase ginger pre-minced or in a paste. Check your produce section for these options.

Sesame oil – This has a very subtle nutty flavor but if you don't have any you can simply omit it from the recipe.

Cornstarch and water – Cornstarch is used to make a thick teriyaki sauce. It must be added in as a slurry (a mix of cornstarch and water that forms a paste) for it to incorporate into the other ingredients.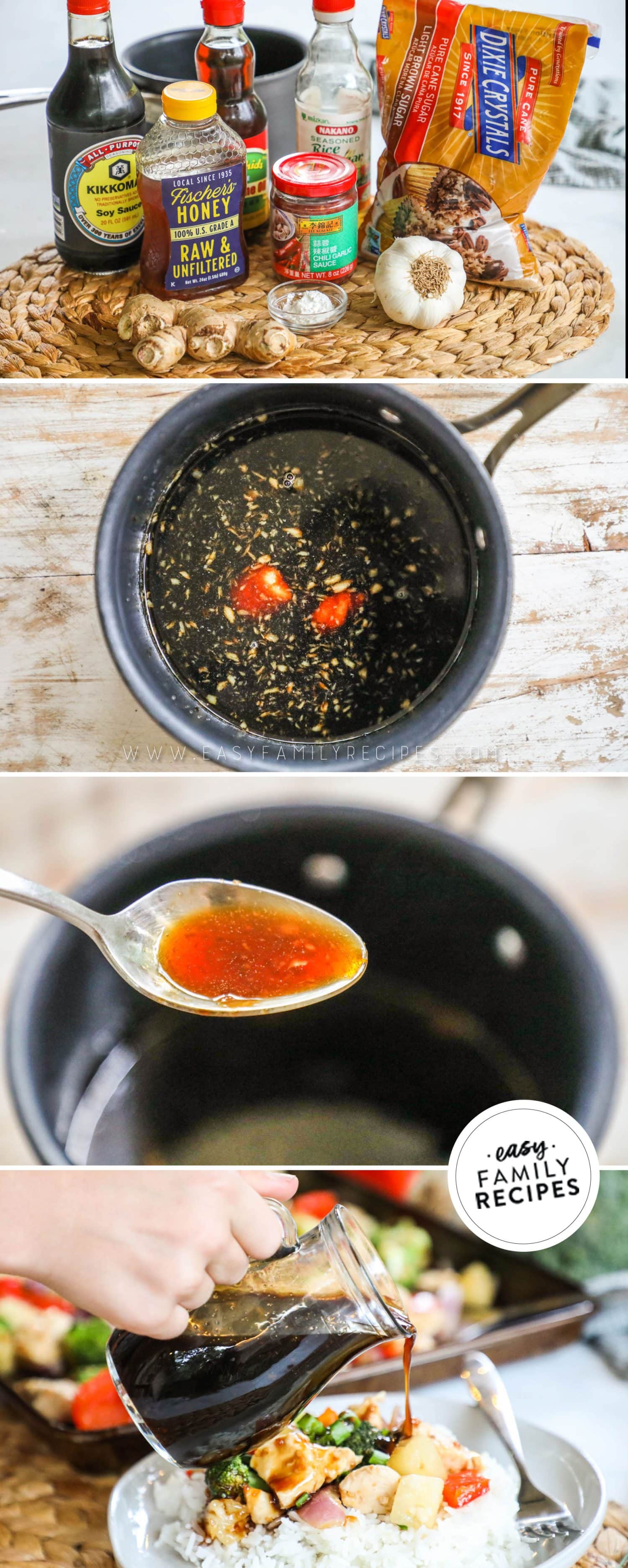 Recipe Tips
Strain for a silky-smooth sauce. I enjoy the pieces of ginger and garlic in this quick sauce, but if you prefer completely smooth teriyaki, strain the sauce right after you remove it from the heat to remove them.

Thicken the sauce more. The consistency of this sauce is thick enough to stick to the back of a spoon but not too thick where it is gelatinous. If you find that it isn't thick enough add more cornstarch or simmer longer until it reaches that thickness you like. It does continue to set as it cools.

Thin the sauce if needed. If you find that it has thickened too much and has a gelatinous texture, whisk in a little bit of water to thin the sauce.

Use one sweetener. I love the blend of brown sugar and honey for a rich sweet flavor, but you could use one or the other matching the measurements when combined. So ½ cup of either honey or ½ cup of brown sugar.

Vary the intensity of the garlic and ginger. Adding these ingredients heightens the flavor of this Japanese teriyaki sauce, and you can control how much is infused into the sauce. For bold aromatic garlic and ginger flavor, grate or chop finely. If you prefer a mild flavor, slice them into larger pieces instead and strain the sauce to remove the chunks of vegetables from the sauce.

Use cold water for the cornstarch slurry. Cornstarch only dissolves properly with cold water. This is important to prevent lumps and to have smooth, even viscosity.
Recipe Variations
If you love this recipe as much as we do and want some quick ways to change it up for variety, these little tips will do the trick!
Spicy teriyaki sauce – Add a little heat to your sauce with some red pepper flakes, cayenne pepper powder, or another fresh pepper variety diced up and cooked in.

Peanut butter teriyaki sauce – This sauce is perfect to toss in noodles. Simply add in ¼ cup of peanut butter and serve over noodles with chopped peanuts, green onions, and your favorite protein.

Gluten-free teriyaki sauce – Use gluten-free soy sauce or tamari.

Low-sodium teriyaki sauce – Use a reduced-sodium soy sauce.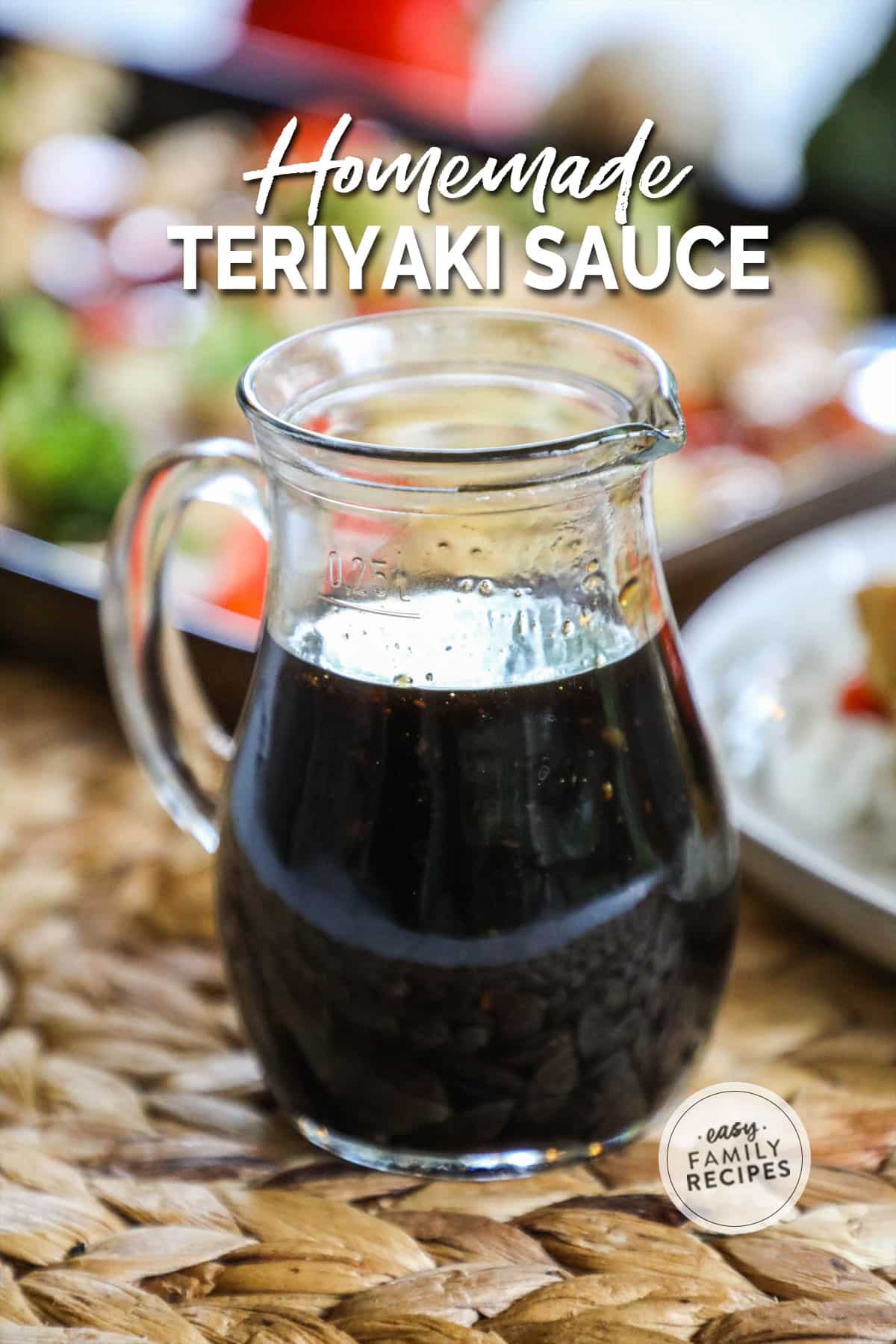 Teriyaki Sauce Leftovers
If you have leftovers after making this teriyaki sauce recipe, then it is your lucky day! This sauce saves well, and can be used in other delicious dishes.
To save leftovers, place the sauce in an airtight container and store:
in the refrigerator for 7-10 days
More Condiment and Sauce Recipes
If you enjoyed this recipe, I really hope you will take a moment to grab a few more easy recipes for another busy night!
You can check out all of my homemade condiment recipes here, or see a few of our readers favorite recipes below.
FAQ
Does teriyaki sauce have gluten?
Because teriyaki sauce is made with soy sauce that contains wheat, it is not gluten-free. An alternative would be Tamari, a gluten-free sauce that is much like soy sauce made from fermented soybeans but does not include wheat. Note that the flavor will be similar but not exact to this recipe.
How can I thicken teriyaki sauce?
This recipe for teriyaki sauce uses cornstarch as a thickener. Make a slurry of cornstarch and just enough cool water for a smooth, lump-free consistency. Add this mixture with the other ingredients to a pot. Cornstarch needs to be heated to a high boil for one minute to work properly.

Once it boils, simmer for a few more minutes to thicken. The sauce will continue to thicken as it cools. If you find that the sauce is still too thin, then you can add a little more cornstarch slurry or continue to cook until you reach your desired consistency.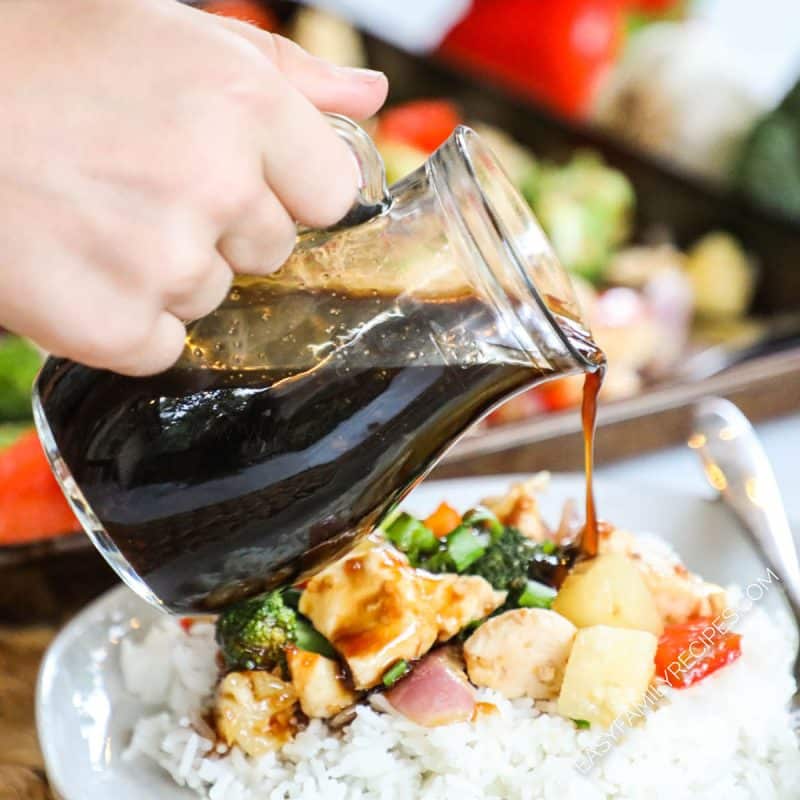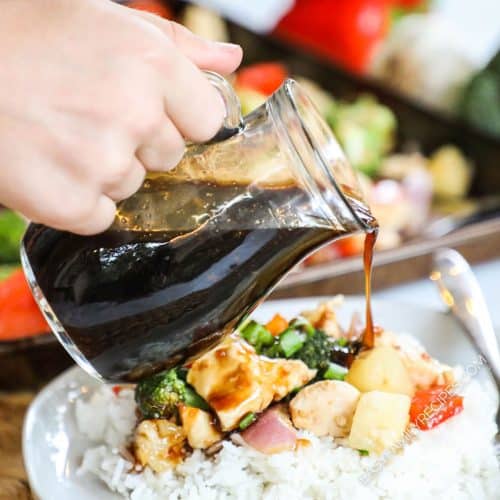 Homemade Teriyaki Sauce
Scope out your pantry for this simple and quick Teriyaki sauce made from scratch with simple ingredients. You'll have a sweet, tangy, savory Asian inspired sticky sauce ready to add to all your favorite dishes.
Ingredients
1/2

cup

soy sauce

1/4

cup

water

1/4

cup

brown sugar

1/4

cup

honey

1

tablespoon

rice vinegar

2

teaspoons

minced garlic

1

teaspoon

minced fresh ginger

1

teaspoon

sesame oil

1

tablespoon

cornstarch

2

teaspoons

cold water
Instructions
In a small pot, add soy sauce, water, brown sugar, rice vinegar, honey, garlic, ginger, and sesame oil.

Combine cold water and cornstarch in a small bowl and mix until it forms a thin paste or slurry. Pour into the pot and stir to incorporate.

Bring to a rolling boil and cook for 1 minute, then reduce heat to low and continue to simmer 3-4 minutes to thicken the teriyaki sauce.

Remove the sauce from heat. The sauce will continue to thicken as it cools.
Recipe Notes
Optional: If you prefer a completely smooth teriyaki sauce, strain the sauce right after you remove from the heat to catch the bits of garlic and ginger. 
If you prefer thicker teriyaki sauce, you can either add more cornstarch in step 2, or simmer the sauce longer in step 3 until you have the desired consistency. Remember the teriyaki sauce does continue to thicken as it cools.
Store extra teriyaki sauce in the refrigerator for 7-10 days.
Nutrition Information
Serving:
1
tablespoon
,
Calories:
38
kcal
(2%)
,
Carbohydrates:
9
g
(3%)
,
Protein:
1
g
(2%)
,
Fat:
0.3
g
,
Saturated Fat:
0.04
g
,
Polyunsaturated Fat:
0.1
g
,
Monounsaturated Fat:
0.1
g
,
Sodium:
406
mg
(18%)
,
Potassium:
25
mg
(1%)
,
Fiber:
0.1
g
,
Sugar:
8
g
(9%)
,
Vitamin A:
0.03
IU
,
Vitamin C:
0.1
mg
,
Calcium:
6
mg
(1%)
,
Iron:
0.2
mg
(1%)