This Mexican Chicken Casserole is a super simple weeknight meal that packs in the flavor and leaves you craving more! Made with tender shredded chicken, salsa, black beans, corn, and a special blend of spices, it takes all the best flavors and combines them into a quick and easy one dish dinner!
From Shredded Chicken to Mexican Casserole!
This Mexican Chicken Casserole is a busy night super-meal since it takes regular shredded chicken you have on hand, and transforms it in in minutes into a flavor packed meal that both the kids and adults will love!
You can use shredded chicken from the freezer, shredded chicken you make fresh, or you can grab a rotisserie chicken at the store and pull the meat off to make this dinner fast! 3 options to make this meal easy, no matter what you have on hand!
We all love this recipe, but my kids especially enjoy it! They ask for it often because they think it tastes like nachos, which is one of their favorite dinners!
It really does pack in all of our favorite Mexican flavors, into a simple and super delicious dinner! Make sure to bookmark some of our other Mexican favorites like these Easy Steak Fajitas, the viral Chicken Burrito Casserole, or this Cheesy Taco Skillet.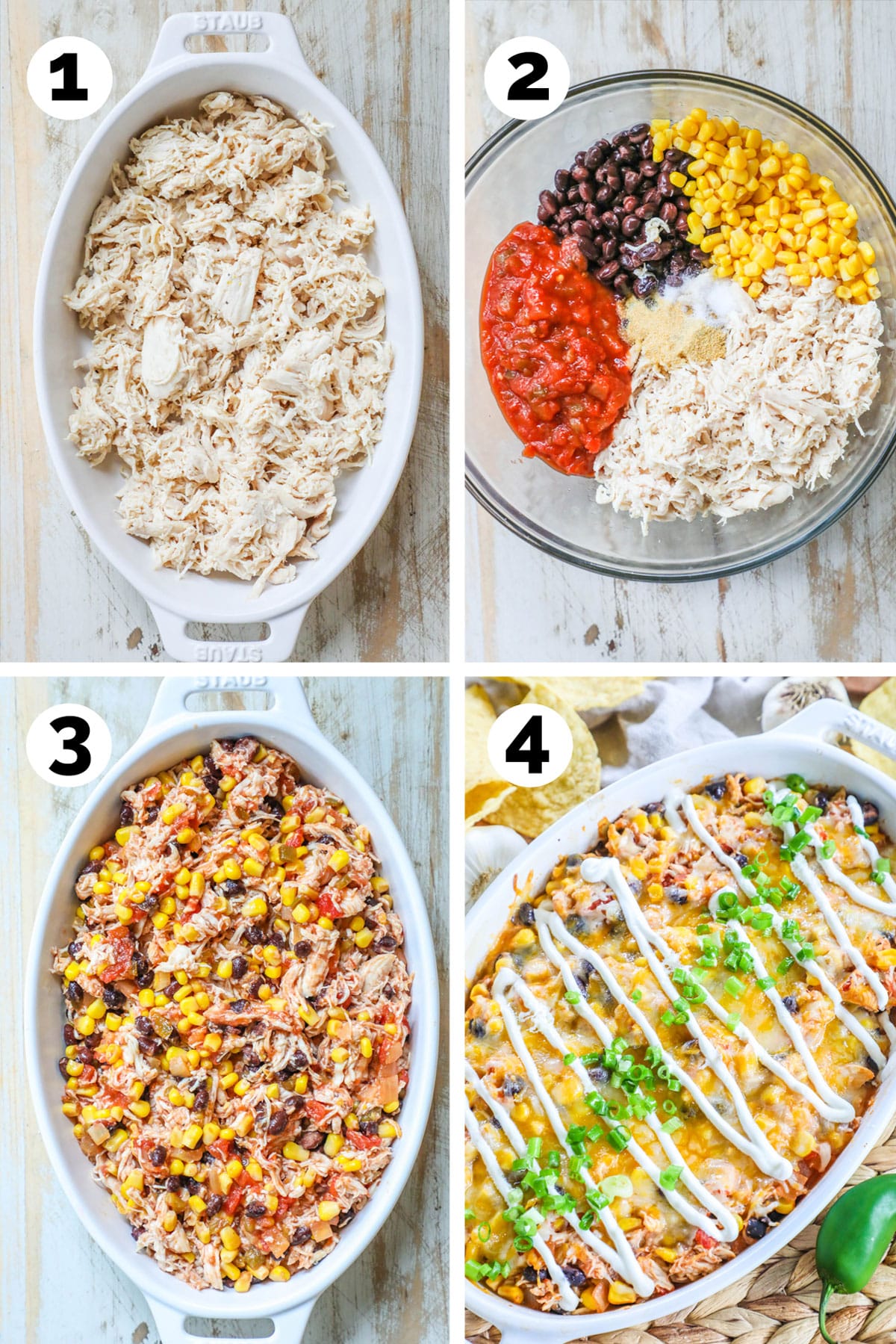 Recipe Step by Step
Measure out the shredded chicken- You can use a little more or less depending on the size of your dish.
Combine the chicken with salsa, black beans, corn, and seasonings. Stir to coat it all.
Spread the chicken back in the casserole dish and cover with cheese.
Bake the casserole until heated throughout and the cheese is melted. Garnish with your choice of sour cream, green onions and cilantro.
My Tips for Making Shredded Mexican Chicken Casserole
Mexican Chicken Casserole is a super simple dish, but there are a few tips I can share to make sure it turns out the best possible.
I will also try to answer some frequently asked questions here, so if something comes up while cooking you have an answer. If I miss your question, please leave me a note in the comments at the end of this post.
Shredded Chicken
The main ingredient in this dish is shredded chicken. You can really use any type of shredded chicken you like to make this.
My best advice is that the quality of the chicken makes a big impact on the flavor, so use a type that you really enjoy.
Here are a few options for shredded chicken.
Oven– If you need an easy recipe to make shredded chicken I LOVE this baked chicken breast.
Stove top– Chicken can be boiled until done, then cooled and shredded.
Crock pot– Slow cook with mild seasonings, then shed and store.
Rotisserie– Store bought or homemade rotisserie chicken can be pulled and used. This is one of the most flavorful options for this dish.
Canned– If you are in a pinch or have canned chicken that needs to be used up, it will work in this recipe. This is my least favorite option for this dish.
I like to use one of the methods above to bulk prepare shredded chicken and store in the freezer. This allows me to make this meal in minutes since a having the meat already prepared takes a huge chunk of time off of the time this meal takes!
The Salsa
Use a good quality, flavorful salsa that is not watery. You will want the tomatoes to coat the chicken as you mix the dish together.
I generally prefer fresh salsa, but in this dish, jarred works best since the tomatoes tend to be less watery and more saucey.
The Corn and Black Beans
The recipe calls for canned corn and black beans. I use these specifically for convenience in this recipe. They are a pantry staple and allow you to make this meal in a flash using things you keep on hand.
If you prefer, you can absolutely use alternates for these. Frozen corn, or prepared dried black beans would both work well.
Substitutions
This Mexican Chicken Casserole is pretty forgiving! You can add or remove an ingredient based on your preferences or what you have on hand and still likely get a great result. Here are some common substitutions.
Black Beans– Pinto beans can be substituted.
Corn– Other varieties like Mexican corn can be used. You can also add additional veggies like chopped onion or chopped bell pepper if desired.
Salsa– Green salsa (salsa verde) can be used in place of red salsa. You could also use enchilada sauce in a pinch!
Colby Jack cheese– Almost any basic cheese will work on this casserole. Cheddar, Mexican blend, and monterey jack are all great substitutes.
Sour Cream– Low fat, or fat free sour cream can be used.
Dietary Restrictions
I hope you are able to make the recipe as written, but if you do have a special dietary need, this Mexican Chicken Casserole is easily able to adapt to accommodate many needs!
Gluten Free– This recipe is naturally gluten free. Make sure that you check labels on specific products used to make sure they comply.
Dairy Free– To make this casserole dairy free, omit the cheese, or use dairy free cheese and no sour cream.
Grain or legume free– To make this casserole grain or legume free, you can omit the corn and black beans and substitute other veggies such as chopped pepper, diced zucchini, chopped cauliflower etc.
Mexican Chicken Casserole Freezing Instructions
This meal freezes well both before or after cooking. Follow the directions below for freezer instructions:
To freeze before cooking:
Prepare the Mexican Chicken Casserole either through step 1 and store in a plastic zip top bag, or through step 2 and store in a casserole dish.
Freeze
When ready to cook, thaw in the refrigerator.
Add cheese is prepared through step 1, or if prepare through step 2, uncover.
Cook as directed.
Note: The advantage of leaving the cheese off is just that you can save space in the freezer and keep your casserole dishes unoccupied. If you don't want to have to remember the cheese, or you are making it for friends or family, then you can prepare with the cheese in a ready to bake casserole dish.
To freeze after cooking:
Follow recipe and cook as directed.
Allow casserole to cool.
Divide the casserole into meal sized portions and freeze individually in an airtight container or zip top bag.
When ready to eat, thaw in the refrigerator, then reheat as desired.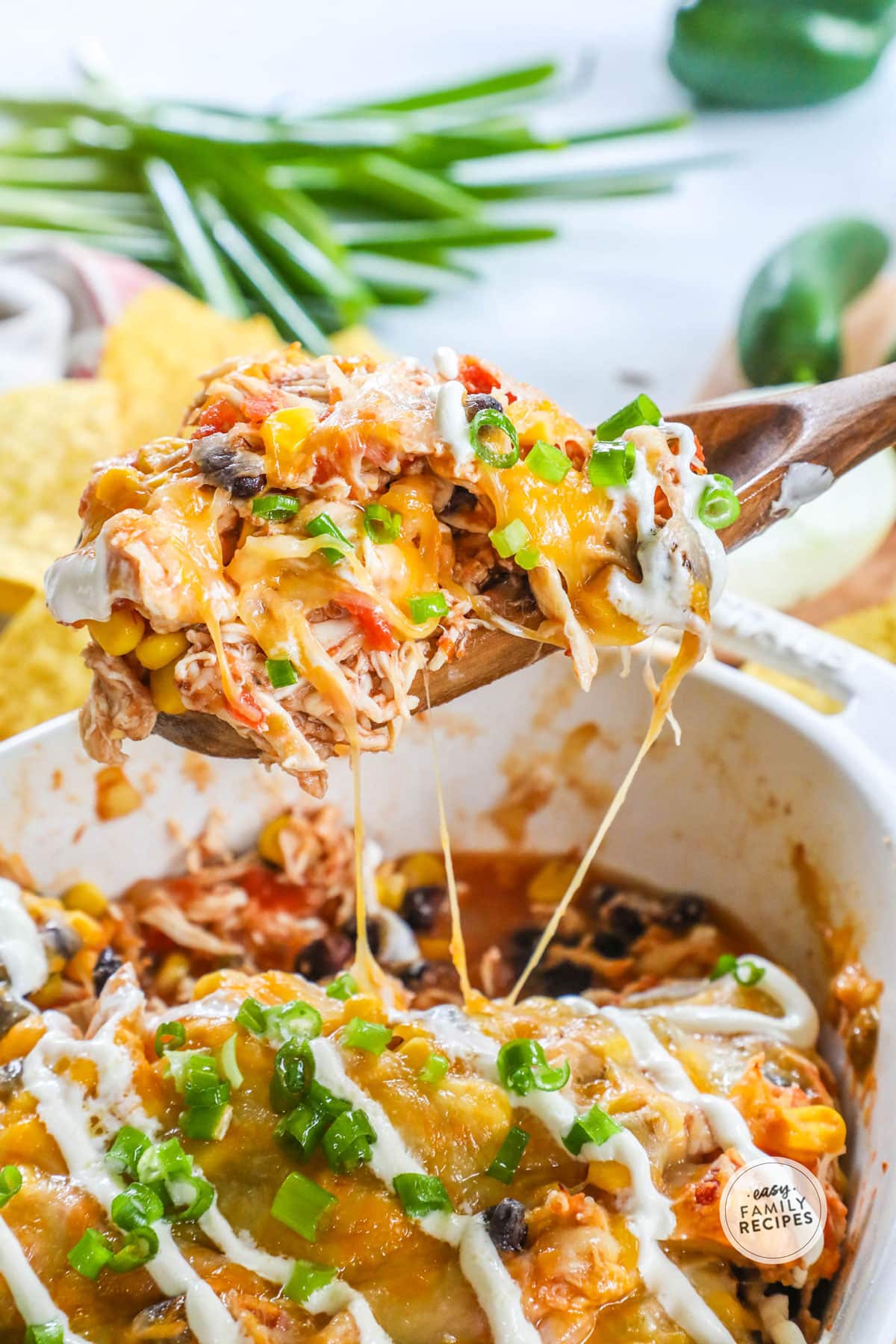 How to Serve Mexican Chicken Casserole
Mexican Chicken Casserole packs in protein, grains, veggies, and dairy, so if you are short on time, this casserole is easily a meal in itself! Just grab a bowl and pile it in!
Since the flavors in this dish are inspired by our Mexican favorites, it goes well with many of the traditional Mexican sides. If you want to round out your dinner for a filling meal, here are a few of our go-to side dishes.
Side Dish Ideas
Try it with one, or pick a few to really make the meal go far. If you have a favorite side dish I missed, please let me know in the comments! I am always looking for new ideas and inspiration!
Mexican Chicken Casserole Leftovers
Absolutely one of the best parts about this recipe is the leftovers! Since it makes so loved by the family, we don't always have them, but we celebrate when we do because it makes a quick and delicious meal later in the week (or month if you freeze!)
To Save
To save leftovers, package the Mexican Chicken Casserole in meal sized portions and place
in the refrigerator for 3-4 days
in the freezer for up to a month
Once you have it stored, you can pull it out to make any of these great meals below, or others that you want to try!
LEFTOVER MEXICAN CHICKEN RECIPES
Here are a few simple ideas on how to reinvent this meal another night as a new and exciting dinner.
Mexican Chicken Quesadillas– Place Mexican Chicken Casserole inside a tortilla and add extra cheese if desired. Place on a hot skillet with butter and grill each side until golden brown.
Mexican Chicken Stuffed Shells– Stuff prepared large pasta shells with leftover Mexican Chicken Casserole. Place the shells in a baking dish and cover with red enchilada sauce. Sprinkle with cheese and bake 20-30 minutes or until heated through. Serve with a drizzle of sour cream and chopped cilantro.
Easy Mexican Chicken and Spinach Enchiladas– Combine leftover Mexican Chicken Casserole and frozen spinach that has been thawed and drained and mix well. Roll the mixture into corn or flour tortillas and place seam side down in a casserole dish. Cover with Enchilada sauce and cheese and bake at 350˚F for 25-35 minutes or until heated through.
Nacho Stuffed Peppers– Cut mini sweet peppers in half. Place a spoonful of leftover Mexican Chicken Casserole in each pepper "chip" then top each with cheese. Bake at 425 for 12-18 min or until cheese is melted and pepper starts to soften. Top or dip pepper nachos with sour cream, guacamole, and/or salsa.
Mexican Chicken Salad– Fill a bowl with chopped romaine. Top with leftover Mexican Chicken Casserole, then add fresh tomato, chopped cilantro, and avocado. Drizzle with ranch dressing and garnish with crushed tortilla chips.
There are so many wholesome and flavorful meal options for this Mexican Chicken Casserole. I really hope your family enjoys it as much as mine!
More EASY Dinner Casseroles
If you loved this recipe, we hope that you will add more of our family favorites to your meal plan. Check out our recipe index for all of our recipes, or see a few of my personal favorites below!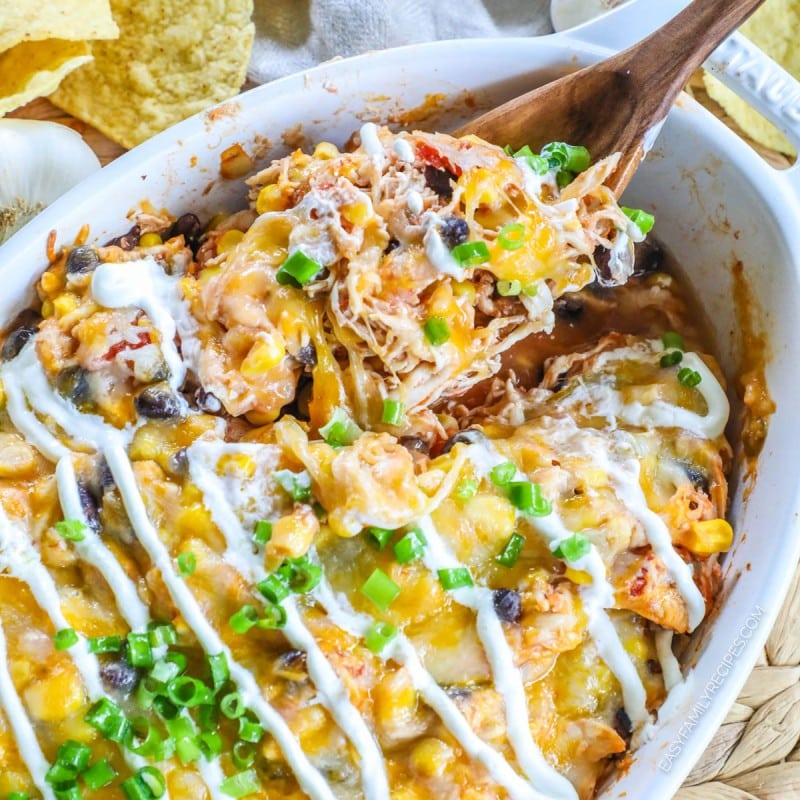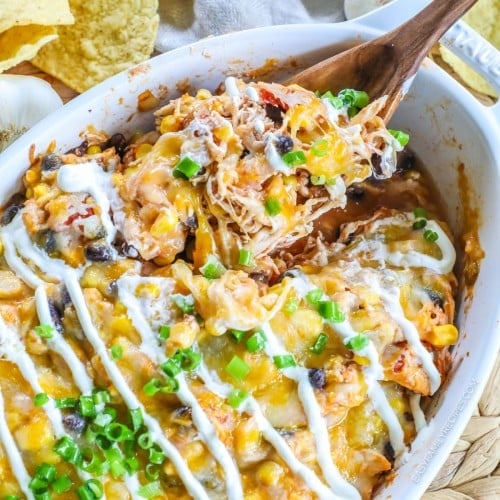 Shredded Mexican Chicken Casserole
This Mexican Chicken Casserole has all of the flavors of your Mexican Food favorites packed into a quick and easy to make one dish casserole! The kids and adults can agree that this meal is a dinner time winner!
Ingredients
4

cups

shredded chicken

2

cups

salsa

15.25

oz

canned corn, drained

,

(1 can)

1

cup

black beans,

rinsed

1/2

tsp

garlic powder

1

tsp

salt

1/2

tsp

cumin

1.5

cups

colby jack cheese

,

shredded (or mexican blend)
Instructions
Mix the shredded chicken, salsa, corn, black beans, salt, garlic, and cumin together and spread in a large casserole dish.

Cover evenly with cheddar cheese.

Bake at 350˚F for 20-25 minutes or until the cheese is melted and the chicken is heated through.

Once done, remove from the oven and garnish with your choice of sour cream, guacamole and green onions. Enjoy!
Recipe Notes
Substitutions:
You can use any neutrally flavored shredded chicken. We often use pulled rotisserie chicken, but leftovers, fried chicken, baked, or boiled also work well. If you need an easy recipe to make shredded chicken I like this baked chicken breast.
This recipe can also be made with other types of meat or add ins. Some of our favorite substitutions are:
Ground beef
Pinto beans
Bell peppers
Cauliflower
How to store:
Store leftovers in a container in the fridge for 3-4 days, or in a freezer friendly container in the freezer for up to 3 months.
How to Freeze:
Mexican Chicken Casserole can be frozen before or after cooking. See post for full method for each.
How to Reheat:
To reheat in the microwave, transfer to microwave safe dish and heat in 30 second increments, stirring in between until warm. Time will vary based on how much you are reheating.
To reheat in the oven, place in an oven safe dish and cover with foil. Bake at 350 for 15-20 minutes or until heated through.
How to Scale:
This recipe can easily be made 2x, 3x, or 4x to feed a crowd!  Just multiply the ingredients accordingly. Place in a large dish, or multiple dishes and bake. If you use a larger dish, the baking time may increase by 5-10 minutes to completely heat through.
Nutrition Information
Serving:
1.25
cups
,
Calories:
404
kcal
(20%)
,
Carbohydrates:
23
g
(8%)
,
Protein:
37
g
(74%)
,
Fat:
18
g
(28%)
,
Saturated Fat:
9
g
(56%)
,
Cholesterol:
101
mg
(34%)
,
Sodium:
1386
mg
(60%)
,
Potassium:
688
mg
(20%)
,
Fiber:
4
g
(17%)
,
Sugar:
4
g
(4%)
,
Vitamin A:
780
IU
(16%)
,
Vitamin C:
2.9
mg
(4%)
,
Calcium:
271
mg
(27%)
,
Iron:
2.6
mg
(14%)